Slight twist on an old classic and it becomes an amazing new pie! This Pumpkin Cheesecake Pie is a wonderful classic pumpkin pie with creaminess of a cheesecake!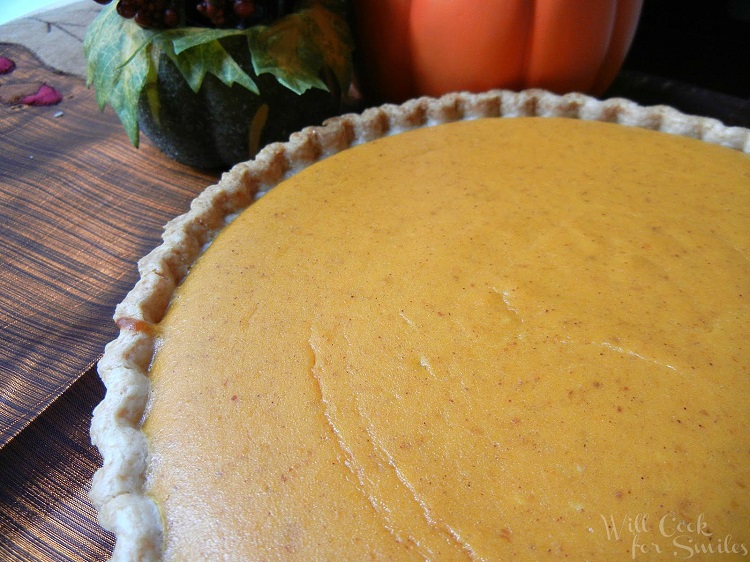 This is our absolute favorite fall treat! My hubby makes me bake it at least 10 times every fall, he is a big pumpkin fan. And who doesn't love cheesecake? I've made this for Thanksgiving a few times and it was a big hit.
The best part of this pie, besides being absolutely delicious, is how easy it is to make!!
I hope you will make it and love it as much as we do!
**Please note, I was making two pies so it is a larger amount in pictures. I had a little leftover, that is why I make the mini cheesecake pies as well.
The recipe ingredients below is for one pie
***
Ingredients:
1 Deep dish pie shell
1 15 oz can of pumpkin pie puree
1 8 oz package of cream cheese
1/2 cup white granulated sugar
1/4 cup brown sugar
1 tsp cinnamon
1/2 tsp dry ginger
1/4 tsp nutmeg
1/4 tsp salt
3 large eggs
1/2 cup heavy cream
1 tsp vanilla
Directions:
~Preheat the oven to 350
1. Beat cream cheese and sugar until smooth (about 2 minutes)
2. Add pumpkin puree and dry spices, beat until well blended
3. Add the eggs, heavy cream and vanilla. Beat well.
4. Pour filling into the pie shell
5. Bake for 40-45 minutes (it will be a little jiggly  in the middle but set at edges)
Since I had some batter left over, not enough for another pie but too much to throw away, I made some mini pumpkin cheesecakes. I used graham cracker crust for it:
Ingredients:
1 cup of graham crackers
3 tbs butter
1 tbs sugar
Directions:
1. In a small bowl, melt the butter
2. Add the graham crackers and sugar. Mix very well
3. Place about one tablespoon of graham cracker mixture in each cup of the muffin pan. Spread and press firmly to cover the bottom
4. Pour the pumpkin cheesecake batter in each muffin cup
5. Bake at 350 for about 17-20 minutes.
6. Drizzle with caramel and serve!
Notice the little thief that already stuck his finger in the pie!
Enjoy!!!
* I am linking this recipe to the   ALL the  PARTIES. Why don't you visit the wonderful hosts and link some of your own projects!?.