This would be one awesome breakfast to serve your family! Key Lime Cheesecake Pancakes! Soft buttermilk pancakes made with key limes and tipped with homemade key lime cheesecake sauce.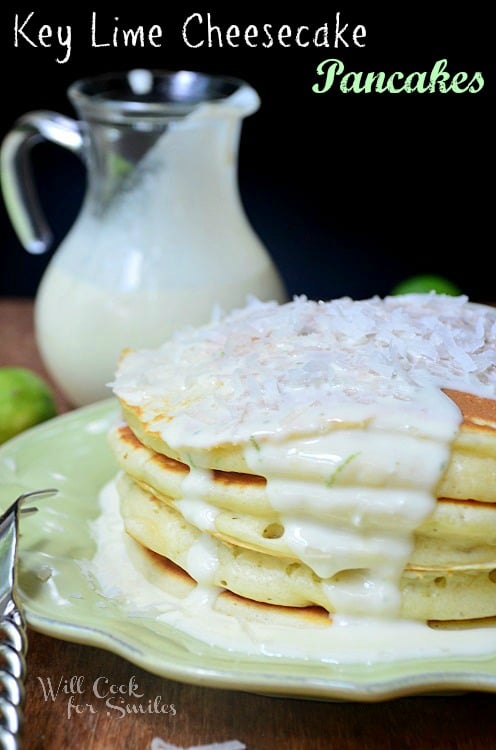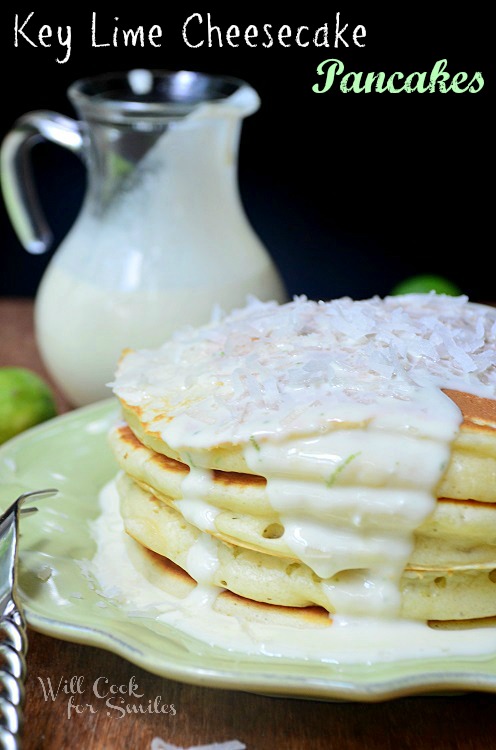 Who wants pancakes?
Everyone loves pancakes, at least in my family! You can never get tired of pancakes.
I've gotten use to making different pancakes because the little man doesn't like eggs. He used to love eggs but all of a sudden he stopped eating them. He won't even touch anything that is make of eggs, no quiche, no omelets, no egg baskets. It limits breakfast options for him a little but I've gotten creative with parfaits, waffles and pancakes. Hubby is especially happy about my pancake experiments.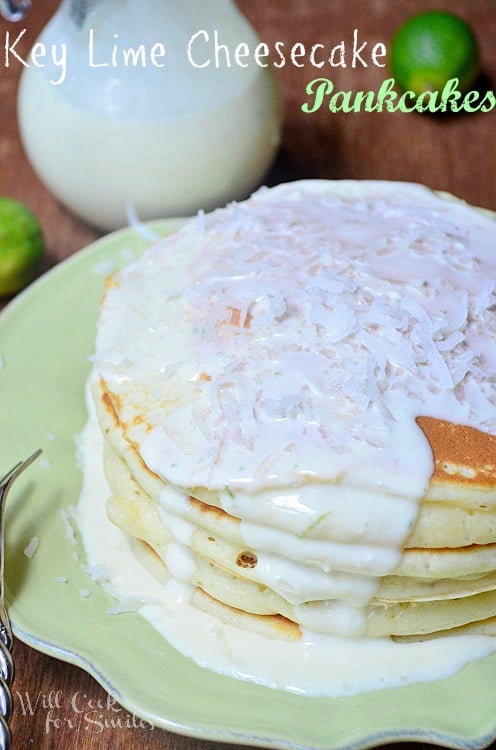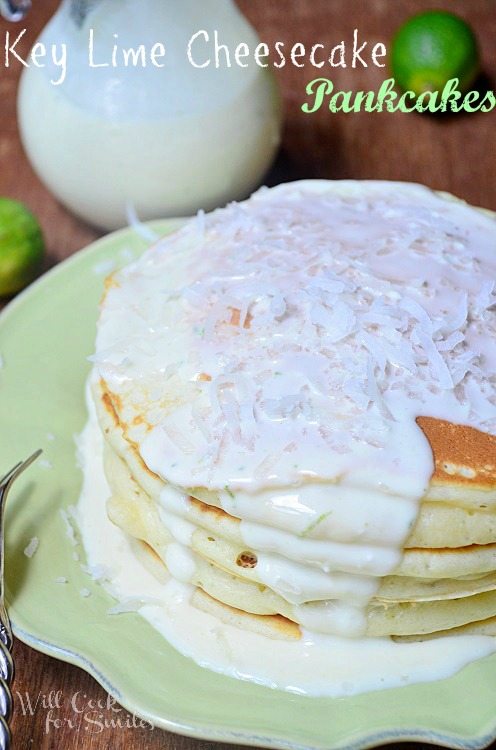 I told you that you will be seeing a lot of key lime recipes from me. I have an awesome milkshake coming up on Kelly's site at livelaughrowe.com and delicious cookies coming up on Carolyn's site at carolynshomework.blogspot.com. Stay tuned because they are all coming soon!
I still have a few more key limes to use up. You just never know what I will come up with! If you have any requests, feel free to leave a comment.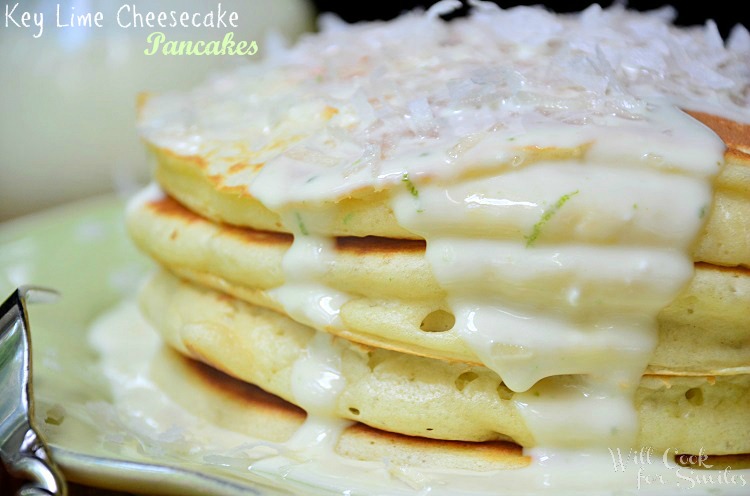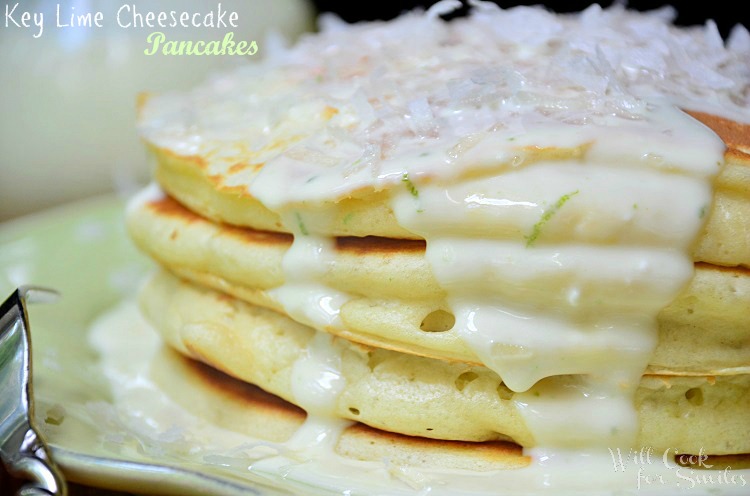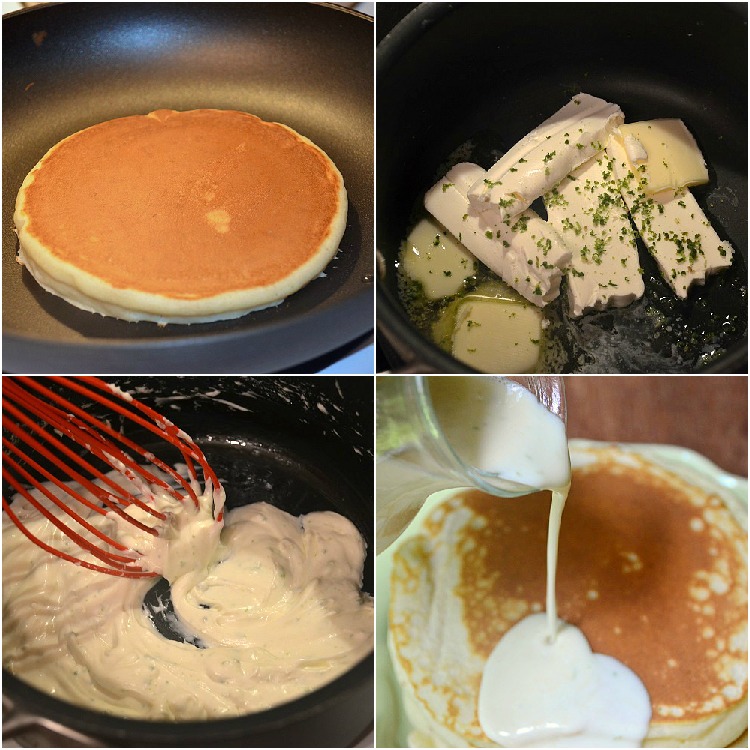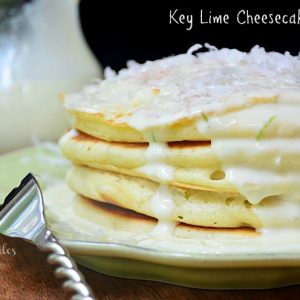 Key Lime Cheesecake Pancakes
Ingredients
Buttermilk Pancakes:

1 1/2

cups

flour

3

tbs

sugar

2

tsp

baking powder

1/2

tsp

baking soda

1/2

tsp

salt

4

oz

melted unsalted butter

2

eggs

room temperature

1

tsp

vanilla extract

1 1/4

cups

buttermilk

Zest from 1.5 key limes

Cheesecake Topping:

3

oz

cream cheese

2

tbs

butter

1/2

cup

heavy whipping cream

Zest from 1.5 key limes

1/2

tsp

vanilla extract

2

tbs

sugar

Coconut is optional
Instructions
Pancakes: Whisk together the wet pancake ingredients until combined.

Whisk in the dry ingredients, including key lime zest and let the batter stand for about 10 minutes. (This is a good time to preheat your cooking pan on medium heat and start the topping.)

Cook the pancakes, in the preheated pan, for about a minute or two on each side. Check the pancakes by pressing lightly in the center, if its firm the pancakes are done.

Topping: In a small sauce pot, (on medium heat,) combine butter, cream cheese and key lime zest. Using a silicone covered whisk, whisk the ingredients together until smooth.

Slowly pour in the heavy cream while stirring. Add vanilla and sugar. Keep stirring until smooth.

Bring to a low boil and take off heat.

Top of the pancakes with sauce when serving. You can sprinkle with some coconut flakes if you'd like.
Recipe Notes
Recipe from Lyuba @ willcookforsmiles.com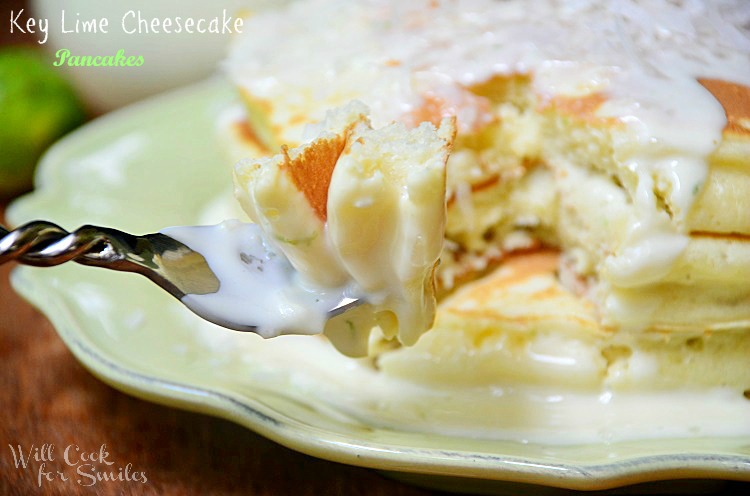 ***********
Make sure you follow me through your favorite blog reader (bloglovin or other), or follow me through | Facebook| Twitter| Pinterest|

Don't miss any new posts and recipes from me, subscribe to E-MAIL! Just enter your email in the side bar, you will receive an email for confirmation. Confirm and you are all subscribed! HUGS!
***************
Remember to come back and link up to my party on Saturday night!!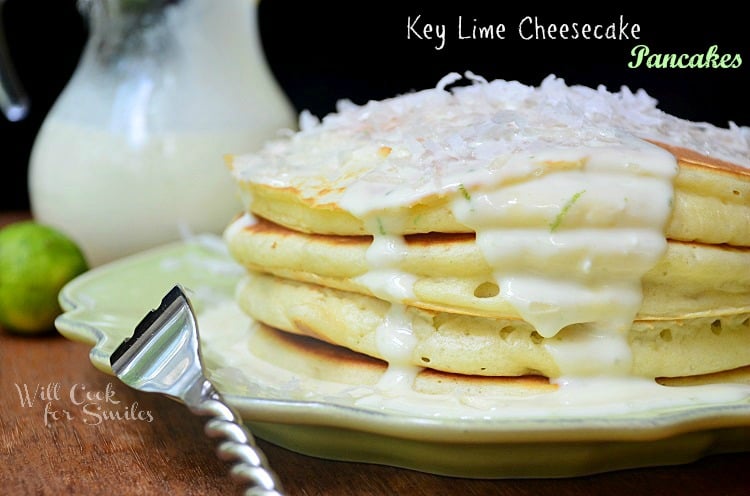 More pancake inspiration: