Guess what time it is??! It's Food Fight time!
This is going to be a fun and colorful fight! April's fight is Easter themed with Bunny vs. Peeps recipes.
Before they fight, I will share a Bunny recipe with you. Not an actual bunny, no I did not cook Bugs Bunny. It's a dessert cheese ball that is shaped into a bunny and tastes like Almond Joy! Oh my!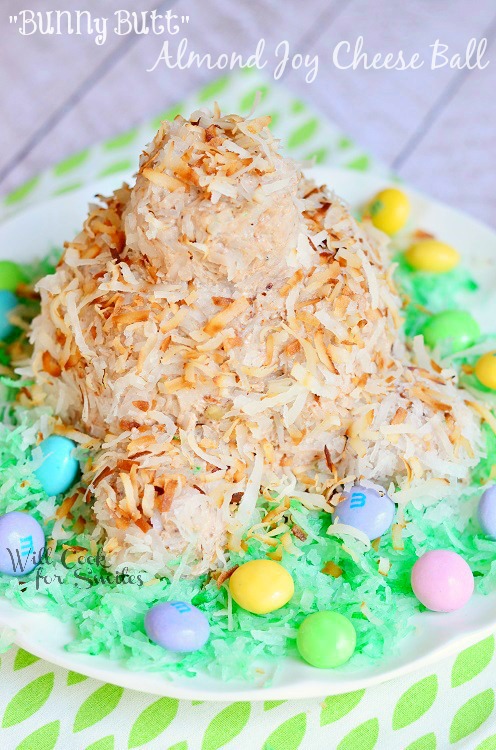 You can't imagine the trouble this little bunny has put me through. This is actually bunny the third. I've been taking pictures of bunny butts all week and they've been kicking my butt. I don't know if I was over-critical or not critical enough, but I just couldn't get them to look right. So this is my third and final bunny and I really hope that it looks like a bunny butt stuck in a rabbit hole. If someone tell me that it doesn't, I am just going to cry.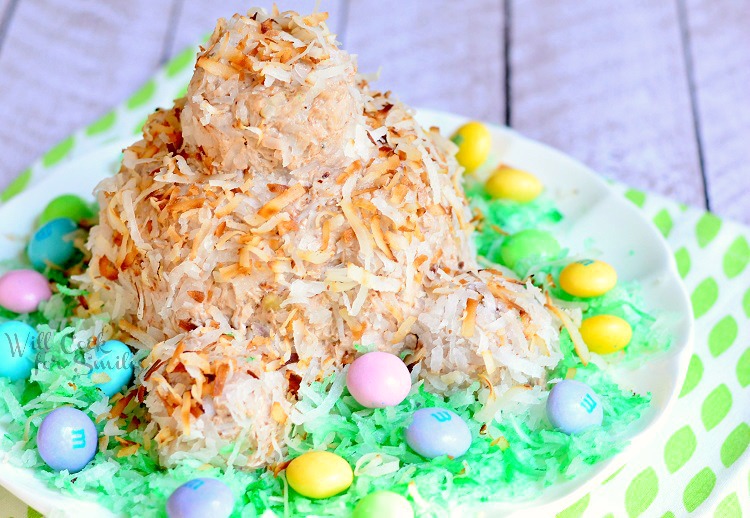 It took me long enough to decide on the bunny to feature with this food fight, so I really hope you like it. I saw this adorable bunny fruit snack from Jill at Kitchen Fun with My Three Sons and I immediately knew that I wanted to make something with bunny butt.
Everyone loved the last dessert cheese ball that I made and I thought it would be a great Easter party idea. Almond Joy was the perfect flavor choice for this bunny too since I needed to make him fuzzy. Toasting coconut for the topping is optional but do consider it because it adds to the great flavor.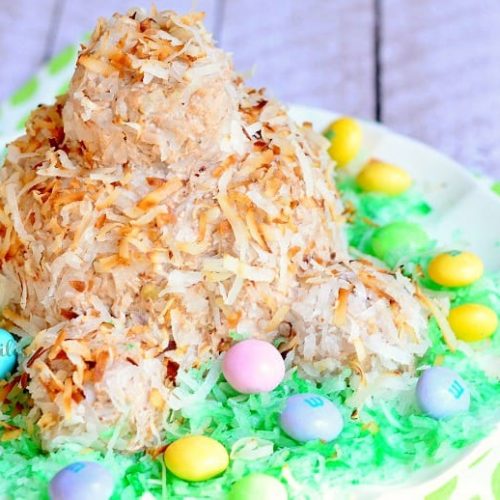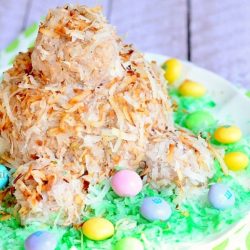 Ingredients
8

oz

cream cheese

softened

1

cup

coconut

1/2

cup

finely chopped

coconut flavored almonds (you can find them at the store)

1/2

cup

finely chopped chocolate chips

2

Tbsp

crushed chocolate chips

1/4

cup

powder sugar

About 1/2 cup toasted coconut for topping

toasting is optional

1/2

cup

coconut + 2-3 drops of green food coloring if making the grass

use gloves
Instructions
You can crush and chop your almonds and chocolate chips (separately) in the food processor by pulsing them a few times.

(Personal note: I don't recommend using a Bullet, it will mash it. I used my Ninja food processor.)

In a mixing bowl, beat cream cheese for about a minute, until light and smooth.

On low speed, mix it powder sugar and then raise the speed to blend it well.

Scrape the sides and the bottom of the bowl, and mix again.

Fold in all your chocolate chips, coconut and almonds until evenly incorporated.

Cut off a large square of saran wrap and line the inside of a bowl (like a soup bowl) with it. Add the cheeseball mixture on top of the saran wrap. Bring up the edges of the wrap together and tighten it. Make sure a ball is formed. Refrigerate for at least an hour.

In a shallow bowl, add the coconut saved for topping. Carefully roll the cheeseball in the coconut.

Shape the bunny butt by making a tail and paws. Even out the round shape of the bunny.

Grass: Place the coconut in a bowl. Put on disposable gloves and squeeze a couple of drops of green food coloring on the gloves. Rub your hands together and rub the coconut in the bowl, coloring it green.
Notes
Recipe from Lyuba @ willcookforsmiles.com All images and content are copyright protected. Please do not use my images without prior permission. If you want to share this recipe, please simply link back to this post for the recipe. Thank you.
Tried this recipe?
Mention @willcookforsmiles and tag #willcookforsmiles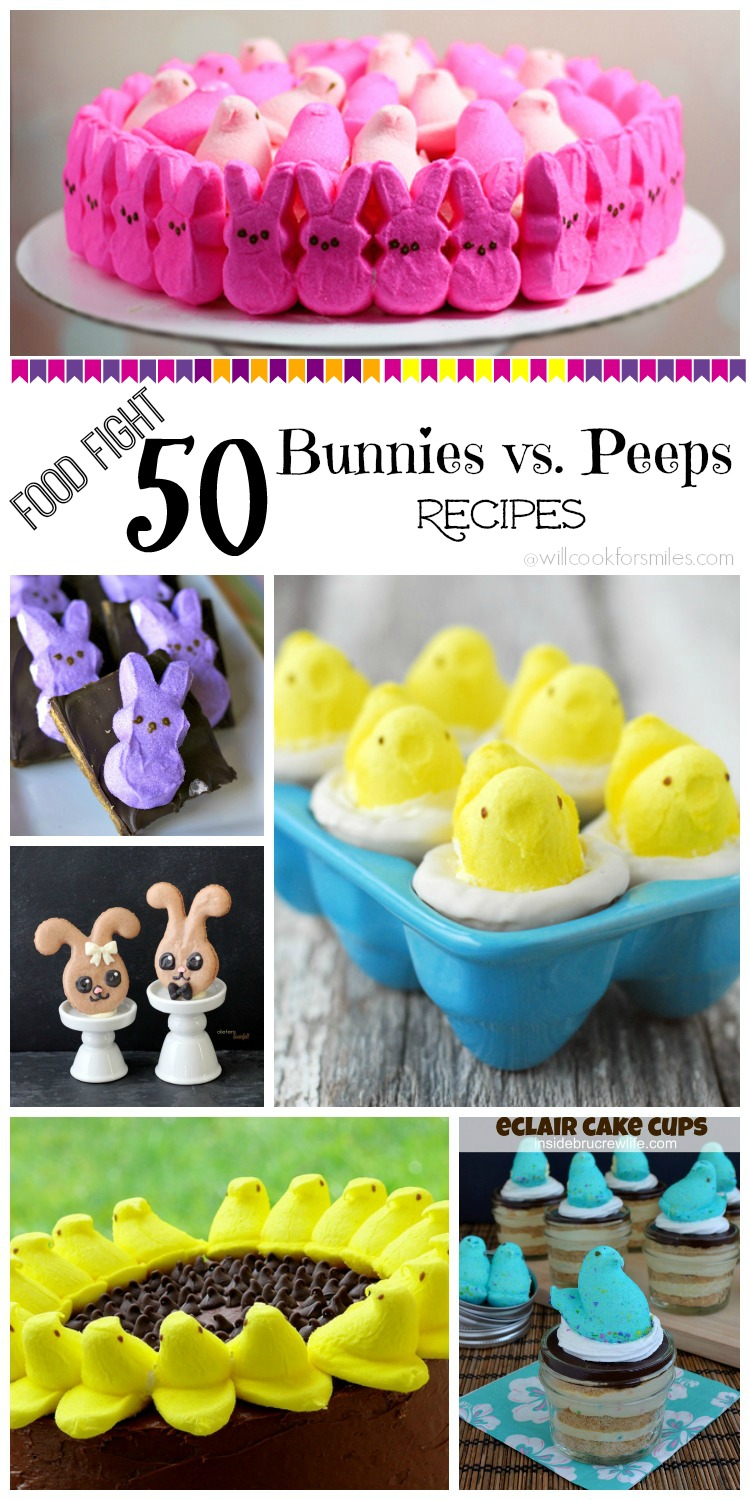 On To The Food Fight!!
In the RIGHT corner, we have Peeps Recipes…
In the LEFT corner, we have Bunny Recipes…
Now, they fight and you should VOTE! Leave a comment here or on any social media network and tell me who do you think should be the winner.
Make sure to visit these special recipes, share them or pin them if you like it (from the original site)!
The FOOD FIGHT happens right here, every month, so come back every 1st of the month!
…
');