Dessert inspired by the movie Epic! Fun and easy dessert of chocolate cream cheese stuffed pastry that are shaped like flower pods and drizzled in caramel sauce.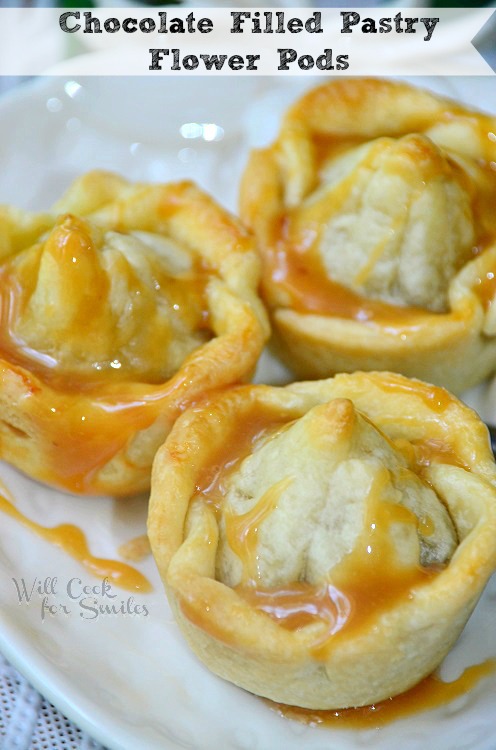 Last week, I told you about our plans to have a fun night out with my sister and go see the EPIC movie together. The word got out about our plans, one thing led to another, I ended up taking a five twelve-year old girls to the movies. You know what, tweens are fun! Well…most of the time, hehe.
We had a blast! More importantly, the girls had a blast.
While we were watching the movie, I kept hearing "wow, this is an awesome movie" or "this movie is the bomb." I really liked the movie myself. The story is very sweet, it had a good amount of humor in it and the animation as amazing. The movie was great, like I said. It had everything in it: emotions, good vs evil, laughs, love and sadness. We watched it in 3D and it was one of the best 3D experiences we had. We don't watch too many movies in 3D mainly because a while back, we went to watch a couple of old movies remade for 3D and I saw nothing special. This was definitely a much better experience.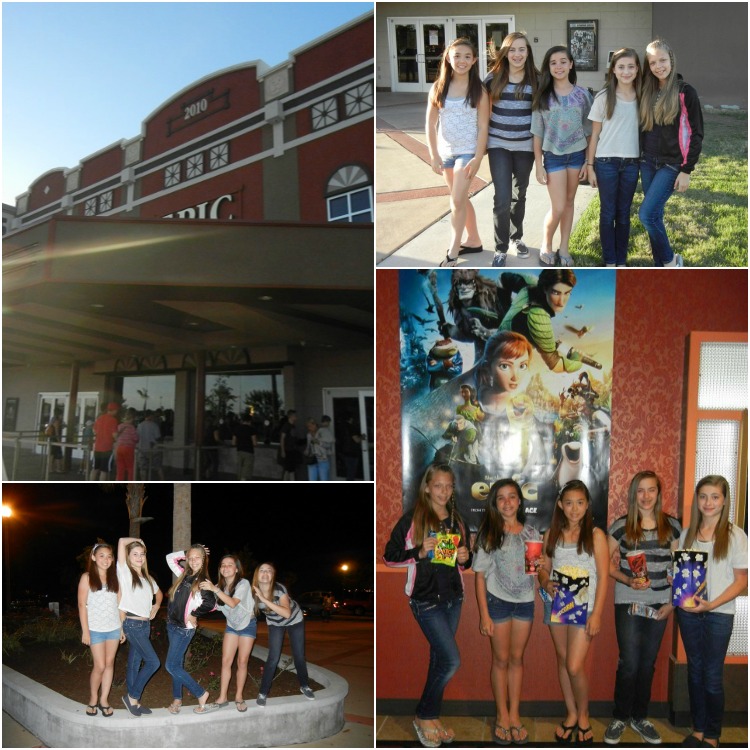 My sister lives in a small, suburban town so there is not much to do for kids her age. Since they can't just walk to each others houses to hang out, they Skype and text all the time. Movie night is something they really like to do. It gives them a chance to hang out and have some fun outside of home and school … and not through electronic devices. I was happy to give my sister a change to have fun with her friends.  I'm also happy that EPIC movie did not disappoint!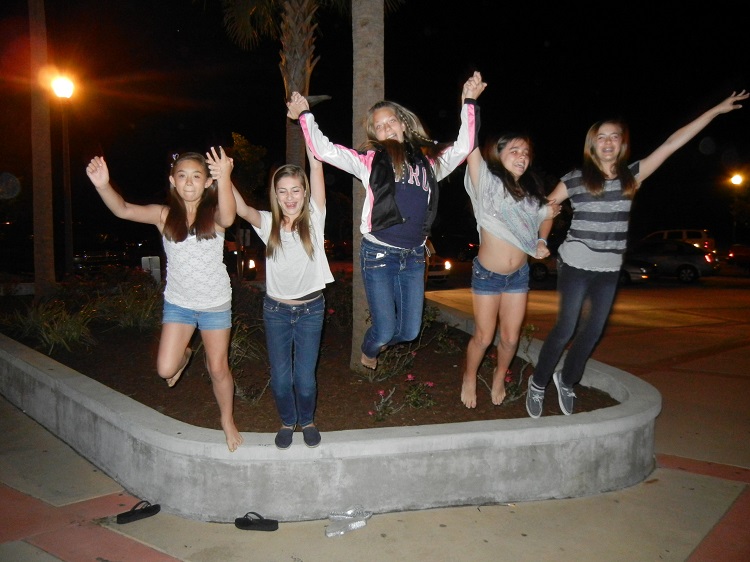 Last week, I shared a fun and easy dinner idea that baby girl and I came up with. It was Chicken Nugget Cupcakes. They are made with mashed potatoes, topped with cut up Tyson chicken nuggets. You can serve them with BBQ sauce or ketchup on top. Mashed potatoes are so much healthier than fries and I always trust Tyson chicken nuggets because it's 100% natural and made with white meat chicken.  Making these cupcakes is very simple but check out the post for more details!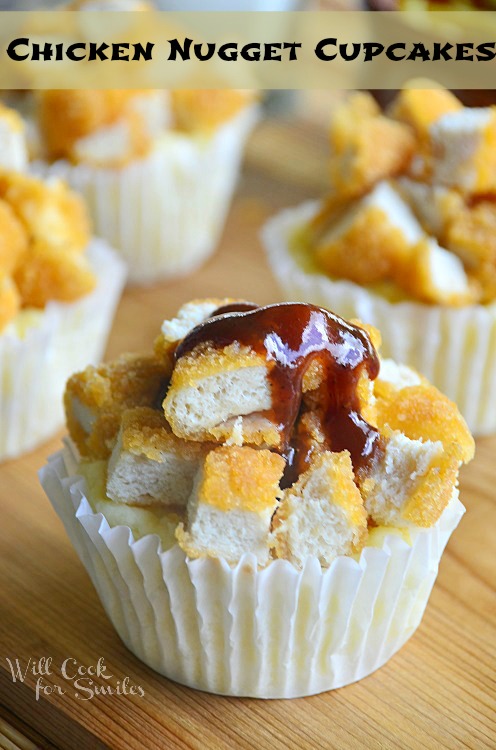 This movie was so awesome that we got inspired to make a themed dessert. There is actually an inside joke that goes along with the inspiration for the dessert. It was full moon on the night of the movie so when we came out of the theater, they were joking that they needed to find "the pod" because it needs to bloom now. If you watch the movie, you will definitely understand what I'm talking about. Anyway, we made blooming flower pods!
These flower pods are made of baked pastry, which are stuffed with chocolate cream cheese and then drizzled with caramel. They are easy enough and so fun and delicious!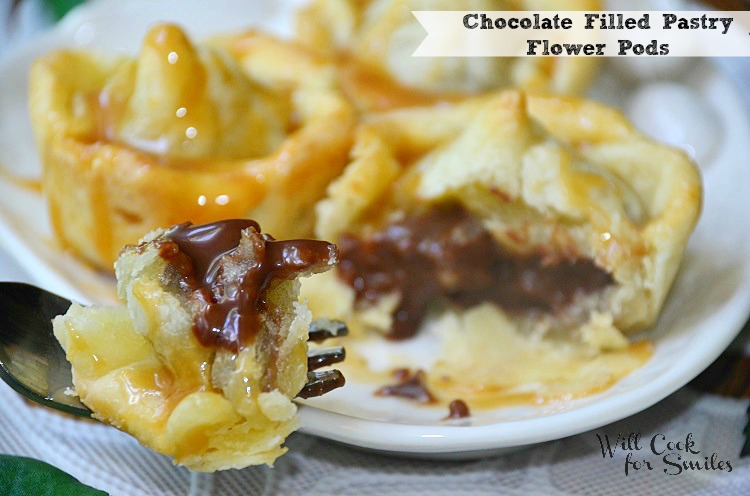 Did I mention delicious? I could eat a dozen of them!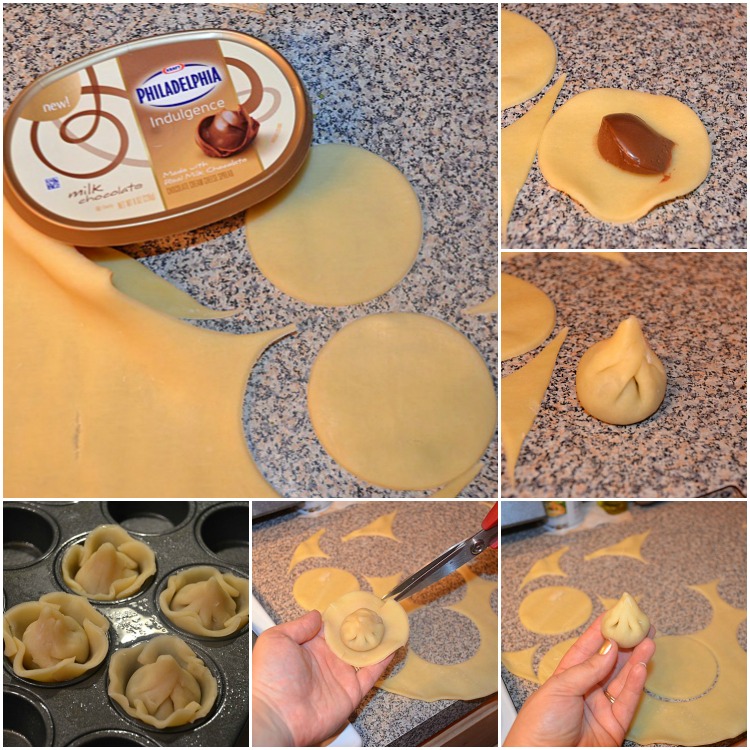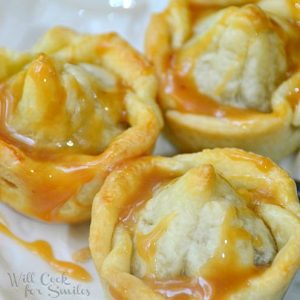 Chocolate Stuffed Pastry Flower Pods
Fun and easy dessert of chocolate cream cheese stuffed pastry that are shaped like flower pods and drizzled in caramel sauce.
Ingredients
1

round sheet of pie crust

About 1/4 cup of chocolate cream cheese spread

1

egg white

for brushing (lightly beaten)

Caramel for drizzle
Instructions
Preheat the oven to 350 and lightly grease a mini cupcake pan.

Spread the round pie crust on a clean surface. Cut out 8 circles, about 2.5-3 inches in diameter.

Place about 2 teaspoons of chocolate cream cheese spread in the center of the four circles.

Bring all sides together so it forms a pod. Press gently so it's all sealed.

Place the pod in the center of another pastry circle and make four little cuts at the edge of the open circle, at 12, 3, 6 and 9 o'clock positions.

Place the pods in the pan cups, the cuts in pastry will help you overlap the pastry edges so that they form flower petals.

Lightly and gently brush the pods with egg white.

Bake for 15-17 minutes, until golden brown.

Drizzle with caramel and enjoy!
Recipe Notes
Recipe from Lyuba @ willcookforsmiles.com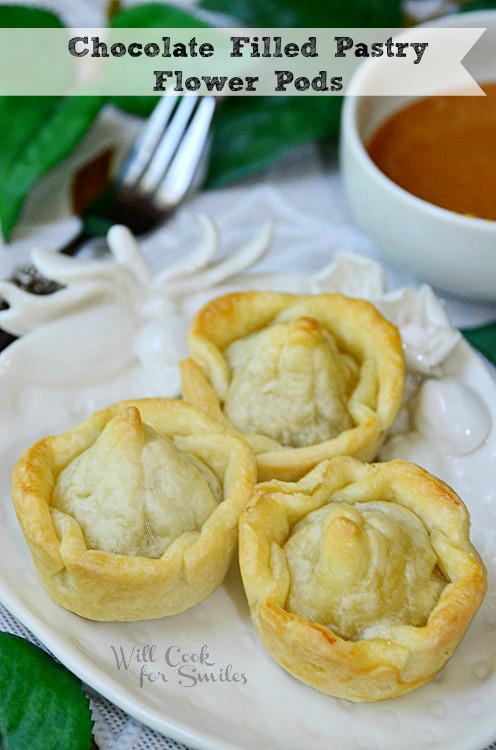 Make sure you follow me through your favorite blog reader (bloglovin or other), or follow me through | Facebook| Twitter| Pinterest|

Don't miss any new posts and recipes from me, subscribe to E-MAIL! Just enter your email in the side bar, you will receive an email for confirmation. Confirm and you are all subscribed! HUGS!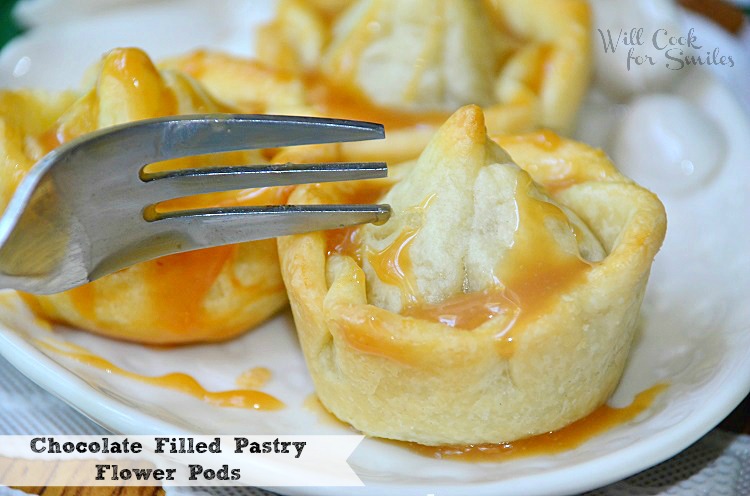 ***************
Remember to come back and link up to my party on
Saturday

night!!
I will be sharing this recipe at the wonderful parties in my party tab + Weekend Potluck and Rattlebridge Farm.  Swing by and link up your own projects!