I got invited to participate in a cooking challenge at
Mom's Crazy Cooking
. I though it would be a lot of fun because it is something different.
"The point of this challenge is to go out into "Blog World" visit blogs you may have been wanting to get to know, have come stumbled across or just a way to discover a new blog. The challenge is for you to pick a recipe from "Blog World" (any recipe you'd like but MUST be from another blog, not from a celebrity chef like Rachel Ray or Taste of Home, etc), it will be a SPECIFIC recipe, bake it & blog about it. The first month our theme is going to be MACARONI & CHEESE!"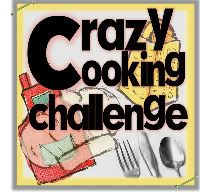 The party is at the bottom of this blog. Please check out other recipes!
This recipe I found at
Eat Live Run
. I must have looked though twenty recipes before I found this one! The second I saw it, I thought this was it, the perfect mac-n-cheese recipe with a twist! Go check out her blog, its very nice!!
Ingredients:
16 oz macaroni noodles
3 T butter
3 T all purpose flour
4 cups milk
16 ounces mixed grated cheese (I used a mix of cheddar, swiss and mozzarella)
6 ounces crumbled blue cheese
1/4 tsp cayenne pepper
salt, pepper
Directions:
~Preheat oven to 400.
1. Cook macaroni in boiling salted water. Set aside.
2. In a heavy saucepot over medium high heat, melt the butter and add the flour.
3. Whisk together and cook for thirty seconds, until combined.
4. Add the 3 cups milk slowly and whisk constantly until smooth. (reserving one cup) Keep cooking and whisking on medium until thickens.
5. Add 12 ounces of the grated mixed cheese and stir well so that the cheese melts.
6. Add the salt, pepper and cayenne followed by the additional cup of milk and half of the blue cheese crumbles. Stir well.
7. Once everything is smooth, add the cooked macaroni and toss well.
8. Pour into a 9″13″ casserole pan and top with the remaining grated cheese and blue cheese.
9. Bake for 20 minutes.
Enjoy!!