It's time to share a new chicken recipe! Coq Au Vin is a classic French dish that everyone should make at least once in their life!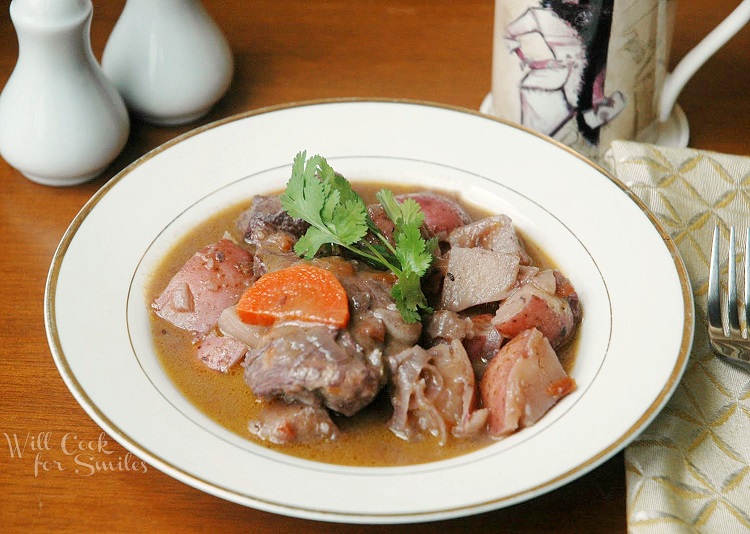 It's time for the Daring Kitchen March challenge!! Whoo hoo!!
This is THE challenge I have been waiting for. I had Coq Au Vin on my "to make" board for close to a year. For some reason, I was intimidated by this dish. Now that I made it, I really don't know why I was so afraid. It was very easy and the result was UNBELIEVABLE! It was like my taste buds died and went to food heaven!!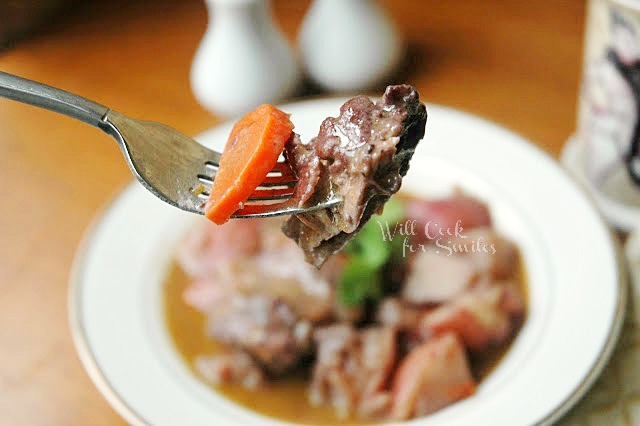 Coq Au Vin is a traditional French dish, so I thought it would be very appropriate to use
Julia Child's recipe
. I love Julia Child and love her recipes.
On to the challenge…
March challenge was to make a dish using braising technique.
What is braising?
"Traditional cooking methods may be classed as how heat is conducted through the food. First is moist heat (poaching, simmering, steaming or boiling) where heat is conducted through some sort of liquid; be it stock, sauces or steam. The second method is dry heat (roasting, baking, broiling, sautéing, pan frying) where heat is conducted by hot air, radiation or hot fat. Different methods are suited for different kinds of food. Braising, from the French "braiser", offers us a combination cooking method – dry heat followed by moist heat. Typically, meat is seared in hot fat which helps to add flavor and aromas, improves color (browning), and texture (crust). It is then submerged in liquid and cooked slowly and gently at low heat."
Lets give a round of applause to our host this month:
Carol
is a non-blogging member of the  Daring Kitchen. She is wonderful and you can find a little about her
here
. Thank you Carol, for finally pushing me to make a dish that I have been too chicken to make. This is one of my favorite's dishes now.
Visual Directions (Printable Recipe Below!):
1. In a medium thick pot, heat up oil and add the dry chicken thighs. Brown in hot oil. Remove the chicken to a side dish, leaving the fat in the pan.
2. Add the onions and cook on medium-high heat until nice and golden. Add the chopped tomatoes and cook until tomatoes are tender and juicy.
3. Season the chicken lightly with salt and pepper; return it to the pot. Add the bay leaf and thyme.
4. Pour in the wine and stock (
make sure its enough to cover the chicken and a little extra because you will be adding the veggies soon
). Bring to the simmer; cover, and simmer slowly 15 minutes
5. Add the chopped potatoes and carrots. Make sure there is enough ingredients to cover the ingredients. (add a little bit more stock if not) Cook until the potatoes are fully done.
6. Remove the chicken to a deep side dish (like a casserole dish).
7. Taste the liquid carefully for strength and seasoning, add more salt or pepper is needed.
8. To make Beurre manié: mix 1 tbs of flour and 1 tbs of soft butter until well blended. 
9. Whisk the beurre manié into the liquid to make a lightly-thickened sauce. Bring briefly to the simmer (the sauce should be just thick enough to coat a spoon lightly)