*This shop has been supported by Collective Bias, Inc. and Bigelow Tea. All opinions are 100% mine alone.*
Last week, I told you guys about my visit to Bigelow factory and corporate headquarters in Fairfield, Connecticut when I shared my new recipe for Vanilla Chai Tea Sweet Bread. Today, I want to share the other part of that great trip. The part where I got to sample some of the best food in New York City. Delicious week indeed!
I only spent about three days in NYC but I got to cram in quite a bit of food in those few days. It was my mission to try as many great places as possible but we all know very well that "few days" is nowhere near enough to try all the great places to eat there. Honestly, a year would probably not be enough time to try everything there is to eat in NY. I love food and I love a good variety of food. A year would definitely not be enough time for me. Luckily, I have a few friends in NY who could make some great suggestions for me. I actually got so many "must try" suggestions that I still have a whole lot of places on my list to try. I will have to make another foodie trip to NYC soon.
As many places as I got to taste, I want to share Doughnut Plant first.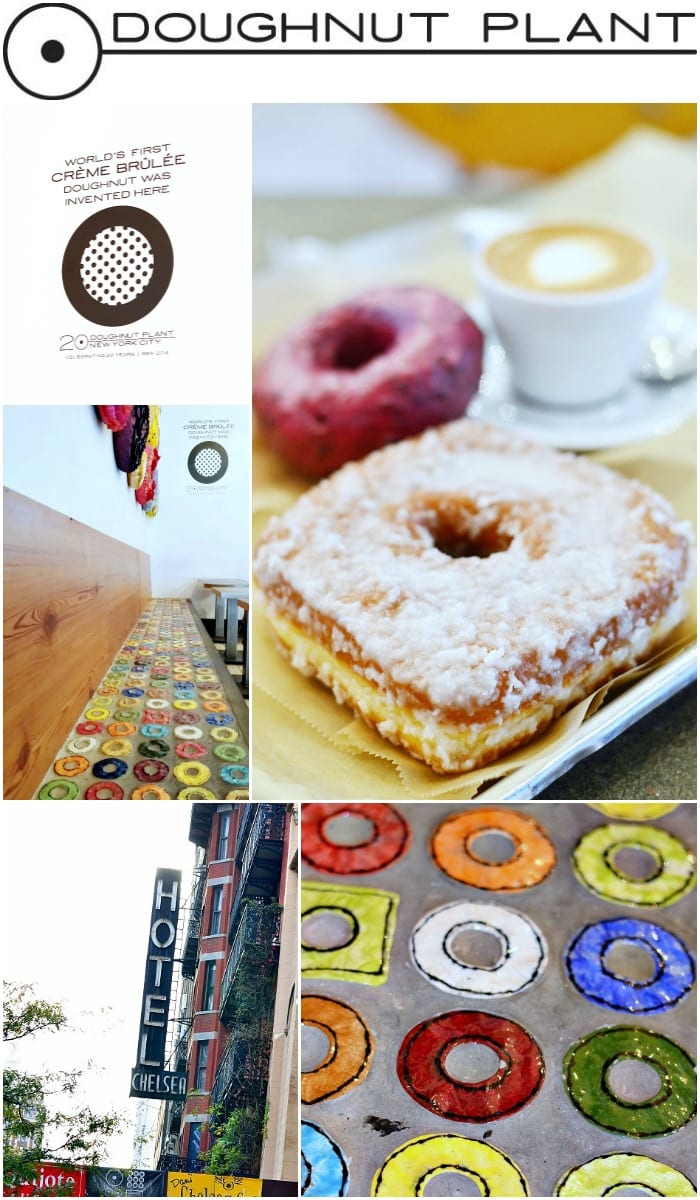 Let me start by apologizing about some shots in this post, lighting has not been the best inside. I love darker lit restaurants but when I need to take pictures, suddenly it's not as great. Food makes up for the lack of lighting though, trust me!
I had to make in my mission to visit the Doughnut Plant while I was in the city. I was told that they have the best doughnuts and it is definitely true. There are a couple of locations and I visited the one in Hotel Chelsea. I knew that I couldn't get out without trying a couple different doughnuts from them. The second I saw Coconut Cream Filled Doughnut, it called out my name. (You know me and coconut, it's true love.) I'm also a sucker for blueberries so I had to try their Blueberry Baked Doughnut. My blueberry doughnut actually traveled with me to the Brooklyn Bridge. I walked up and down Brooklyn Bridge, enjoying the beautiful weather and taking lots of shots of the beautiful view…about 120 shots to be honest. But, out of all 100+ pictures that I took on the bridge, the one below was definitely my favorite. This doughnut is as delicious as it is photogenic! Both doughnuts were awesome. I also heard, from the girl that sat next to me in the shop, that Peanut Butter and Blackberry Jelly one was amazing. (Going on the list to try!)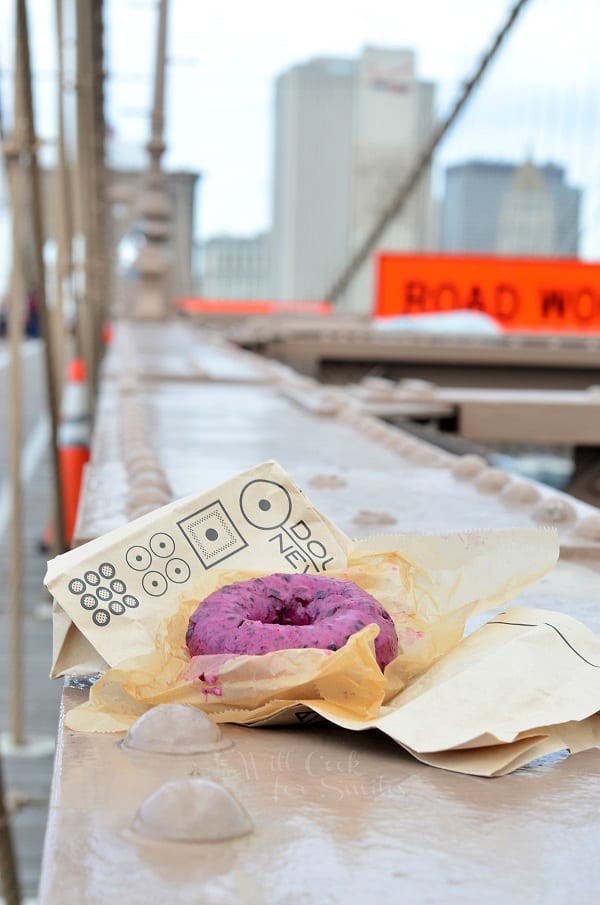 Moving on, shall we?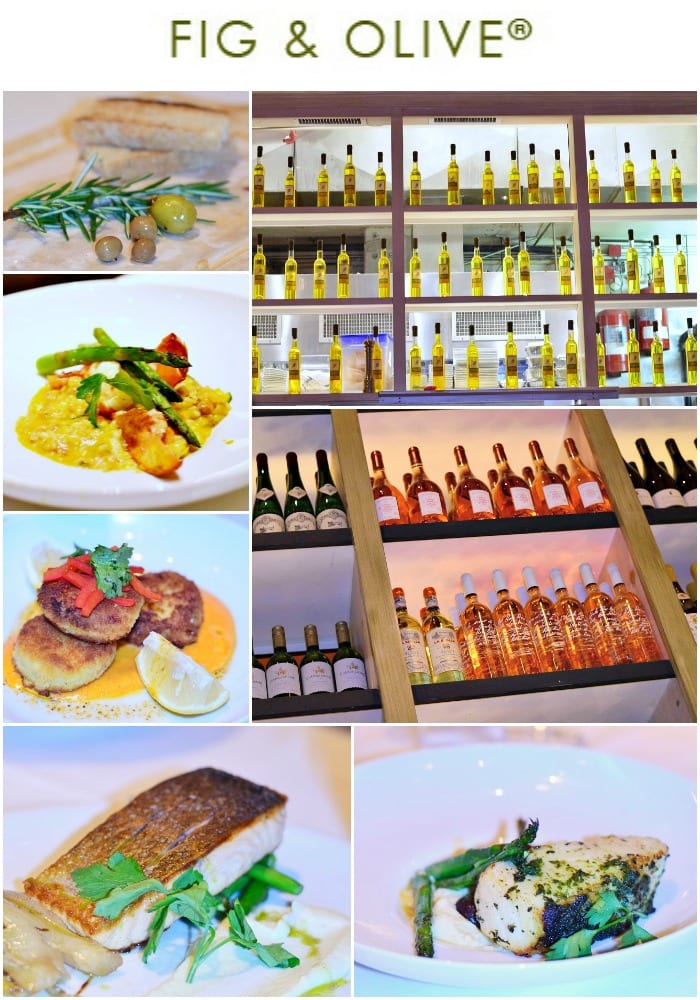 First night in the city, we ate at Fig & Olive, in the Meatpacking district. I absolutely loved the atmosphere here. Yes, it was one of those places where the lighting was dim but it was very nice. The wine walls were absolutely beautiful and I through that open space between the kitchen and dining room, which was filled with olive oil bottles, was a gorgeous idea. Food was great and I kept hearing yummy noises coming from every corner of the table. Everyone loved their food and of course, I was the girl who had to take a photo of everyone's dinner. Food bloggers for ya…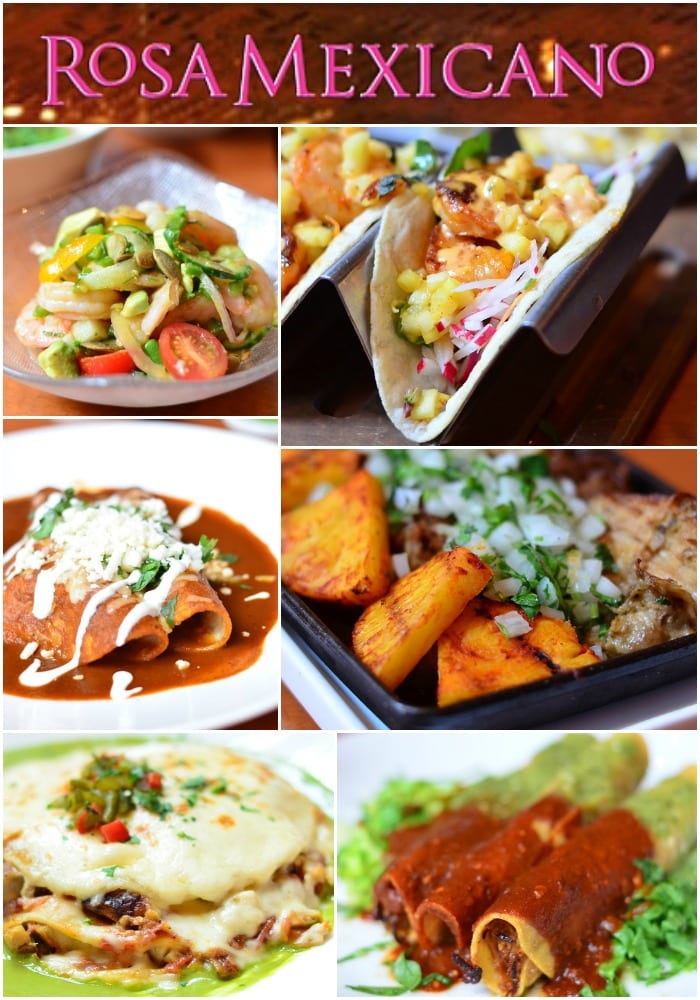 Next day, we spent with the Bigelow family and ate in a nice place in Fairfield. But, this is a post about food in NYC, so I won't bother you with those details. The following day, we had lunch at Rosa Mexicano and let me tell you something, I will definitely be coming back here again even though I already tried it. The decor is beautiful, they make delicious guacamole right in front of you, and every plate was more beautiful than the other. I had Shrimp Ceviche and it was a perfect light and refreshing lunch.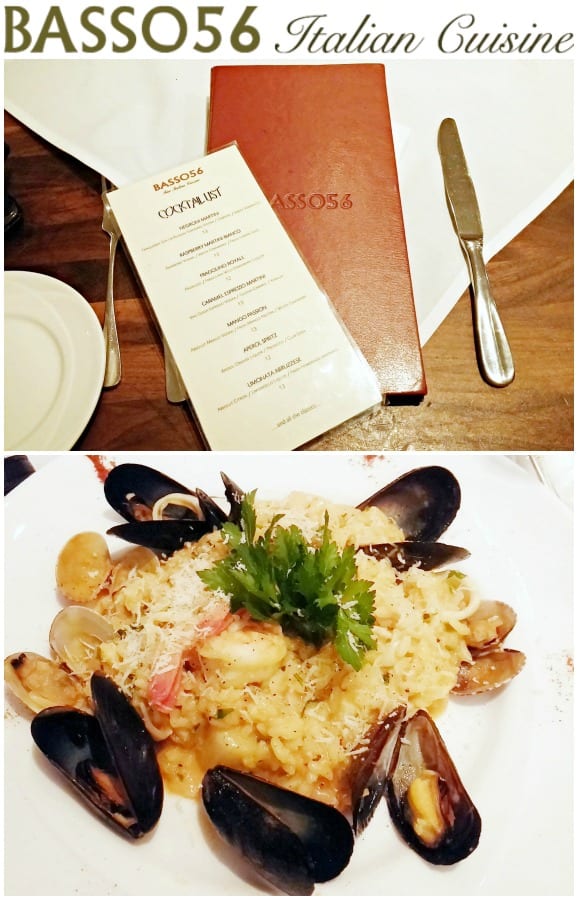 For dinner, we enjoyed Basso 56. It is a sweet little Italian restaurant and the food was wonderful. Again, I apologize for the photos as I left my camera in the hotel. You see, we were going to Wicked on Broadway right after and I didn't think that my camera bag went with my dress well. I had Seafood Risotto for dinner, which was one of the specials that night, and it was delicious. Believe it or not, this is just a half portion in the photo. My friend and I ended up splitting it so we can fit in a salad. It was more than enough and like I already said, it was delicious. Basso 56 is a very sweet and romantic Italian restaurant that I would definitely recommend for a date night.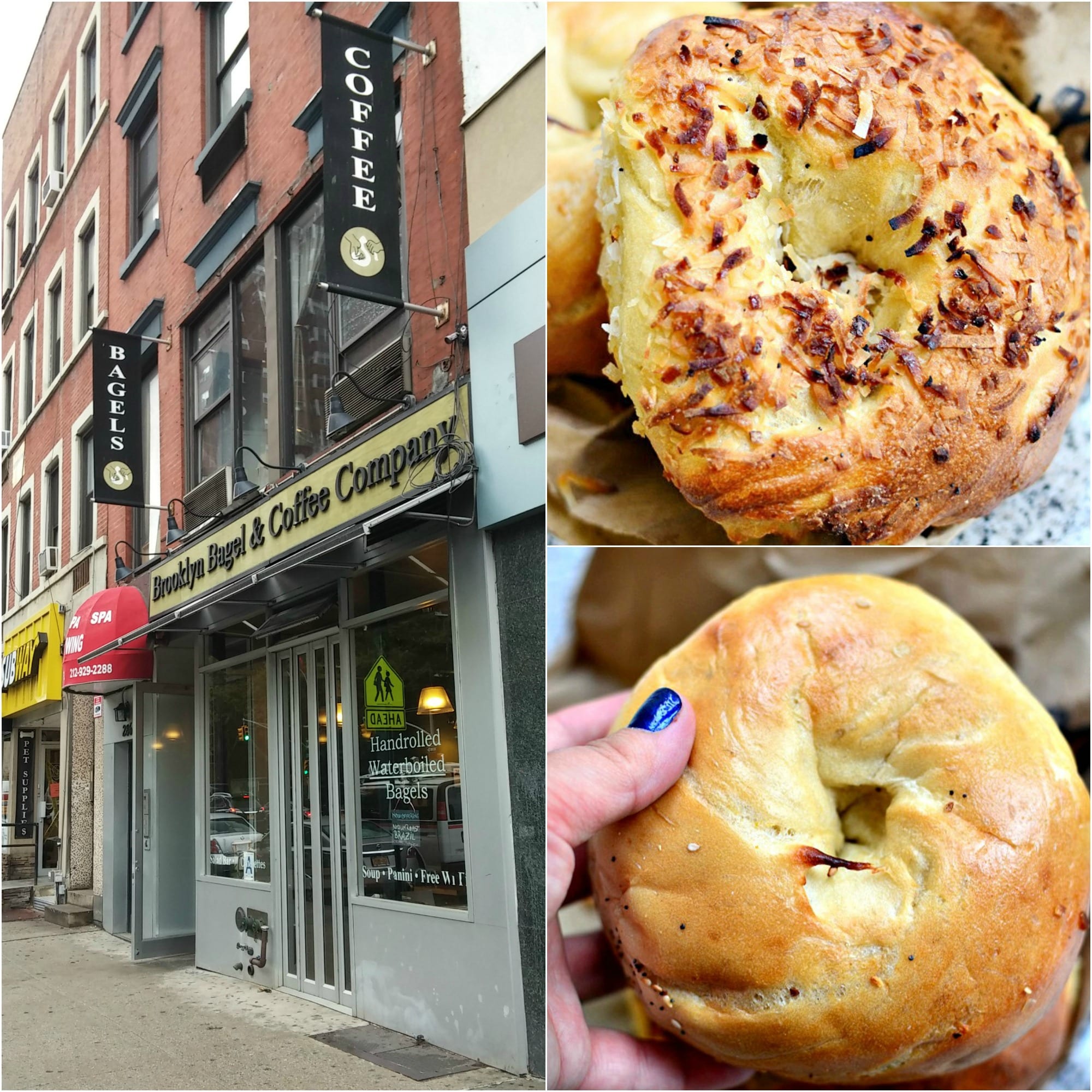 The next day, I only had a few hours before my flight so I set out to cram in a few more New York's finest foods before noon.
First, the bagels! Of course, how could I possibly leave without getting some New York bagels. After asking a few friends, I settled on Brooklyn Bagel & Coffee Company. Wow, those were some good bagels! I even took some home because my son absolutely loves bagels. I'm sure you also noticed in the photo that they have a coconut bagel! Yes, a coconut bagel and it was Ah-mazing! These bagels are freshly made and they are huge. Perfect.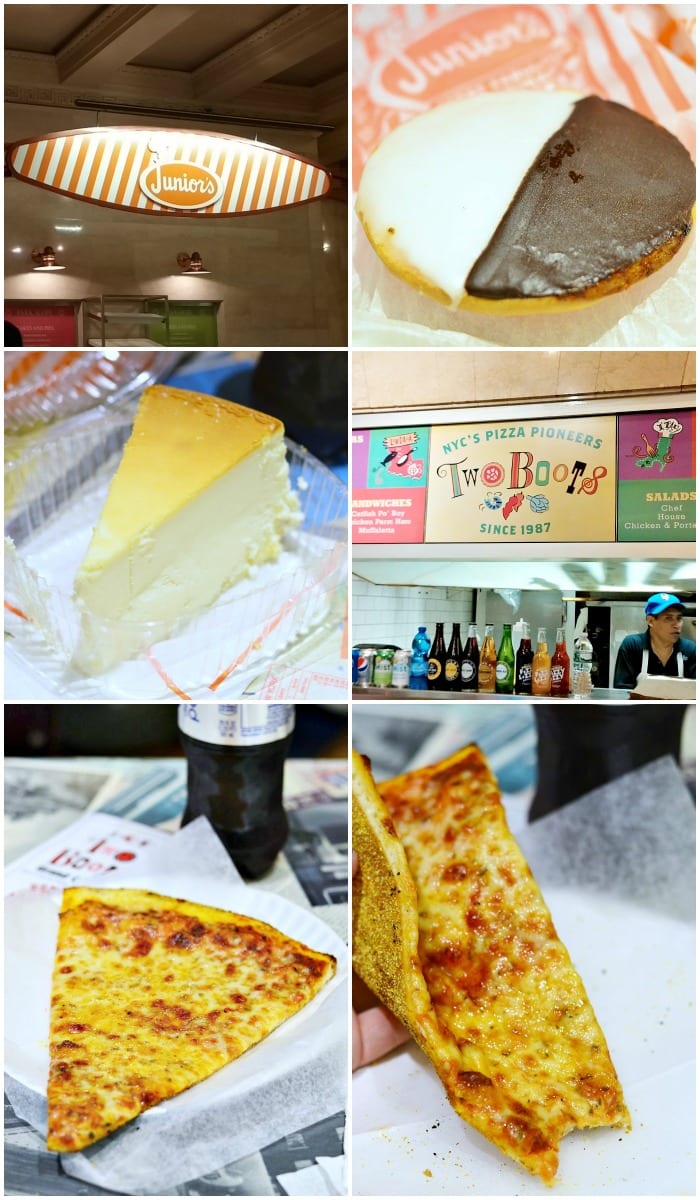 I also couldn't leave without getting some New York Cheesecake, Black and White cookie and pizza. I was close to Grand Central station and only had a couple hours left so two birds with one stone. Junior's classic New York Cheesecake is as good as ever and you can never go wrong with a Black & While cookie. Of course I brought some cookies home and little man polished them off in no time at all.
Classic Cheese Pizza from Two Boots was as good as I remember. I really miss true New York pizza in FL.
That is about all I had time (or stomach) to eat on this short trip but there are many more places to try on the list. I know that I want to visit Magnolia Bakery, Eataly, Grey's Papaya, try Honey Whiskey Cakes from The Brooklyn Baking Barons and many, many more. (Leave your favorite suggestions to me too and I will make sure to check them out next time.)
For now, enjoy some of my favorite shots that I took while walking on the Brooklyn Bridge.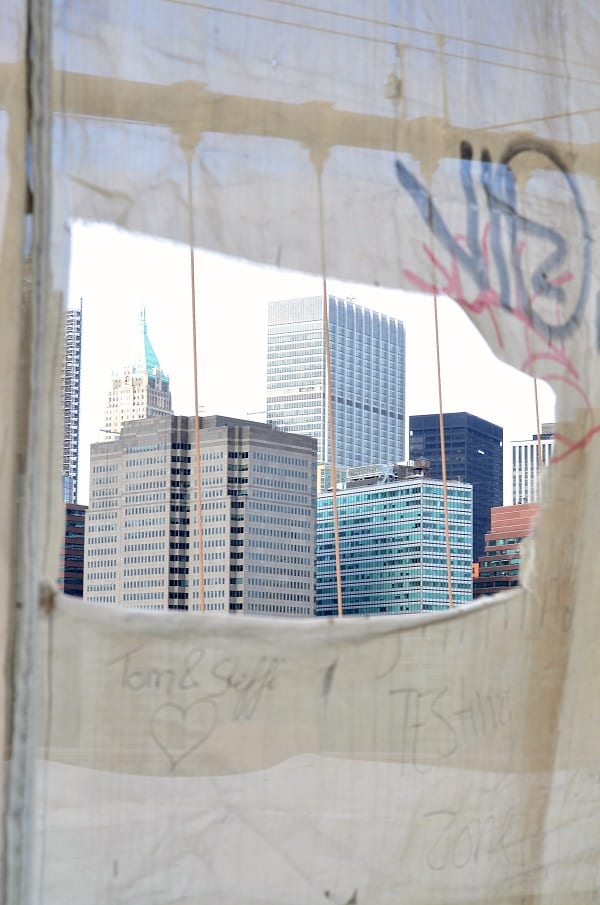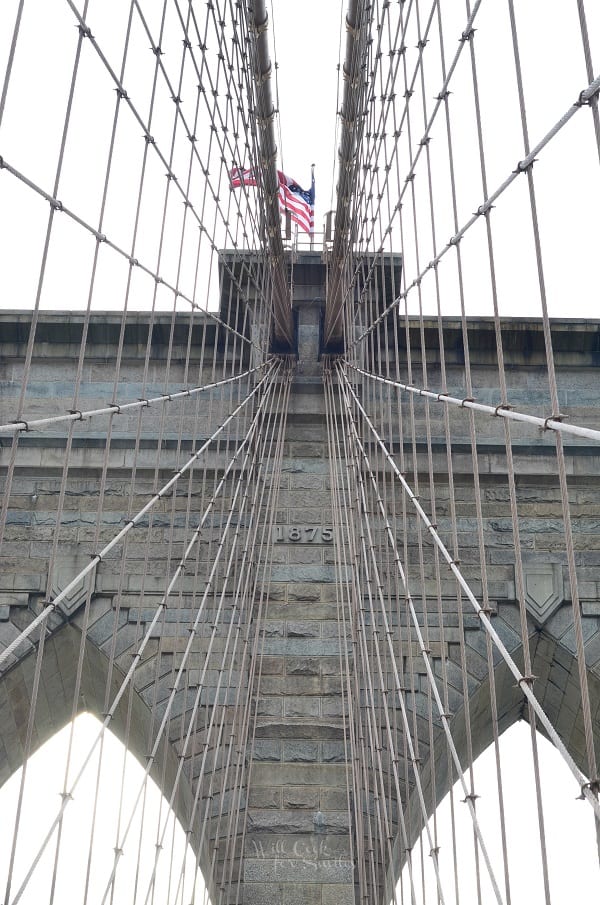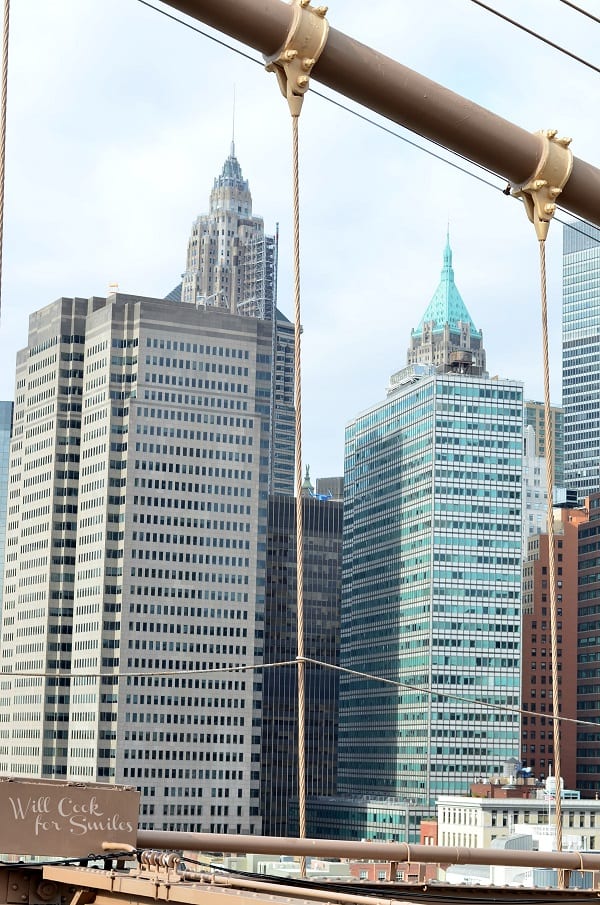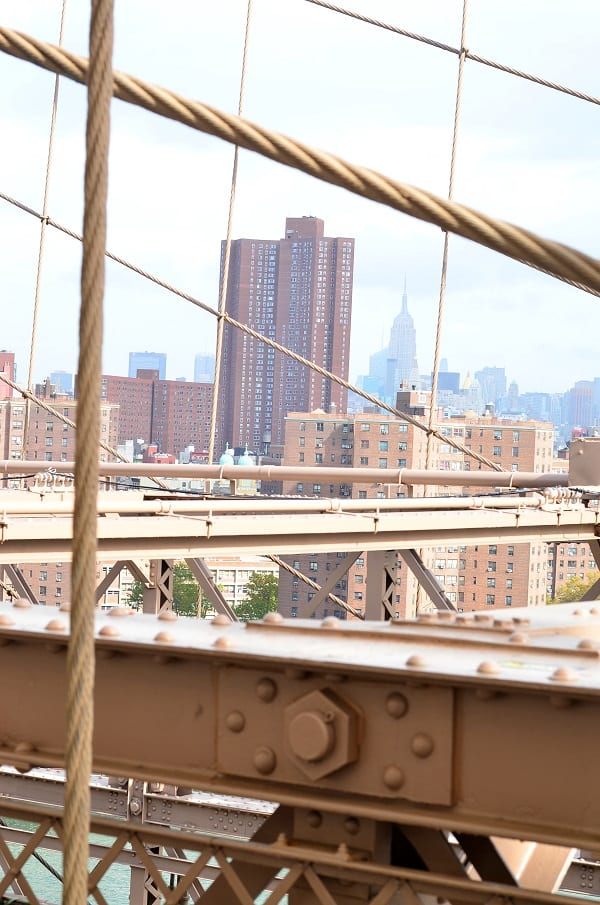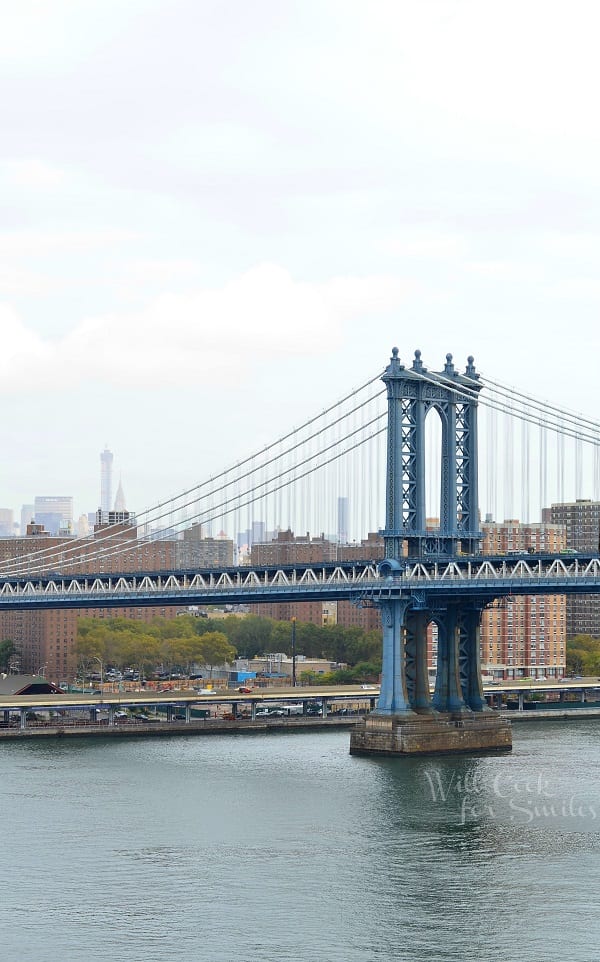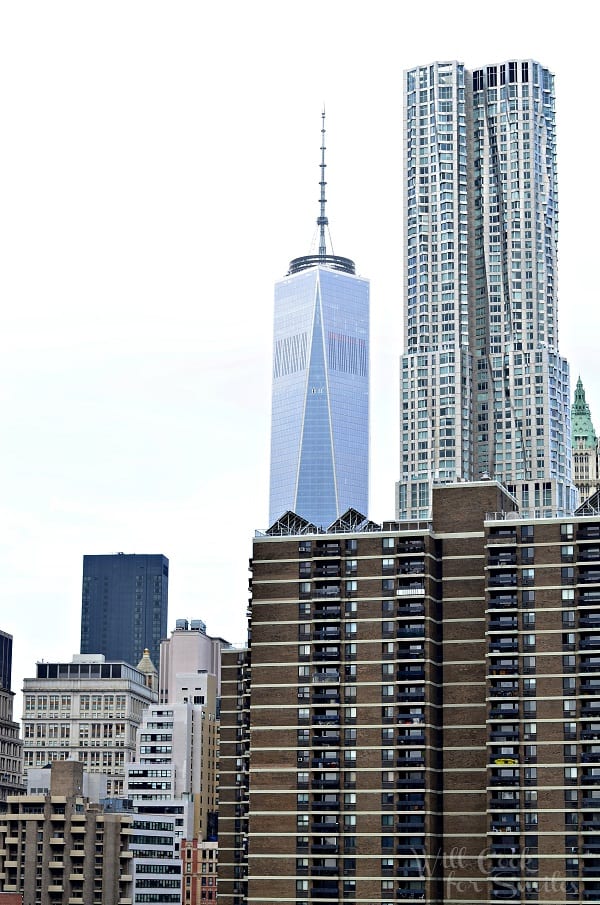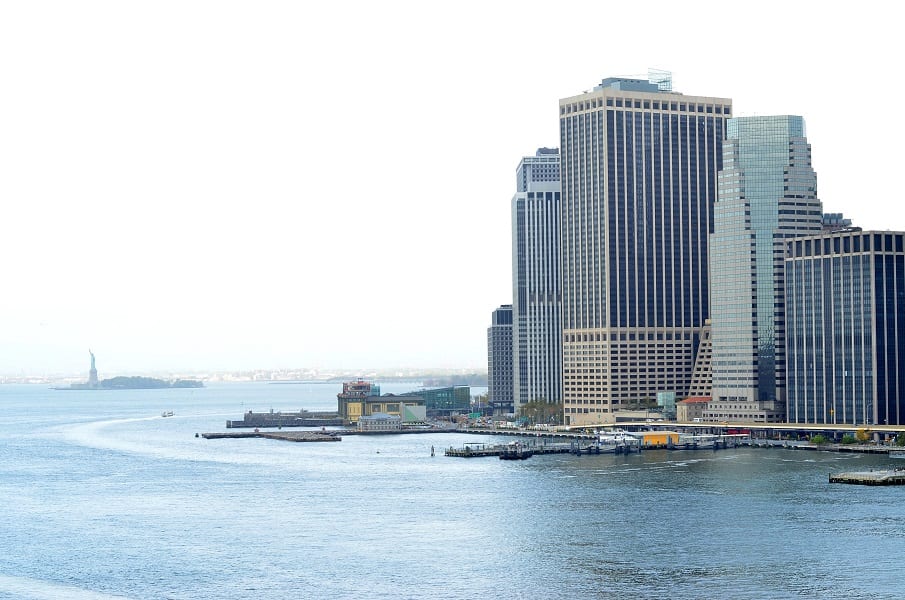 _________________________________________________________
Make sure you follow me through your favorite blog reader (bloglovin or any other), subscribe to e-mail or follow me through social media of your choice to keep up with the recipes!
        
_______________________________________________________