While my sister was staying with me, we had an elegant tea party for the Project Runway season opening. We made a charming set up using new David Tutera Casual Elegance collection for special decorating touches and made some delicious Chocolate Cupcakes with Raspberry Mousse Frosting.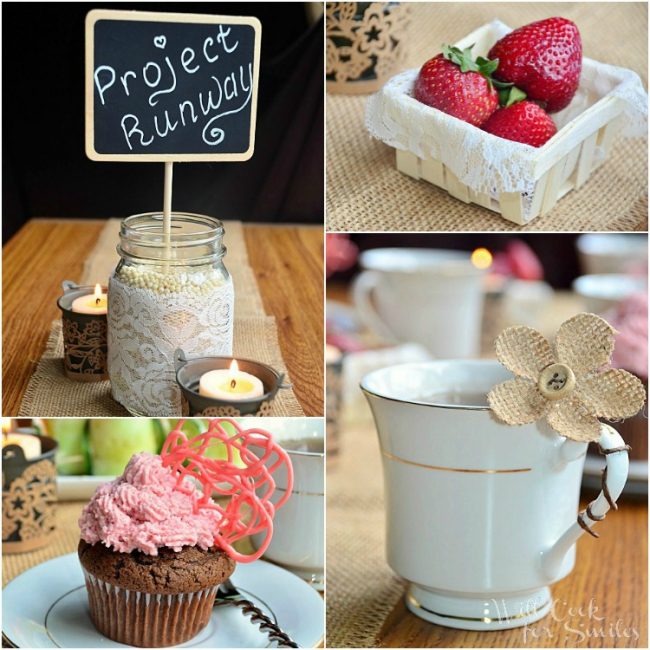 Yes, we are big Project Runways fans here. My mom, my sister and I are huge fans and watch it religiously. I started watching it ten years ago and got the other two hooked and few years back. Since I happened to have my sister visiting last week, we decided to throw ourselves an elegant Project Runway party.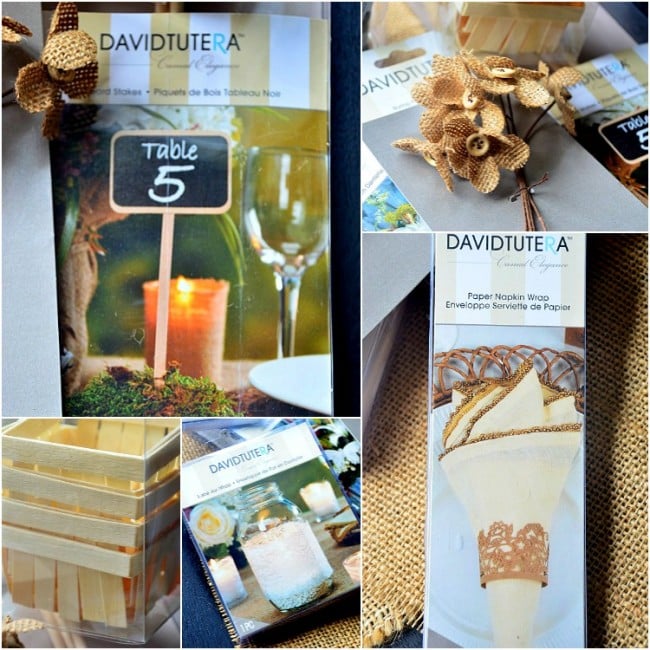 It was absolute timing perfection that I recently got a box of gorgeous new David Tutera Casual Elegance decorating/crafting supplies. When I opened the box, I lit up like a kid on Christmas. As I pulled out each item, I was picturing what I can do with it. The best part of this beautiful collection is the possibilities for different uses. It's not just decorating pieces or crafting supplies, I am also using it as photography props. Every item is elegant, charming and brings a rustic look but modern at the same time. Like so many others, I've fallen in love with burlap and rustic look.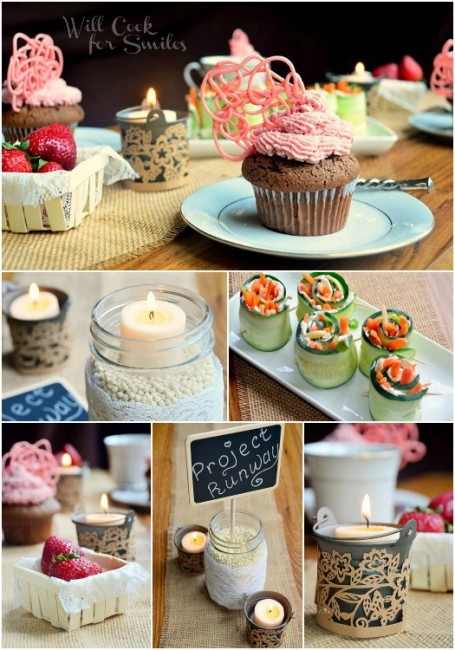 For our elegant, Project Runway party I used these gorgeous products:
Chalkboard Stake
Mason Jar
Lace Jar Wrap
Silver Painter Marker
Mini Wood Baskets
Lace Ribbon
Mini Metal Buckets
Paper Napkin Wraps
Burlap Flowers
Burlap
1. I didn't want to overdue on the decorations, after all this is an elegant party… simpler is better. First, I cut a long runner out of burlap, about 6-7 inches wide.
2. I made the party sign out of Chalkboard Stake by filling the mason jar with dry grains, to help it stand up. I wrapped the beautiful lace jar wrap around the mason jar for an extra touch.
3. I used the mini metal buckets as candle holders by adding some dry grain on the bottom to bring up the votive higher and wrapped paper napkin wrap around the metal bucket.
4. To feel fancy, I wrapped the burlap flower around the handle of the tea cup. I don't know why but it was my favorite touch!
5. For one more special decorating touch, I added some lace in the mini wooden baskets and filled them with strawberries.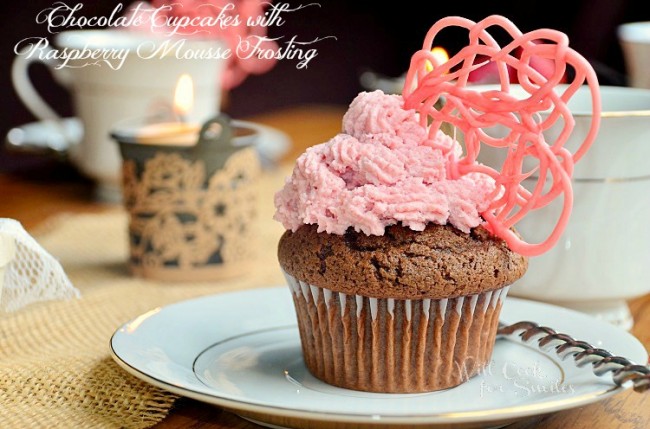 Finally, we made these gorgeous, delicious and yes, elegant cupcakes!
These cupcakes turned out PERFECTLY and made a wonderful addition to our elegant tea party!
Chocolate and raspberry combination is a classic that's always guaranteed to please. The cupcakes turned out so soft and smooth and Raspberry Mousse Frosting was a brilliant idea to add the cooling, raspberry touch.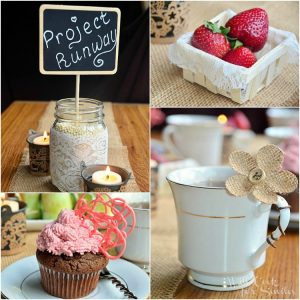 Project Runway Party, Chocolate Cupcakes & Raspberry Mousse Frosting
Please note, this recipe will take some time since mousse needs to set in the refrigerator. Total time can be up to 3 hours. It is SO WORTH the time tough!
Ingredients
Chocolate Cupcakes:

1 1/2

cups

of flour

1 1/2

tsp

baking powder

1/2

tsp

baking soda

1/4

tsp

salt

3/4

cup

of sugar

2

eggs

4

oz

baking chocolate

semi sweet bar (I prefer Ghirardelli)

3/4

cup

vegetable oil

2/3

cup

of milk + 1 tbs

Raspberry Mousse Frosting:

2

Tablespoons

powdered gelatin

unflavored

1/2

cup

cold water

2

cups

of raspberries

1

tbs

lemon juice

3/4

cup

sugar

2

cups

heavy cream
Instructions
Preheat the oven to 350 and line the muffin pan with cupcake lines.

Prepare all the ingredients and have them ready before starting the batter.

Sift the flour, baking powder and salt together and set aside.

Break up the chocolate bar and melt it with butter in the microwave at half power for about a minute, stirring every 20 seconds.

Beat the sugar and eggs together, on high speed, until light and fluffy, about 5-7 minutes.

Lower the mixer to medium, with mixer running, drizzle in the oil and beat until well combined.

Drizzle in the melted chocolate.

Alternating, beat in dry ingredients and milk on low speed. Starting and ending with dry ingredients.

Divide the batter between the cupcake cups, filling about 3/4 way up.

Bake for 18-20 minutes. Do a toothpick test to make sure they are done.

Cool before frosting

Raspberry Mousse Frosting:

Start by making raspberry puree. In a small sauce pan, combine raspberries, lemon juice and sugar. Cook on medium heat until the raspberries give out juice. Mash the berries with a wooden spoon and bring to boil. Strain the mixture through a fine strainer to remove the seeds and solids.

Place your metal bowl from the electric mixer and the whisk attachment (or a regular metal bowl and the beaters) in the freezer for 10-15 minutes. Make sure that your heavy whipping cream is cold.

Add the heavy whipping cream to the cold mixing bowl. Starting at low speed, start whisking, gradually raise to speed to high. Slowly, add the sugar. Beat until stiff peaks appear (don't walk away far.) Refrigerate until ready to use.

Combine cold water and gelatin, stir well. Let sit for 5 minutes until all the gelatin has absorbed the water and become translucent.

In a small sauce pot, combine the gelatin and raspberry puree. Heat through on medium heat, while stirring constantly, until all melted and combined.

Take off heat and cool for a few minutes.

Fold in half of the whipped cream until smooth. Then, carefully fold in the remaining cream until all smoothly combined.

Refrigerate for about an hour until starts to mold. Transfer some mousse into a piping bag and frost the cool cupcakes.
Recipe Notes
Recipe from Lyuba @ willcookforsmiles.com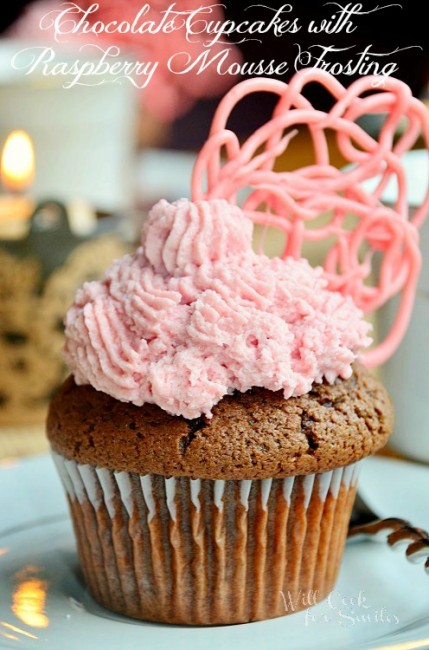 All in all, we had a great season opening party!
You can keep up with all things "Fabulous" with Mr. David Tutera on Facebook, Twitter, and Pinterest 
__________________________________
Make sure you follow me through your favorite blog reader (bloglovin or other), or follow me through | Facebook| Twitter| Pinterest|

Don't miss any new posts and recipes from me,
subscribe

to E-MAIL! Just enter your email in the side bar, you will receive an email for confirmation. Confirm and you are all subscribed! HUGS!

***************
Remember to come back and link up to my party on Saturday night!!
_________________________________