Easy weeknight dinner that will get everyone running for more. Juicy Italian sausage meatballs on top of pasta all smothered in homemade Vodka Sauce.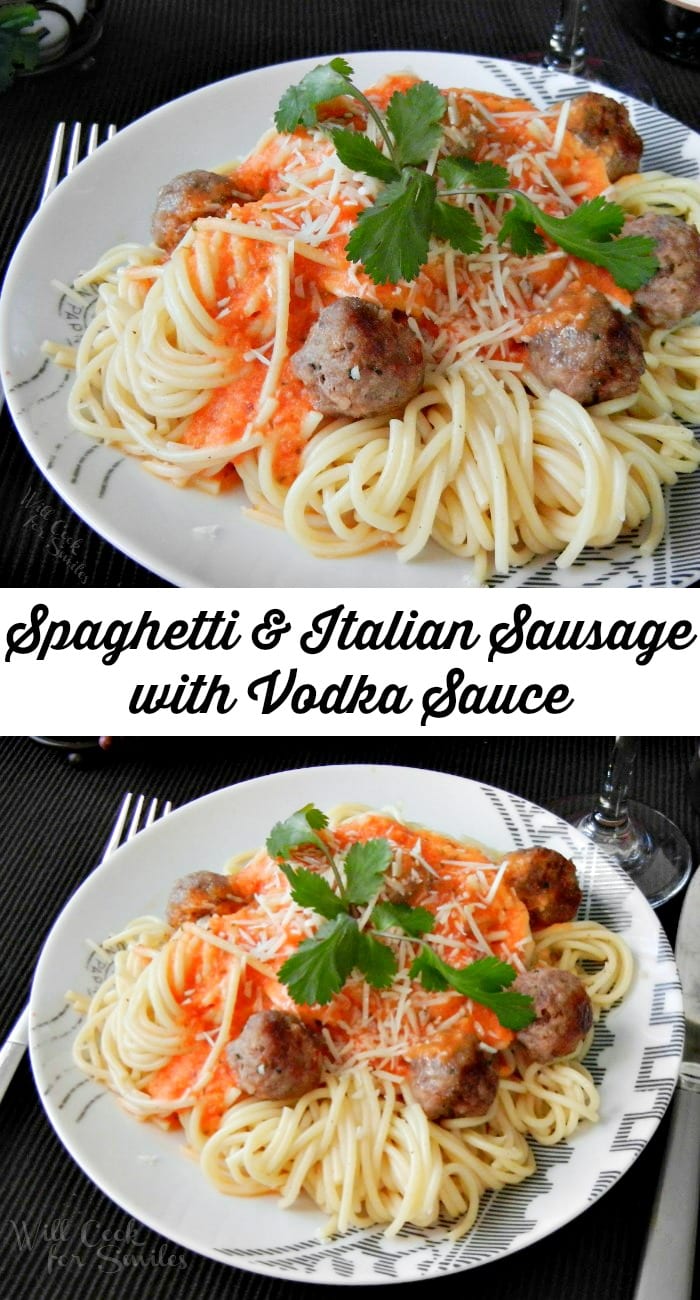 Time for Momz Crazy Cooking Challenge again! Love to see the new challenges that she comes up with. My hubby was particularly excited about this month's "spaghetti with red sauce" challenge. I am convinced that if I wasn't here, he would live on spaghetti. I try not to make pasta too much, so it was a nice treat for hubby. The little man actually liked it too. Unlike his dad, he is not too crazy about pasta, but he does love the red sauce and Italian sausage.
Thanks to Pinterest for leading me to 6 Bittersewets to find my perfect match. Her Spaghetti with Vodka Sauce looked perfect enough to remake (see it HERE).
Ingredients (Printable recipe below):
1/2 pound dry thin spaghetti pasta OR any other pasta
Package of Italian sausage
2 Tbsp olive oil
1/2 cup finely chopped onion
salt
1/2 tsp red pepper flakes
3 garlic cloves, sliced
1/2 cup vodka
1/4 cup vegetable or chicken broth
1 (14.5-ounce) can diced tomatoes, undrained (next time I will use 2 cans and drain)
1/4 cup whipping cream
3 Tbsp thinly sliced fresh basil
Shredded Parmesan cheese and parsley, to top
Directions:
1. Cook the pasta according to the package
2. Heat oil in a large sauce pot over medium heat. Add the chopped onion and cook until transparent. Add the garlic and red pepper flakes and cook until fragrant.
3. Add the vodka and slowly simmer until about 1/3 of the liquid is cooked down.
4. Add the vegetable stock, mix well and cook for about two minutes.
5. Add the tomatoes, basil and salt. Cook for about 15 minutes.
~ Cook the sausage while the sauce is cooking.
6. Transfer into the blender and blend well until smooth, make sure to open the flap to let the steam escape.
7. Return the sauce to the pot. Add the heavy cream, mix well and cook on medium for about 5 more minutes.
8. Top off the pasta with the sausage and sauce. Sprinkle with some shredded Parmesan and don't forget the fresh herbs 🙂
Enjoy!!
_________________________________________________________
Make sure you follow me through your favorite blog reader (bloglovin or other), subscribe to e-mail or follow me through social media of your choice to keep up with the recipes!

_______________________________________________________