I had some white chocolate cream cheese left from the previous stuffed strawberries post. I love stuffed French Toast, but I can't seem to find any thick bread in the grocery store, I didn't really feel like driving to the special store just for bread. I've decided to go another way! My boys love berry pancakes so I've decided to make them a little treat for this Sunday morning, since my hubby had a day off work.
Ingredients:
(Makes 4 large pancakes)
1 egg
1 cup flour
2 tsp baking powder
1 tbsp butter (melted)
1 tsp vanilla
1 1/4 cup milk
1 tbsp sugar
1/4 tsp salt
4-5 medium strawberries
White Chocolate Cream Cheese mixture (please refer to the Stuffed Strawberries post from earlier this week for the recipe!!)
Directions:
1. Preheat the greased skillet on medium
2. In the mixing bowl, whisk together egg, flour, baking powder, melter butter, vanilla, sugar, salt and milk. Mix well.
3. Grade the strawberries into the batter. Mix well
4. Pour some batter into the skillet in a circle. Cook for about a minute or two on each side.
5. Place one pancake on the plate. Spread the cream cheese mixture.
6. Cover with another pancake.
7. Grade some more white chocolate over the pancakes. Serve hot!
Enjoy!!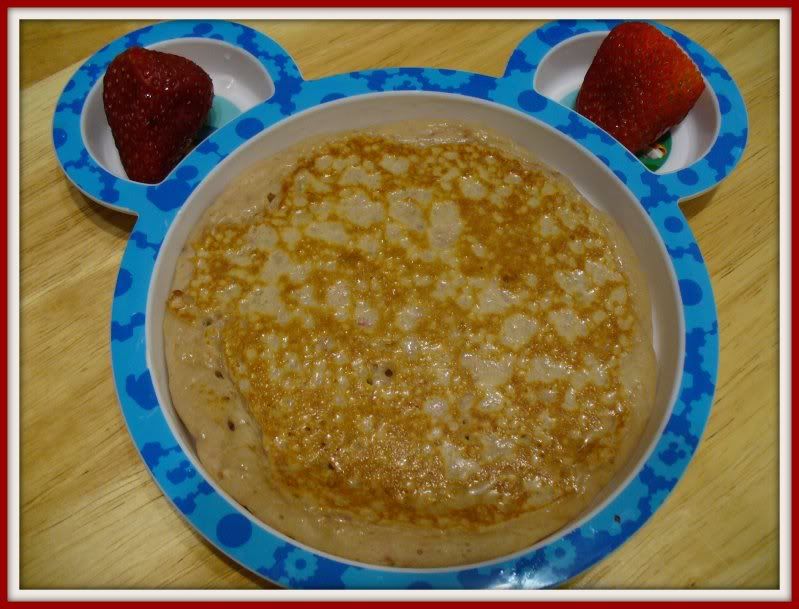 Little man enjoyed his very much!
="http:>