I have a wonderful new treat to share with you guys. I'm very excited about this one, it's new Frozen fruit bars that became available just a few months ago.
I'm also sharing a fun little recipe that's a perfect summer treat. I know so many of you love tropical flavors (like me) and cold treats (like me.) I believe you will be just as excited about this as I am!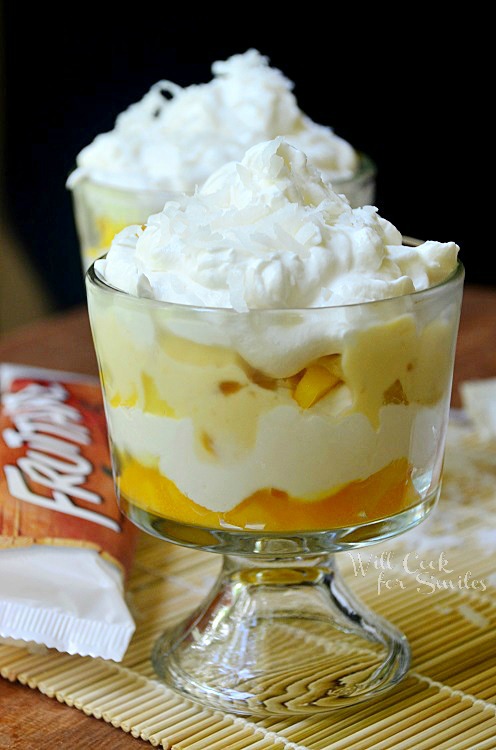 Before I move onto sharing this incredible tropical frozen parfait, I have to share my new obsession with Fruttare frozen fruit bars.
What's great about living in FL?
Personally, I haven't figured it out yet. No offense to all the great Floridians, I don't know how you do it. How you tolerate all this heat and humidity, I just don't know. I'm a total northern girl. I love the cold, I love the snow, I love the change of season!
But, for the time being, we live is sunny Florida and we learn to enjoy it! One way I learned to enjoy it is by indulging in lots of frozen treats and drinks. That helps with the heat part…nothing helps humidity, hehe.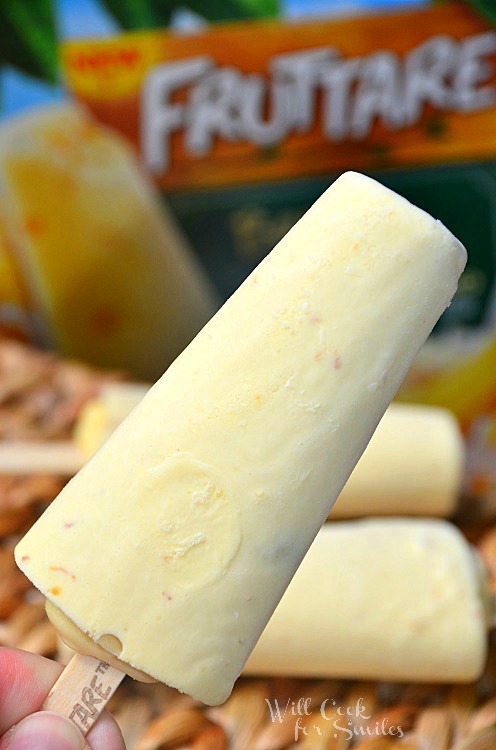 This is my new favorite way to stay cool and indulge in the hot weather! These new Fruttare frozen bars come in many different flavors and in two types. They come in fruit + juice and fruit+milk.
Psst….Fruit and milk are my absolute favorite and I'm obsessed!
Fruttare Fruit and Milk Bars are made with creamy milk and real fruit, and are available in four varieties – Strawberry and Milk, Coconut and Milk, Banana and Milk and Peach and Milk. Seriously, it's so creamy, light and just the perfect amount of sweetness. My loyal readers know that I don't like things to be too sweet and I always warn everyone that I cut sugar from my dessert recipes. This is why I love these fruit bars, they are the perfect combination of sweet, creamy and fruity.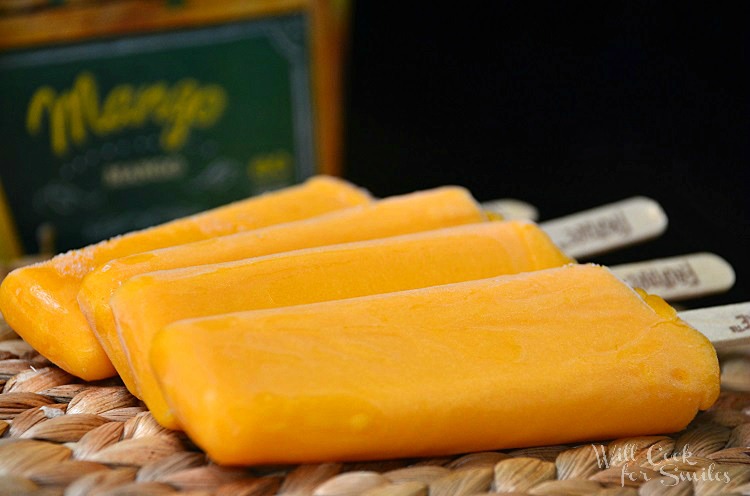 Fruttare Fruit and Juice Bars are made with real fruit and refreshing juice, and are available in four varieties – Strawberry, Mango, Orange and Lime. Mango bars are delish! It's like biting into a frozen, mushed mango….on a stick!
I love ice cream as much as any other girl, but eating too much ice cream can lead to some bad consequences. You know, booty wise!
That's why I tend to stick to fruit bars. I can eat them to stay cool and happy at the same time as feeling happy about not adding to my booty size.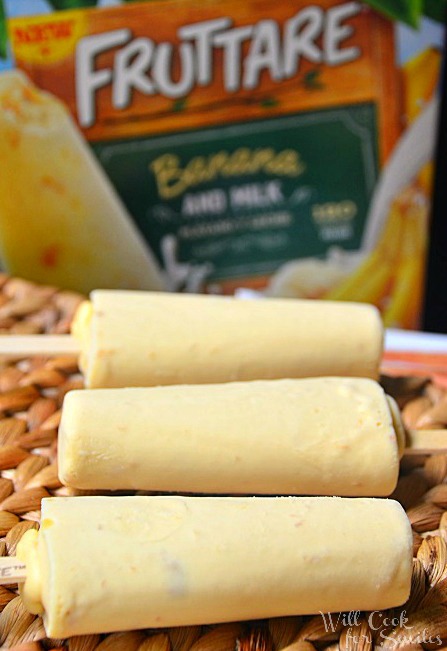 I'm set out to find the coconut one because it's been avoiding me for some reason. As soon as I do, I am making these tropical fruit parfaits with added coconut fruit and milk bar! These tropical parfaits make light and refreshing dessert. The coconut whipped cream is amazing and I would stick my head in the bowl to lick it out…if I wasn't afraid that someone would catch me.
Tropical Frozen Parfait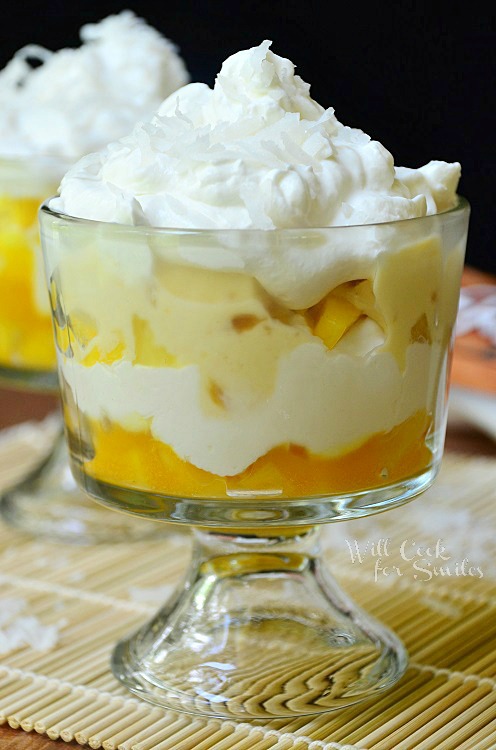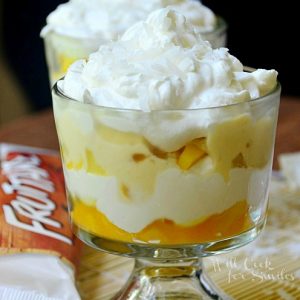 Tropical Frozen Parfait with Fruttare
I'm very excited about this one, it's new Frozen fruit bars that became available just a few months ago.
Ingredients
2

Fruttare Bananas and milk bars

2

Fruttare Mango bars

1

small mango

2

pineapple circles

3/4

cup

heavy whipping cream

1/4

cup

coconut cream

Coconut flakes for topping
Instructions
Coconut Whipped Cream: Place your metal bowl from the electric mixer and the whisk attachment (or a regular metal bowl and the beaters) in the freezer for 10-15 minutes.

Make sure that your heavy whipping cream and cream of coconut are both cold.

Add the heavy whipping cream and cream of coconut in the cold mixing bowl. Starting at low speed, start whisking, gradually raise to speed to high. Beat until stiff peaks appear (don't walk away far.) Keep in the refrigerator until ready to use.

Chop your mango and pineapple unto small chunks.

Chop the fruit bars into small chunks. (Work fast)

Layer fruit, then frozen fruit bars, then some coconut whipped cram. Repeat the layers and top it off with some coconut flakes.
Recipe Notes
Recipe from Lyuba @ willcookforsmiles.com
Fruttare
Fruit and Milk Bars and Fruttare Fruit and Juice Bars are now available at mass merchants, grocery and convenience stores nationwide for a suggested retail price of $4.29. So go get some and bite into the bright side with Fruttare frozen fruit bars.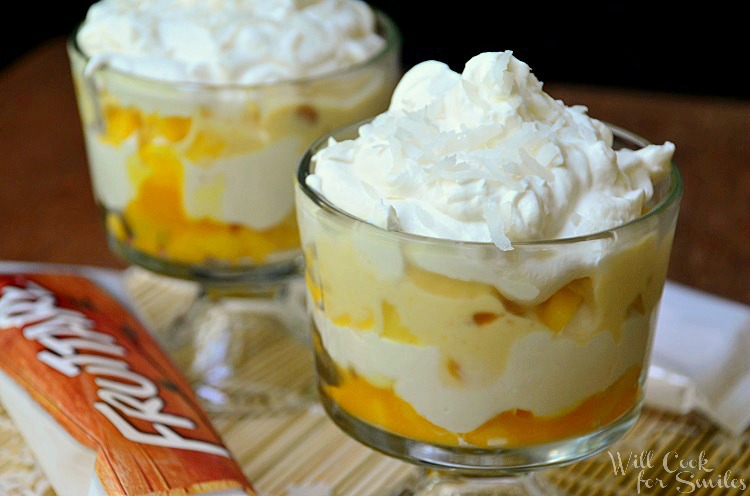 Make sure you follow me through your favorite blog reader (bloglovin or other), or follow me through | Facebook| Twitter| Pinterest|
Don't miss any new posts and recipes from me, subscribe to E-MAIL! Just enter your email in the side bar, you will receive an email for confirmation. Confirm and you are all subscribed! HUGS!
***************
Remember to come back and link up to my party on Saturday night!!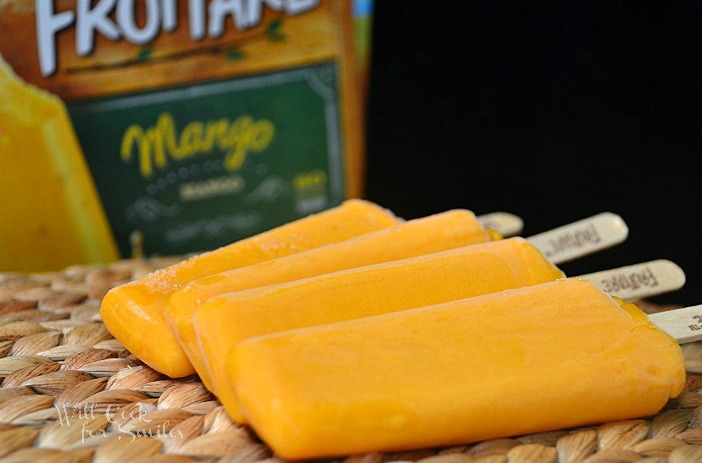 I was selected for this opportunity as a member of Clever Girls Collective and the content and opinions expressed here are all my own.