This Vegetarian Lasagna Rolls are amazing! Lasagna noodles rolled up with sautes vegetable mixture, ricotta cheese and topped with Marinara sauce. Perfect meatless dinner that will satisfy even the biggest carnivore.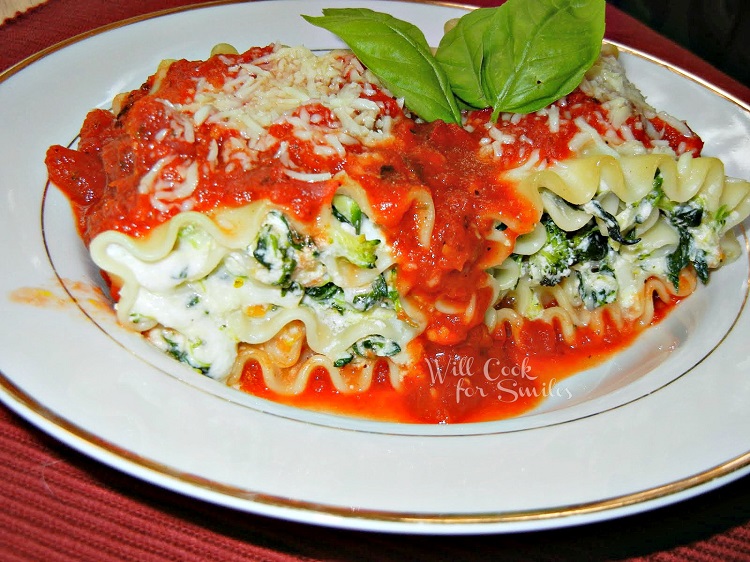 This one might look familiar to some one you. I've made similar lasagna rolls for a book review, but they were vegan. This idea was great but my hubs said that there is no way he will eat tofu again. He is a carnivore and loves his dairy, hehe.
Also some asked how to make those lasagna rolls in the 'non-vegan" version…
This is how!…
Ingredients:
6 lasagna noodles (cook a couple extra in case one or two rips)
2 tbs olive oil
3 cloves of garlic
1/4 cup chopped onion
3/4 cup cut up broccoli florets (not packed)
1/2 cup sliced carrots
1 cup cooked, well drained spinach
salt, pepper
1 1/2 cups ricotta cheese
1/2 cup mozzarella cheese
1/4 cup shredded Parmesan
1/4 cup shredded Parmesan ( for topping)
salt, pepper
1 1/2 cups Marinara sauce
Directions:
1. Cook lasagna noodles according to the package
2. Preheat the oven to 350.
3. Heat up olive oil in a large skillet on medium heat
4. Sautee grated garlic and chopped onion until fragrant (about 30 seconds)
5. Add the carrots and broccoli, cook for about 5 minutes or until soft
6. Add the spinach, salt and pepper and cook for another 2-3 minutes
7. Take the veggies out of the skillet and let cook.
8. Meanwhile mix your cheeses and a little salt and pepper
9. Once the veggies are cooled to room temperature, mix it with cheese mixture.
10.  Spread about 1/2 cup of the veggie/cheese mixture on the lasagna noodle.
11. Gently roll each sheet and place then seam down
12. Spread 1/2 cup of marinara on the bottom of the casserole dish
13. Place the lasagna rolls into the baking dish.
14.  Cover the dish with foil and bake for about 25 minutes.
15. Remove foil, cover with remaining marinara sauce  and bake for another 10 minutes.(uncovered)
16. Sprinkle with remaining Parmesan cheese
Enjoy!!
* I am linking this recipe to the  Friday and Saturday PARTIES. Why don't you visit the wonderful hosts and link some of your own projects!