Print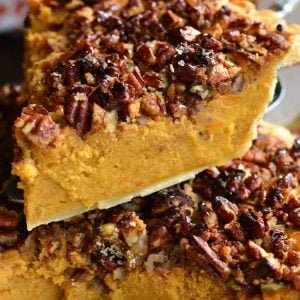 Pecan Crunch Sweet Potato Pie
Classic sweet potato pie made with sweet, crunchy pecan topping.
Total Time
2
hours
15
minutes
(You can prepare sweet potatoes ahead of time, even a day before.)

Wrap sweet potatoes in aluminum foil and bake them at 350 until completely cooked through. (Time will depend on the size of the sweet potatoes.)

Unwrap sweet potatoes once they are done and set aside to cool down.

In a large mixing bowl, beat butter and sugar together.

Beat in eggs, one at a time.

Beat in evaporated milk and molasses.

Mash (or puree) cooked sweet potatoes and beat it into the pie filling mixture.

Add vanilla, cinnamon, and nutmeg. Blend everything well.

Pour sweet potato pie filling into the pie shell.

Bake at 425 for 15 minutes.

Mix chopped pecans with maple syrup until all evenly coated and set aside.

Lower temperature to 350, spread the pecan topping over the top of the pie and continue baking for about 40 more minutes.

Take out and let it cool completely.