Print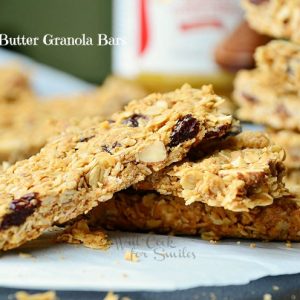 Biscoff Cookie Butter Granola Bars
It's Cookie Butter Granola Bars and they are made with oats, Biscoff Cookie Butter, coconut, toasted almonds and dried cherries
Line an 11x9 baking pan with parchment paper and lightly spray with cooking spray. Preheat the oven to 300.

In a large mixing bowl, combine oats, coconut flakes, almonds and dried fruit. Mix and set aside.

In a small sauce pot, over medium low heat, combine cookie butter, butter and corn syrup. Cook while stirring until it's "liquidy" and warmed through.

Pour the cookie butter mixture into the oat mixture and stir until all combined.

Transfer into the baking pan ans spread it evenly. Press the mixture firmly all over.

Bake for about 25-30 minutes. Cool completely before cutting.