I have a great treat for you today! I'm sharing a delicious recipe for a white pizza. It is Asiago Mushroom & Onion White Skillet Pizza. It gets even more special, I've gathered some of the best cast iron skillet recipes from great bloggers and they are here to share the recipes, tips and why they love cooking in cast iron skillets.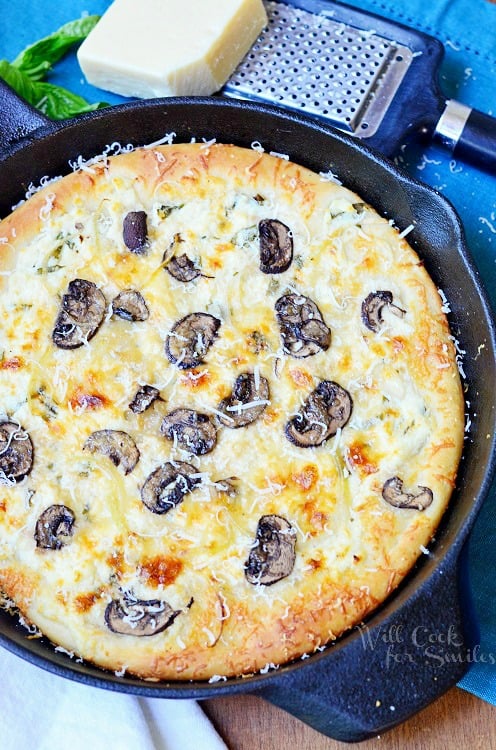 You probably noticed that I've been sharing more and more cast iron skillet recipes lately. That is because I'm in love with my skillet. I honestly don't know what in the world took me so long to get my own cast iron skillet. I remember my grandmothers having skillets and they cooked in them all the time. When I was young, I was intimidated by cast iron skillets, so I used regular cooking pans. I guess that a cast iron skillet would be intimidating to an 11 year old, not to mention heavy.
Well, now I braved a skillet and I am not giving it up. Cast iron skillets are great to have for everyone:
~They are practically indestructible and last for ages.
~ They are non-stick, as long as they are seasoned properly.
~They can be seasoned as often as needed.
~ They are great for light cooking because they don't require much oil once seasoned.
~My favorite: you can use it to cook practically anything! Baking, saute, sear, stir-fry or fry. Use it to make dessert and savory dishes.
~Cast iron skillets heat through perfectly and evenly and therefore cook food evenly.
And of course…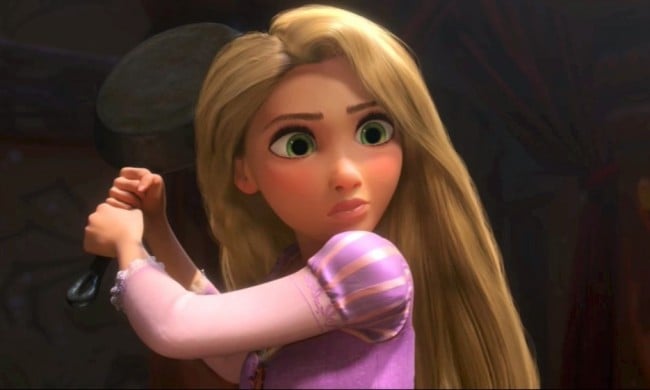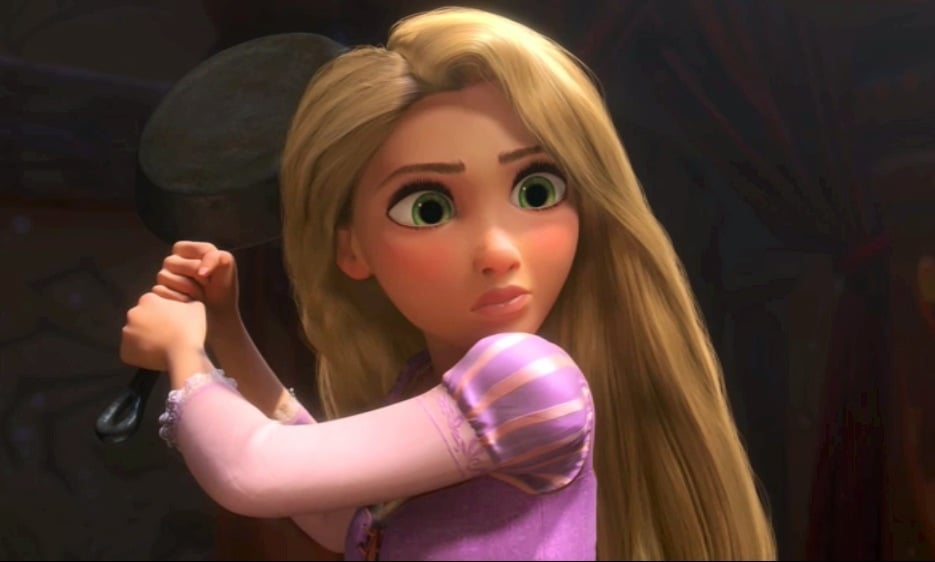 Use it in self-defense!
Seasoning Your Cast Iron Skillet:
Before using your skillet for the first time, you need to season it. This simply means, coating it with a thin layer of oil and then baking it it. You are filling all the little pores with oil and creating a non-stick surface. Although, there is a little more to this process and you should do it properly. First, rub the skillet with oil (vegetable, sunflower or canola) using a paper-towel to create a thin layer of oil. Just a thin layer, so the pan is dry but shiny with oil. Next, preheat the oven to 450 and place the skillet in the oven for about 30 minutes. Turn off the oven and let the skillet cool to room temperature (don't take it out). You can repeat the seasoning process as often as you need to.
Cleaning and Drying Your Skillet:
Cast Iron Skillets should be washed very quickly, just to take off the surface oil and food leftovers. Rinse with a soft sponge and warm water, and dry thoroughly. Do not soak it or run it through the dishwasher! When it's time to deep clean your skillet, check out this articles from The Kitchn.
Here are some great bloggers who share my love for cooking in a cast iron skillet:
Brandie from The Country Cook: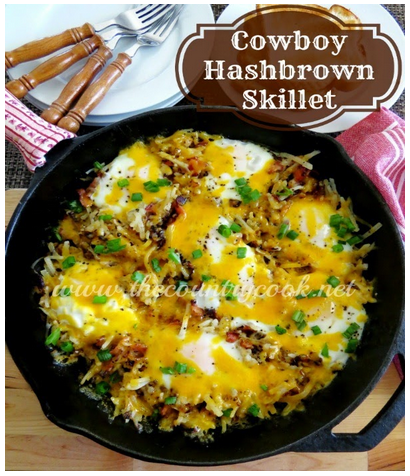 "I love this recipe because it is a meal-in-one! You've not only got great flavor but it contains a good balance of protein and carbs to start your day. It makes a great brunch recipe but it we also make it a lot for supper too!
Skillet meals are probably some of my favorite meals to make. Mainly because most skillet meals can be done in under 30 minutes (who doesn't love that?) and you rarely need more than the skillet to make it! So I can whip a meal up quickly but also reduce the number of dirty dishes I have to wash."
Averie from Averie Cooks
"I love skillets because things just always seem to turn out when you use a skillet – they're so forgiving! A tip is to make sure to take into account carry-over cooking time and the food will continue to cook long after you pull the skillet out of the oven or off the stove."
Melissa from Number 2 Pencil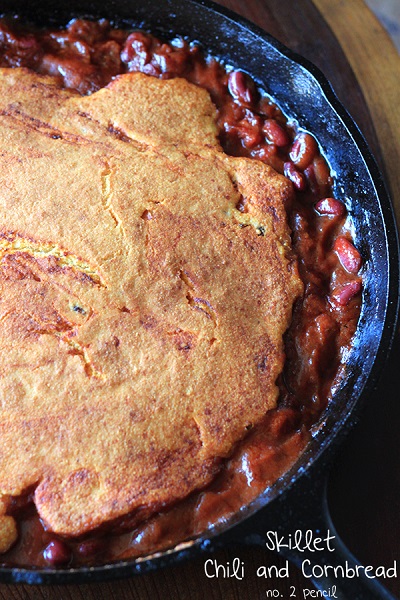 Skillet Chili and Cornbread
"This chili recipe cooks up quickly in a large cast iron skillet, then is topped with a homemade cornbread batter, and baked in the oven. Skillet Chili and Cornbread is gorgeous served in a big cast iron skillet. It's perfect for entertaining too, just bring the skillet right to the table and let everybody serve themselves family style."
"I love using skillets and use them almost daily. The flat wide shape makes for quicker cooking times. I keep an inexpensive nonstick skillet and I reserve it just for making scrambled and over easy eggs. I use my stainless steel skillet for cooking my one pan dinners. A stainless steel skillet will last for many years, I have been using mine for about twelve. They have the added bonus of being oven safe, so you can take them from stovetop to broiler. "
Chung-Ah from Damn Delicious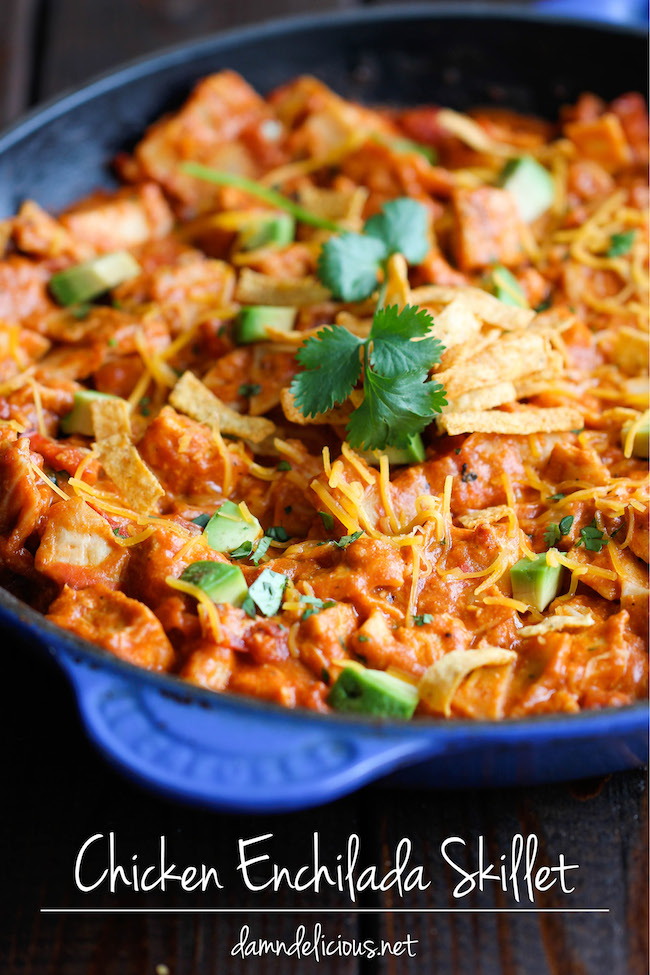 "I love skillets because it makes for a great one pot meal and an easy clean-up! As for a tip about using a skillet – use them more often for recipes. They make life so much easier, especially on those busy weeknights!"
Holly from Life in the Lofthouse
"I think skillet recipes are so great for the easy clean-up. And they tend to be made pretty quickly!"
Heather from Heather's French Press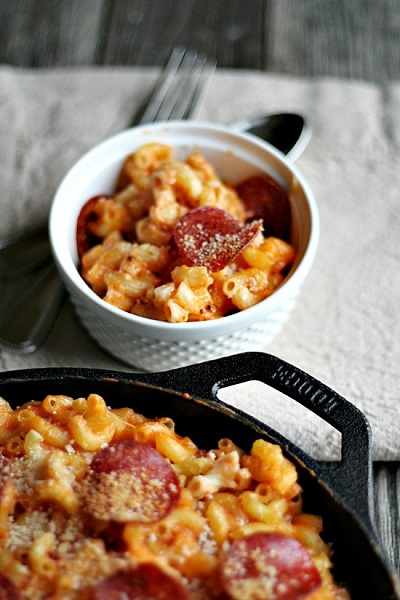 "I love using my skillet for everything – this mac and cheese is a family favorite. Skillet recipes are a go-to for me because I love when you can make a dish in one pan, and my cast iron skillet goes from stove top to oven. Tip – make sure your skillet is well seasoned!"
Julie from This Gal Cooks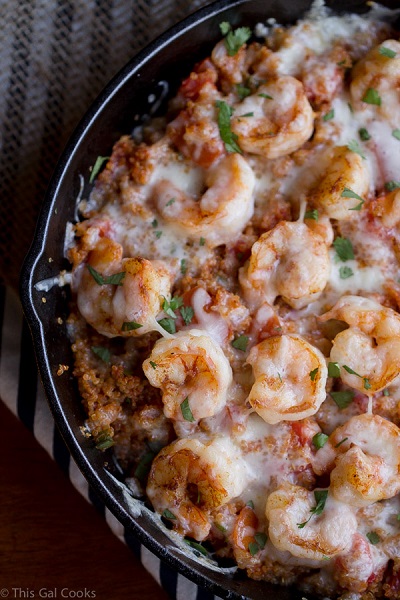 "Tip: After each use, I clean with water and kosher salt (Kosher salt to scrub any pieces of food stuck to the pan) and then dry off completely. Then I put the pan on the stove, turn to medium and add a little coconut oil to the pan. When it melts, I spread the coconut oil around the inside of the pan to coat the bottoms and sides. I then turn the stove off and when it is cool, I remove any excess oil with a paper towel. This keeps the pan oiled and the coconut oil flavor is pretty bland so the food doesn't taste like it when cooked in the pan."
"Tip: Remember to clean your skillet as soon as it cools, a little oil and some salt help break up any stuck on food, clean and re-season your skillet all at the same time."
Asiago Mushroom & Onion White Pizza Skillet
This is a beautiful and easy pizza to share with your special someone! You will get a gourmet pizza without leaving your house. This recipe can use a homemade or store-bought pizza dough. (You can pre-make the dough ahead of time and keep it in the fridge for 2-3 days.) It is a white pizza made with fresh grated Aged Asiago cheese, mushrooms and shallots. It's a great flavor combination!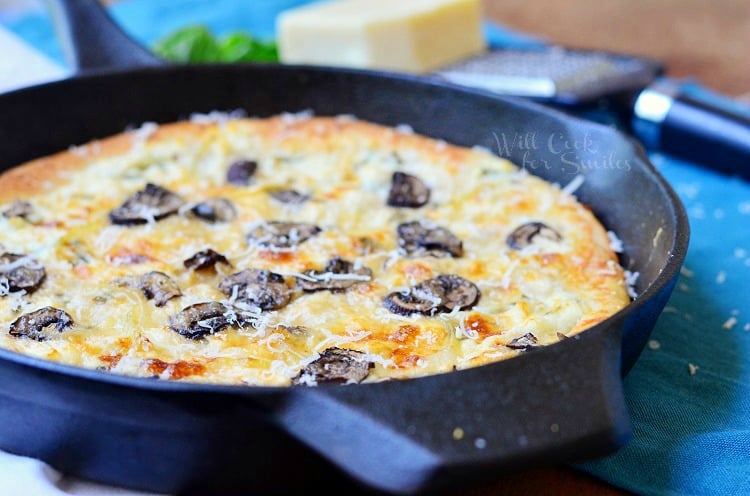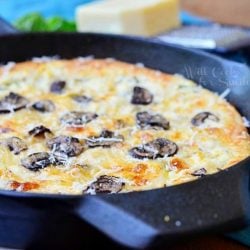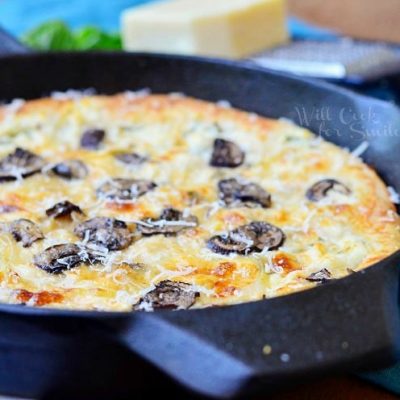 Asiago Mushroom & Onion White Pizza Skillet, Skillet Recipes and Tips
White pizza made with Asiago Mushroom & Onion White Skillet Pizza.
Print
Rate
Ingredients
1/2

lb

prepared pizza dough

you can even buy it in deli section

2/3

cup

ricotta cheese

2

Tbsp

fresh grated Asiago cheese

1

tsp

minced fresh basil

salt to taste

remember, cheese is already salty

1/2

cup

fresh grated Asiago cheese

more if you want

3-4

mushrooms

thinly sliced

1/2

medium shallot

thinly sliced

Little more fresh grated Asiago
Instructions
Preheat the oven to 425 and lightly rub your cast iron skillet with vegetable oil (just a thin layer on the bottom and sides).

Roll out your dough so it is the size of you skillet, 10 inches (if you have a 12 inch, you can use more dough or have thinner pizza).

Place the dough in the skillet.

In a small bowl, mix ricotta, 2 Tbsp Asiago cheese, basil and salt until all combined.

Spread the ricotta cheese mixture over the pizza dough, evenly.

Spread the freshly grated Asiago cheese over the top.

Lay the sliced mushrooms and shallots on top of cheese, all over the pizza.

Grade a little more Asiago on top of that.

Bake for 20-23 minutes, until golden brown. If you want a little more golden top, turn on the broil for about 45 seconds but don't walk away while the broil is on.

Make sure to slice your pizza out of the skillet.
Notes
Recipe from Lyuba @ willcookforsmiles.com All images and content are copyright protected. Please do not use my images without prior permission. If you want to share this recipe, please simply link back to this post for the recipe. Thank you.
Tried this recipe?
Mention @willcookforsmiles and tag #willcookforsmiles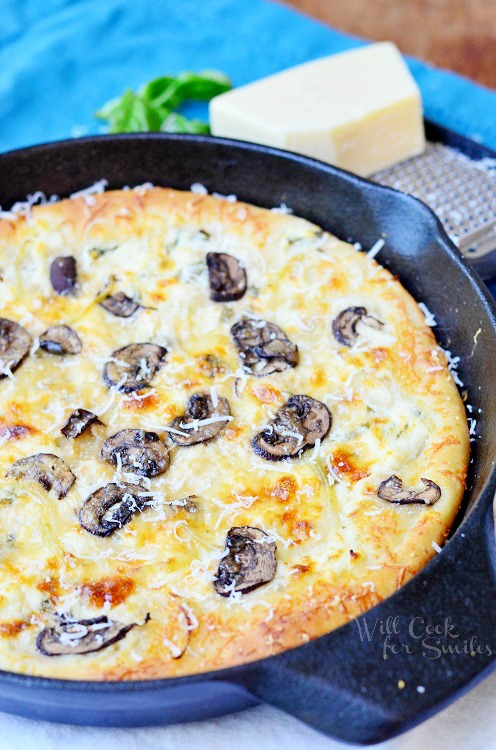 _________________________________________________________
Make sure you follow me through your favorite blog reader (bloglovin or other), subscribe to e-mail or follow me through social media of your choice to keep up with the recipes!

I will be sharing this recipe at the wonderful blog parties in my party tab , Weekend Potluck, Tip Junkie and Rattlebridge Farm. Swing by and link up your own projects!
_______________________________________________________