Eggs Benedict is the best part of brunch. Soft, poached eggs over warm Canadian bacon, toasted English muffin, and topped with an easy, homemade Hollandaise sauce. Hollandaise is a rich, smooth, buttery sauce made with only 5 simple ingredients. Make this brunch classic this weekend!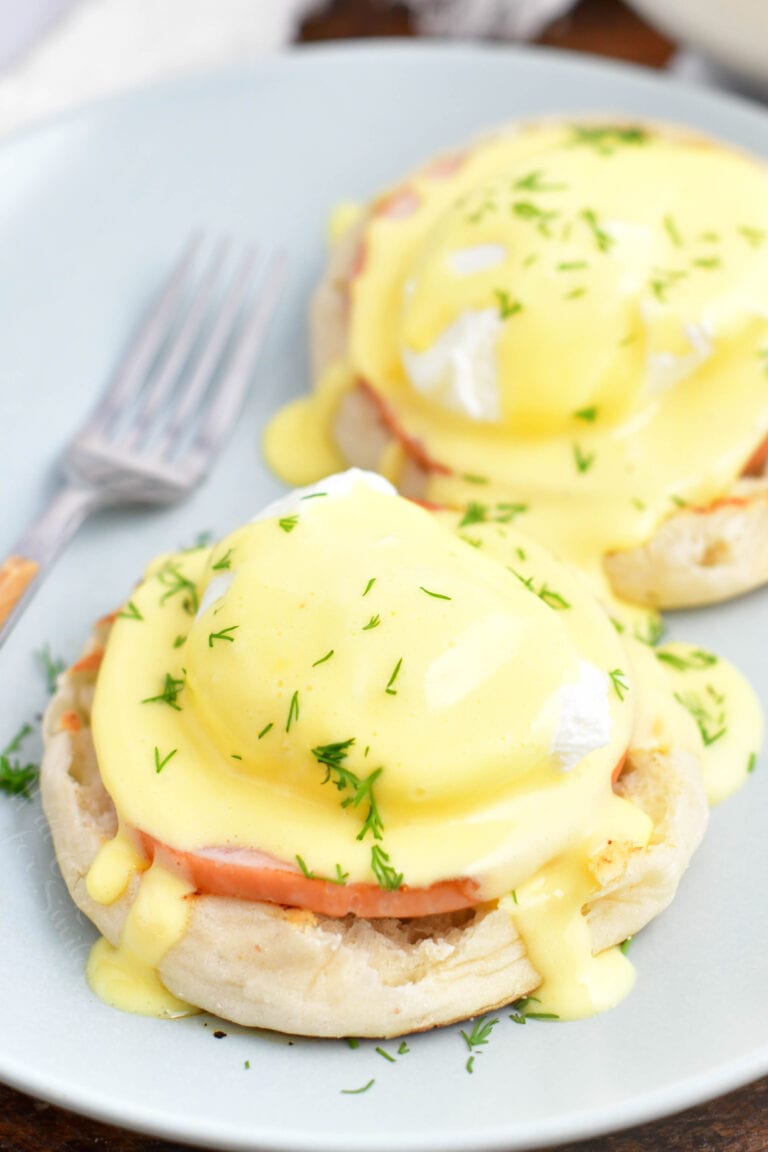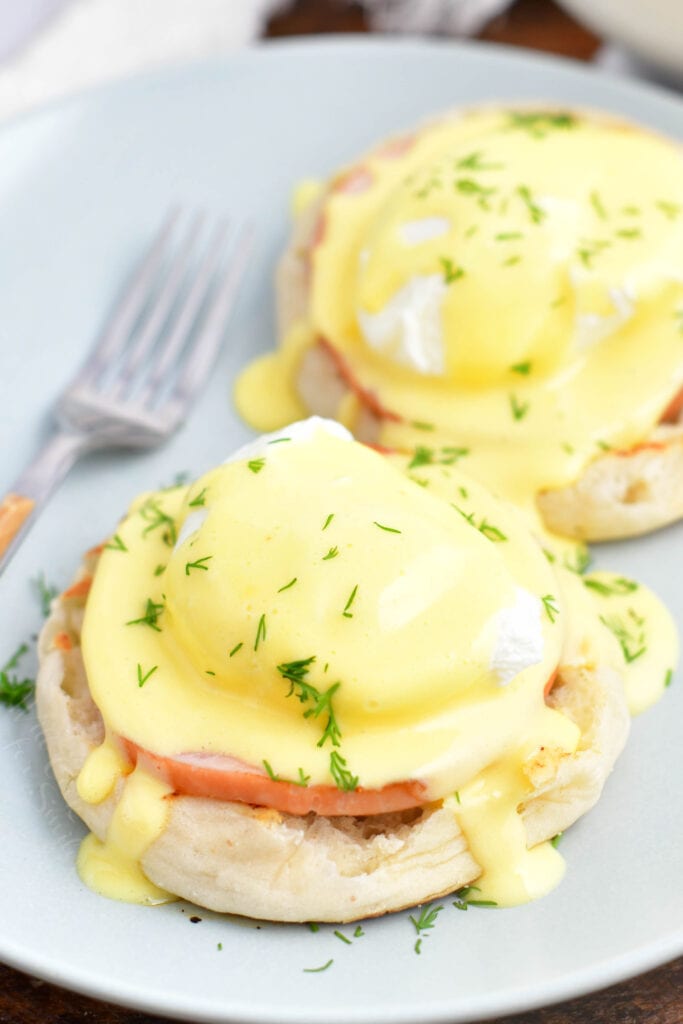 Eggs Benedict
When I go to brunch somewhere, I almost always order the eggs benedict! There's just something about a warm English muffin topped with savory Canadian bacon and a perfectly poached egg that I can't resist.
While the runny golden yolk is incredibly delicious, the best part of this breakfast might just be the homemade hollandaise sauce. As many times as I've had eggs benedict at a restaurant, I've never had a sauce as good as this one. It's so worth the extra effort to whip it up!
History of Eggs Benedict
The history behind the Eggs Benedict is actually pretty fun! A man named Lemuel Benedict was dining at the Waldorf hotel in New York City with his wife, when he decided he was tired of having the same thing over and over again for breakfast.
Feeling inventive (and legend has it, possibly hungover), Mr. Benedict ordered poached eggs on top of Canadian bacon and English muffins, slathered in hollandaise sauce.
The chef who prepared it, chef Charles Ranhofer, went on later to publish the recipe in his cookbook in 1894. And, well, the rest is history!
Ingredients You'll Need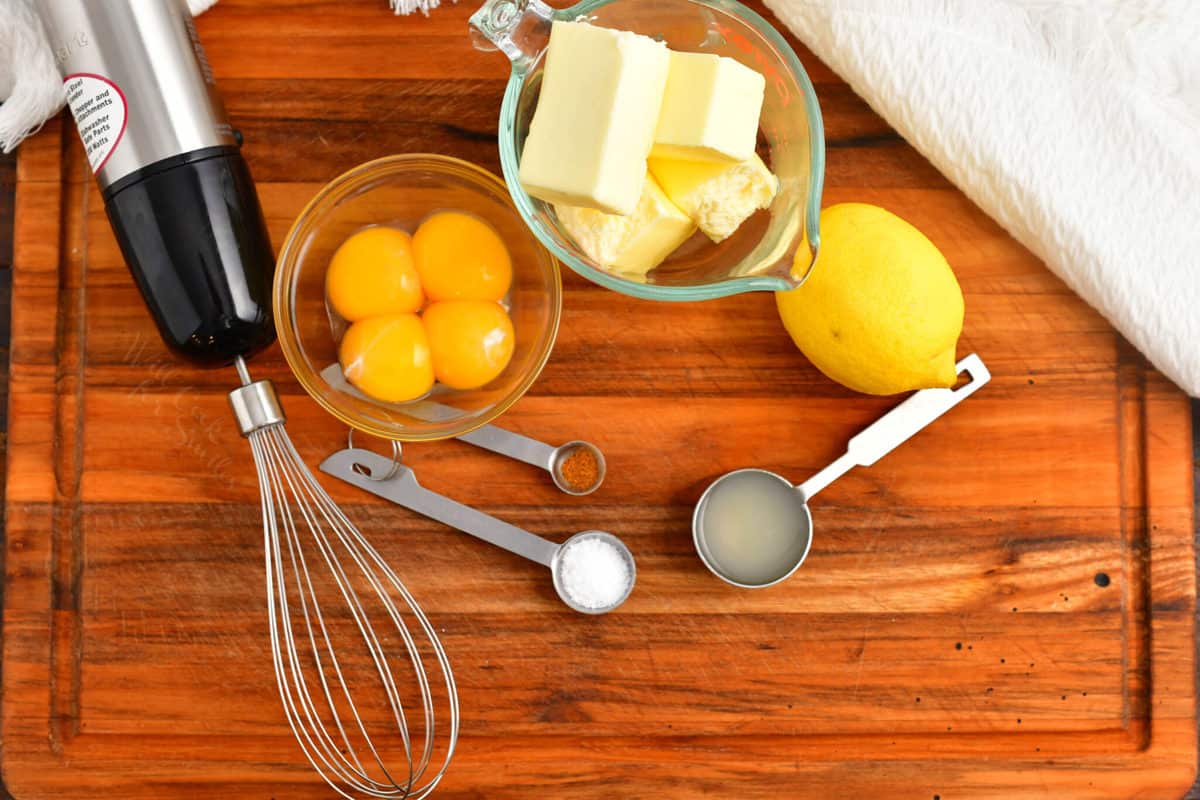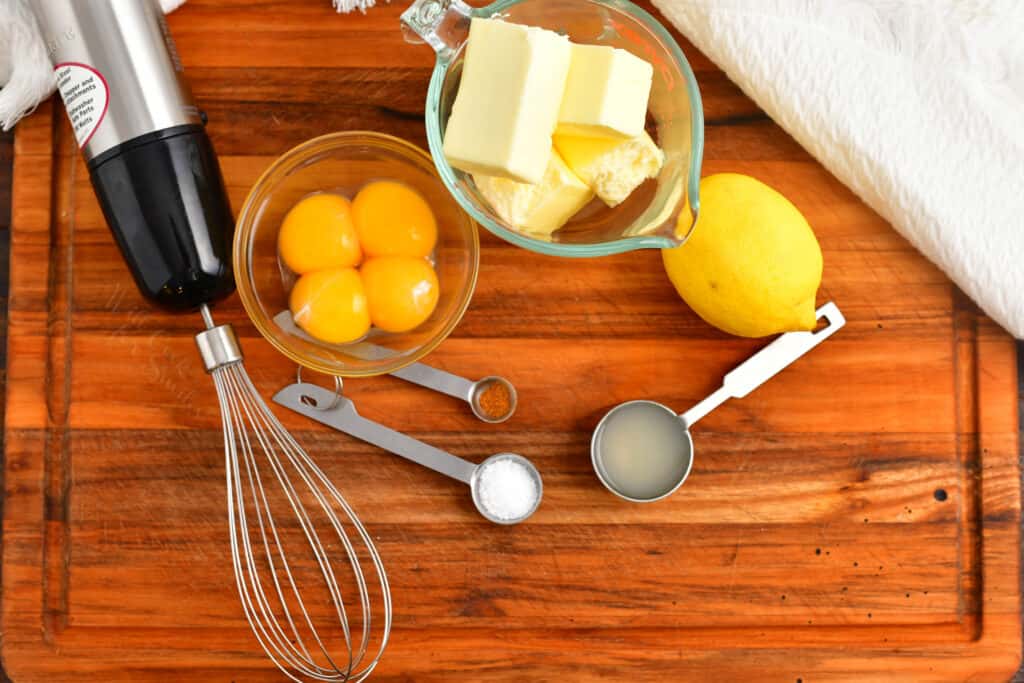 Ingredients for Hollandaise Sauce:
Butter – Unsalted butter works best for the sauce.
Eggs – You'll need to separate the eggs and only use the yolks.
Lemon – Use the fresh juice of half of a squeezed lemon. It's much better than using a store-bought container of lemon juice!
Salt – Sea salt is recommended for best flavor.
Cayenne Pepper – Just a pinch is needed for a hint of spice.
Ingredients for Eggs Benedict:
English Muffins – Any brand will do, just keep in mind that you'll want them relatively thick, so they absorb the egg yolks and hollandaise sauce.
Eggs
White Vinegar – This will be used to poach the eggs.
Canadian Bacon – Canadian bacon can be substituted with pork bacon, turkey bacon, ham, or smoked salmon.
Fresh Herbs – Dill weed, parsley, or chives all make fantastic fresh garnishes for eggs benedict.
How to Make Hollandaise Sauce
Start by melting the butter in the microwave or in a sauce pot on the stove.
Then, heat up water in a double boiler. Be sure to not put the top part on yet, or you will cook your eggs!
Whisk the eggs and lemon juice in the top part of the double boiler, but not over the hot water. Whisk vigorously!
NOTE: To make it easy, use a hand blender with a whisk attachment to make Hollandaise Sauce.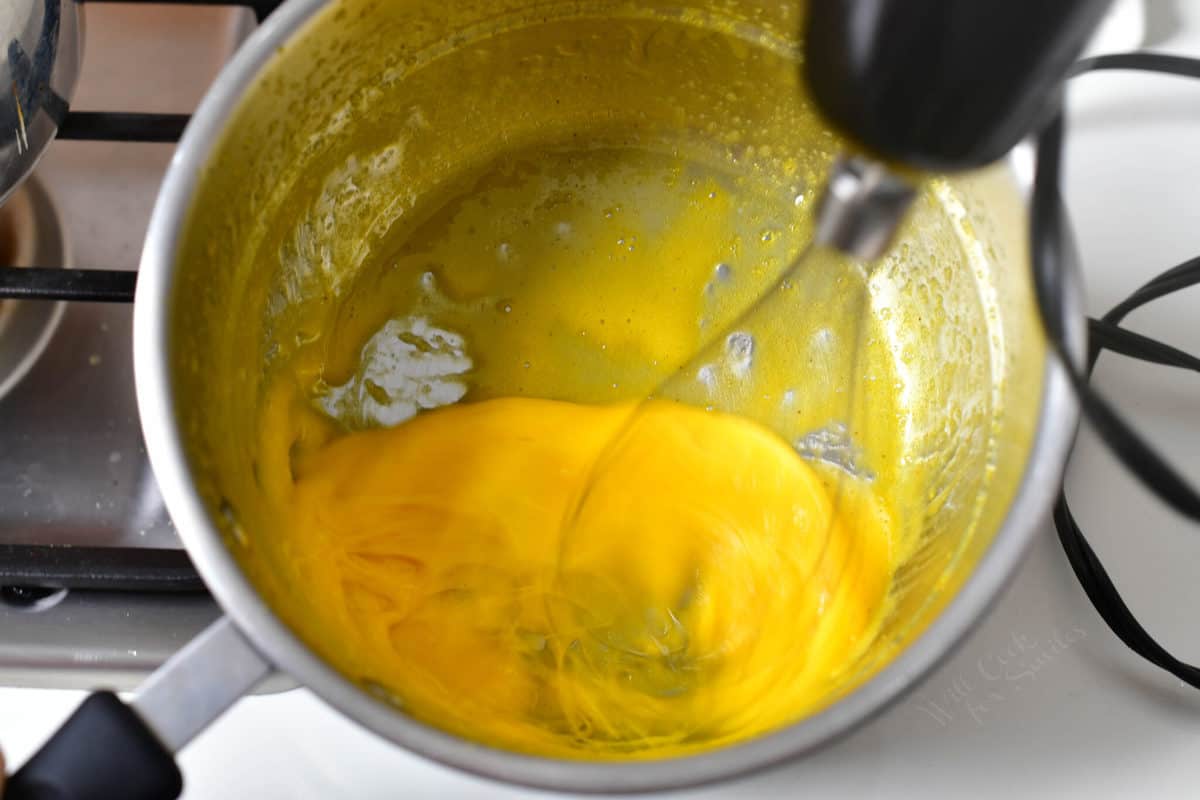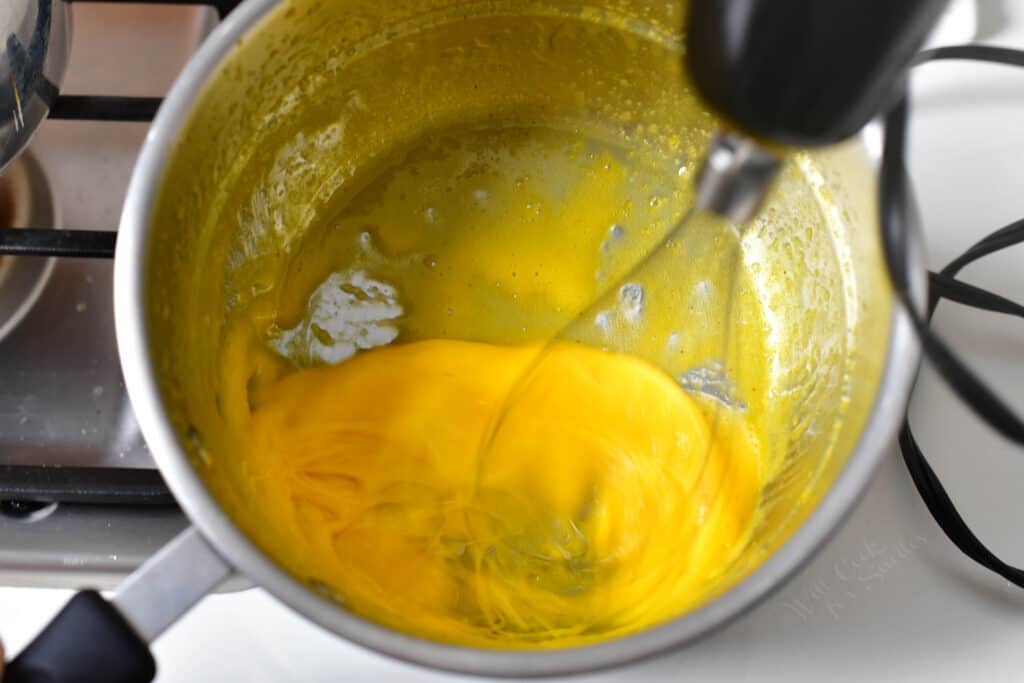 Once thoroughly whisked, place the top pot onto the bottom pot and start slowly drizzling in the butter while constantly whisking. Be careful not to drizzle the butter in too quickly.
Continue to whisk the sauce vigorously until it lightens in color. It should also thicken tremendously.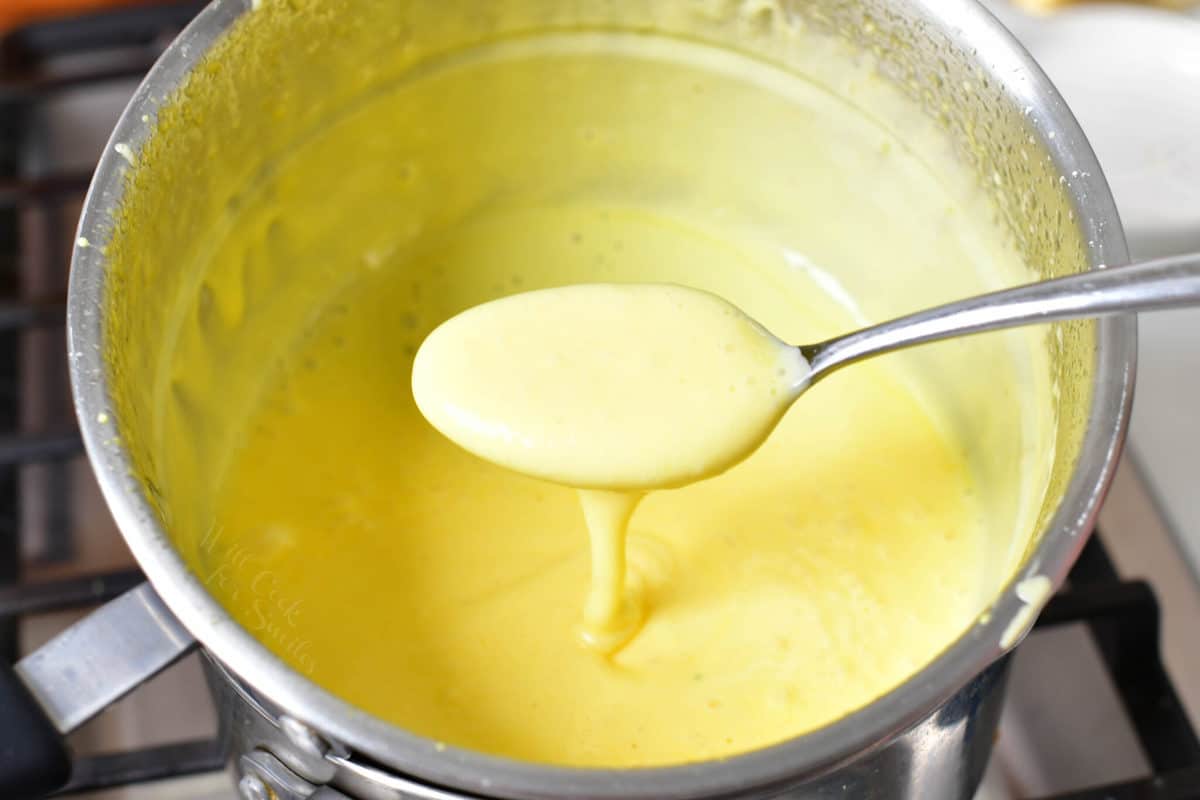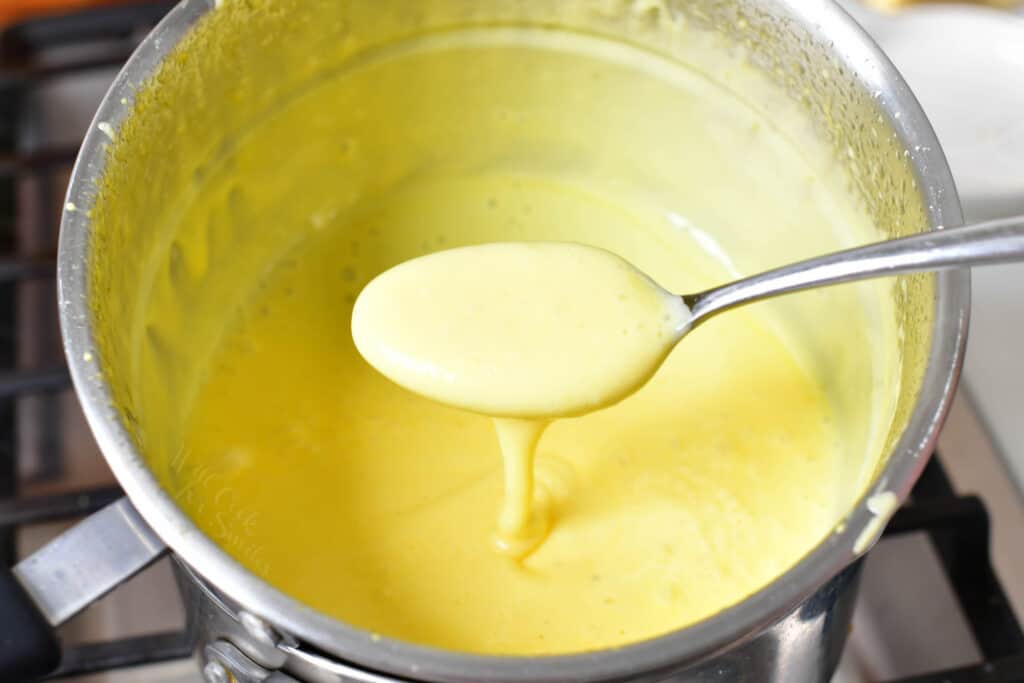 Take the sauce off of the heat and stir in the seasonings.
Then, transfer the delicious hollandaise sauce into a serving dish and cover it with Saran Wrap while preparing the Eggs Benedict.
How to Make Eggs Benedict
To make the poached eggs easier to add to the water, crack them into individual small bowls.
You'll also want to prepare by toasting the English muffins and searing the Canadian bacon.
Then, fill up a pot with at least 3 inches of water. Bring the water to a gentle boil, then add a teaspoon of white vinegar.
Carefully add each egg to the hot water one at a time. Cook each egg for approximately 3-3 1/2 minutes.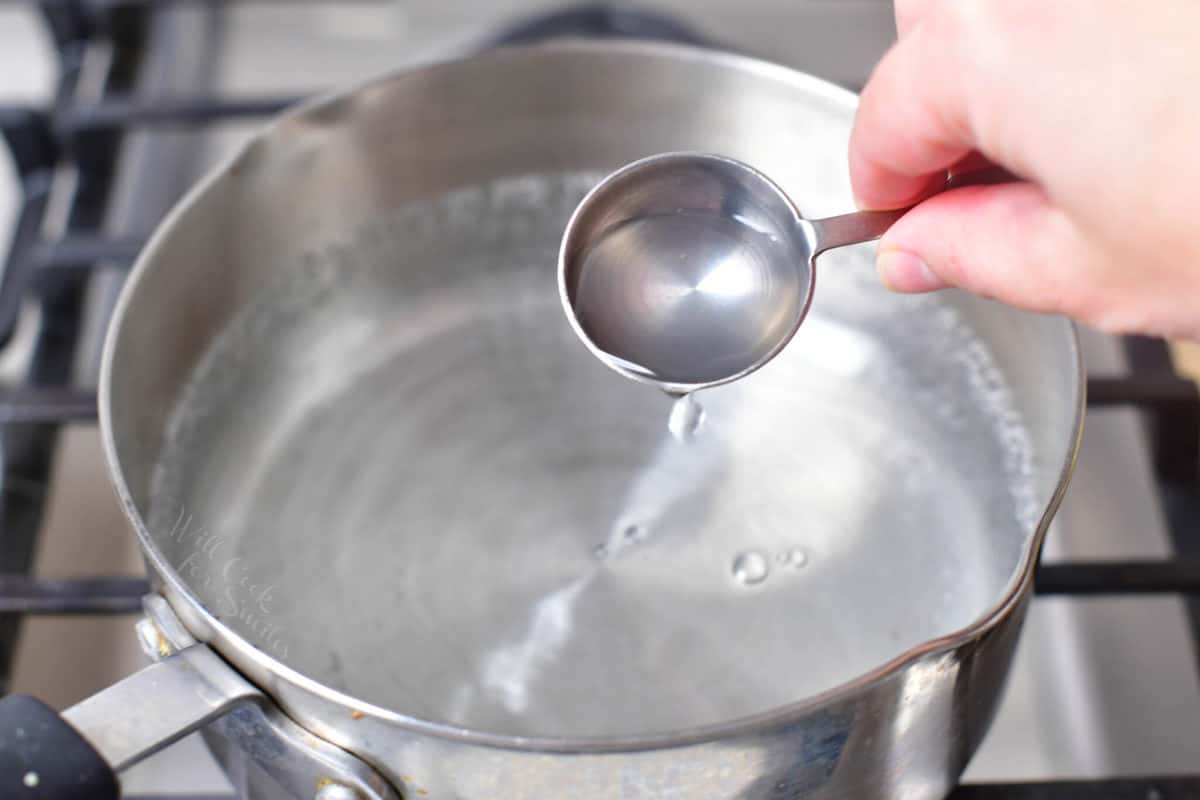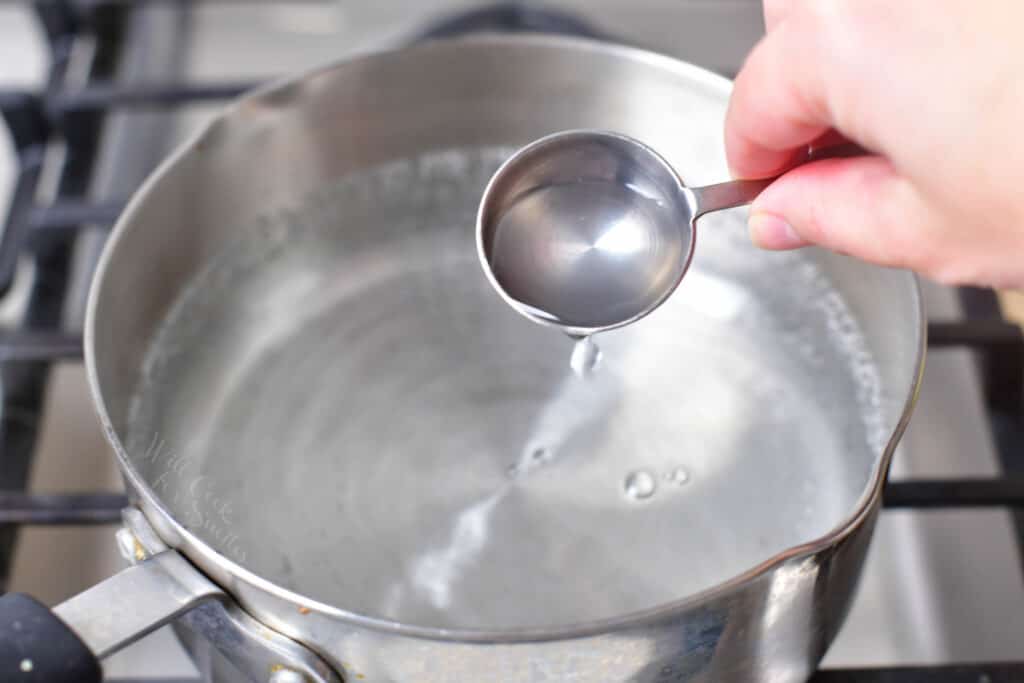 Remove the eggs from the water carefully, as you don't want to break the yolk.
While the eggs are cooking for 3 minutes, use that time to put together the English muffins and Canadian bacon.
That way, when the eggs are done cooking, you can carefully place them on top of a prepared eggs benedict base.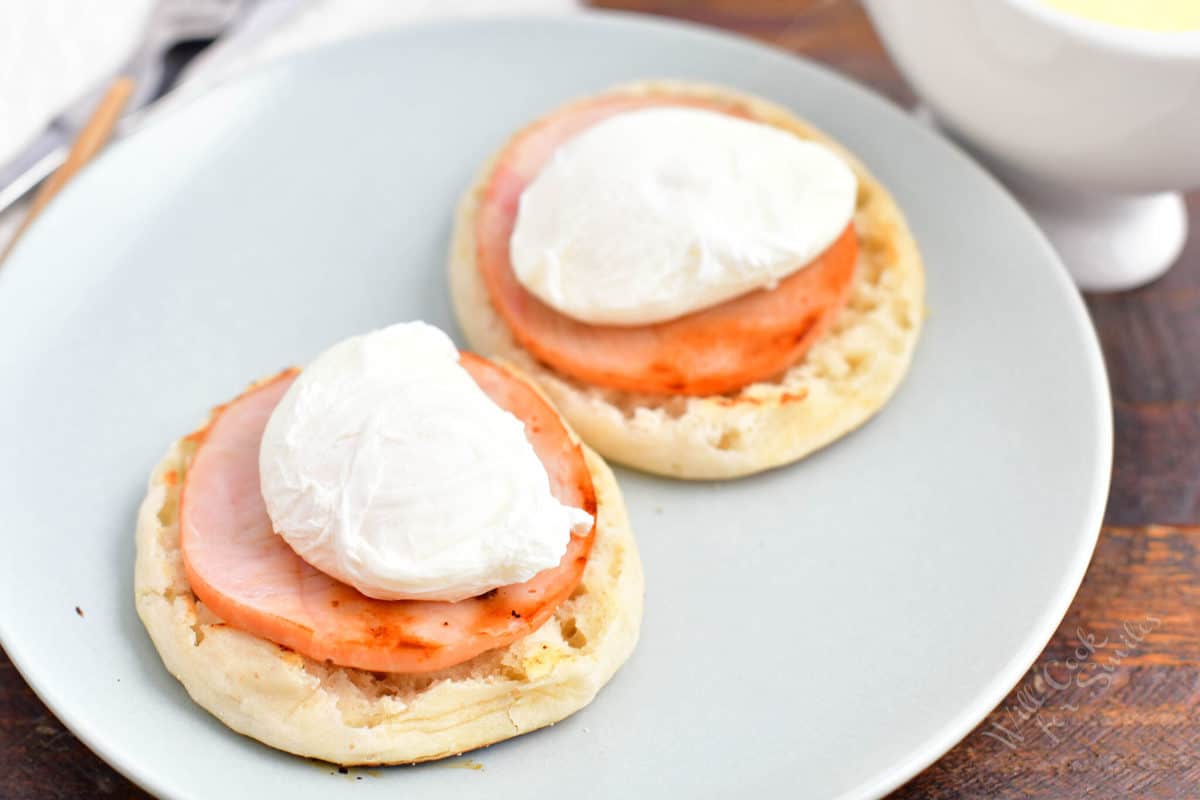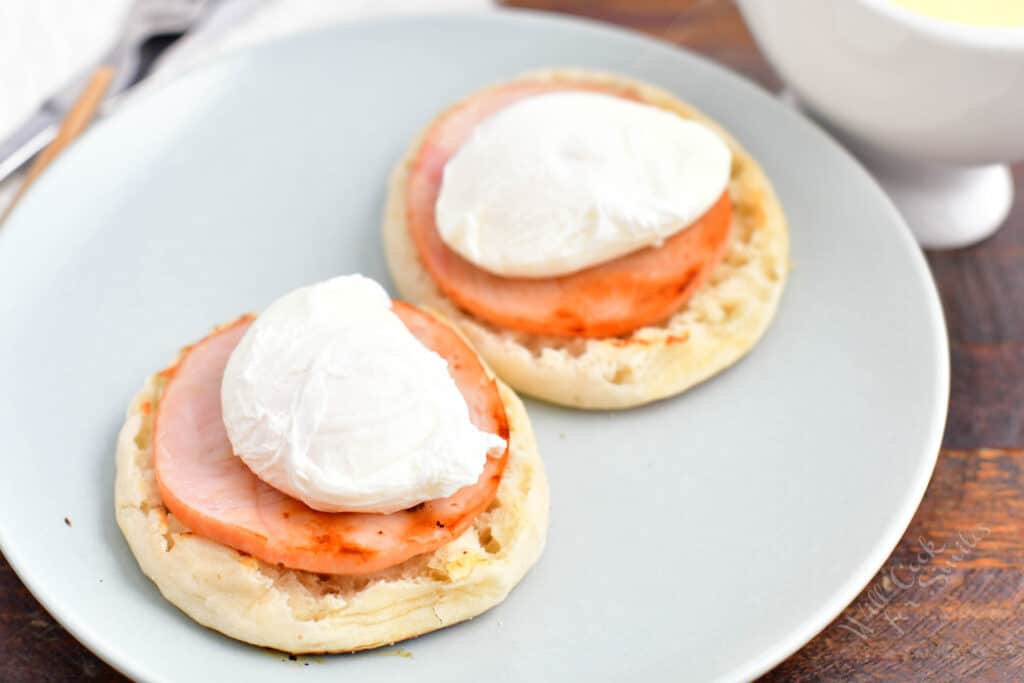 Generously drizzle hollandaise sauce on top of each eggs benedict. Garnish the eggs benedict with your choice of fresh herbs, and enjoy!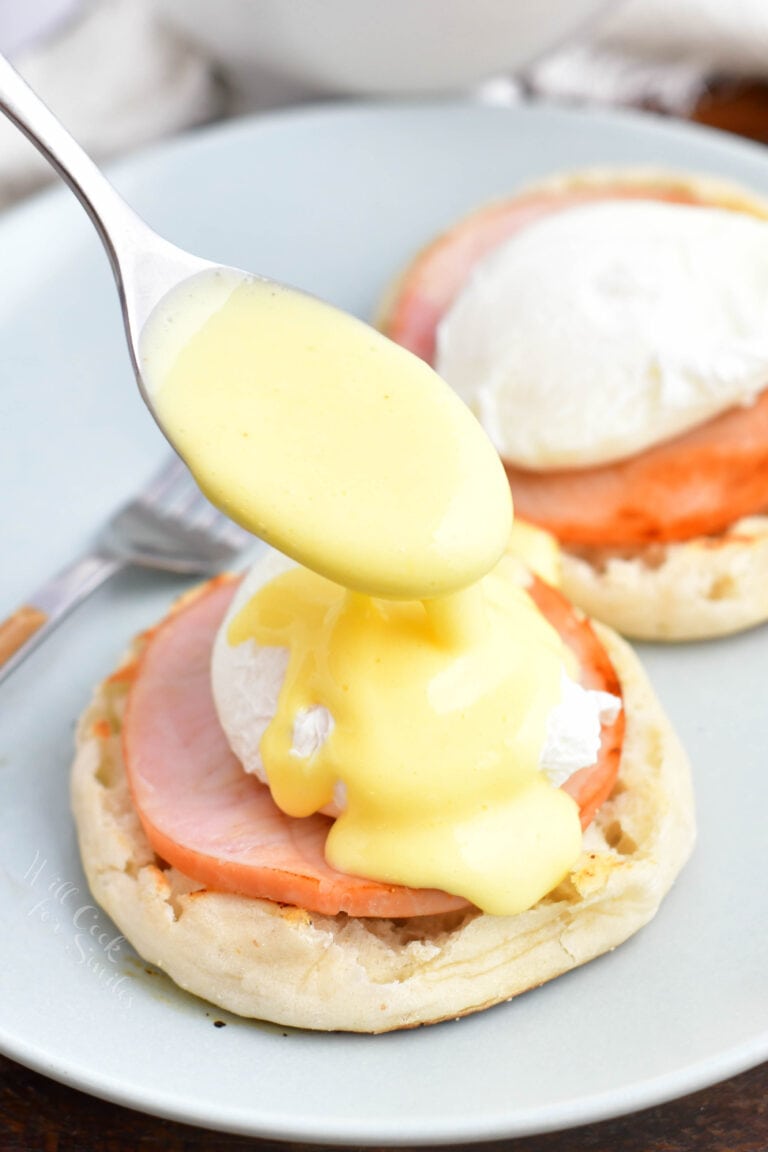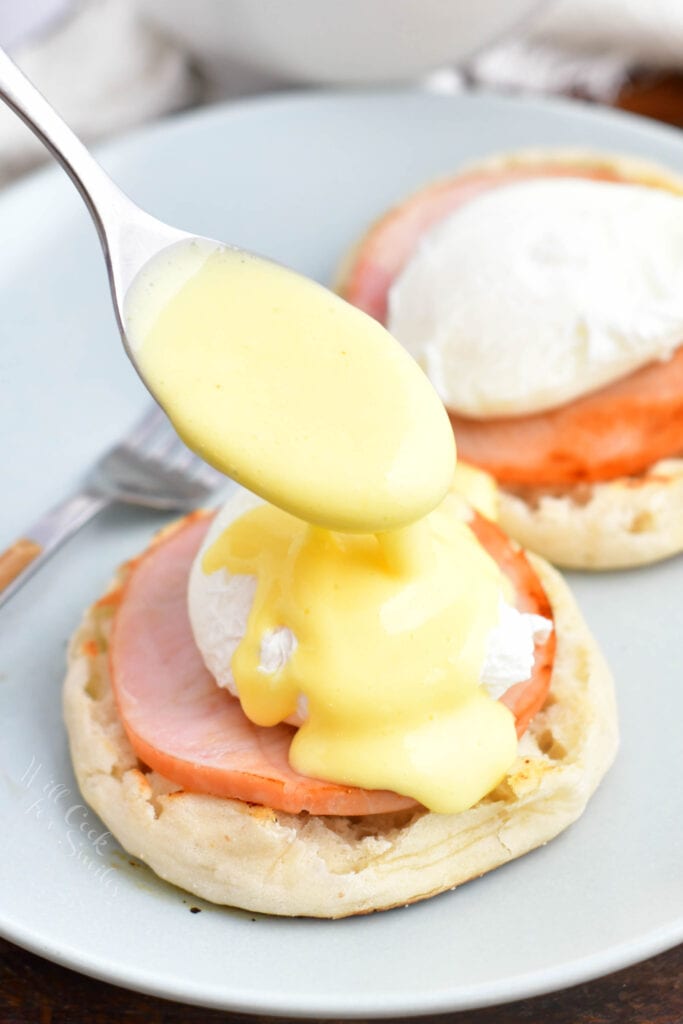 Where To Use Hollandaise Sauce
If you have any hollandaise sauce left over, rejoice! There are so many incredible ways to enjoy this homemade sauce.
I love drizzling hollandaise sauce over Eggs Florentine, cooked vegetables like broccoli and asparagus, and breakfast dishes like Crustless Quiche and Sausage Breakfast Casserole.
How to Store Hollandaise Sauce
Store this homemade sauce either in a plastic zip-top bag, or in a glass food storage container. Personally, I keep it in a glass food storage container and place a sheet of plastic wrap over the sauce and make sure it's touching the sauce before closing the airtight container.
Hollandaise sauce will stay fresh in the refrigerator for up to 2 days.
To reheat Hollandaise sauce, I do not recommend using the microwave, because you run a high risk of it overheating quickly. Instead, reheat the sauce slowly in a bottom heavy sauce pot over medium-low heat. Make sure to stir it slowly while it's reheating.
Other Meats To Use In Eggs Benedict
If you don't love Canadian bacon, there are so many other options for protein or vegetables. Get creative and use:
Smoked Salmon
Bacon
Ham
Roasted Vegetables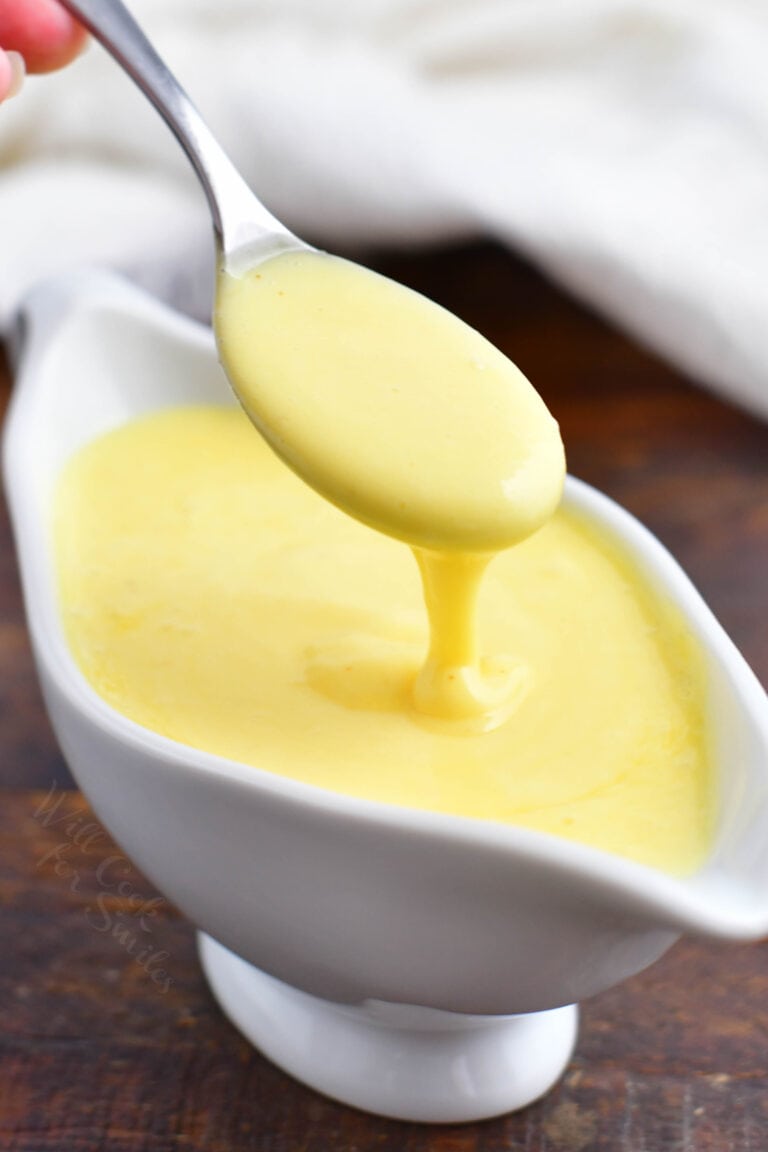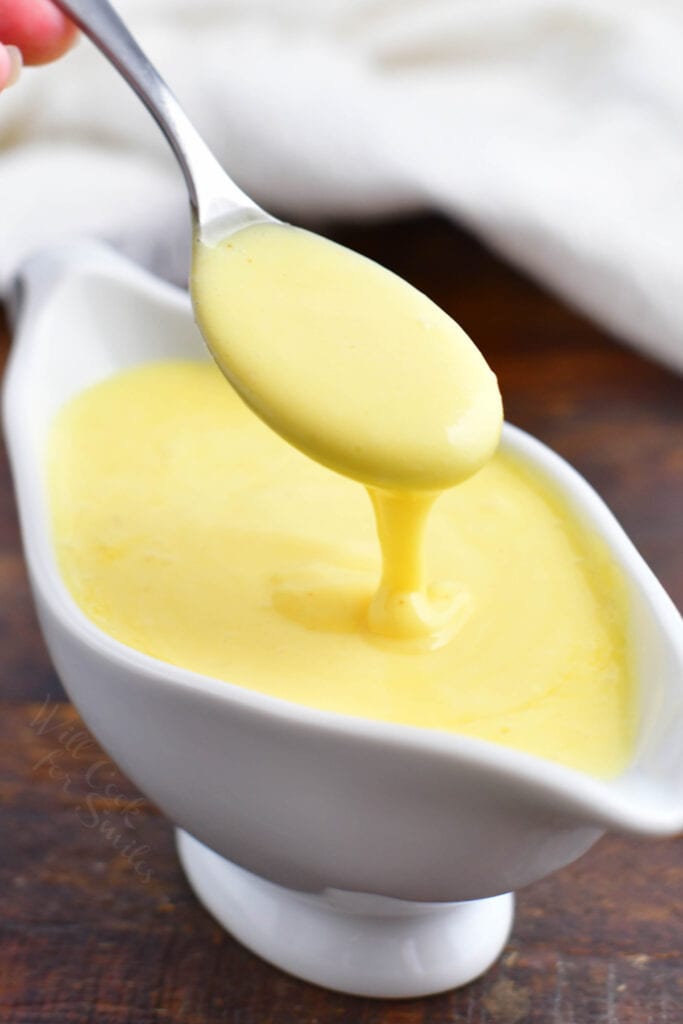 Host the Best Brunch
There are two cardinal rules for hosting the best brunch – you must serve delicious food and refreshing cocktails!
When you serve this delicious Eggs Benedict, make sure you accompany them with some of these brunch-favorite cocktails.
You can also accompany your Eggs Benedict crunch with other dishes like French Toast and Ricotta Pancakes.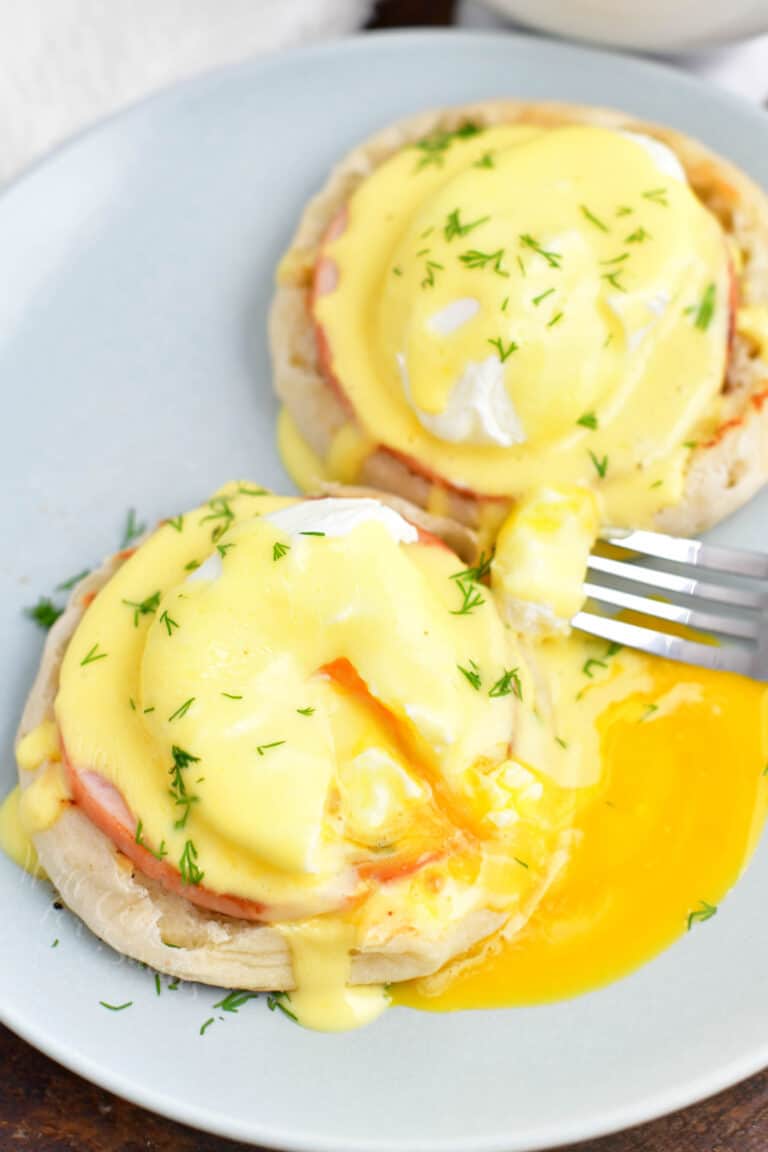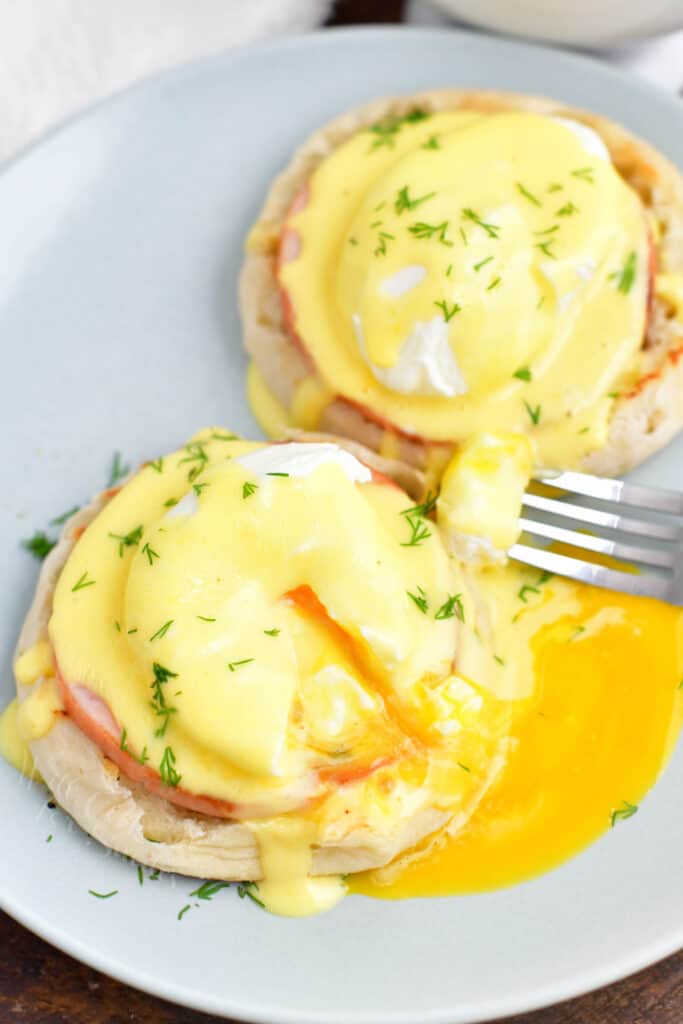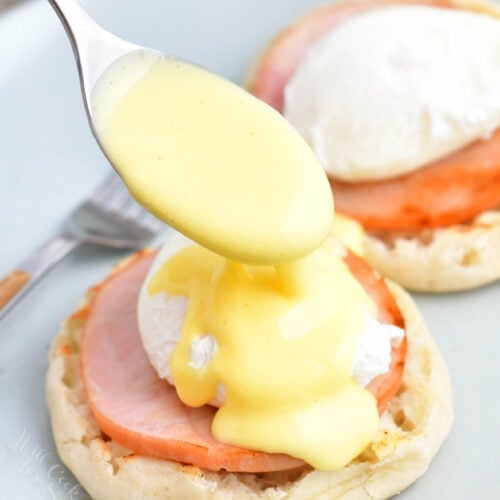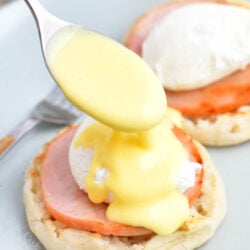 Eggs Benedict
Eggs Benedict is a classic breakfast that features two poached eggs on top of a Canadian bacon and crispy toasted English muffin. It's all generously drizzled with homemade Hollandaise sauce.
Print
Pin
Save
Saved!
Rate
Equipment
Double boiler

Hand blender with whisk attachment

Pot

Skillet or a cooking pan
Ingredients
Hollandaise Sauce:
1

cup

unsalted butter

melted

4

egg yolks

1

tbsp

fresh squeezed lemon juice

about 1/2 lemon

1

tsp

sea salt or coarse salt

pinch

cayenne pepper

to taste
Eggs Benedict:
4

English muffins

8

eggs

1

tbsp

white vinegar

for poaching eggs

8

slices Canadian bacon

dill weed, parsley, or chives

for garnish
Instructions
TIP: To make Hollandaise sauce, you would have to whisk very vigorously and constantly for several minutes. Use a hand blender with a whisk attachment to make it easy on yourself!
Hollandaise sauce:
Melt butter either in a microwave or in a sauce pot on the stove.

Heat up water in the double boiler over medium heat (make sure that the water in the bottom pot doesn't touch the top pot). If you don't have a double boiler, use a glass or metal mixing bowl to set on top of another pot. Don't put the top part on yet or you will cook your eggs.

Whisk eggs with lemon juice in the top pot of double boiler but not over the hot water. Whisk vigorously until the yolks start to lighten in color.

Place the top pot onto the bottom pot that is on the stove and start slowly drizzling in butter while whisking constantly and vigorously! (This is where you will be grateful for the hand held blender whisk!) Make sure not to drizzle too fast and take breaks for a couple of seconds if needed.

Continue whisking as the sauce lightens, thickens and about doubles in size.

Take off heat and stir in salt and cayenne pepper. Transfer into the serving dish and cover with saran wrap while preparing Eggs Benedict.
Eggs Benedict:
Crack the eggs and divide them into individual ramekins of small bowls. (This will make it easier to add them to water.)

You can set a pan to preheat over medium heat to toast English muffins and sear Canadian bacon at the same time to save time and extra equipment.

Fill up a pot with at least 3 inches of water. (Note that the pot should be wide enough to give each egg some cooking space.)

Bring water to gentle boil over medium-high heat (not a hard boil) and add a tablespoon of vinegar.

Stir the water a few times and then carefully add eggs one at a time. Cook eggs for 3-3 1/2 minutes and take them out with a slopped spoon. (Be careful not to break the egg because the yolks are still soft and runny.)

While the eggs are cooking, you can put together the bread and meat. Place two English muffins onto each place and add a slice of Canadian bacon to each English muffin.

Place a poached egg on top of each English muffin and generously drizzle Hollandaise sauce on top. Garnish with dill weed, parsley, or chives if you wish.
Nutrition
Calories:
729
kcal
|
Carbohydrates:
28
g
|
Protein:
19
g
|
Fat:
60
g
|
Saturated Fat:
34
g
|
Trans Fat:
2
g
|
Cholesterol:
646
mg
|
Sodium:
1004
mg
|
Potassium:
240
mg
|
Fiber:
2
g
|
Sugar:
1
g
|
Vitamin A:
2153
IU
|
Vitamin C:
2
mg
|
Calcium:
117
mg
|
Iron:
3
mg
Tried this recipe?
Mention @willcookforsmiles and tag #willcookforsmiles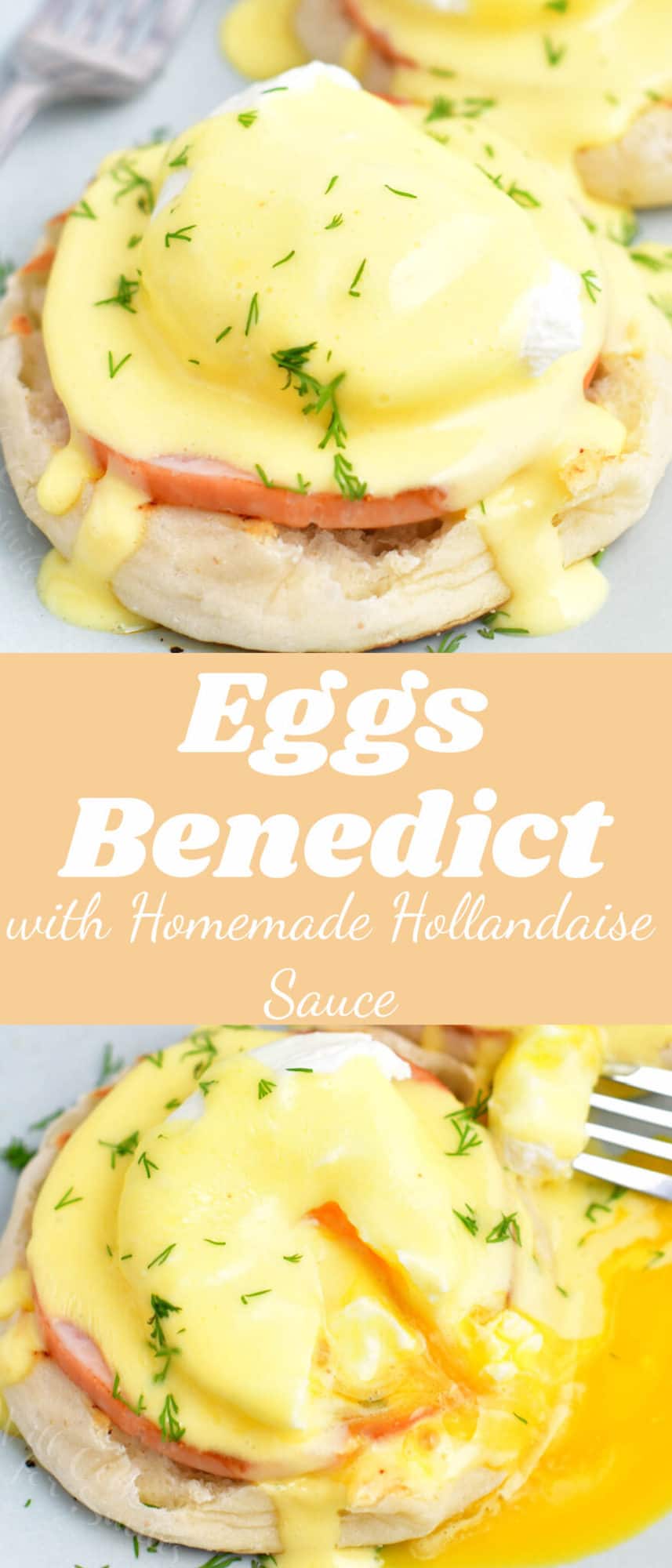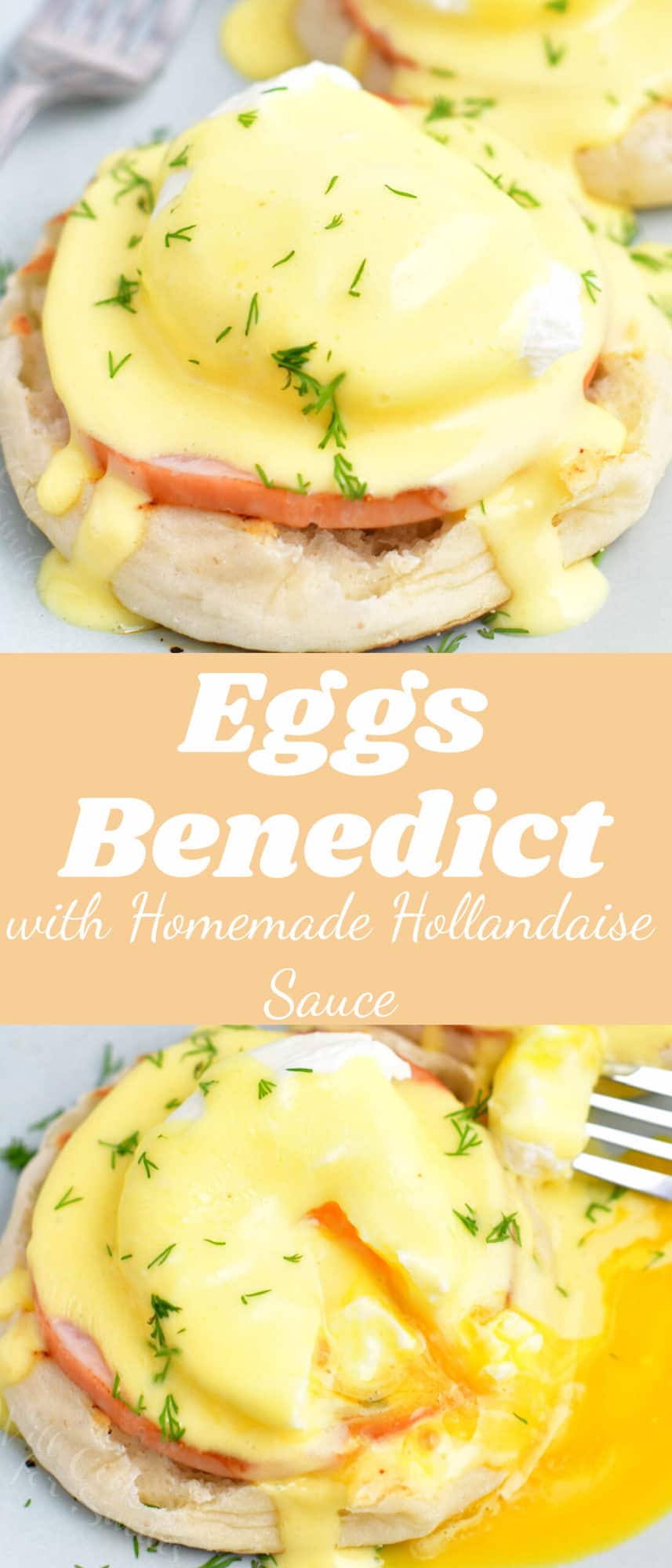 Originally published on Will Cook For Smiles in February, 2014. Updated March 29, 2021.