Frittata is a great breakfast egg dish that's soft, silky, creamy, and loaded with meats and vegetables that you love. It's completely customizable, so you can both add and take away certain ingredients to best fit your tastes. This classic breakfast comes together in just 30 minutes!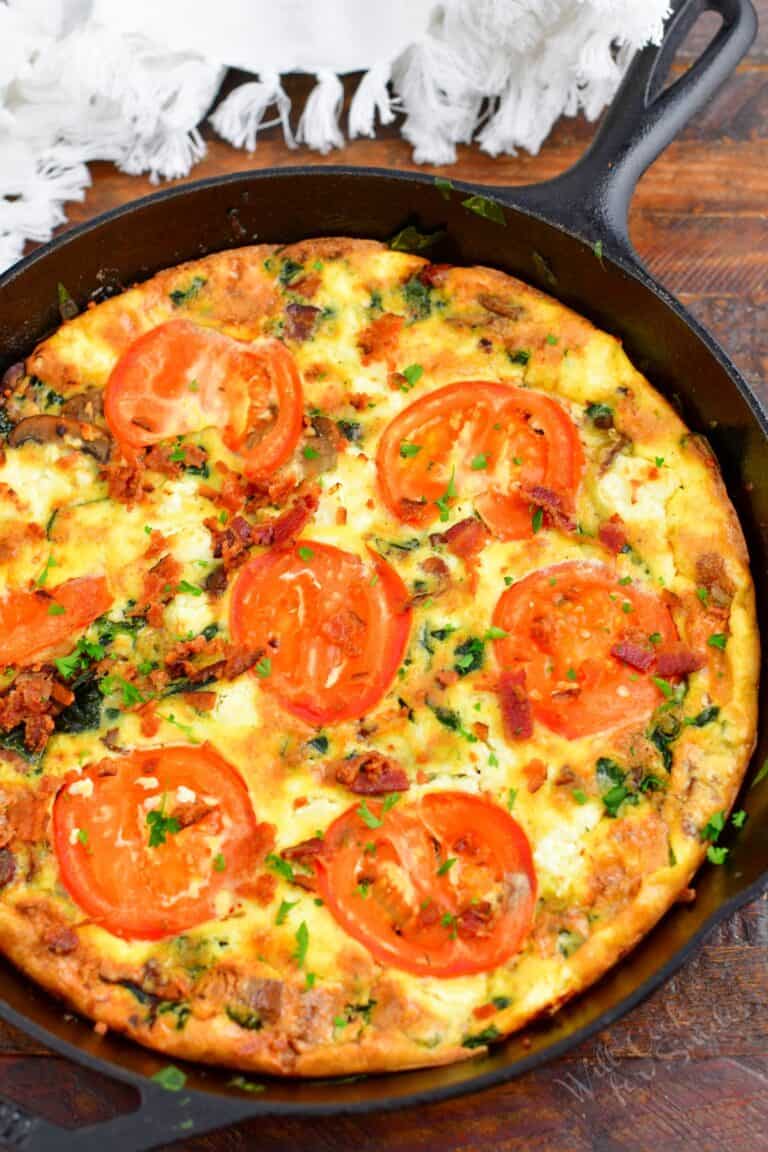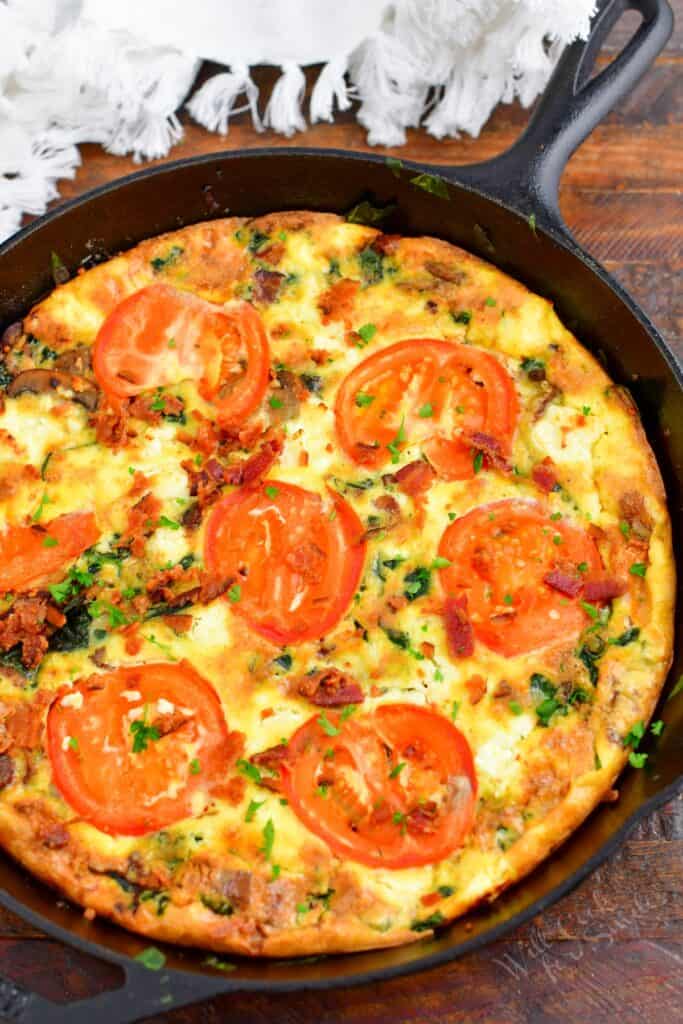 Our Favorite Frittata Recipe
If you're looking for a delicious way to use up things like leftover veggies or even holiday leftovers, look no further! This easy to make frittata is perfect for using up all of your favorite leftovers that you just can't toss out. Frittatas are famously easy, filling, and customizable breakfast dishes. They're perfect for weekend mornings with the family, or brunch parties with friends. You can even make it into frittata muffins!
As much as I love omelettes and quiches, frittatas may just be my favorite egg-based breakfast entree. Perhaps it's the golden brown crust, or maybe it's simply how silky and decadent the eggs are from the heavy cream. Either way, every time I make a frittata for a brunch party or on events like Christmas morning, friends and family come running back to the kitchen for more. It's a real crowd pleaser.
This fluffy Italian breakfast item is wonderfully easy to make and always satisfies, but be aware that it can be made wrong, too. I've had many frittatas in the past that are far too dense and lack the desired fluffy consistency, and others that are bland with minimal ingredients. As long as you follow my simple steps and add all of your favorite bold ingredients, though, you'll be so very happy with the delicious final result.
Ingredient Notes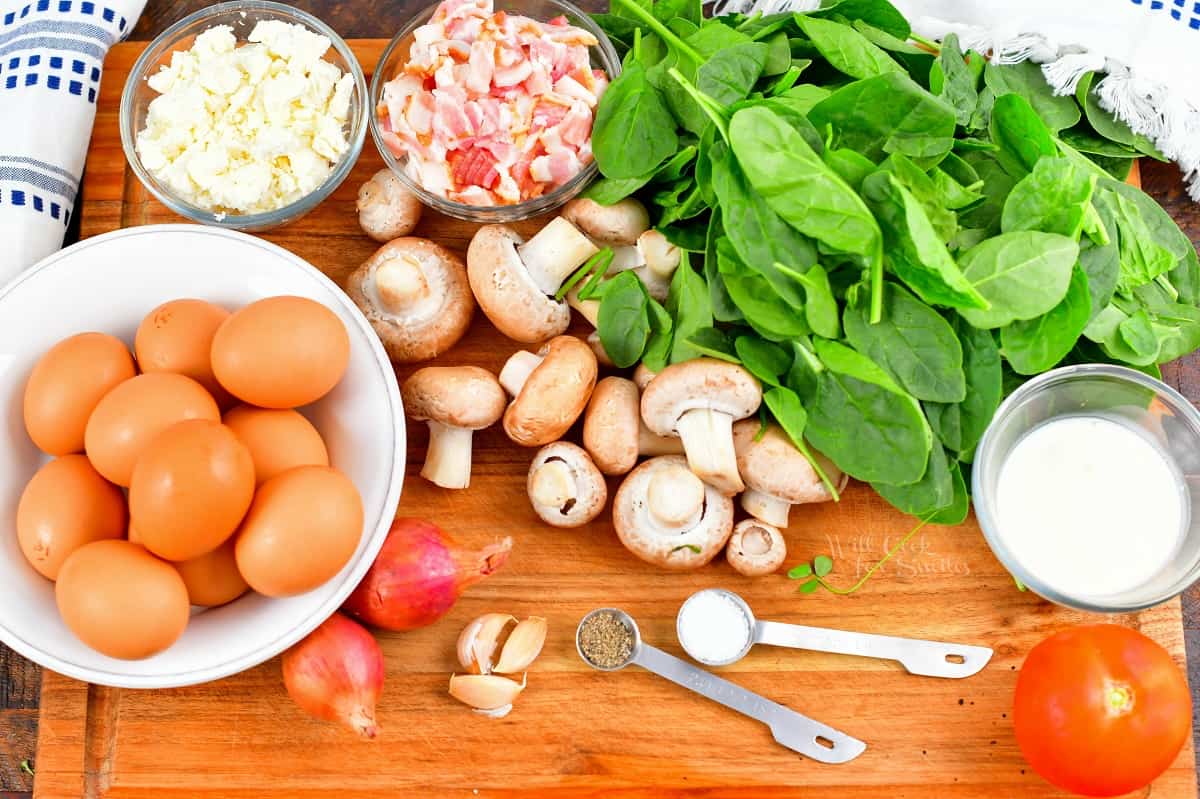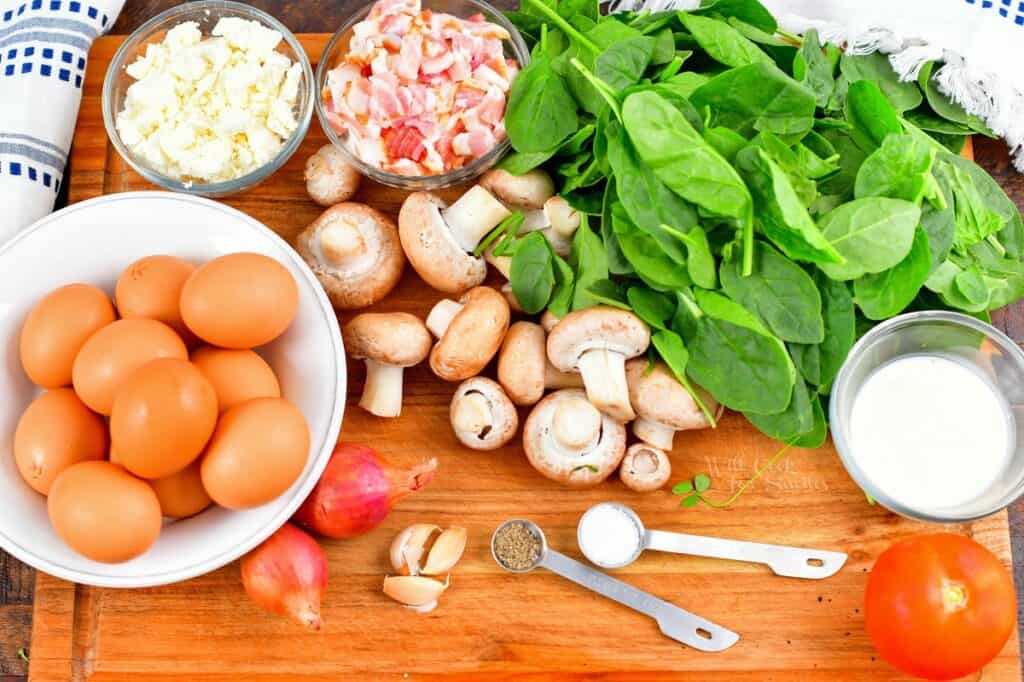 Remember – this is a very customizable dish! Besides the main ingredient of creamy eggs (eggs mixed with heavy whipping cream), you can some up with your own favorite mix in combinations. Vegetables, meats, cheese, and potatoes are the most common mix-ins.
Vegetables can include broccoli, spinach, mushrooms, onions, carrots, tomatoes, bell peppers, zucchini, and just about any other vegetables you love.
Meats can include bacon, breakfast sausage, ham, prosciutto, chicken, or turkey.
As far as potatoes, use shredded or diced hash browns or Home Fries.
Choose any of your favorite cheeses that compliment the other ingredients. Some common cheeses include mozzarella, feta, gouda, gruyere, and cheddar.
Just make sure that the vegetables, meats, and potatoes are cooked first, before adding them to the frittata! And if you're a novice frittata maker, I recommend using the ingredients I have listed below for a very flavorful, yet simple frittata.
What is Frittata?
Frittata is an Italian egg dish that comes from the word "fritto" which means to fry. As far as the texture, frittata falls somewhere between an omelet and crustless quiche. It's a little more egg forward than a quiche, but much creamier and fluffier than an omelet. There are some districts differences between these egg dishes and frittata though.
Frittatas often contain more eggs than an omelet, and have a lot more other ingredients mixed in.
While the omelet is usually made with a splash of water or milk, it's important to add a good amount of cream to a frittata. This makes the eggs silky and creamy.
For a frittata, you would also vigorously beat the eggs with a whisk to incorporate more air and make it light and fluffy in texture.
Omelets are usually folded in half or folded on both sides with the filling on the inside. In the frittata, whisked eggs are poured over the filling to incorporate the filling throughout.
Finally, one of the more important factors of a frittata is the golden, crusty top and bottom. You achieve that by finishing the frittata under the broiler.
Cooking Instructions
Start off by preheating your oven to 350°F and setting the oven rack approximately 6-8 inches away from the broiler. Then, prepare your cast iron skillet or other oven-safe pan.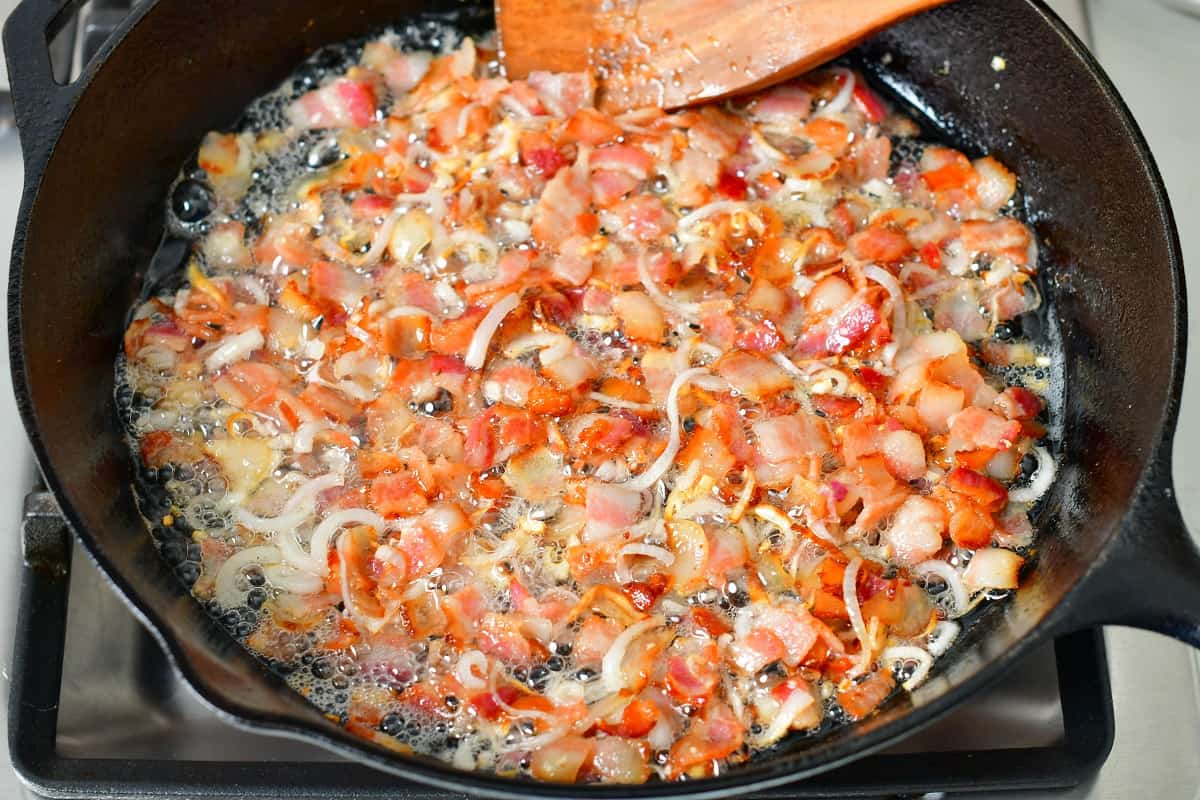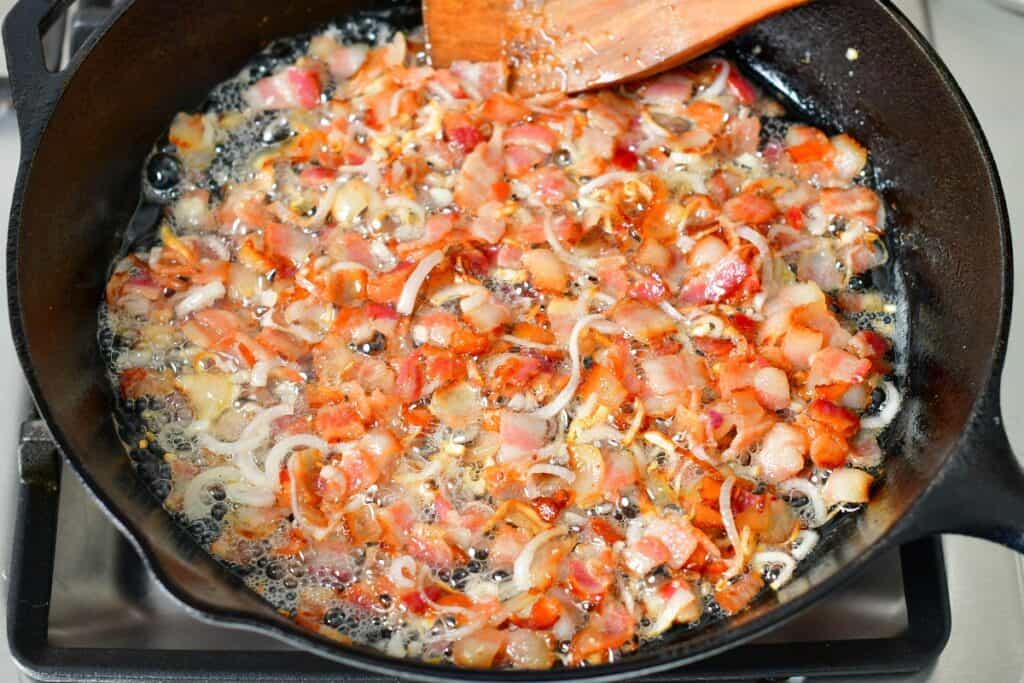 Cook the bacon over medium heat until the fat is rendered.
Sauté the onion until it begins to brown. Drain most of the excess bacon fat, then move the onion and bacon aside so you can add the garlic to the center of the dish. Sauté until fragrant, then mix together.
Add the mushrooms and spinach, cooking until the spinach has wilted. Strain the excess liquids from the pan.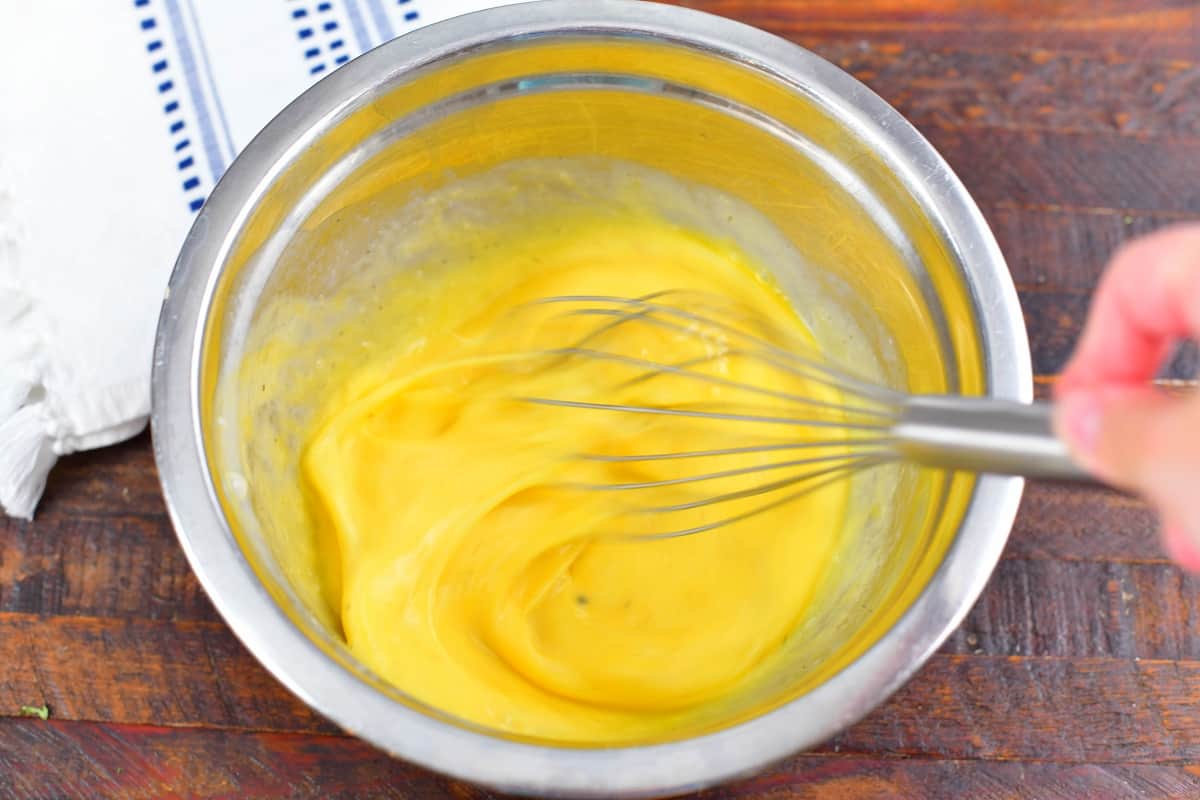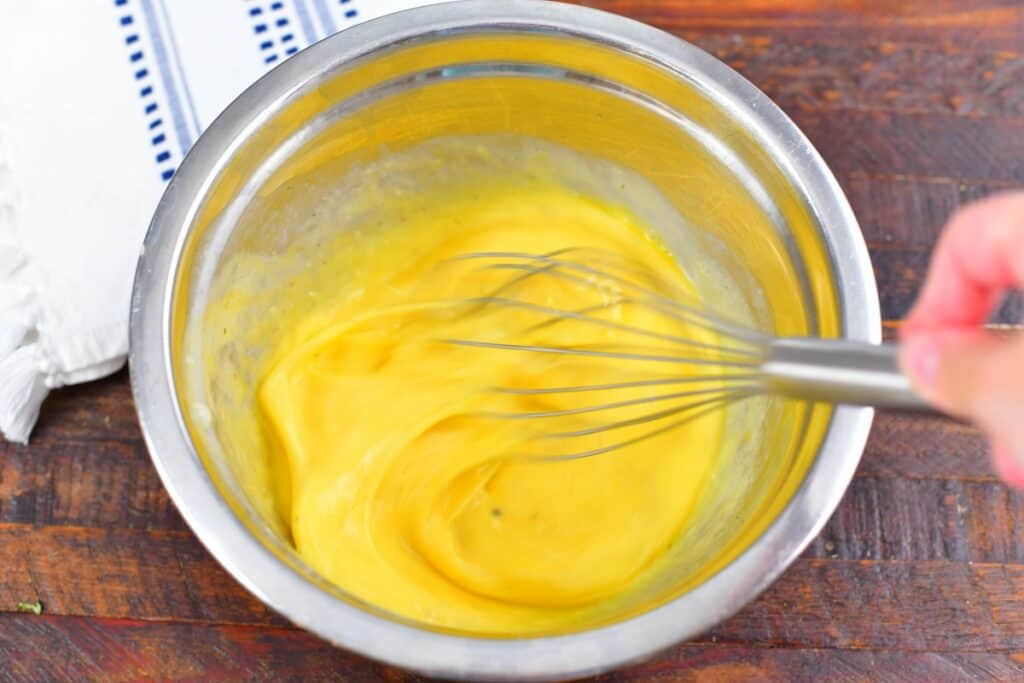 In a separate bowl, whisk together the eggs, heavy whipping cream, salt, and pepper.
Pour the egg mixture over the ingredients in the pan. Continue cooking for an additional minute or so, then transfer the pan to the oven.
Cook for another 6-8 minutes, then turn on the broiler so it gets nice and golden!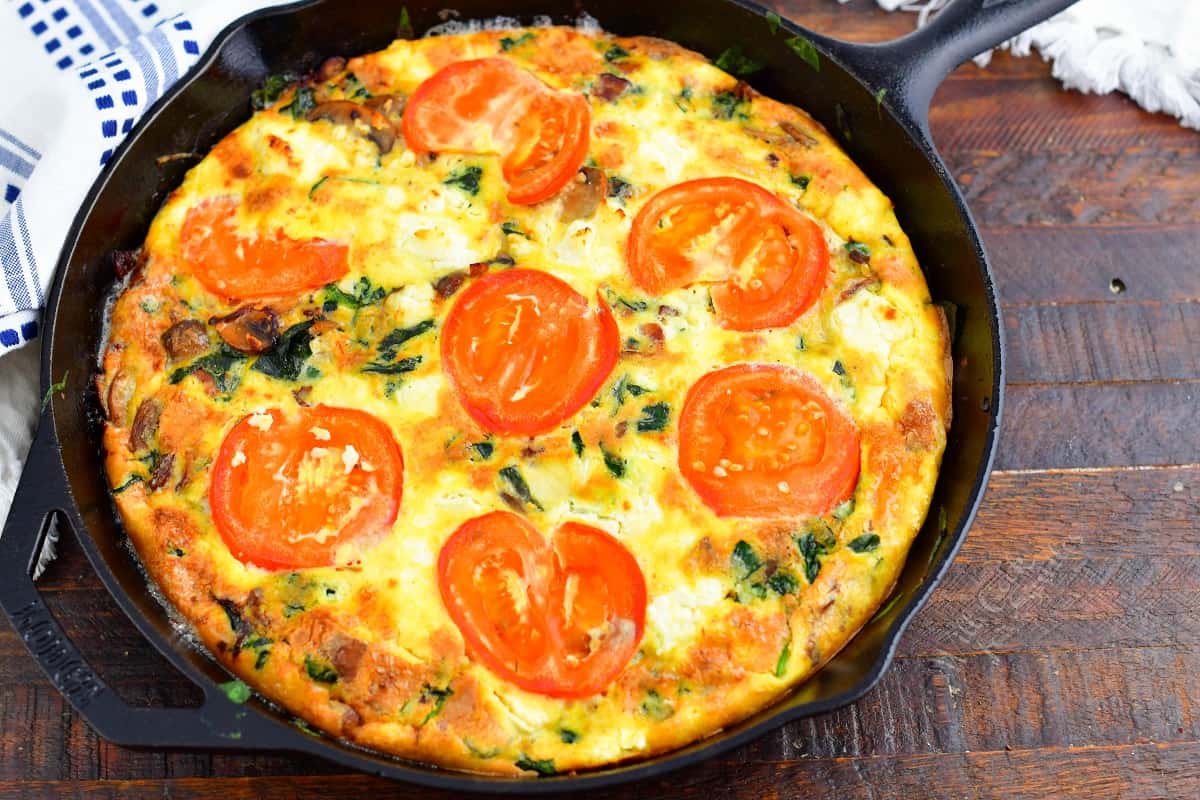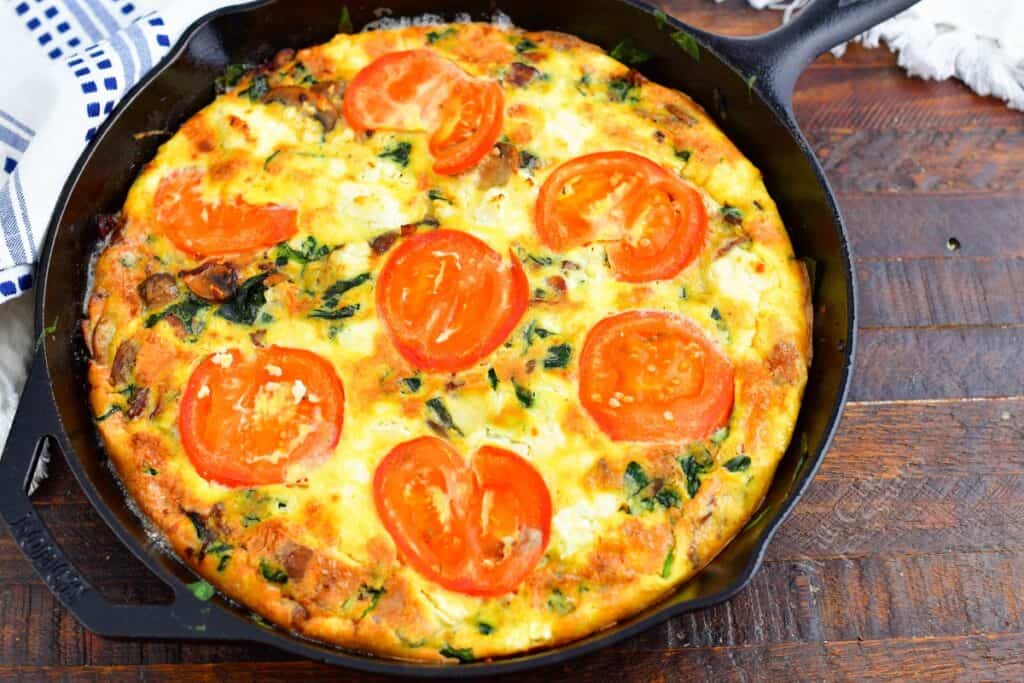 Frequently Asked Questions:
Can I cook it completely on the stove?
If you don't have access to the oven, no problem. Even though the golden top on frittata is a nice final touch, it's not a necessity. You can finish it off on the stove by covering the pan with a lid for half the cooking time in the end to create an even heat around the top. This will finish the frittata on top. You can also attempt to flip the frittata, but that could prove to be messy.
How can I make this into breakfast muffins?
It's SO easy to turn this pie-sized frittata into smaller muffins! Make it into muffins by first preheating the oven to 375°F and preparing a muffin pan with cooking spray. Pour the mixture evenly between the muffin tins, then cook for approximately 12-15 mins. It's really that simple.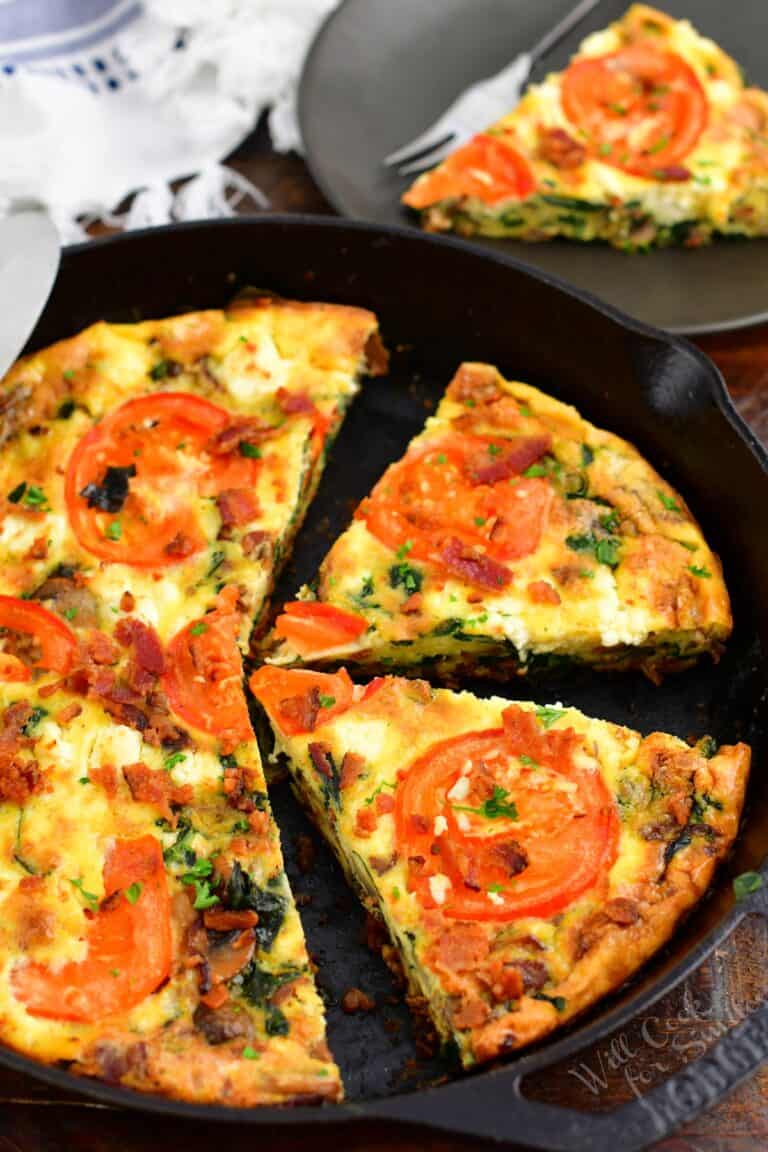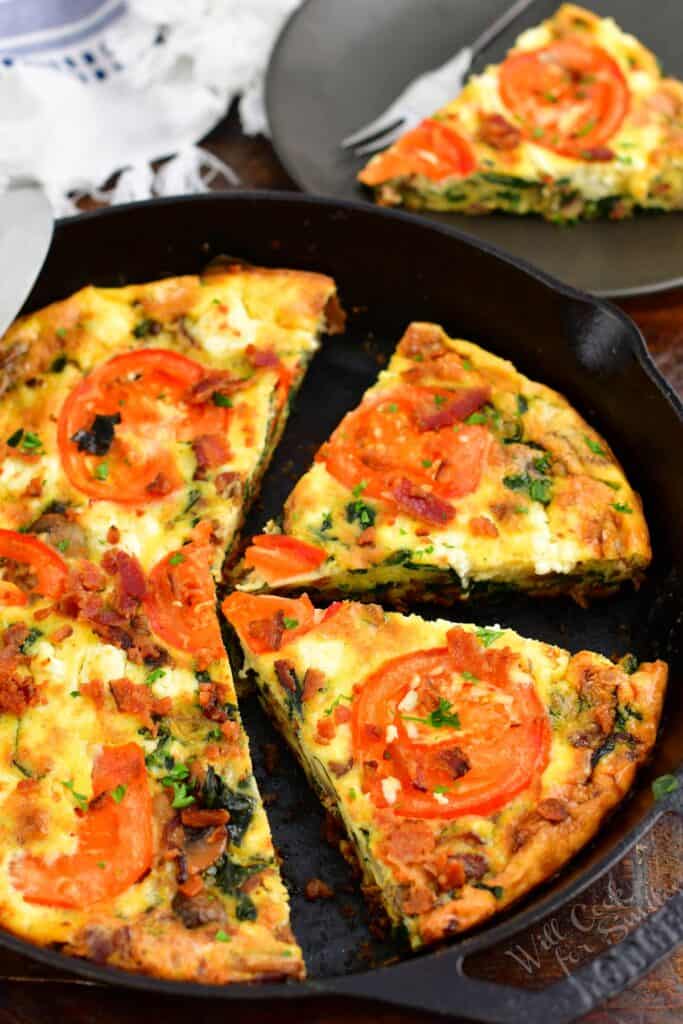 Some More Great Breakfast Recipes
Breakfast Burritos– Our favorite breakfast burritos include the works: cheesy scrambled eggs, crispy bacon and breakfast sausage, sautéed onions and peppers, and hash browns.
Spinach Artichoke Crustless Quiche – this crustless quiche is made with fresh spinach, artichoke hearts and lots of cheese.
Eggs Benedict with Easy Homemade Hollandaise Sauce – soft, poached eggs over warm Canadian bacon, toasted English muffin, and topped with an easy, homemade Hollandaise sauce.
Shakshuka – a wonderful one-dish breakfast recipe make with eggs, then cooked in a bed of chunky tomato and vegetable sauce that's spiced with the perfect amount of cumin, paprika, and red pepper flakes.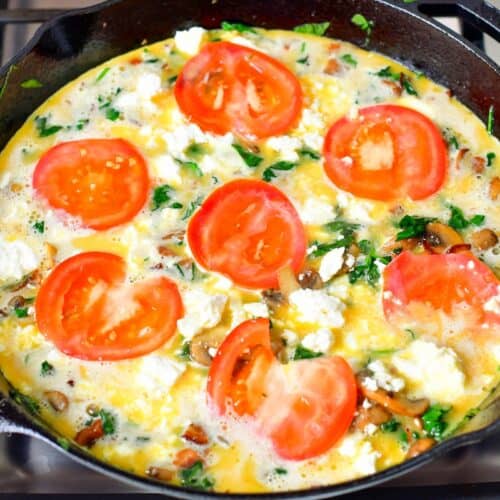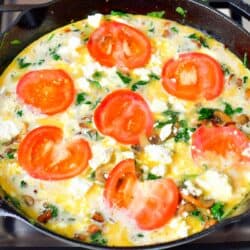 Frittata (Bacon, Spinach, Mushroom, and Feta Frittata)
Frittata is a great breakfast egg dish that's soft, silky, creamy, and loaded with meats, cheese, and vegetables that you love.
Print
Save
Saved!
Rate
Ingredients
10

large eggs

1/3

cup

heavy whipping cream

salt

black pepper

1/2

lb

bacon

diced

1/2

onion

diced

3

garlic cloves

minced

4-6

oz

mushrooms

5

oz

spinach

chopped

1-2

tomatoes

sliced

1/2

cup

feta cheese

crumbed
Instructions
Preheat the oven to 350° and set the oven rack 6-8 inches away from the broiler.

Use a 10 inch cast iron skillet that is well seasoned to prepare the frittata. If cast iron skillet is not available, make sure to use a pan that is oven-safe.*

Preheat the skillet over medium heat and add diced bacon. Cook until most of the fat is rendered.

Add diced onion and sauté until it starts to brown. drain off most of excess bacon fat. Move bacon and onion aside and add minced garlic to the center of the skillet. Sauté just until fragrant and mix together.

Add mushrooms and spinach and cook until completely wilted. Strain off excess liquids from the pan.

Whisk eggs, heavy whipping cream, salt, and pepper together vigorously for about 30-45 seconds.

Pour the eggs all over the filling and make sure that the filling ingredients are distributed evenly throughout the frittata.

Let it cook over medium heat for 1-2 minutes and transfer it into the oven. Cook another 6-8 minutes. Turn on the broiler and let the top get golden. (Make sure to watch the oven so the top of frittata doesn't burn.)
Notes
*If all you have available is a smaller cast iron skillet, like an 8-inch one, use 8 eggs and 1/4 cup of heavy whipping cream. Cook until the edges are completely set and desired doneness is reached. 
Nutrition
Calories:
360
kcal
|
Carbohydrates:
6
g
|
Protein:
18
g
|
Fat:
30
g
|
Saturated Fat:
12
g
|
Polyunsaturated Fat:
4
g
|
Monounsaturated Fat:
11
g
|
Trans Fat:
1
g
|
Cholesterol:
327
mg
|
Sodium:
520
mg
|
Potassium:
454
mg
|
Fiber:
1
g
|
Sugar:
2
g
|
Vitamin A:
3043
IU
|
Vitamin C:
11
mg
|
Calcium:
144
mg
|
Iron:
2
mg
Tried this recipe?
Mention @willcookforsmiles and tag #willcookforsmiles