Soft, juicy, and tender corned beef brisket made in an Instant Pot and finished with spicy mustard under the broiler. Making corned beef brisket in an Instant Pot is so easy and only takes about an hour and a half. This corned beef is so tender, it falls apart in your hands.
We love corned beef brisket here and if you enjoy it just as much, try our simple 4-ingredient oven baked corned beef brisket.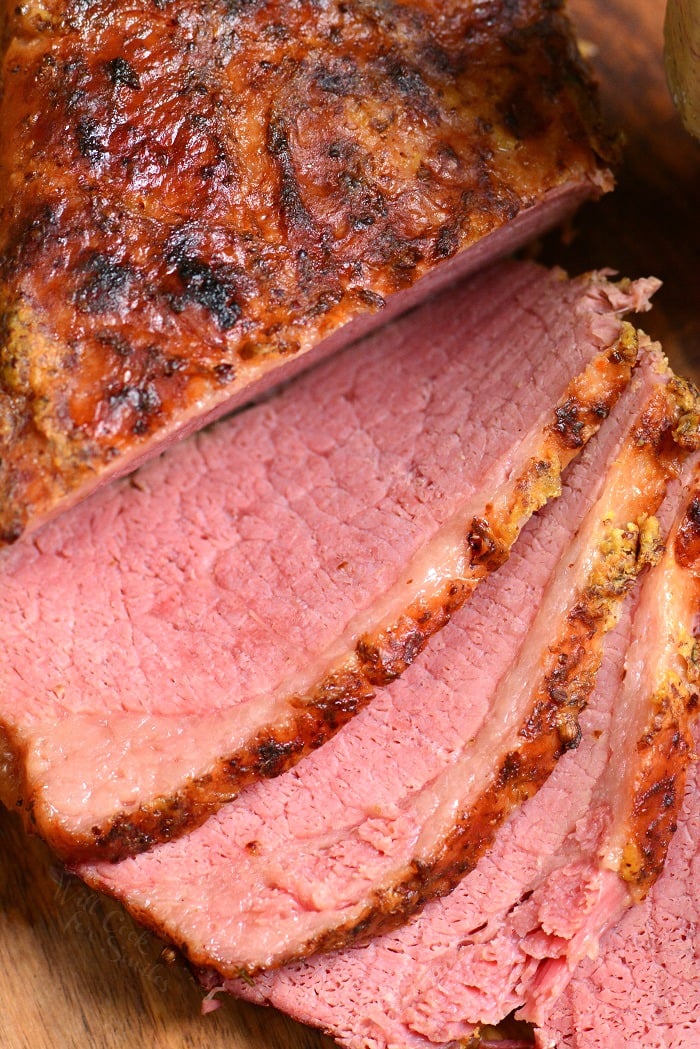 Instant Pot Corned Beef
We just love brisket and corned beef brisket at our house. Most of the time, our brisket doesn't even make it to dinner time. Right after I slice it, my husband and I just stand at the kitchen counter and eat it.
Corned beef packs a lot of flavor through the brine already and then, the aromatic combination of spices will take this recipe to the next level. If that's not enough, I like to finish it off under broiler to get some caramelization on top.
When I first got my Instant Pot, my goal was to try all of our favorite recipes and meats in an Instant Pot to see the difference in textures and flavors. Pressure cooker is great for saving time on the recipes that take a long time. It's also great for achieving great tenderness in meats.
Corned beef brisket was one of the first recipes that I made in my Instant Pot. And let me tell you, the results were unbelievable. I knew that meat was going to achieve the tenderness that it should, but wow. The texture on this corned beef is just perfection and so much better than I expected.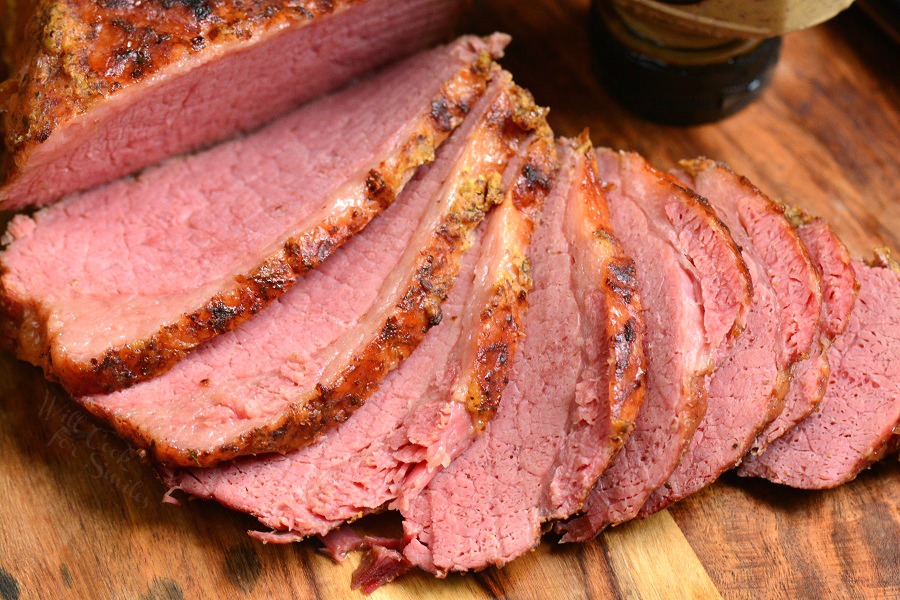 What Is Corned Beef Brisket?
Corned beef is simply a beef that was cured in salty brine for many days. Curing the beef was originally a method people used to preserve it. The term "corned beef" is synonymous to "pickled beef" because the brine used for corned beef is similar to the pickle brine.
Traditionally, corned beef is made with a brisket cut. Since it's a tough cut of meat, it's meat to be cooked for an extended period of time to make it tender. Sometimes, beef round or rump is used instead of brisket.
You can make your own corned beef by curing a brisket in salty brine in the refrigerator for about 10 days. After it's been cured, cook it with additional spices, beef stock, and even beer.
Corned beef is most known to be served in dishes like Reuben sandwiches, corned beef and cabbage, and with potato hash.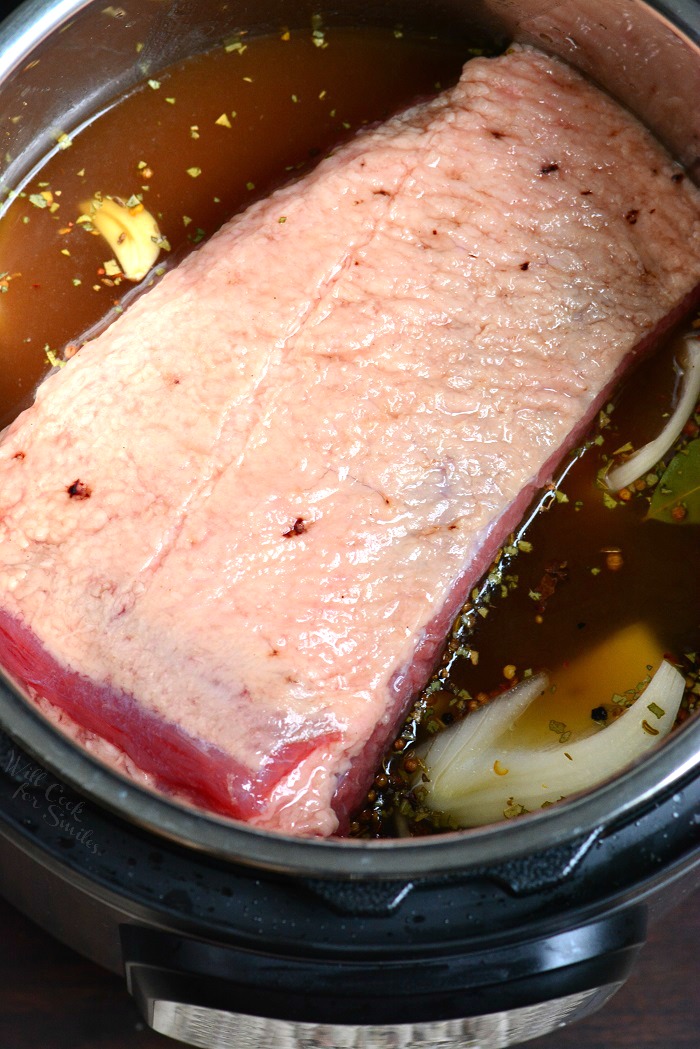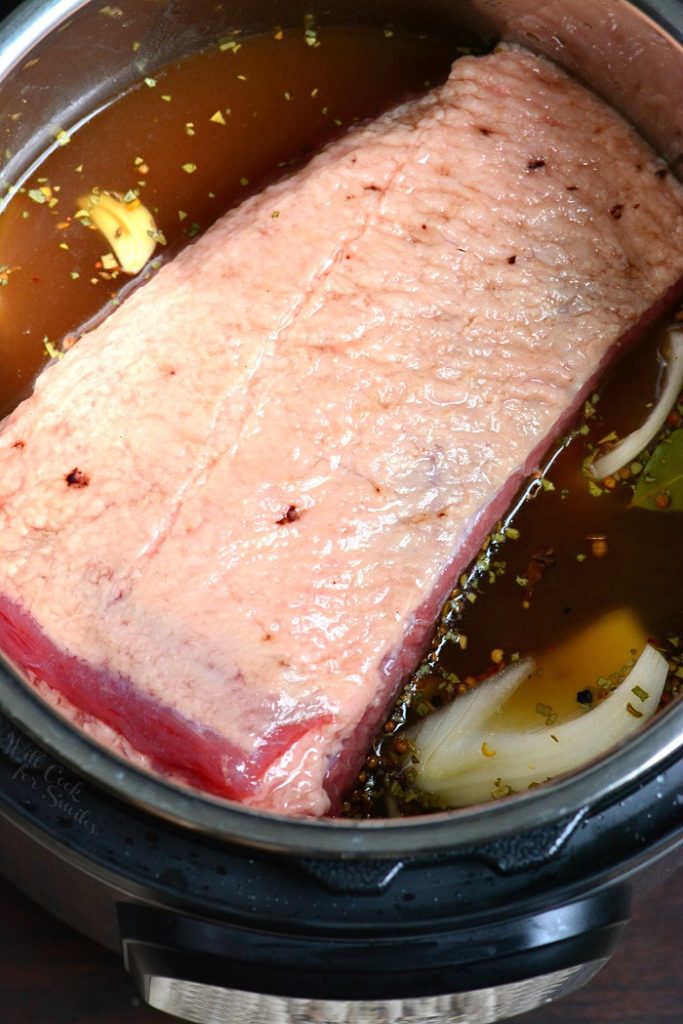 What Spice Mix Is The Best?
Most corned beef briskets come packaged with a bag of seasoning spices already in it. That is absolutely fine to use it if you wish but I like to mix my own. Seasoning packet doesn't usually have a few ingredients that I like to add for more flavor and aroma.
Ingredients that I use in my corned beef seasoning are:
Mustard seed
Whole Peppercorns
Whole cloves
Allspice berries
Crushed Red Pepper Flakes
Coriander seeds
Bay leaves
Add this mix to the broth with corned beef for the best flavor! The aroma will be amazing from the minute it starts to cook.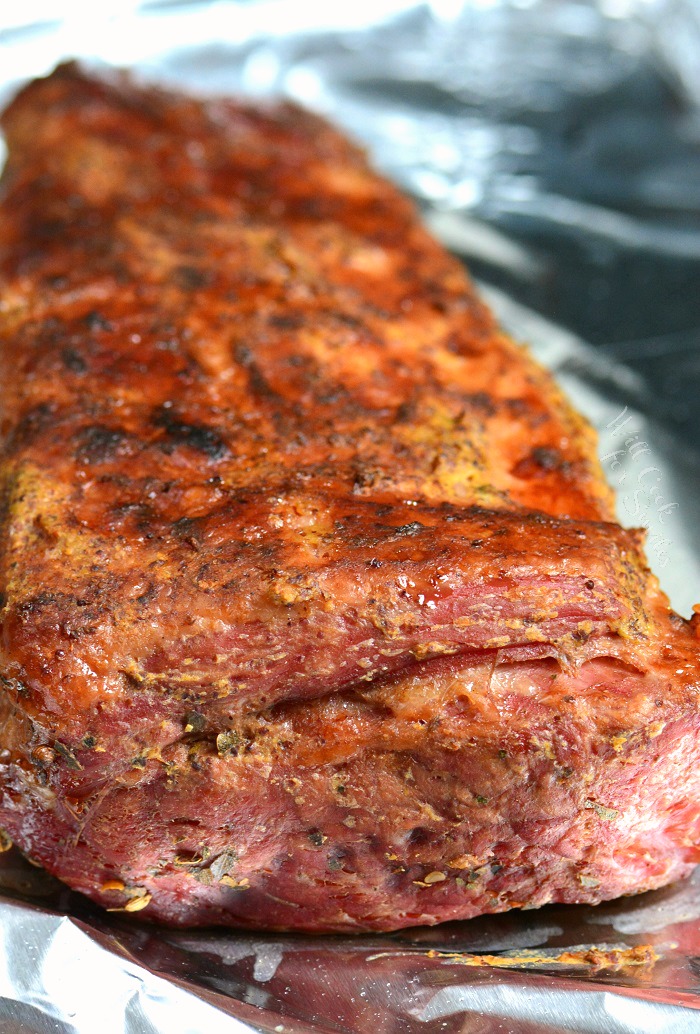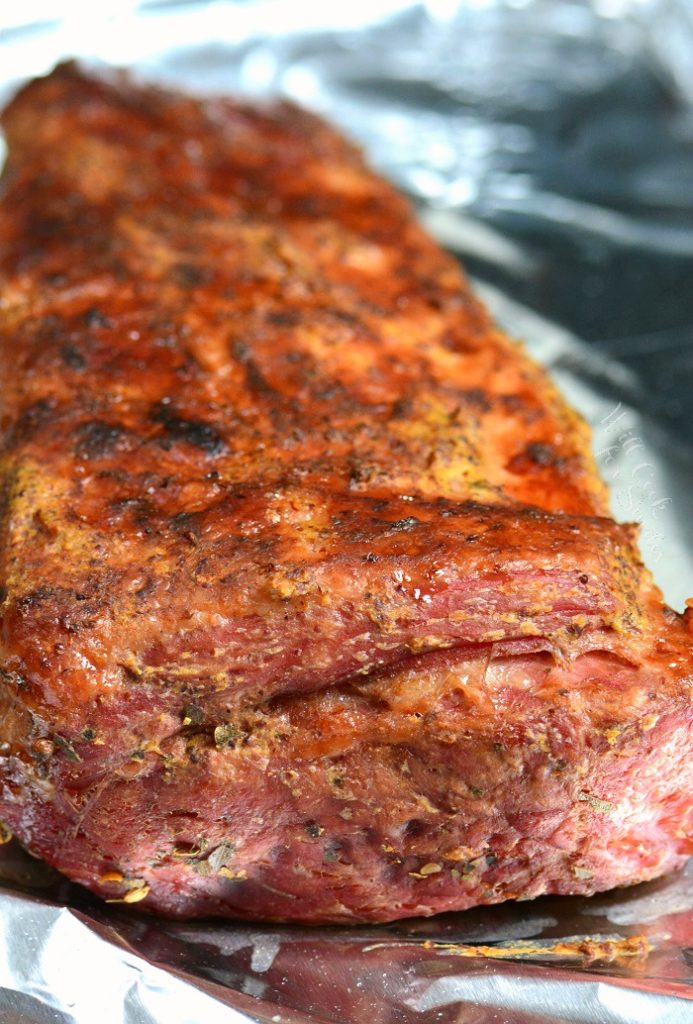 Tips For The Best Instant Pot Corned Beef Brisket
Number one tip that I have to making corned beef is not to add salt!
Corned beef is cured in a very salty brine so it is already quite salty. This salt transfers into the broth while cooking so the dish will be salty enough. I even rinse out the brisket when taking it out of the package to wash off some excess salt.
IF you absolutely do not like a lot of salty flavor, you can choose to do an extra step and quickly bring brisket to boil in a pot of water. This will take extra salt out. To do that, place brisket in a pot of water and bring it to boil. As soon as it starts to boil, take the brisket out.
You can opt for cooking corned beef with or without addition of beer. If you want to add beer, replace 1 cup of broth with 1 cup of beer.
Some people like to add Guinness but personally, I find that it adds bitterness to the brisket. If you are not a fan of bitter beer, choose an Ale. Killian's is a good addition in this recipe.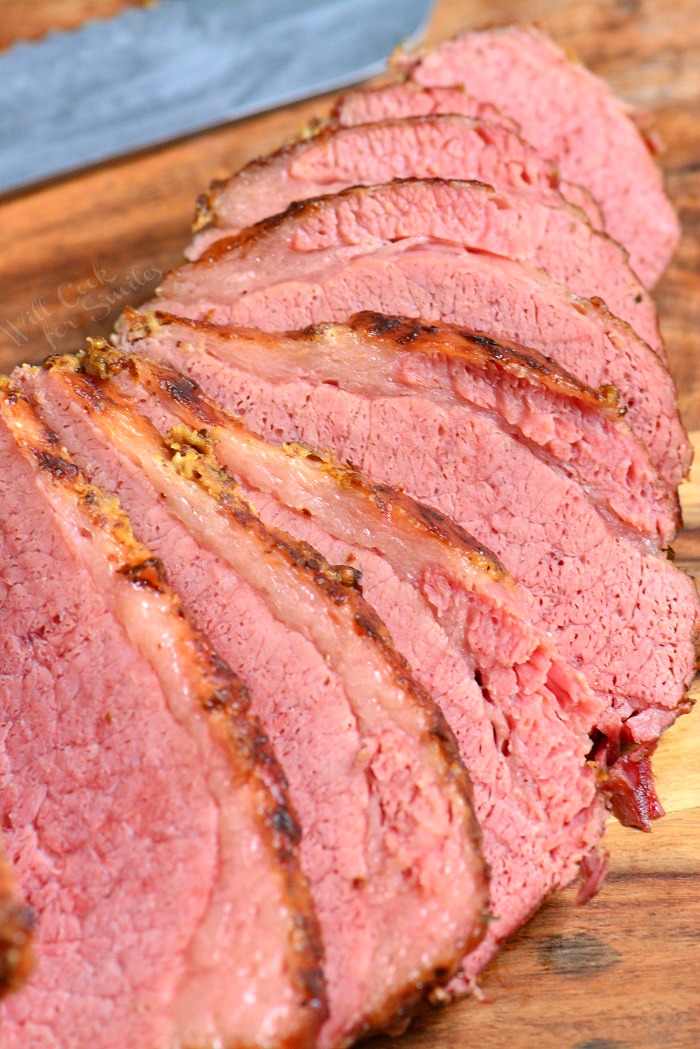 Instructions To Make This Recipe In a Slow Cooker
UPDATE: I've gotten an few questions about making this recipe in a slow cooker and I'm happy to say that it is absolutely possible and very easy.
To make this corned beef brisket in a slow cooker, spread cut onion and garlic cloves in the bottom of a Crock Pot (or any other slow cooker).
Place flat cut brisket on top of the onions, fat cap up, and add seasoning mix.
Pour in beef stock and make sure that it just covers the brisket. (Size of the brisket does effect the coverage with broth. So if using a wide slow cooker, place brisket right on the bottom with onions around it.)
Close the lid and let it slow cook on LOW for 6-8 hours.
Note: brisket is a tough cut of meat so for best results, cook it on LOW setting for longer period of time. Larget brisket may need 10 hours of cook time.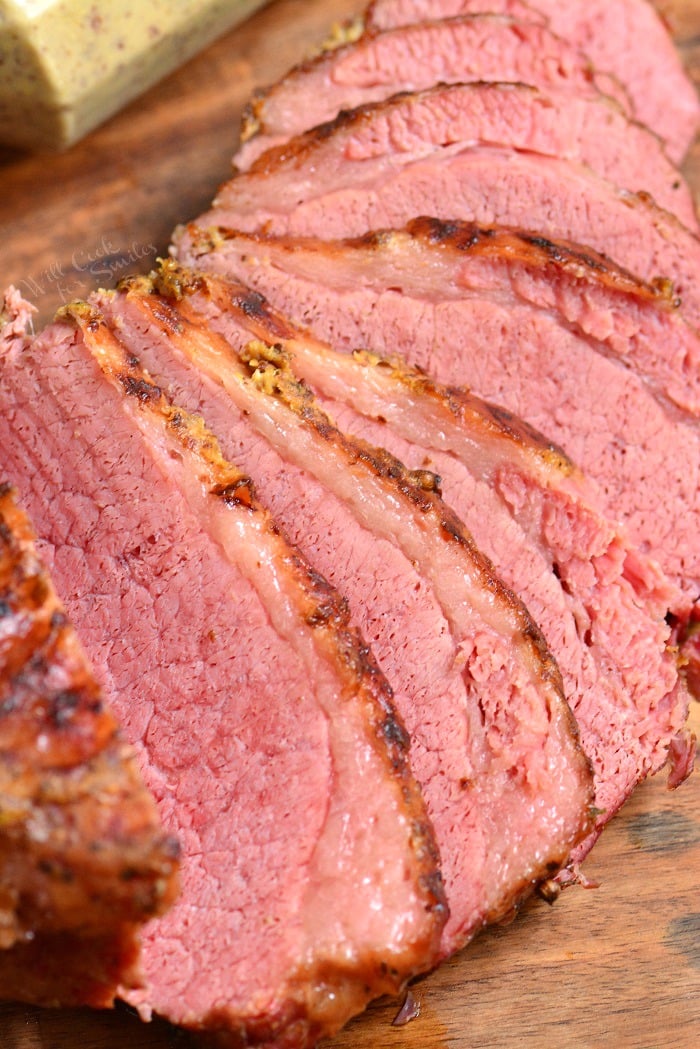 Serving Suggestions
The most common way to serve corned beef is in Corned Beef and Cabbage dish. You can cook veggies in the same broth as brisket. Take the brisket out when it's done, add veggies, and cook either on the "saute" option of the Instant Pot, or close it and cook for 5-10 minutes, depending on the size of the veggies. (Remember, if you choose to cook veggies in a closed instant pot, it will take time for the pressure to build back up.)
Serve this corned beef with any other side dish you like. You can easily serve it with mashed, roasted potatoes, and any roasted veggies.
Slice brisket against the grain, into thin slices and use it in sandwiches. Reuben sandwich is a great traditional way to use corned beef.
Try this corned beef in a sandwich with fried onions and horseradish sauce. This sandwich recipe will give you the recipe to make fried onions and horseradish sauce.
More Comforting Beef Recipes To Try
Corned Beef Brisket In The Oven
How To Make Beef Stew In an Instant Pot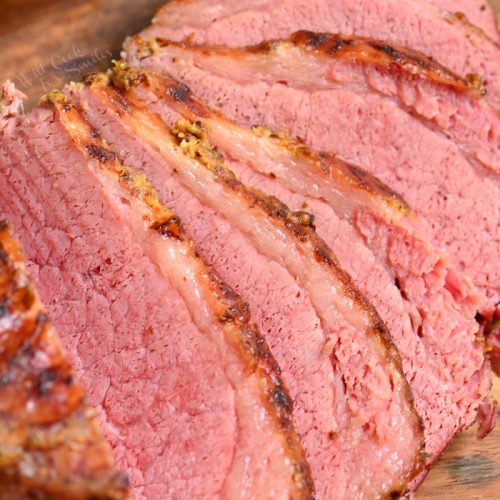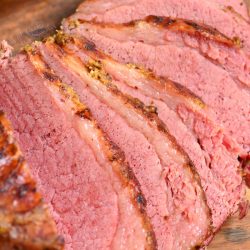 Instant Pot Corned Beef Brisket
Soft, juicy, and tender corned beef brisket made in an Instant Pot.
Print
Save
Saved!
Rate
Ingredients
3.5-4

lb

corned beef brisket

(if using my seasonign mix, discard the spice packet)

1

large onion

5

garlic cloves

4

cups

low sodium beef broth

(regular beef stock can be used)
Spice mix:
1

tsp

mustard seeds

1

tsp

peppercorns

4

whole cloves

1

tsp

allspice berries

1

tsp

coriander seeds

1

tsp

crushed red pepper flakes

2

bay leaves
To broil:
1 1/2

tbsp

spicy or gourmet mustard
Instructions
Quarter onion and spread it in an instant pot. Add garlic cloves and seasoning mix.

Place brisket on top of onions, fat cap up.

Close the lid of the Instant Pot and make sure it's latched. Make sure to turn the valve to "seal."

Set Instant Pot to pressure cook on "stew/meat" setting for 75 minutes. It will take a few minutes to heat up and then start cooking.

Once time is up, let it naturally release for 20 minutes. After that, you can carefully turn the valve and do a fast release to let remaining pressure out.

Take brisket out and place it on the baking sheet lined with aluminum foil, fat cap up.

Set oven to high broil setting and set the rack in the middle of the oven.

Rub top and sides of the brisket with spicy mustard.

Place in the oven, under the broiler and let it caramelize until browned for a couple of minutes. (Make sure to keep an eye on it so the top doesn't burn.)

Take corned beef brisket out and make sure to slice the meat against the grain! Luckily, with the corned beef brisket, it's very easy to see the grain, you can look on the bottom since there is a fat cap on top.
Nutrition
Calories:
403
kcal
|
Carbohydrates:
2
g
|
Protein:
30
g
|
Fat:
30
g
|
Saturated Fat:
9
g
|
Polyunsaturated Fat:
1
g
|
Monounsaturated Fat:
14
g
|
Cholesterol:
107
mg
|
Sodium:
2502
mg
|
Potassium:
675
mg
|
Fiber:
0.4
g
|
Sugar:
0.4
g
|
Vitamin A:
5
IU
|
Vitamin C:
54
mg
|
Calcium:
21
mg
|
Iron:
4
mg
Tried this recipe?
Mention @willcookforsmiles and tag #willcookforsmiles