Shakshuka is a bright and vibrant tomato based egg dish with a mouthwatering touch of spice. It's a wonderful one-dish breakfast recipe make with eggs, then cooked in a bed of chunky tomato and vegetable sauce that's spiced with the perfect amount of cumin, paprika, and red pepper flakes.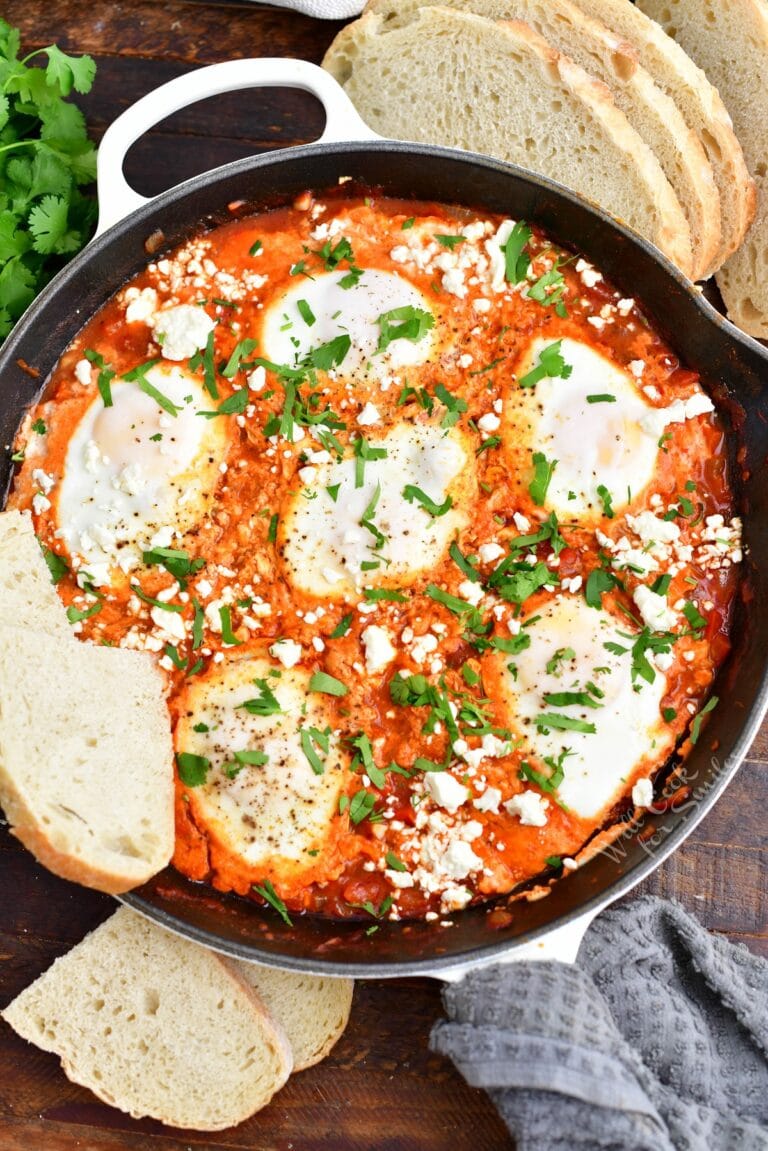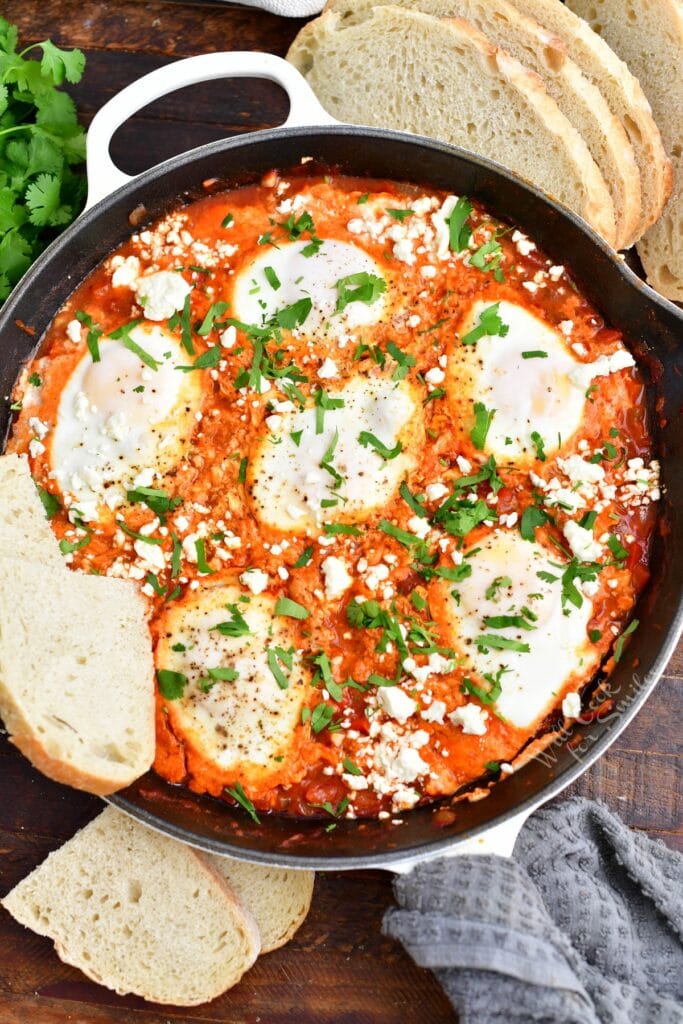 Shakshuka
So, what exactly is shakshuka? This incredible egg dish originated in North Africa back in the Ottoman Empire rule. Although, the true origin is a little fuzzy because several other countries claim to have first created this entrée, like Morocco, Yamen, Turkey, and several others. Today, this dish is very popular in Israel, and several other Middle Eastern countries have their own variation. Some include meat, different vegetables and slices of bread.
With as many variations as there are, this one is my favorite. This vegetable version of this tomato stew-like dish with poached eggs is the traditional Israeli version. While you may automatically see this as a breakfast dish because of the eggs, in Israel, it can be served for lunch and dinner as well! Once you try it and experience how delectable it really is, you'll understand why it's enjoyed during all hours of the day.
When serving this spicy, mouthwatering Israeli, be sure to also serve some rustic bread, pita, or challah alongside it! The delicious red tomato sauce is so spiced with mouthwatering seasonings, you won't want to miss a single drop of it. While the dish as a whole is show stopping itself, the piece of bread on the side is like the bow on top of a beautiful gift – it ties it all together!
Ingredients for Shakshuka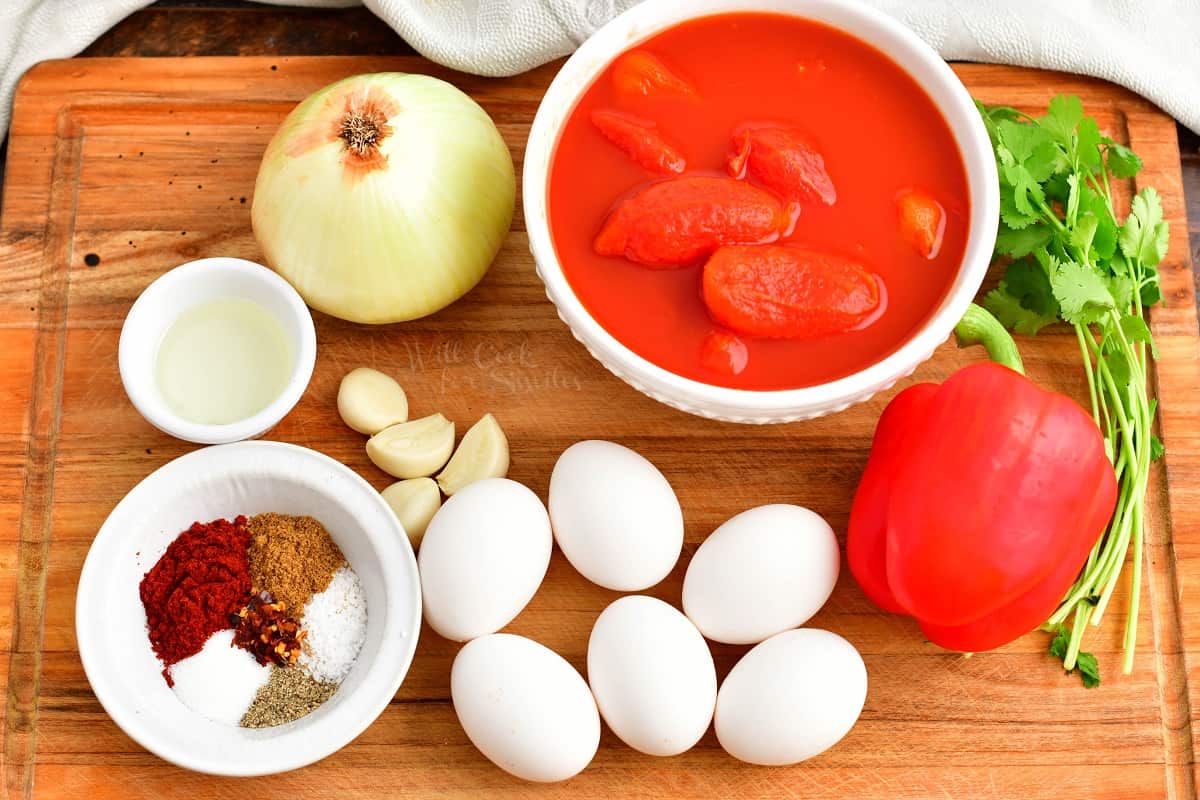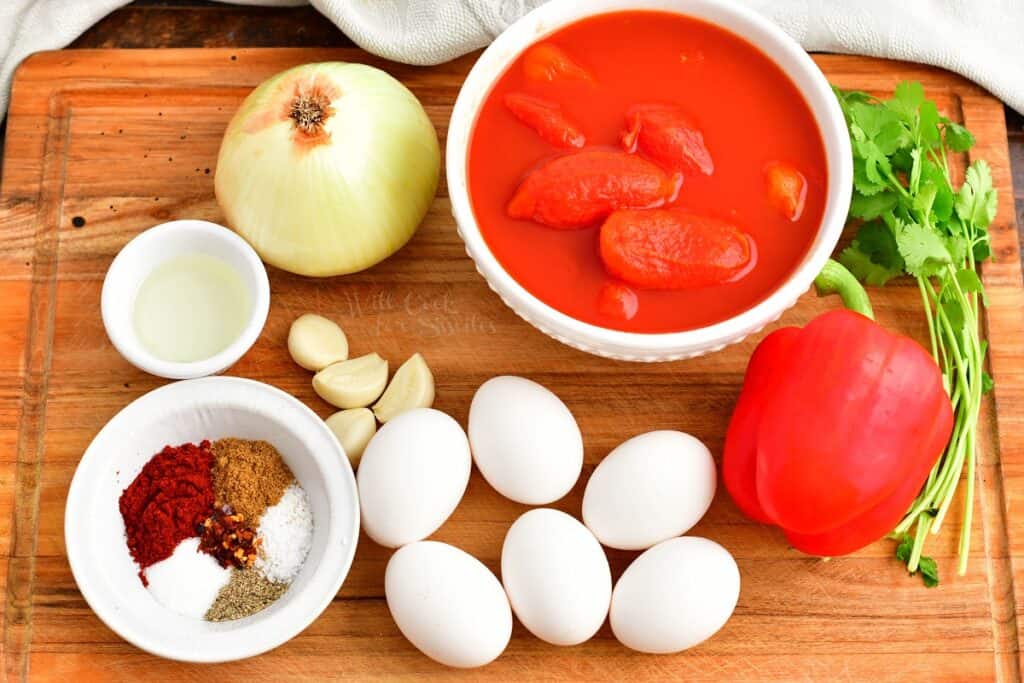 Olive Oil – In a pinch, another neutral flavored cooking oil like avocado or vegetable oil will also work.
Vegetables – yellow onion and red bell pepper are the main vegetables after tomatoes. The sweetest of the bell peppers pairs well with the slightly sweet yellow onions.
Garlic – garlic cloves create a perfect level of depth to the dish as a whole, while also giving just enough of a garlicky flavor to blend well with the other ingredients. However, if you really love garlic, consider adding an additional clove.
Whole Peeled Plum Tomatoes – Many might not know this fact about canned tomatoes, but they are in fact picked fresh from the vine before being peeled and canned. I tend to steer clear of most canned vegetables, but canned tomatoes are surprisingly very fresh. Just go with the brand you know and trust.
Cumin – Cumin is warm and earthy, which gives even more depth to the dish.
Paprika – Made from red peppers, paprika is both sweet and vibrant in color.
Crushed Red Pepper Flakes – If you really want to turn up the heat and make this dish spicy, double the amount of crushed red pepper this recipe calls for.
Sugar – Use white granulated sugar for best results. You'll only need a very small pinch.
Black Pepper
Salt
Eggs – 4 to 6 eggs is ideal for this recipe.
Cilantro – Fresh minced cilantro is too delicious for words when used in this spicy shakshuka recipe! Among all of the warm, savory ingredients, cilantro adds a touch of freshness that balances everything perfectly.
Bread – Use your favorite type of bread to scoop up the rich tomato sauce!
Feta Cheese – Adding crumbled feta cheese to this dish is optional, but very highly recommended.
Is Shakshuka Spicy?
It can be spicy or mild – it all depends how much heat you want to add. Some people use cayenne pepper to spice up this dish. I, on the other hand, like to use red pepper flakes because it adds heat to the dish without overpowering other flavors and completely numbing your tongue! You can always increase the amount of red pepper flakes to make it spicier.
How to Make Shakshuka
Add the chopped onion and bell pepper to to a large skillet that's heated over medium heat with olive oil. Cook the chopped veggies for a few minutes, until they've softened.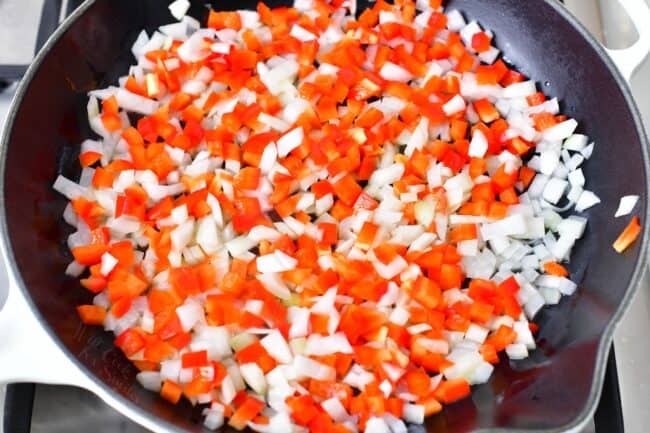 Add garlic to the center of the pan and sauté until it's fragrant. Then, mix it in with the peppers and onions.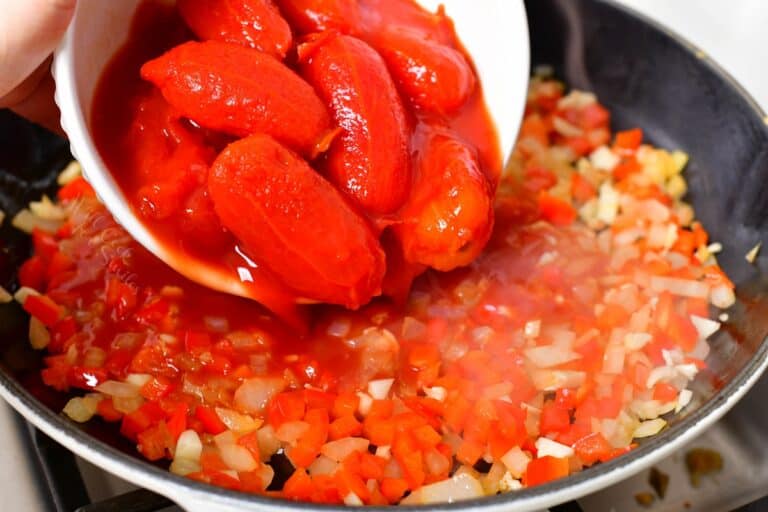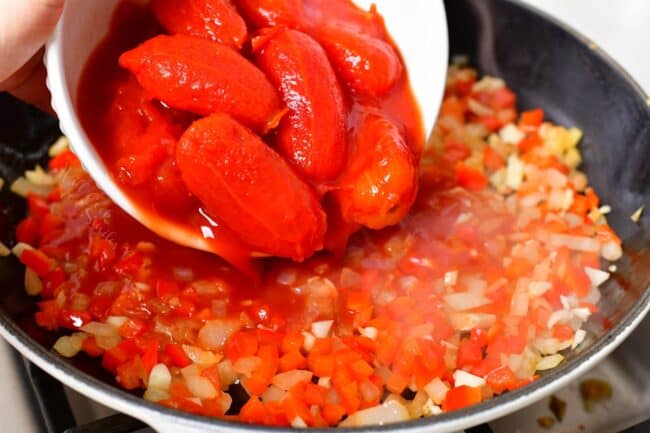 Add the entire can of tomatoes to the skillet. With a wooden spoon, gently crush the tomatoes.
Mix in all of the seasonings to the tomato mixture, then lower the heat to medium-low. Stew the vegetables for approximately 20-25 minutes. Make sure to stir from time to time!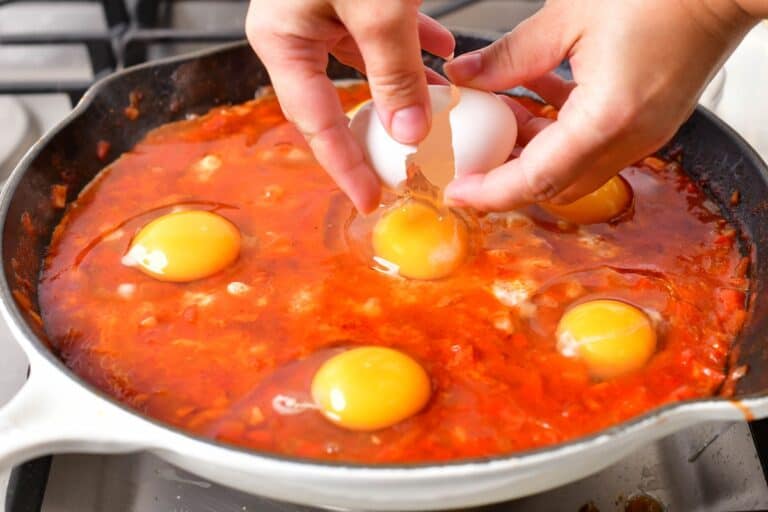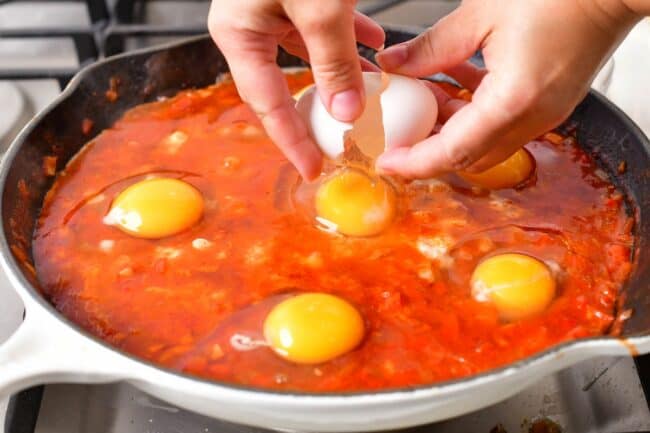 Using the back of a spoon, make shallow wells in the tomato stew. Then, crack the eggs into each well.
Cover the skillet and cook for approximately 7-10 minutes. This length of time is determined by how well done you prefer your eggs.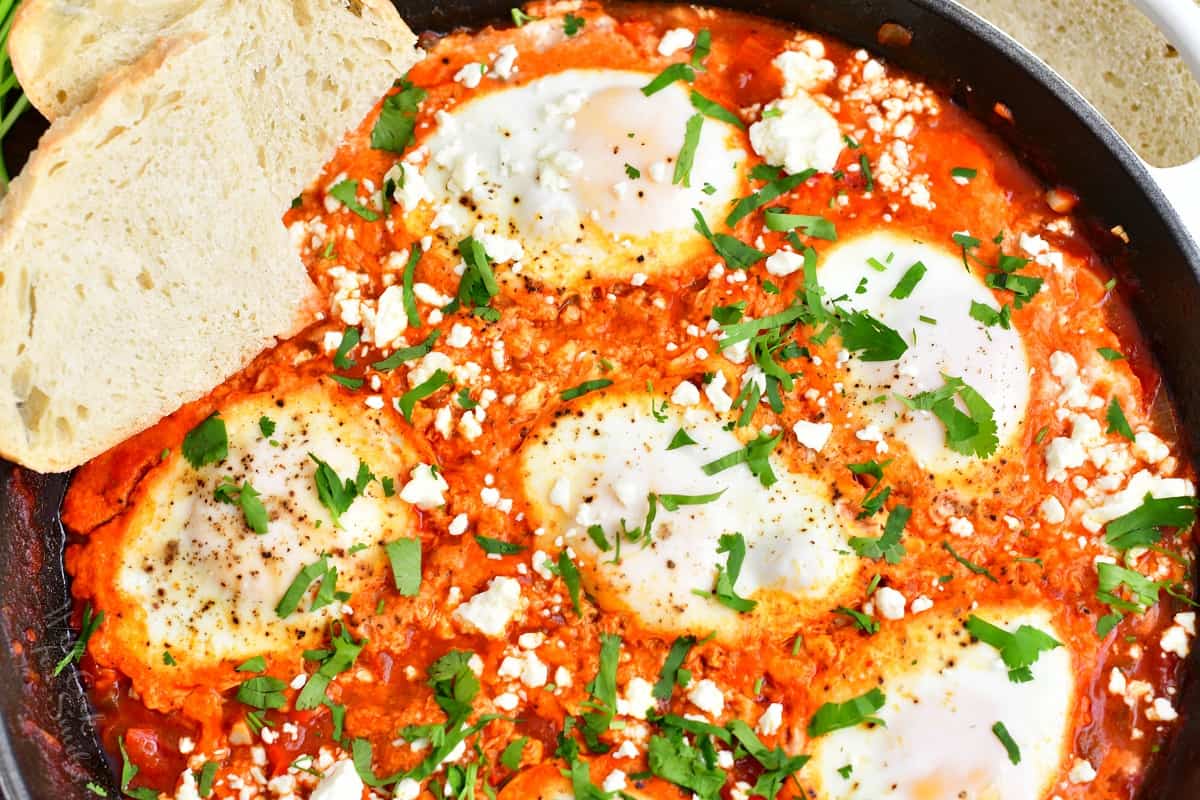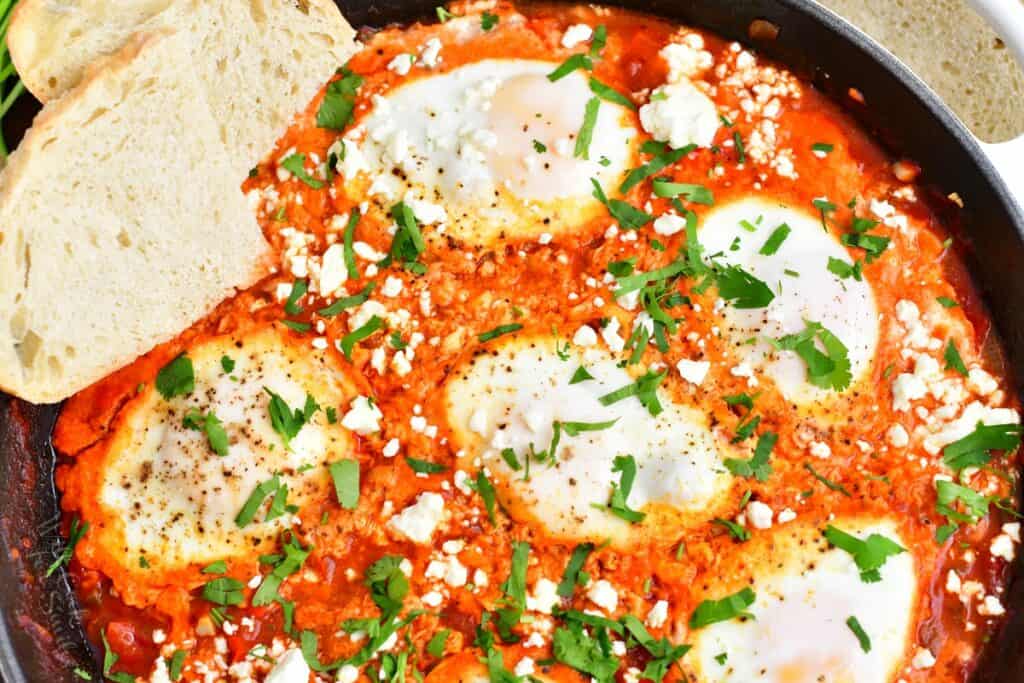 When your eggs are cooked to your liking, remove the pan from the heat.
Sprinkle some fresh minced cilantro and feta cheese on top of the shakshuka, if desired, and serve with the bread of your choice. Enjoy!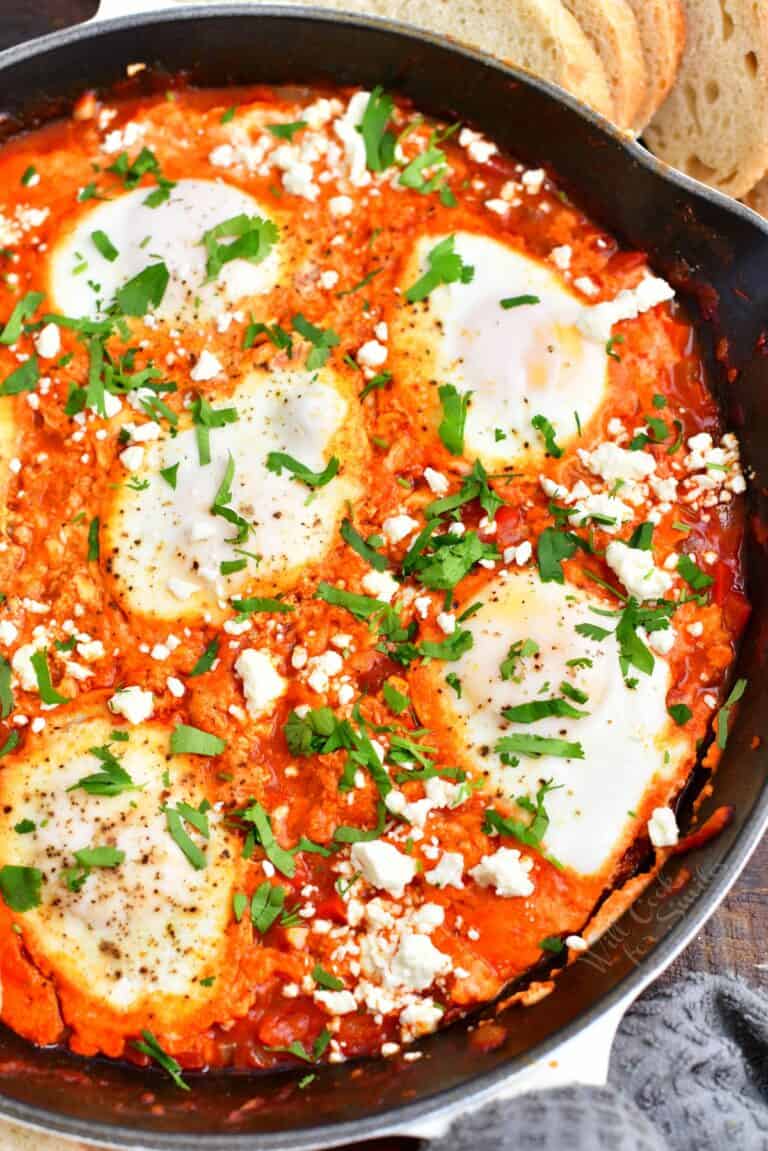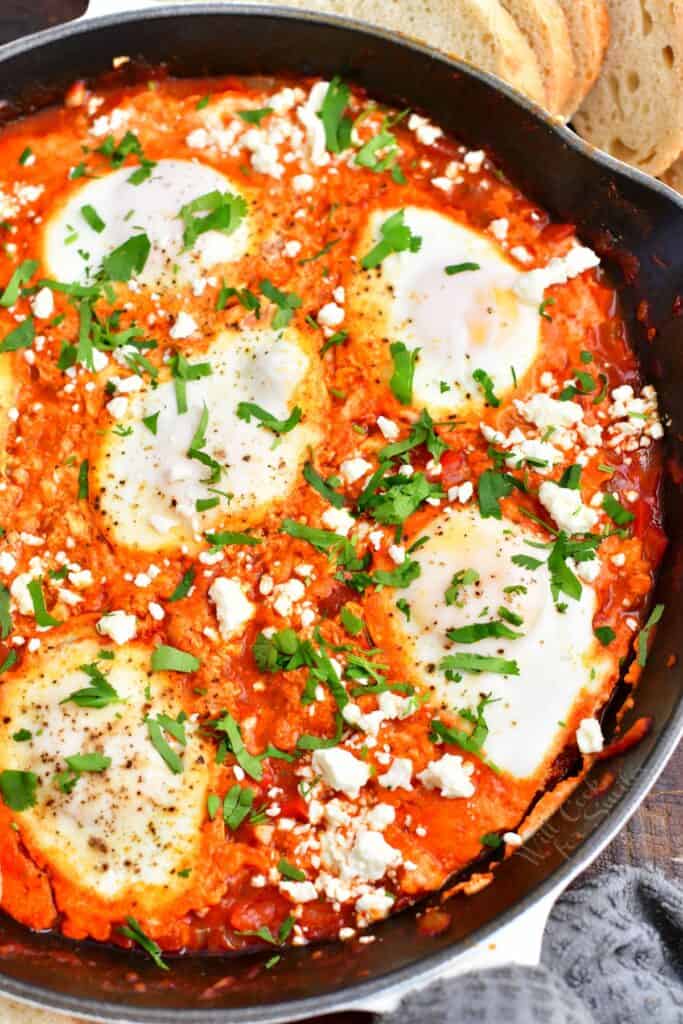 What do I serve with shakshuka?
Bread, of course! You will almost always see a side of bread with this dish, be it challah, pita, or other regional breads. You will use the bread to scoop up the tomato stew. It's truly divine! Also, I love to sprinkle crumbled feta cheese on top of the shakshuka just before serving. It's deliciously complimentary to the tomatoes and eggs.
Can I make it ahead of time?
You can make the tomato stew ahead of time, just don't let it stew for quite as long. Then, store it in the refrigerator until ready to make the dish for up to 2 days. It's easy to reheat it in the skillet over medium to medium-low heat, then poach the eggs as described in the recipe.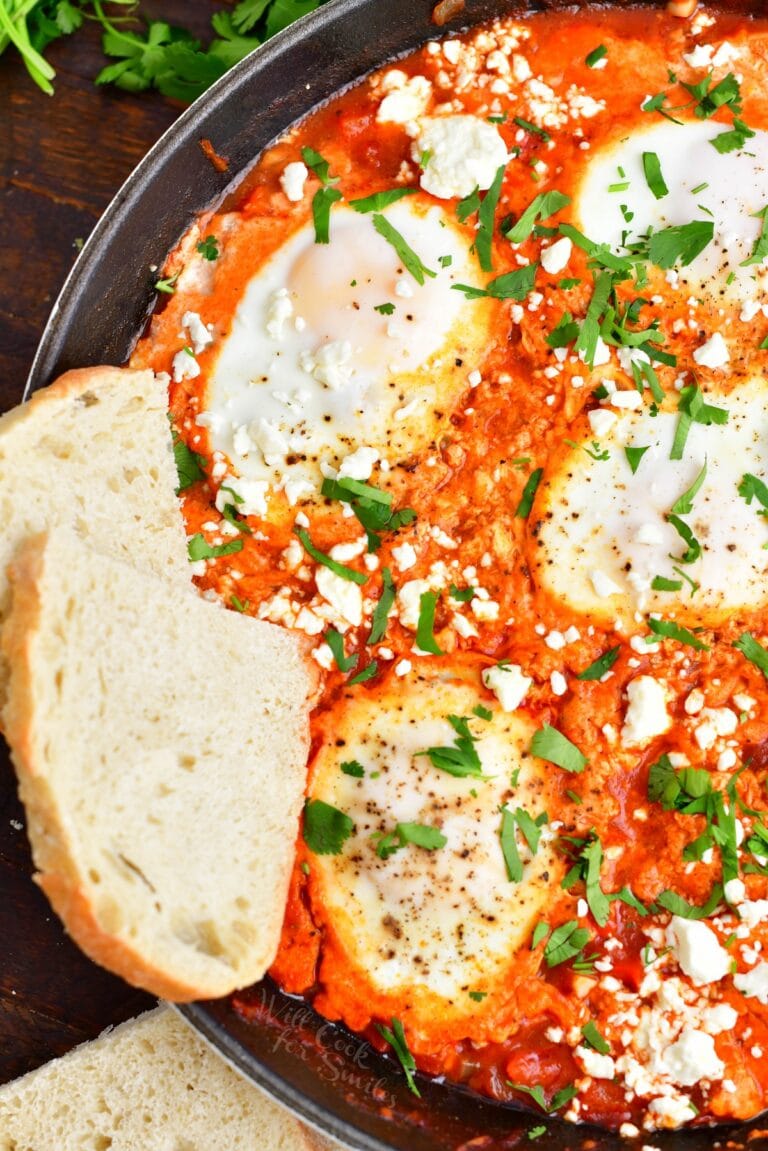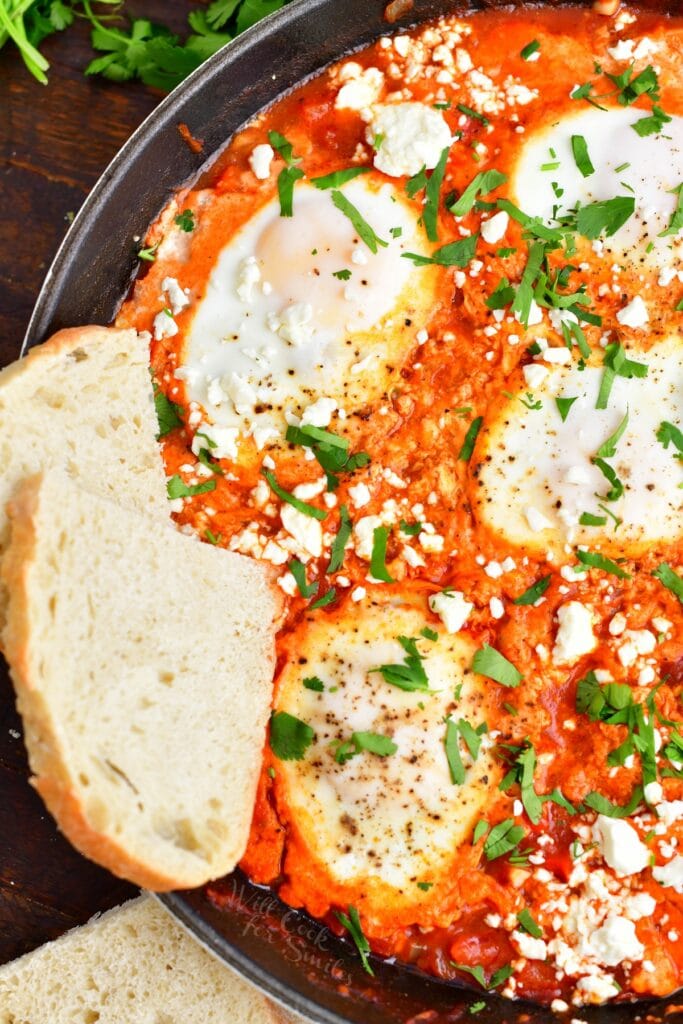 More Great Breakfast Recipes!
Crustless Quiche – a low-carb quiche made with bacon, cheddar, mushrooms, and spinach, but without crust.
Eggs Benedict with Hollandaise Sauce – soft, poached eggs over warm Canadian bacon, toasted English muffin, and topped with an easy, homemade Hollandaise sauce.
Biscuits and Gravy – soft and fluffy homemade buttermilk biscuits fresh from the oven and topped with easy white sausage gravy.
The BEST French Toast – This classic breakfast recipe features sweet egg-soaked Brioche bread simply cooked in a pan and served with your favorite toppings.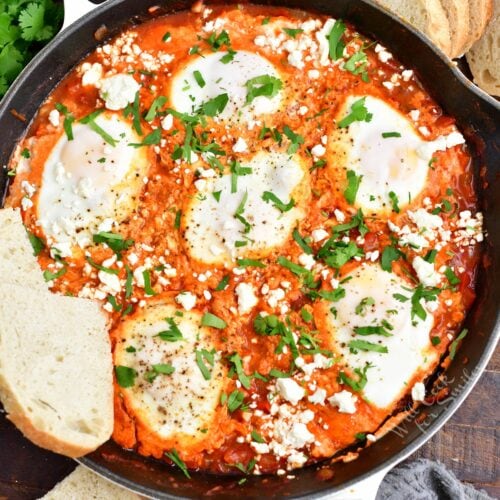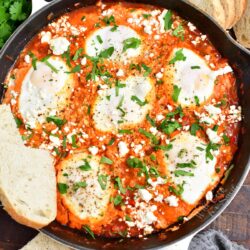 Shakshuka
Shakshuka is a bright and vibrant tomato based egg dish made with eggs cooked in a bed of chunky tomato and vegetable sauce that's spiced with the perfect amount of cumin, paprika, and red pepper flakes.
Print
Pin
Save
Saved!
Rate
Ingredients
2-3

tbsp

olive oil

1

yellow onion

1

red bell pepper

4

garlic cloves

28

oz

can whole peeled plum tomatoes

1 1/2

tsp

cumin

2

tsp

paprika

1/2-1

tsp

crushed red pepper flakes

1/2

tsp

white granulated sugar

black pepper

salt

to taste

6

eggs

2-3

tbsp

fresh minced cilantro

bread

for serving

1/3

cup

crumbled feta cheese*

optional
Instructions
Finely chop onion and bell pepper. Smash and mince garlic cloves.

Preheat a large skillet over medium heat and add olive oil.

Add onion and pepper and cook for a few minutes, until completely softened.

Push vegetables aside and add garlic to the pan. Sauté garlic until fragrant and mix it in.

Add the entire can if whole plum tomatoes to the pan and carefully crush and bread up the tomatoes with a wooden spoon.

Mix in salt, pepper, cumin, paprika, sugar, and red pepper flakes. Mix everything well and lower the heat to medium-low. Stew the vegetables for 20-25 minutes. Make sure to stir them from time to time to avoid burning on the bottom.

Make a small well (not too deep) with the back of a spoon in the tomato stew and crack and egg into it. Cover the pan with a lid and cook for 7-10 minutes, depending on how well done you like your eggs.

Take off the heat when the eggs are done enough.

Sprinkle some fresh cilantro on top and if you wish, sprinkle some crumbled feta cheese as well.
Nutrition
Calories:
171
kcal
|
Carbohydrates:
11
g
|
Protein:
8
g
|
Fat:
11
g
|
Saturated Fat:
3
g
|
Trans Fat:
1
g
|
Cholesterol:
171
mg
|
Sodium:
351
mg
|
Potassium:
419
mg
|
Fiber:
2
g
|
Sugar:
6
g
|
Vitamin A:
1442
IU
|
Vitamin C:
40
mg
|
Calcium:
123
mg
|
Iron:
3
mg
Tried this recipe?
Mention @willcookforsmiles and tag #willcookforsmiles