A little bit spicy and a little bit sweet, this easy to make Pineapple Salsa really has it all: sweet pineapple and bell peppers, spicy jalapenos, fresh cilantro and lime juice, and more! This is a fresh, delicious party appetizer that's sure to get everyone talking. Everything about this dish practically screams "summer!"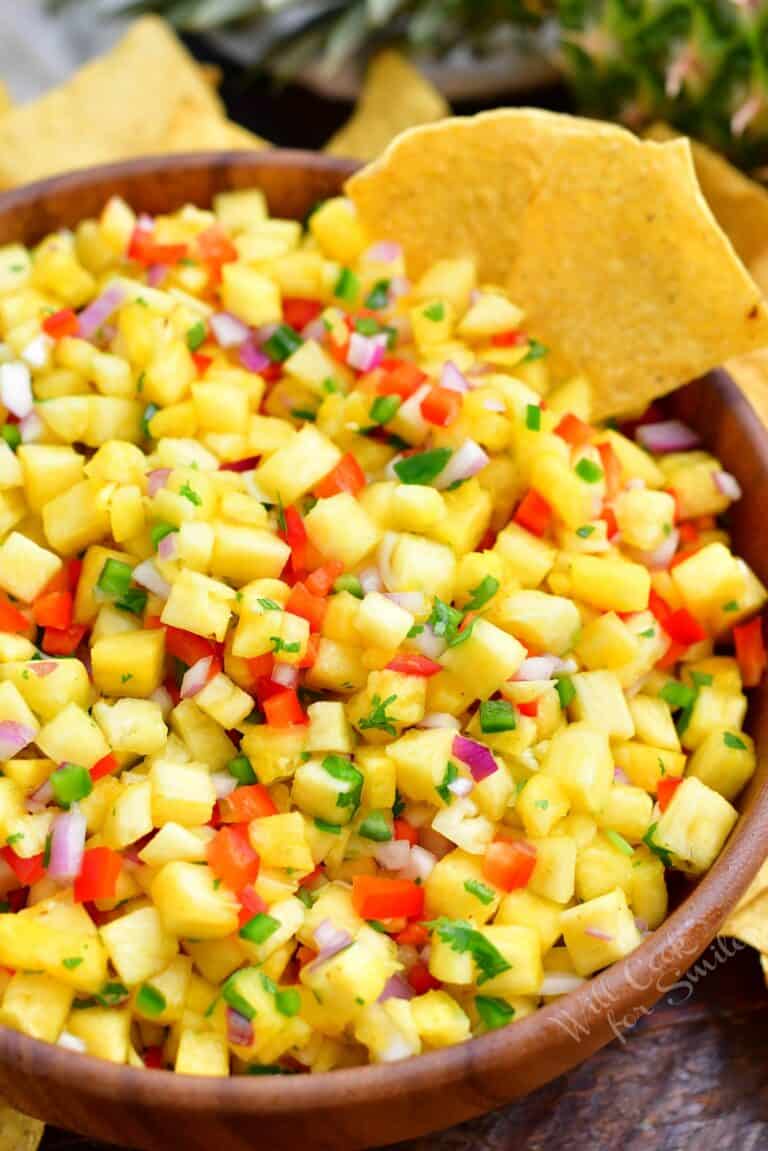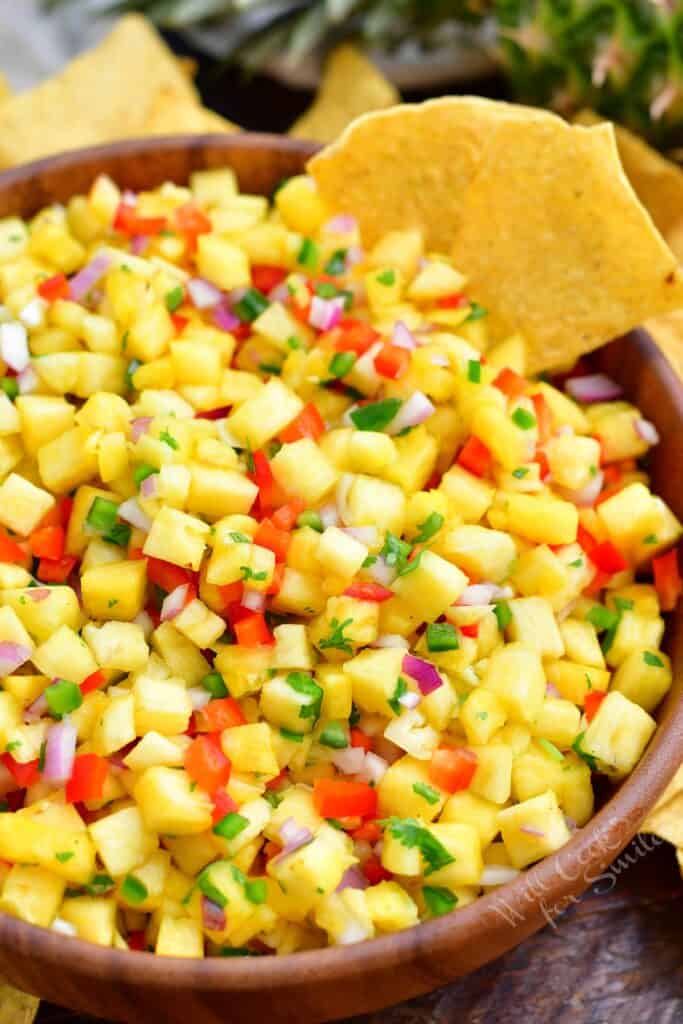 Pineapple Salsa
Pineapple salsa is a dish that I refer to as "fun!" I love unique recipes that you don't stumble upon every day. You know, the kind of dishes that when you serve to your guests, always garner the most attention. This summertime appetizer is perfect for any sunny occasion, and it's always a massive hit! When serving this salsa, be warned… Everyone will be asking for this recipe.
What makes this pineapple salsa truly unforgettable is the surprising kick of spice in every bite. Spicy and sweet is one of my all time favorite combination, as it truly livens up your tastebuds and makes you excited to eat more! If you're also a big fan of spicy and sweet melding perfectly together, you also need to make my Sweet and Spicy Sriracha Tacos.
So, what exactly makes this salsa sweet and spicy? Besides the obvious sweet ingredients of fresh pineapple and bell pepper, there are other ingredients that seriously elevate this salsa. Spicy ingredients like jalapeño peppers and cayenne powder make your mouth water, while fresh cilantro and tangy onion balance everything out perfectly!
Ingredients for Pineapple Salsa
The ingredients for this summertime classic salsa are all natural! There are no artificial preservatives or other additives that take away from the true bliss of these fresh, natural ingredients.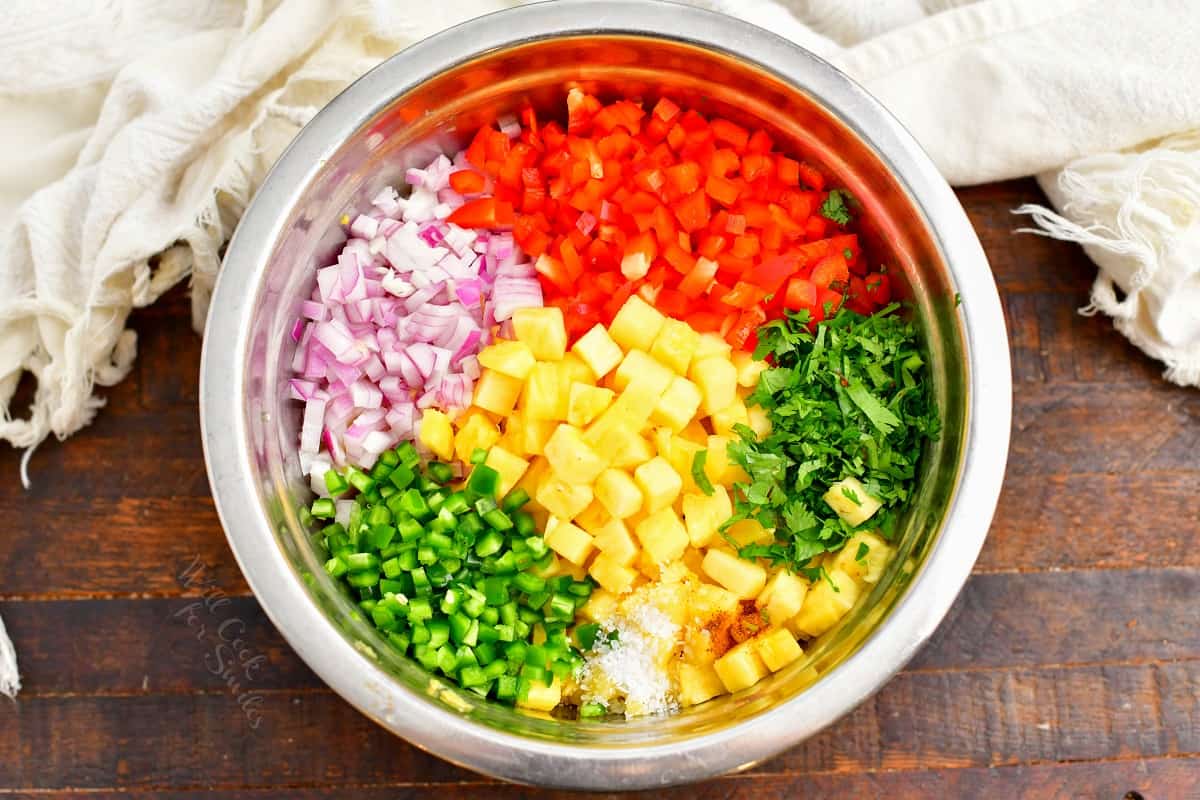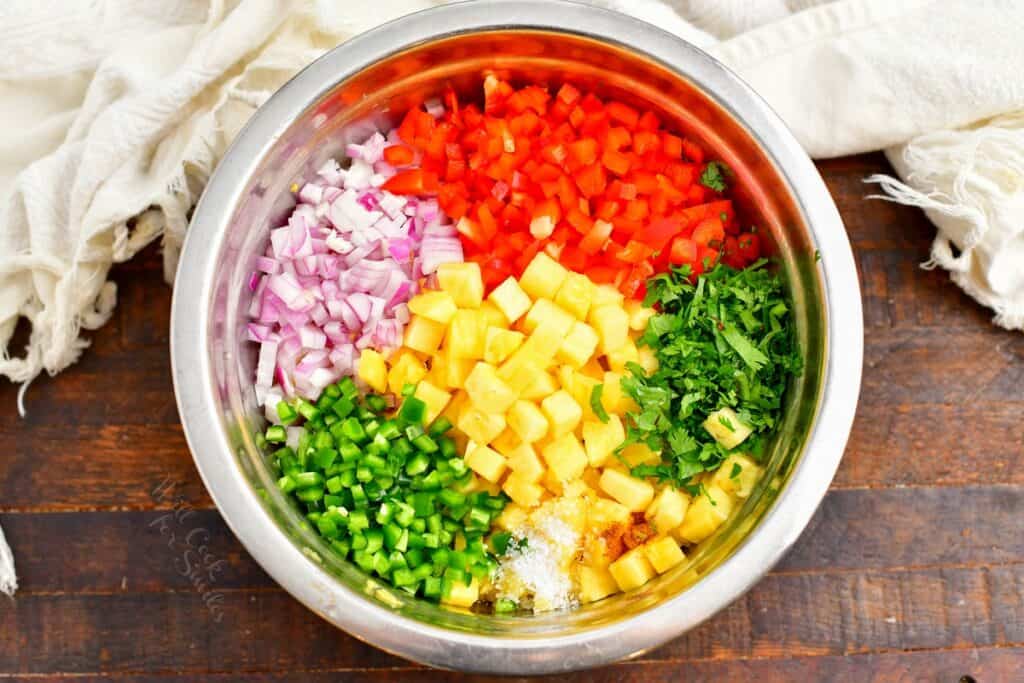 Pineapple – Make sure the pineapple you buy is nice and fresh! Give it a gentle squeeze. If it's firm, but slightly gives, it's most likely ripe and ready to eat. If it's too hard to squeeze at all, it's not quite ripe yet and won't be good in this salsa.
Red Onion – The strong, sweet and bitter taste of red onion is ideal for this recipe because it balances perfectly with the totally sweet pineapple.
Bell Pepper – I love using a red bell pepper for this salsa recipe. Primarily because of how vibrant the color looks next to the bright yellow pineapple chunks. However, any bell pepper will be tasty in this easy, customizable recipe.
Jalapeño Peppers – This is the ingredient that will truly determine how spicy your salsa is. If you want to cut back on the heat, make sure to throw the seeds away. Want it extra hot? Toss the seeds into the salsa, and prepare to break a sweat!
Limes – Fresh lime juice will do more than just add a lovely, flavorful tang to this salsa. It also makes the other bold flavors stand out even more by really stimulating your palate!
Cilantro – Usually, I find myself tossing a little extra cilantro into my salsa, simply because of how much I love that extra note of freshness that it provides.
Salt – If you need to, you can omit the salt entirely, but I've found that a small sprinkle helps to further enhance the other flavors.
Cayenne Powder – Just like the jalapeño pepper, this spicy powder will also help to create your ideal level of spice in this salsa. Don't be scared to add a little more if you love spicy food!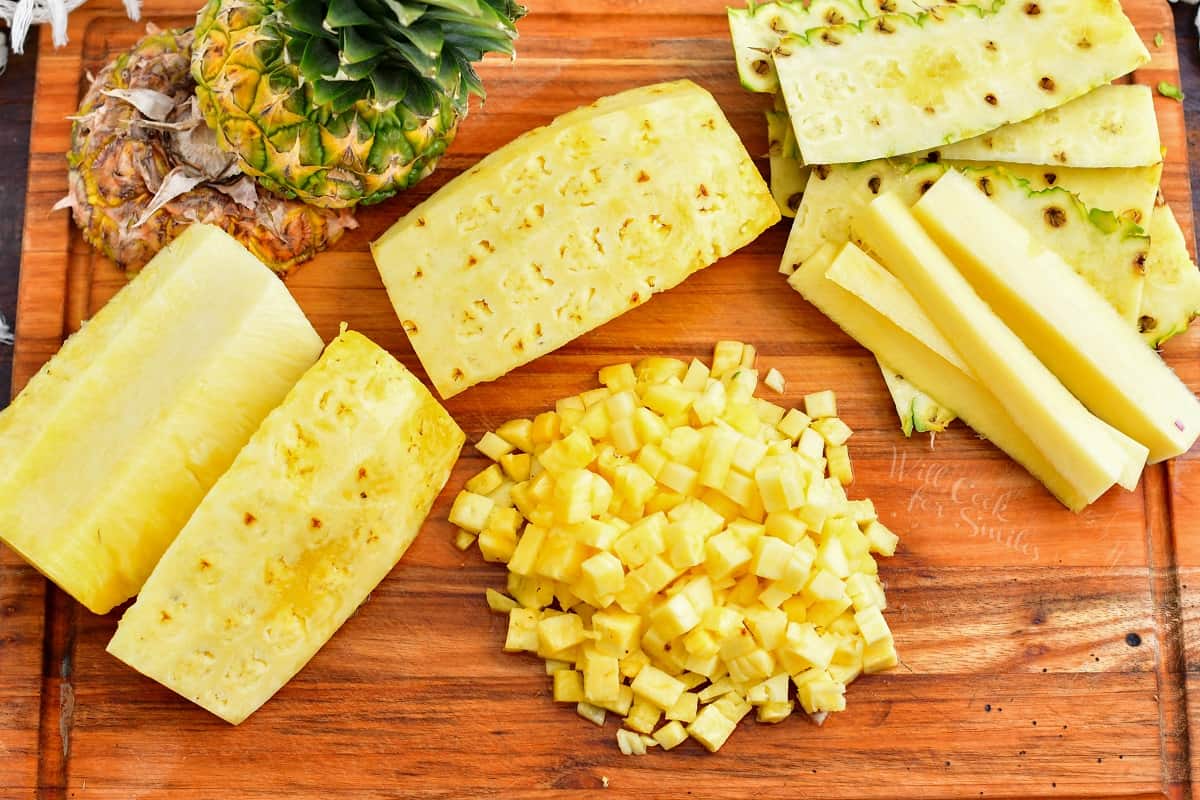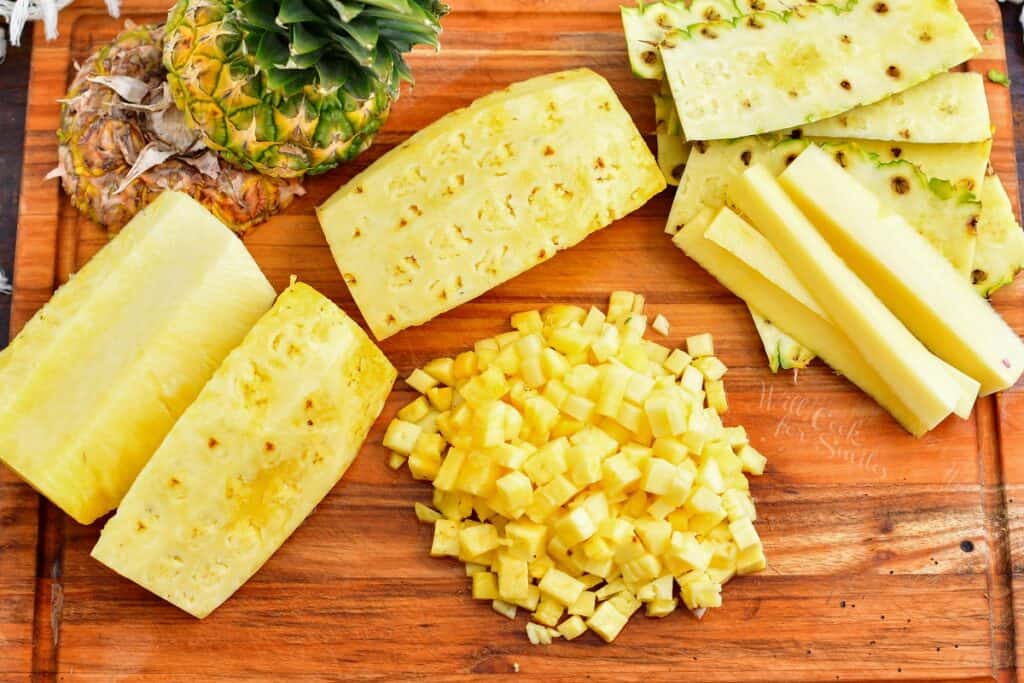 How to Cut a Pineapple
It can be intimidating to cut a pineapple if you've never done it before! It's one of those rare fruits that, if cut incorrectly, and be difficult to eat.
Start by cutting off about 1/2 inch off the top and bottom of the pineapple. Then, stand the pineapple on it's bottom and use a knife to cut along the sides to slice the outer skin layer off.
Slice off the "eyes" that are deep and brown. Tiny lighter ones are fine to leave.
Cut the pineapple in half lengthwise and then, cut each half again lengthwise in two. This will give you 4 quarters.
Locate the thick core at the corner of each quarter and slice it off. Discard the skin, top, bottom, and the core and then dice the juicy pineapple flesh.
To learn more about the easiest and best way to cut a pineapple, and to see a demo video that walks you through all of the simple steps, be sure to check out my instructions on How to Cut A Pineapple!
How to Make Pineapple Salsa
First, start by dicing all of your vegetables into small pieces! Remember, the jalapeño seeds will add a lot of spice, so omit them if you don't want this salsa to be too hot.
Add all of the freshly diced vegetables to a large mixing bowl and add minced cilantro, lime juice, salt, and cayenne pepper.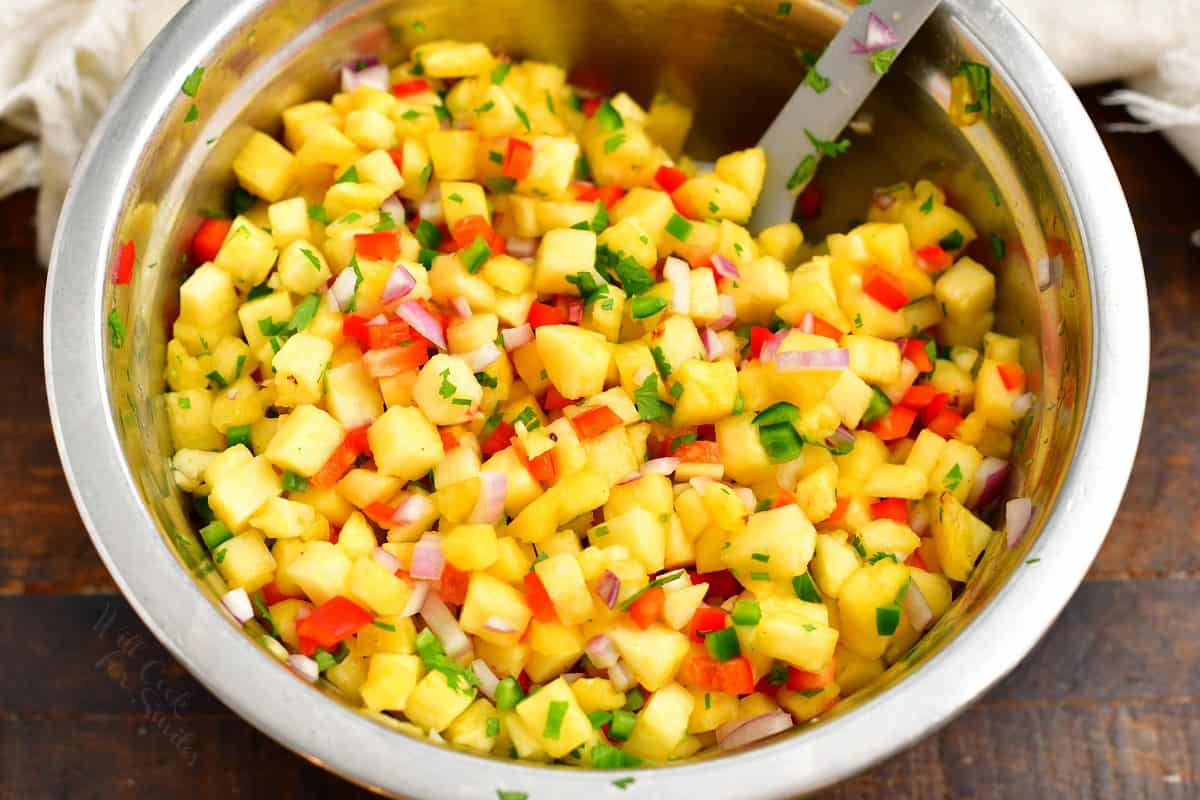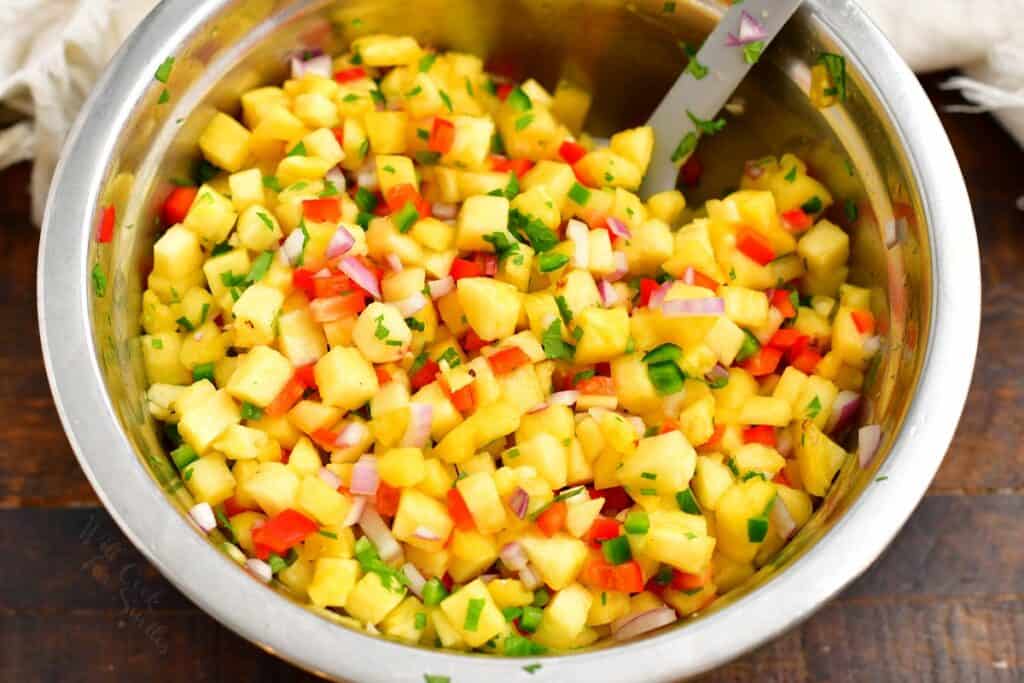 Once all of your ingredients are in your mixing bowl, mix them together thoroughly. Then, serve or store your homemade pineapple salsa.
Taste to see if you need to add any more sweetness! If the pineapple is not as sweet as you'd like it, add a tablespoon of agave nectar or honey.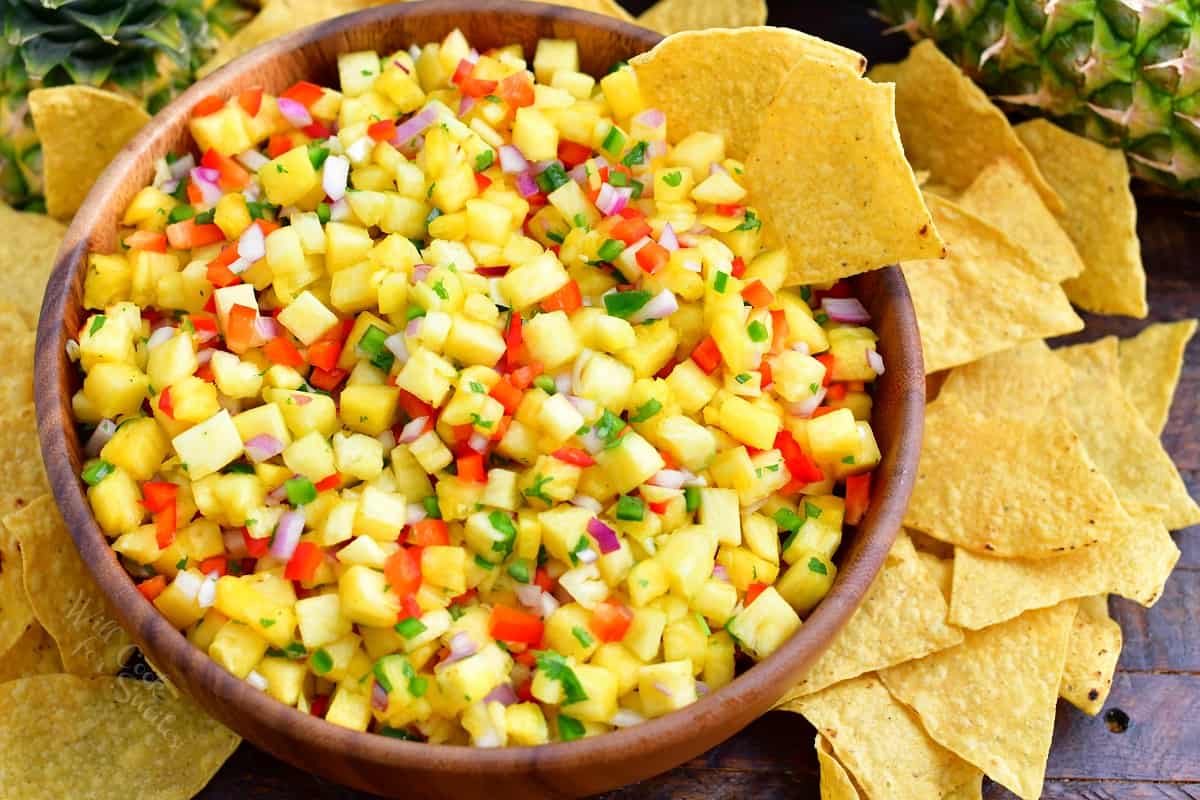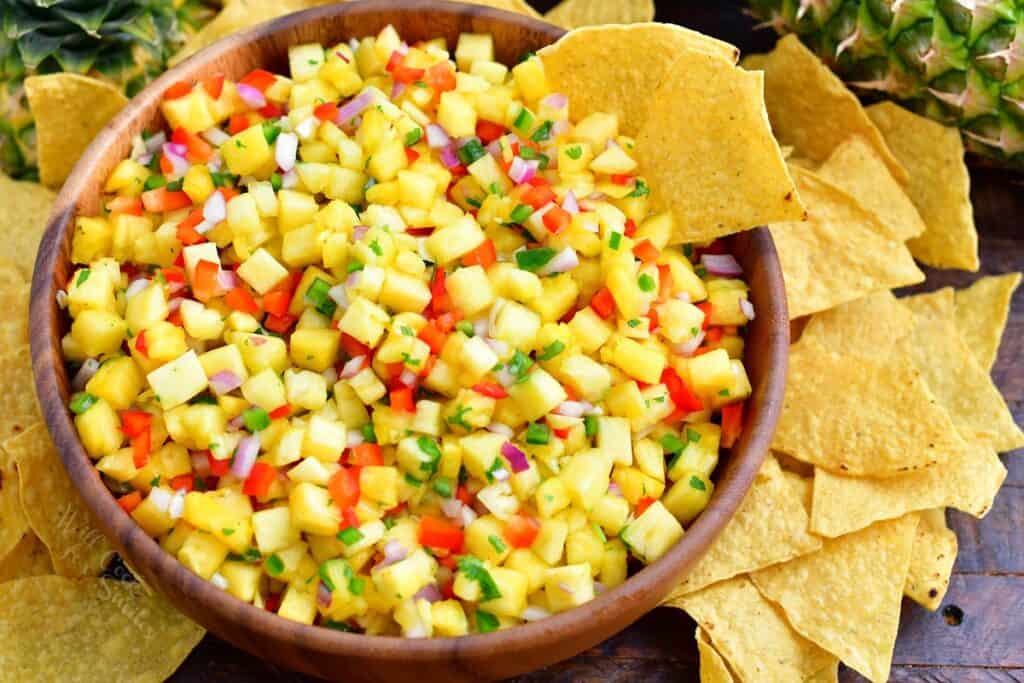 How to Store Pineapple Salsa
Have any leftover? No worries! This pineapple salsa stays fresh in the refrigerator for up to 4 days!
Just be sure to store the salsa in an airtight food storage container, like a glass Tupperware. I usually recommend glass container over plastic because pineapple and lime juice are highly acidic. But if plastic is all you have, it will be okay.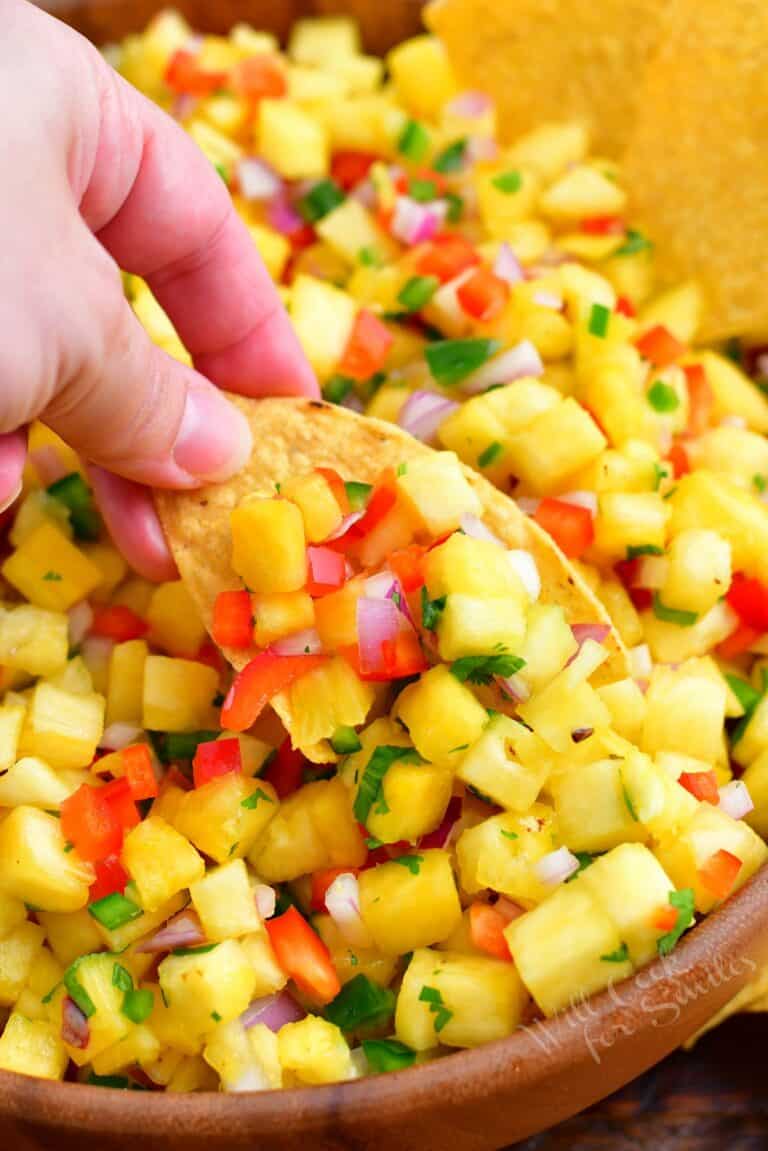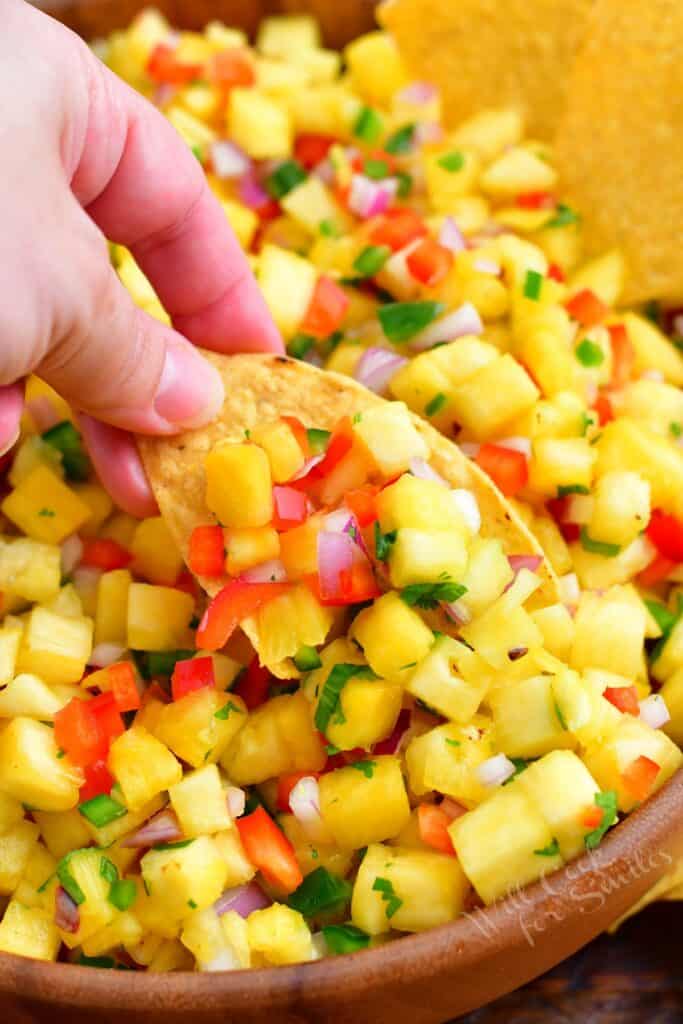 Uses for Pineapple Salsa
The most common use for pineapple salsa is to serve it alongside some tortilla chips, and use it as a delicious dip! This is a party favorite appetizer that I find myself making multiple times each summer.
Sometimes, I even use this pineapple salsa as a garnish for chicken, shrimp, scallops, or fish! There are so many different versions of chicken that are delicious with this spicy and sweet salsa, but I've found that when placed on top of Tropical Shrimp Bowl, it's like a tropical dream come true.
Quite possibly my favorite method for eating pineapple salsa is when I add it to Blackened Fish Tacos! The combination of the blackened fish and the sweet salsa is simply unreal. If you love seafood, this is a pairing you must try!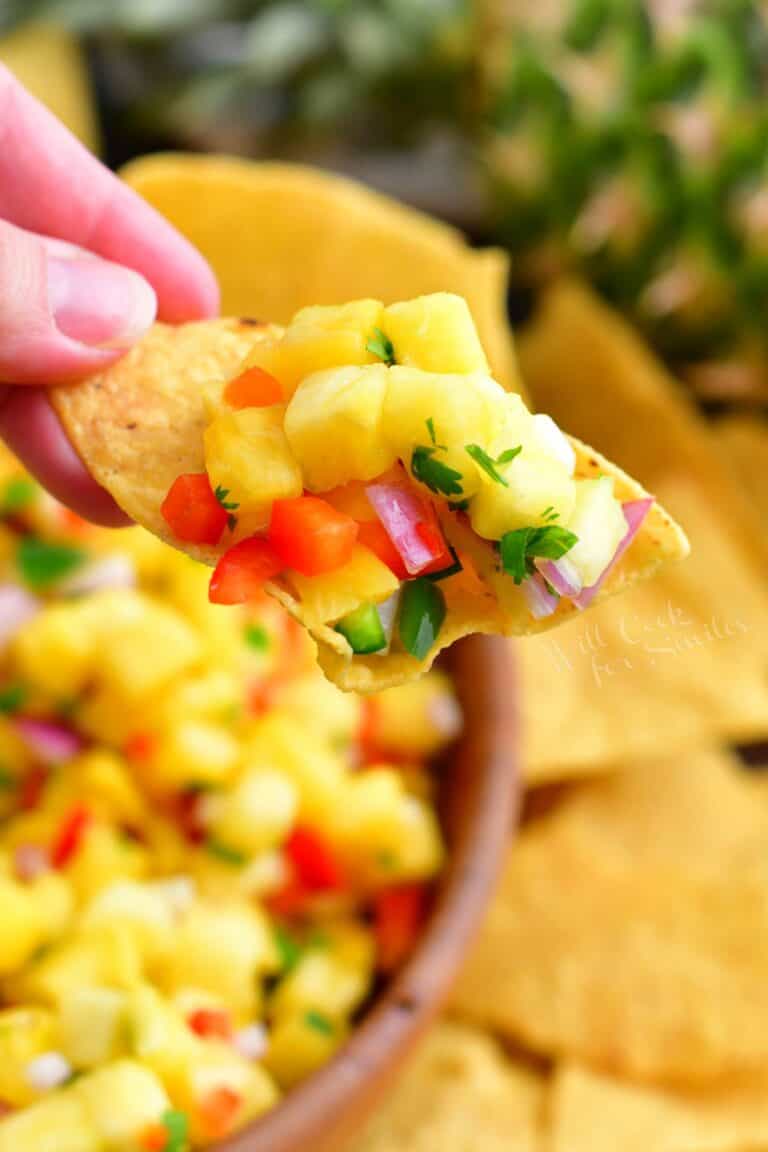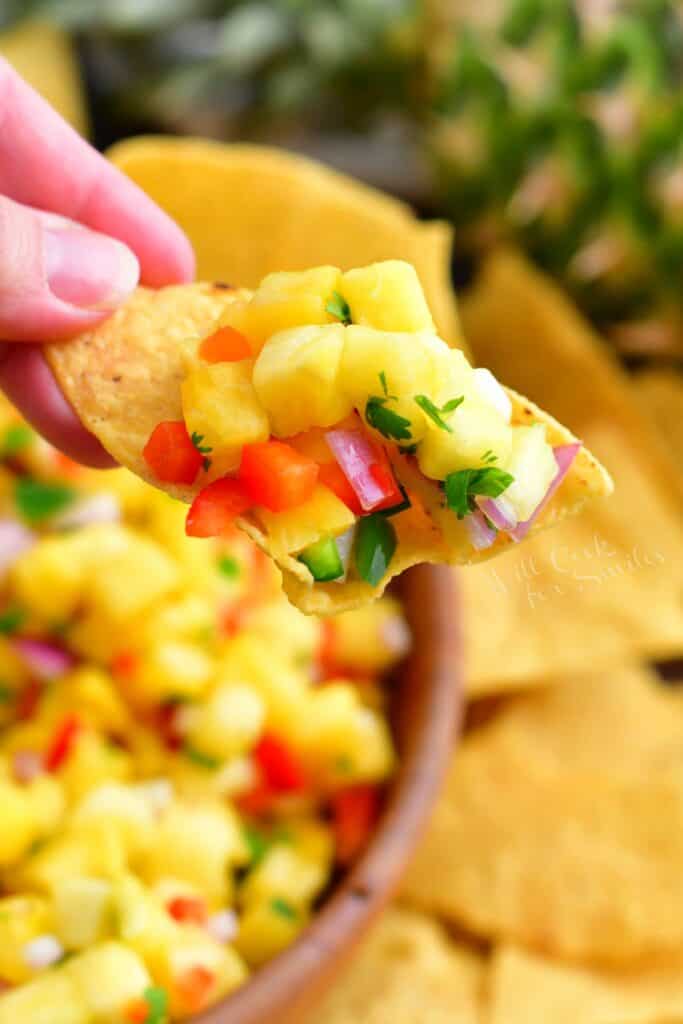 More Salsa Recipes to Complete your Fiesta!
Classic Salsa – a few key ingredients like fire roasted tomatoes, seasoning, fresh cilantro, and lime juice blend together to make an incredibly mouthwatering restaurant style salsa.
Salsa Verde – a salsa that is packed with green tomatillos, onion, jalapeño peppers, cilantro, and so much more.
Corn Salsa – this salsa features red onions, bell peppers, jalapenos, garlic, lime, cilantro, and seasonings for more flavor.
Mango Salsa – juicy, sweet mangoes, spicy jalapeno peppers, red onion, lime juice, a little honey, cayenne, and cilantro make this tropical salsa a staple in summer cooking.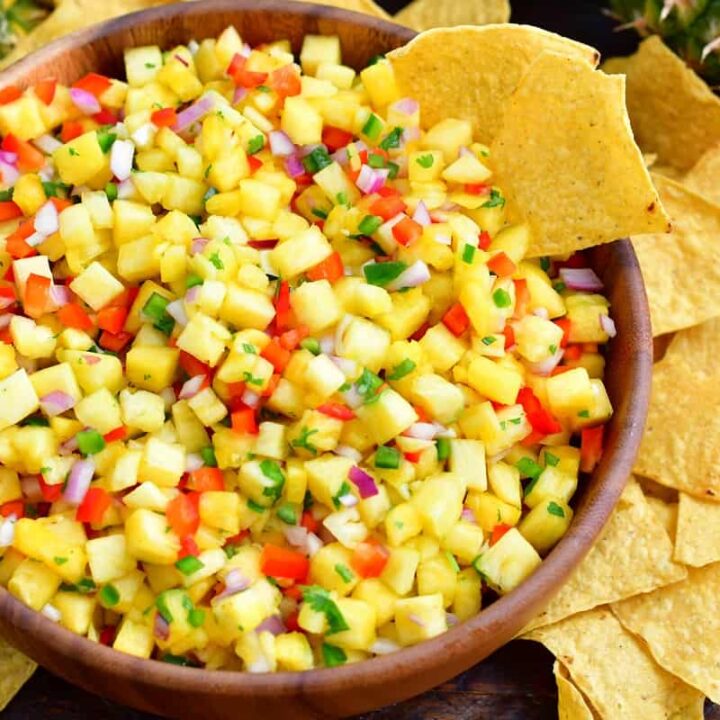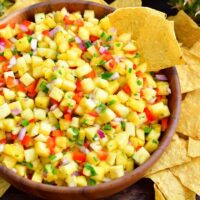 Pineapple Salsa
A little bit spicy and a little bit sweet, this easy to make Pineapple Salsa really has it all: sweet pineapple and bell peppers, spicy jalapenos, fresh cilantro and lime juice, and more!
Print
Pin
Save
Saved!
Rate
Ingredients
1

pineapple

1/2

red onion

1

red bell pepper

or any other color

1-2

jalapeno peppers

seeds take out of left in

1-2

limes- juice only

3

tbsp

minced fresh cilantro

salt

to taste

pinch

cayenne pepper
Optional:
1

tbsp

agave nectar or honey

optional
Instructions
How to Cut a Pineapple:
Lay the pineapple on its side and use a large, sharp knife to cut the top and the bottom off. Make a cut about 1/2 an inch or a little less off away from the the top and the bottom.

Stand it up on the bottom cut side and slice the outer skin layer off. Start at the top and cut down along the shape of the pineapple. Try not to cut too deep so you can save as much of the sweet flesh as possible. Slice off the "eyes" that are deep and brown. Tiny lighter ones are fine to leave. 

Keep the pineapple standing and slice it lengthwise down the middle to create two halves. Cut each half lengthwise down the middle to create quarters.

Locate the thick core at the center corner of each quarter and slice it off. 

Dice the flesh of the pineapple into small pieces and place into the bowl.
Pineapple Salsa:
Dice onion, bell pepper, and jalapeno and decide if you want to discard jalapeno seeds of keep them. Jalapeno seeds hold most of the spice of the chili pepper, so keeping them will make salsa much spicier.

Add diced vegetables to the bowl with pineapple and add minced cilantro, lime juice, salt, and cayenne pepper.

Mix everything well and either serve or store.

Optional: Taste to see if you need to add any more sweetness! If the pineapple is not as sweet as you'd like it, add a tablespoon of agave nectar or honey.
Storing:
Store pineapple salsa in an air-tight food storage container, in the refrigerator. Properly stored, this salsa should be good for up to 4 days.
Nutrition
Calories:
87
kcal
|
Carbohydrates:
22
g
|
Protein:
1
g
|
Fat:
1
g
|
Saturated Fat:
1
g
|
Sodium:
3
mg
|
Potassium:
232
mg
|
Fiber:
3
g
|
Sugar:
16
g
|
Vitamin A:
750
IU
|
Vitamin C:
102
mg
|
Calcium:
24
mg
|
Iron:
1
mg
Tried this recipe?
Mention @willcookforsmiles and tag #willcookforsmiles