Chicken Milanese is a very simple chicken recipe that consists of a flavorful breaded and pan-fried chicken breast. If you want an easy chicken dinner that is juicy on the inside, crispy on the outside, and beautifully flavored, this is the perfect recipe for you! You can serve it simply with a side dish, on top of a salad, with a creamy sauce, or make it into Chicken Parmesan.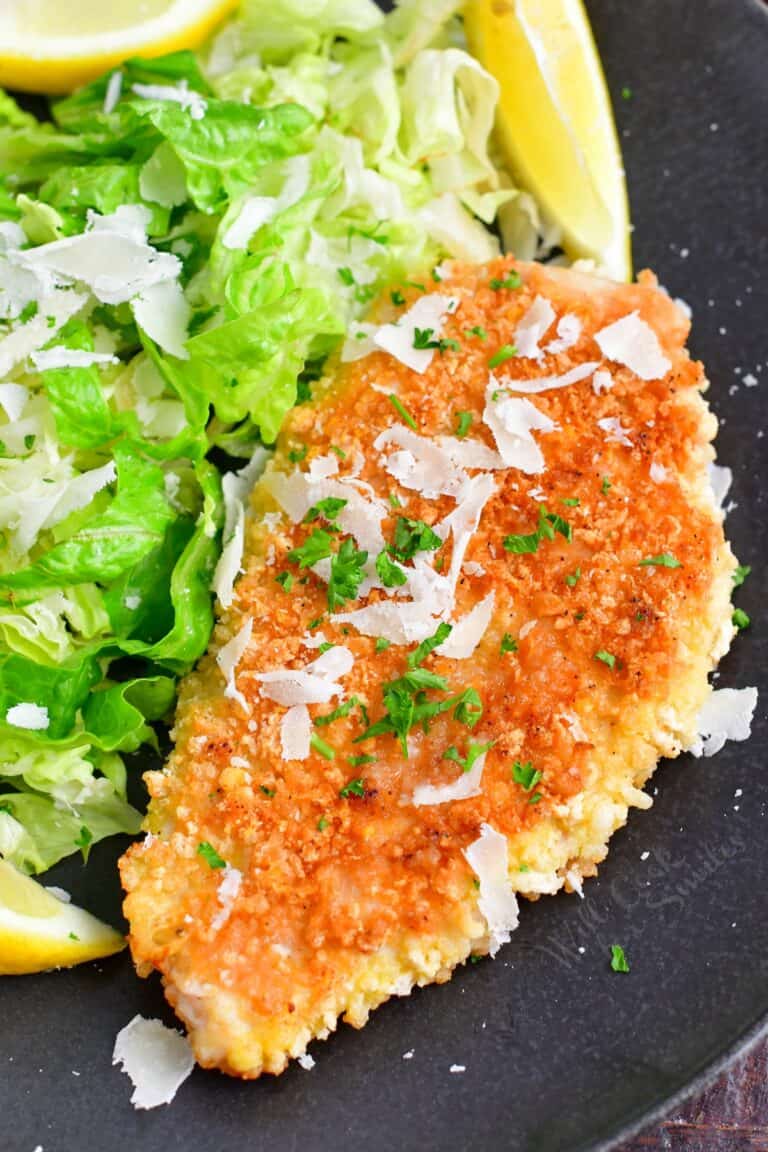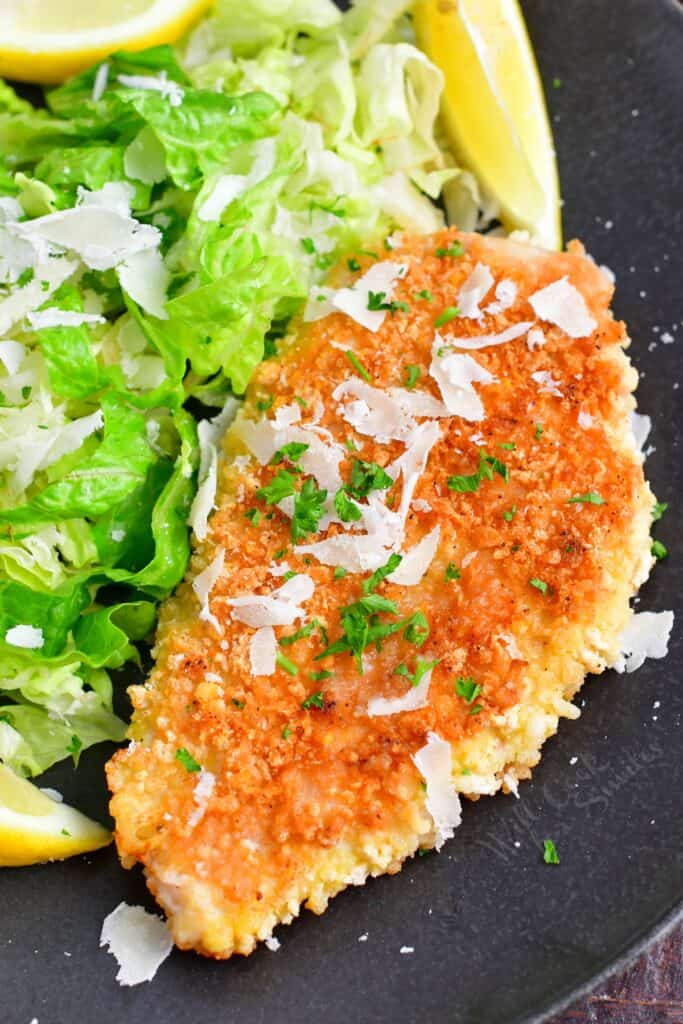 Chicken Milanese
So, what exactly is Chicken Milanese? This chicken dish is a very simple recipe for thin slices of chicken breast that are breaded and pan-fried until crispy on the outside and juicy on the inside.
A great dish to serve with a side of Mashed Potatoes, roasted vegetables, or a side salad. This chicken is also a perfect base for Chicken Parmesan, or serve it with other creamy and wine based sauces.
It's quite simple to make this chicken dinner, it requires minimal ingredients, and just about 30 minutes of your time. The ingredients that really bring in the flavor are garlic, black pepper, and freshly grated parmesan cheese.
When preparing this Chicken Milanese, I recommend setting everything up just before you begin the cooking process. Read easy steps and tips below so making this dish is a breeze. If prepared correctly, this delicious chicken dinner is truly a simple and satisfying recipe!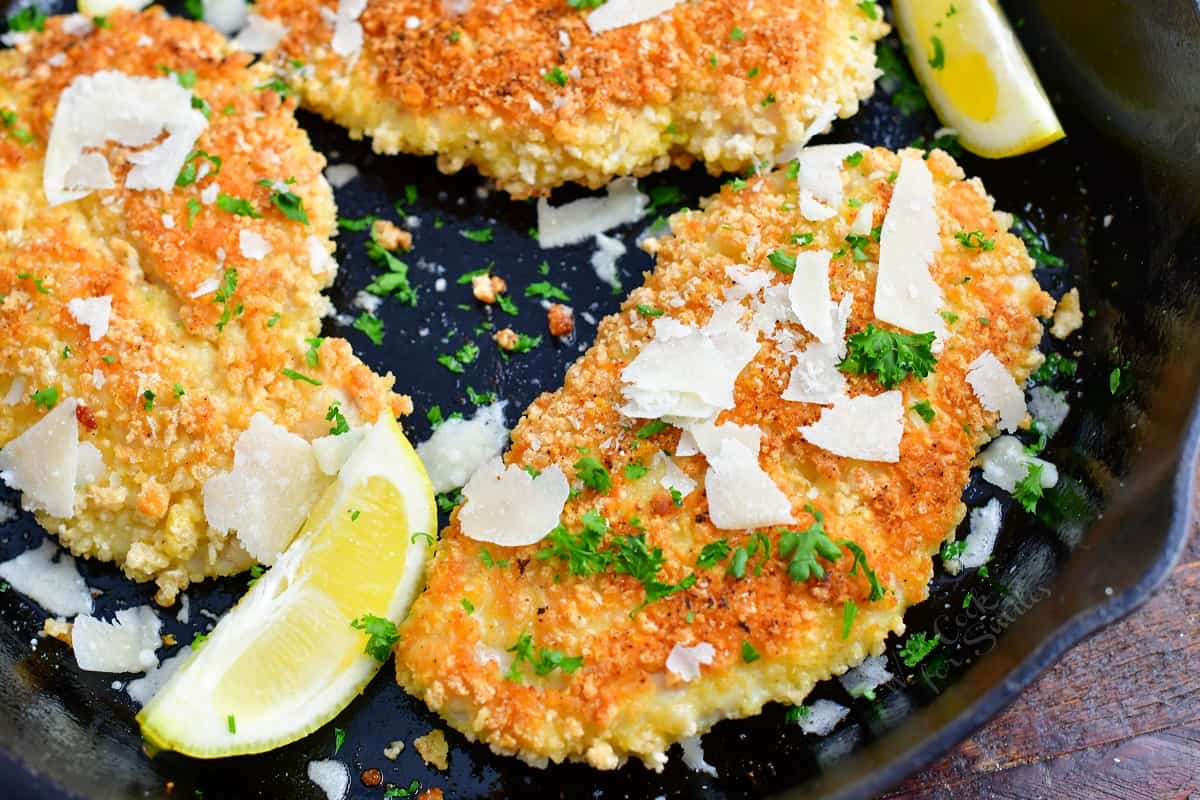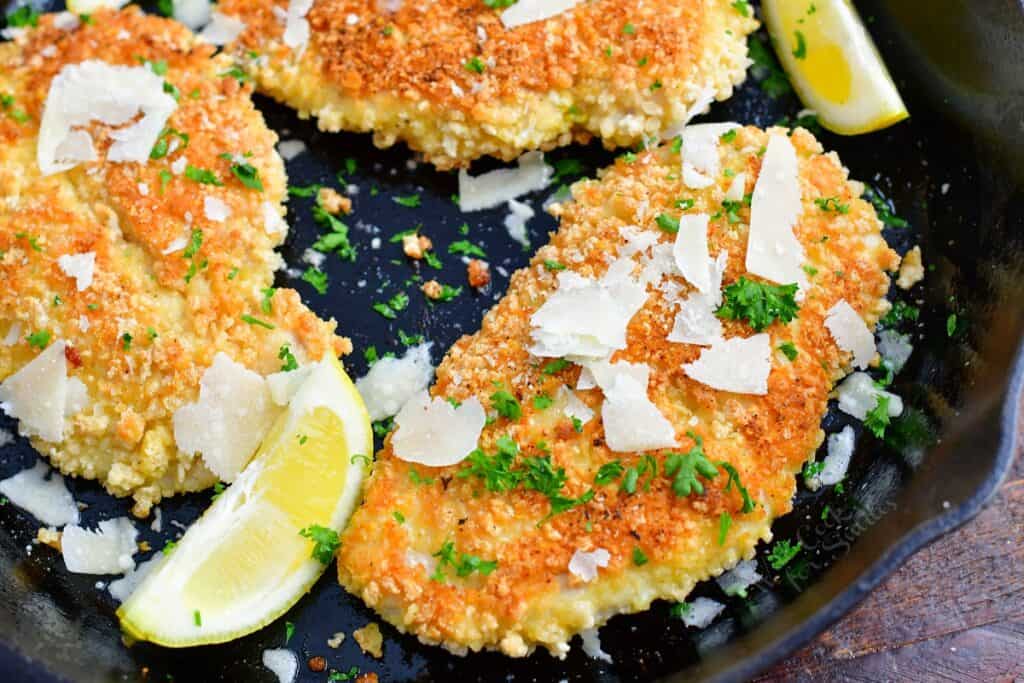 Chicken Milanese vs Chicken Scaloppine vs Chicken Piccata
These three names are so often confused, and I've even seen them used interchangeably. I want to take a few minutes to explain the difference between Chicken Scaloppine, Chicken Piccata, and Chicken Milanese.
Scaloppine (sometimes written as scaloppini or scallopini) is actually a cooking technique that refers to thin slices of meat. It's most often used to prepare veal and chicken. Put simply, chicken scaloppini is thin slices of chicken breast. Essentially, scaloppine is the first step to making chicken Milanese, Chicken Parmesan, Chicken Marsala, Chicken Piccata, and many other dishes.
Chicken Milanese is thinly sliced chicken breast that is breaded and then pan-fried with butter and oil.
Chicken Piccata, on the other hand, also starts with a thinly sliced chicken breast but it is lightly dredged with seasoned flour only and then sautéed in the pan. Same preparation style goes for Chicken Marsala. Although, Chicken Piccata has the signature flavors of lemon sauce and capers. Chicken Marsala features marsala wine sauce and mushrooms.
Ingredients for Chicken Milanese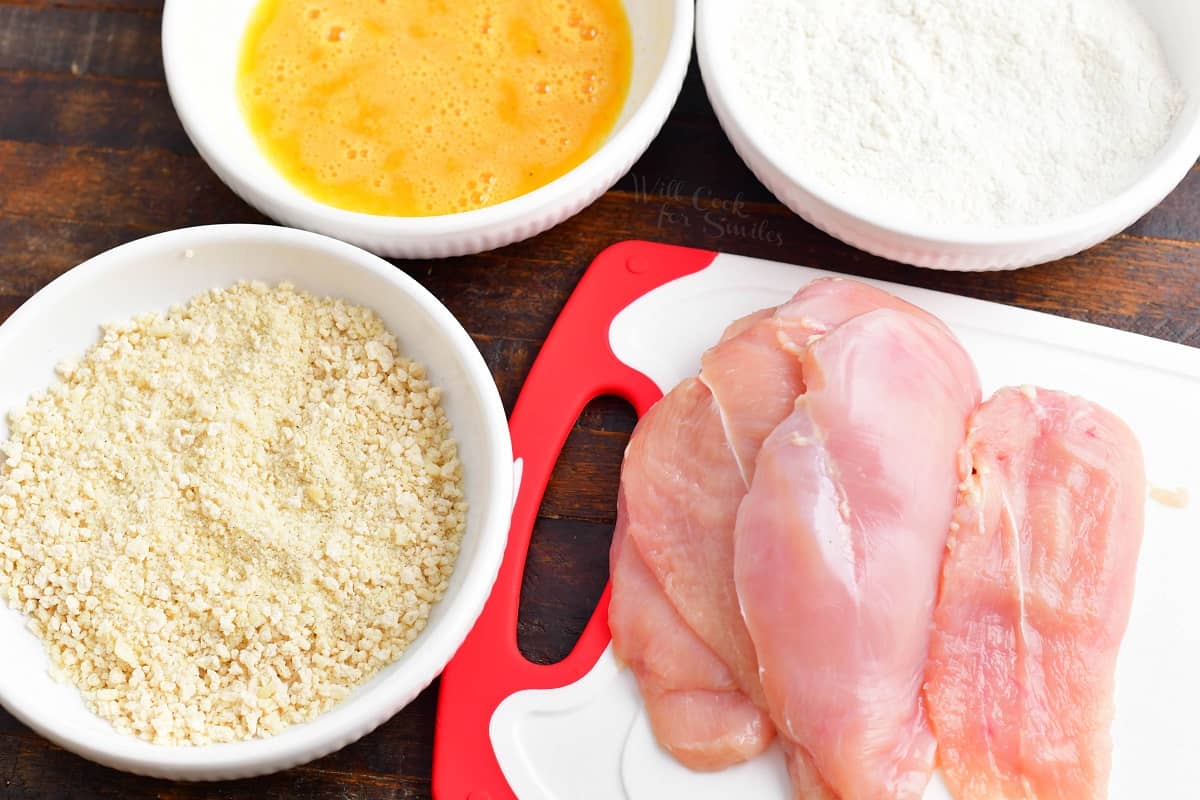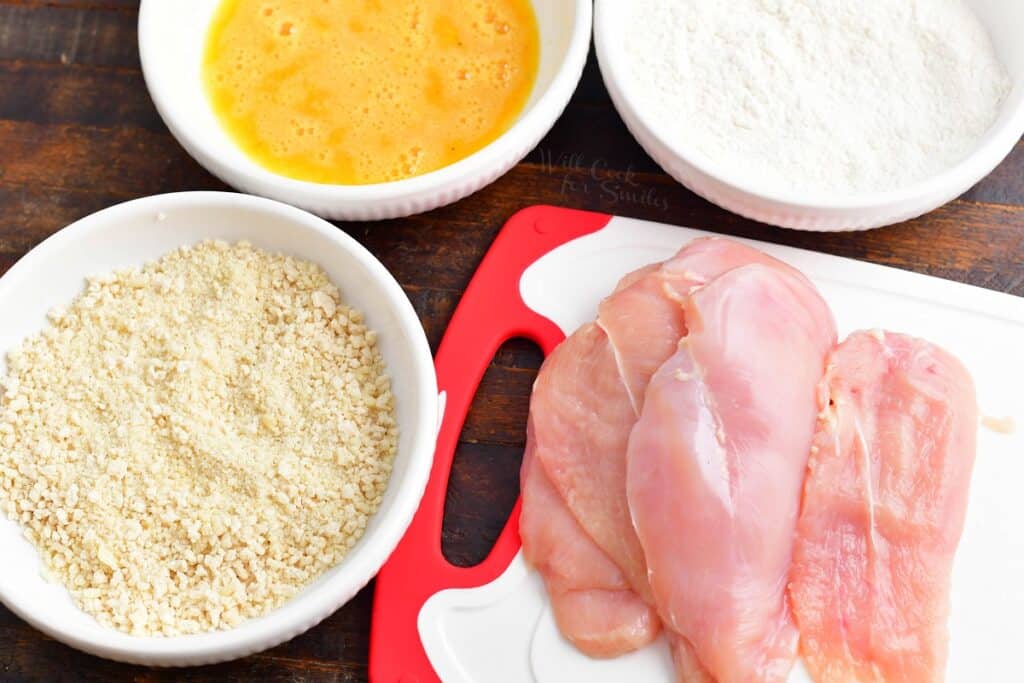 For the chicken:
Chicken Breasts – Make sure to use boneless and skinless chicken breast meat.
Olive Oil – In a pinch, avocado oil can also be used, but olive oil is preferred.
Butter – Unsalted butter is an optional but highly recommended ingredient.
The flour mixture:
Flour – You'll need all purpose flour for this recipe. Use gluten free all purpose flour if needed.
Garlic Powder
Black Pepper – Freshly grated black pepper will give you the best aroma and flavor.
The egg mixture:
Eggs – Use two eggs if they're larger or extra large, three eggs if they're small.
Salt
Black Pepper
The crunchy panko mixture:
Panko Bread Crumbs – use unflavored, as you're going to be flavoring the breadcrumbs yourself with seasonings. Use gluten free panko bread crumbs if needed.
Parmesan Cheese – By grating the parmesan cheese straight from the block, you get so much more flavor than you do from a bag of pre-shredded cheese. Fresh grated parmesan cheese also melts very well into the breading.
Garlic Powder
Salt
Black Pepper
Make It Gluten Free
You can make Chicken Milanese gluten free with two simple substitutions. Make sure to use gluten free all purpose flour and use gluten free Panko bread crumbs. Some gluten free bread crumbs don't look like Panko and for best results, choose ones that do. I found that the gluten free bread crumbs of the brand 4C Bread Crumbs, are very similar to Panko.
How to Make Chicken Milanese
Let's start by preparing the meat! Place the chicken breast on a cutting board, then place your hand on top of it. Use a sharp knife to slice the breast in half, and try to make the halves as even as possible.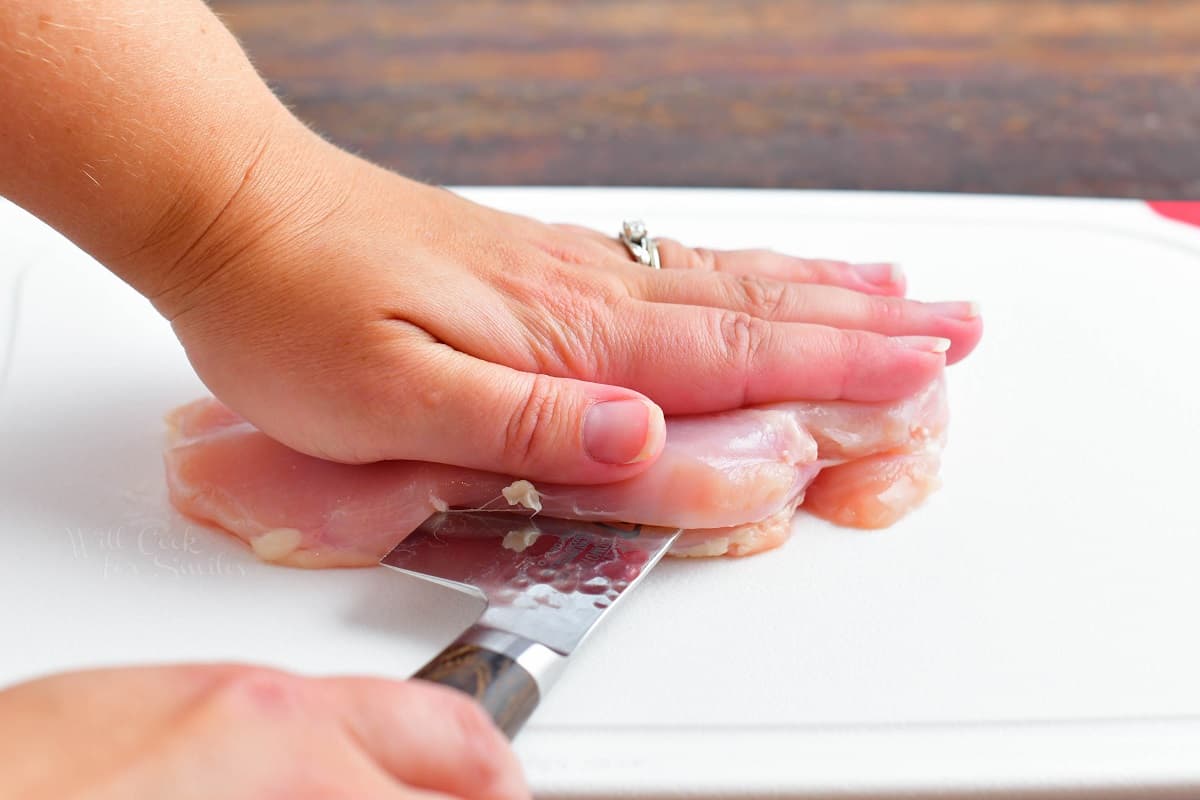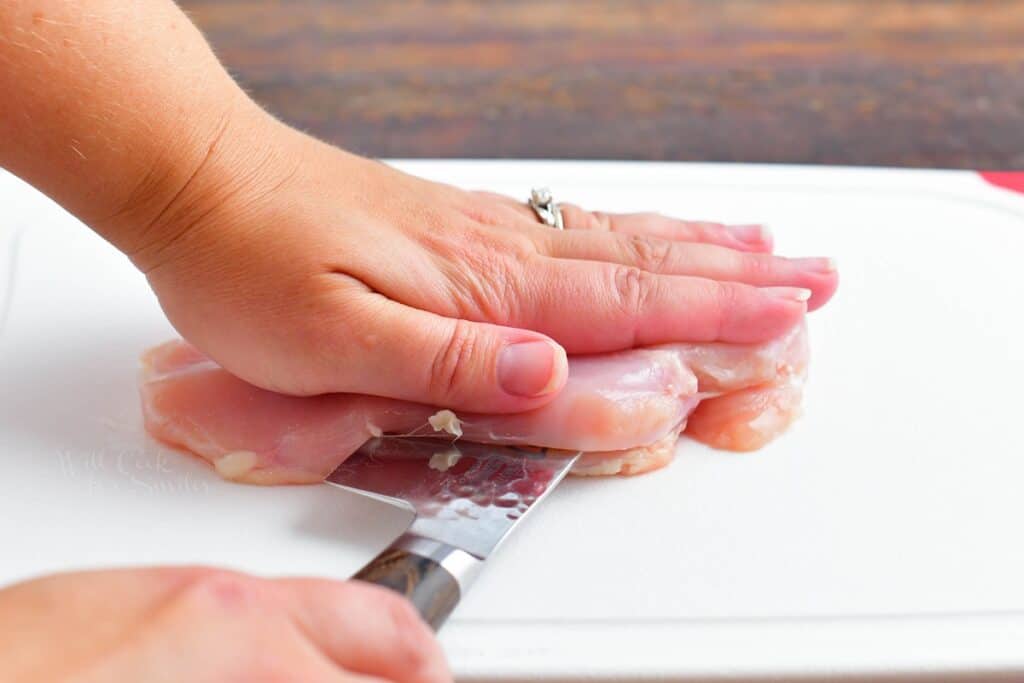 Once the breasts have all been evenly sliced, lightly pound the chicken with a meat tenderizer, if needed. It doesn't need to be too thin, so be slightly gentle with the pressure you use.
Breading The Chicken: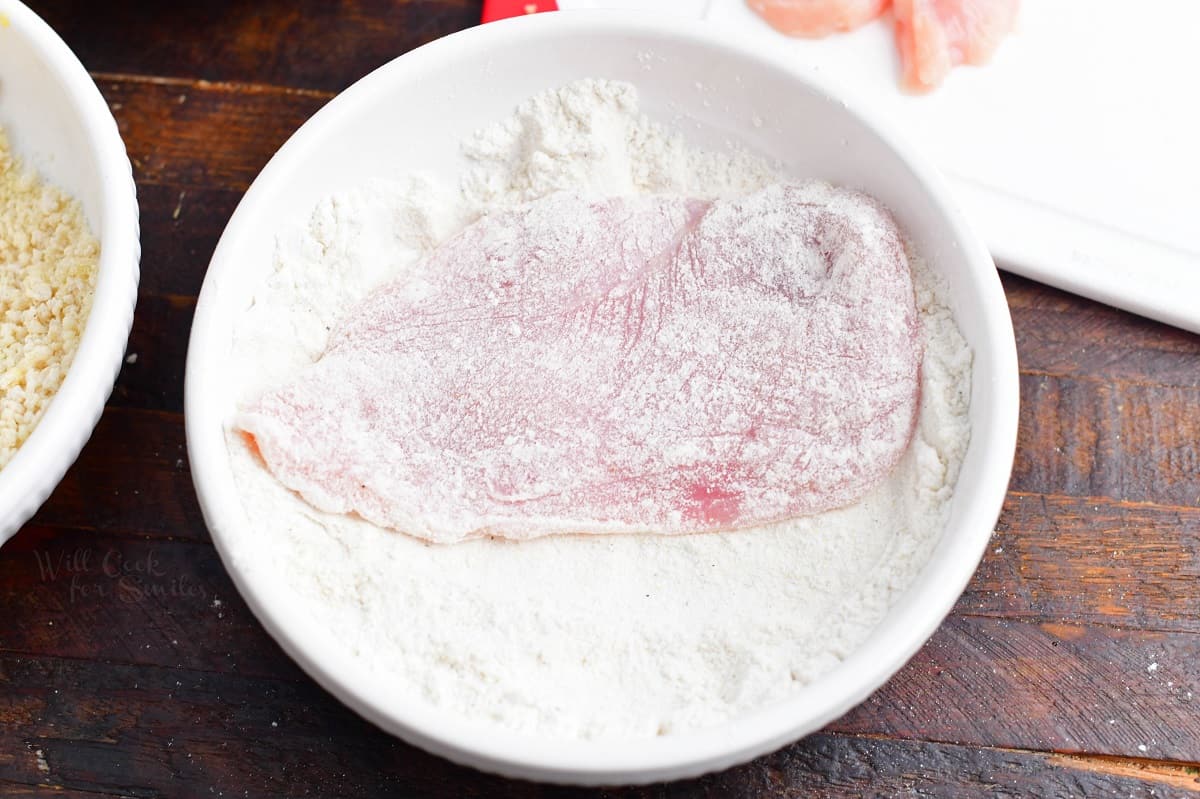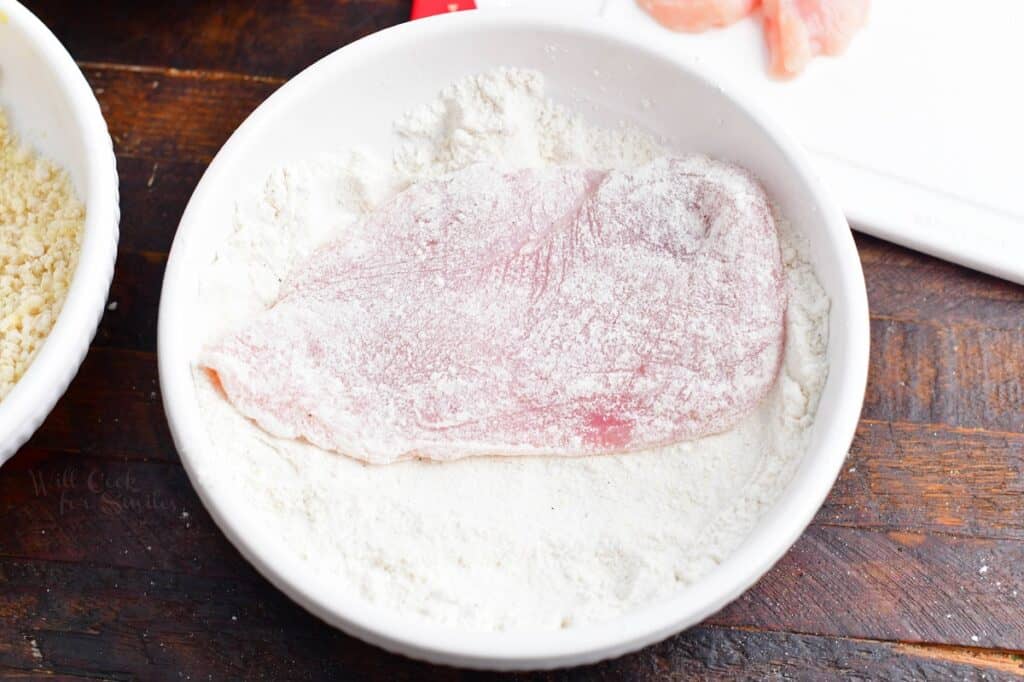 The first step to breading the chicken is to dip it into the flour mixture consisting of flour, salt, pepper, and garlic powder. It should be coated with the dry mixture all over.
Once coated in flour, dip each chicken breast into the egg mixture, which consists of just egg with some salt and pepper.
The last step if breading the chicken breasts is to place them into the bowl with the seasoned bread crumb mixture, flipping them over a few times to fully coat with breadcrumbs. Pat the bread crumbs gently to ensure they're really on the chicken.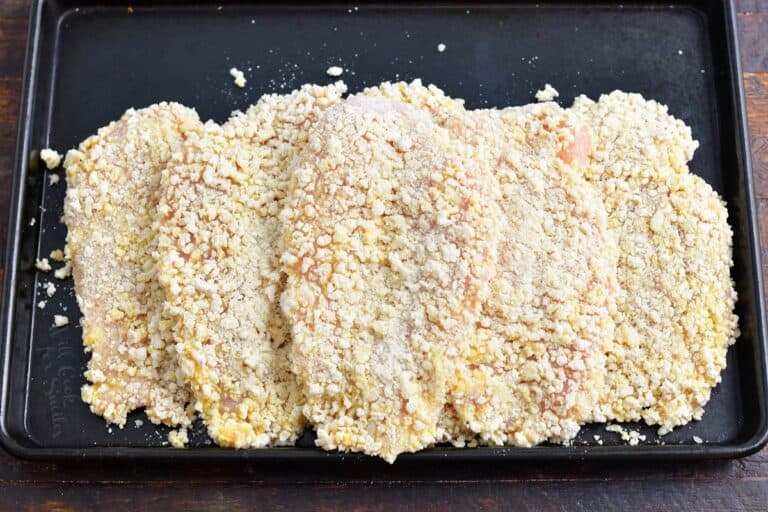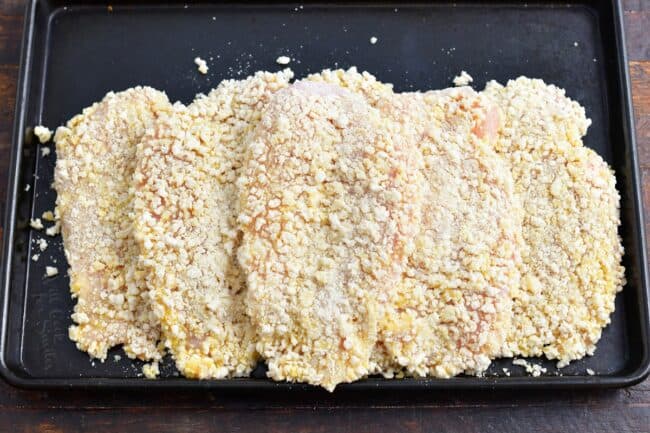 Pan-Cooking The Chicken:
Let's cook our Chicken Milanese! Start by preheating a large pan over medium to medium-high heat. Add olive oil to the pan when it's warmed. If you'd like to add some butter to enhance the flavor even more, this is the step to do so.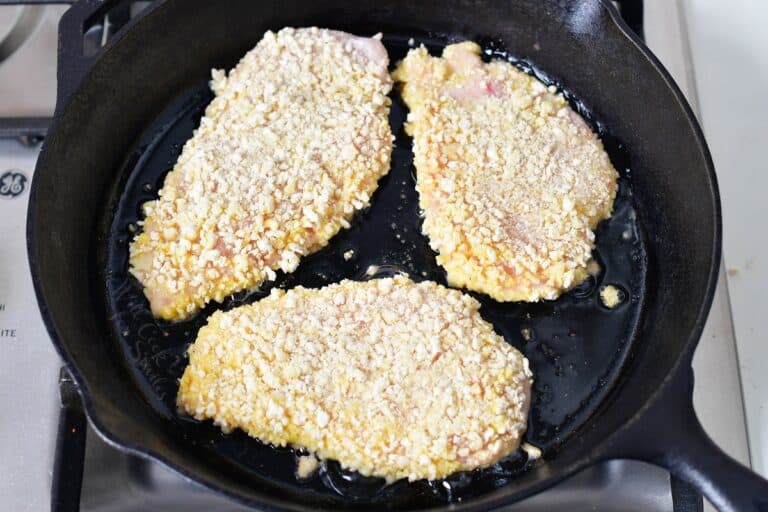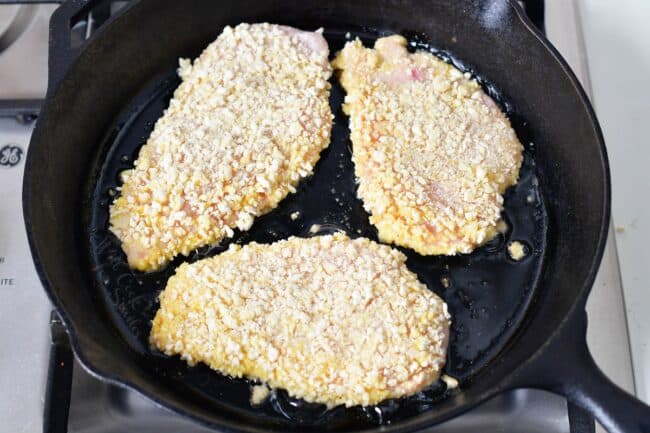 Place the prepared chicken breasts into a pan and cook for about 5 minutes per side. If the chicken is on the thinner side, you may just need 3 minutes per side.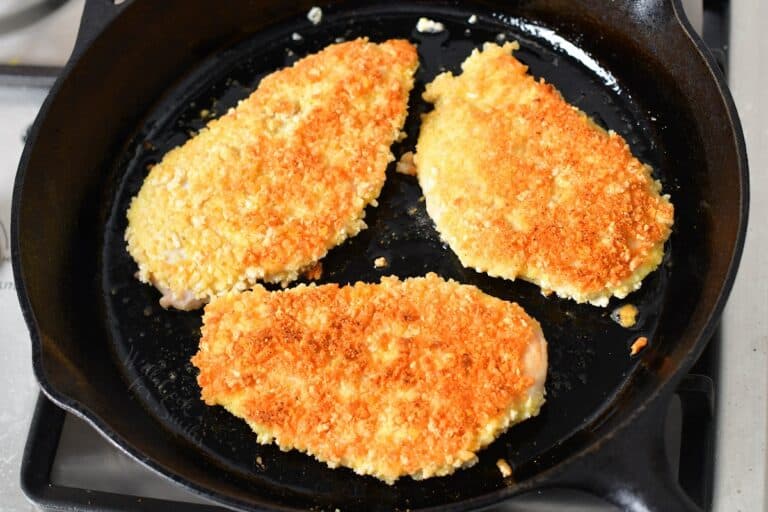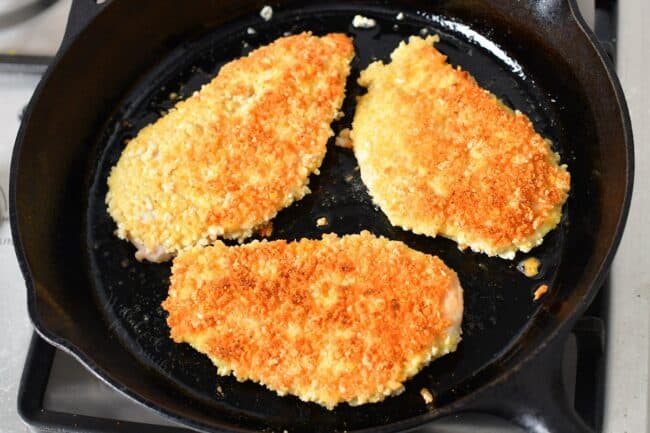 The chicken is complete when it is cooked all the way through and a gorgeous golden brown color.
Also, note that you will most likely have to cook the chicken in batches of 3 or 4.
When serving your Chicken Milanese, consider adding delicious toppings like fresh parsley, lemon wedges, and grated parmesan cheese. Enjoy!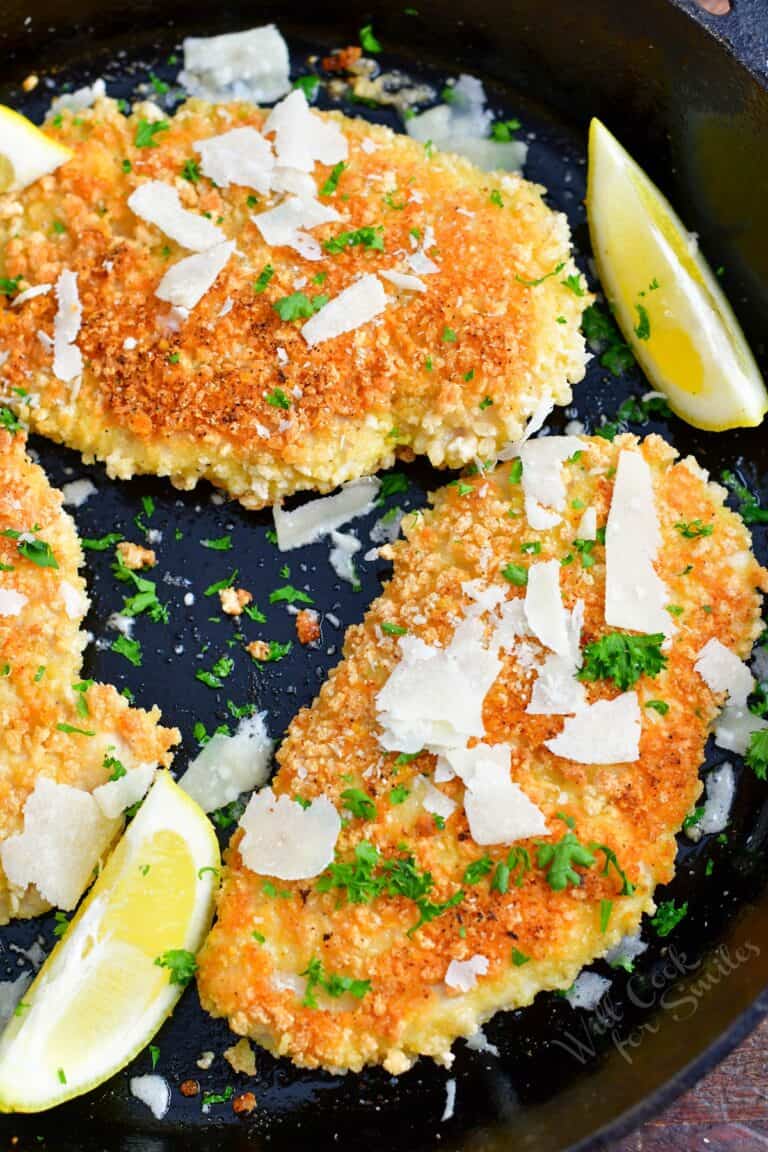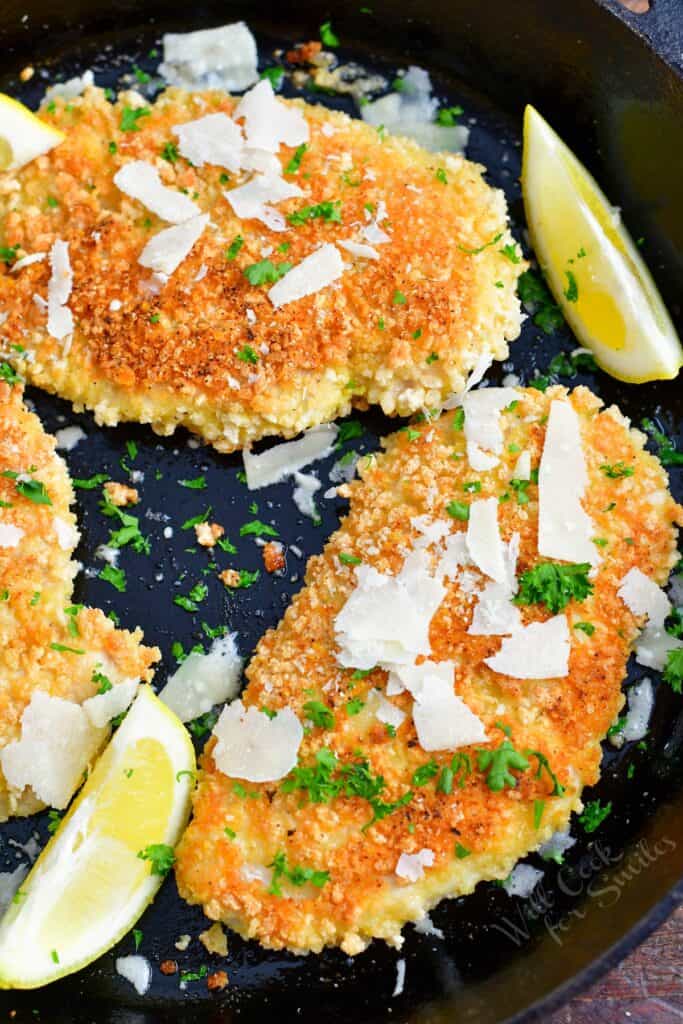 More Delicious Chicken Dinners!
Chicken Kiev – a classic Eastern European dish of tender, juicy, chicken rolled with flavorful herb butter and wrapped in a crispy coat of breading.
Chicken Fricassee – a braised chicken recipe but stewed in a rich cream sauce along with vegetables.
Roast Chicken – this chicken is seasoned generously and stuffed with lemon, garlic, and herbs for delicious flavor inside and out.
Asian Baked Chicken Thighs – an easy, delicious chicken dinner that's easy to make and rich with Asian sauce.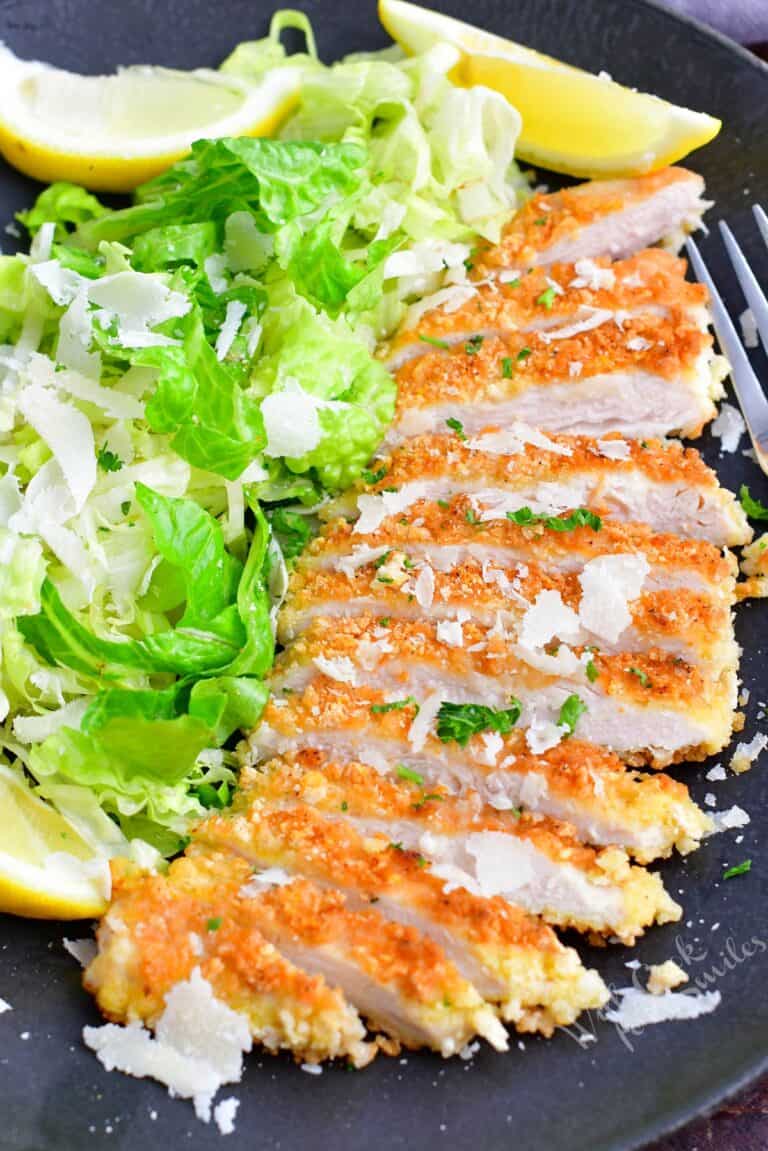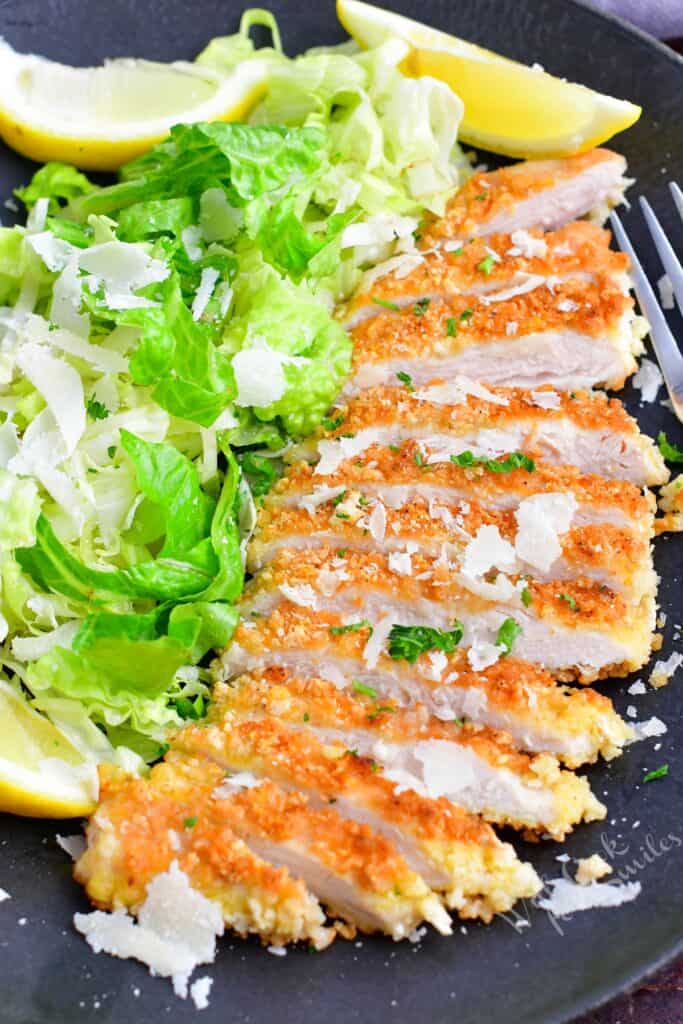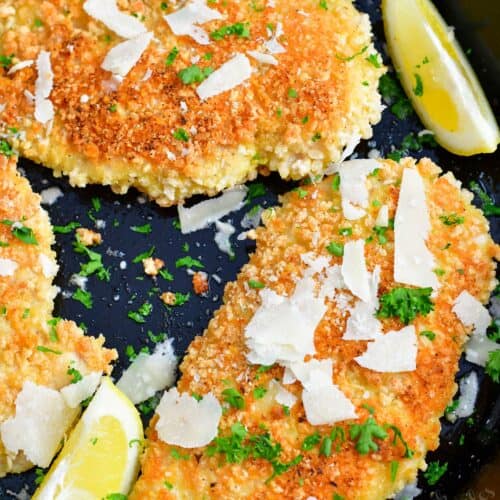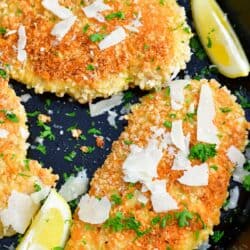 Chicken Milanese
Chicken Milanese is a simple recipe that consists of breaded and pan-fried chicken breast that's crunchy on the outside and juicy on the inside.
Print
Save
Saved!
Rate
Ingredients
1.5

lb

boneless, skinless chicken breast meat

4

tbsp

olive oil

2

tbsp

unsalted butter

optional
Flour Mixture:
1

cup

all purpose flour

1

tsp

garlic powder

salt

black pepper
Egg Mixture:
2-3

eggs

depending on size

salt

black pepper
Panko Mixture:
2

cups

Panko bread crumbs

1/2

cup

fresh grated Parmesan cheese

1/2

tsp

garlic powder

salt

black pepper
Instructions
Cutting the chicken:
Place chicken on the cutting board and place your hand on top of the chicken breast. Make sure to lift your fingers up and not curve them down when cutting the chicken.

Using a sharp knife, slice each chicken breast in half, width-wise. Try to split it right in the middle to get the halves that are as even as possible. This will ensure similar cook time. Repeat with all the chicken breasts.

You can use a zip-lock bag to lightly pound the chicken or place a sheet of plastic wrap over the sliced chicken halves. Use the flat part of the meat tenderizer to lightly pound the chicken. You don't need to make it much thinner and make sure not to hit too hard.
Breading the chicken:
Use three wide and shallow bowls to bread the chicken.

Combine flour, salt, pepper, and garlic powder in the first one. Whisk egg with some salt and pepper in the second bowl. Mix Panko bread crumbs, grated Parmesan cheese, garlic powder, salt, and pepper in the last bowl.

First – Dip each chicken breast in flour mixture to lightly coat it all over.

Second – Dip flour coated chicken breast in egg mixture on both sides.

Third – Place chicken breast into the bowl with bread crumb mixture and flip it over a few times. Gently pat as you're flipping the chicken to make sure the bread crumbs get onto the chicken nicely.

Repeat with remaining chicken cutlets.
Cooking Chicken:
Preheat a large cooking pan over medium to medium-high heat (depending on the stove) and add olive oil. (You can also add in some butter if you want some butter flavor.)

Place breaded chicken into the pan and cook for 3-5 minutes per side, depending on the thickens of chicken, until cooked through and golden brown.

Note: you will most likely have to cook chicken in batches of 3 or 4. Add more oil to the pan between batches as needed!
Nutrition
Calories:
684
kcal
|
Carbohydrates:
47
g
|
Protein:
51
g
|
Fat:
31
g
|
Saturated Fat:
10
g
|
Polyunsaturated Fat:
4
g
|
Monounsaturated Fat:
15
g
|
Trans Fat:
1
g
|
Cholesterol:
214
mg
|
Sodium:
651
mg
|
Potassium:
779
mg
|
Fiber:
2
g
|
Sugar:
2
g
|
Vitamin A:
442
IU
|
Vitamin C:
2
mg
|
Calcium:
231
mg
|
Iron:
4
mg
Tried this recipe?
Mention @willcookforsmiles and tag #willcookforsmiles