Easy scallop recipe with a rich and creamy Parmesan sauce is served over a bed of pasta. These scallops are seared until there are perfectly cooked with a golden crust and then, cook the sauce in the same pan and toss it with your favorite pasta.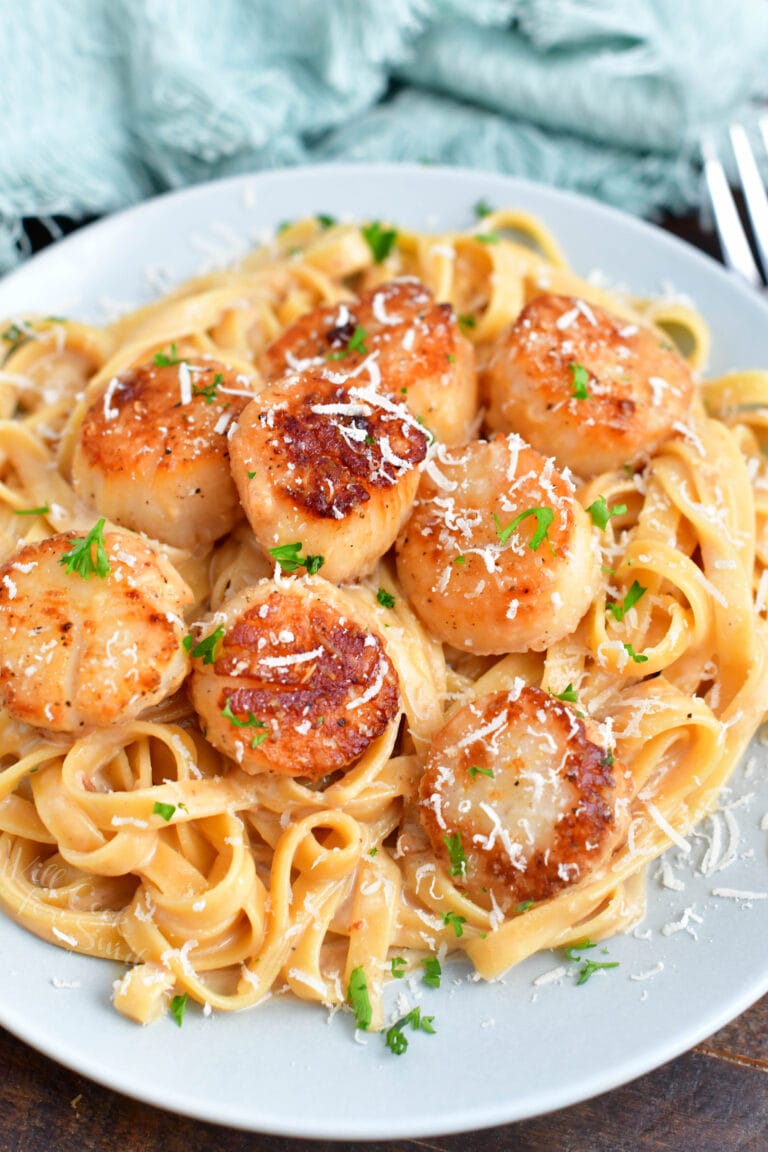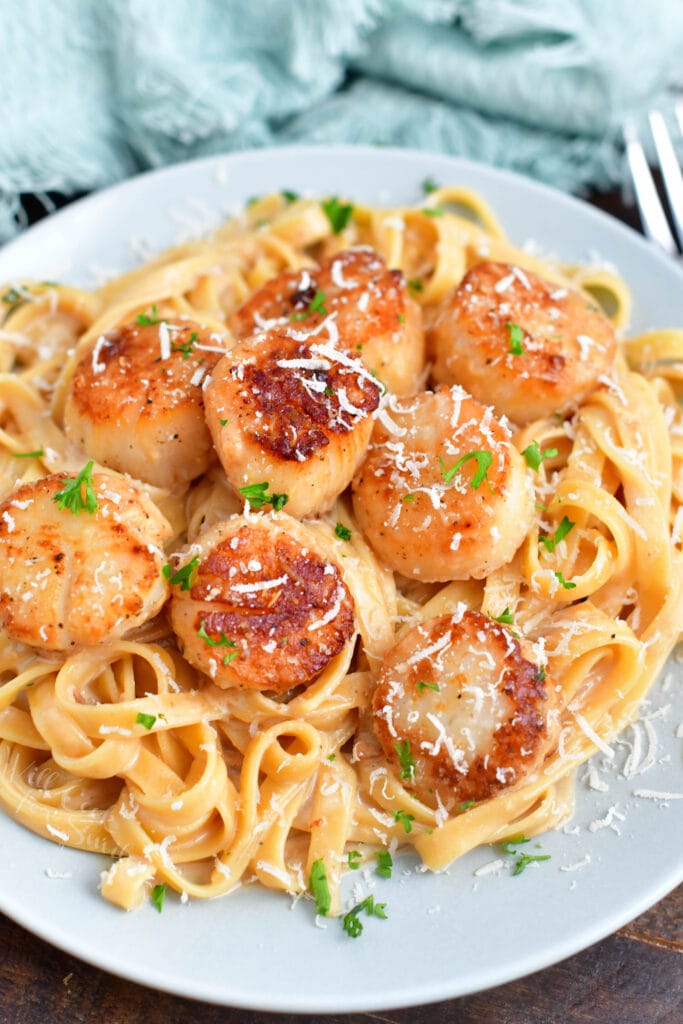 While many people may find it intimidating to cook scallops, most absolutely love eating them! Enjoying the lightly sweet flavor and delicate texture are well worth learning to cook them at home. In fact, they are incredibly easy to prepare and only require a few minutes in a pan.
Although scallops cost more on average than a lot of other seafood, the cost of buying them and cooking at home is way less than at the restaurants. You will need just a few other pantry staples to turn them into a luxurious and delicious meal.
Pasta is a perfect pairing for this creamy scallops recipe because the sauce is very close to an Alfredo sauce. It's like a Scallops Alfredo but with a bright addition of garlic. Don't forget to finish it with some freshly grated Parmesan cheese!
Scallop Recipe Ingredients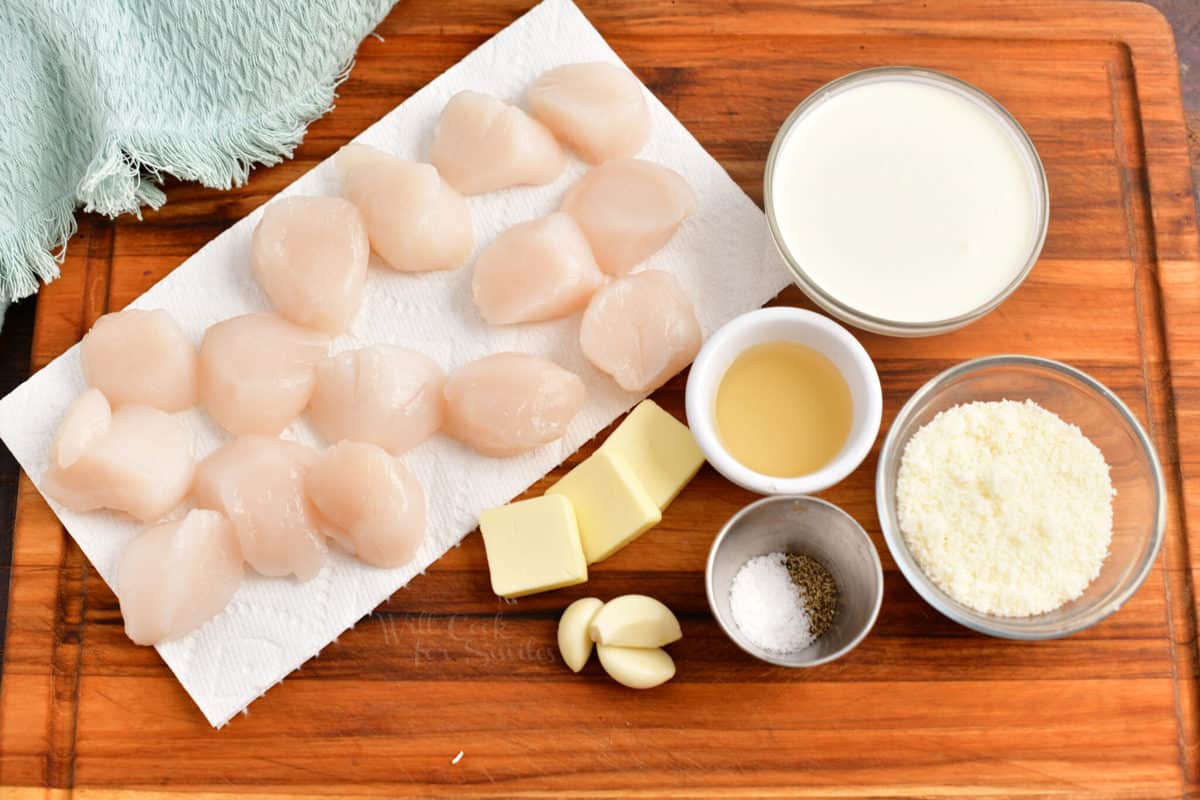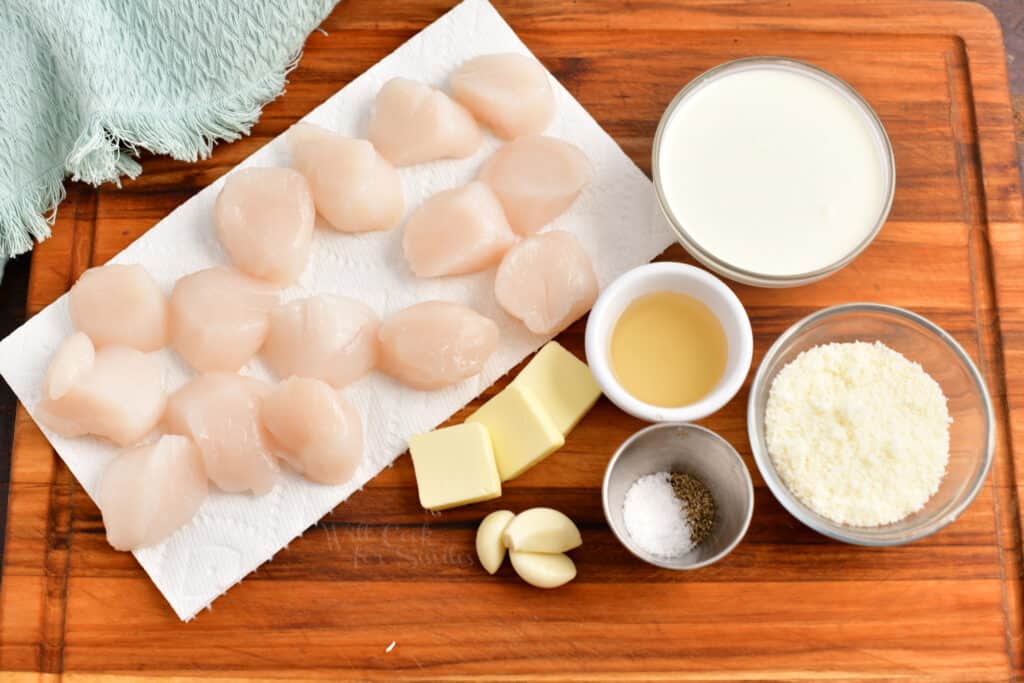 If you've never purchased this type of seafood before, it can be overwhelming trying to figure out what to get. Not only are there different sizes to choose from, but each type may be packaged and sold differently, and some are soaked in a chemical solution.
You can find more information here explaining what all of this means and what to look for at the seafood counter. In short, you want to get sea scallops, they are larger, and ask if they are "dry."
"Dry" means that the scallops were not soaked in a chemical solution as a preservation method. Dry scallops are healthier and will sear much better without the excess liquid.
Cream Sauce For Scallops
This sauce is amazing, it's just like a quick Alfredo sauce but with garlic added.
Garlic – I always recommend using freshly pressed garlic since this scallop recipe is so simple and you really want those flavors to come through. Minced garlic from a jar tends to have an older and at times unpleasant flavor.

Stock – Chicken stock will give you good flavor, but you can also use vegetable if you prefer. Opt for a low sodium version so you can have more control over the amount of salt.

Heavy cream – To avoid lumps or separating when added to heat, be sure to bring your dairy to room temperature first. Simply measure it out and let it sit on the counter while you prep the other ingredients and start the scallop recipe.

Parmesan – For the best flavor, buy a fresh wedge and grate it by hand! I recommend using a microplane zester because the smaller shreds will melt down smoother and easier into the sauce. If you don't have one of those, just use the smallest sized holes on a regular box grater.

Unsalted butter

Salt
How To Make This Scallops Recipe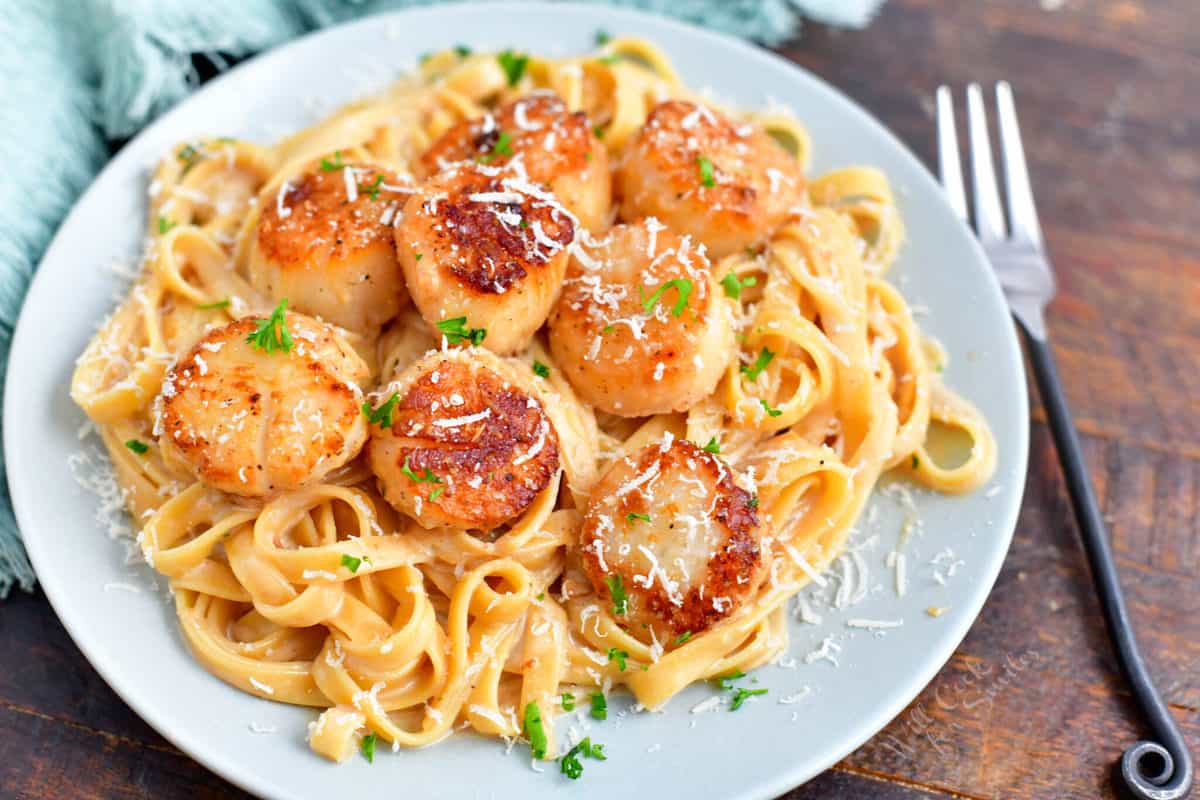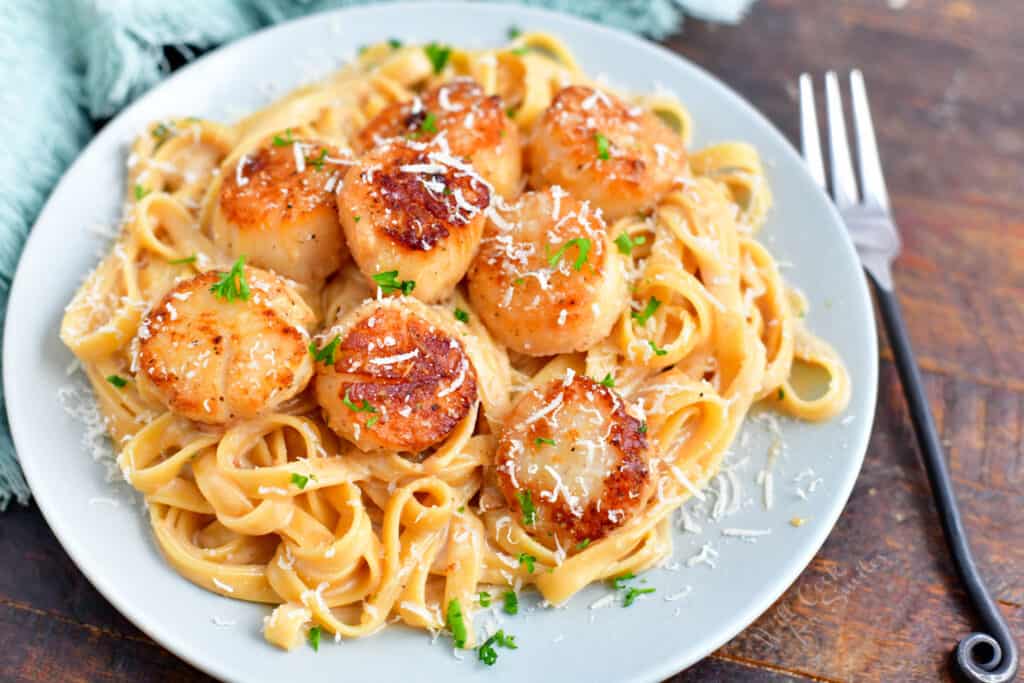 First, prep and measure out your ingredients.
If you'll be serving these with pasta, boil water and start to cook the noodles few minutes before cooking scallops and sauce.
It's also important to rinse the shellfish and pat them dry with a paper towel to ensure a gorgeous golden crust on the outside.
2. Preheat the pan first and then place scallops in a hot skillet.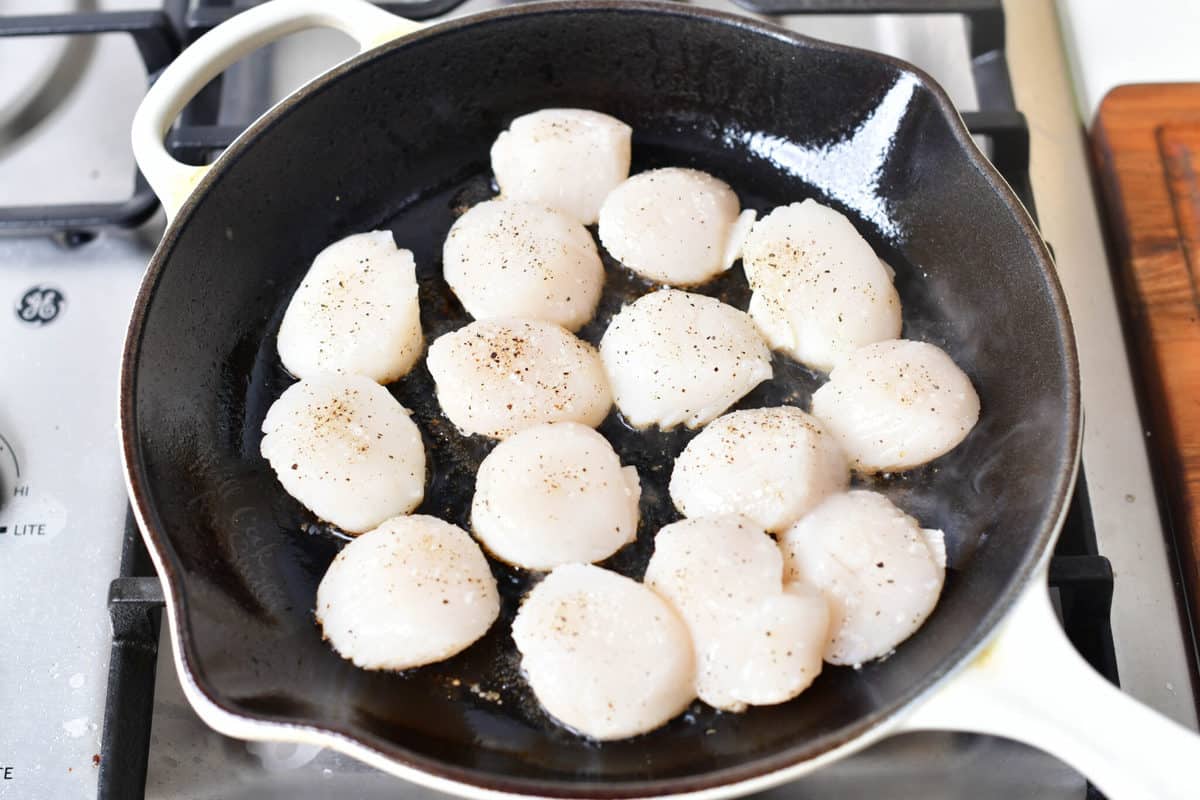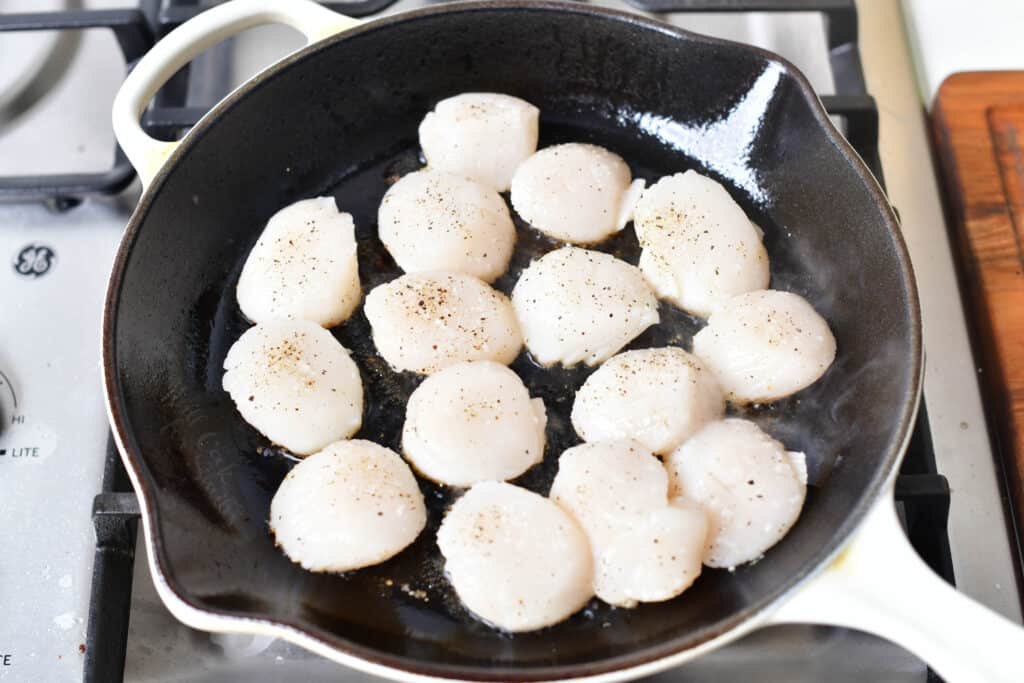 Season with salt and pepper just before cooking and leave space between each one. Overcrowding will cause them to steam instead of sear.
Once they are in, do not touch them.
3. Sear on both sides.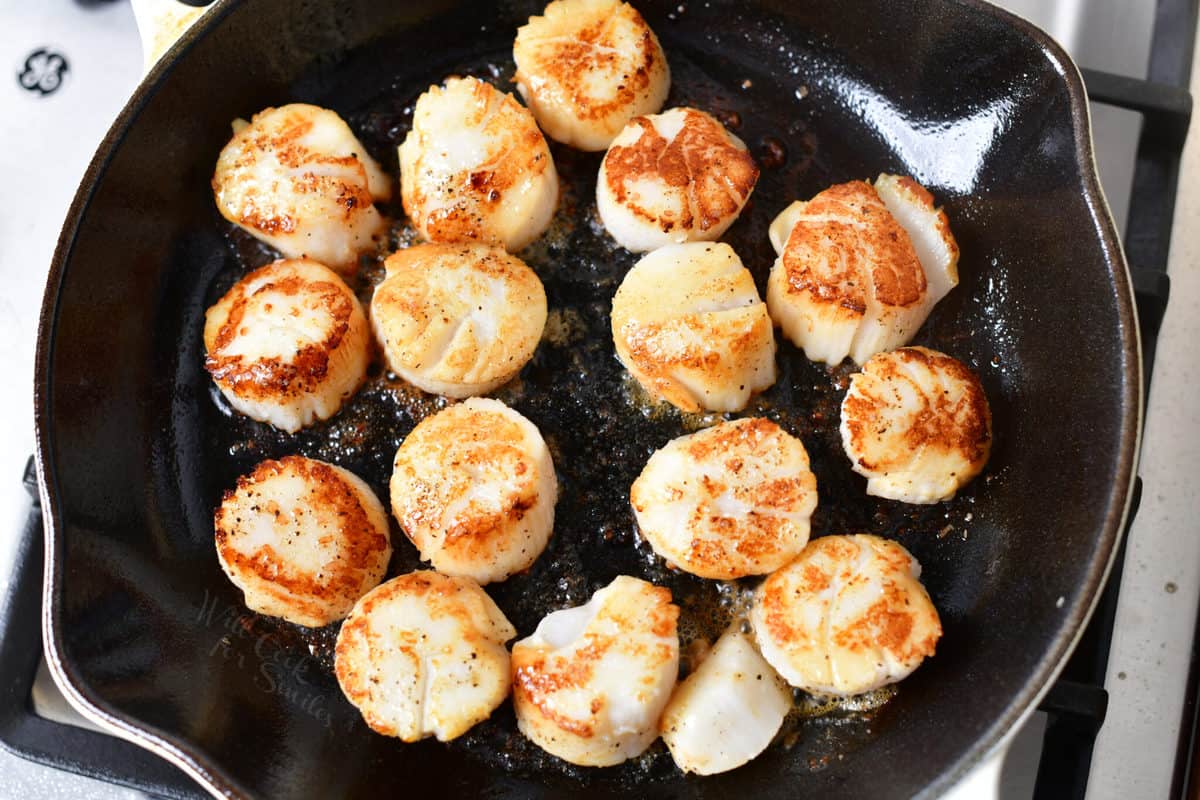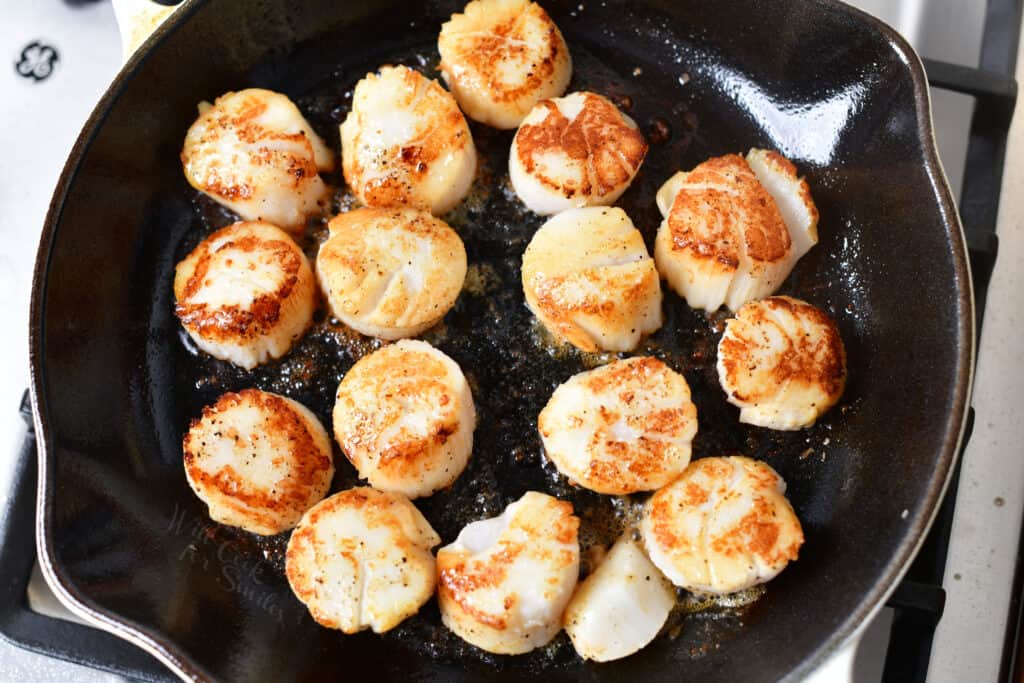 Once the first side has a nice crust, flip them in the same order they were added to the skillet. This guarantees that each is cooked for the same amount of time.
Then, remove them from the skillet before continuing. For more tips on seared scallop recipe, take a look at this post.
4. Melt butter and sauté garlic.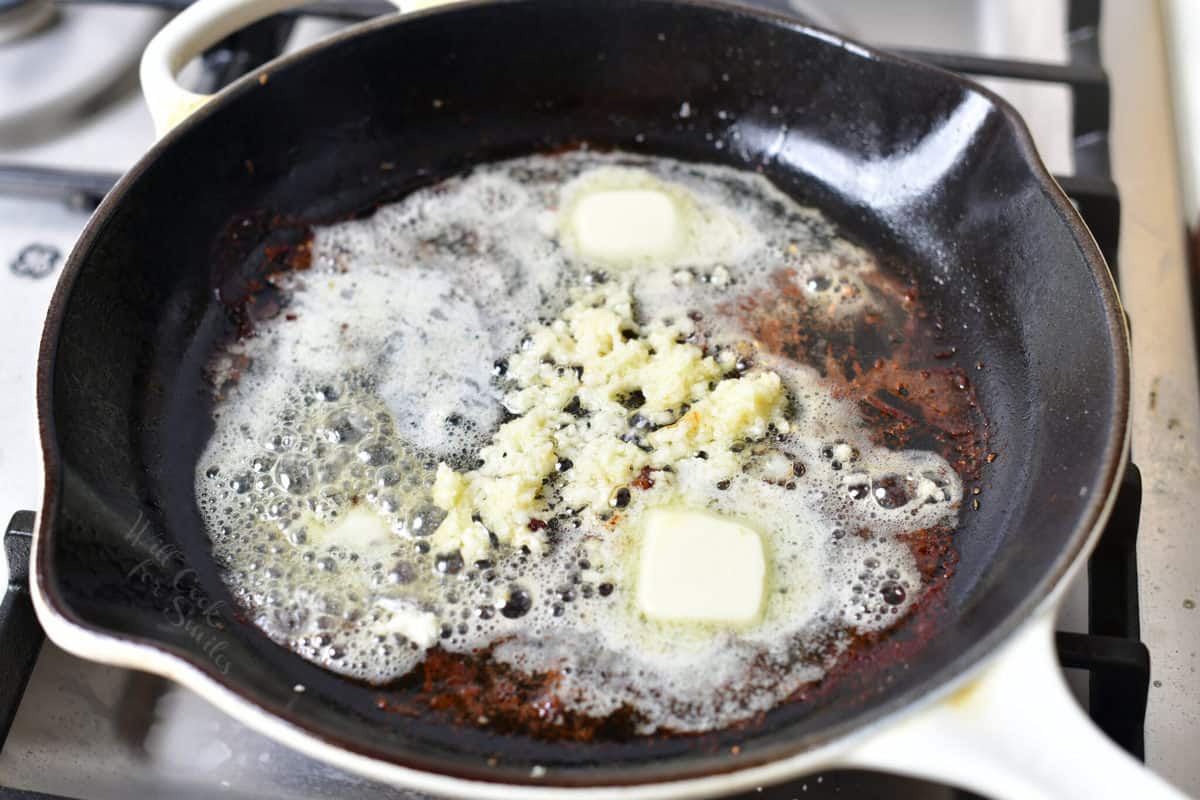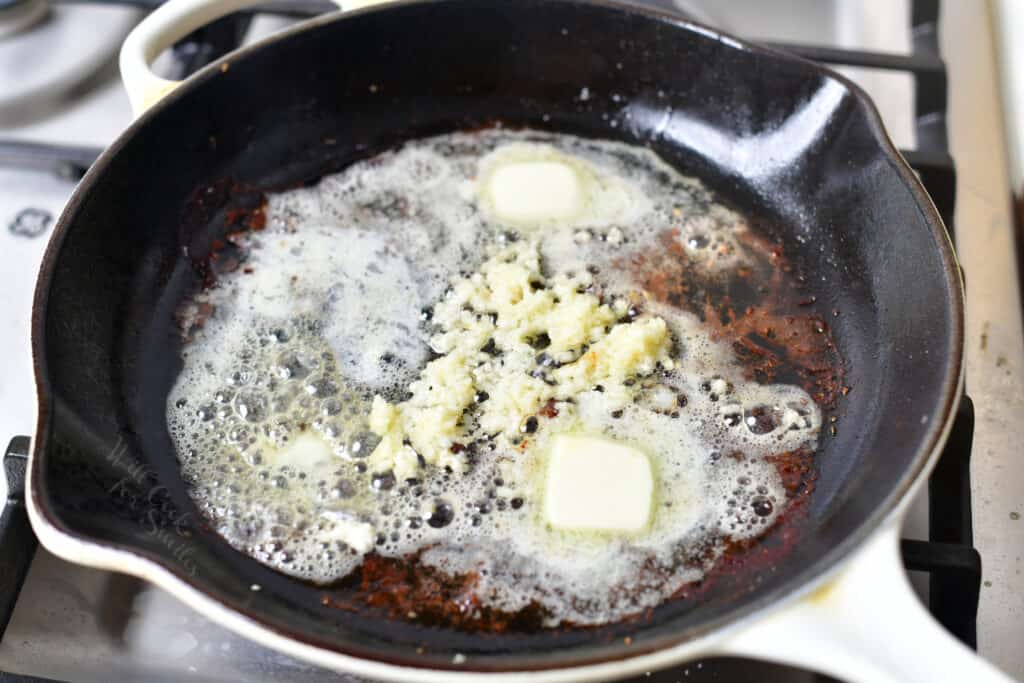 Lower the heat and swirl butter around until melted. Add pressed garlic and let it sit for a few seconds until fragrant.
At this point, you will want to deglaze the pan with stock. Pour it in slowly, then mix it into the other ingredients while scraping up any bits that are stuck to the bottom.
5. Add the cream.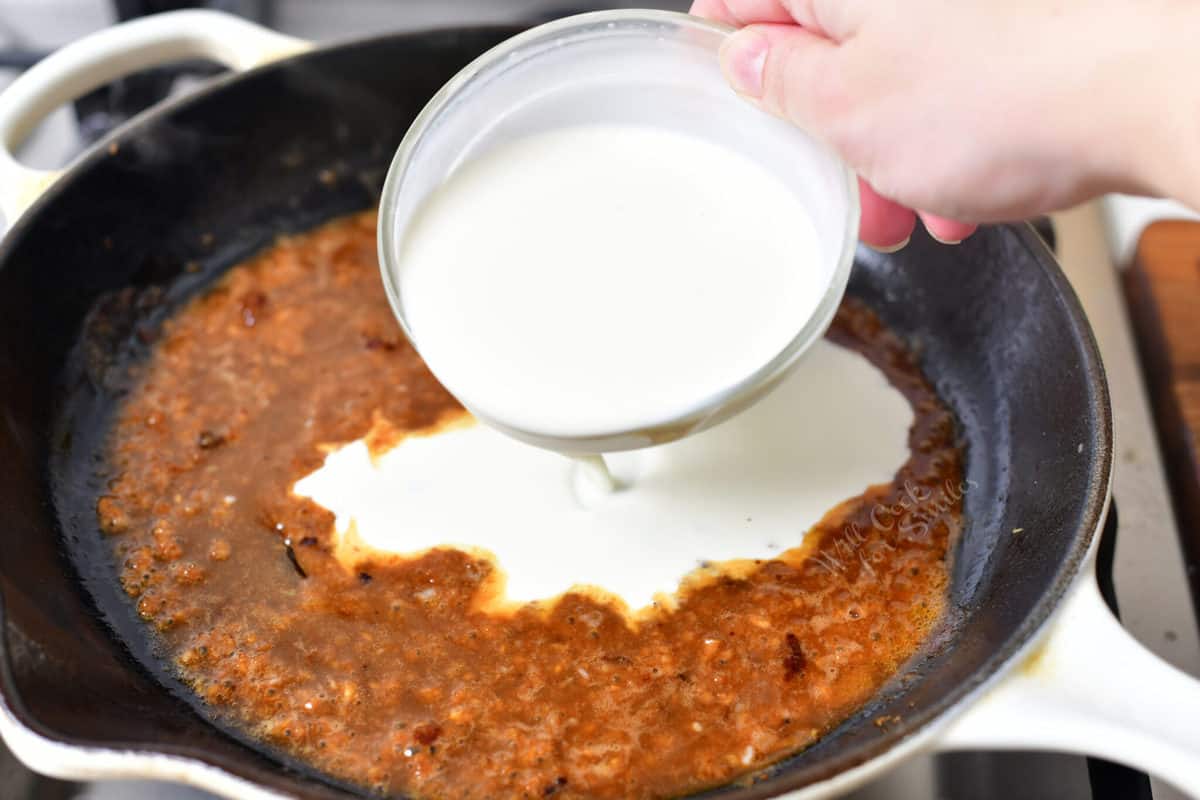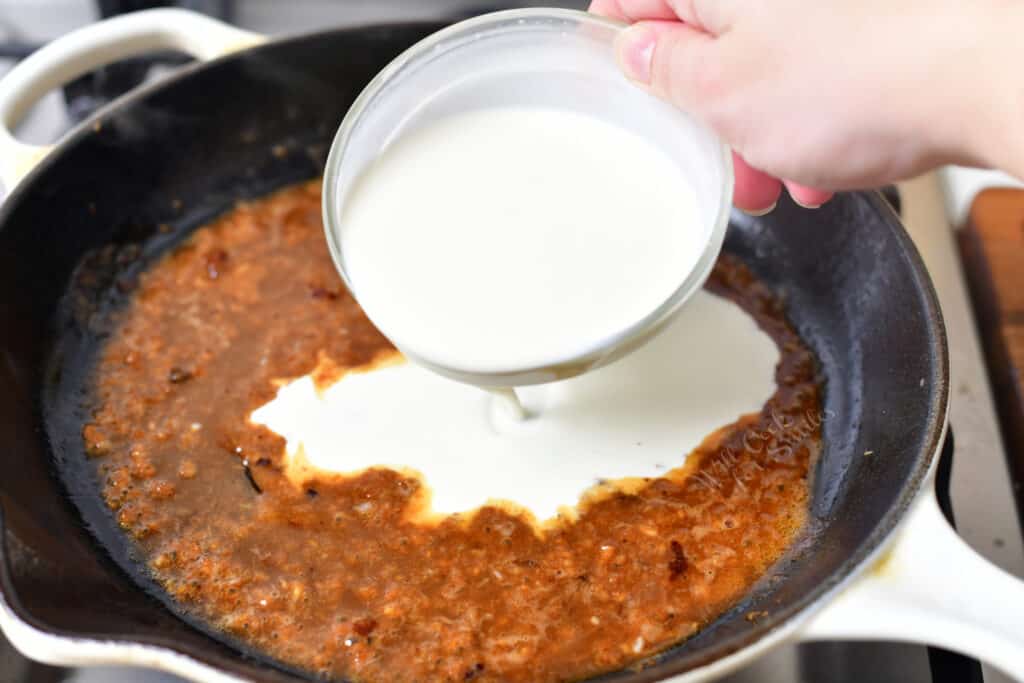 Next, stir in the heavy whipping cream until well combined. Let it heat through before adding cheese.
6. Stir in Parmesan and let it thicken.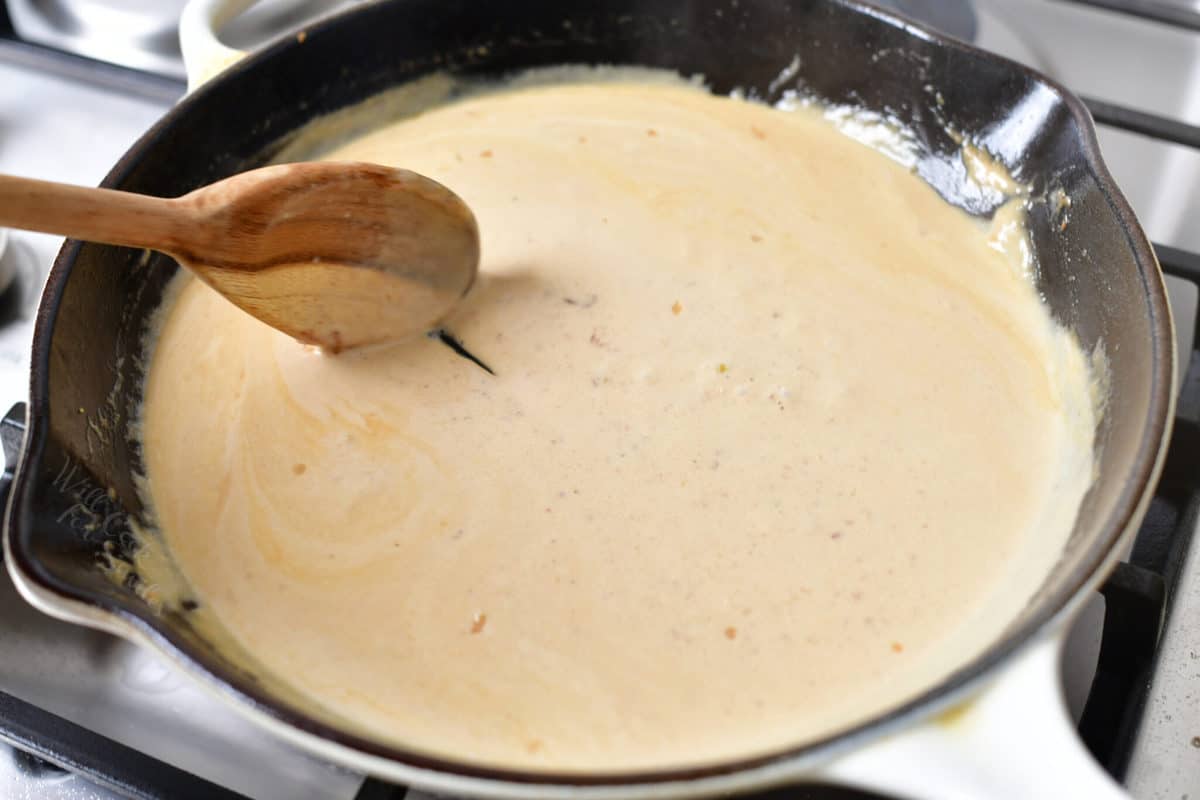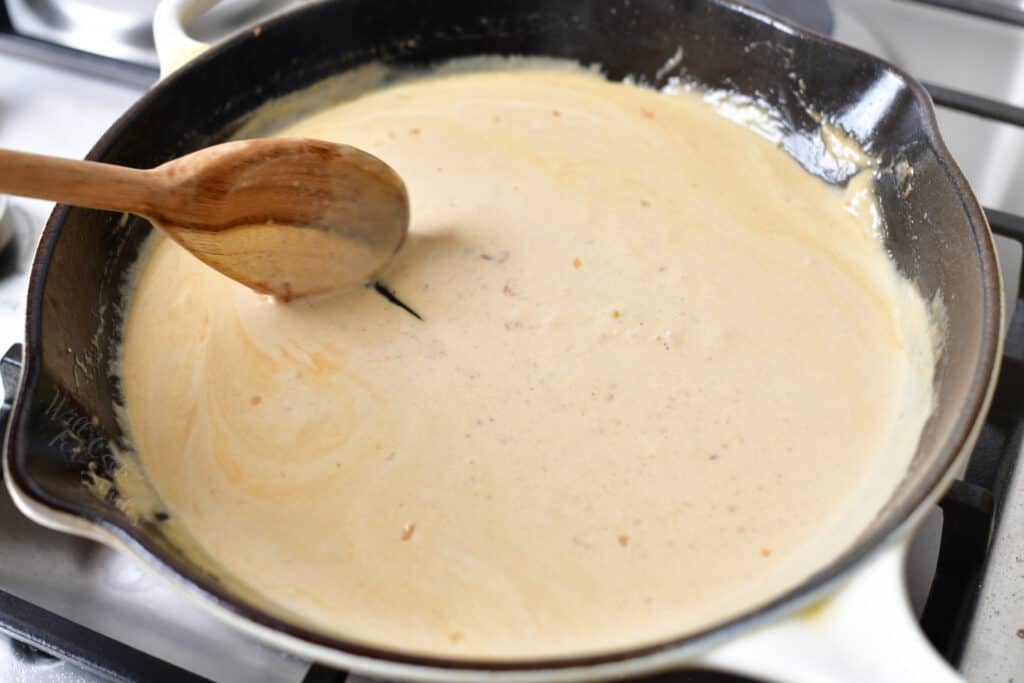 Sprinkle the cheese evenly over the liquid and mix until melted and smooth. Continue stirring while bringing the mixture to a gentle simmer until thickened.
7. Return scallops to the pan.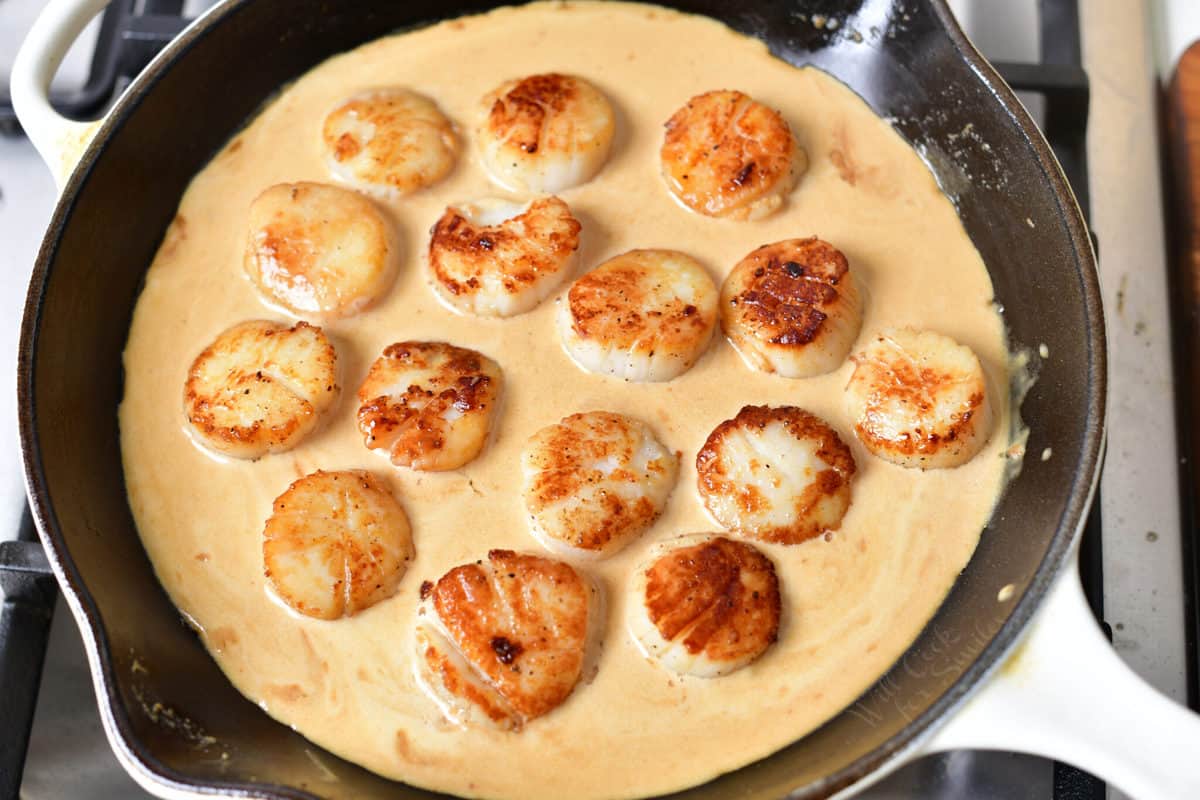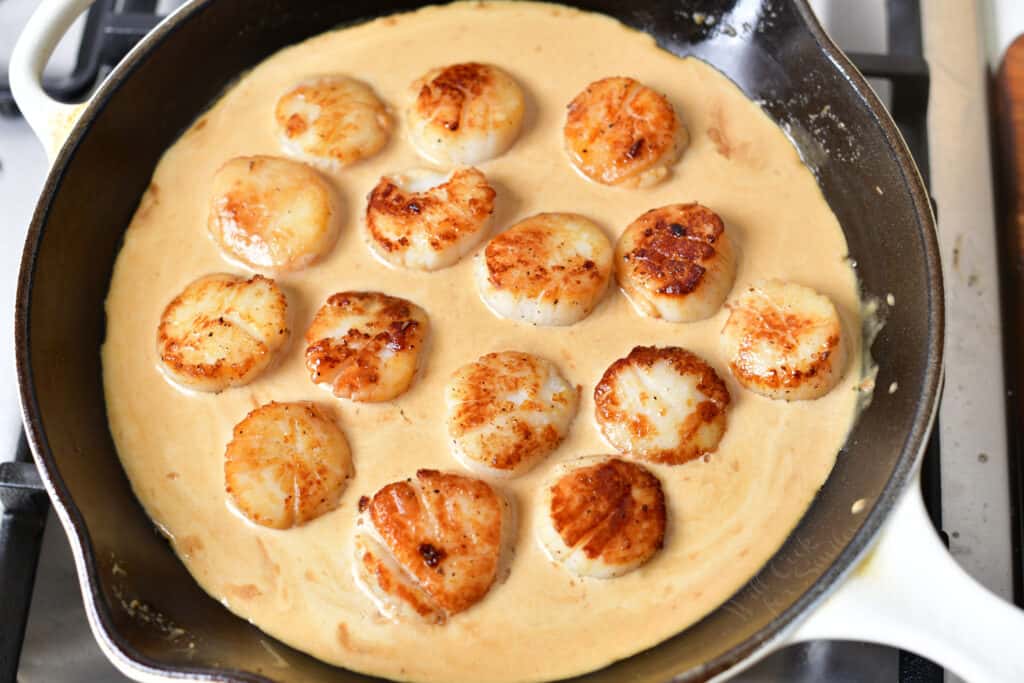 This is just to warm them back up, so don't leave them on the heat too long or they will overcook.
If you're making this dish with pasta. Add cooked pasta to sauce and mix it until evenly coated. You can stir it in right with the scallops or take the scallops out and mix pasta with the sauce in the pan.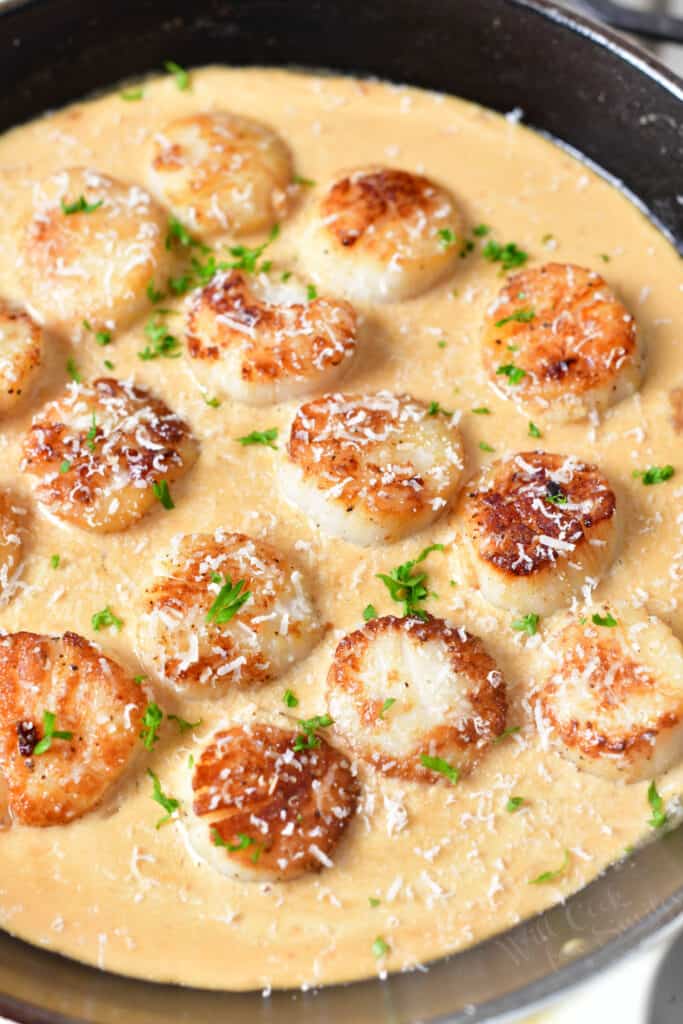 FAQ
How will I know when the scallops are done?
These can be a bit finicky, especially if you haven't made them before, so you will want to go by look and feel.
Both sides will have an even golden color, and the scallops will turn opaque all the way through. When gently pressed, they should feel firm and spongy to the touch with a little bit of give. Any firmer and they will be tough and rubbery.
You can also check the temperature for a more exact measurement. They should be 125°-130° in the center when done, so remove them from the heat at first number since they will continue to cook as they rest.
Can cooked scallops be reheated?
Yes, but do so carefully. Reheat them on the stove over low heat just until warmed through.
Leftovers of this scallop recipe should be good for 3 to 4 days stored in the refrigerator, in a food storage container with an air-tight lid.
Serving suggestions:
I enjoy this scallop recipe with freshly cooked fettuccine so the noodles can soak up the extra sauce. Linguine or tagliatelle would make a great substitute as well.
Starches like rice and potatoes are another popular addition to this dish, but you could easily pair it with a sautéed or some roasted vegetables for a lighter option. Broccoli and cauliflower are the most popular options for dishes with cream sauce because they soak up sauce so well.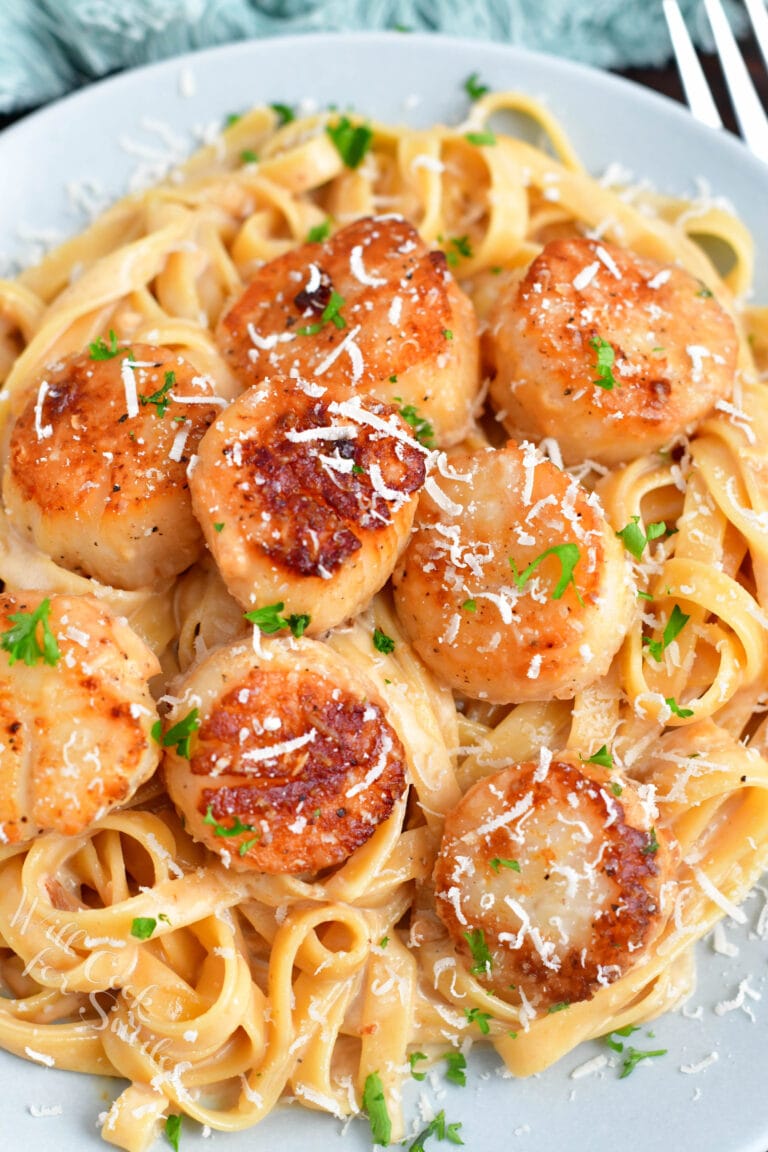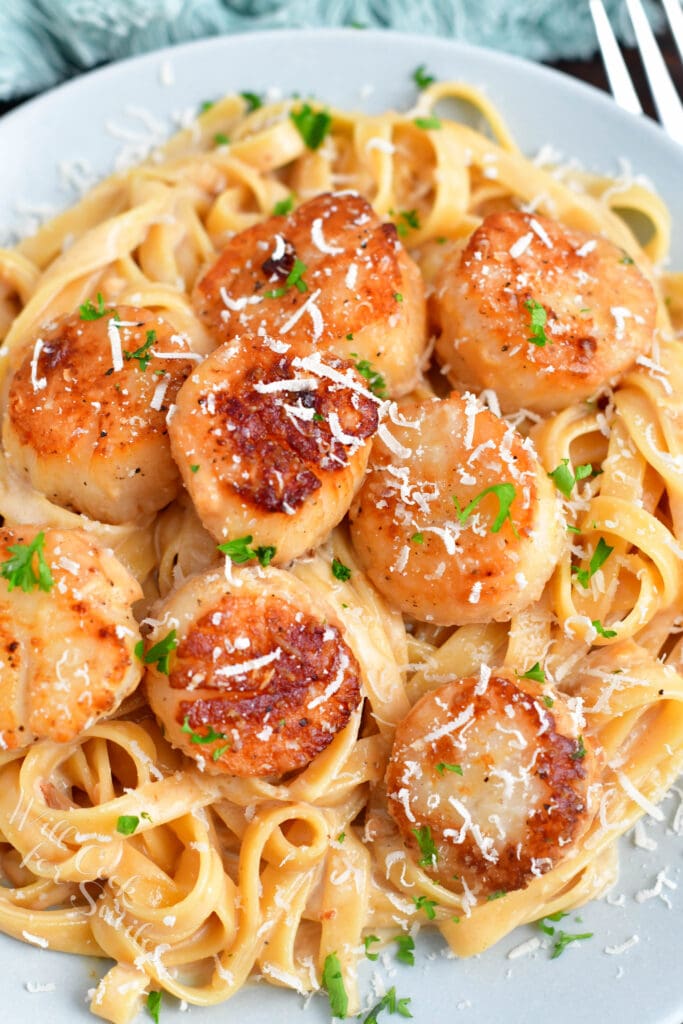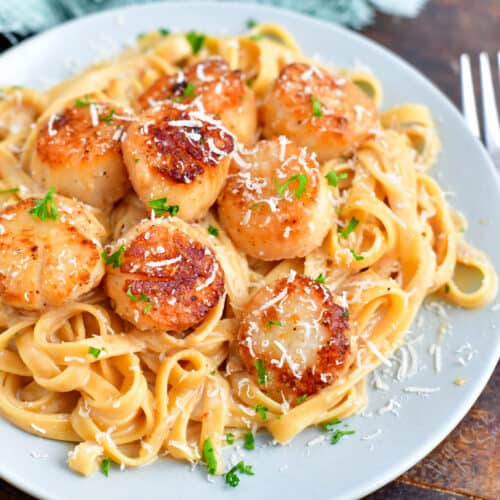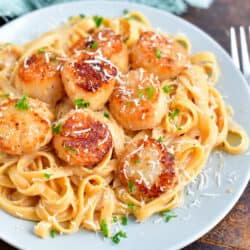 Scallop Recipe with Cream Sauce
This seared scallop recipe has a rich and creamy Parmesan sauce and is perfect over a bed of pasta. Make it for dinner tonight in under 30 minutes!
Print
Pin
Save
Saved!
Rate
Ingredients
1

lb

sea scallops (dry)

sea salt or kosher coarse salt

fresh cracked black pepper

2

tbsp

canola oil
Sauce:
2

tbsp

unsalted butter

3

garlic cloves

3

tbsp

stock

1

cup

heavy whipping cream

3/4

cup

fresh grated Parmesan cheese

salt

to taste
Pasta:
1/2

lb

fettuccine

or any other favorite pasta
Instructions
Start cooking pasta according to the package instructions, if you're serving these scallops with pasta. Cook it at the same time as scallops and sauce, strain, and set aside.
Prepare Scallops:
Rinse off scallops with cold water and pat each one dry with a paper towel.

If there are any scallops that have the side muscle attached, simply remove it. (Side muscle cooks tough and it's unpleasant to eat.)
Searing scallops:
Preheat a cooking pan first over medium-high heat. Add olive oil and let it heat through until you start to see a little smoke (it should take less than a minute).

Season scallops with salt and pepper on both sides right before adding the pan.

Place scallops into the skillet but leave some room in between each one. To ensure a nice sear, don't overcrowd them.

Do not move or touch them until ready to flip. 

Sear scallops for about 2 minutes (a few seconds more or a few seconds less depending on the size). Flip each on in the same order as you put them in and sear another 2 minutes.

Take scallops out of the pan and set aside while preparing the sauce.
Prepare the sauce:
Turn the heat down to medium and melt butter in the same pan where you cooked the scallops.

Add pressed garlic and let it sear for a couple of seconds, until fragrant.

Pour in stock and deglaze the pan by scraping the bottom of the pan.

Pour in heavy whipping cream and slowly stir to mix. Let it heat through for a minute or two.

Stir in grated Parmesan cheese and taste to see if you need more salt.

Gently and slowly stir the sauce at it heats through and comes to a simmer. Let is gently simmer for a couple of minutes to thicken. Once sauce is thickened, add scallops back just enough to heat them up and take off heat.

If you're making this dish with pasta, you can toss pasta with sauce or pour the sauce over the pasta. (Tossing will coat pasta much more evenly though.)
Notes
Nutrition notes: nutritional facts are calculated with fettuccine but note that it would change with other pasta or side dish options.
Nutrition
Calories:
1381
kcal
|
Carbohydrates:
94
g
|
Protein:
60
g
|
Fat:
85
g
|
Saturated Fat:
43
g
|
Trans Fat:
1
g
|
Cholesterol:
368
mg
|
Sodium:
1651
mg
|
Potassium:
887
mg
|
Fiber:
4
g
|
Sugar:
3
g
|
Vitamin A:
2517
IU
|
Vitamin C:
2
mg
|
Calcium:
586
mg
|
Iron:
3
mg
Tried this recipe?
Mention @willcookforsmiles and tag #willcookforsmiles