This is a simple and delicious recipe for Haricots Verts (French Green Beans) that calls for just a few ingredients to make the perfect, healthy side dish for any entrée. These green beans are incredibly easy to make and so very tasty!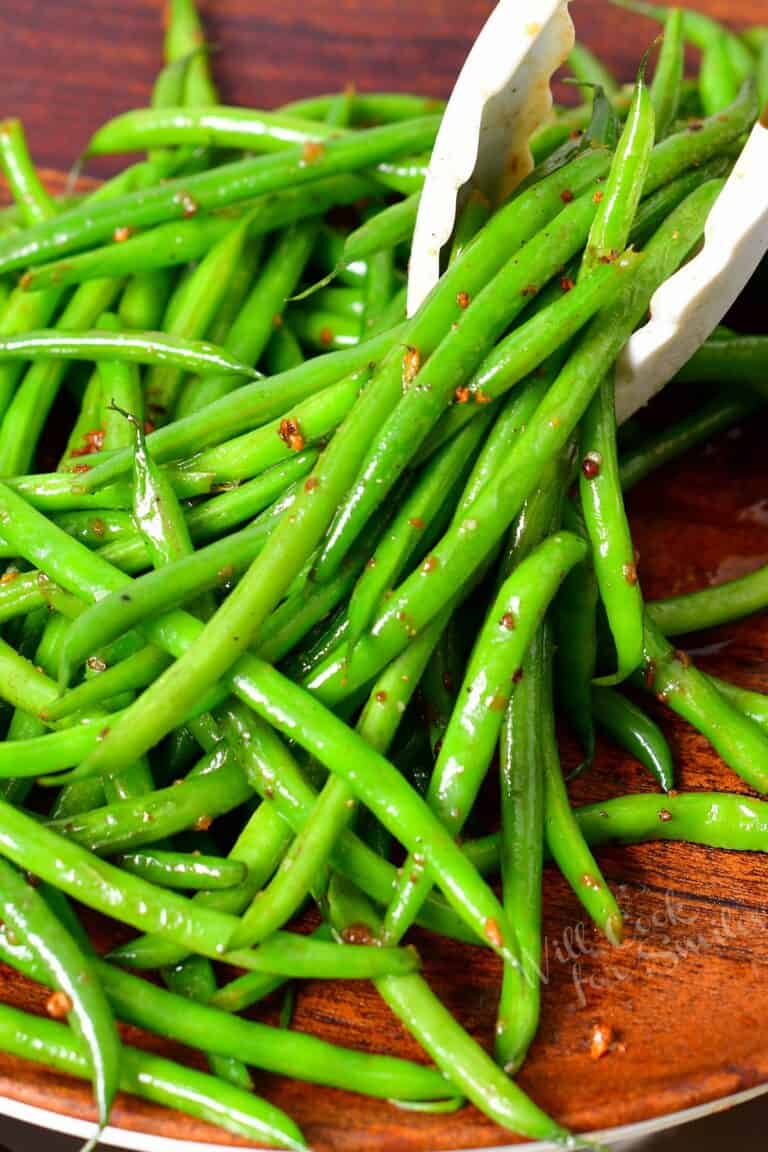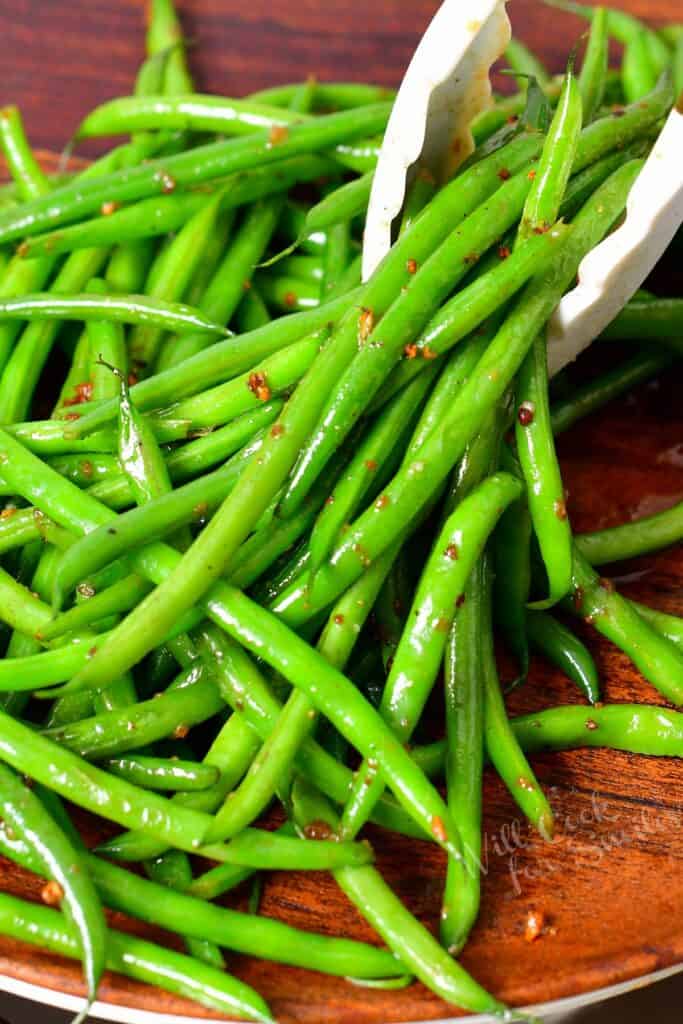 Haricots Verts (French Green Beans)
These easy to make haricots verts are sure to plate perfectly with any entrée, French or not! I actually prefer them over green beans not because they're more fun to pronounce, but also because of their crisp, thin consistency. The presentation is also nicer if you're planning on a special occasion dinner… Or just want to feel fancy!
This is my go-to recipe for haricots verts because with a short list of simple ingredients, the beans themselves are the stars. They have a more delicate taste than the green beans, so it's important to only use complimentary, not overwhelming ingredients to help showcase their natural flavor.
My biggest tip for anyone making haricots verts, other than flavoring them well, is to also avoid overcooking them. The beauty of this legume is that when cooked properly, they should be tender, but also still have a little crisp to them. It's very easy to cook your fresh haricot verts for too long and make them soggy, so avoid cooking the life out of them.
What are Haricots Verts?
Haricots Verts are the French cousin of the green beans we are familiar with here in the states. The literal translation of "haricot verts" is "green beans." "Verts" means "green" and "haricot" means "bean." They are notably more slender and longer than traditional green beans.
They are actually harvested earlier than other green beans, and therefore are younger. This makes them a little more tender and slightly sweeter than green beans as well. They cook quickly and look very nice on a plate because of the thin size and vibrant, bright color.
All you need to do to for these slender green beans is quickly blanch them and then sauté for a couple of minutes with butter and garlic. For seasonings, keep it simple with just salt and black pepper.
You can cook them as soft as you'd light or as crispy as you'd like. With that being said, I recommend cooking them to the point where they still have a little crisp bite to them. That way, more of the crispiness, juiciness, and sweetness is still present!
How to Make Haricots Verts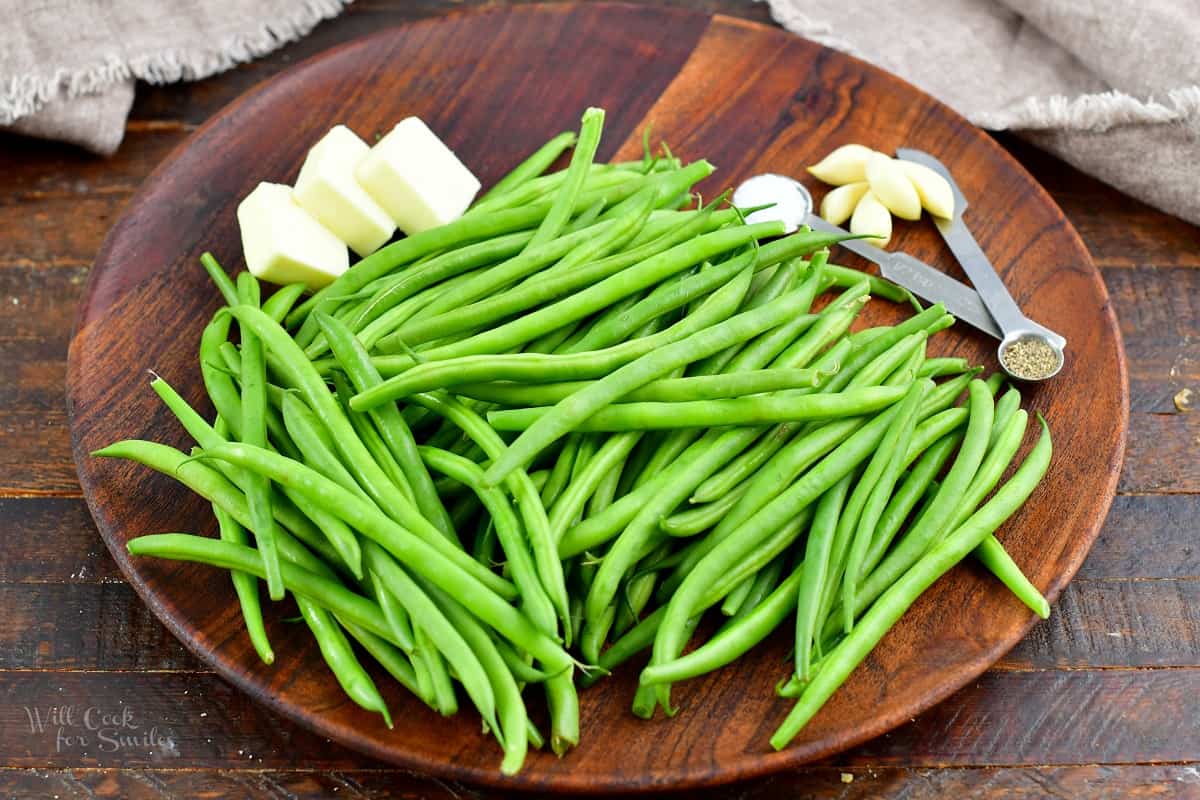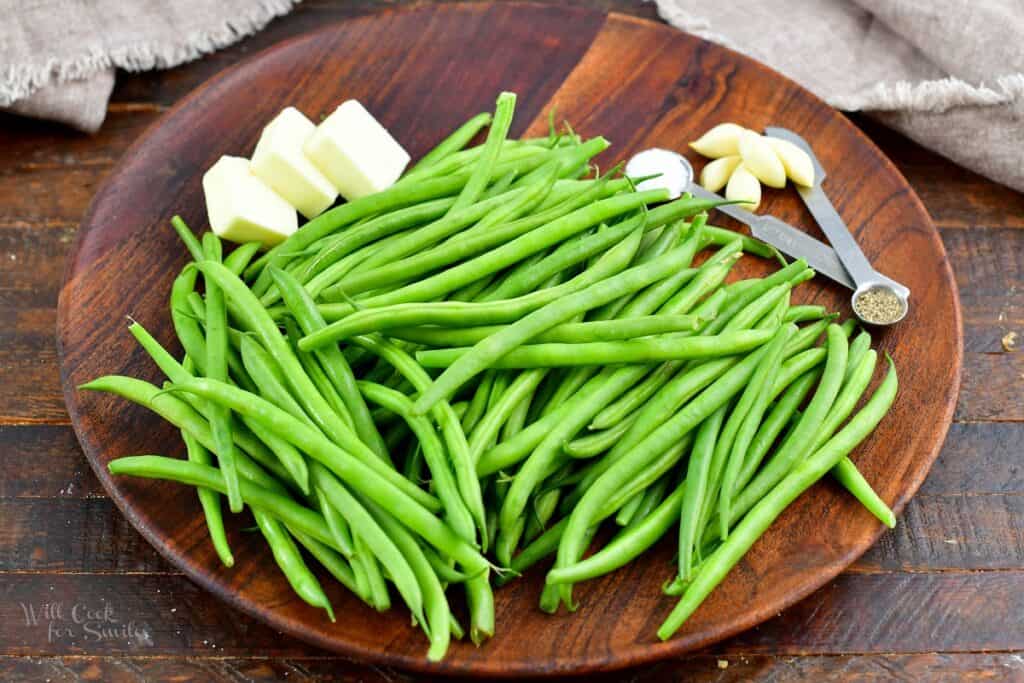 Ingredients You Need:
Haricots Verts – Did you know that these green veggies are high in both calcium and vitamins B and K? This is a side dish you can feel great about having seconds of.
Garlic – It's so important to use fresh, not pre-minced garlic for the best flavor.
Butter – To avoid an overly salty side dish, opt for unsalted butter.
Seasoning – Just a pinch of salt and some freshly cracked black pepper compliment these fresh, crisp French green beans perfectly.
Cooking Directions:
Start off by blanching the green beans.
To prepare them for blanching, you'll need to first snip the ends off where they were once attached to the vine.
Combine cold water and ice cubes in a large water bowl to create an ice bath.
Drop the beans into a large pot of boiling water. Boil them for approximately 3 minutes.
Immediately transfer the haricots verts from the boiling water to the prepared ice bath.
Once cooled, place then on a clean towel and pat dry.
Sauté the blanched haricots verts.
Melt butter in a large pan over medium heat.
Sauté the garlic in the melted butter for just a few seconds.
Add the blanched haricots verts to the pan and season with salt and pepper. Mix well.
Sauté them for just a few minutes, or until they have almost reached the desired level of cooked you'd like for them to be. Remove them from the pan, then serve immediately and enjoy!
Frequently Asked Questions
How to Buy Haricots Verts?
Most grocery stores will have these veggies labeled as "haricots verts" or "French green beans." They are usually packaged in portions already, so check out the package information carefully. Make sure they are bright green and crisp with no dark spots, no fuzz, no soft spots, and of course – no unappetizing white slimy coating!
What goes well with haricots verts?
You could always plate these French green beans with a French entrée like Chicken Fricassee to keep things strictly Français! However, these simple green beans also serve as a perfect side dish to main courses like Lobster Risotto, Pan Seared Steak, and SO much more. Anytime you'd like to freshen up your meal, consider making these simply seasoned green beans.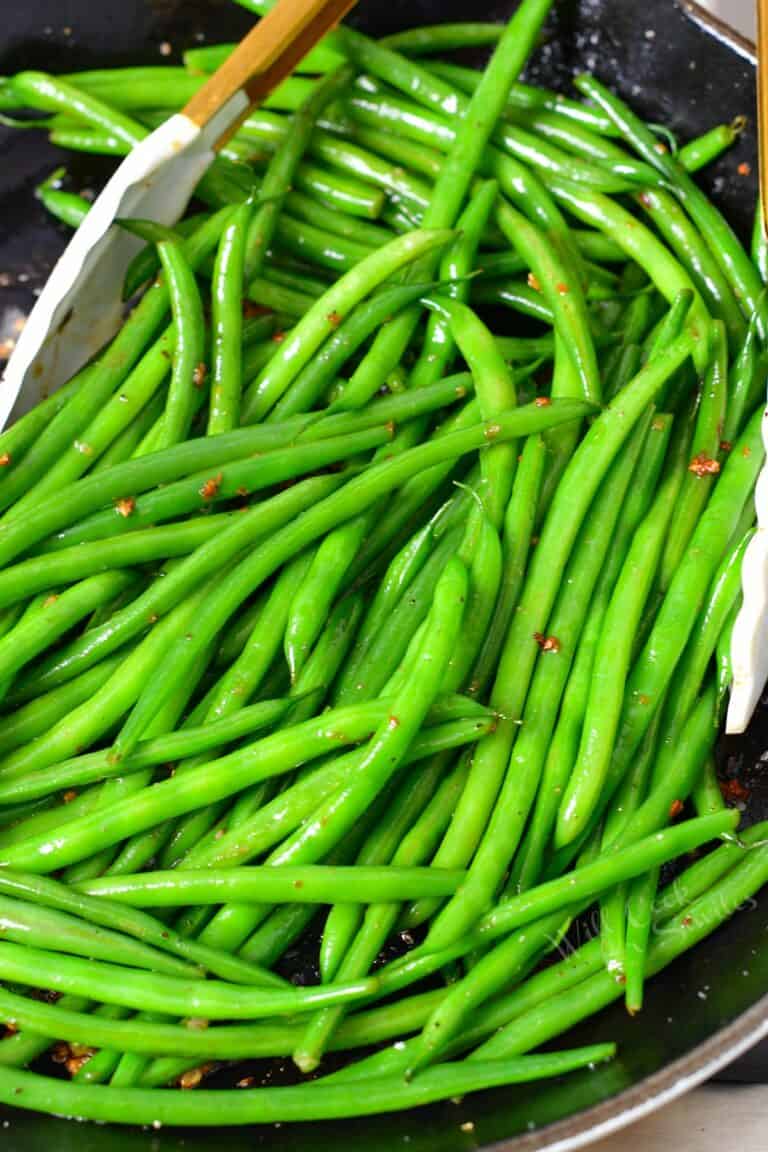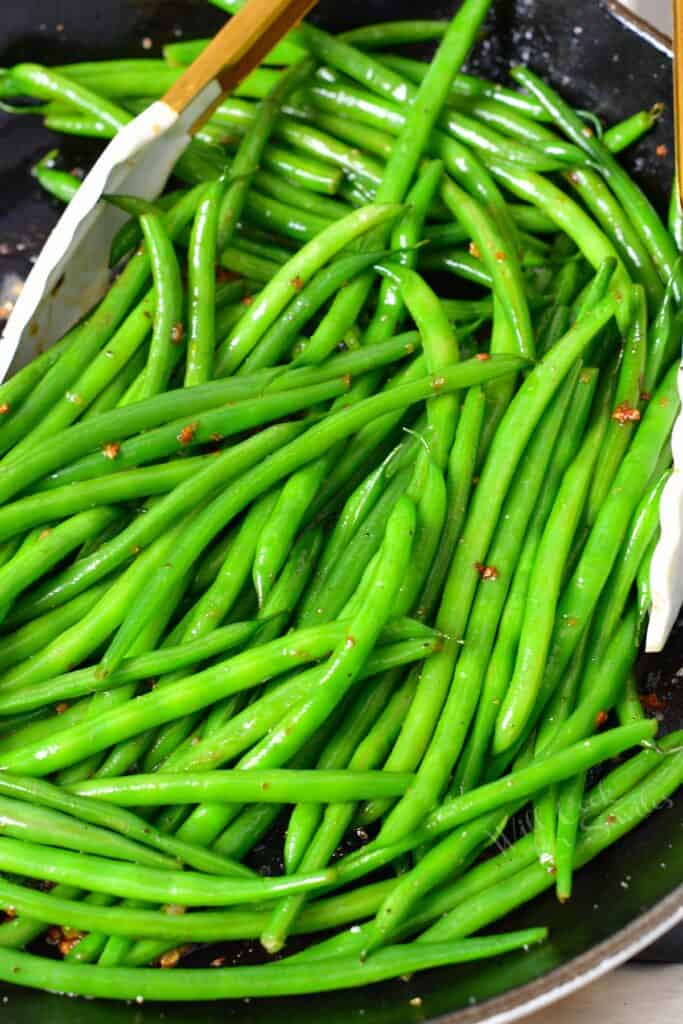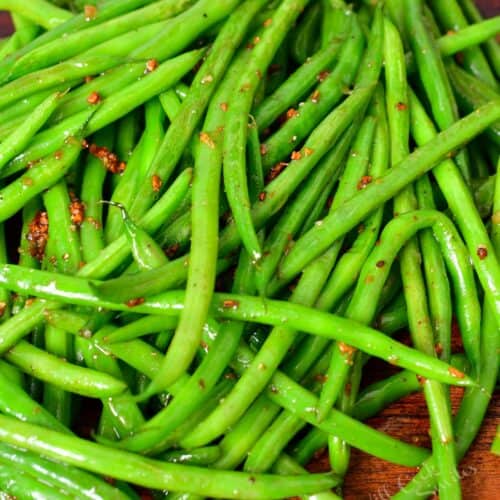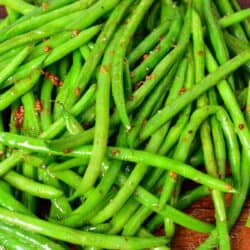 Haricots Verts (French Green Beans)
This simple and delicious recipe for haricots verts calls for just a few ingredients and makes a perfect healthy side dish to plate next to any entrée.
Print
Pin
Save
Saved!
Rate
Ingredients
1

lb

fresh haricots verts

3

garlic cloves

3

tbsp

unsalted butter

coarse salt

fresh cracked black pepper
Instructions
Blanching:
Snip the ends off green beans where the bean attached to the vine, if needed.

Prepare ice water bowl by combining cold water and a couple of cups of ice in a large mixing bowl.

Bring a large pot of water to boil and drop beans in it. Boil them for about 3-4 minutes.

Take haricots verts out of the hot water and immediately into the ice water. 

After they have cooled, take them out onto a clean towel to pat dry.
Sautéing:
Preheat a large cooking pan over medium heat and add butter. Let butter melt.

Once butter is melted, add pressed garlic and sauté for just a few seconds.

Add blanched haricots verts, season with salt and pepper, and mix well.

Sauté them for just a few of minutes, until they almost reach the desired doneness, and take them out of the pan.
Nutrition
Calories:
114
kcal
|
Carbohydrates:
9
g
|
Protein:
2
g
|
Fat:
9
g
|
Saturated Fat:
5
g
|
Polyunsaturated Fat:
1
g
|
Monounsaturated Fat:
2
g
|
Trans Fat:
1
g
|
Cholesterol:
23
mg
|
Sodium:
8
mg
|
Potassium:
251
mg
|
Fiber:
3
g
|
Sugar:
4
g
|
Vitamin A:
1045
IU
|
Vitamin C:
15
mg
|
Calcium:
49
mg
|
Iron:
1
mg
Tried this recipe?
Mention @willcookforsmiles and tag #willcookforsmiles