Lobster Risotto is an exquisite dinner that you can serve on special occasions or any time of the year! This creamy homemade risotto is made with tender lobster meat, flavorful broth, cream, and plenty of parmesan cheese. Risotto is a great special occasion recipe because it seems fancy but it's actually quite easy to make.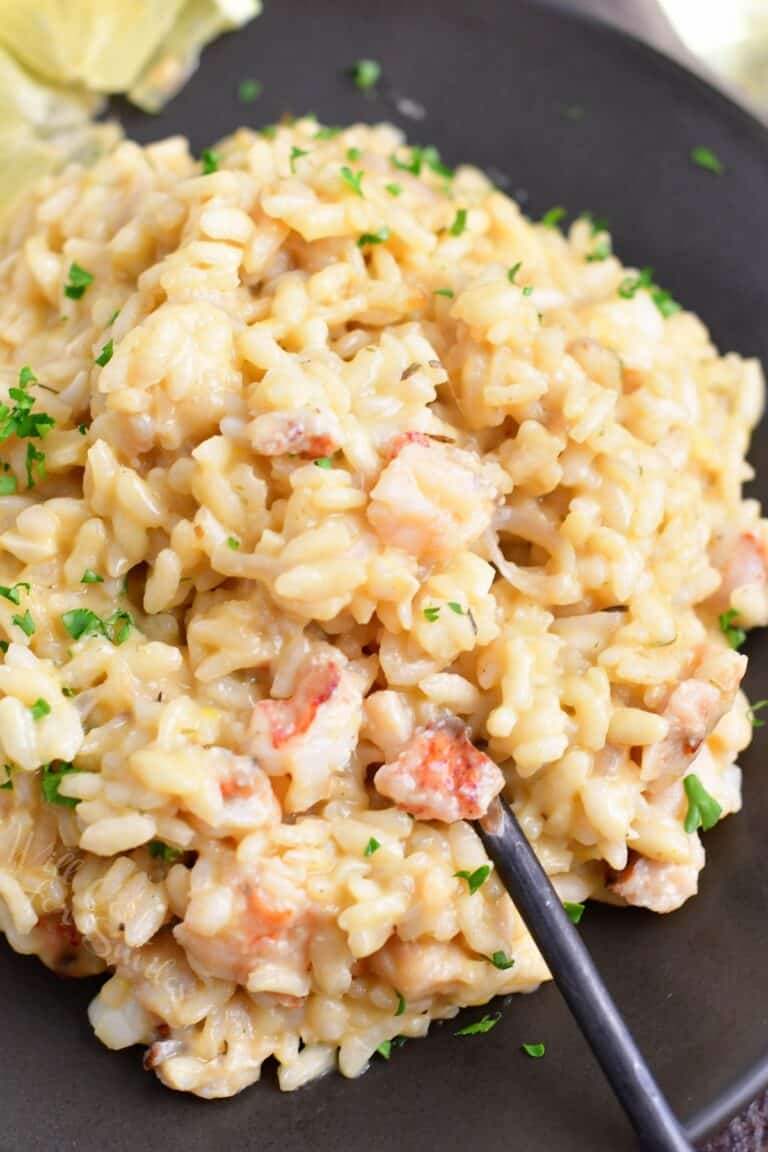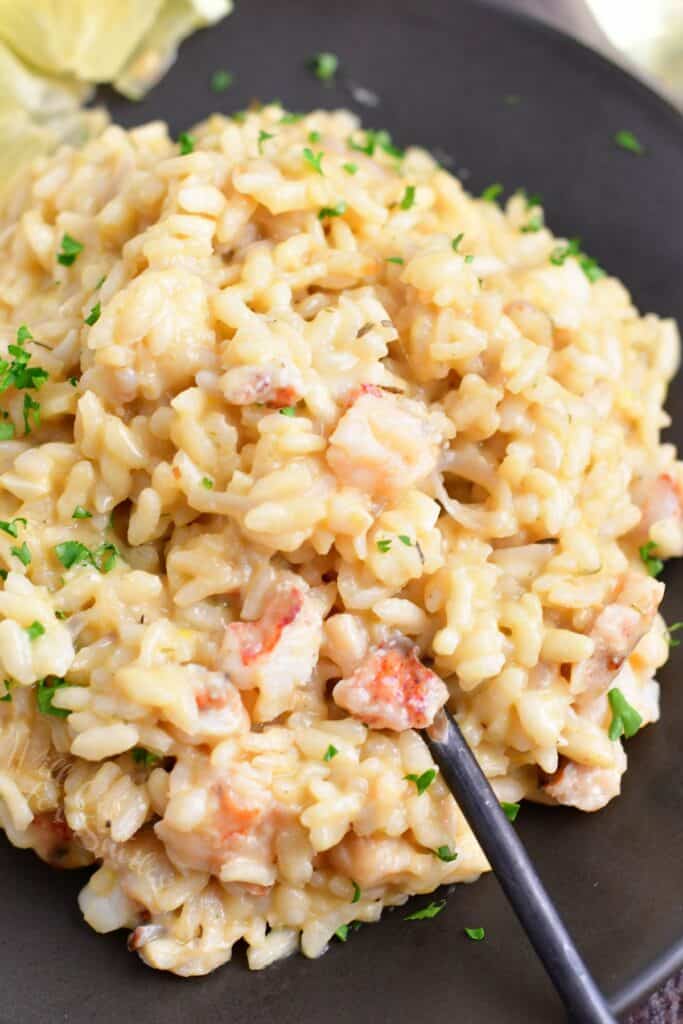 Lobster Risotto
Risotto is one of my favorite comfort foods, especially when I feel a little fancy. It's a great dish to make as a sophisticated meal for a dinner party or for a more intimate date night. I won't lie – this is a dinner that's best made when you really want to impress.
With that being said, it's not difficult to make at all! Yes, risotto does like to be babysat in terms of stirring it often, but that's about as difficult as it gets.
The lobster flavor is present throughout each bite of this decadent dish, both from the succulent lobster tail meat and the broth that is infused with simple lobster ingredients. While there seems to be quite a few steps, notice that a lot of them involve adding the broth a little at a time and stirring. This lobster risotto is well worth the effort!
How to Make Lobster Risotto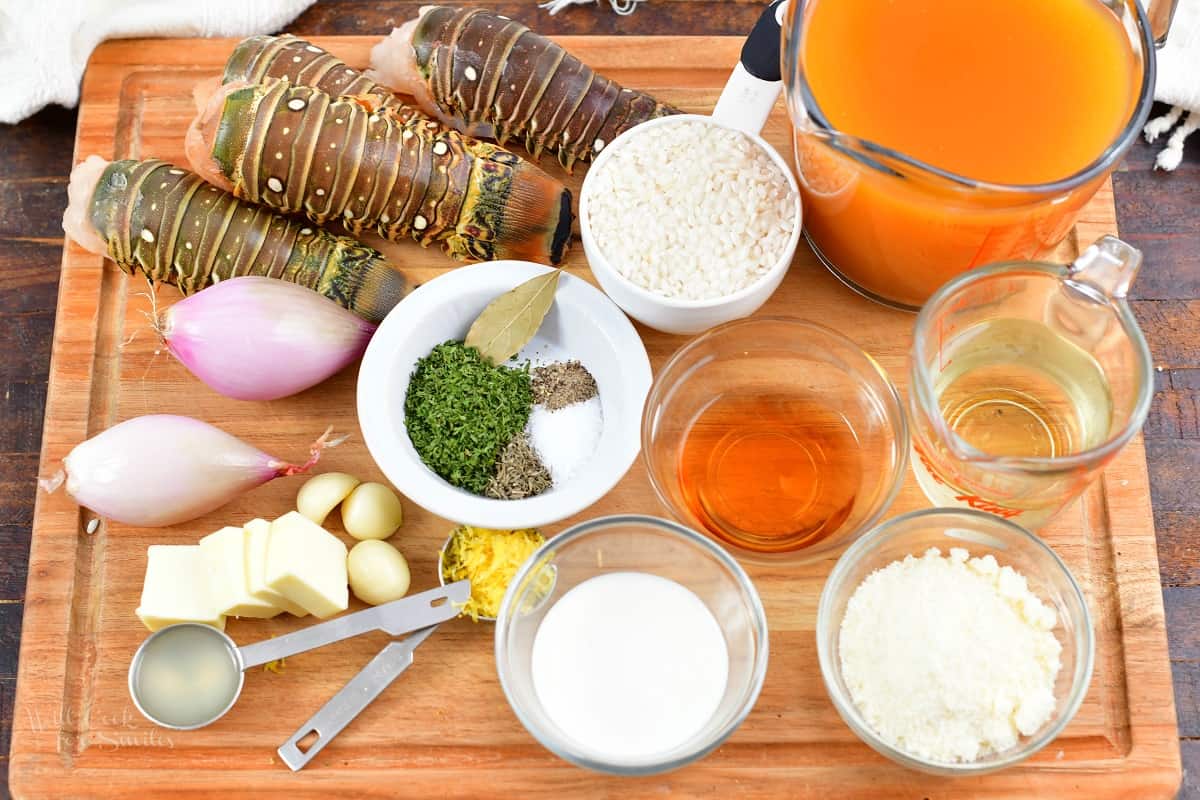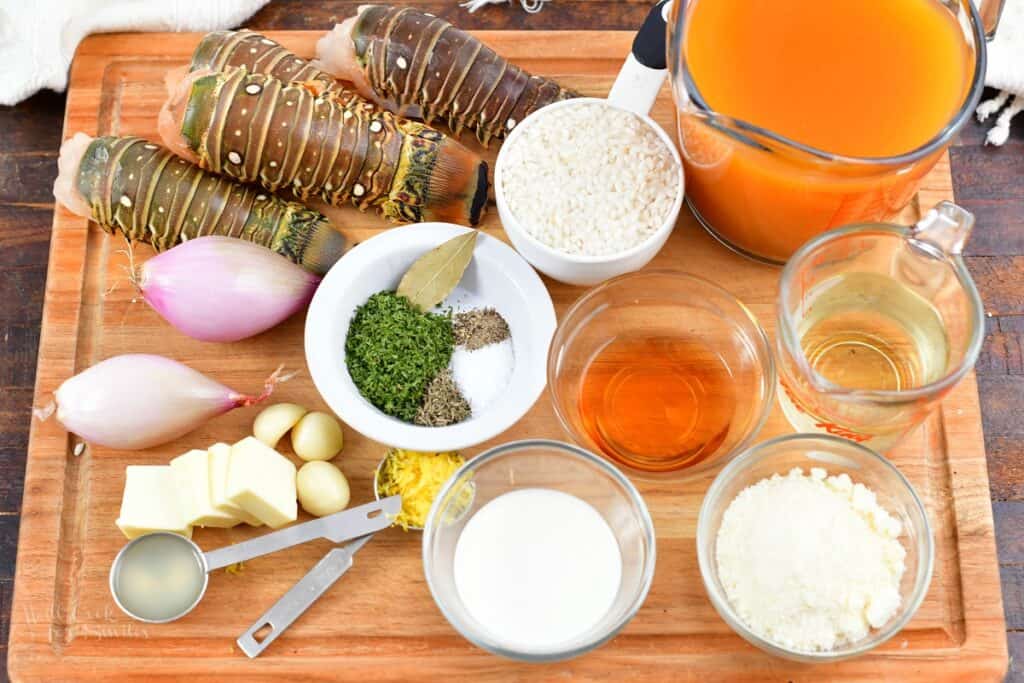 Ingredients You Need:
For the lobster:
Lobster Tails – Lobster can be an expensive ingredient, but I've adjusted this risotto recipe to use lobster tails and still get a lot of great flavor. Lobster tails tend to be cheaper than using a whole lobster, but they're still a great option.
Butter – Keep it unsalted to control the amount of sodium.
Lemon Juice – Freshly squeezed lemon juice will always taste better than the store-bought.
Salt
Pepper
For risotto:
Butter
Shallots
Garlic – it's always best to use fresh garlic.
Cognac – This helps deepen the bold flavors of the dish.
Arborio Rice – It's a short grain white rice, and it's the only rice to ever use in risotto! Short grain rice has more starch than long grain rice, and that starch releases, which thickens and adds a creamy element to the dish. Arborio rice cannot be substituted!
White Wine – Use a dry white wine like chardonnay to avoid unnecessary sweetness in the dish.
Stock – For the best flavor, try to find a seafood or lobster stock. You can always add lobster tail shells into the stock when heating it up to infuse some more flavor into it as well.
Lemon – You'll just need the zest for the risotto.
Herbs – A medley of dried parsley, a bay leaf, and dried thyme creates a perfect herbaceous compliment the other ingredients.
Salt
Pepper
Parmesan Cheese – Freshly grated parmesan cheese is a MUST for this recipe. Do not use the pre-shredded cheese that comes in a plastic bag! (Note: you can often find freshly grated parmesan cheese available in the deli cheese section.)
Heavy Whipping Cream – this will give you the richest and creamiest texture.
Cooking Directions:
Take the meat out of the lobster tail.
Simply use kitchen shears to cut down the center of the shell until you hit the bottom of the tail. Pull the shell apart to open and pull the meat from the shell using your fingers. Pull on the meat carefully until the meat is fully out of the shell. Dice lobster meat into small pieces.
Create the flavorful broth.
Combine the stock, dried herbs, lemon zest, lobster shells, salt, and pepper in a sauce pot. Bring the mixture to a simmer, then lower the heat to low.
Cook the lobster.
Add butter to a large cooking pan over medium-high heat. Once melted, add the diced lobster tail meat. Season with a little salt, pepper, and lemon juice. Cook until opaque, then remove from the pan.
Cook the remaining ingredients.
Lower the heat, add more butter to the pan, and sauté the onions and garlic. Add rice.
Sauté the rice for a minute or so before pouring in the cognac. The rice should soak it up in a few moments.
Next, pour in half of the white wine and give it a good stir. Let the rice absorb half of the wine and keep stirring as it simmers.
Stir in 1/2 cup of the hot broth, stirring and simmering until it's absorbed. Then, pour in the remaining wine, continuing to stir.
Continue to stir in portions of the broth and allowing it time to absorb in between additions until the rice is almost al dente.
Add the lobster meat and parmesan.
Stir in the lobster meat first, then the grated parmesan. Allow the cheese to melt into the risotto.
Make it creamy.
Continue to cook the risotto until it's al dente. Stir in the heavy cream and let it heat through for a minute or so.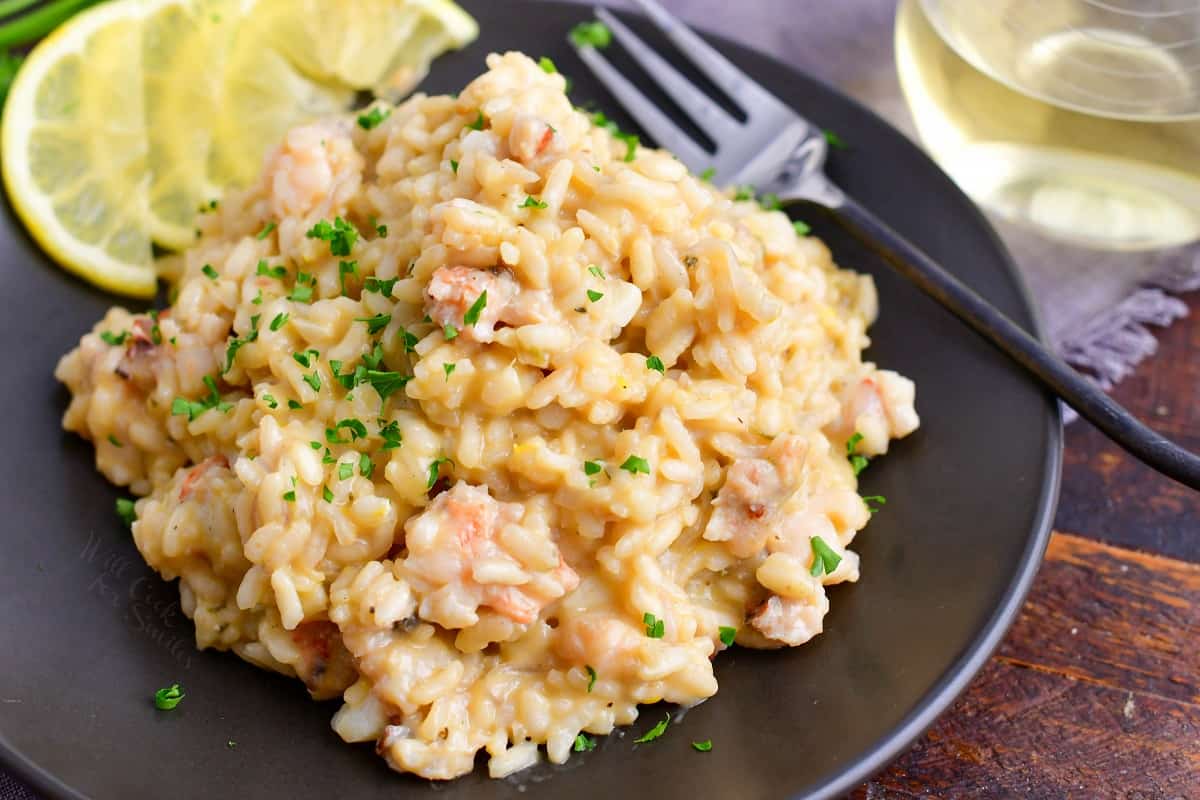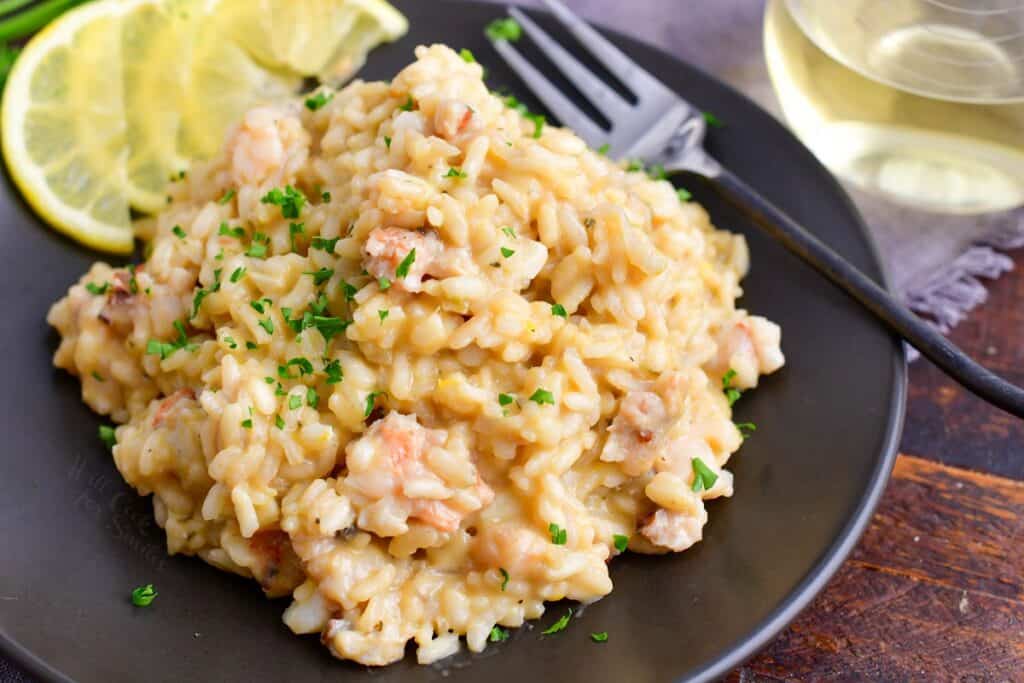 Frequently Asked Questions
Where to Buy Lobster Meat:
While whole lobster is not always readily available, lobster tails are easy to find in most grocery stores with a seafood section. You can also go to the seafood market. (If you want to use meat from a whole lobster, check out your local seafood markets. With the whole lobster, you would need to cook the lobster first and separate, before adding the meat to risotto.)
How to Serve Lobster Risotto?
This is the main dish and often doesn't require a side. If you really want to, simple sautéed asparagus or haricots verts will go great with risotto.
Risotto is a dish best served fresh! It continues to thicken even when it's removed from the heat, so for the best results, serve the lobster risotto as soon as it's finished cooking.
Serve it with a crisp white wine that you love. Stay away from sweet wines!
Storing Instructions:
Store leftover risotto in an airtight container, in the refrigerator for 3-4 days. I don't recommend reheating lobster risotto in a microwave because seafood does not stand up well to microwave. If you need to reheat risotto, do it in a small sauce pot, over medium-low heat, with a splash of stock to reinvigorate the rice.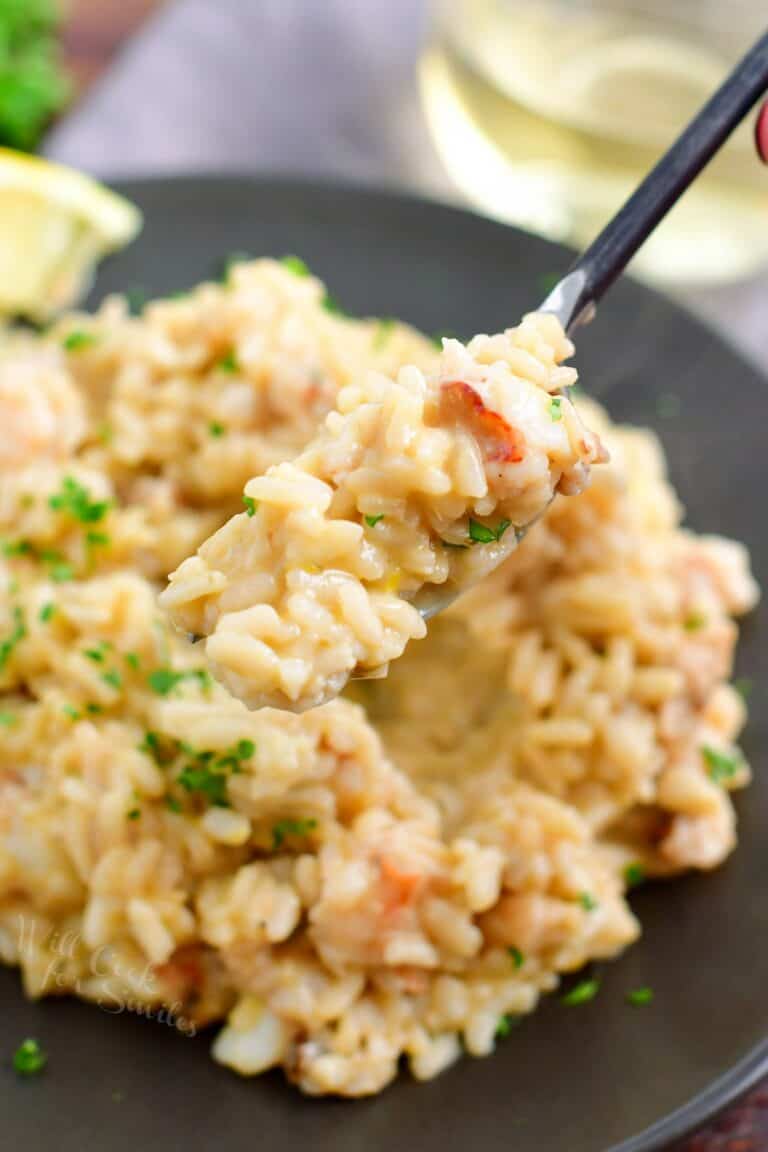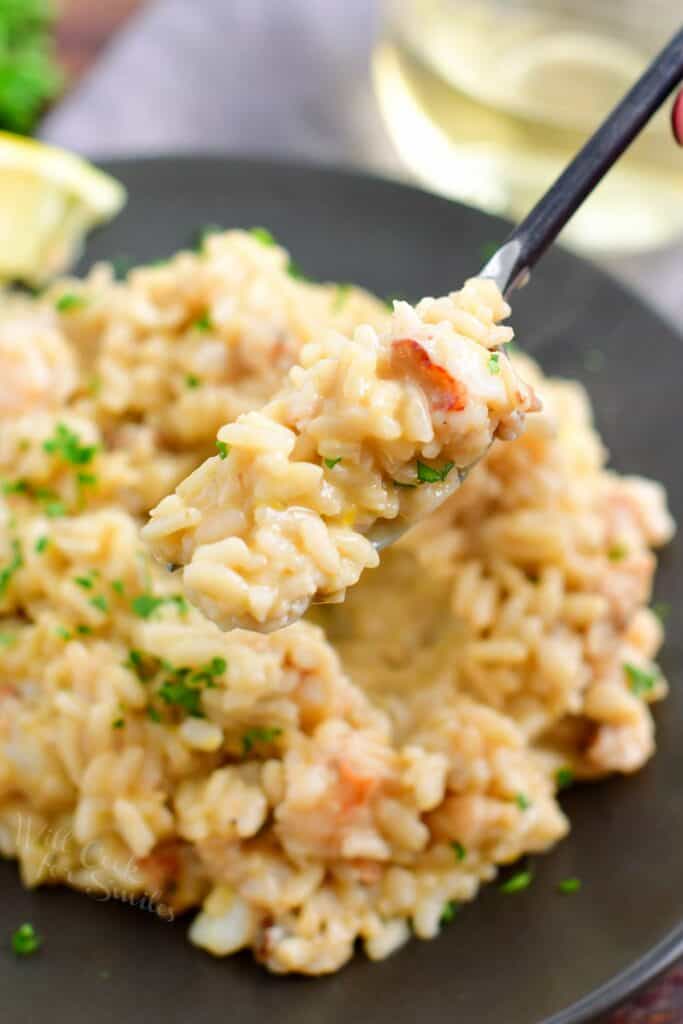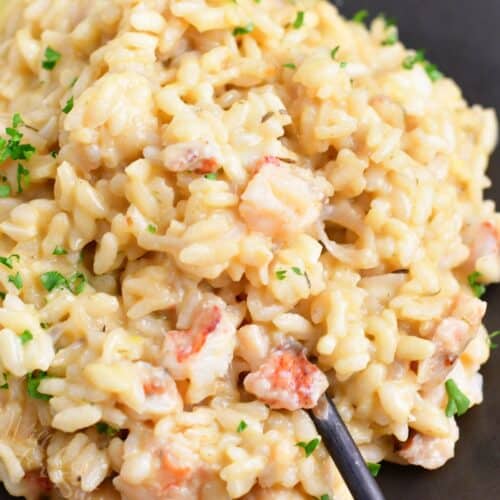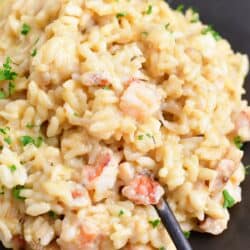 Lobster Risotto
This creamy homemade risotto is made with tender lobster meat, flavorful broth, cream, and plenty of parmesan cheese.
Print
Pin
Save
Saved!
Rate
Ingredients
For Lobster Meat:
3-4

lobster tails, about 8 oz. each

depending how much lobster you want

2

tbsp

unsalted butter

1

tbsp

lemon juice

salt

black pepper
For Risotto:
1-2

tbsp

unsalted butter

2

shallots

diced

3

garlic cloves

minced

2

tbsp

cognac

1

cup

Arborio rice

2/3

cup

dry white wine

4- 4 1/2

cups

seafood or lobster stock

vegetable stock can also be used

lobster shells from the lobster tails

1

lemon-zest only

1

tbsp

dried parsley

1

bay leaf

1

tsp

dried thyme

salt

black pepper

1/2

cup

fresh grated Parmesan cheese

1/4

cup

heavy whipping cream
Instructions
How To Take Lobster Meat Out:
Pick up the lobster tail and cut the hard, outer shell down the middle all the way down to where the shell meets the tail.

To pull the shell apart, you will need to use some muscle and crack the ribs on the softer underside with your hands. But be careful, lobsters often have spikes on the underbelly. (You can use gloves to help protect your hands.)

Pull the shell open as much as you can to access the meat.

Use your fingers to gently and carefully pull the meat away from the shell walls and gently lift the meat out. Gently pull by the meat to completely pull it out of the shell.

Dice the lobster meat into small pieces and place the shells into the sauce pot.

Measure and prepare remaining ingredients.
To Prepare Risotto:
Combine stock, dried herbs, lemon zest, lobster shells, salt, and pepper in a sauce pot and heat it until just starts to simmer. Turn the heat down to low so it stays warm while you prepare risotto.

Heat up a large cooking pan over medium-high heat and add butter. Let butter melt and add diced lobster meat. Season with a little salt, pepper, and lemon juice.

Stir and cook just until lobster meat turns opaque and take it out of the pan.

Lower the heat to medium, add a little more butter to the pan, and add diced onions to the pan. Sauté onions until it starts to brown and add garlic. Sauté just until garlic is fragrant, and add rice. 

Stir and let rice sauté for a minute or so.

Pour in cognac, mix well, and let rice soak it up.

Depending on your stove, you may need to lower the heat to medium-low.

Pour in half of the white wine and stir it to spread everything evenly. Let rice simmer and absorb the wine. Stir a little as rice simmers.

Once wine is absorbed, stir and pour in about a 1/2 cup of hot broth. Stir and let rice simmer and absorb the liquid. 

Pour in remaining wine, stir and let it absorb as it cooks.

Continue to add about 1/2-2/3 cup of hot broth at a time and letting the rice absorb the liquid before each addition. Remember to stir often, before and after adding the liquid to rice.

When rice is almost done, add back lobster meat and grated Parmesan cheese, stir, and let the cheese melt into the risotto. 

Cook risotto until rice is al dente. You want to taste rice often and let it cook until it has just a little resistance in the middle when you bite it.

Stir in heavy whipping cream and let it heat through for a minute or so.

Serve right away and you can top it off with some fresh minced parsley, chives, and/or Parmesan cheese.
Nutrition
Calories:
540
kcal
|
Carbohydrates:
47
g
|
Protein:
27
g
|
Fat:
21
g
|
Saturated Fat:
12
g
|
Polyunsaturated Fat:
2
g
|
Monounsaturated Fat:
5
g
|
Trans Fat:
1
g
|
Cholesterol:
112
mg
|
Sodium:
2064
mg
|
Potassium:
705
mg
|
Fiber:
2
g
|
Sugar:
2
g
|
Vitamin A:
624
IU
|
Vitamin C:
6
mg
|
Calcium:
382
mg
|
Iron:
4
mg
Tried this recipe?
Mention @willcookforsmiles and tag #willcookforsmiles