This lobster tails recipe is easy, delicious, and just what you need to make for a special dinner! Read through and watch the video on the you step-by-step instructions how to prepare the best broiled lobster tails starting with how to butterfly a lobster tail and how to cook them. In this recipe, I use a buttery topping that's just perfect for the delicate lobster meat.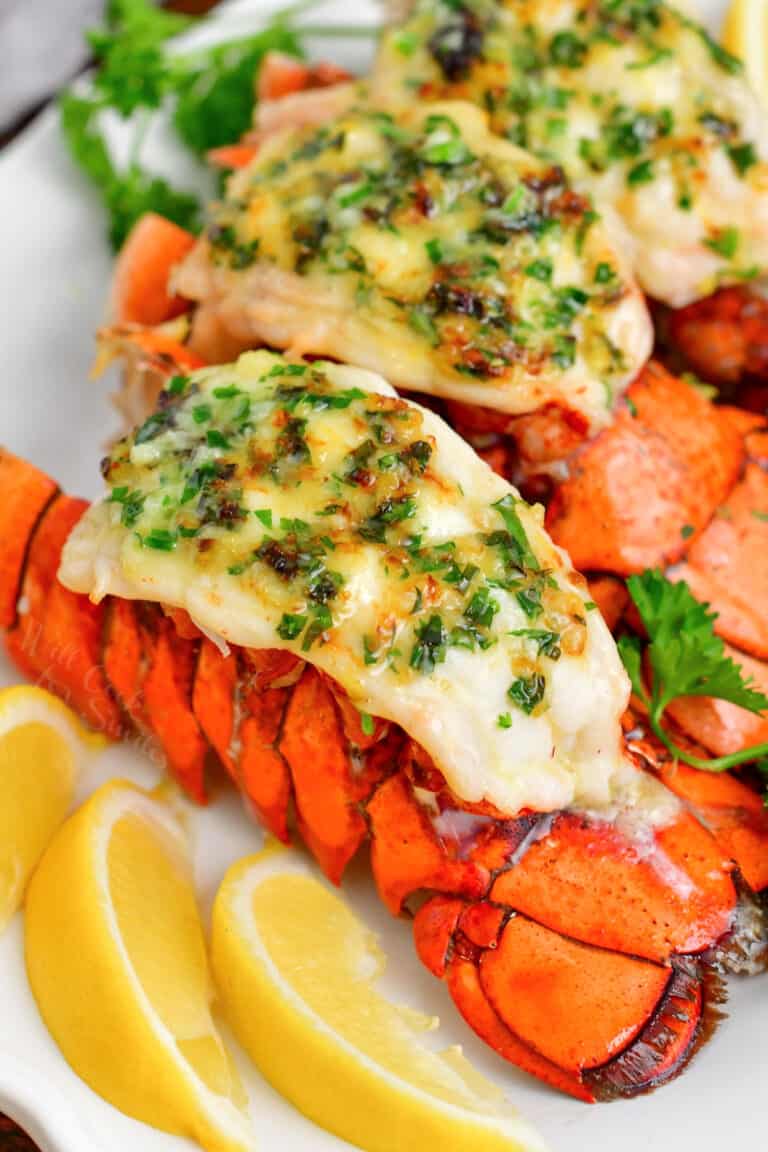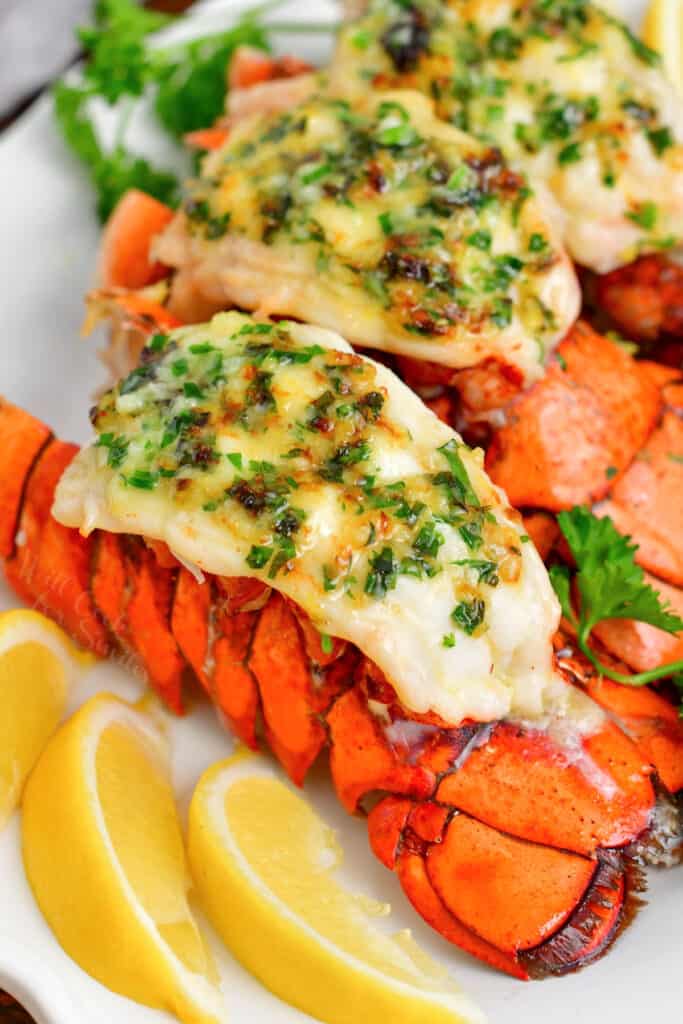 Nothing says romantic meal like a gorgeous display of freshly cooked seafood. Despite the pricing on fine dining menus, it can actually be quite affordable to make the same dishes right at home.
For most people, lobster is synonymous with a delicacy, something saved for only special occasions. And at the restaurants, lobster will usually have a hefty price tag next to it, so again, people order it only on special occasions. For these reasons, it's not surprising that most home-cooks get very intimidated cooking lobster at home.
I want to reassure you that it's much easier to make it than you can imagine and, it will come at much lower price. Whether you get lobster tails from a seafood counter or frozen, it will still cost you only a fraction of a restaurant price.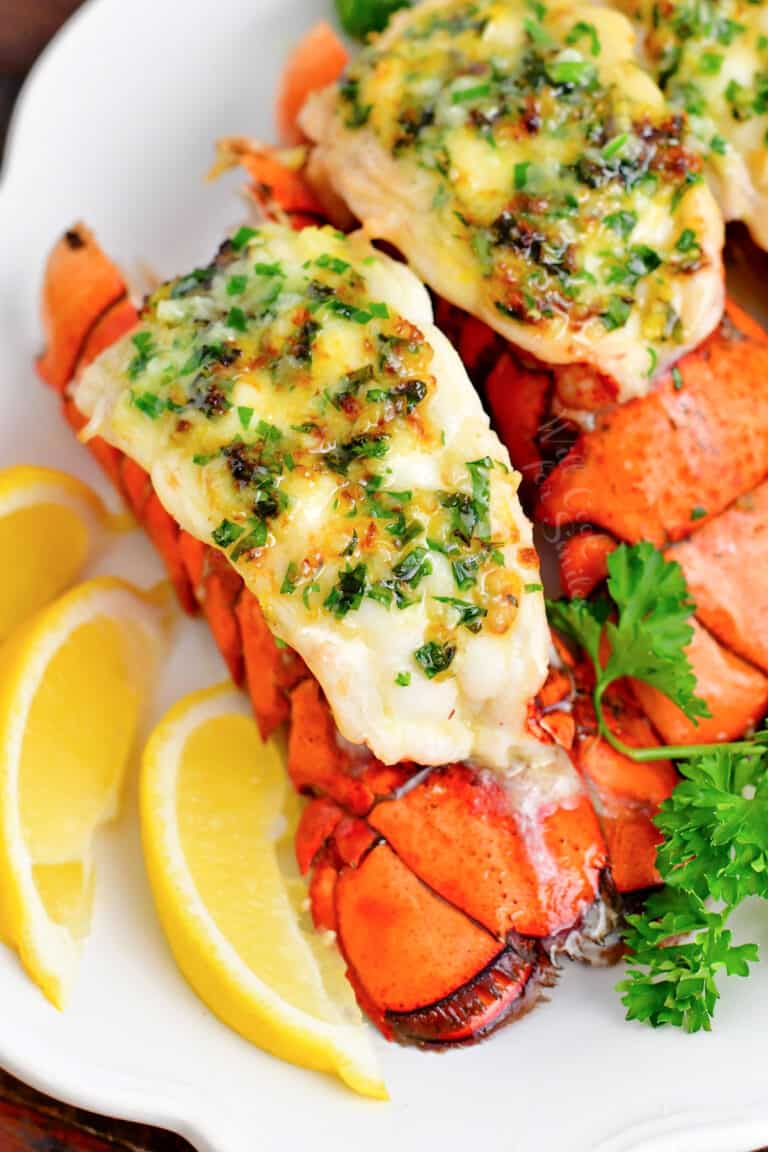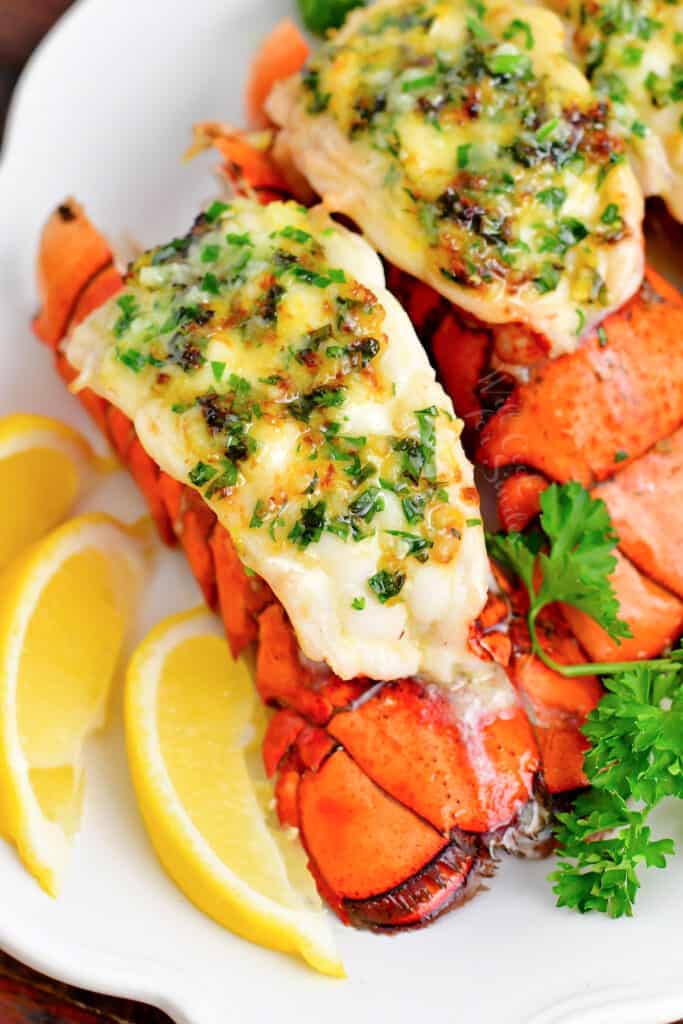 Buying Lobster Tails
Warm Water Lobster vs Cold Water Lobster
There are two main varieties in lobster and that is warm water lobster and cold water lobster. Yes, one is better to get than the other!
Cold Water Lobster
These lobsters come from, as you may have guessed, cold waters and are much tastier than the ones caught in warm waters. These lobsters grow slower due to cold water and that translates into a much more delicate, sweeter, and overall more authentic tasting meat. They often come from Maine, Canada, (as well as New Zealand, Australia, and South Africa.) These lobsters do come at a higher price but the flavor is worth it.
Warm Water Lobster
These lobsters are caught from warm waters of Florida, the Caribbean, and Latin American countries. These lobsters are not as sweet of flavorful but the biggest difference would be in the texture. This meat doesn't firm us as well as cold water lobsters, so the meat can be mushy even after it's completely cooked.
So if your seafood store doesn't label their lobster tails, make sure to ask where the lobsters came from.
Whichever lobster you get, just avoid buying lobster meat that has been soaked in sodium tripoyphosphate solution. It's a chemical that's used to preserve the meat longer and often used on lobster meat that wasn't fresh in a first place.
Fresh vs Frozen
What you use will depend largely on where you live and the size of your budget. Those of you who are far from coastal areas will likely need to opt for frozen lobster.
Since everything is processed right out of the water, the difference won't be too noticeable for most people. In fact, I've gotten plenty of flash frozen lobster tails and shrimp right off the fisherman's boat. They freeze seafood to preserve the freshness for the best tasting seafood.
If you'll be using frozen shellfish, be sure the thaw it completely before preparing.
Best way to thaw frozen seafood: Transfer them from the freezer into the refrigerator the night before and let it slow-thaw overnight. It's a good idea to check them an hour or so before cooking just to be sure they are thawed completely.
Need them ready quickly? This is not a method that I use often because it does hinder the quality of meat texture but in a pinch, it works. Place frozen seafood in a large zip-lock bag and submerge in cold water inside a large bowl. Refresh the water every 10-15 minutes until they are ready to use. Depending on the size, this can take anywhere from 30-60 minutes.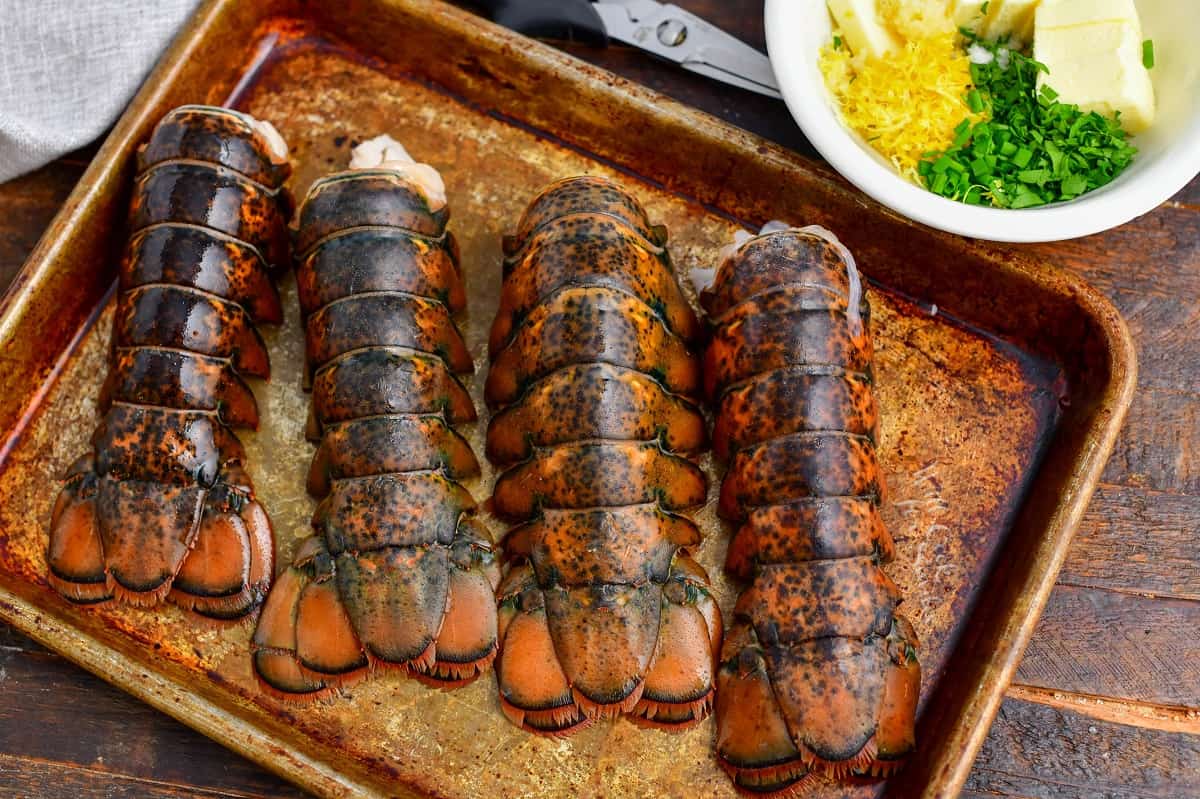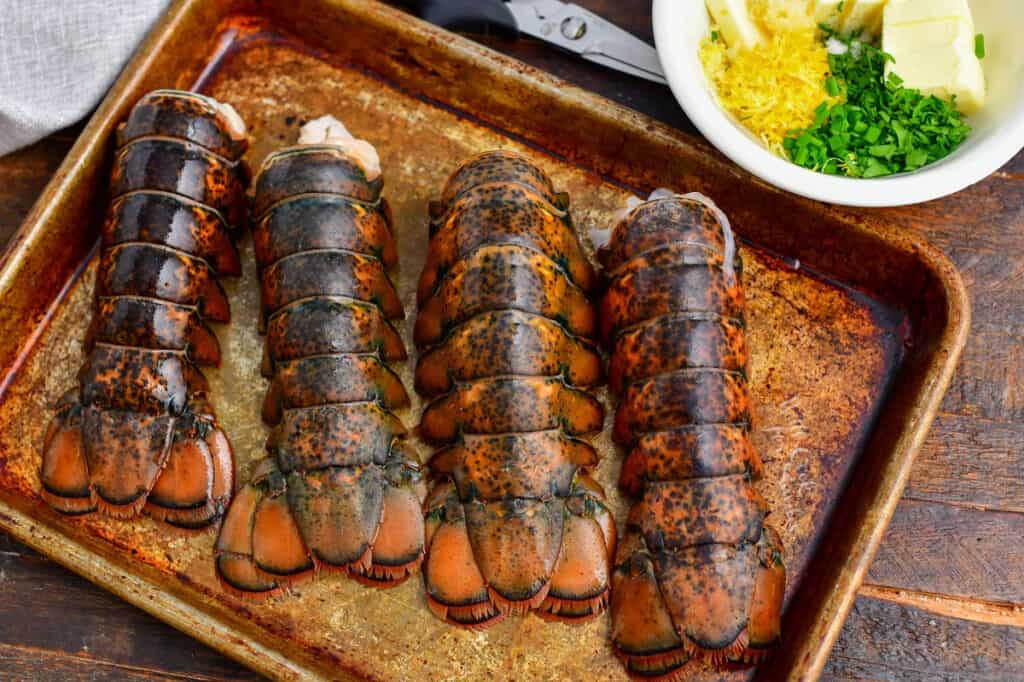 Flavors for Lobster Tails
Butter is the number one ingredients to pair with lobster, while lemon would be number two. After that, you are looking for garlic to add a little spice and punch to overall flavor, some nice and mild herbs, and some salt.
You can easily adjust the flavors used based on your personal preference. I find that chives and parsley complement the seafood the best. Both are mild enough not to overpower the delicate seafood but still add a nice herb flavor. Tarragon is another herb that goes great with lobster.
When possible, use fresh instead of dried makes a big difference as well. If dried is all you have access to, simply reduce the amounts to about 1/2.
Smoked paprika is another commonly used spice, and you can add some cayenne if you want a little heat as well. Or, just stick with a simple blend of butter, salt, and pepper so the natural flavors of the broiled lobster tails can come through.
How To Butterfly Lobster Tails
Pick up the lobster tail and use kitchen shears to cut the hard top of the shell down the middle until you reach the base. Stop where the bottom flares out since you want to leave the end of the meat attached.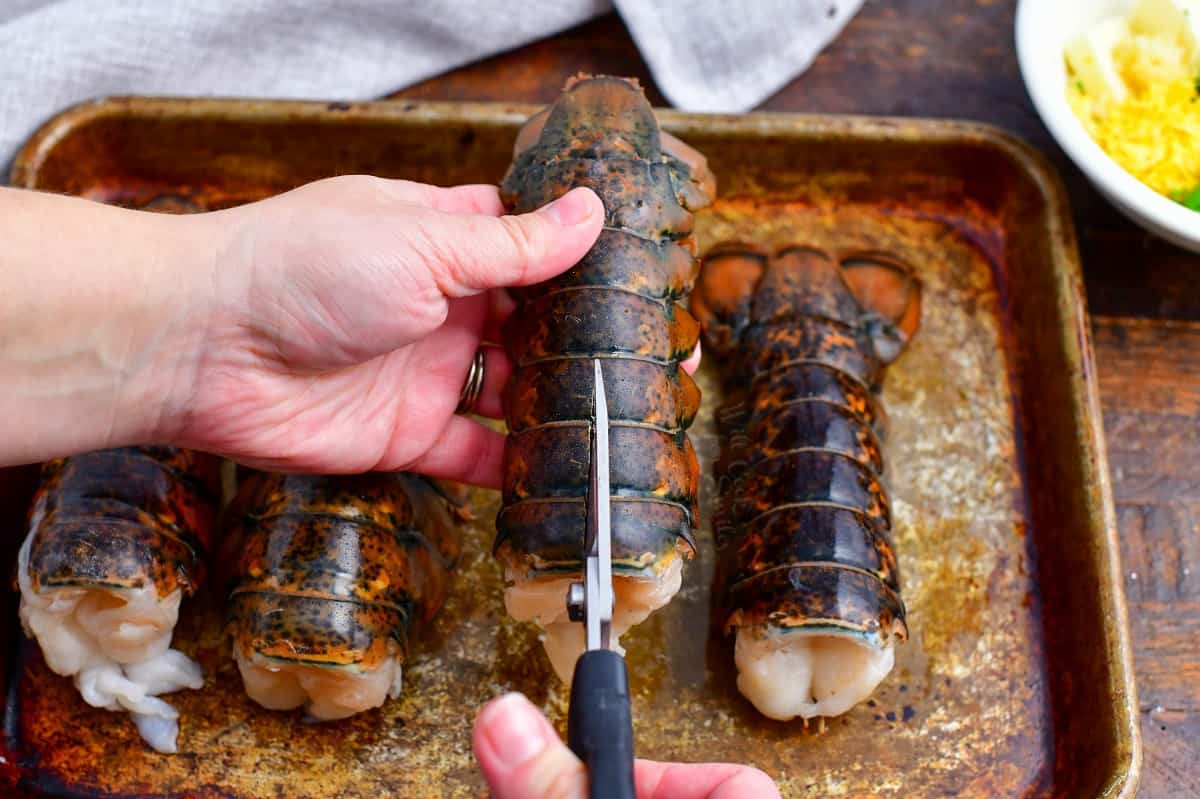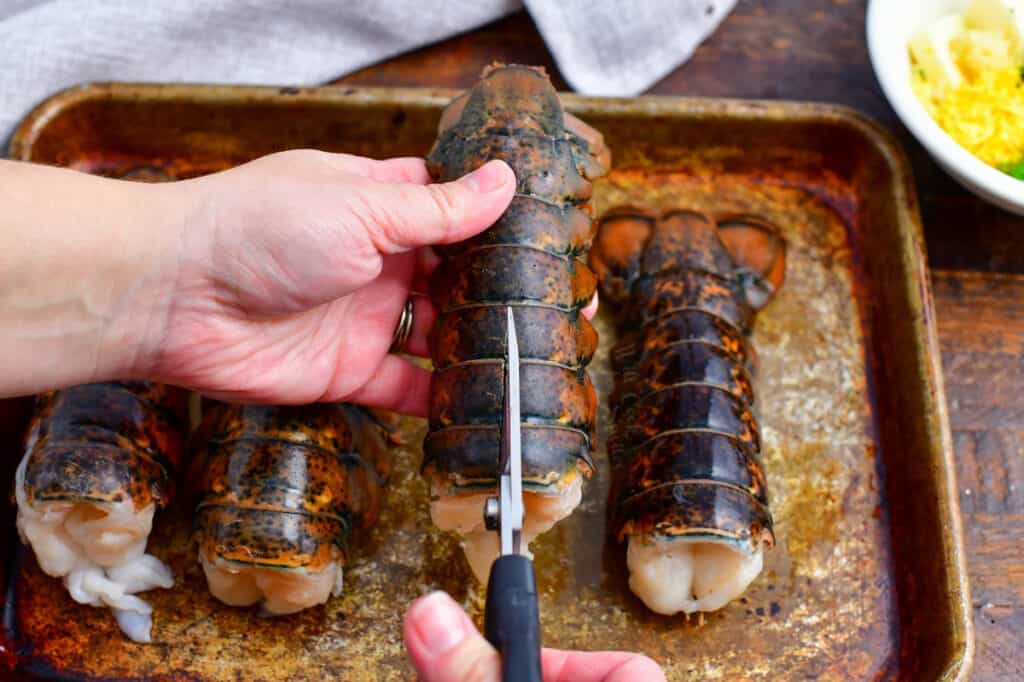 Next, separate the two halves enough to access the flesh without actually breaking the bottom of the shell apart. This takes some effort since you will need to break the ribs on the underside, and you may want to wear gloves to protect your hands.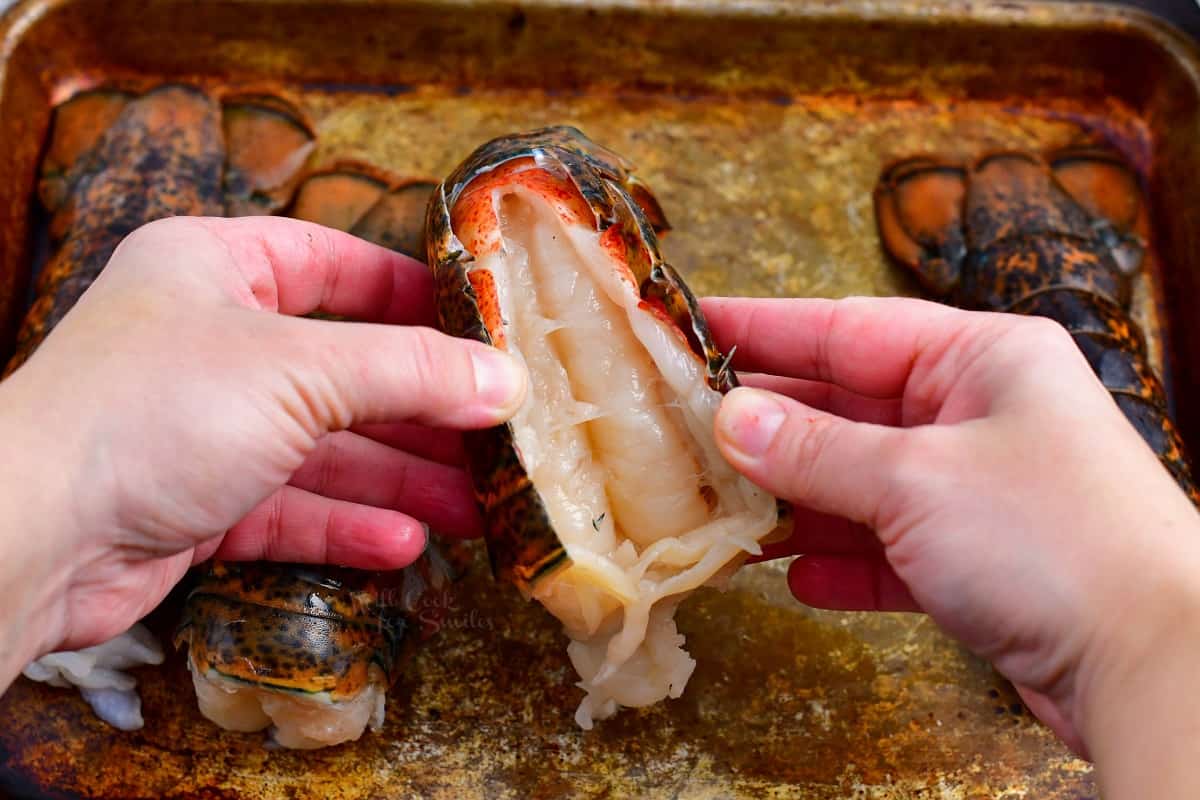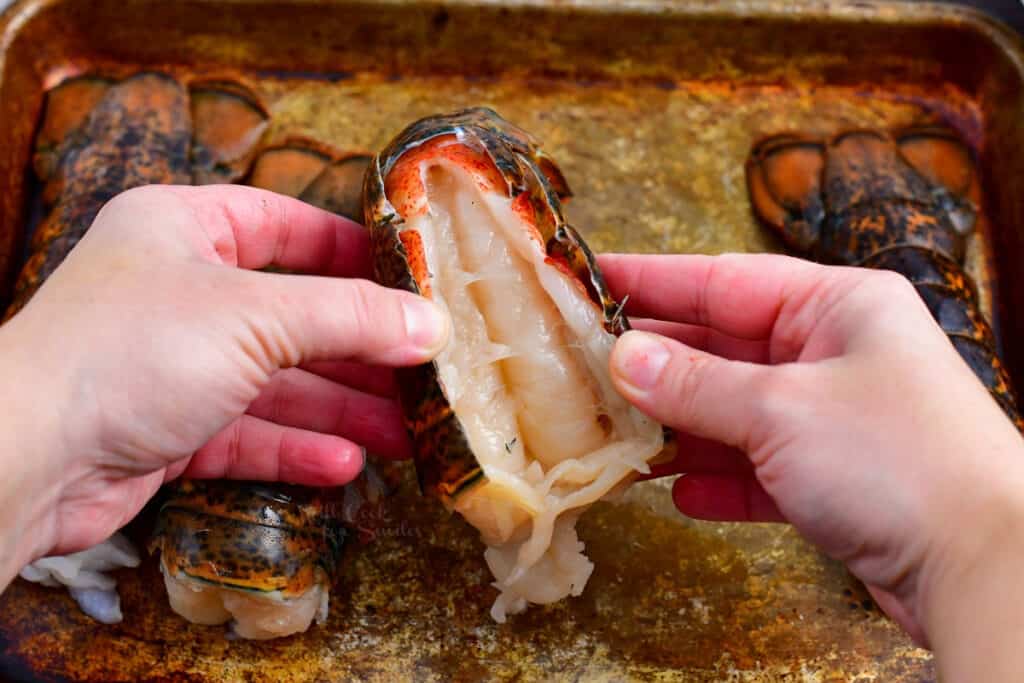 Gently pull the meat away from the sides and lift it up and out of the shell, leaving it attached just at the base.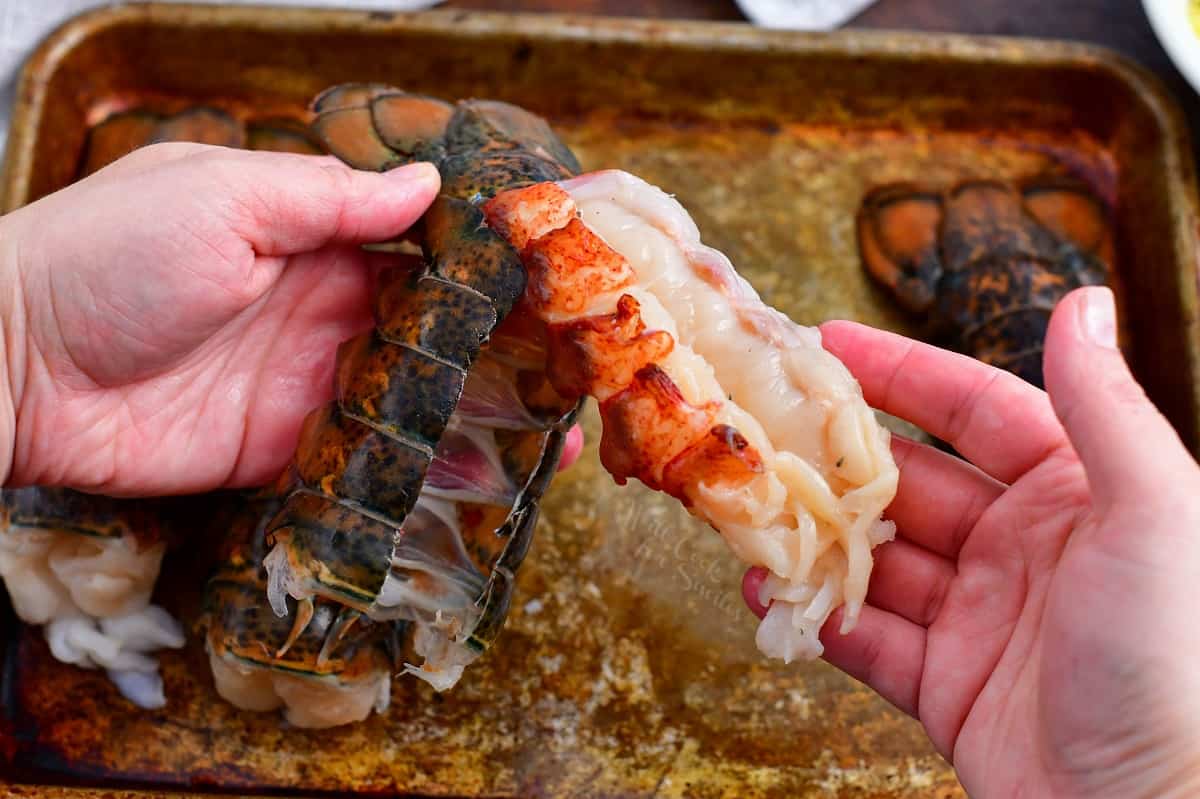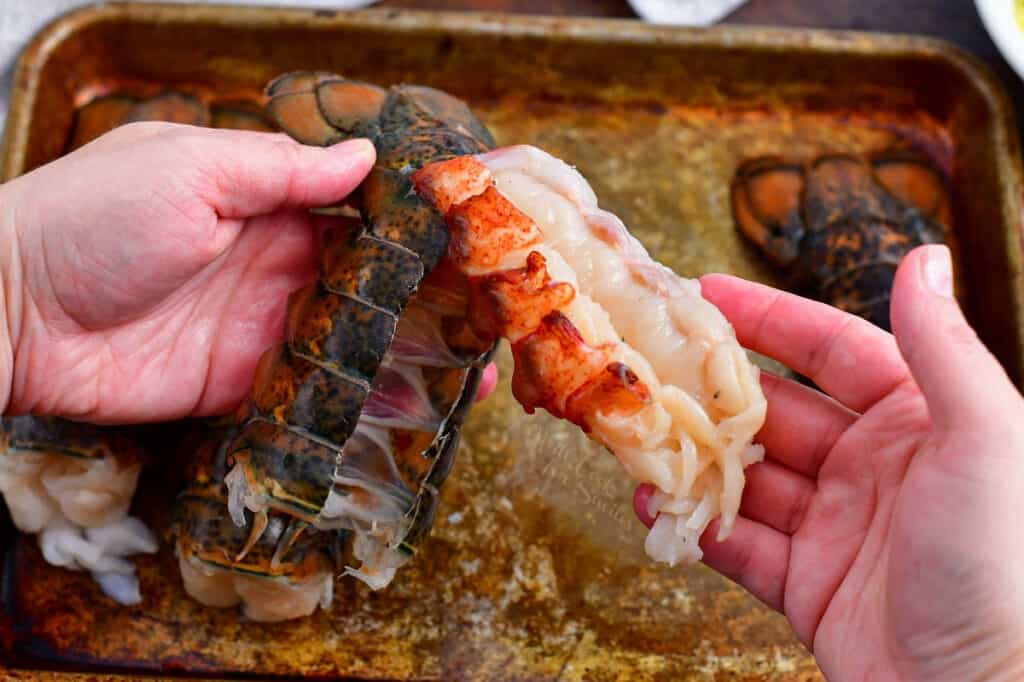 Pinch the shell closed a little if necessary before resting the seafood on top. This will act as a natural broiling rack. Then, repeat until all of them are ready for the oven.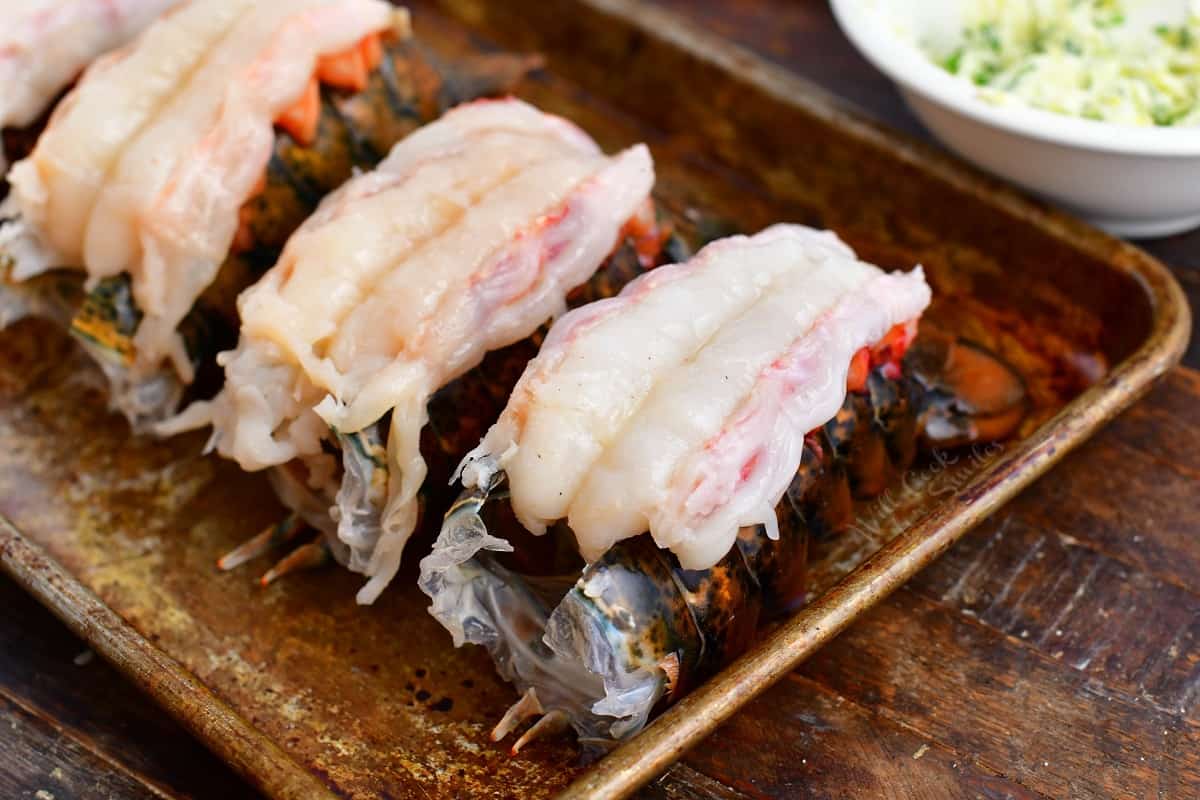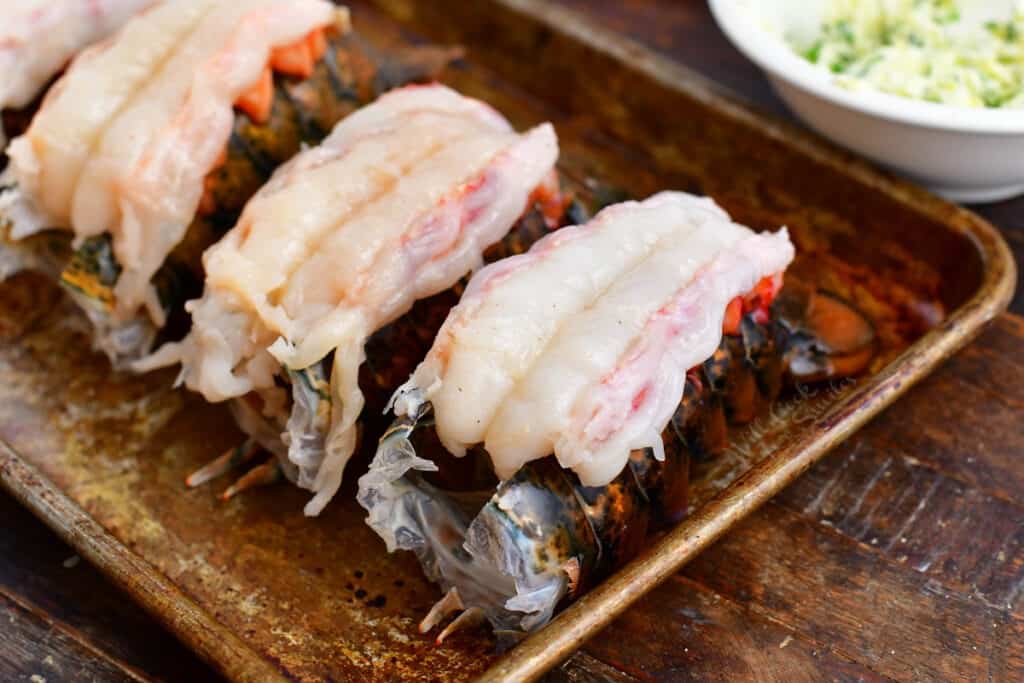 Some cooks leave the meat inside the shell, but I find that the meat cooks more evenly when it rests on top. Plus, the presentation is far more stunning this way – like you got them from a fine dining restaurant!
How To Broil Lobster Tails
Make sure the broiler is preheated on high and top with herbed butter.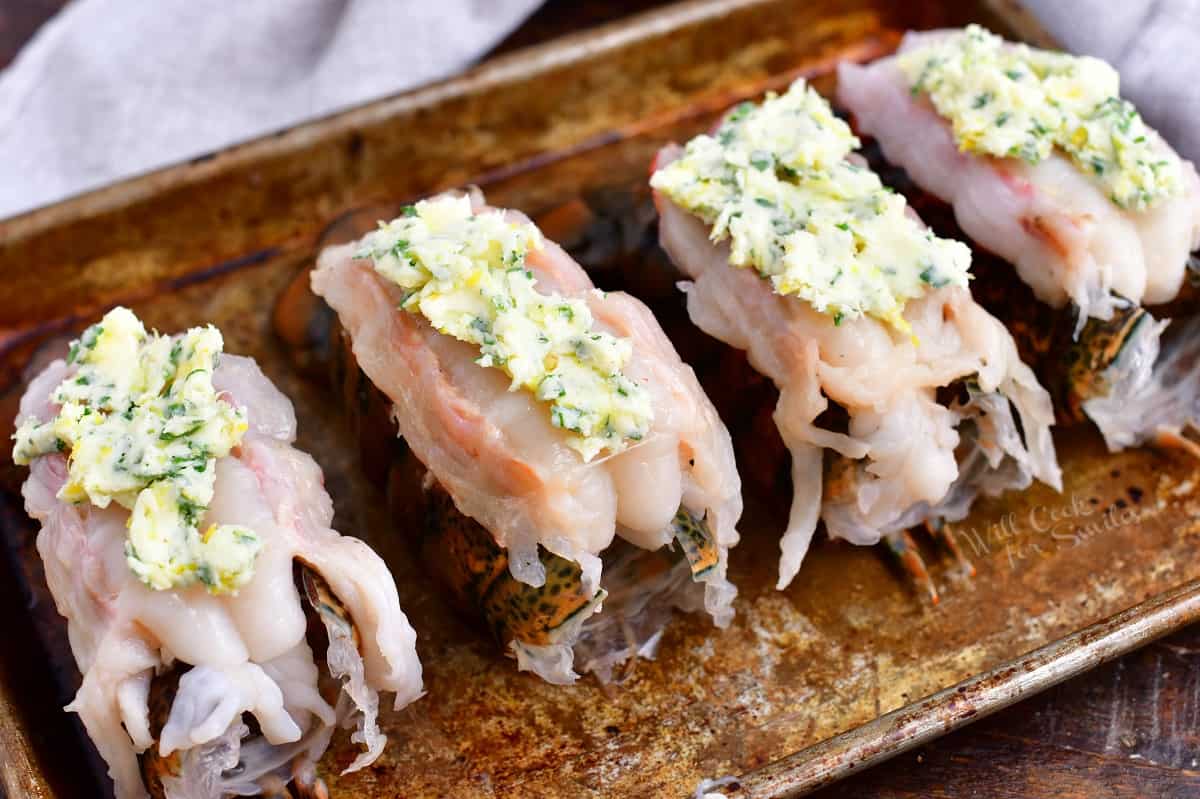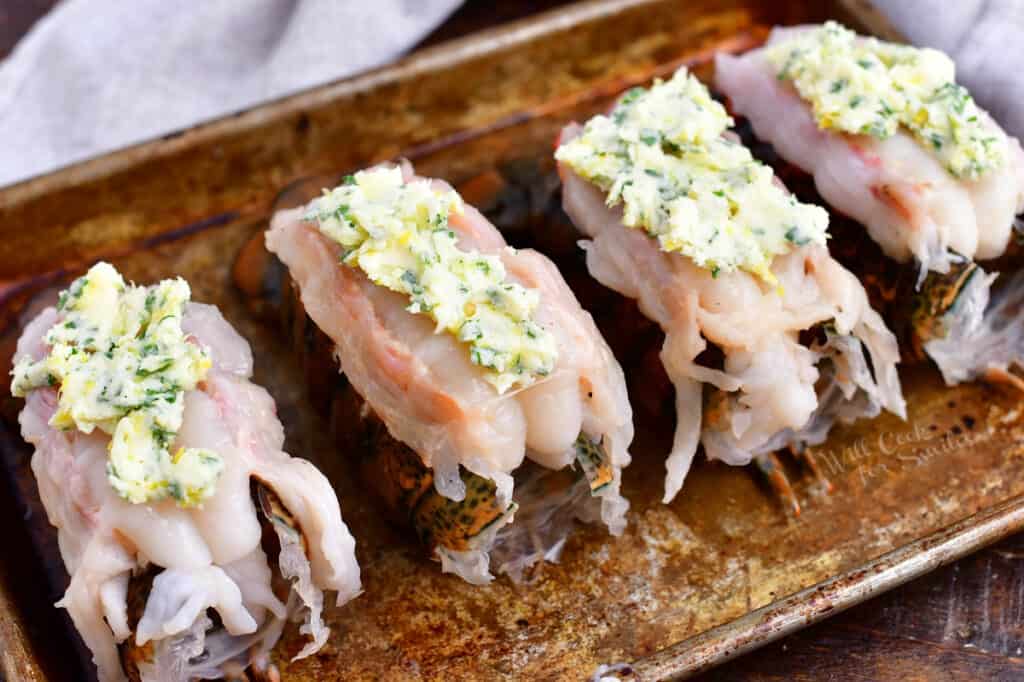 Pat the tops dry and season with a little salt. Then, spread the butter mixture evenly across each piece, pressing lightly to help it adhere better.
Broil
Make sure the rack is in the middle of the oven, about 6 inches away from the broiler element. Place the sheet pan into the oven and cook until the shells are bright red and the flesh is white and opaque.
The amount of time needed will depend on the size of the shellfish, so you may want to use a digital thermometer. Insert it into the thickest part, and it should read 145°F.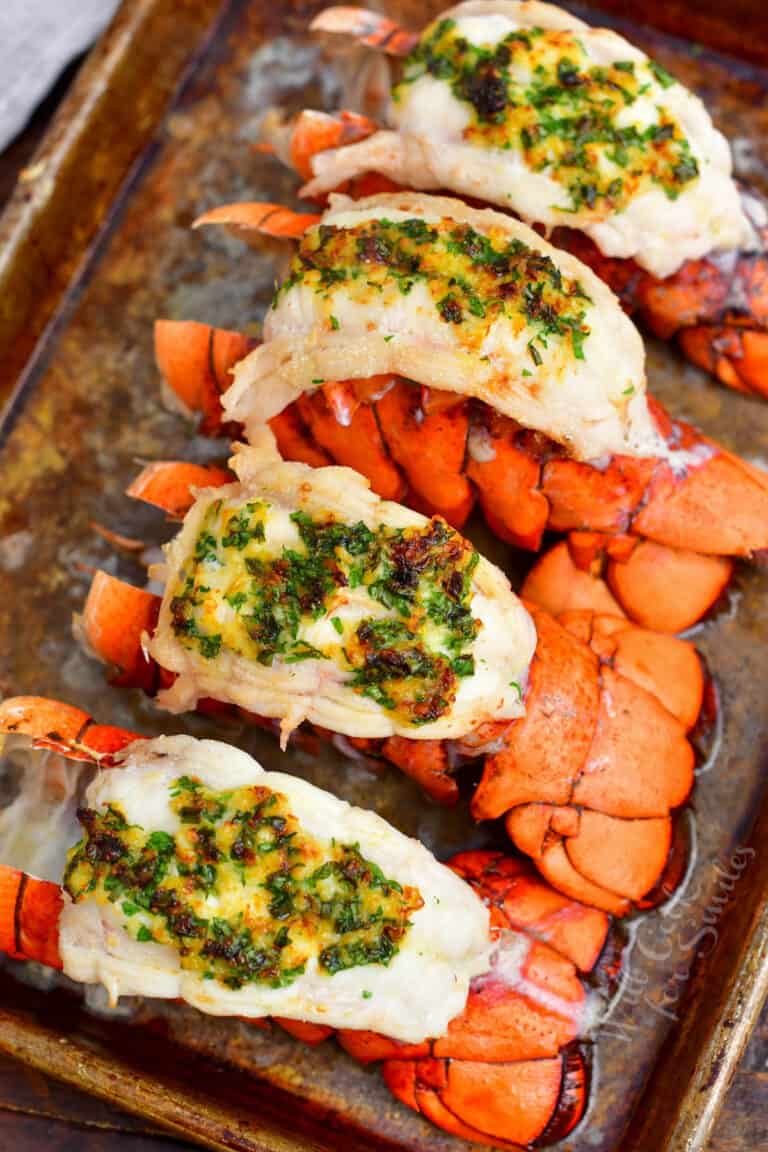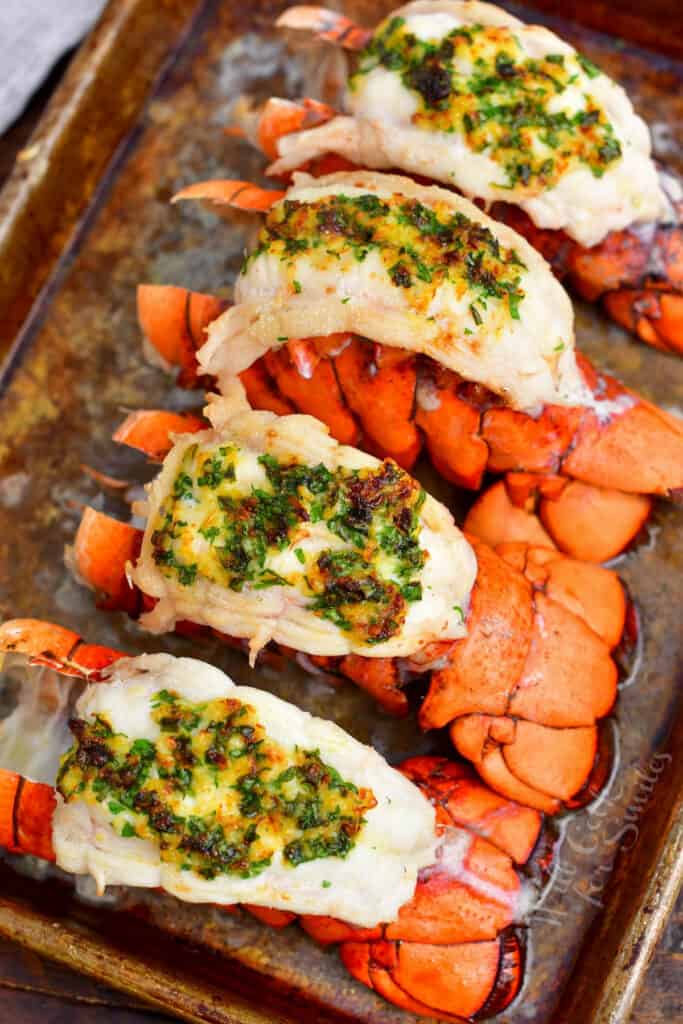 Recipe FAQ
Prep in advance? While these should be cooked just before serving, you can butterfly the tails (don't pull the meat out) and make the butter mixture the day before. Cover air-tight and keep in the refrigerator. Transfer to the counter about 30 minutes before baking.
How many tails per person? Unless you can get your hands on jumbo-sized tails like 14-20 oz., I would plan on two per person. Most common sizes of lobster tails range from 5-12oz. and you'll want to have 2 per person.
How long to broil lobster? Because of difference sizes of lobster tails, it's hard to tell exact time it will take to cook them. You can average about 1 to 1.5 minutes per ounce when calculating approximate time. Check and make sure the meat is completely opaque and the shell is turned bright red. Of course, temperature is your best indicator, and lobster meat should be at 145° at the thickest part.
Can I reheat lobster tails? I do not recommend reheating seafood, especially shellfish. Although it is perfectly safe to save any leftovers, the meat tends to become tough and rubbery when reheated. Instead, chop up any cold pieces and include them in a lobster roll!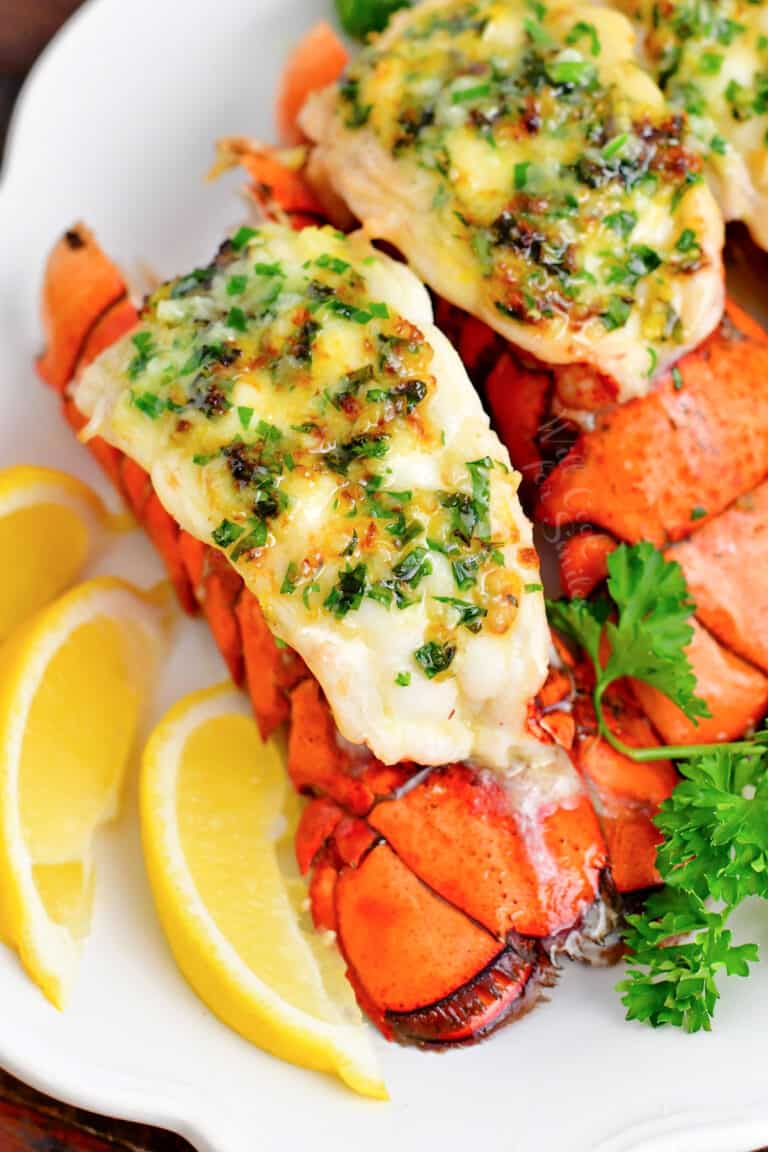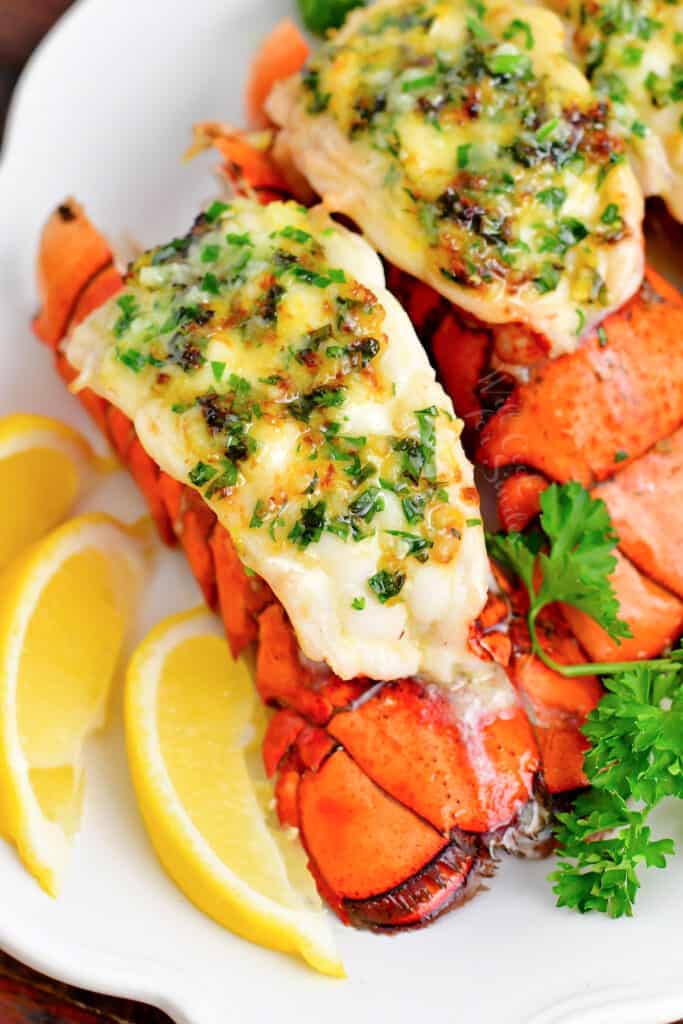 Serving Suggestions
Lemon wedges often accompany broiled lobster tails, but what about side dishes?
Roasted vegetables or a simple salad makes for a lighter meal. For a more comforting side, use soft and fluffy mashed potatoes, mac and cheese, or corn on the cob.
Others like to serve creamy scalloped potatoes or a cup of soup on the side. And you can't go wrong with some crusty bread or homemade biscuits to mop up any extra golden liquid!
MORE RECIPES TO TRY
For something with a smoky flavor, you can cook your lobster on the grill instead. The ingredients are exactly the same, but this method adds a smoky barbecue flavor that is completely irresistible.
I love simple and fast seafood recipes like seared scallops and crispy skin salmon as well. These recipes are also great for a special occasion.
If you manage to have any leftover broiled lobster tails, you can combine the meat with a few pantry staples to make tangy lobster rolls. Or, make this decadent lobster mac and cheese for a comfort meal that's worthy of any upscale restaurant.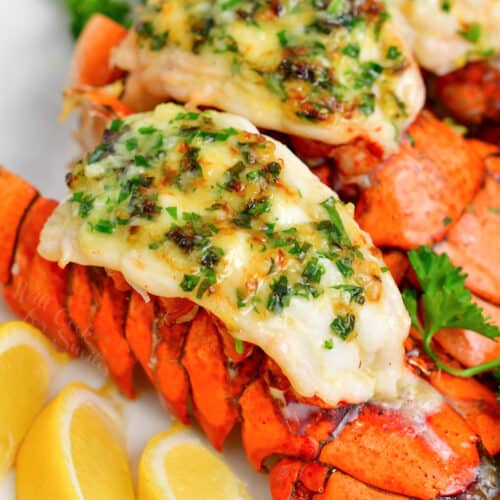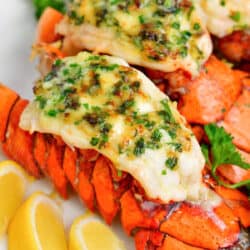 Lobster Tails
Easy broiled lobster tails topped with garlic, lemon, and herb butter mixture. These tender and juicy lobster tails are brushed with some more melted butter mixture for optimal flavor.
Print
Pin
Save
Saved!
Rate
Ingredients
4

lobster tails

6

tbsp

unsalted butter

softened

2

tbsp

minced chives

2

tbsp

minced parsley

1

lemon – zest only

3-4

garlic cloves

pressed

salt
Instructions
How to prepare the butter mixture:
Pull butter out of the refrigerator, cut off the right amount, and place it in a small bowl. Leave it on the counter for about 30 minutes to let it soften. (Or soften in the microwave if you have that setting. Don't melt!)

Add lemon zest, chives, parsley, pressed garlic, and salt. Mix well until all ingredients are incorporated into butter. Set aside.
How to butterfly a lobster tail:
Pick up the lobster tail and cut the hard, outer shell down the middle all the way down to where the shell meets the tail.

To pull the shell apart, you will need to use some muscle and crack the ribs on the softer underside with your hands. But be careful not to actually crack the shell apart in two. (You can use gloves because the lobster may have spikes on their underbelly.)

Pull the shell open but don't break in half.

Use your fingers to gently and carefully pull the meat away from the shell walls and gently lift the meat out above the shell. (Make sure not to take the meat off the shell completely, it should still be attached to the end of the tail.)

Place the meat over the shell and repeat with remaining lobster tails. Place them on a baking sheet.
How to broil lobster tails:
Preheat the oven broiler on high setting and move the rack to the middle of the oven. There should be about 6 inches between the top of the lobster meat and the broiler.

Pat the lobster meat with a paper towel to soak up excess moisture and season the meat with a little salt all around. (Not too much because there is some salt in the butter mixture.)

Spread 2/3 of the butter mixture among the four lobster tails and leave remaining butter to finish them off when baked.

Place the baking sheet with lobster tails unto the over, centering it under the broiler. Cook until the meat is white and opaque. Depending on the size of the lobster, it will take 10-12 minutes. (Smaller lobster tails would take less time (6-8 minutes) and larger lobster tails will take a couple minutes longer (12-14 minutes).)

To make sure that your lobster meat is cooked, best way is to use a digital read meat thermometer. Lobster meat should be cooked to 145° internal temperature. Make sure to take the reading of the thickest part of the meat and not touching the shell.
Finishing lobster:
Once cooked, melt remaining butter mixture and brush each lobster tail with the flavorful melted butter.
Nutrition
Calories:
409
kcal
|
Carbohydrates:
2
g
|
Protein:
22
g
|
Fat:
35
g
|
Saturated Fat:
22
g
|
Trans Fat:
1
g
|
Cholesterol:
251
mg
|
Sodium:
543
mg
|
Potassium:
317
mg
|
Fiber:
1
g
|
Sugar:
1
g
|
Vitamin A:
1524
IU
|
Vitamin C:
12
mg
|
Calcium:
137
mg
|
Iron:
1
mg
Tried this recipe?
Mention @willcookforsmiles and tag #willcookforsmiles