Blackened salmon is a perfectly easy, 20-minute salmon recipe coated in a rich combination of herbs and spices and seared in a pan. This is a great weeknight seafood dish and salmon tastes incredible with homemade blackened seasoning.
Recipes with blackening seasoning are always fast, easy, and delicious. Try my blackened tilapia, blackened shrimp, and blackened fish tacos as well!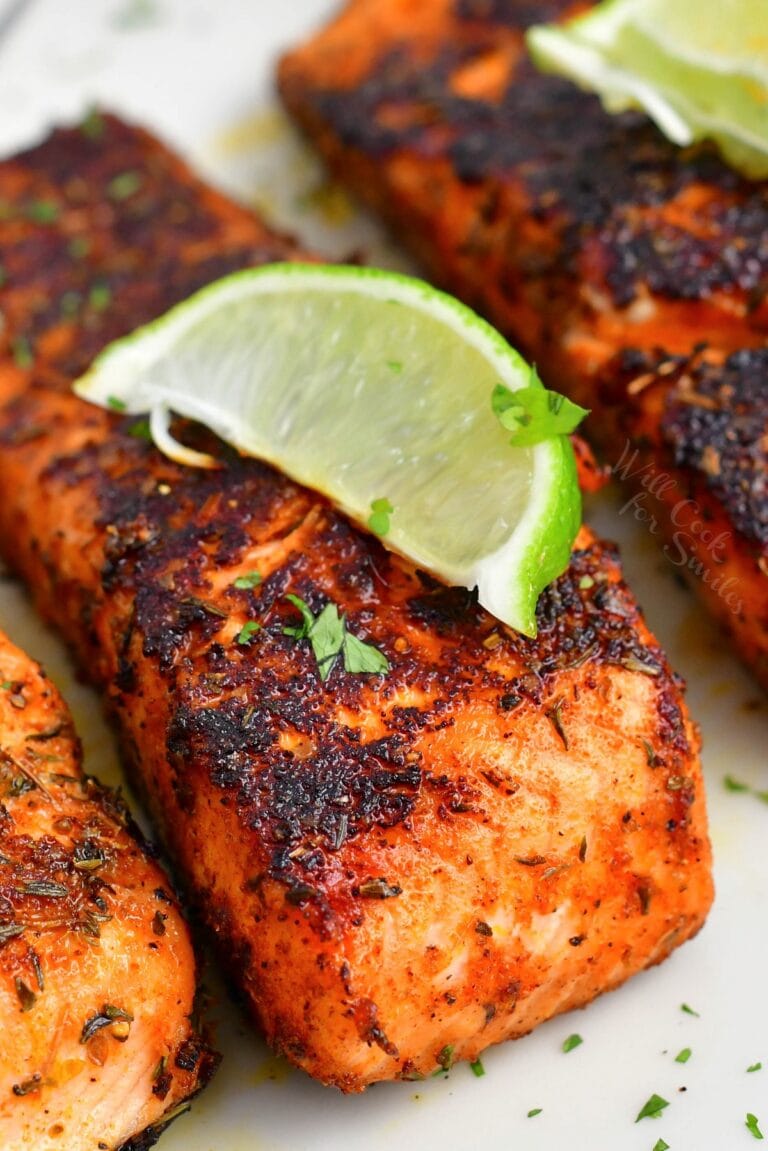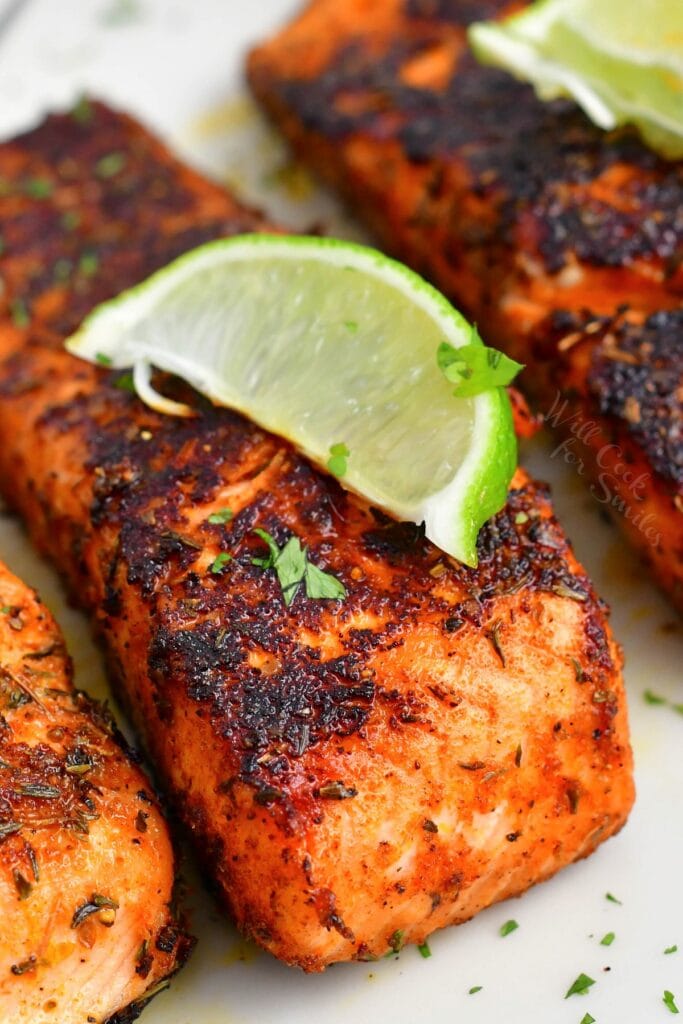 Blackened salmon is one of my favorite salmon recipes because it's so easy to make in a pan and it tastes absolutely amazing with blackening seasoning. Salmon is such a mild fish that it tastes perfect with a rich seasoning like this one.
You can easily save yourself a few minutes and mix the blackening seasoning ahead of time. Just store it in an air-tight container with a lid that it preferably glass. Store it in a cool, dry place until you're ready to make the salmon.
This really is a perfect weeknight dinner. All you have to do is brush salmon with butter, dip three sides into seasoning mix, and pan-sear the salmon until it's done. You might also be happy to know that you get a beautifully crispy skin on the salmon that you can eat!
What Does Blackened Mean?
Blackening cooking technique originated in Louisiana and it's related to Cajun cuisine. This technique requires that you cook fish, chicken, or shrimp in butter, then a combination of spices and herbs, and at high temperature. High temperature will cook the spices on the outside quickly and gives the outside of protein almost a crisp.
Remember that there is a fine line between blackening and burning though, so make sure not to turn up the heat too high if cooking on stove. For a thick fish like salmon, medium or just a little higher than medium is perfect. Always adjust the heat according to the protein you're cooking.
Fish, and especially thin fish, takes a lot faster to cook, so I can turn the heat up a little higher. For chicken, since it can be quite thick, I turn the heat up a little lower.
Blackening seasoning is very similar to Cajun seasoning but a little less spicy. The most common spices and herbs include paprika, garlic powder, onion power, thyme, oregano, black pepper, cayenne pepper, salt, and sugar. I especially like to use brown sugar and smoked paprika, to enhance flavors.
Ingredients For Blackened Salmon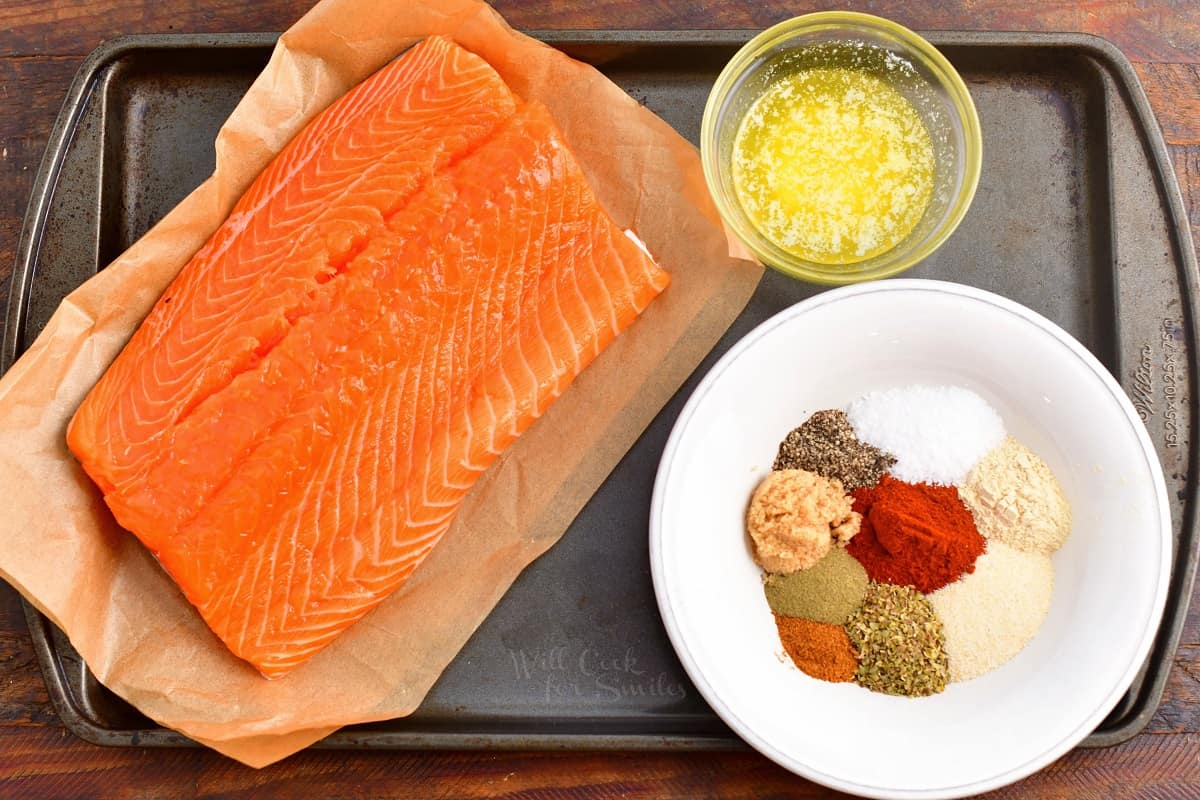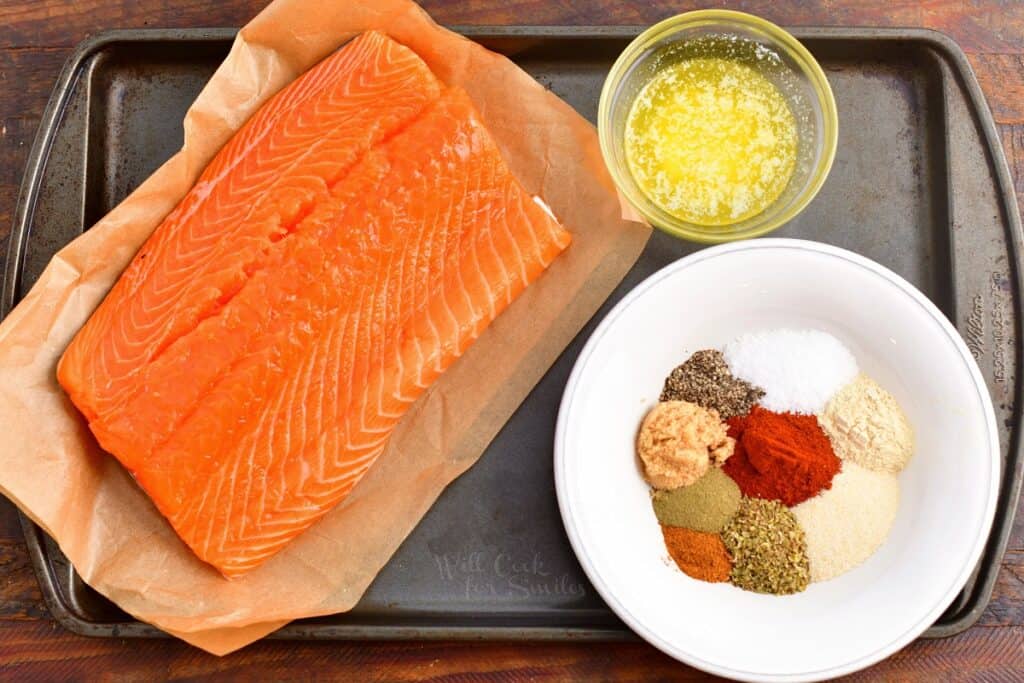 Salmon fillets – Skin on is essential for this recipe. The cooking times are also based on four individual portions since it's prepared on the stove. If you have one large fillet, you will need to slice it into smaller pieces before starting.
Butter – Use unsalted butter because blackening seasoning already contains salt.
Canola oil – You can easily replace this with any neutral cooking oil with a high smoke point. Vegetable, safflower, and avocado oils are excellent substitutes.
Lime wedges – The citrus adds brightness and helps to balance the spicy and smoky flavors of the blackened salmon. While this is optional, I highly recommend squeezing a wedge over the finished dish!
Blackened Seasoning Ingredients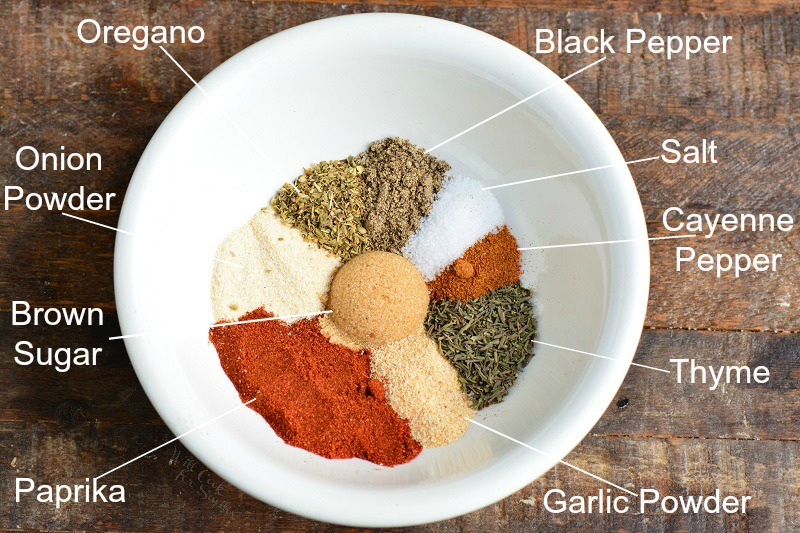 Smoked paprika – As the name describes, this spice has a much smokier flavor than regular paprika. That's because the chilies are smoke-dried before they are crushed. If you don't have any on hand, use regular paprika.
Garlic and onion powder – Garlic and onion are such a common base, and these are an easy way to include those flavors when you can't use the real thing.
Thyme and oregano – Because of the direct heat, you'll need to use dried herbs instead of fresh. The dried version is also more pungent, and crushing it in the palm of your hand first will only increase the taste and aroma.
Salt and pepper – I love cooking with coarse salt because the larger crystals provide better flavor. Also, try to use freshly ground pepper as much as possible, as the flavor is noticeably different.
Brown sugar – This helps to create the caramelization on the blackened salmon and balances sweet and spicy ingredients. Because of the small amount used, either light or dark brown sugar is fine. Just keep in mind that the higher amount of molasses in the dark variety may be more prone to burning.
Cayenne pepper – Feel free to adjust the amount depending on how spicy you like your food to be. If you have a more sensitive palate, you can leave it out altogether or add a tiny pinch.
Step By Step Instructions
Prep the ingredients.
Combine everything for the blackened seasoning in a bowl and mix well. In a separate bowl or saucepan, melt the butter.
Remove the fish from the packaging and pat both sides dry with a paper towel.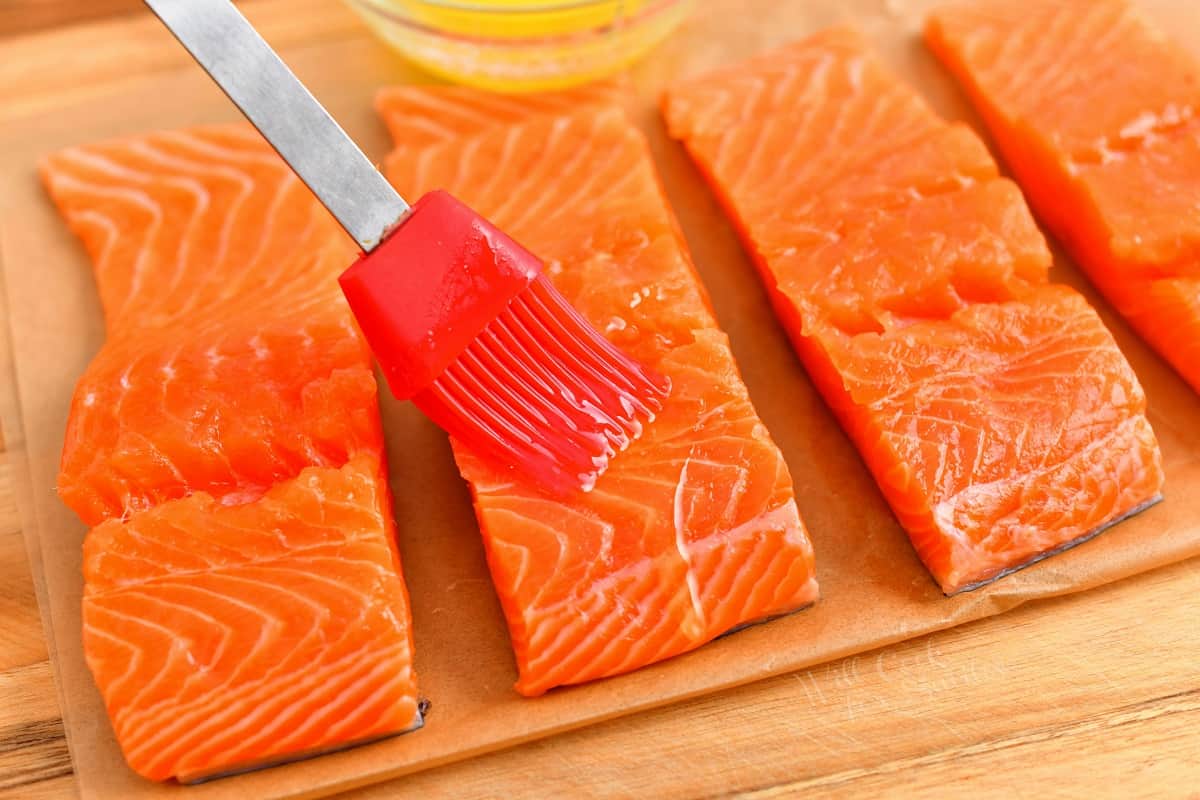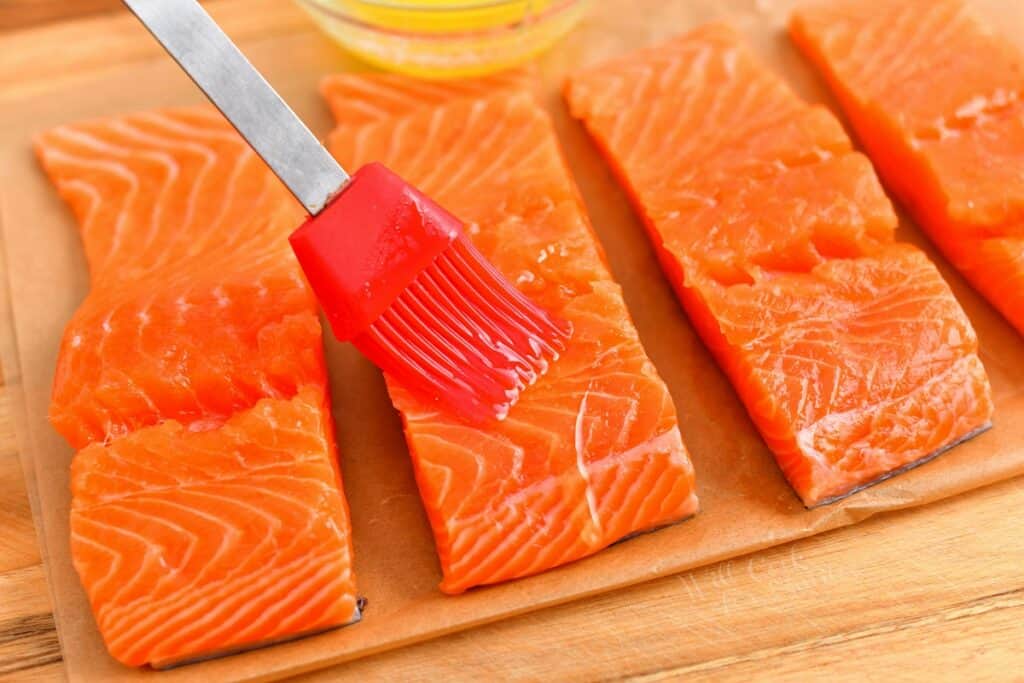 Season the fish.
Brush the tops and side of each fillet with butter, then dip the three flesh sides in the blackened seasoning. Try not to get any on the skin or it will burn.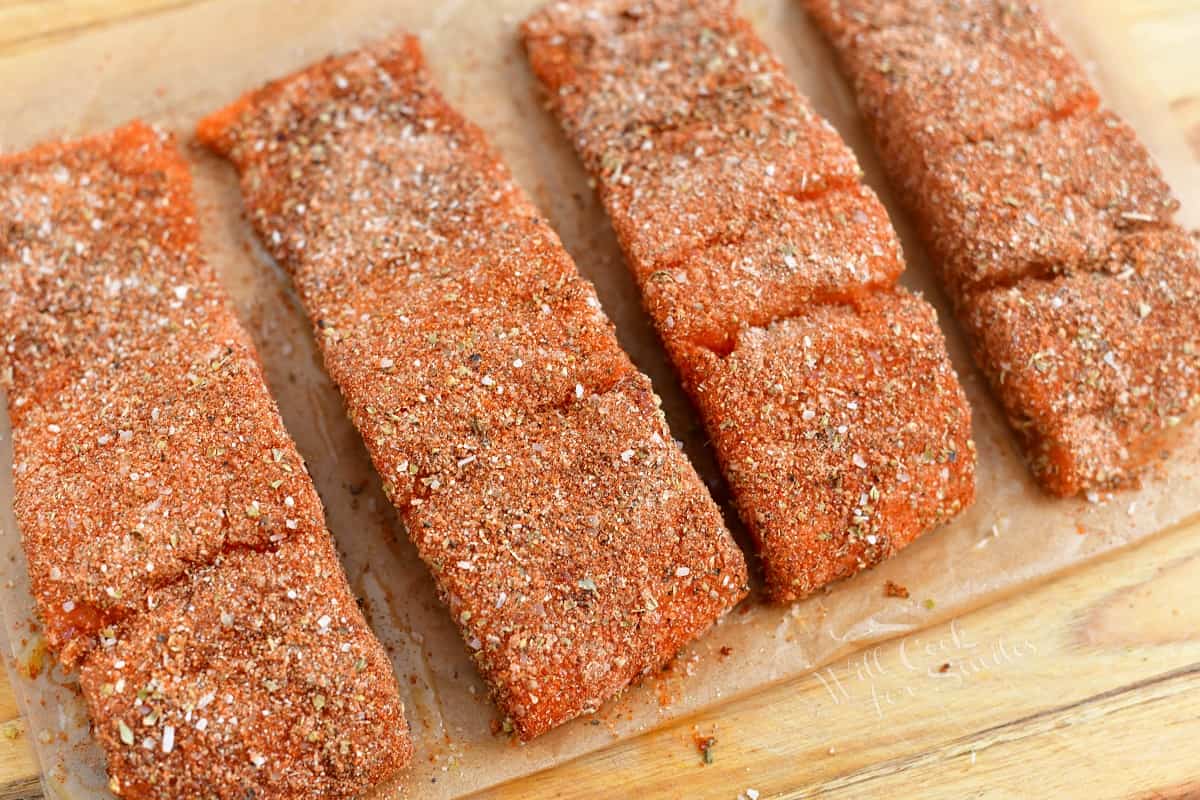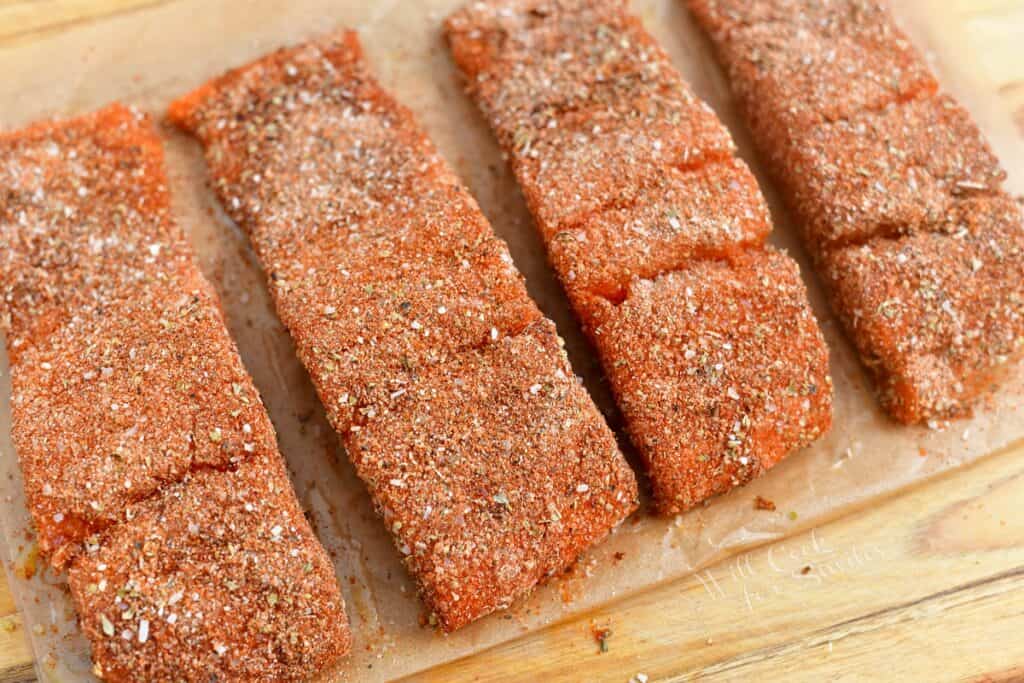 Cook, then rest.
Add oil to a hot pan on the stove. Carefully place the fish inside with the skin facing up and cook for a 3-4 minutes.
Next, flip each fillet over so the skin is facing down and finish cooking for about 6-8 minutes (depending on thickness of the fillets). Once done, transfer the blackened salmon to a plate and let it rest for a few minutes.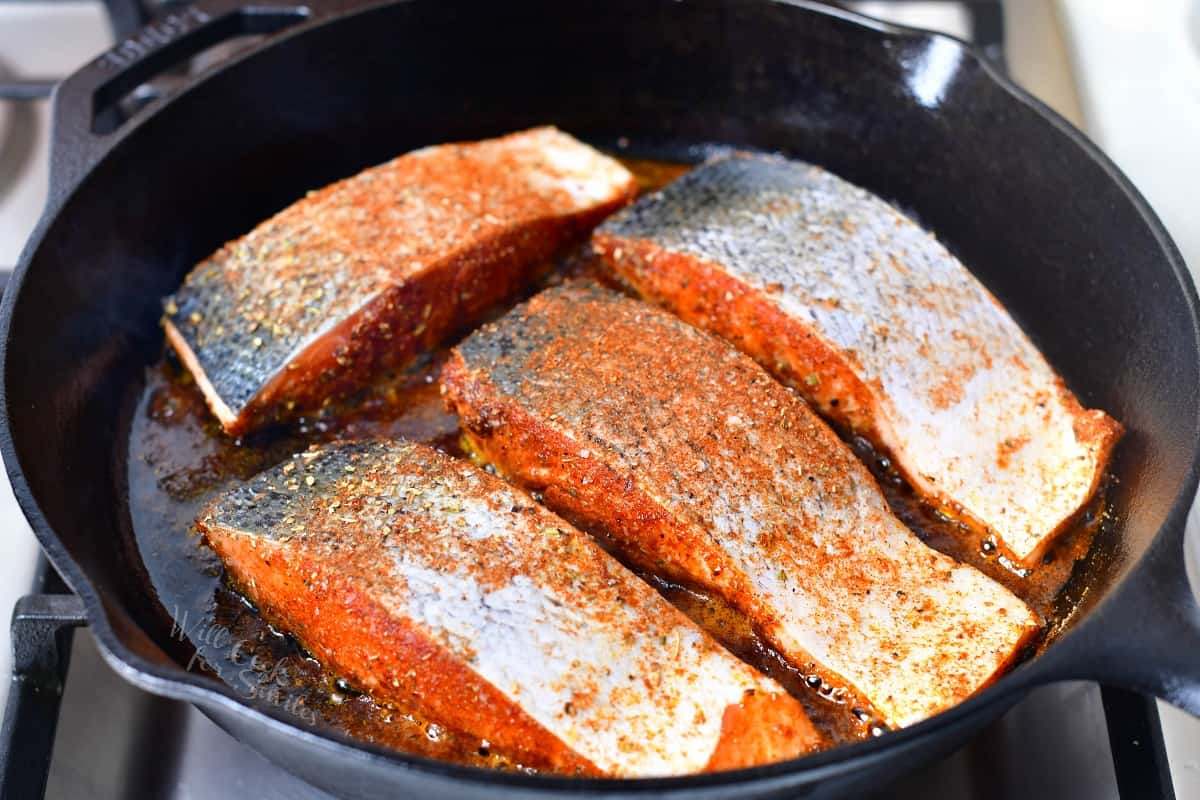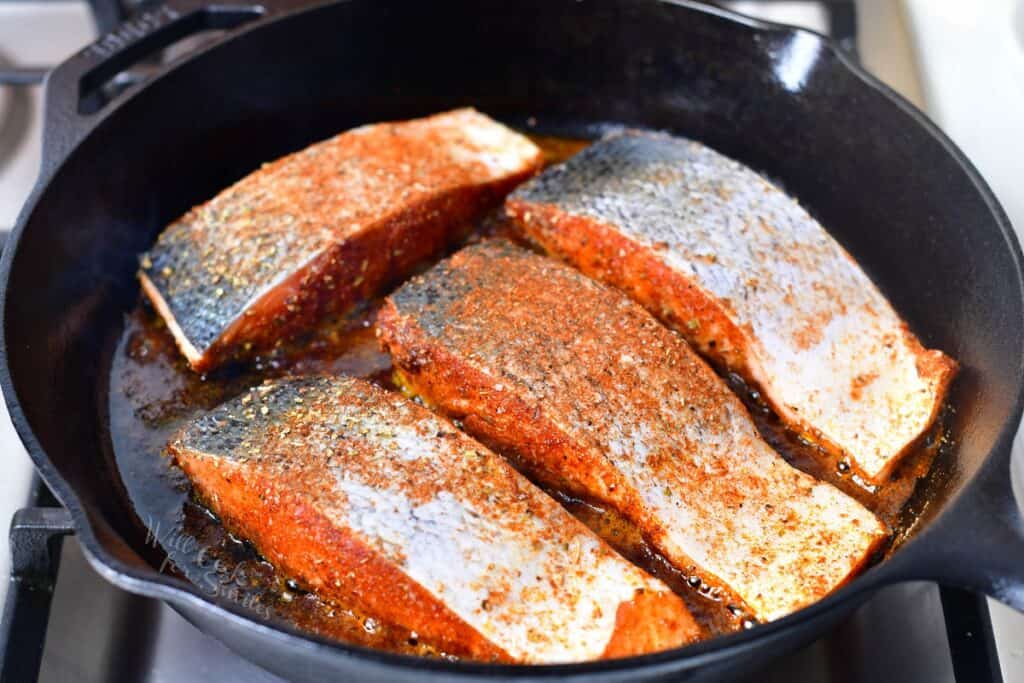 How To Tell If Salmon Is Fully Cooked
Cooking times will vary depending on the thickness of the fillets. Also, some people prefer their fish closer to medium while others like theirs well done.
Internal temperature is always the best indicator. Salmon is considered done at 145° and it you want it medium to medium-well range, cook it to 125° – 135°. Obviously, the higher the temp the more done the fish will be.
You can also try these ways to see if salmon is done:
Press on the center. When the meat is cooked through, it will be firm to the touch with the slightest bit of give. If it still feels squishy, give it a few more minutes and check again.
See if it flakes. You'll notice white lines running throughout the fillet, which is the fat. If the fish separates easily along these lines, it's ready to eat!
Check the opacity. Raw fish is fairly translucent but becomes more opaque when cooked. The inside should still have a slight "shine" to the flesh, while the outside should look completely opaque.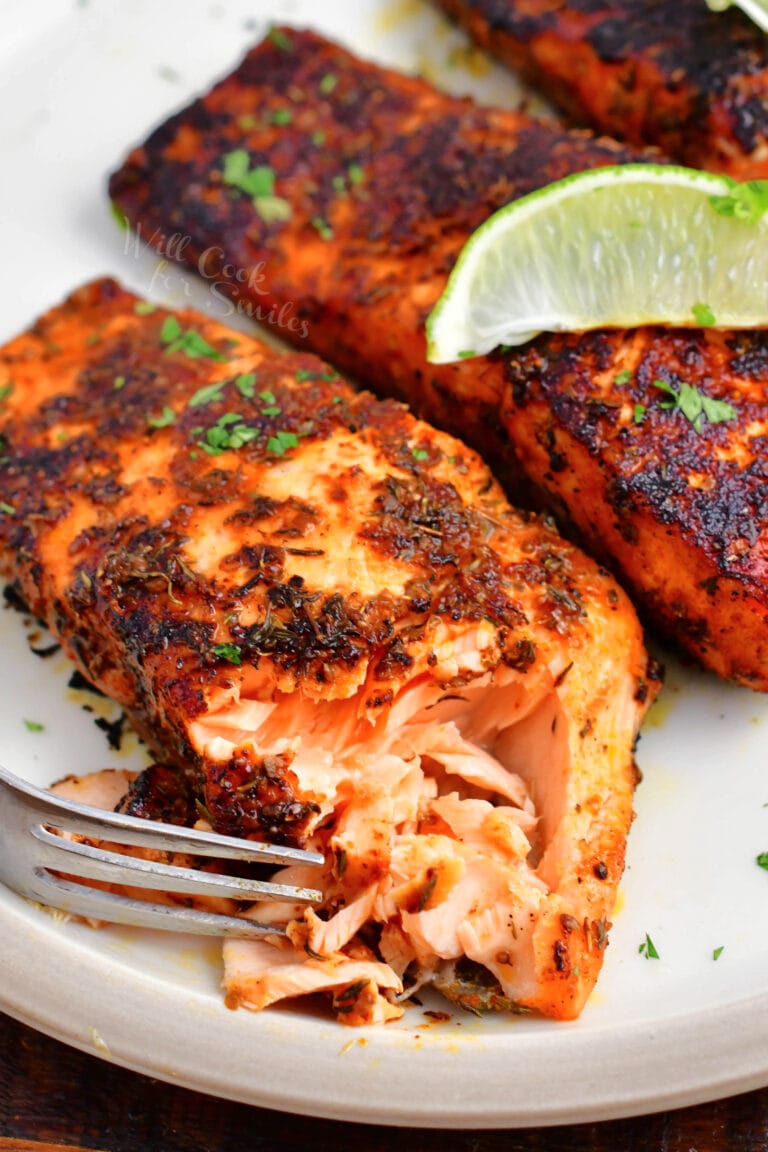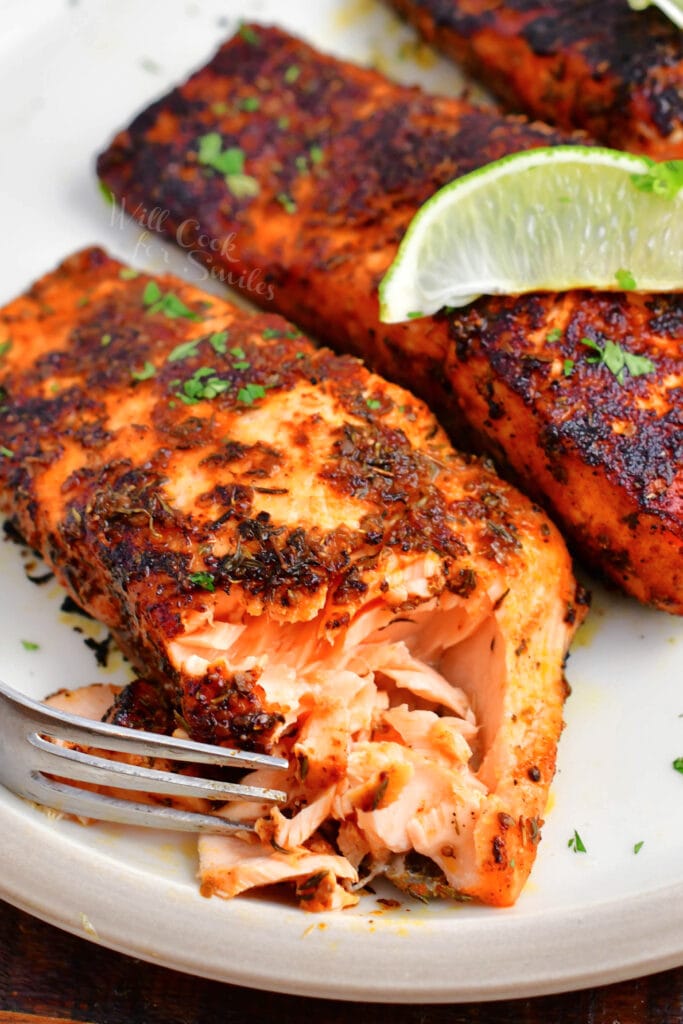 Serving Suggestions
Blackened salmon goes well with so many different side dishes. Keep it simple with rice or quinoa and a green salad, or add a helping of roasted vegetables if you would like! Asparagus, zucchini, and cauliflower are always favorites around here.
You can also flake this salmon meat and make it into tacos, wraps, and salads!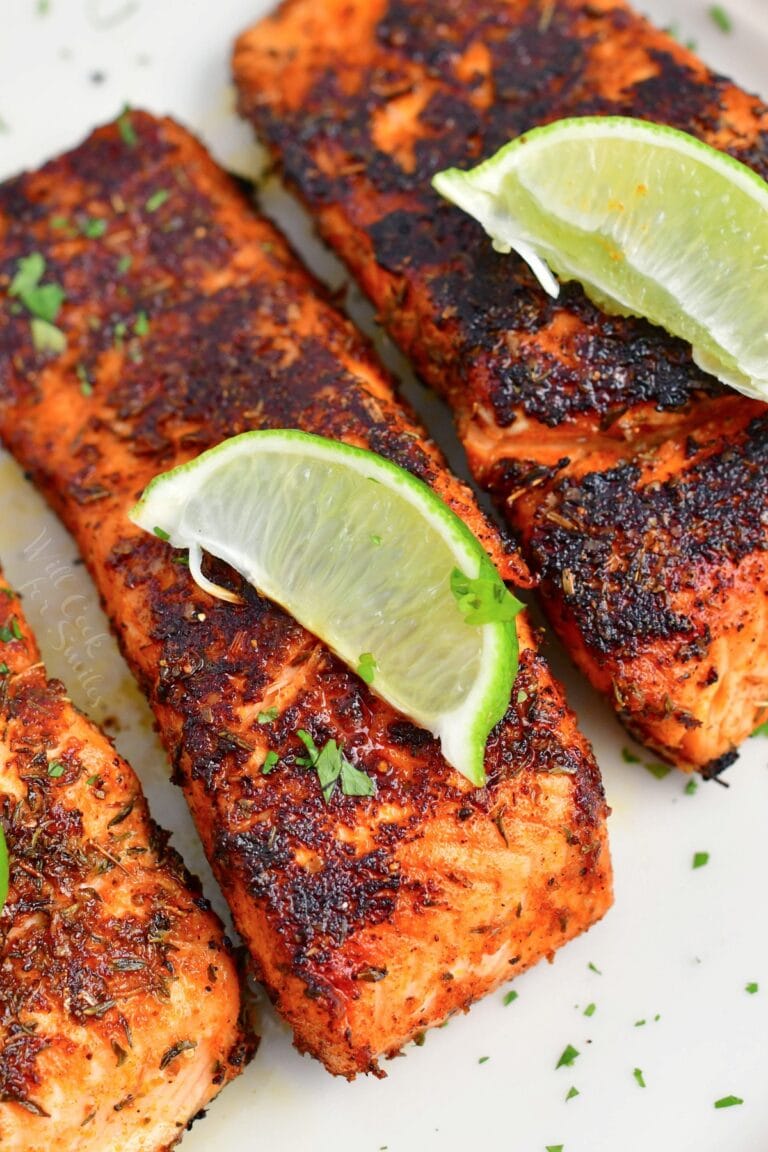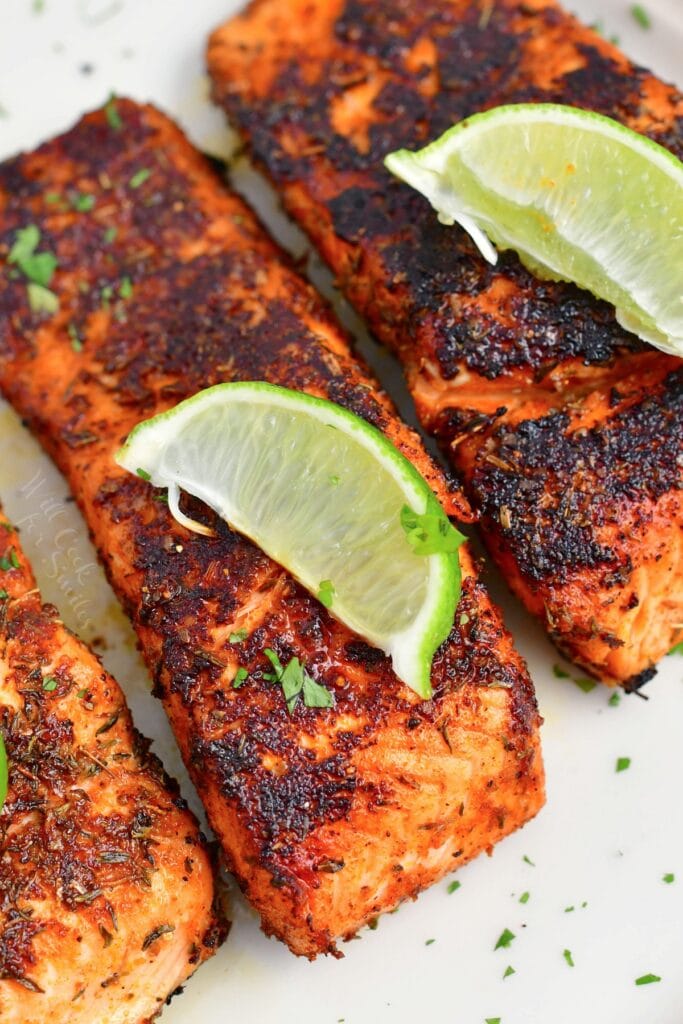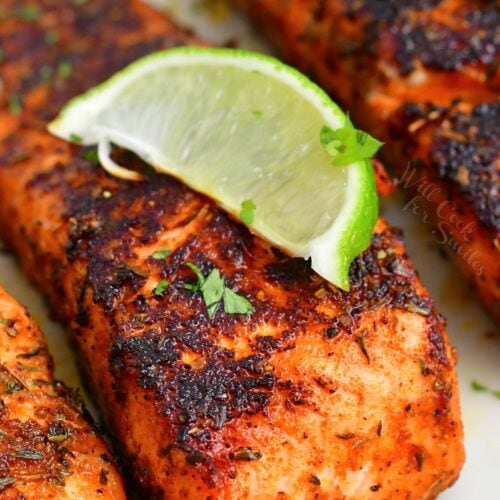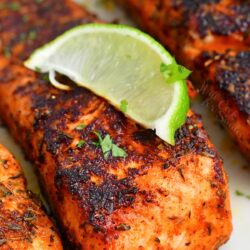 Blackened Salmon
Blackened salmon is a perfectly easy, 20-minute salmon recipe coated in a rich homemade blackened seasoning.
Print
Pin
Save
Saved!
Rate
Ingredients
Blackening Seasoning:
3

tsp

smoked paprika

2 1/2

tsp

garlic powder

2 1/2

tsp

onion powder

2

tsp

dried thyme

2

tsp

dried oregano

2 1/2

tsp

coarse salt

1 1/2

tsp

black pepper

2

tsp

brown sugar

1/2

tsp

cayenne pepper

more or less to taste
Salmon:
4

skin on salmon filets that are 6-8 oz. each

2

tbsp

unsalted butter

1-2

tbsp

canola oil

for cooking

4

lime wedges

for serving
Instructions
Prepare salmon:
Combine all the ingredients for the blackening seasoning in a bowl and whisk it well. Set aside.

Melt butter and set it aside as well.

Pat salmon fillets dry with a paper towel.
Cooking salmon:
Set a large skillet (or another pan you with to use) on the stove over medium heat or just a little below medium heat. (Every stove is different especially comparing gas and electric, so you will know your stove best. Just don't set the heat higher than medium.) It will take about 5 minutes to preheat the skillet.

While the pan is preheating, season the salmon. Brush each salmon fillet with butter on top and sides and dip into the seasoning on top and the sides.

Spread oil in the preheated pan all over the bottom.

Place seasoned salmon into the pan flesh down and let it cook for 3-4 minutes.

Flip each filet skin side down and let it cook for 5-6 more minutes. (Thick fillets may take another minute or so.)

Take salmon out of the pan, let it rest for 5 minutes, and serve with lime wedges.
How to tell if salmon is cooked:
Total cook time will always depend on the thickness of salmon fillets. Salmon is considered fully cooked at 145° internal temperature but many people find it too well done. Personally, I prefer salmon at either medium or medium-well temperature, which is around 125°-130°.

You can also tell if salmon is done by touch. When meat is cooked through, it will be firm to the touch when pressed in the center. If you still feel some squishy texture inside, it's not cooked through.

Another way to tell is to gently press on the flesh, on top, and slightly pull it apart, it should flake easily.
Nutrition
Calories:
321
kcal
|
Carbohydrates:
7
g
|
Protein:
35
g
|
Fat:
17
g
|
Saturated Fat:
5
g
|
Trans Fat:
1
g
|
Cholesterol:
109
mg
|
Sodium:
1533
mg
|
Potassium:
939
mg
|
Fiber:
2
g
|
Sugar:
2
g
|
Vitamin A:
1126
IU
|
Vitamin C:
1
mg
|
Calcium:
63
mg
|
Iron:
3
mg
Tried this recipe?
Mention @willcookforsmiles and tag #willcookforsmiles