Pecan Crusted Salmon is an easy gluten free dinner recipe that needs to make its way to your menu right away! This tasty, juicy baked salmon is coated in a thin layer of flavored mayo and encrusted in a mixture of crushed pecans and freshly grated Parmesan cheese.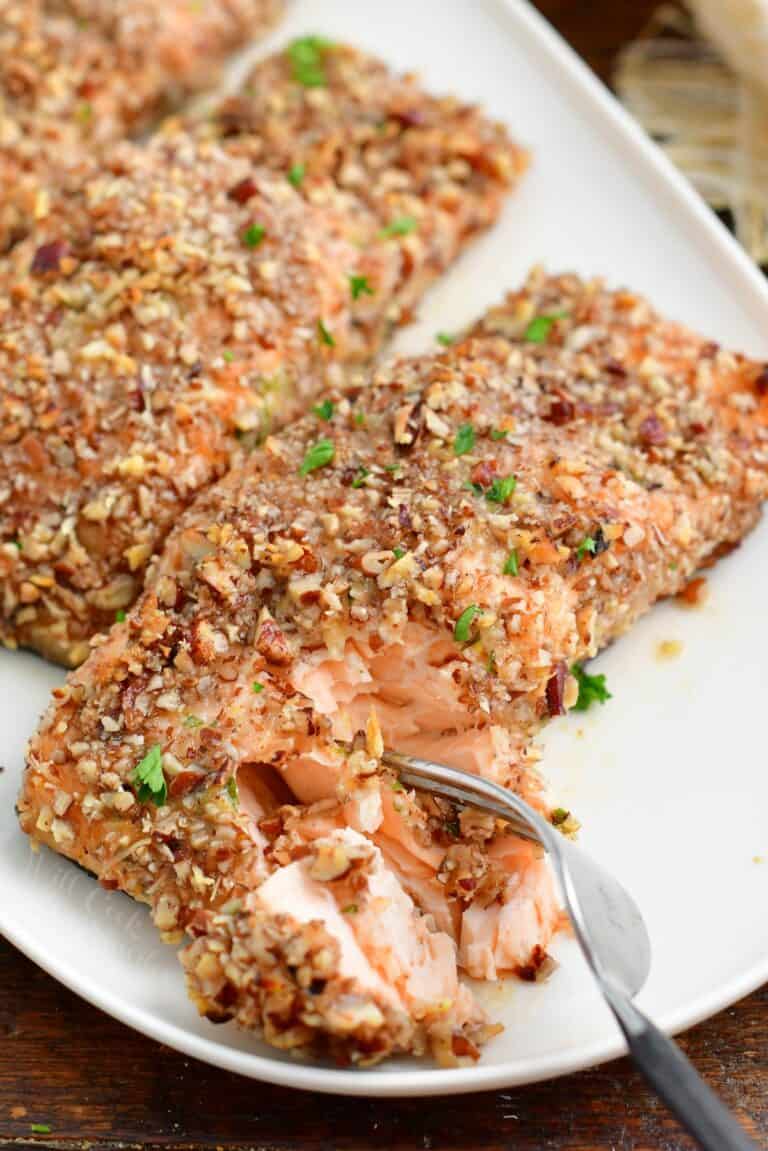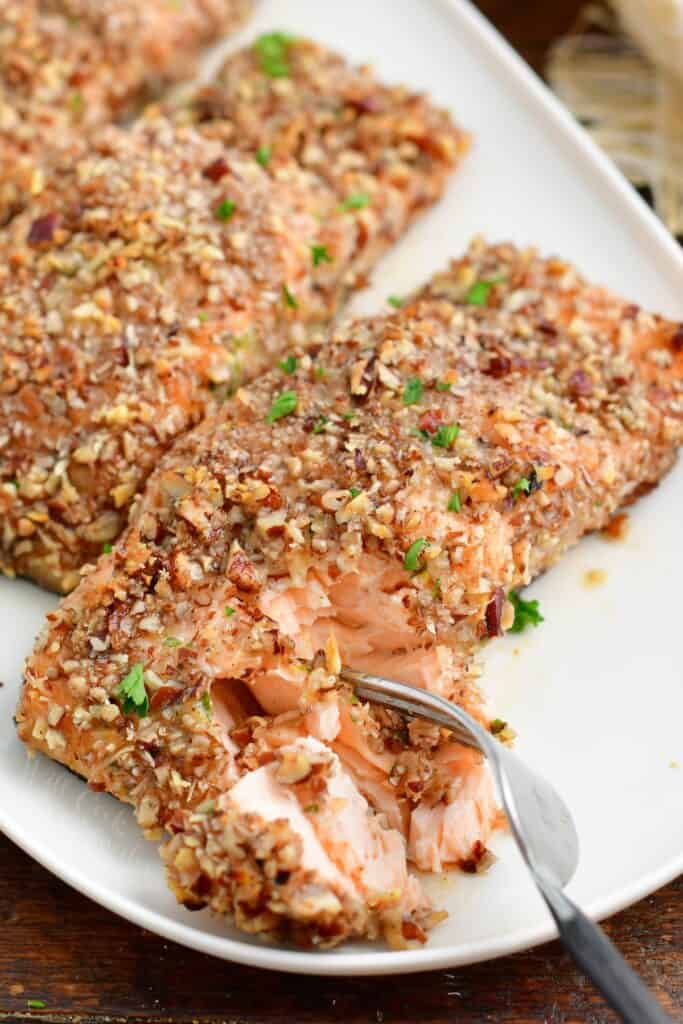 Pecan Crusted Salmon
This easy pecan crusted salmon recipe takes just a little over 30 minutes to make, and always a hit around dinner table! The salmon itself is juicy and tender and the Parmesan pecan crust truly make your mouth water. If you're craving a unique and flavorful salmon recipe for dinner, this is the one to try.
I love serving pecan crusted salmon when I feel like impressing my guests without extra effort. It's the type of entrée that always garners attention and a slew of compliments! With that being said, people never believe me when I tell them just how simple it is to make.
What you will need is about 30 minutes, a few simple ingredients, and a blender to make the pecans finely chopped. Everything else is just a little effort for a few easy steps and an oven! It's an entrée that you can make all year long for family and friends.
Ingredients For This Salmon Recipe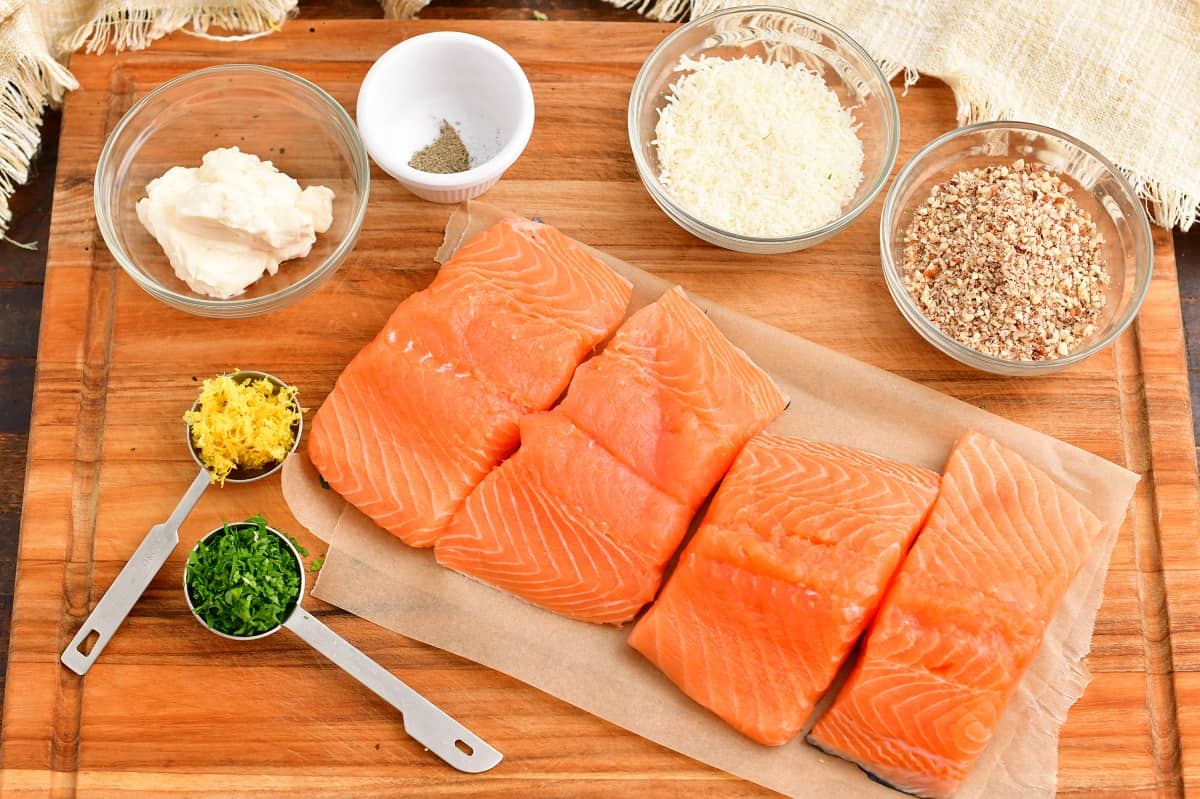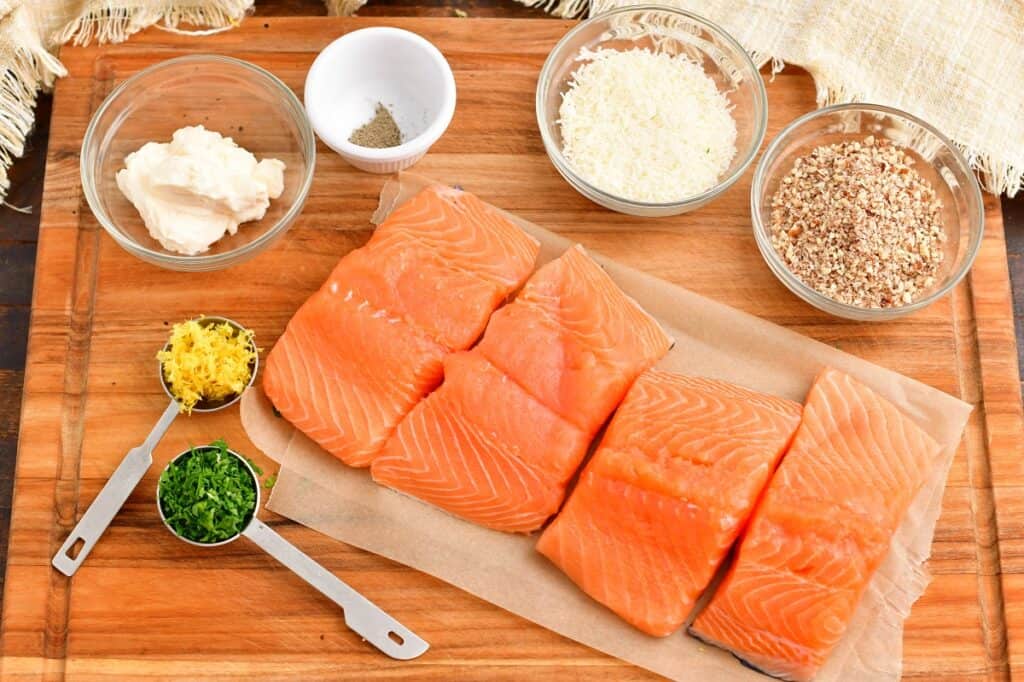 Salmon – When choosing which salmon to buy from the seafood counter, pick filets that are about 6-8oz each and still have the skin on. For best results, always try to use fresh salmon, not frozen. King salmon, sockeye/red salmon, and Atlantic salmon will all work well with this easy recipe. Remember, the finished product will always be as good as the ingredients.
Mayonnaise – While I use regular mayonnaise, you can opt for a low-fat mayonnaise if you'd prefer. However, stay away from miracle whip or other non-mayonnaise substitutions.
Lemon – You'll only need the zest of one fresh lemon for the mayonnaise mixture. If you don't have a zester handy, that's okay! A grater will work as well. Just be sure to use the side of the grater with the smallest slicing holes and don't press hard.
Parsley – For best results, use fresh, not dried parsley. The mayonnaise mixture is what brings fresh, bright flavor to the salmon, so enhance that flavor by using fresh herbs.
Parmesan Cheese – Fresh grated Parmesan cheese helps to create a rich flavor in the crust without making it overwhelmingly cheesy. However, if you really love parmesan, consider adding a little more to the mix.
Pecans – Use halved of chopped pecans without any additional flavors in them.
Salt and Black Pepper – always salt and pepper to taste.
How to Make Pecan Crusted Salmon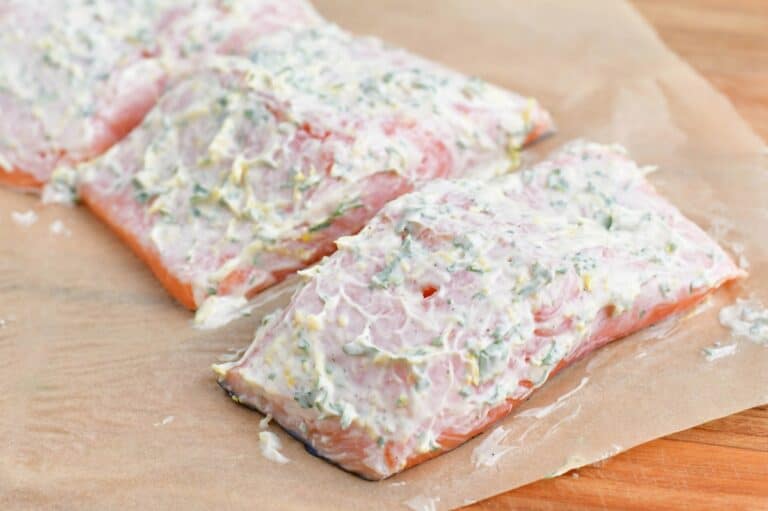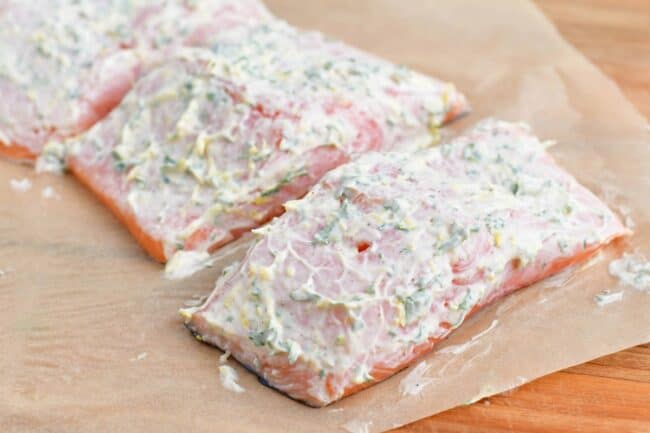 Start by preheating your oven and line your baking sheet with parchment paper to prevent sticking and to make clean up easy.
While your oven is preheating, pulse the pecans in a blender until they are coarse, but not so much that they resemble dust. Mix chopped pecans with grated Parmesan cheese, salt, and pepper.
Next, combine all of the mayonnaise ingredients in another bowl. Pat salmon filets with paper towel, sprinkle them with a little salt, and rub the salmon filets with the mayonnaise mixture on all three sides. Don't coat the skin though.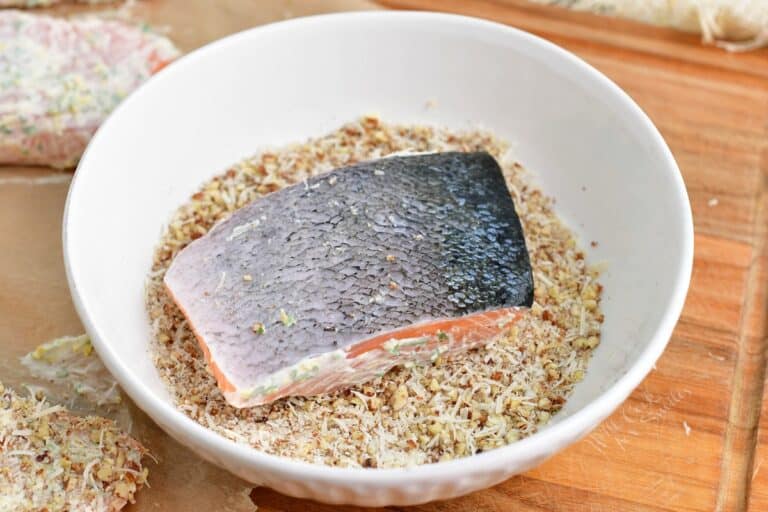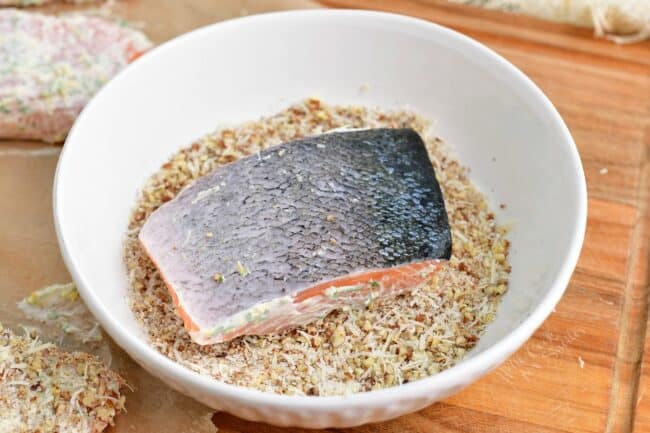 Next, dip the filets into the pecan and Parmesan mixture, creating the delicious and even coating on 3 sides.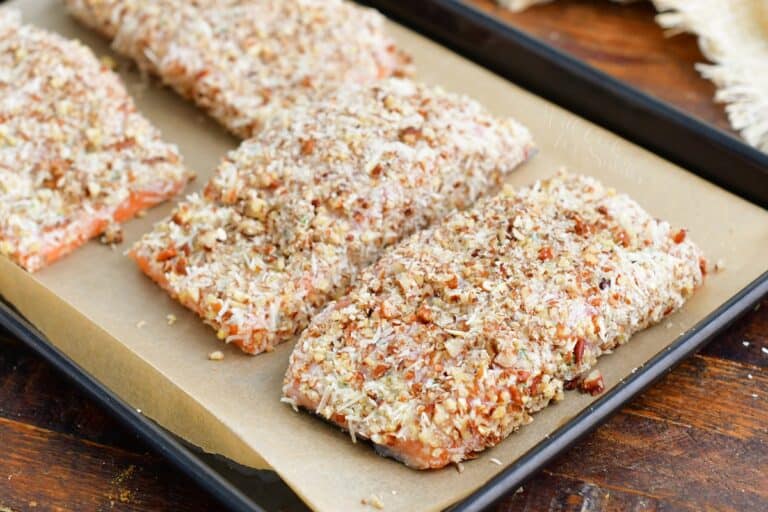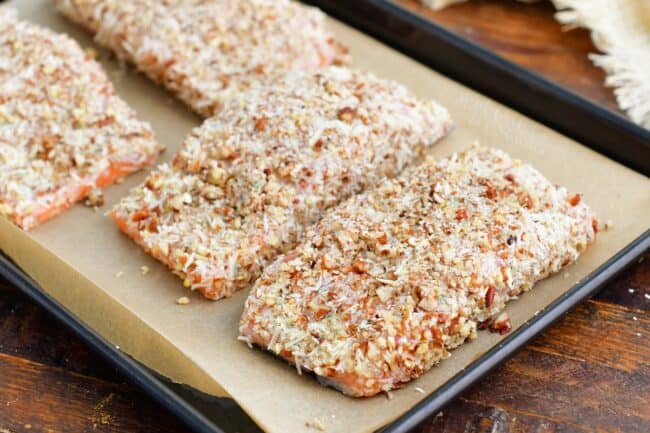 Bake the salmon on a prepared baking sheet, skin side down, for approximately 18-25 minutes.
Your baking time will always depend on the size of the salmon filets. Small, thin filets may take as little as 15 minutes to bake, while thicker filets may take up to 25 minutes to cook all the way through.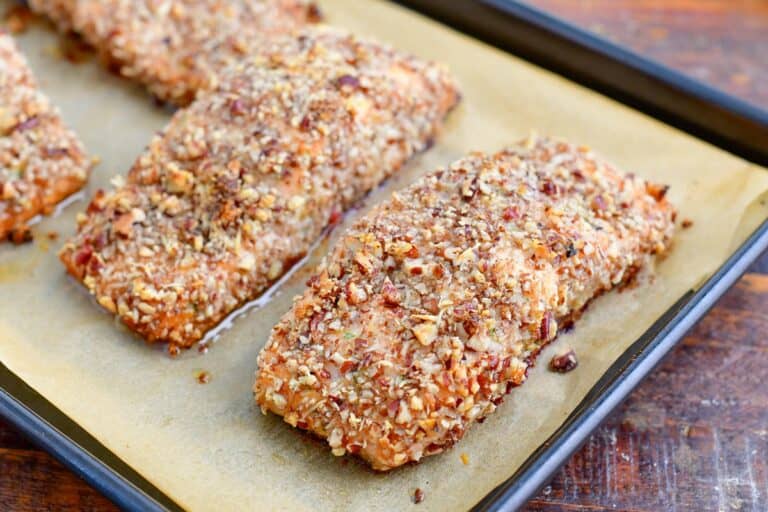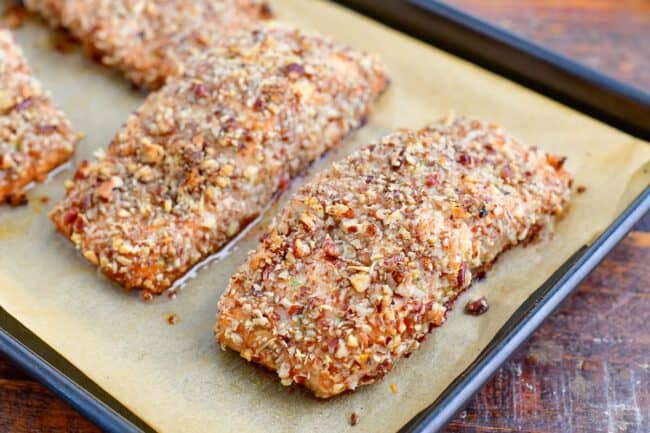 Why should I keep the skin on the salmon?
There are a couple of good reasons to keep the skin on the salmon while you cook it. Even though you know that the skin will not be crispy and you'll just discard it at the end, there are still benefits!
First of all, salmon skin acts as a protective barrier between the delicate flesh and the baking sheet. Secondly, you want to hold on to the fatty layer between the skin and the flesh since this is where most of the healthy fats are. The fatty layer between the flesh and the skin stores a lot of flavor, fish oil, and of course, many of salmon's health benefits.
What are the health benefits of eating salmon?
Salmon is considered a healthy protein, and is encouraged by almost all diets! That's because salmon is rich in healthy Omega-3 fatty acids, protein, potassium, B Vitamins, and D Vitamin. It's also very low in calories while still being rich in flavor, which means you won't have to sacrifice a delicious dinner while being calorie conscious.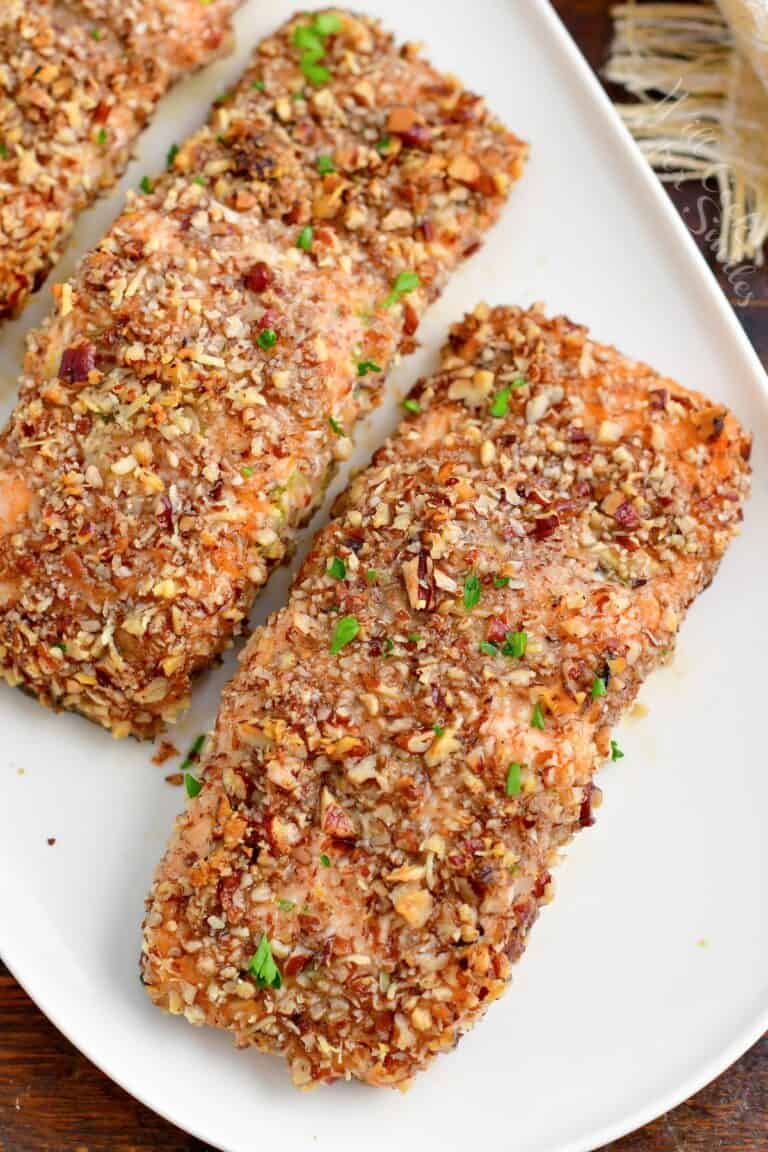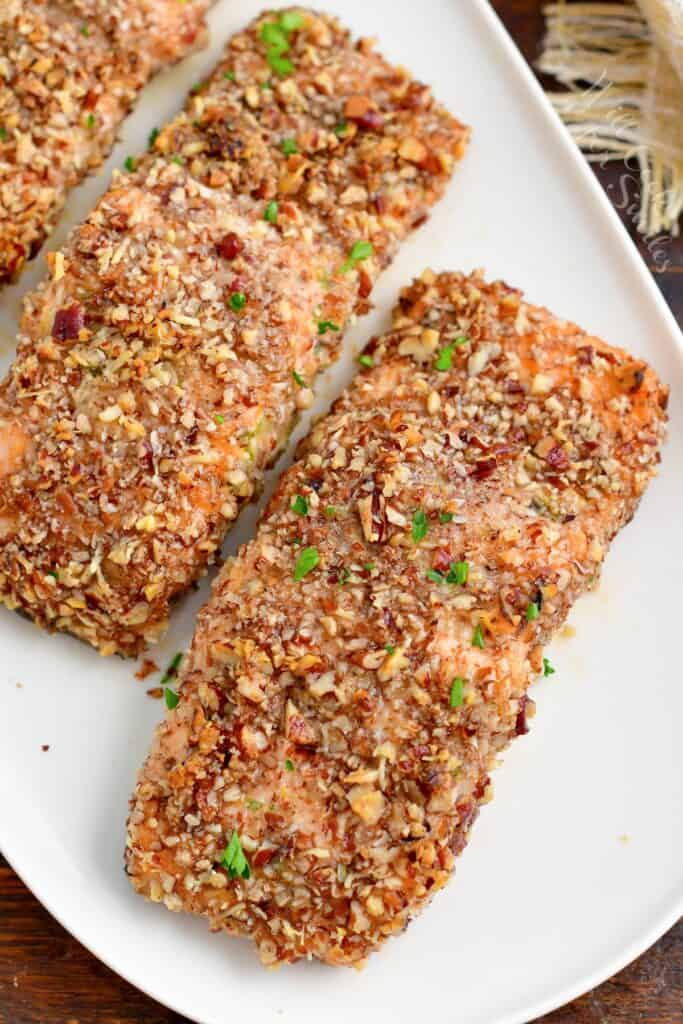 Sides to Serve with Pecan Crusted Salmon
So, you now have this truly delicious salmon dinner. What should you serve with it?
I always recommend serving it with both potato and vegetable based side dishes. Mashed Potatoes and Oven Roasted Potatoes are always a big hit, as are Roasted Green Beans and Mushrooms and Italian Roasted Asparagus.
For a lighter dinner, you can always serve it with a salad of cauliflower based side dishes like roasted cauliflower or mashed cauliflower.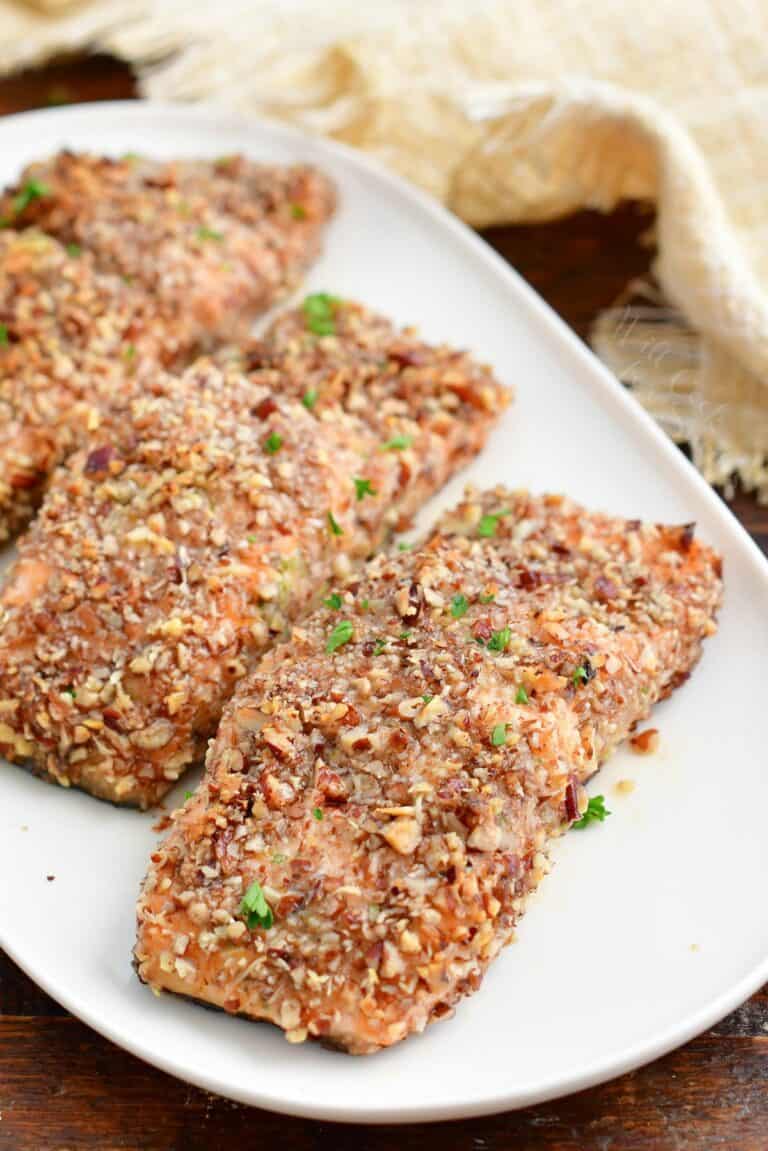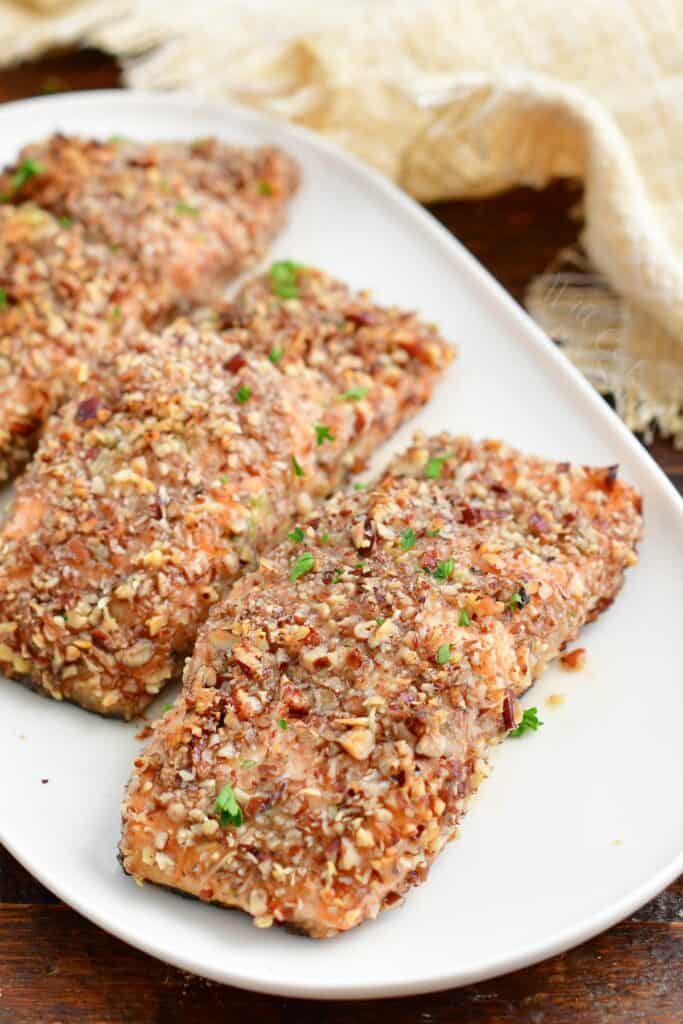 More healthy and delicious salmon recipes!
Blackened Salmon – a perfectly easy, 20-minute salmon recipe coated in a rich combination of herbs and spices and seared in a pan.
Easy Healthy Salmon – herbs, lemon, and garlic are the perfect flavor compliments and all you need is about 20 minutes to bake it in the oven.
Teriyaki Salmon – salmon is baked in a delicious homemade teriyaki sauce and you can serve it over rice, salad, or vegetables.
Salmon Patties – super easy to make with canned salmon any night of the week and you can serve them within 30 minutes.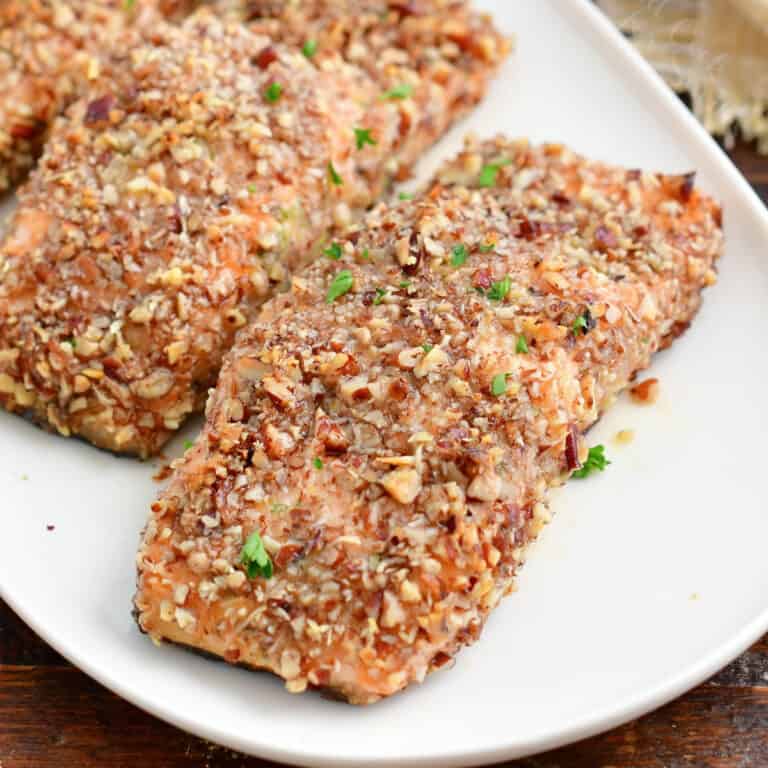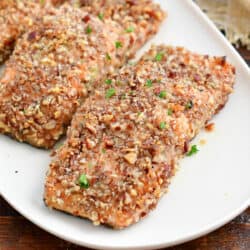 Pecan Crusted Salmon
Pecan Crusted Salmon is an easy, juicy baked salmon coated in a layer of flavored mayo and a mixture of crushed pecans and Parmesan cheese.
Print
Save
Saved!
Rate
Ingredients
4

skin on salmon filets 6-8 oz. each

1/4

cup

mayonnaise

1

lemon – zest only

1

tbsp

fresh minced Parsley

1/2

cup

grated Parmesan Cheese

2/3

cup

crushed pecans

salt

black pepper
Instructions
Preheat the oven to 425° and line a rimmed baking sheet with parchment paper to prevent salmon skin from sticking.

Pulse pecans in a blender until they look like coarse crumbles but not until it looks like dust. Grate Parmesan cheese off the block if needed.

In one small bowl, combine mayonnaise, lemon zest, minced parsley, and some salt and pepper. Mix well.

In another bowl, that is wide and shallow, combine pecans, grated Parmesan cheese, and some salt and pepper.

Pat salmon filets dry with a paper towel and rub the skin with some oil.

Season salmon with a little salt and rub the filets with mayo mixture on three sides but not on the bottom.

Dip each mayo coated salmon filet into the pecan and Parmesan mixture on three sides, patting it down to crust it evenly.

Place crusted salmon onto the baking sheet, skin down, and bake for 18-22 minutes. (Note that the size of salmon will affect the exact baking time, small and thin filets can take as little as 15 minutes and larger, thicker ones can take up to 25 minutes.)
Nutrition
Calories:
517
kcal
|
Carbohydrates:
3
g
|
Protein:
40
g
|
Fat:
38
g
|
Saturated Fat:
7
g
|
Polyunsaturated Fat:
15
g
|
Monounsaturated Fat:
14
g
|
Trans Fat:
1
g
|
Cholesterol:
110
mg
|
Sodium:
355
mg
|
Potassium:
934
mg
|
Fiber:
2
g
|
Sugar:
1
g
|
Vitamin A:
280
IU
|
Vitamin C:
3
mg
|
Calcium:
176
mg
|
Iron:
2
mg
Tried this recipe?
Mention @willcookforsmiles and tag #willcookforsmiles