Teriyaki salmon is a very easy salmon recipe, perfect for any day of the week. It's baked in a delicious homemade teriyaki sauce and you can serve it over rice, salad, or vegetables. So flavorful and ready in less than 30 minutes.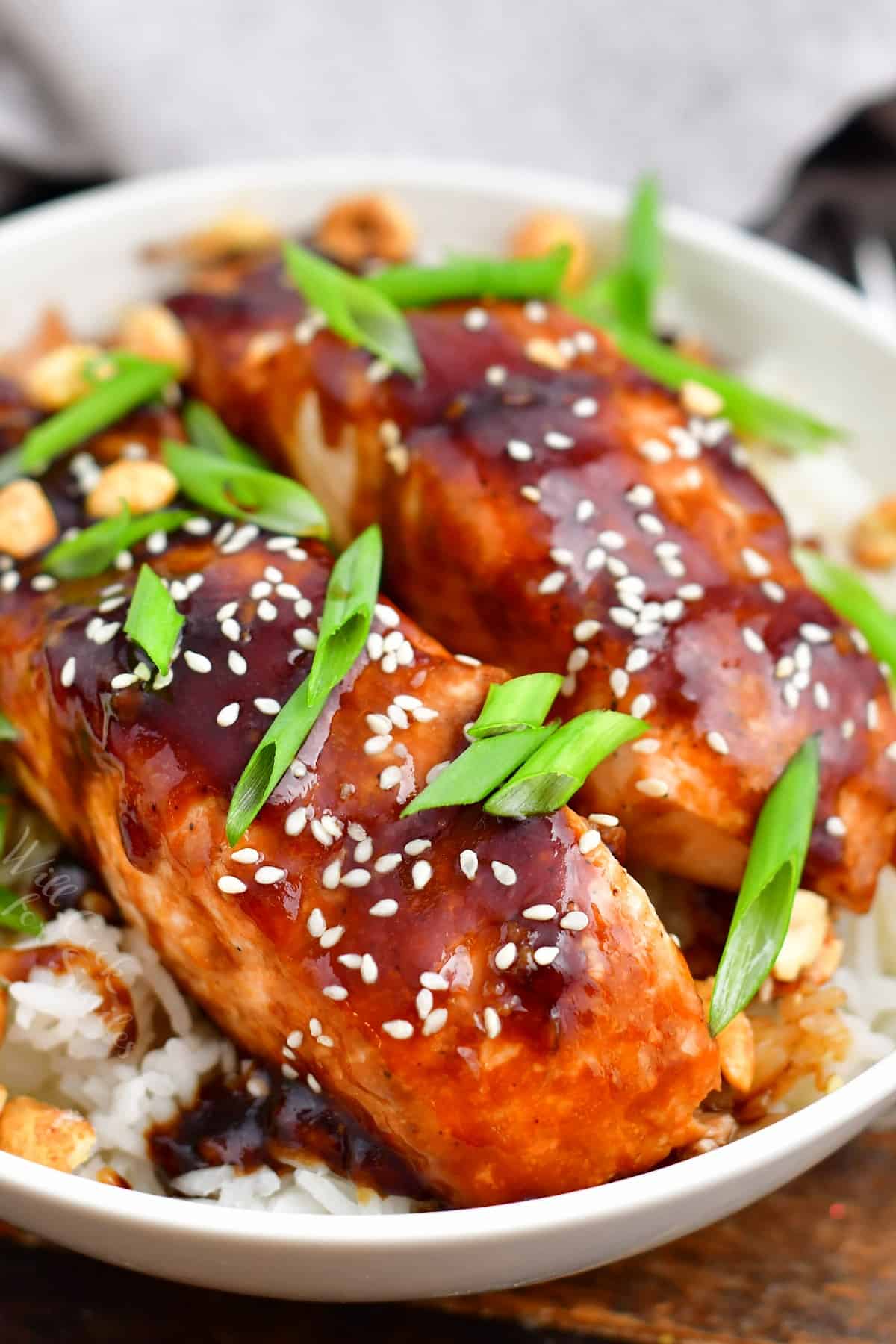 Salmon is always my go-to fish for an easy and heathy weeknight dinner. It has a wonderfully mild flavor that is not as fishy as some other catches tend to be. Everyone loves its meaty and flaky texture too. Salmon also has a richness that pairs perfectly with the salty, sweet, and tangy flavors of my homemade teriyaki sauce.
Enjoy Salmon For Heart Health
There is a reason that salmon is on the super-foods list. It's full of health benefits and should definitely be on your weekly menu. Not only are there a variety of vitamins and minerals found in salmon, but it's also rich in healthy Omega-3 oils and fats.
This combination is known to help regulate blood pressure, reduce the risk of heart attacks, and improve overall heart function. Because of these benefits, the American Heart Association recommends eating 2 servings of fish per week.
Ingredients and Substitutions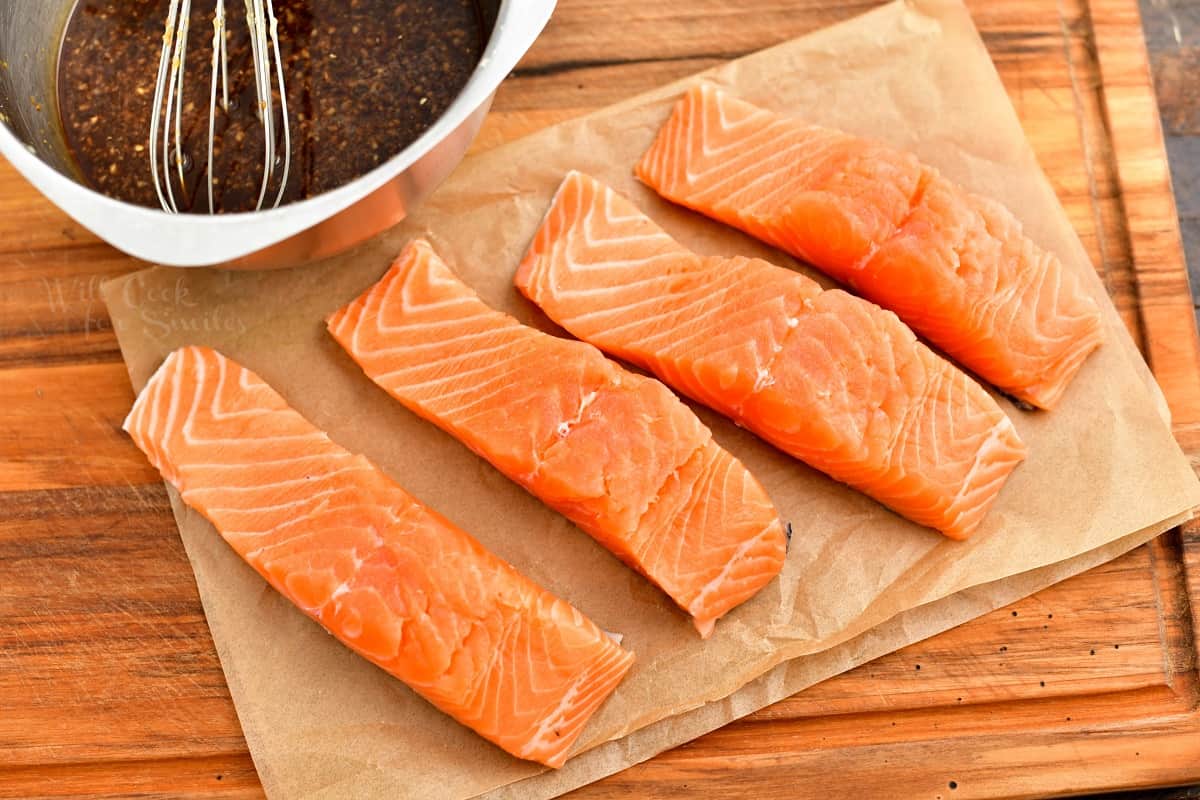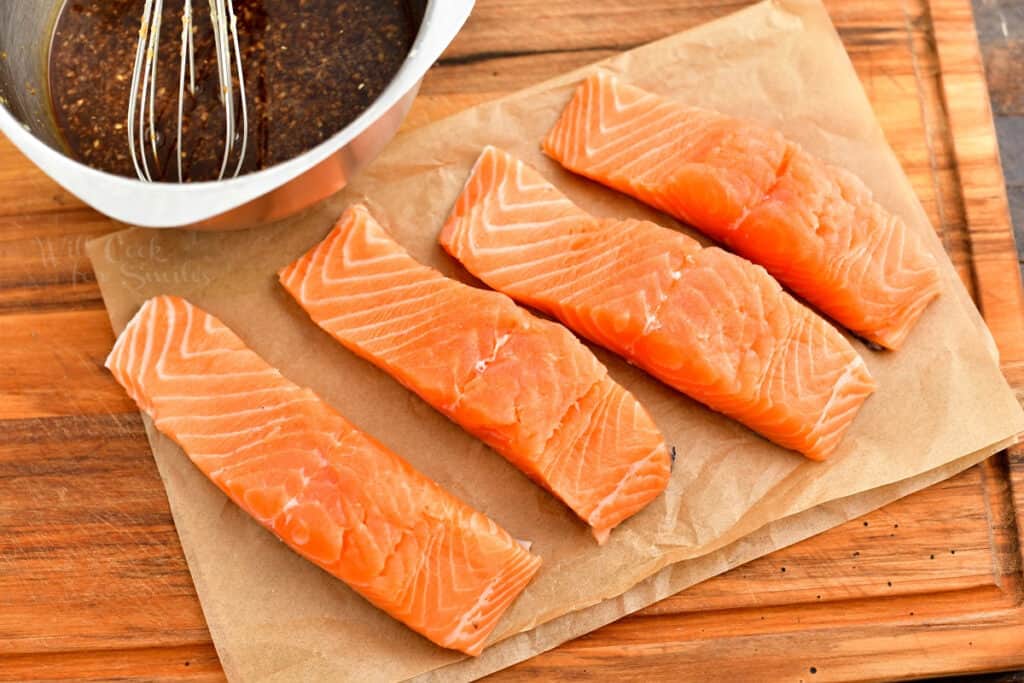 Fresh salmon fillets – It's best to use fillets with the skin still on. Doing this adds a layer of protection between the fish and the heat from the pan. Plus, it helps lock in the juices, keeping the salmon tender and moist. There is also a hefty storage of healthy fats in a layer between the skin and the meat.
Soy sauce – Choose a low sodium version so the sauce isn't too salty. Or, use a gluten free alternative, it tends to be much less salty.

Honey – Honey will add sweetness and a few more vitamins to the dish. It's a better alternative to brown sugar.

Garlic – Not only are freshly pressed cloves more potent than minced, but the flavor is more complex as well. Use fresh garlic as much as you can, your taste buds will thank you!

Rice vinegar – If you don't have this on hand, you can use apple cider vinegar instead.

Chicken stock – It's easy to make your own at home and keep it in portioned in a freezer when you need to use it. Feel free to use vegetable stock instead in needed.

Corn starch – This is used to thicken the sauce into more of a glaze so it sticks better to the fish.
HOW TO MAKE TERIYAKI SALMON
1. SEAR THE FISH.
First, rub the skin side of the salmon with a little bit of oil. Preheat a cast iron skillet or another stove to oven pan and place the fish gently in a pan, skin side down. Then, cook until the skin starts to crisp and releases more oils.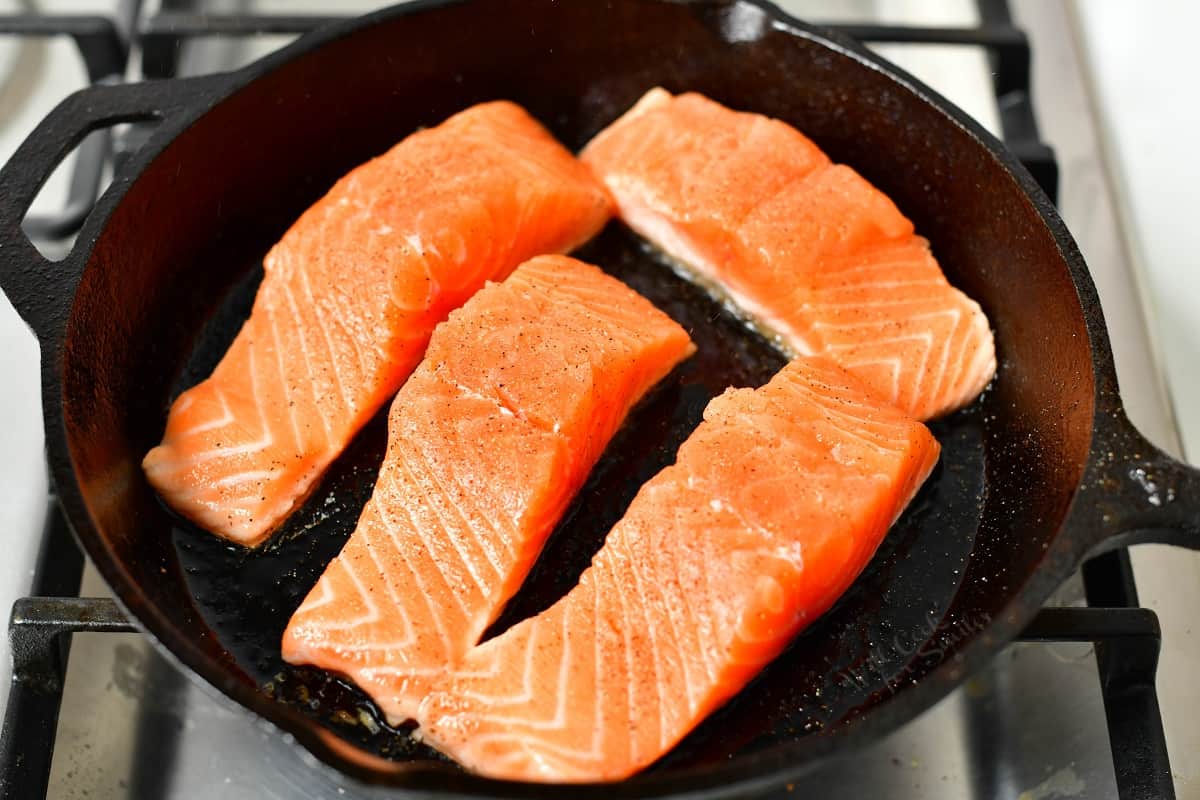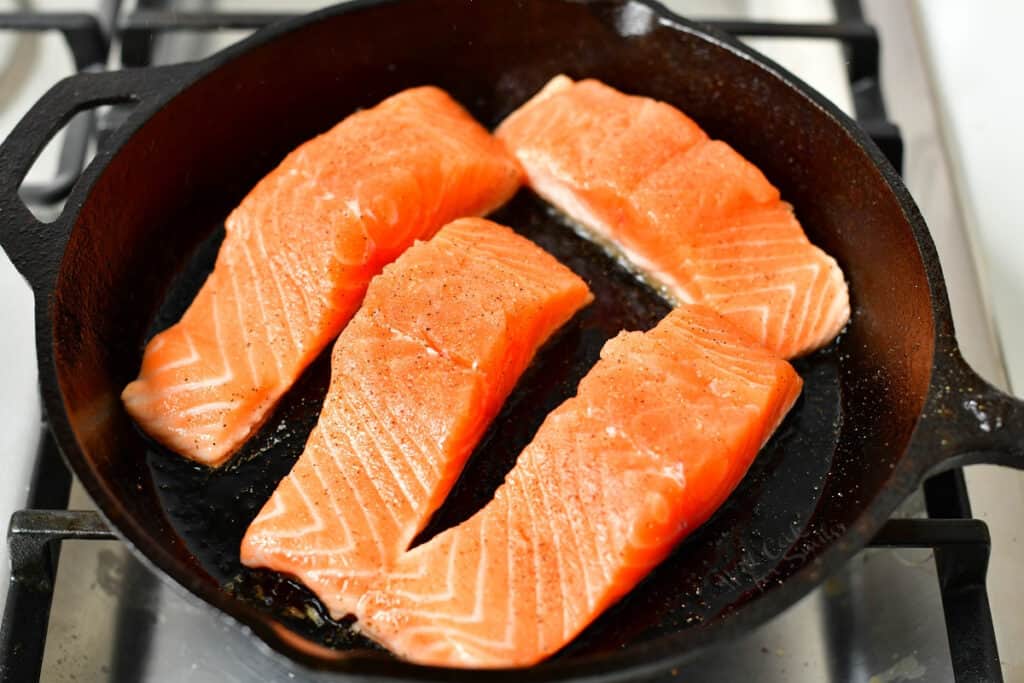 NOTE: For skinless fillets, use a little more oil to prevent the fish from sticking to the pan, or skip this step entirely.
2. ADD THE TERIYAKI SAUCE.
Whisk together all of the sauce ingredients, then pour over the fish in the pan.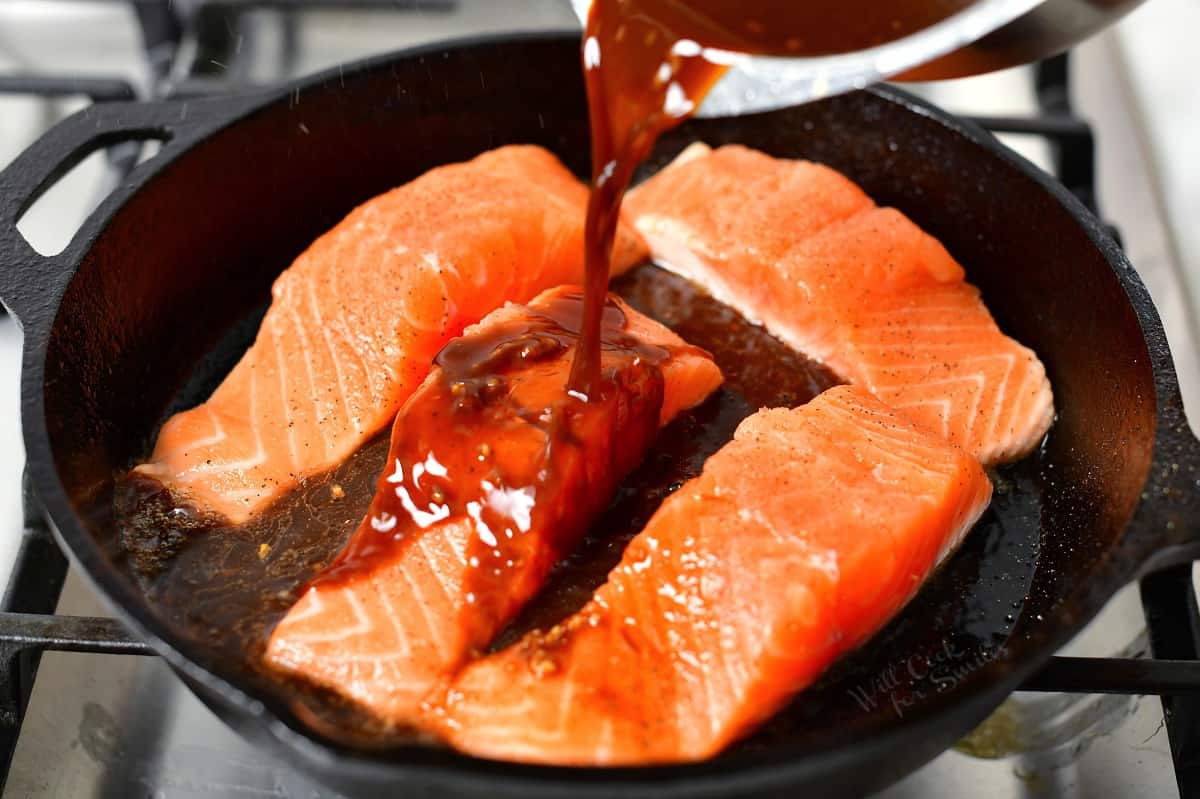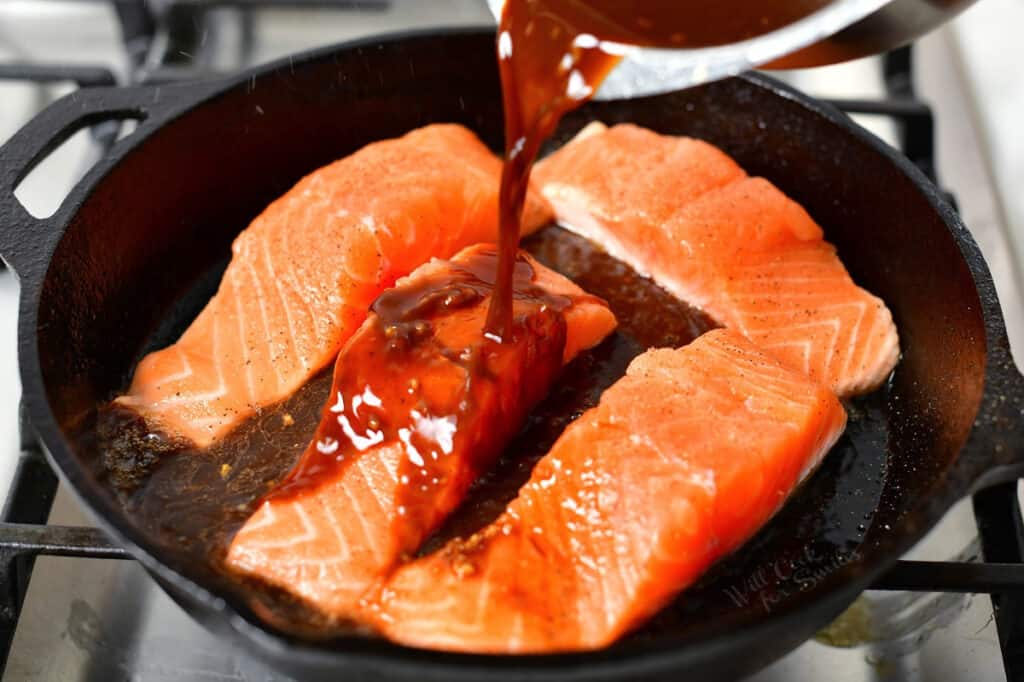 3. OVEN BAKE THE SALMON.
Transfer the skillet to a preheated oven right away and bake until salmon is cooked through.
4. GARNISH AND SERVE.
Serve this salmon over rice with some more sauce spooned on top, scallions, sesame seeds, and even some peanut for a little crunch.
How To Tell If Salmon Is Done?
Many seasoned cooks can check if salmon is done by touch but a method that always works no matter what is using a meat thermometer. It is recommended by USDA to cook salmon to 145° internal temperature, which is when salmon is considered fully done.
Personally, I prefer salmon at either medium or medium-well temperature, which is around 125°-130°.
When it is properly cooked, the fish will no longer be shiny or translucent. It should flake apart easily when gently pressed on the top. It will also be firm to the touch in the center and not feel squishy inside.
Another way to determine doneness is to insert the tines of a fork at an angle into the center of the fillet and gently twist. If the flesh easily separates from the white lines of fat, the salmon is done.
But the best way to test if salmon is done will always be by using a meat thermometer.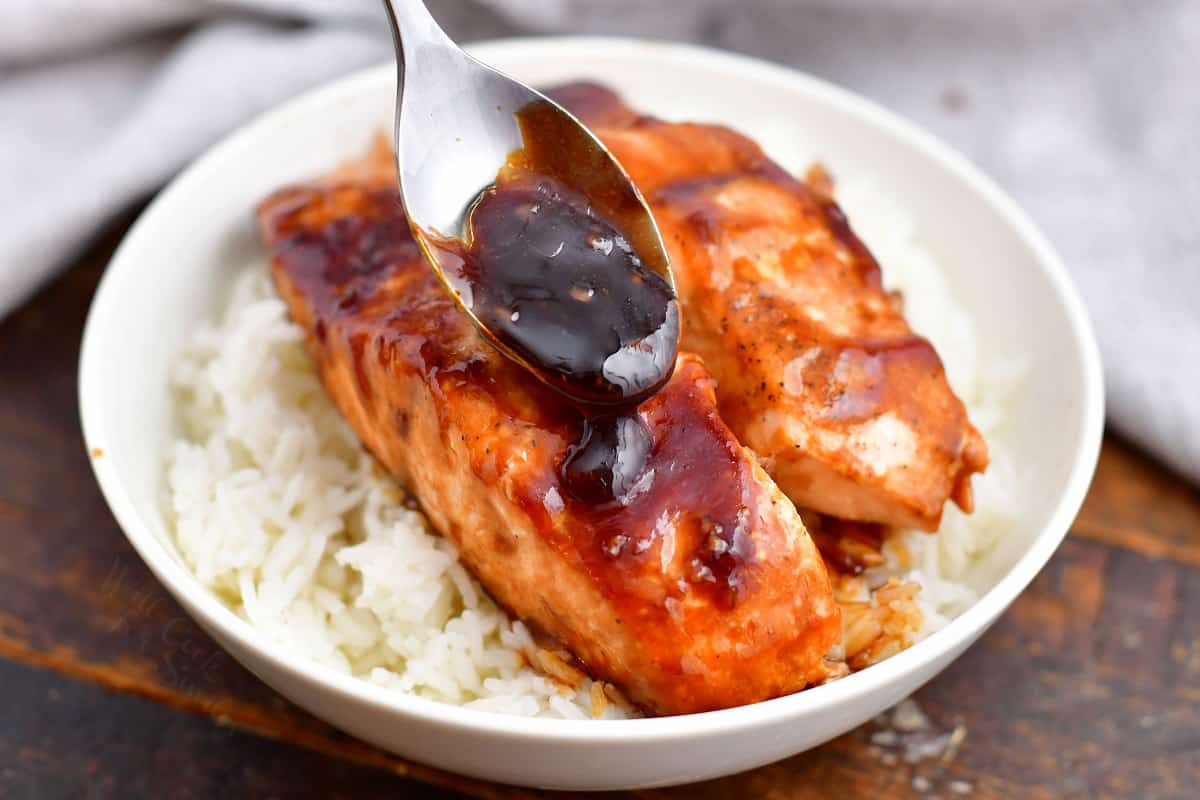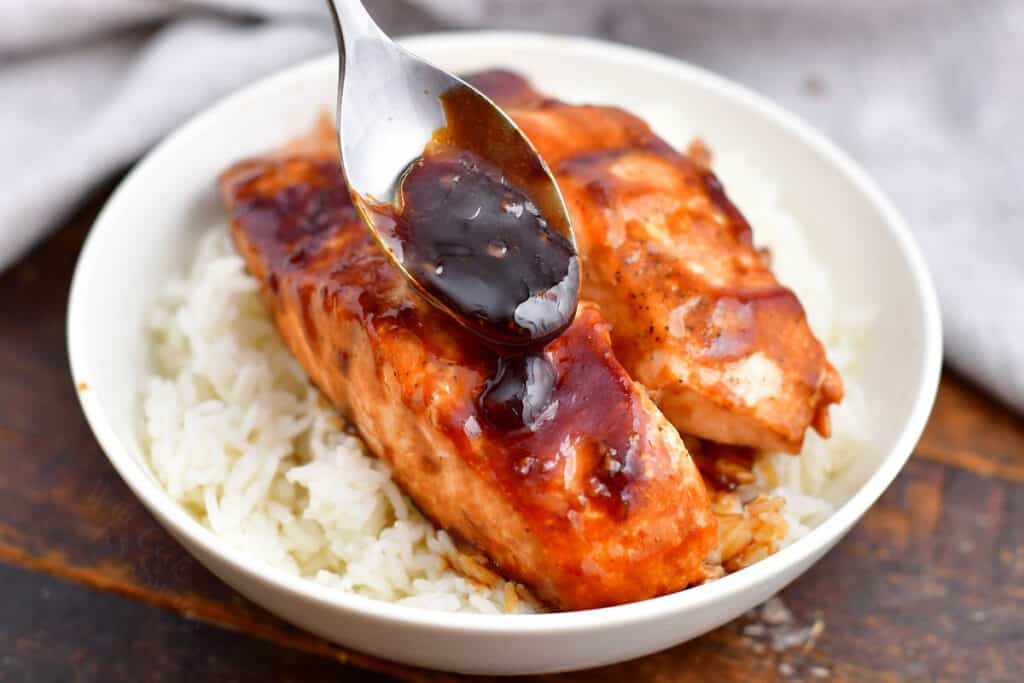 Serving Suggestions
Pair this teriyaki salmon with steamed jasmine rice , a sprinkle of scallions, and sesame seeds for color and texture.
I love adding some peanuts for a crunchy texture as well.
To make it healthier, serve it with steamed or roasted vegetables instead of rice.
If you want to make it Keto, use coconut aminos instead of soy sauce and an alternative sweetener instead of honey. Use low-carb vegetables instead of rice.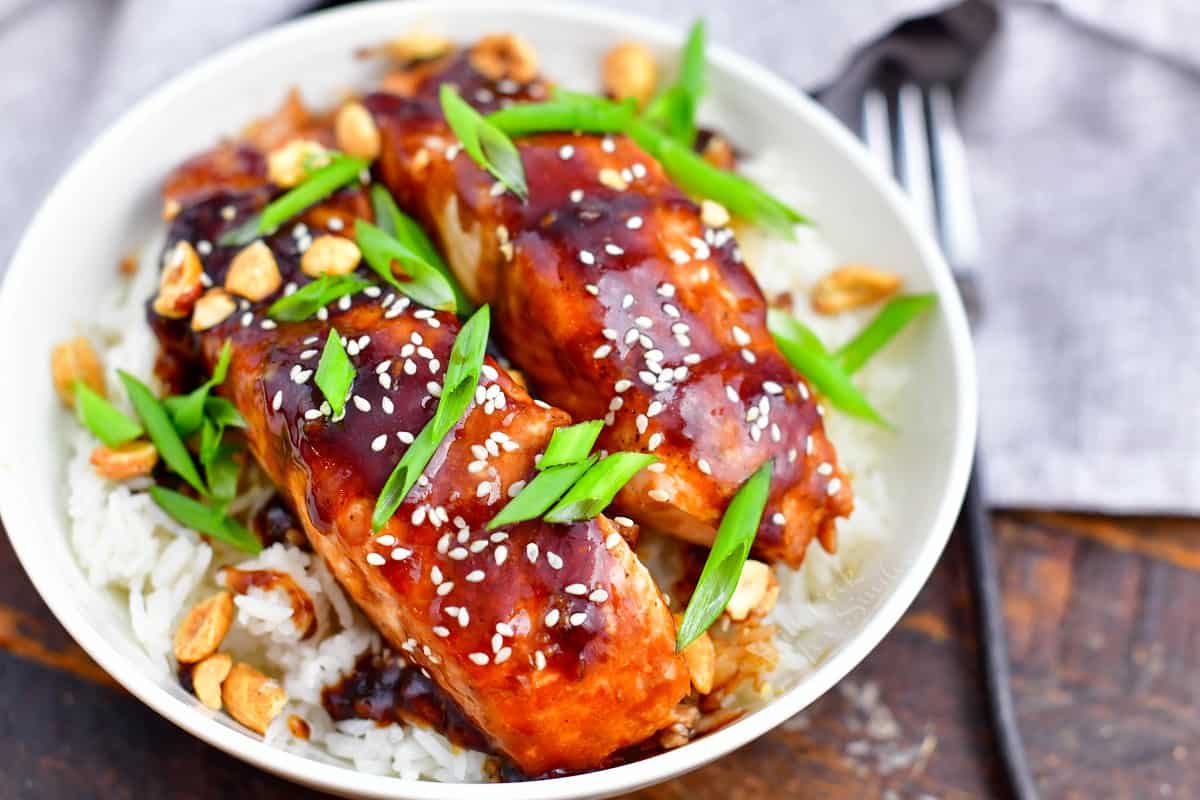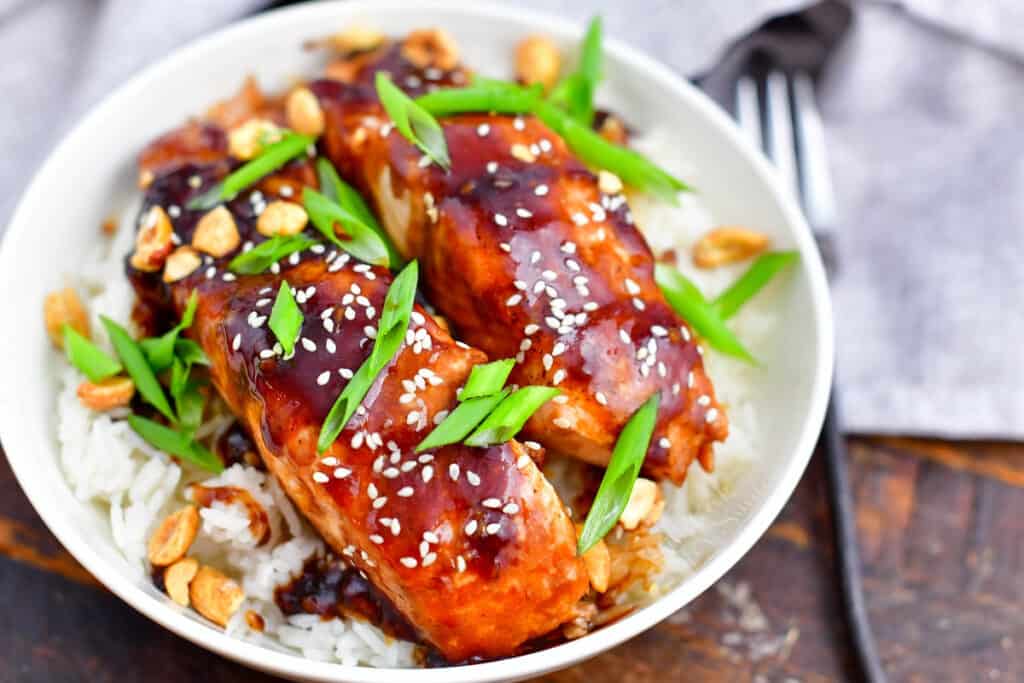 Frequently Asked Questions
What is the difference between teriyaki sauce and teriyaki marinade?
Marinade is often thinner in texture and is used to flavor food before it is cooked. Meat, vegetables, and even tofu are soaked in the liquid for a few minutes or several hours before being drained and cooked.
Teriyaki sauce, however, is used during cooking or spooned over the finished dish to add a punch of flavor. It uses thickener like cornstarch to turn it into a thicker sauce. Add as much or as little as you'd like and use it as a dipping sauce as well!
Is it better to cook fish on the stove or in the oven?
Pan searing is usually good for smaller pieces of fish and when you want to achieve crispy skin. When you cook in the pan through, the heat distribution is not as even so meat doesn't cook as evenly as in the oven. Oven provides even heat throughout so the fish cooks uniform all over.
This particular pan seared salmon recipe combines the best of both methods. Searing the fish first sears the fat off the bottom. Then, it's finished in the oven so it cooks evenly and doesn't require constant attention.
What is the best way to reheat salmon?
Low and slow is the best method to keep the fish from drying out or becoming overcooked, so skip the microwave and use the oven instead.
Heat teriyaki salmon in the oven at 275°F until warmed through, and use a lined baking sheet for easy cleanup. It also helps to add a splash of liquid or extra sauce to the pan and cover it loosely with foil to trap the moisture.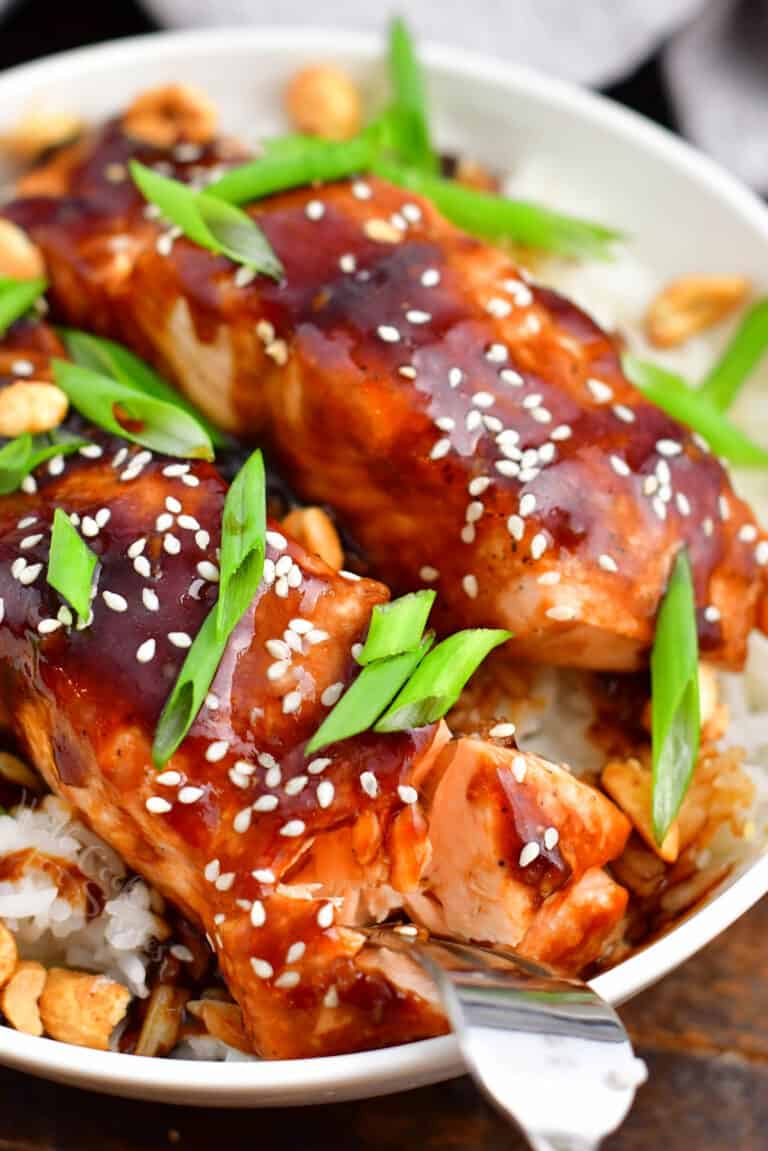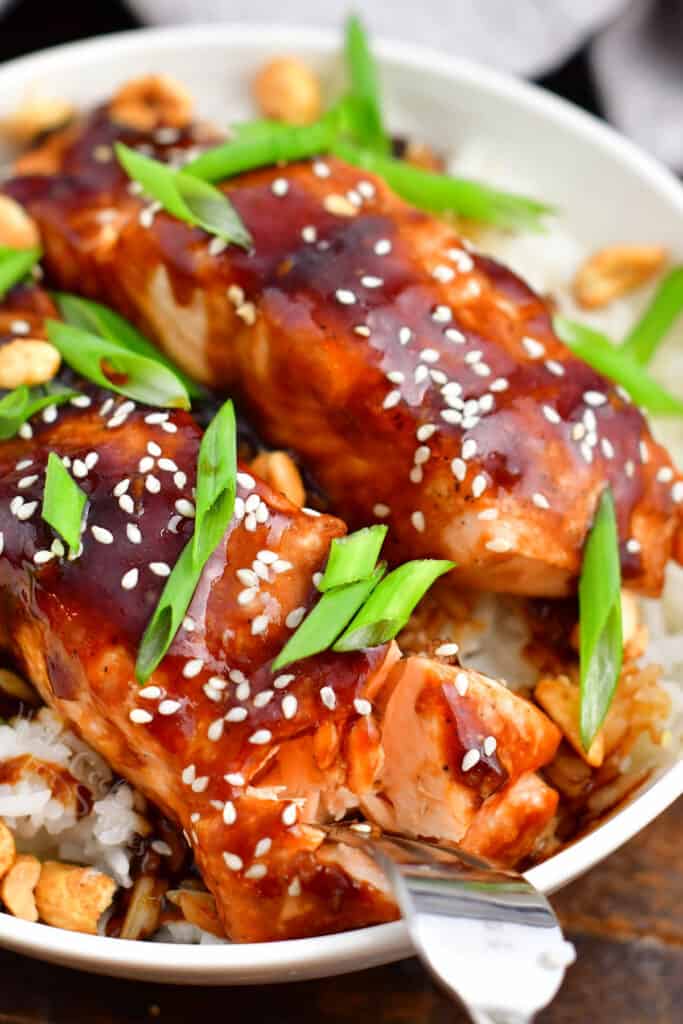 MORE RECIPES YOU SHOULD TRY
Chicken Teriyaki is one of my go-to dinners because it's just as easy to make and tastes better than any takeout. Teriyaki Rice and Salmon Patties make another easy meal and are great for leftovers or lunches.
For something a little different, try my baked Orange Salmon. The sauce is made with just 4 ingredients and has a delicious balance of sweet and salty.
I have SO many Salmon Recipes, make sure to check them all out!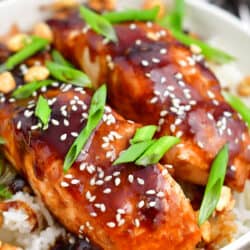 Teriyaki Salmon
Teriyaki salmon has pan seared, crispy skin and is baked in a delicious Asian sauce. Make this recipe for a simple meal in under 30 minutes!
Print
Pin
Save
Saved!
Rate
Ingredients
2

lbs

salmon fillets

skin on preferred

oil
Teriyaki Sauce:
1/2

cup

low sodium soy sauce

1/4

cup

honey

4

garlic cloves

1

tbsp

rice vinegar

1/2

cup

chicken stock or broth

1 1/2

tbsp

corn starch
Serving Suggestions:
Jasmine rice

scallions

sesame seeds
Instructions
Note: If using skin on salmon, I recommend to take an extra step of searing the skin first before adding sauce and placing in the oven. This will give the sauce and the salmon better tasting results because less fat will melt into the sauce.

Preheat the oven to 425°.

Make sure the there are no scales left of the salmon skin and rub the skin with some oil.

Preheat a cast iron skillet, or another cooking pan that can safely go from stove-top to the oven, over medium-high heat.

Add a little bit of oil and place salmon into the skillet, skin down.

Let it sear for about a minute or a minute and a half.

Whisk all ingredients for the teriyaki sauce in a bowl.

Use a fish spatula to loosen the salmon off the pan and pour in the teriyaki sauce, pouring it over salmon.

Transfer the skillet into the oven right away and bake for 18-20 minutes, depending on the size and thickness of salmon. Cooked salmon should be 145° internal temperature. (If you want medium to medium-well doneness, cook to 125°-130°)

Take salmon out of the oven and out of the pan so it doesn't continue to cook.

Serve salmon on a bed of rice topped with some more sauce, scallions, and sesame seeds.
Nutrition
Calories:
431
kcal
|
Carbohydrates:
25
g
|
Protein:
48
g
|
Fat:
15
g
|
Saturated Fat:
2
g
|
Cholesterol:
126
mg
|
Sodium:
1207
mg
|
Potassium:
1223
mg
|
Fiber:
1
g
|
Sugar:
18
g
|
Vitamin A:
91
IU
|
Vitamin C:
1
mg
|
Calcium:
38
mg
|
Iron:
3
mg
Tried this recipe?
Mention @willcookforsmiles and tag #willcookforsmiles