Salmon is a wonderful fish to make for dinner. It's easy to cook, juicy, moist and tender. In this collection, you will find so many wonderful flavors and ways to cook it for dinner. The best part is that all these salmon recipes take no more than 30 minutes to cook.
SALMON RECIPES
Salmon is always my go-to fish. It's so easy to cook and with its mild flavor, it goes with so many seasoning, sauces, and side dishes. Cook it any way you want because it stands up to any cooking method be it baking, grilling, pan searing, or air-frying.
Flesh of salmon is moderately dense, thick, and meaty, which is why it can stand up to many different cooking methods and retain its shape and moisture. As long as you don't over-cook it, it will be a very juicy fish. Luckily, because of the denser flesh, it's not as easy to overcook as a delicate fish like flounder or trout.
Salmon is probably the easiest fish to prepare because of its moderate firmness. Delicate fish like flounder can easily fall apart and dry out while cooking. On the other hand, more firm fish like mahimahi has to be cooked with care because of it's density. It is easier to overcook mahimahi than salmon because it is more dense and has less fat and moisture.
Salmon has a good amount of fat to keep it moist, juicy, and flavorful but for the best texture, cook it no more than medium-well.
SALMON HEALTH BENEFITS
But, salmon is not just a delicious, meaty fish, it is also full of health benefits. Packed with Omega-3 fatty acids, this fish can help with healthy brain function, helps lowering blood pressure, lowers inflammation, helps with depression, and many other health benefits.
Salmon is also high in protein, B Vitamins, and D Vitamin. All in all, this is a fantastic fish to include in your weekly menu and I gathered a lot of recipes to help with that.
HOW TO TELL IF SALMON IS DONE
If you've cooked a lot of salmon if you life, you can tell if its' done just by touch. When you press on the center of the thickest part of the fish, you can feel how firm or squishy it is. The more firm it is to the touch, the more done the fish will be.
Of course, the most accurate way to tell is salmon is done is to use a digital instant read thermometer. If you cook at home even a little bit, you should have one to check temperature of meats.
USDA recommends to cook salmon to 145° internal temperature, which is when it is considered fully done. Personally, I prefer salmon at either medium or medium-well temperature, which is around 125°-135°. I usually cook my salmon to 135°.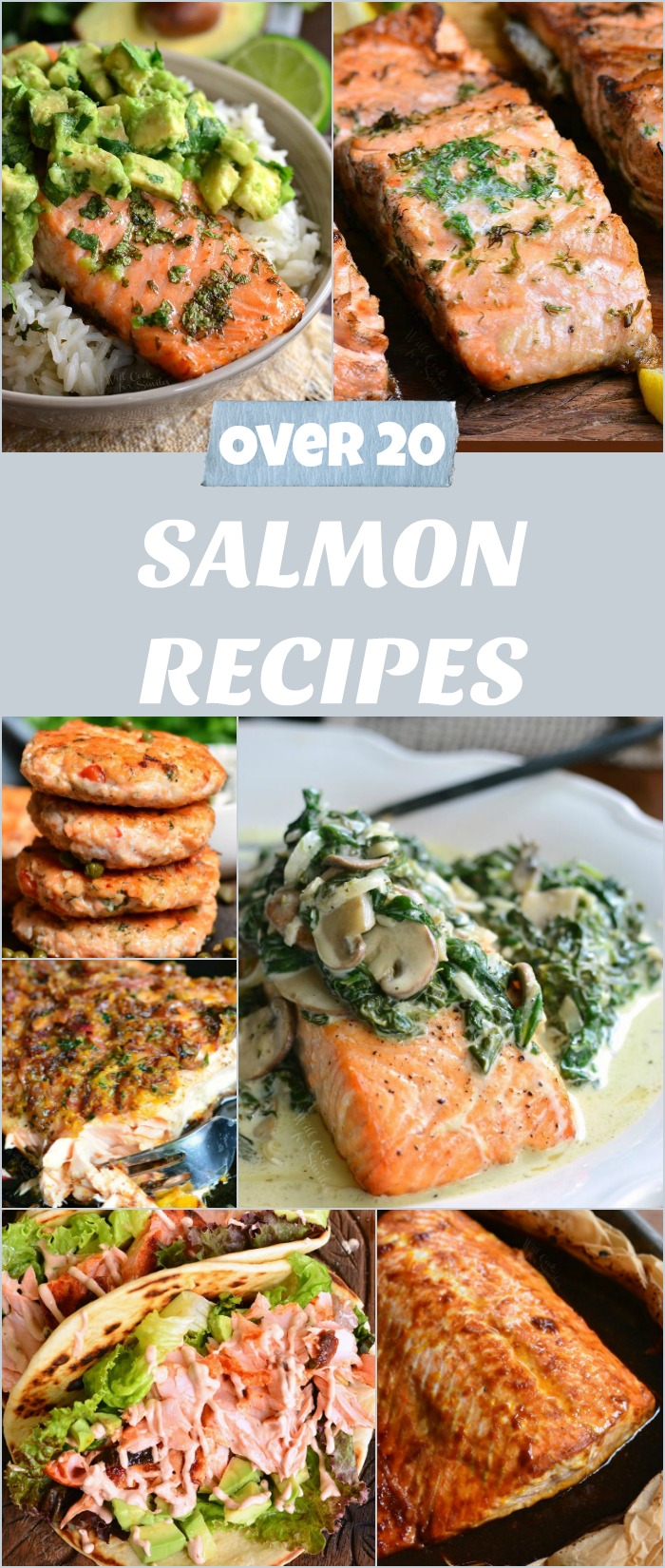 BAKED SALMON RECIPES
COOKING SALMON IN THE PAN
GRILLED SALMON