Cacio e pepe is kind of the original mac and cheese but simplified down to only 3 ingredients. All you need to make this fantastic and flavorful dish is pasta, black peppercorns, and Pecorino or Parmesan cheese. It's pleasantly spicy, cheesy, and will only take you 20 minutes to make.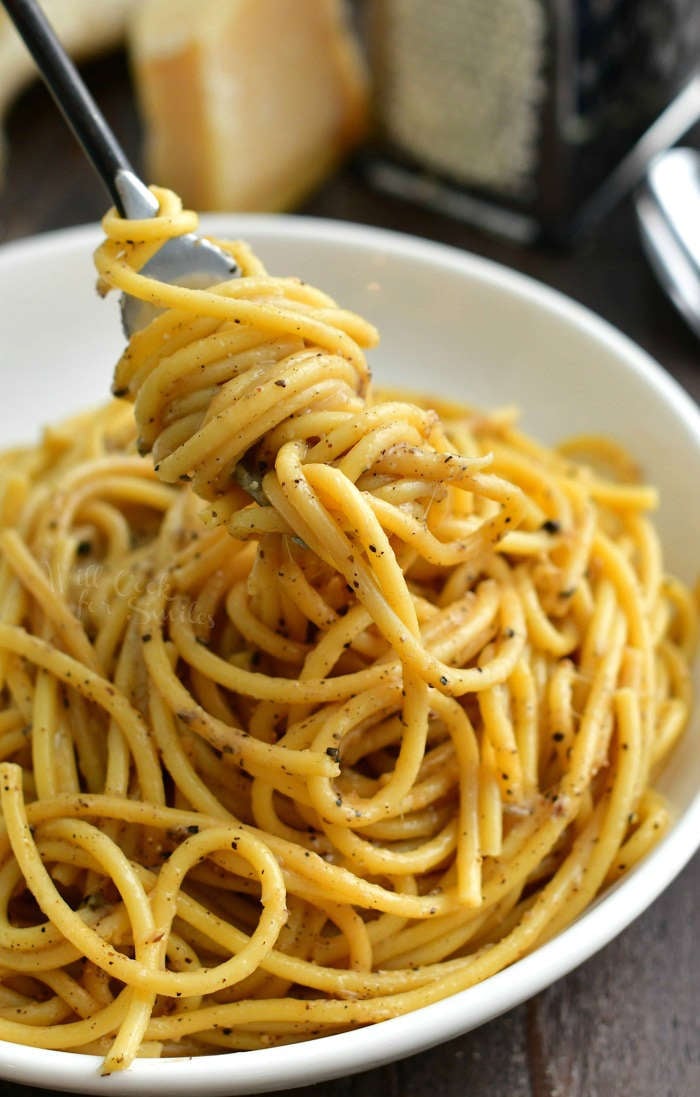 WHAT IS CACIO E PEPE?
As much and I don't want to introduce a competitor to my beloved mac and cheese, this pasta dish is too good not to try. If you've never tried Cacio e pepe, you are truly missing out. It's a zesty pasta dish coated with smooth and flavorful cheese sauce and all you need are three ingredients.
This dish originated centuries ago in Italy's Roman region where they used rough surfaced pasta, Pecorino cheese, and crushed black pepper. Cacio e pepe (pronounced [kaˈtʃo e ˈpeːpe] or "kah-cheeoh eh peh-peh") literally means "cheese and pepper" and that is all that went into the pasta. It was considered a simple but filling dish where you didn't need expensive ingredients to get a lot of flavor.
There is no butter and no oil in a true Cacio e pepe but the three ingredients used are very important to get the full flavor. Don't be tempted to add butter or oil to make the sauce smoother. The big secret to keeping the cheese from clumping is the starchy hot water used to cook pasta. Stick around and I'll show you!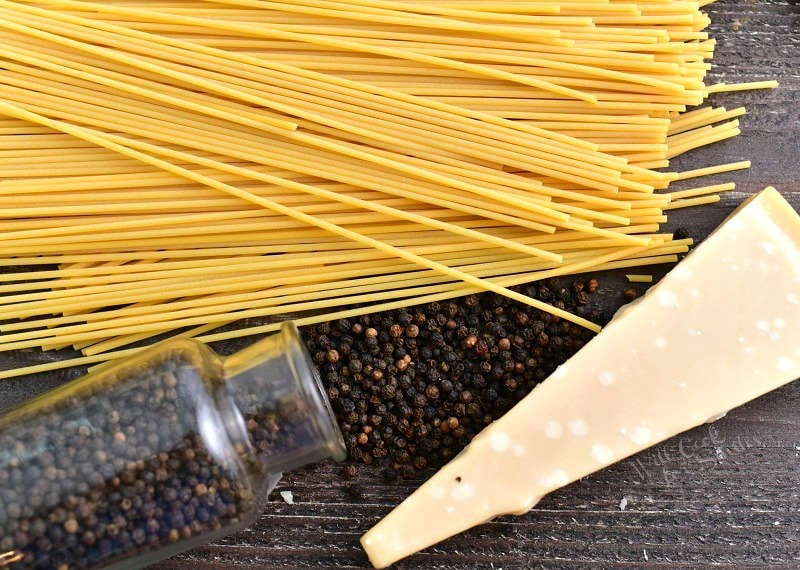 INGREDIENTS THAT I NEED
Pasta – the best choice for this dish is bucatini pasta. It's thicker than spaghetti and has rough surface, which is perfect for the cheese sauce to stick to evenly. Originally, Cacio e peppe featured tonnarelli pasta but you may have a hard time finding this one. You can also use artisan linguine, it usually had a rough surface. If you're not having any luck with either, go with the simple spaghetti.
Pecorino or Parmesan – Pecorino was the cheese of choice for this dish because of the strong, tangy, and salty flavor. Of course, if you don't have any Pecorino on hand, go with Parmesan cheese. The most important thing is to get the block of cheese and grate it by hand. Use the box grater side that has rough holes protruding from the grater to grate the cheese into fine dust. This fine grate on cheese will be the key for melting it into the smooth sauce.
Peppercorns – whole peppercorns is what you need. For the greatest flavor, toast the peppercorns in a hot skillet and then grind it on a coarse setting in a pepper grinder. If you want to get adventurous, use multi colored peppercorns.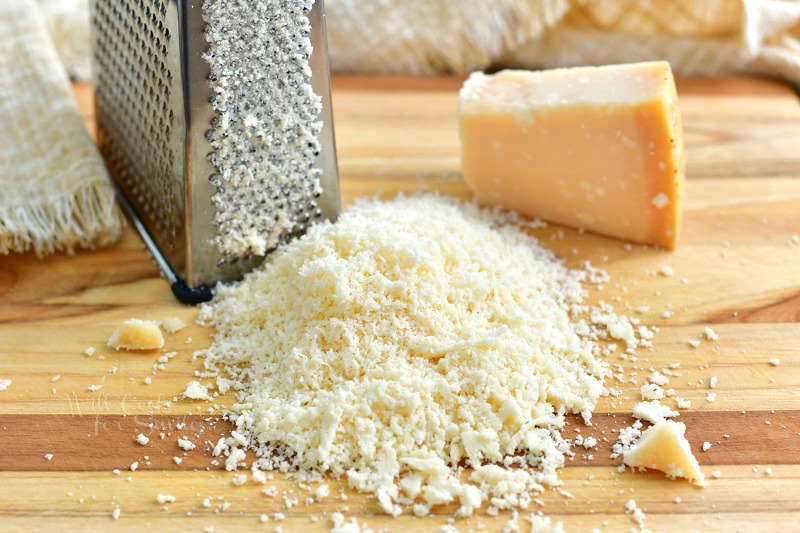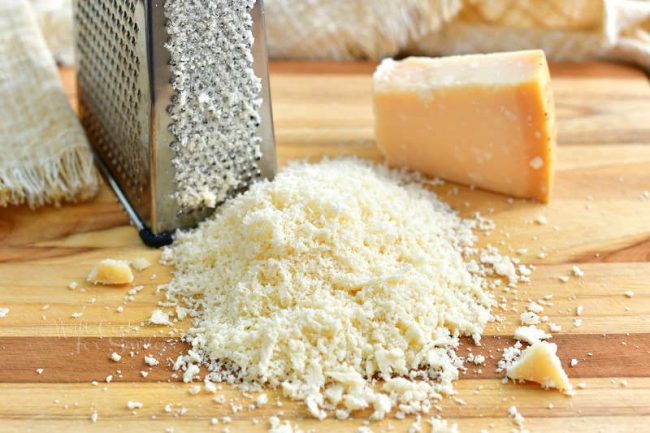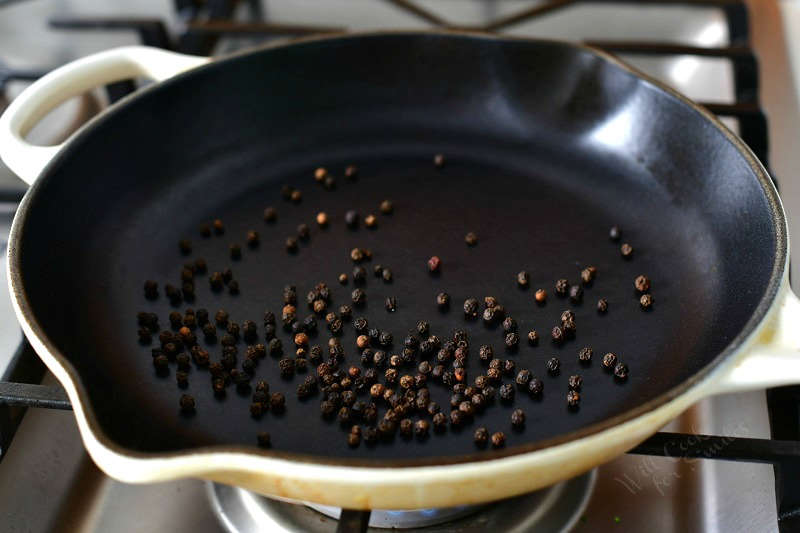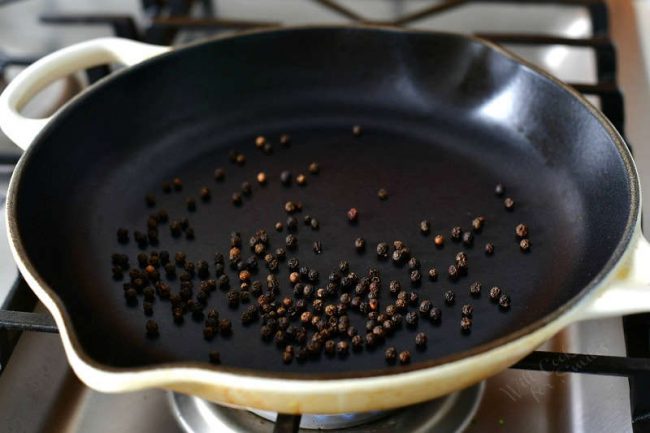 TIPS FOR THE BEST CACIO E PEPE
Grate the cheese by hand – don't buy grated cheese, even if it's from the deli section. Get a block of cheese and grate it by hand on the rough, protruding side of the grater. Just please, watch your knuckles and use a holder if you have one.
Don't drain off pasta first – don't drain off the pasta, just start to preheat the cooking pan a couple minutes before pasta is done. This way pasta will be piping hot and a little wet when it goes into the pan and then mixed with cheese sauce. Instead of draining off water, spoon the pasta out of the water either with a pasta ladle or tongs and add it to the pan with pepper mixture.
Cook side by side – for your comfort, cook pasta and peppercorns on the side-by-side burners so the pasta will go right from the pot to the pan easily.
Use starchy pasta water – use the starchy pasta cooking water to mix the cheese sauce and mix some in with the crushed pepper in the pan. Simply ladle some hot water out of the pot where pasta is cooking.
Toast peppercorns – toasting peppercorns seems like an extra step but it will give you rich, smokey flavor and aroma. When there are only 3 simple ingredients in a dish, you want to get the most flavor possible.
Mix grated cheese and pasta water – this is the secret weapon to keep the cheese from clumping when mixing it with hot pasta.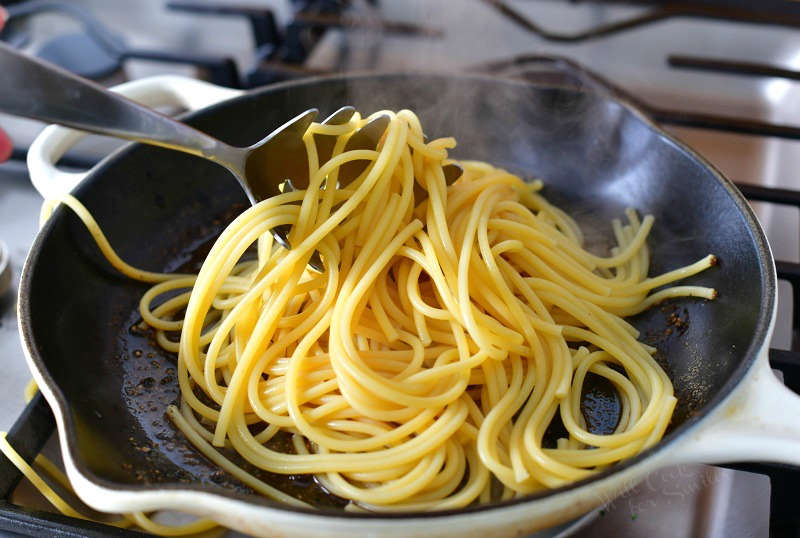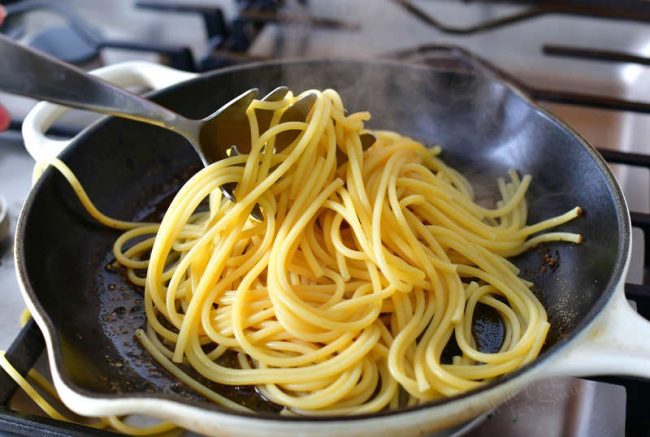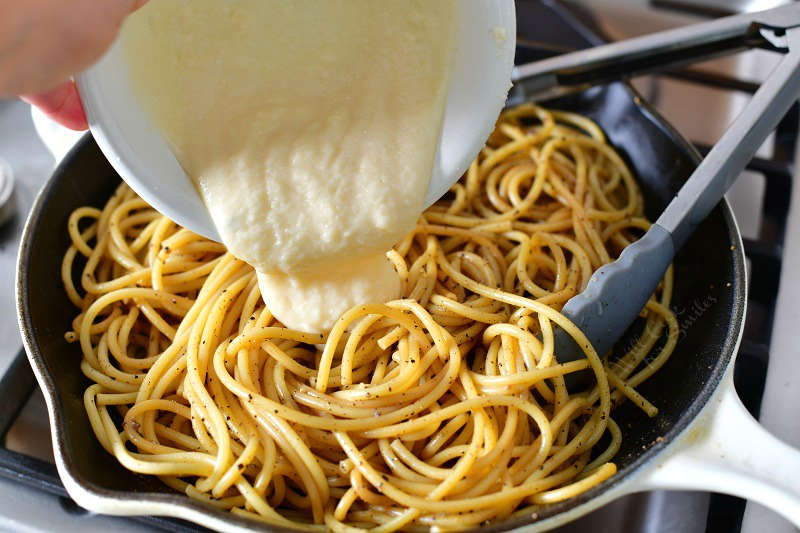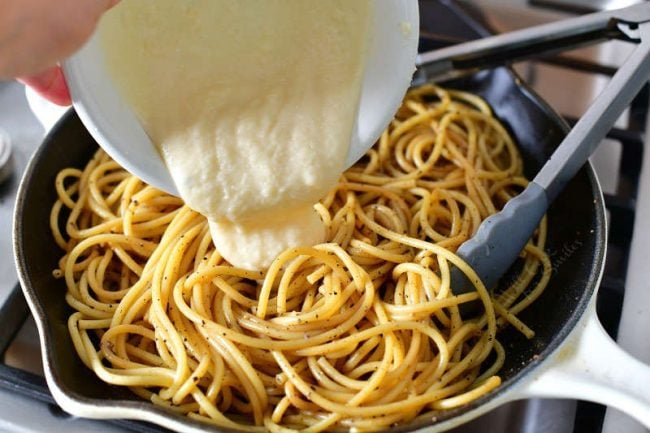 HOW DO I KEEP MY SAUCE FROM CLUMPING?
The two main secrets to keep the sauce in Cacio e peppe from clumping is the finely grated cheese and mixing it with hot, starchy pasta water. You want to have the finest, almost dust-like, grate of cheese. It will easily melt and mix into the smooth sauce.
Second trick is to use hot starchy cooking water from pasta to mix with the finely grated cheese. It will help melt the cheese and introduce a little bit of starch for thicker and smoother coating.
CAN I MAKE IT GLUTEN FREE?
Yes, don't be sad if you're gluten free because you can still enjoy this dish. You can use gluten free pasta, which actually does tend to have rougher surface already. Use gluten free spaghetti that you already like or try Tinkyada brand. I personally like this brand of gluten free pasta because it has the closest texture to a regular pasta.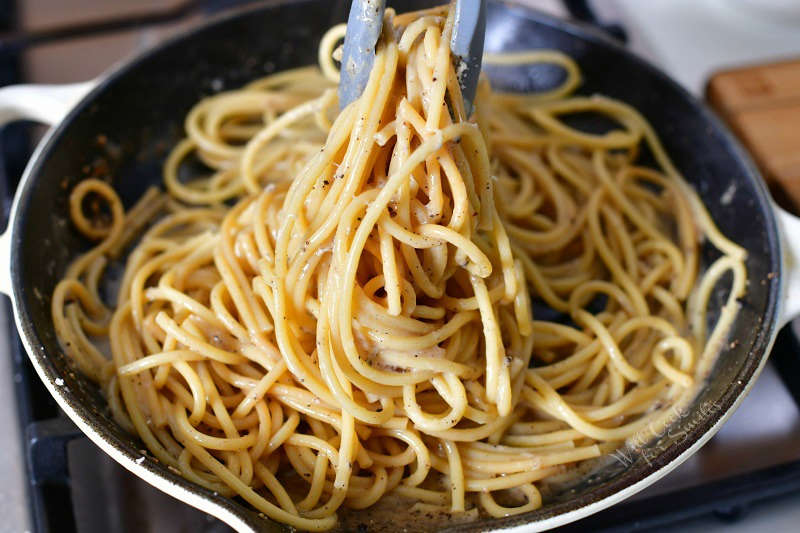 A FEW MORE ITALIAN CLASSIC RECIPES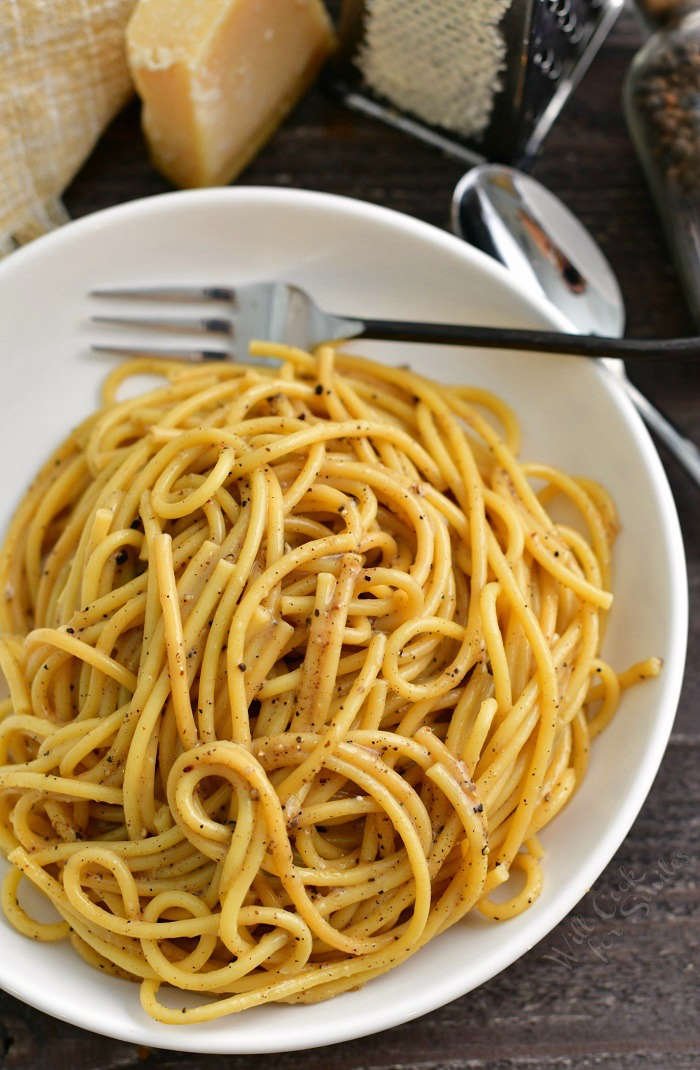 If you made any of my recipes and shared them on Instagram, make sure to tag me @willcookforsmiles and #willcookforsmiles so I can see all the things you tried!
Connect with Will Cook For Smiles!
Be sure to click below and follow me on my social media, so you never miss a recipe.
Don't forget to sign up for email, so you won't miss any new recipes.
HOW TO MAKE IT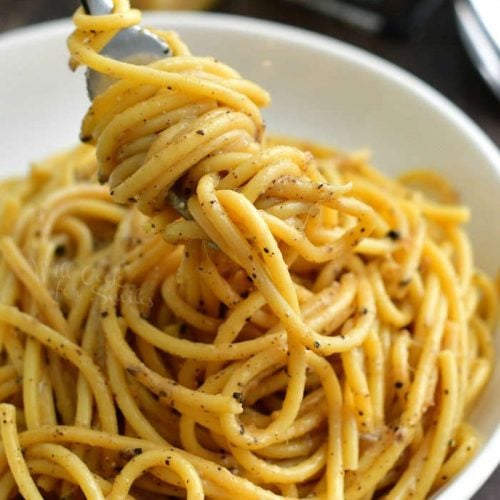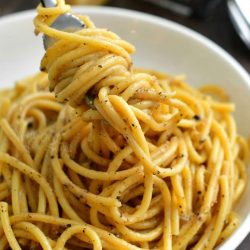 Cacio e Pepe
Cacio e pepe is a fantastic and flavorful dish made with bucatini pasta, black peppercorns, and Pecorino or Parmesan cheese. It's pleasantly spicy, cheesy, and will only take about 20 minutes to prepare.
Print
Pin
Save
Saved!
Rate
Ingredients
12

oz

bucatini pasta

1/2

tbsp

whole peppercorns

little more if you want more spice

2

cups

fresh grated Pecorino or Parmesan cheese

hand grated from the block (about 6 oz in weight)

starchy cooking water
Instructions
Grate the cheese:
Use the box grater side that has rough holes protruding from the grater to gate the cheese into fine dust. (This fine grate on cheese will be the key for melting it into the smooth sauce.)

Add grated cheese into a bowl and set aside.
Toast peppercorns:
Preheat a dry cooking pan that you will use later to make this pasta dish over medium heat.

Add peppercorns and toast them for a few minutes until starts to smoke and give out pleasant aroma. Make sure to gently shake the pan as peppercorns cook so they mix and don't burn.

Transfer toasted peppercorns into a pepper grinder and grind them on a coarse setting. Set it aside.
Cook pasta:
Add pasta to salted boiling water and let it cook until al dente. (Depending on the pasta and the brand, it will take 6-8 minutes.)

About 2 minutes before pasta is ready, start preheating a dry cooking pan on medium heat.

Add crushed pepper to the pan and add about 1/2 a ladle of pasta cooking water from the pot. Gently shake the pan to mix.

Let the pepper gently simmer and when pasta is ready, use a pasta fork to spoon and transfer cooked pasta from the pot into the pan. Let most of the water drip off the pasta as you spoon it but not all of it.

Add about 1/2 ladle of pasta cooking water to the bowl with grated cheese and mix it with a fork until melted and smooth. (Add a little more pasta water if needed.)

Scrape cheese sauce into the pasta and toss pasta with pepper and cheese mixtures until completely coated and smooth.
Nutrition
Calories:
515
kcal
|
Carbohydrates:
66
g
|
Protein:
29
g
|
Fat:
14
g
|
Saturated Fat:
8
g
|
Cholesterol:
34
mg
|
Sodium:
806
mg
|
Potassium:
252
mg
|
Fiber:
3
g
|
Sugar:
3
g
|
Vitamin A:
391
IU
|
Calcium:
615
mg
|
Iron:
2
mg
Tried this recipe?
Mention @willcookforsmiles and tag #willcookforsmiles