Pesto Pasta is a bright and easy pasta recipe that's unbelievably easy to make for a weeknight dinner. You only need a few simple ingredients and less than 30 minutes of your time to make this amazing pesto pasta. Make it perfectly flavorful and juicy with homemade pesto, your favorite pasta, and a couple other simple ingredients.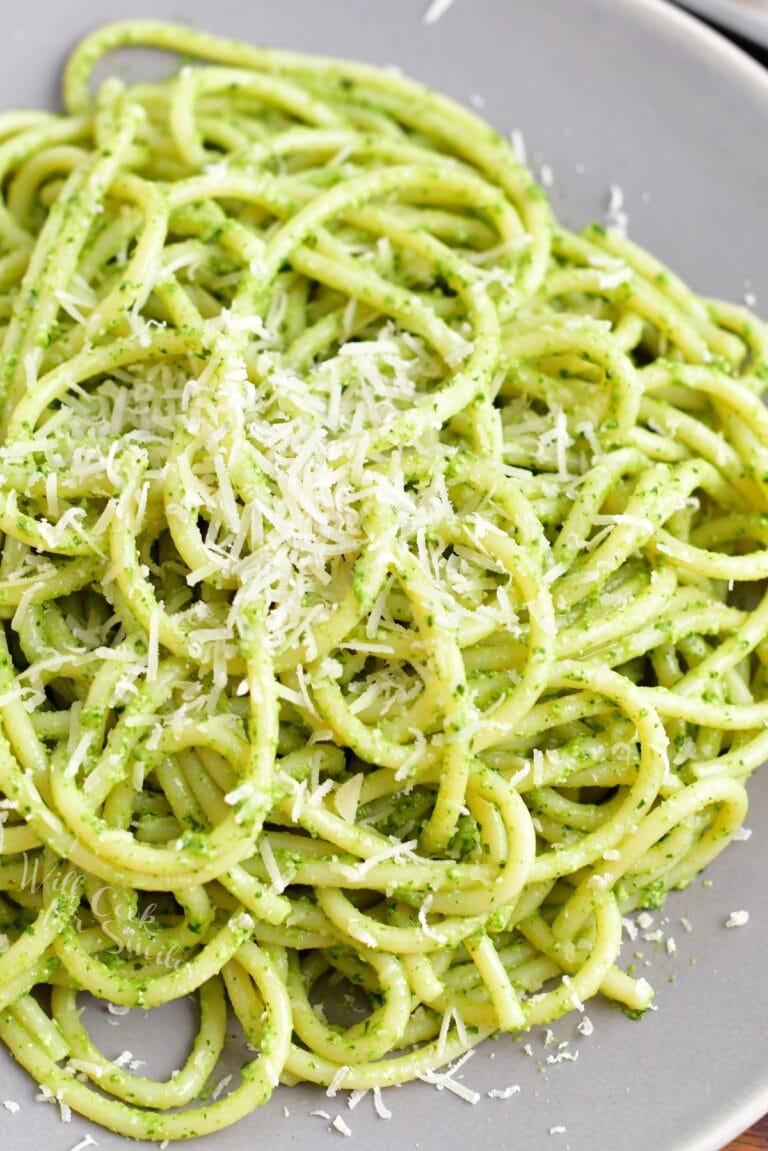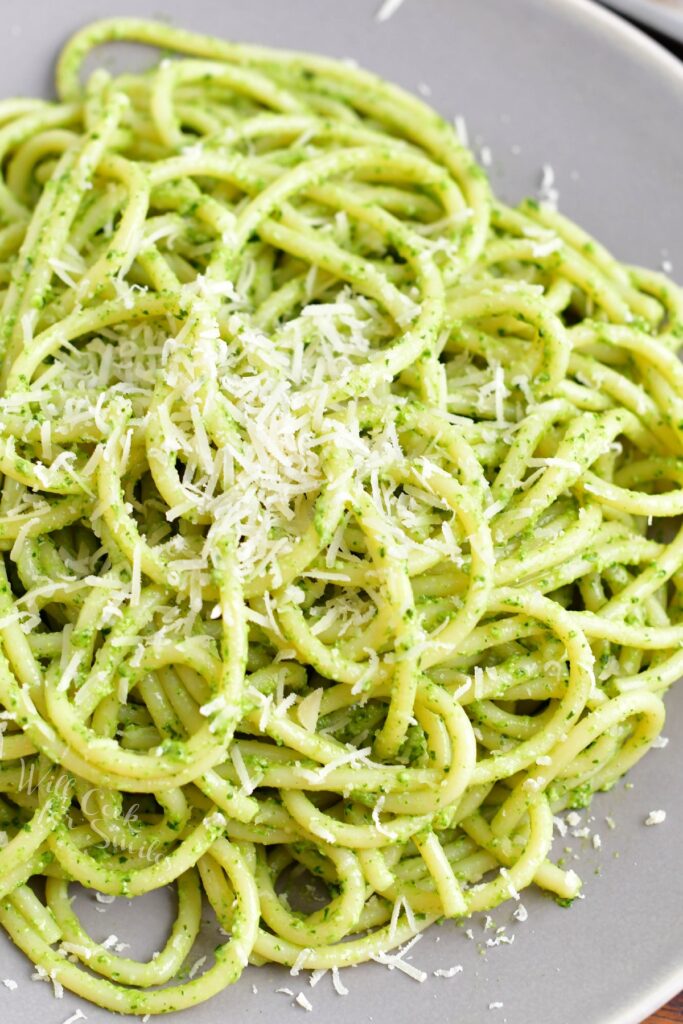 Pesto Pasta Recipe
Have you ever been so excited to order a pesto pasta dish at a restaurant, only for it to be dry and unsatisfactory? I feel like this is unfortunately a situation we've all found ourselves in. There's nothing worse than receiving a dry pasta entree when you're hungry!
So, how do you avoid making dry pesto pasta at home? Surprisingly, it's really quite easy to avoid! The secret to avoiding making this pasta dish dry is simply in the pasta water. The water that the pasta is boiled in is actually a secret to many pasta sauce and pasta dishes, like this pasta and Cacio e Pepe. With high amount of starches in the water, it's a great thickening and binding ingredient for pasta dishes.
This pesto pasta is one of my favorite go-to easy weeknight dinner recipes. In the spring and summer, I find myself making it about once a week! With the weather warming up, it's nice to enjoy dinner with bright, fresh ingredients of homemade pesto. The pesto is bursting with fresh basil flavors that are beyond satisfying on a warm summer day.
Ingredients You'll Need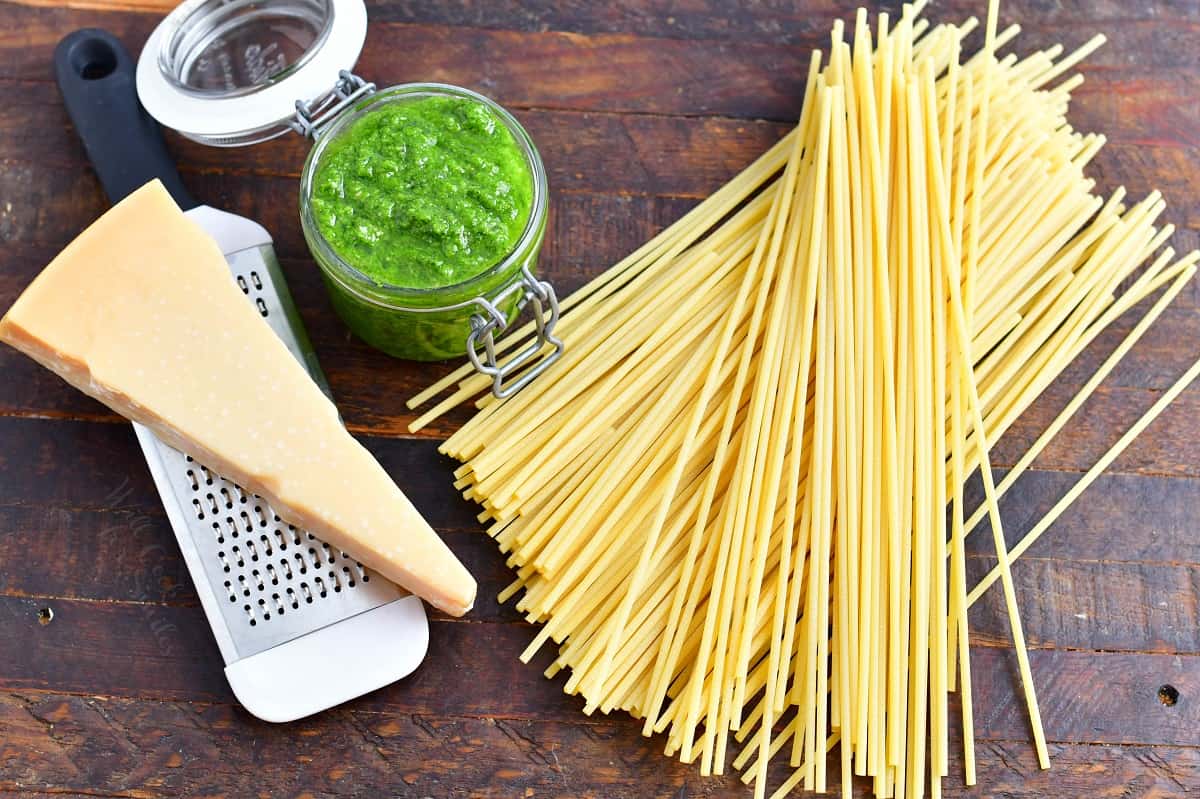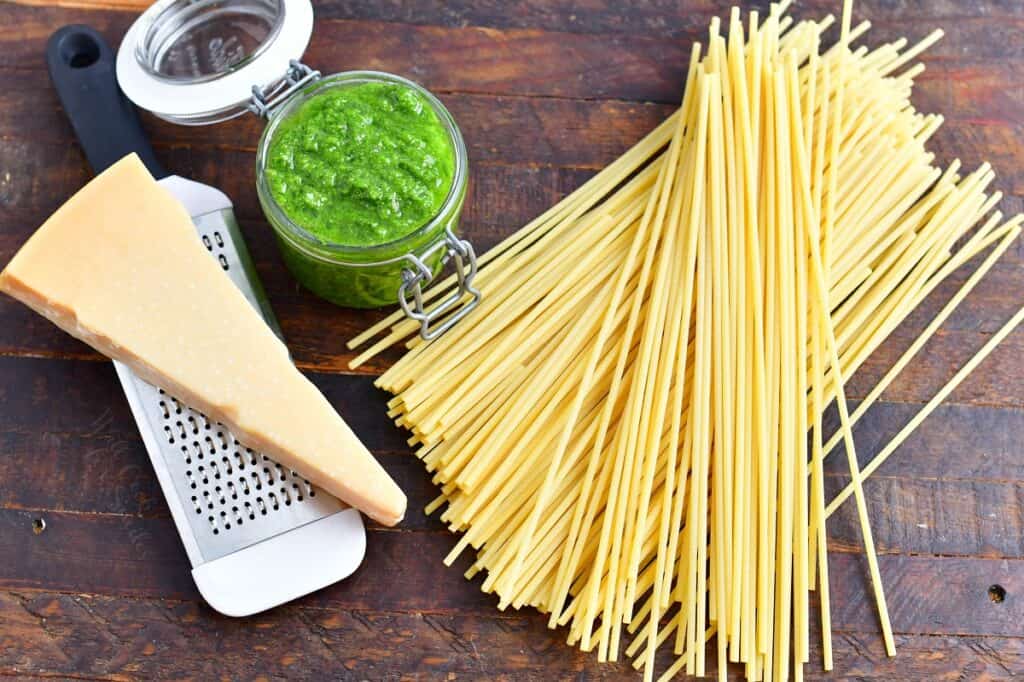 For homemade pesto:
Fresh Basil – Basil has a potent flavor that is incredibly fresh and bright, yet delightfully savory, with notes of pepper and mint. Only use basil that is fresh in this recipe. If you notice the leaves are dry, dark, and discolored, discard them.
Garlic – Fresh garlic cloves are required for this pesto recipe. I don't recommend using any more than 2 cloves, though, as you want the garlic to compliment the basil, not compete with it.
Parmesan – The parmesan cheese can be shaved or shredded. It doesn't really matter, as it's also just going to go straight into the food processor. Be sure to use a good quality parmesan cheese and preferably a block!
Pine Nuts – In a pinch, walnuts or even cashews can be substituted for the pine nuts. While pine nuts are a more traditional pesto ingredient, walnuts can be easier to find in stores and are usually slightly less expensive. But note, that walnuts do have a stronger and different flavor.
Olive Oil – For best flavor, use good quality extra virgin olive oil that does not have bitter flavor.
Salt – Just a pinch of kosher salt or flaky sea salt will do.
For Pesto Pasta you will need:
Pasta – Use your favorite pasta! While I love spaghetti noodles with this pesto sauce, you can use any type of noodle you'd like.
Pasta Cooking Water – Remember to reserve this starchy water once you're done cooking the pasta. It truly does wonders for the consistency of the pesto.
Parmesan cheese – Just use as much or as little parmesan as you'd like to sprinkle over the top of your pesto pasta.
Cooking Instructions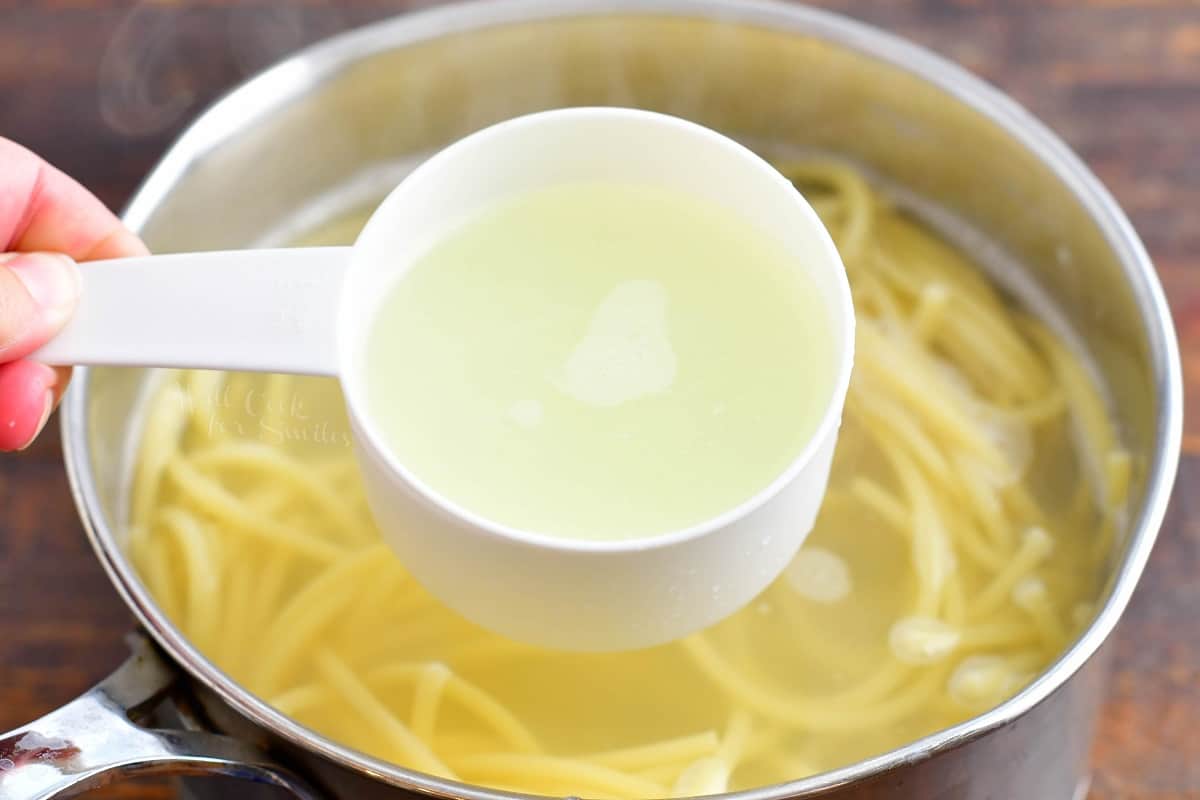 Prepare the noodles according to the package directions, and remember to reserve about a cup of the cooking water before straining pasta.
To save some time, make pesto while pasta is cooking and guess what? It's beyond easy and takes only about 5 minutes! Simply place all of the required ingredients in a food processor and pulse until it's smooth and well blended.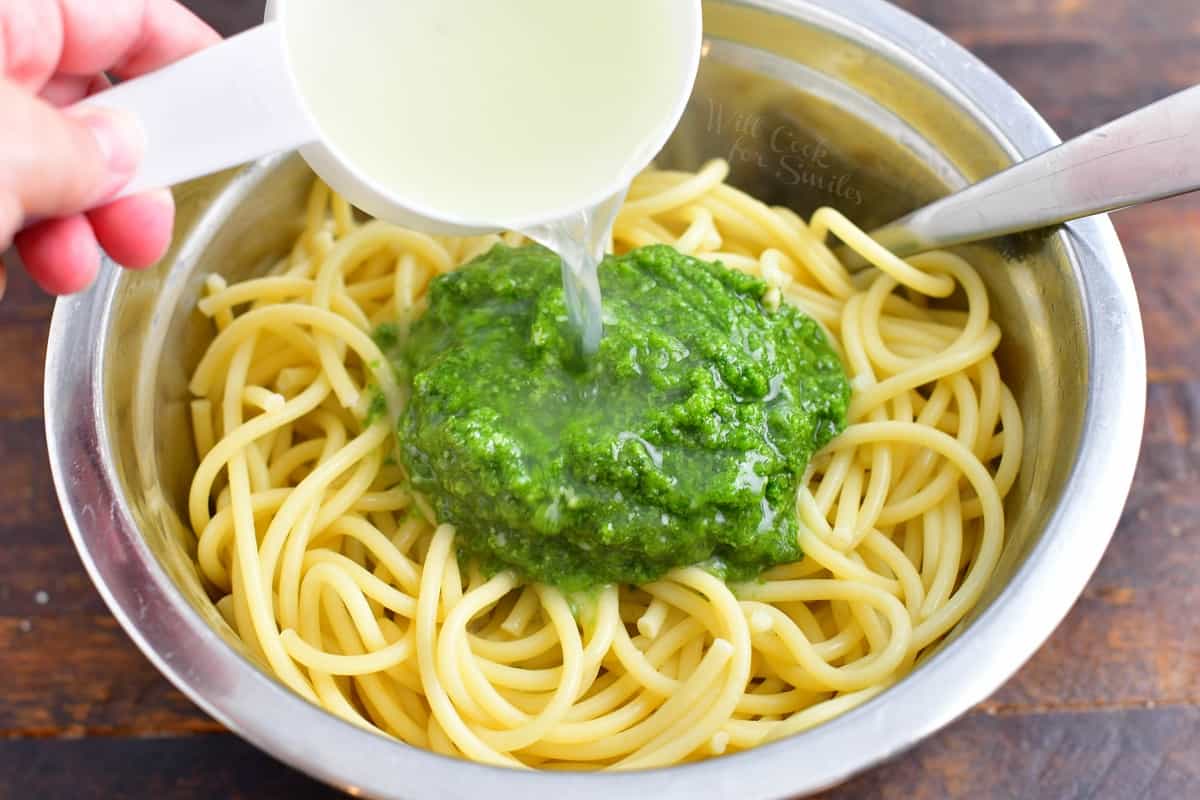 Now, it's time to assemble it all! Place the pasta, pesto, and cooking water in a large mixing bowl. Toss everything together until pasta is evenly coated.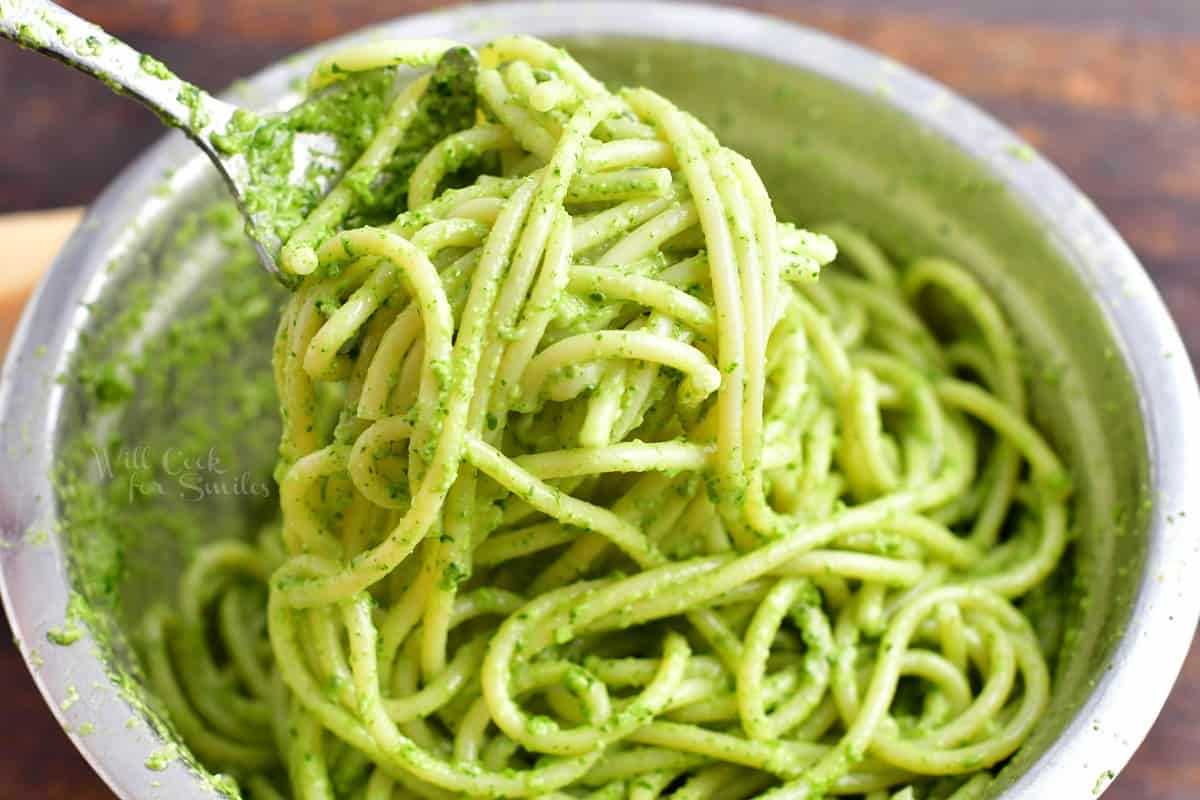 Plate the delicious pasta and sprinkle some parmesan cheese on top.
Adding Chicken To Pesto Pasta:
Absolutely!! With pesto pasta, I love to marinate chicken breasts in a mixture of olive oil, balsamic vinegar, salt, pepper, garlic powder, dried basil, oregano, and parsley. After marinating for a couple of hours, I just pan-cook it for 5-7 minutes per side. The exact time will depend on the thickness of the chicken. (You can check internal temperature and it should be 165°F.)
Slice the chicken and add it to the pesto pasta! You can even cook the chicken or marinate it ahead of time.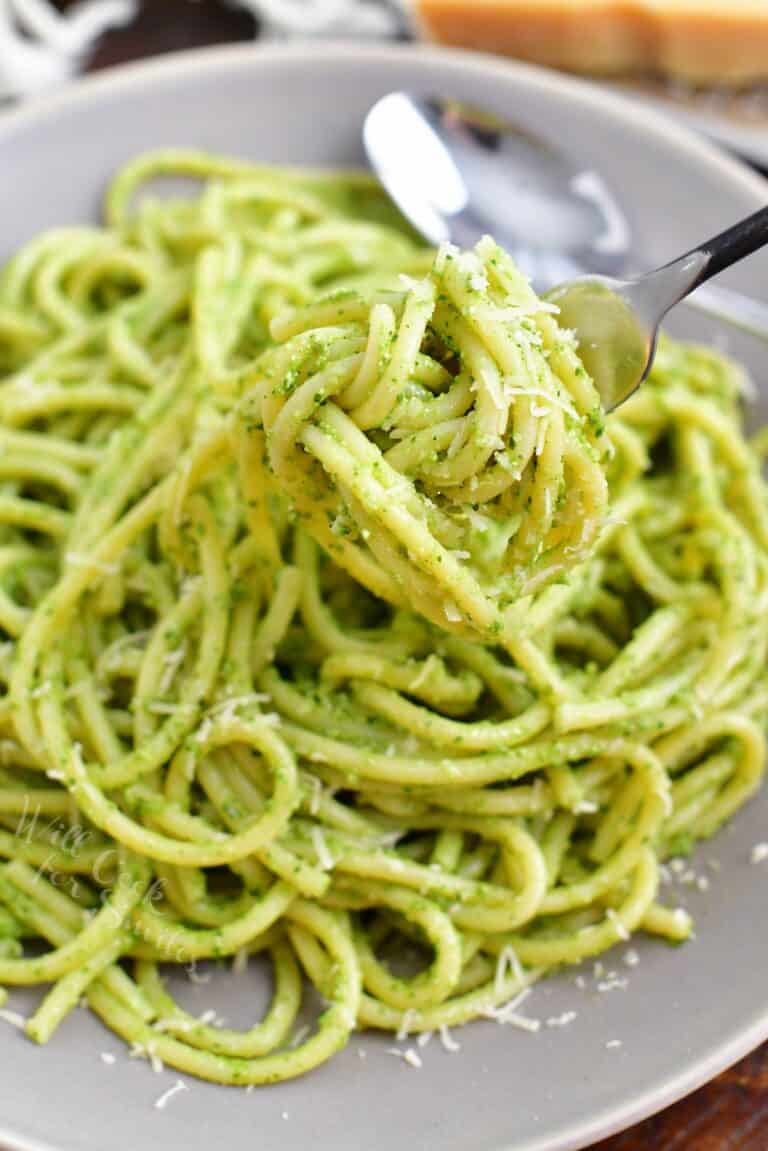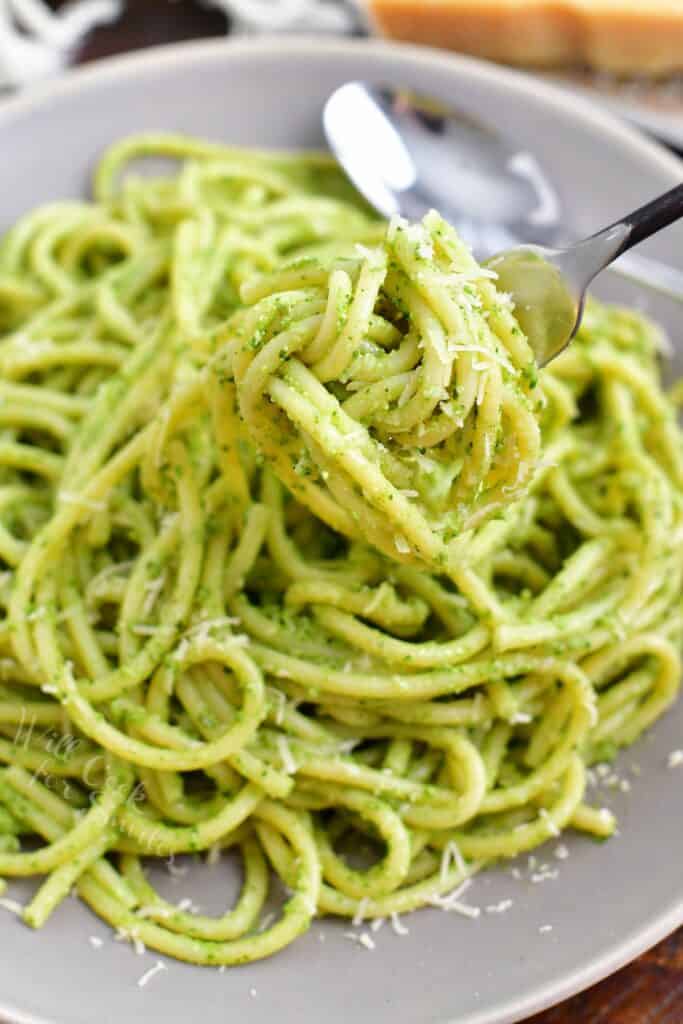 How does pasta water help the consistency of the sauce?
Much like Cacio e Pepe, the secret to a juicy pasta dish and not a dry one is in the pasta water. It's so simple! Because of the starches in the cooking water, it keeps the pasta coated in pesto and provides additional smoothness and moisture.
Pasta water is also great to use in different quick sauces because it serves as a thickener and helps bind ingredients together.
Pasta water tip: If you plan to save pesto pasta leftovers for later, save 1/4-1/2 cup of starchy cooking water separately to use when reheating!
Do I have to use homemade pesto?
You don't have to, but it will taste so much better. I've tried countless store-bought pesto brands ranging in price, some even ones over $20 a jar, and none of them taste better than homemade. With homemade pesto, you also know exactly the ingredients that are in it and can adjust them to your own preference.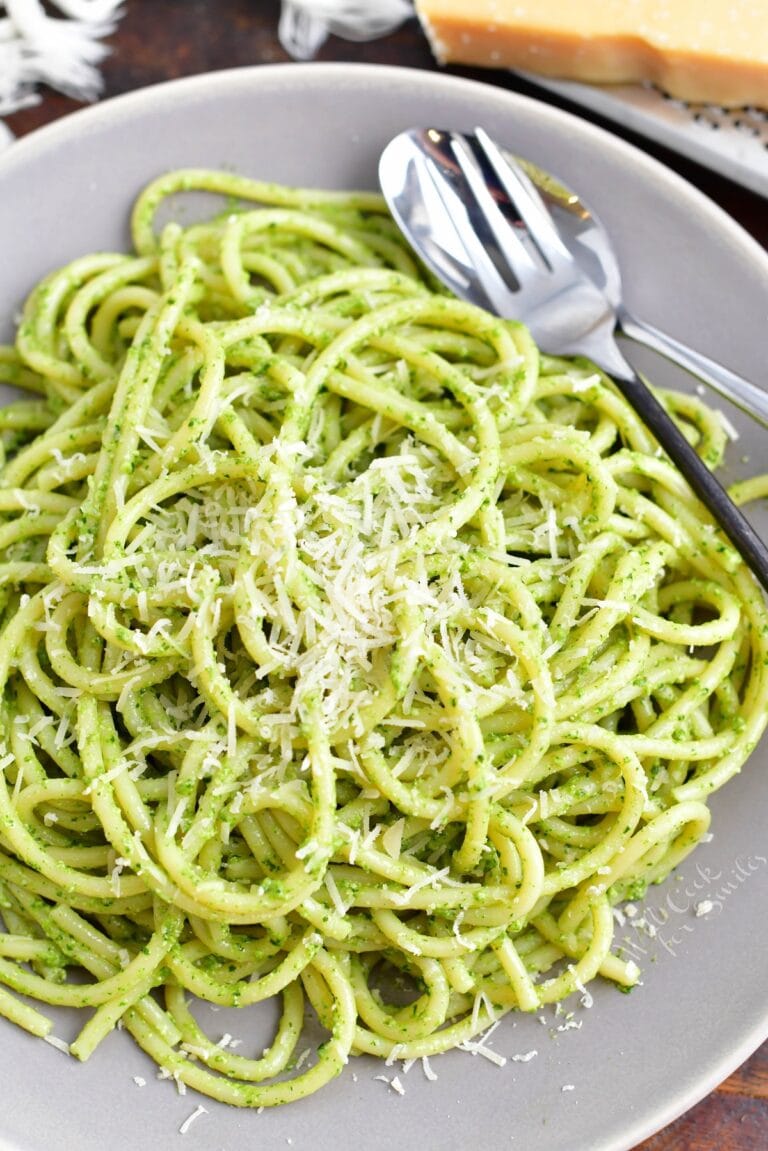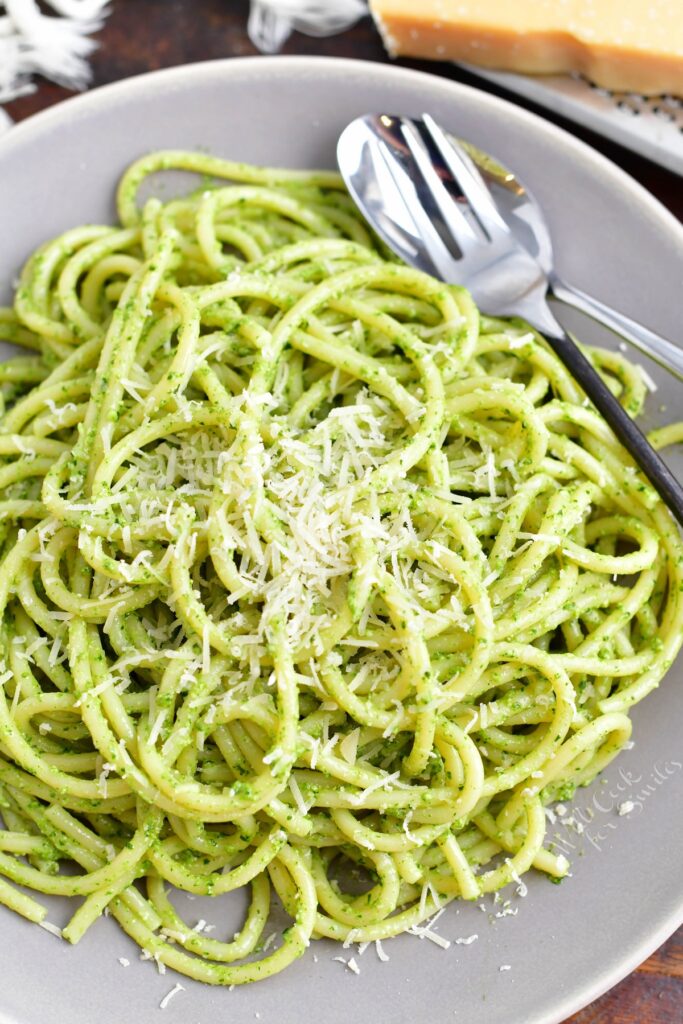 Tips for the Best Pesto Pasta:
Salt the water generously when cooking pasta (I usually add about a tablespoon of coarse sea salt to about 2.5-3 quarts of water). It will flavor the pasta as it cooks, and it will give you better tasting cooking water to add at the end.
Homemade pesto! I keep coming back to this because no matter how much money you spend on store-bought pesto, homemade will still taste the best.
Top your pasta off with nuts as well as more parmesan cheese. This will enhance the flavor of pesto and give you a delightful little crunch.
Storing and Reheating Tips:
If you know that you will not able to eat the whole pound of pasta that you cooked, you can toss only a portion of the pasta with pesto and some cooking water and then store leftovers separately. Then, reheat the leftover pasta with some cooking water and toss the hot pasta with pesto.
In the instance that you did toss everything with pesto, you can gently and slowly warm it up in a warm oven. First, preheat the oven to 350°F, then turn it off. Add the leftover pesto pasta into a baking dish and toss it with extra cooking water that you saved. Cover the dish with aluminum foil and put it into the warm oven for about 20 minutes to warm up to room temperature.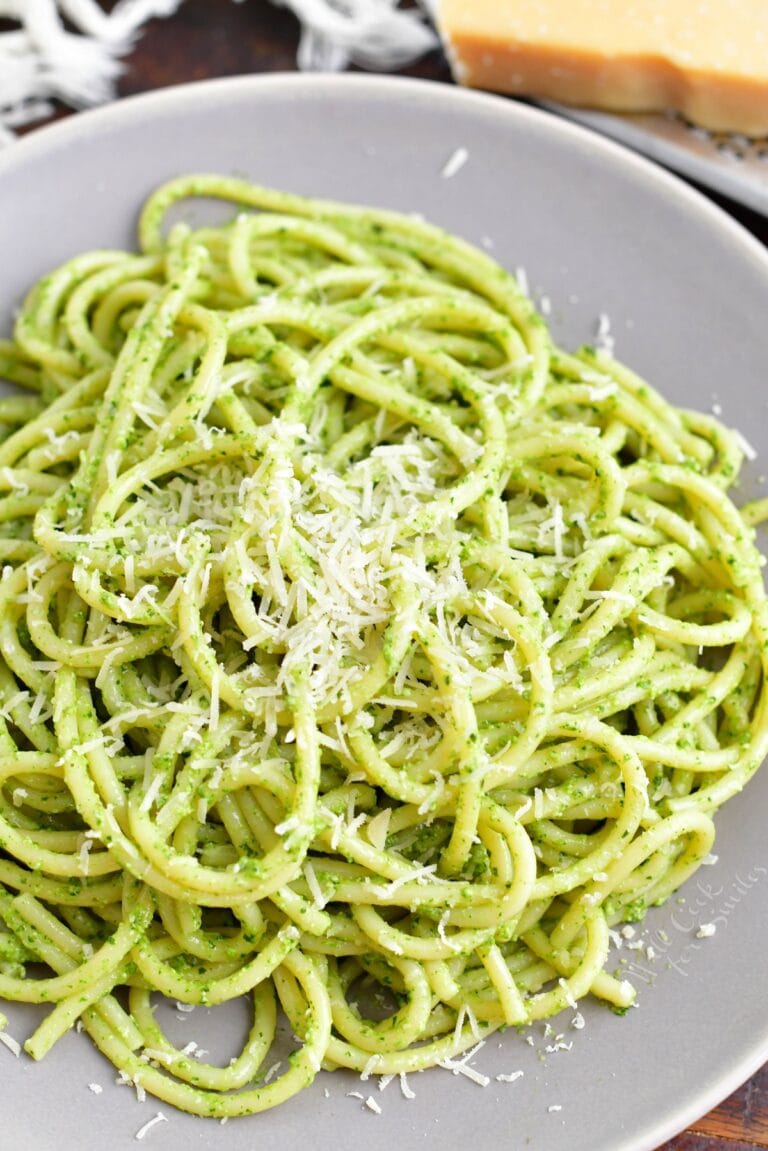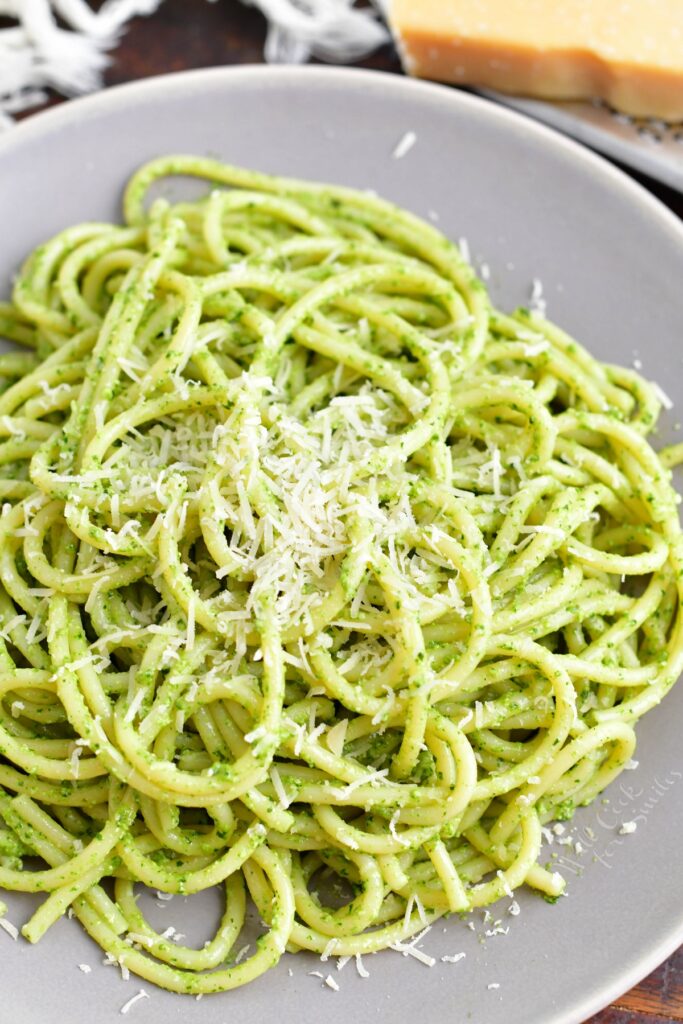 More Summer Pasta Recipes
Lobster Pasta – a rich, creamy, and delicious seafood pasta dish with chunks of flavorful lobster meat and creamy parmesan sauce.
Pasta Primavera – a pasta dish that is loaded with roasted vegetables like summer squash, broccoli, juicy ripe tomatoes, lemon, basil and parmesan cheese.
Lemon Pistachio Pesto Pasta with Shrimp and Asparagus – a pesto pasta dish flavored with homemade lemon pistachio pesto and served with sautéed asparagus and shrimp.
Tomato Basil Sausage Pasta – Pasta skillet made with sweet German smoked sausage, tomatoes, basil, leeks, and creamy sauce.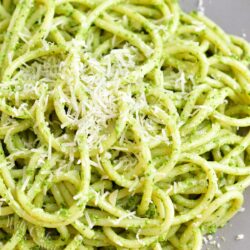 Pesto Pasta
Pesto Pasta is a bright and easy pasta recipe that's unbelievably easy to make flavorful and juicy with homemade pesto, your favorite pasta, and a couple other simple ingredients.
Print
Pin
Save
Saved!
Rate
Ingredients
Pesto:
2

oz

fresh basil

2

garlic cloves

2

oz

Parmesan cheese (shaved or shredded)

3

oz

pine nuts

1/2

cup

(+2 tablespoons) olive oil

salt
Pasta:
1

lb

pasta of choice

1/2-2/3

cup

cooking water

from cooking pasta

Parmesan cheese

for topping
Instructions
Homemade Pesto:
In a food processor, add about half the oil.

Add basil, pine nuts, cheese, garlic, and salt to the blender and pour remaining olive oil over the top.

Pulse several times to begin to blend. Scrape sides of the blender and pulse a few more times. You may need to scrape the sides again and pulse a few more times until all ingredients are well blended.
Pesto Pasta:
Cook pasta according to the box instructions and before draining off water, set aside about a cup of cooking water. (Some cooking water will go into pasta and set aside extra just in case you will need to reheat the pasta leftover's later.)

Toss pasta with pesto and about 1/2-2/3 cup of cooking water.

Plate pasta and top it off with some Parmesan cheese.
Nutrition
Calories:
864
kcal
|
Carbohydrates:
89
g
|
Protein:
23
g
|
Fat:
47
g
|
Saturated Fat:
7
g
|
Cholesterol:
10
mg
|
Sodium:
237
mg
|
Potassium:
441
mg
|
Fiber:
5
g
|
Sugar:
4
g
|
Vitamin A:
865
IU
|
Vitamin C:
3
mg
|
Calcium:
224
mg
|
Iron:
3
mg
Tried this recipe?
Mention @willcookforsmiles and tag #willcookforsmiles