Pesto is a bright and flavorful sauce that you can add to just about anything. It's packed with simple but beautiful flavors of fresh basil, pine nuts, garlic, olive oil, and dry aged cheese like Parmesan, Parmigiano-Reggiano, or Pecorino. 
I make a ton of pesto every year, all year long, and use it as a spread, topping or sauce. Our family's favorite way to use it in to make Pesto Pasta. Try my Sun-Dried Tomato Pesto as well!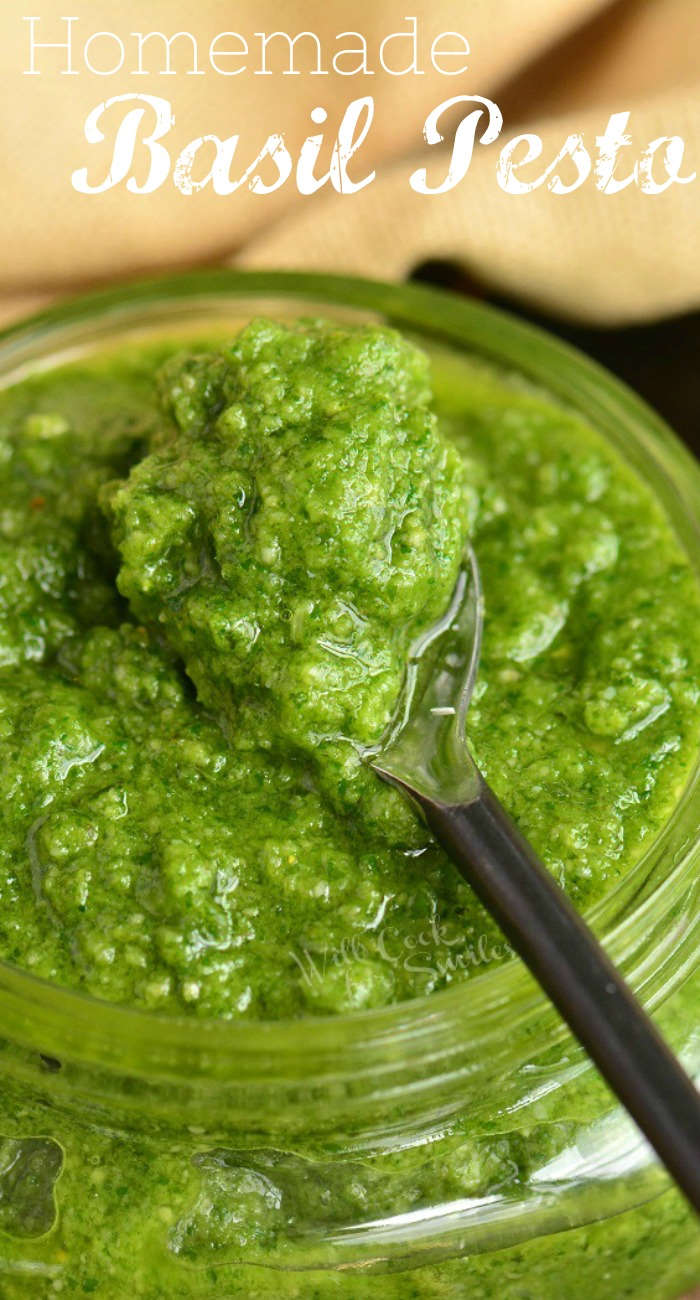 What Is Pesto?
Pesto is an amazing uncooked sauce that originated in Genoa, Italy. Literally translated, it means pounded or crushed because it was originally made using mortar and pestle. In our modern days, we have the technological advances and availability of a food processor, which we use eagerly. It's fast and much more efficient. Although, I doubt that it will ever provide the same texture and flavor as making pesto by hand.
This classic sauce is fresh, aromatic, with an amazing smooth and flavorful taste. Even though there are hundreds of recipe variations that use different nuts, herbs, and cheeses, you can never compete with the classics. Traditional pesto consists of six simple ingredients: basil, garlic, olive oil, dry aged cheese, pine nuts, and salt.
It is incredibly easy to make and all you need is a blender. (Unless of course, you want to give yourself a workout and use mortar and pestle.) Within 5 minutes, you will have this incredible sauce to add to pasta and so many more dishes. It's rare that I don't have a jar in my fridge or some in my freezer.
My son loves pesto pasta and pesto pizza so I'm always happy to oblige. I also love to spread some pesto on sandwiches and mix it into salads.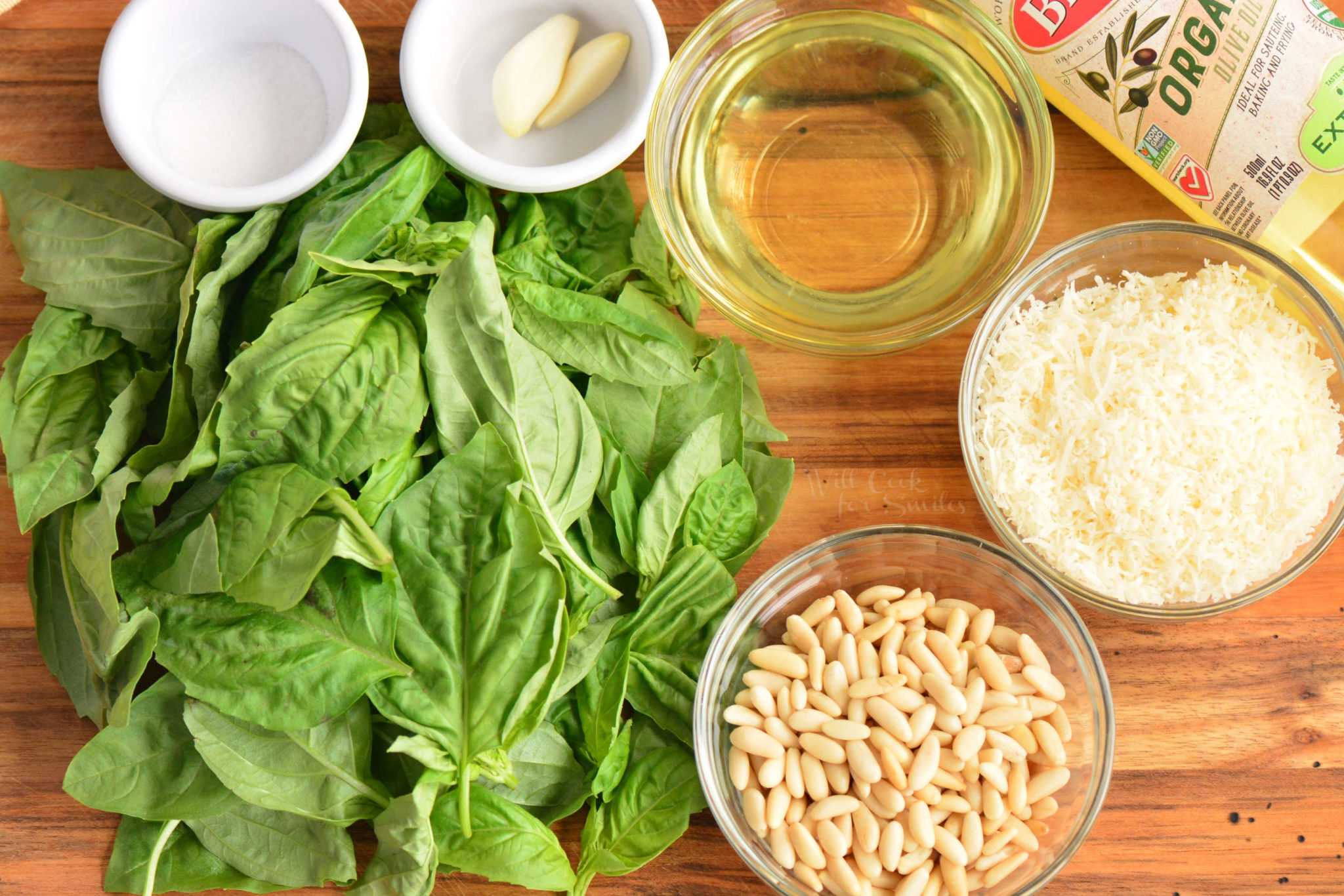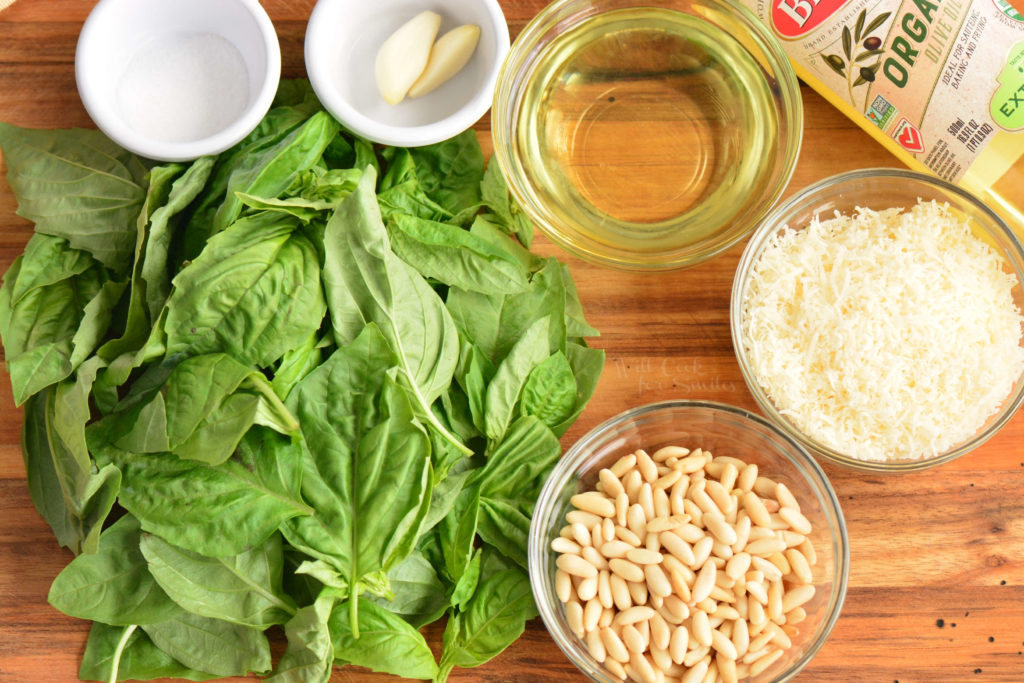 What Is In Basil Pesto?
Basil – ideally, you want to get your hands on basil that is as fresh as can be. If you have an herb garden, that is perfect. Otherwise, you can always get basil in the produce department of your grocery store.
Pine nuts – these nuts are preferred to use in pesto and the most traditional one. They have a subtle earthy, sweet flavor that is not overpowering. I do not toast my pine nuts because I truly saw no difference in taste when blended with other ingredients. Many people like to substitute walnuts but I find walnuts to have a strong flavor. I've successfully use cashews as a substitute but they tend to be creamier when blended.
Garlic – fresh garlic is best, of course. No need to press or mince garlic before adding it to the food processor. Although, if using a large garlic clove, you may want to cut it in two or more pieces to make sure it's blended well.
Cheese – use dry aged cheese like Parmesan, Romano, Parmigiano-Reggiano, or Pecorino. My personal favorite is Parmigiano-Reggiano.
Olive oil – flavor of olive oil is key. If the olive oil you use has a strong, almost bitter flavor, it will affect the taste of pesto. Use olive oil that you know and like the flavor. I highly recommend that you taste the oil first, before adding to the blender.
Salt – not much to say about salt besides "you need it to enhance the flavor."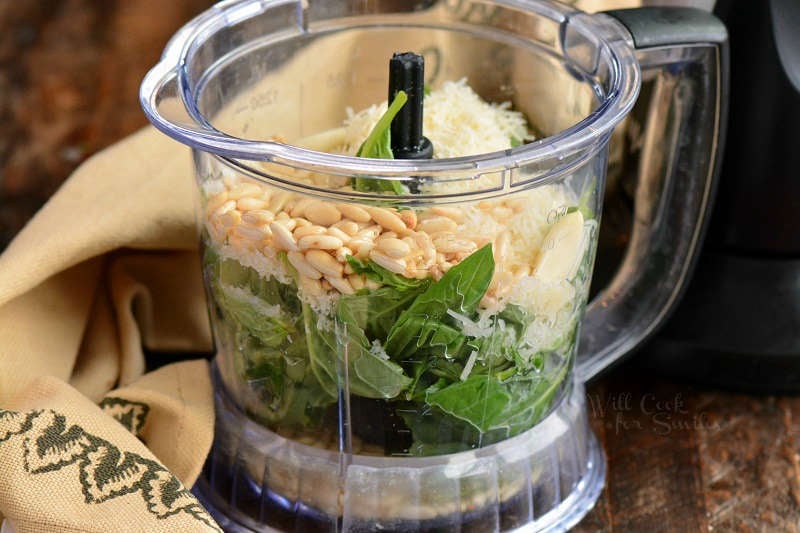 How To Make It:
When you make something so much, technique and amount of ingredients becomes a like a second nature. It also means that I've tried dozens of different techniques and variations. Since I originally posted this recipe in 2011, I've improved my recipe greatly and found the best and easiest way to make delicious pesto. You truly don't need 10 different steps and orders to add your ingredients. It literally comes out the same in the end. There are only a few rules that I follow.
1- Make sure your ingredients are fresh and the best. In a simple sauce like that, each ingredient count.
2- Add half the oil in the beginning and the other half while pulsing.
3- Pulse, don't blend.
4- Drizzle a little extra olive oil over the top of pesto after transferring it into a glass jar. I find it helpful to prevent the top of pesto getting dark. (Although, it is still completely safe even if it does get dark. That is simply oxidation.)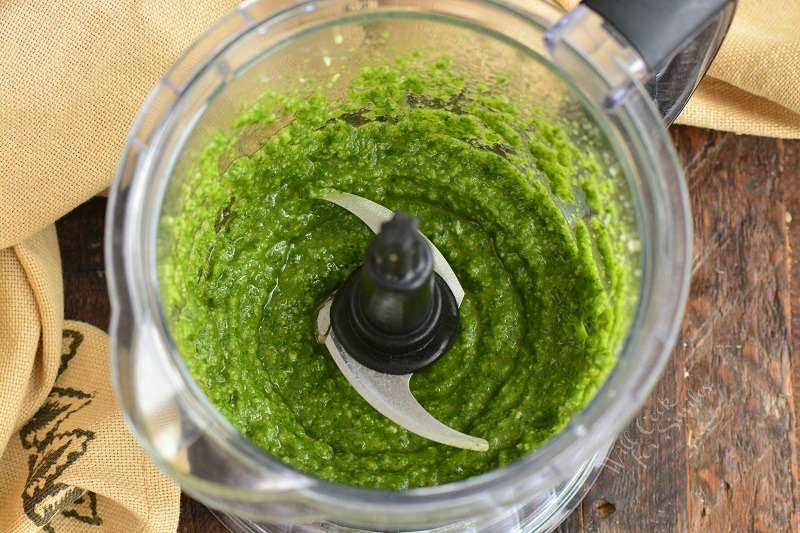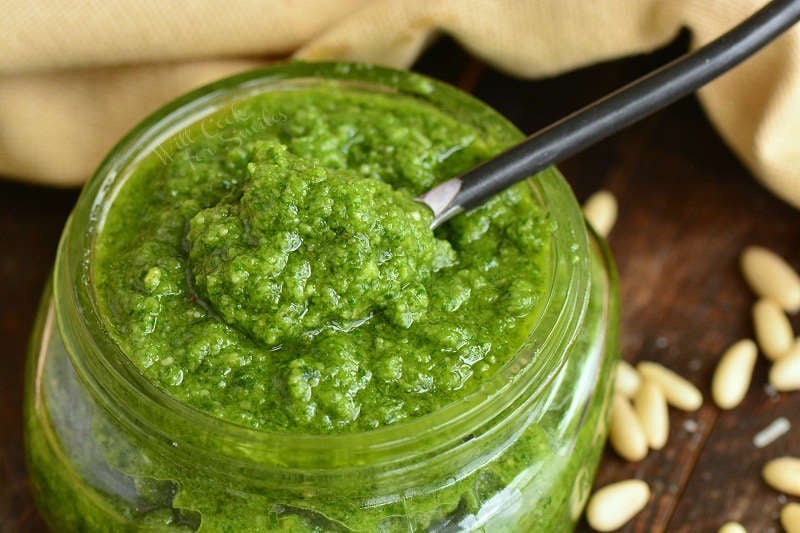 Frequently Asked Questions:
How Long Does It Last In The Fridge?
Store homemade pesto in small glass jars with a lid. I like to divide the batch into 2 or 3 small jars that way I will not open it too often. After you fill the jar, drizzle a little olive oil over the top and close it tight with a lid. Store in the refrigerator for up to a week. 
Can I Use Other Nuts?
Absolutely! The purists will undoubtable scald me for even saying it but you can use other nuts in a basil pesto. Traditionally, pine nuts are the nut of choice but some other region of Italy and Sicily have used walnuts instead. Personally, I've used almond and cashews to make pesto. Cashews are my personal favorite substitution because, like pine nuts, they are also mild in flavor and don't take over the pesto.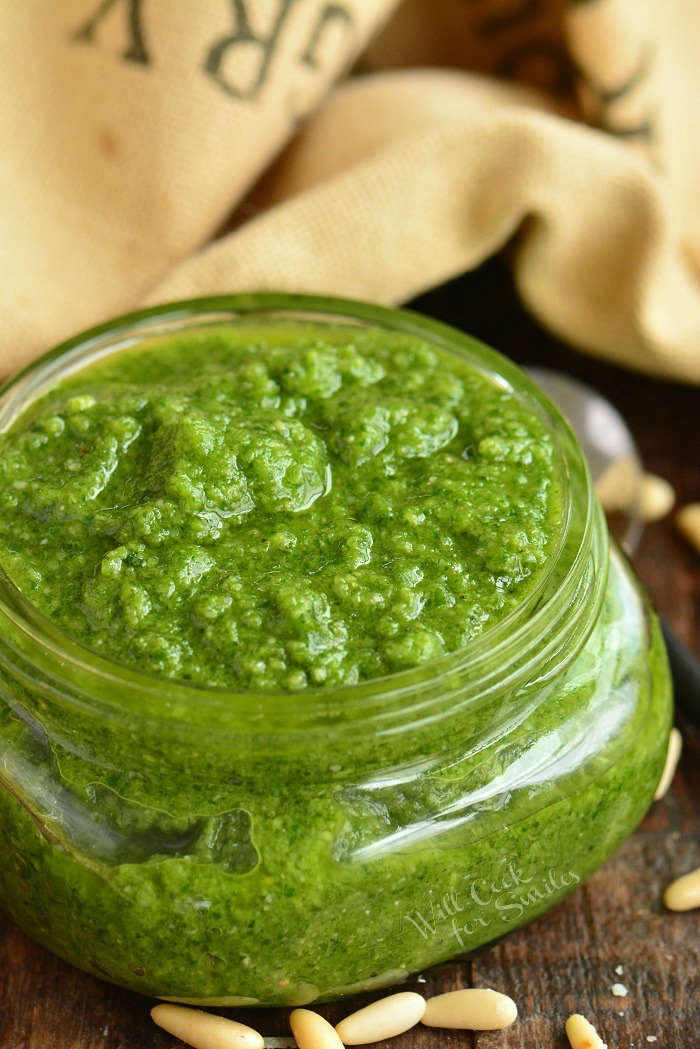 Freezing Instructions:
Basil pesto freezes beautifully and you can portion it into small amounts of freeze 1/2 cup or a cup at a time.
Small portions: use ice cube trays and divide ready pesto among the cups. Drizzle a small amount of olive oil over the top of each cup. Freeze for 2-3 hours until it's completely frozen and then transfer the pesto cubes into a freezer zip-lock bag. Label and place back in the freezer.
Larger portions: transfer either 1/2 cup or 1 cup portions of pesto into freezer zip-lock bags. Get all the air out and seal each bag. Label and freeze for up to 4 months.
Some Recipes That Use Pesto:
Cheesy Pesto Chicken Stuffed Shells
Sun-Dried Tomato Stuffed Chicken
Bacon Wrapped Mozzarella Pesto Stuffed Chicken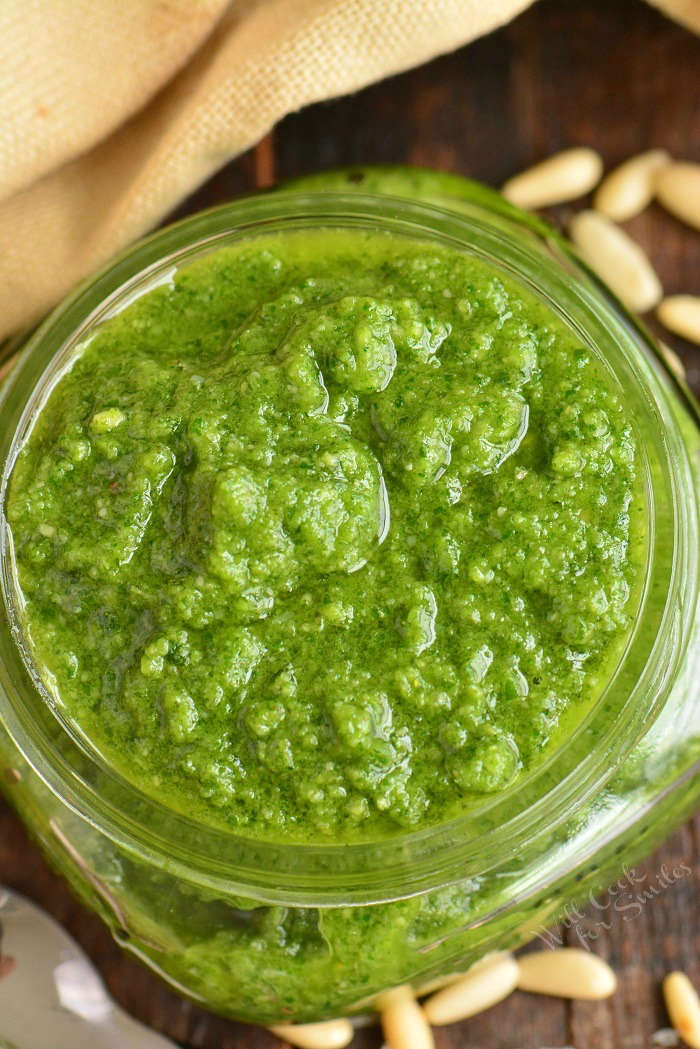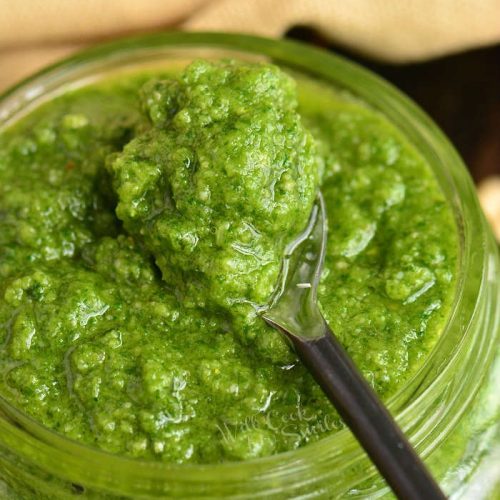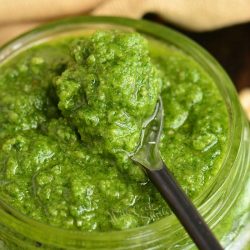 Classic Pesto
Pesto is so easy and packed with simple but beautiful flavors of fresh basil, pine nuts, garlic, olive oil, and dry aged cheese like Parmigiano-Reggiano.
Print
Pin
Save
Saved!
Rate
Servings:
8
(Makes about 1 cup)
Ingredients
2

oz

basil

about 2 cups packed

2

large garlic cloves

2

oz

shredded Parmesan cheese

about 2/3 cup

3

oz

pine nuts

1/2

cup

olive oil (+2 Tbsp)

Salt

a little more olive oil to drizzle over the top when divided into jars
Instructions
In a food processor, add about half the oil.

Add basil, pine nuts, cheese, garlic, and salt to the blender and pour remaining olive oil over the top.

Pulse several times to begin to blend. Scrape sides of the blender and pulse a few more times. You may need to scrape the sides again and pulse a few more times until all ingredients are well blended.
Storing:
Transfer homemade pesto into 2 or 3 small glass jars. After you fill the jar, drizzle a little olive oil over the top and close it tight with a lid. Store in the refrigerator for up to a week. 
Nutrition
Calories:
252
kcal
|
Carbohydrates:
2
g
|
Protein:
4
g
|
Fat:
26
g
|
Saturated Fat:
4
g
|
Polyunsaturated Fat:
5
g
|
Monounsaturated Fat:
15
g
|
Cholesterol:
5
mg
|
Sodium:
115
mg
|
Potassium:
94
mg
|
Fiber:
1
g
|
Sugar:
0.5
g
|
Vitamin A:
432
IU
|
Vitamin C:
2
mg
|
Calcium:
100
mg
|
Iron:
1
mg
Tried this recipe?
Mention @willcookforsmiles and tag #willcookforsmiles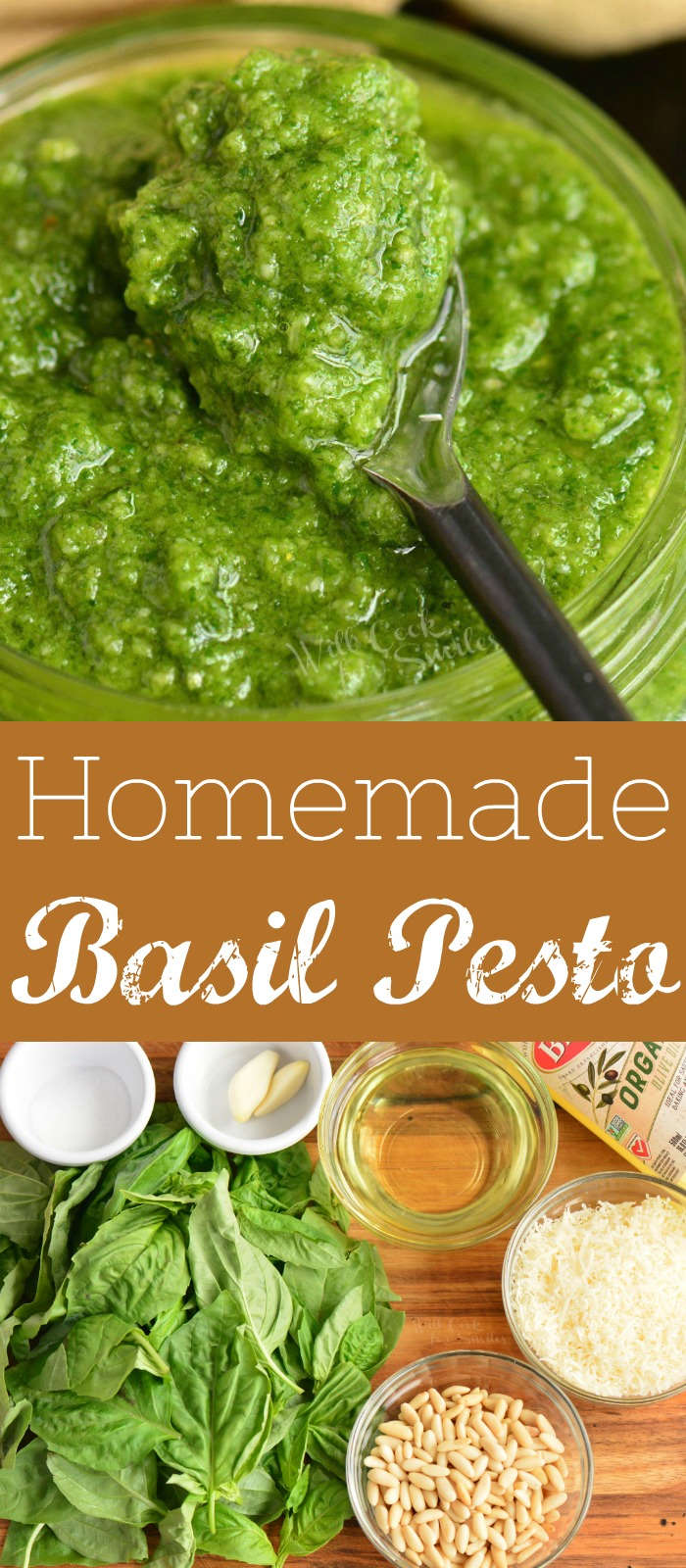 Originally Published on Will Cook For Smiles on August 24, 2011.