This Chili recipe is so delicious, made with bacon, ground beef, vegetables, beans, and a perfect combination of spices to make chili seasoning. This perfectly comforting and classic dish makes a great weekend dinner. Make a big batch of it because chili is even better reheated than it is freshly made.
Chili is also a great dish to serve at football parties and my Boozy Chili is a perfect choice for that. Turkey Chili is a great healthy option for a protein loaded and lean dinner. No matter what chili you make, don't forget to serve some homemade cornbread with it.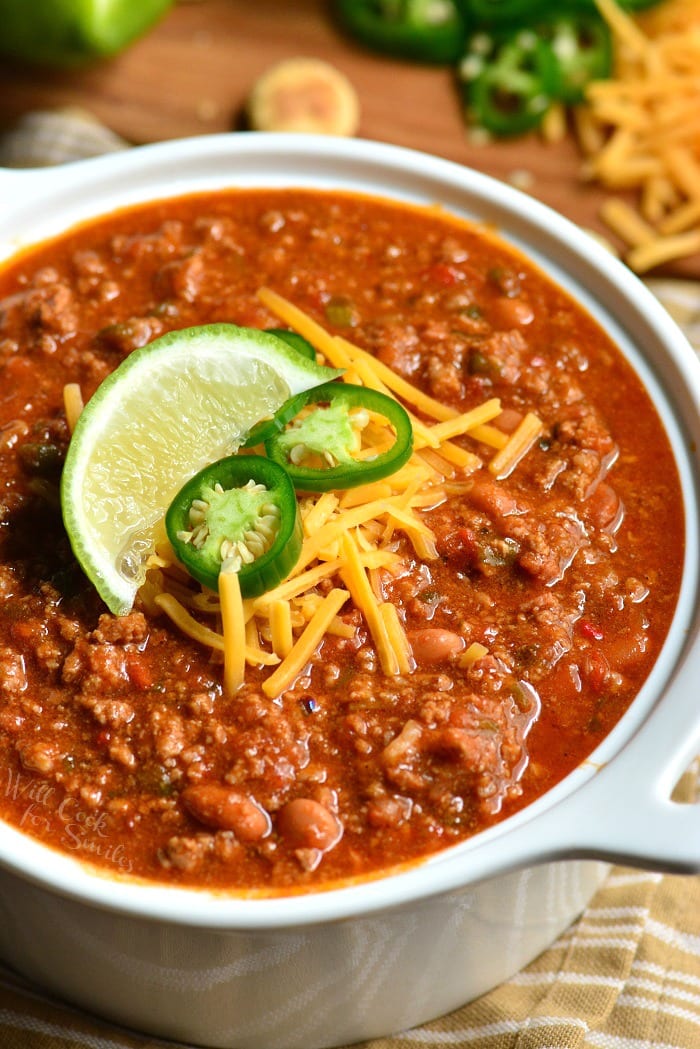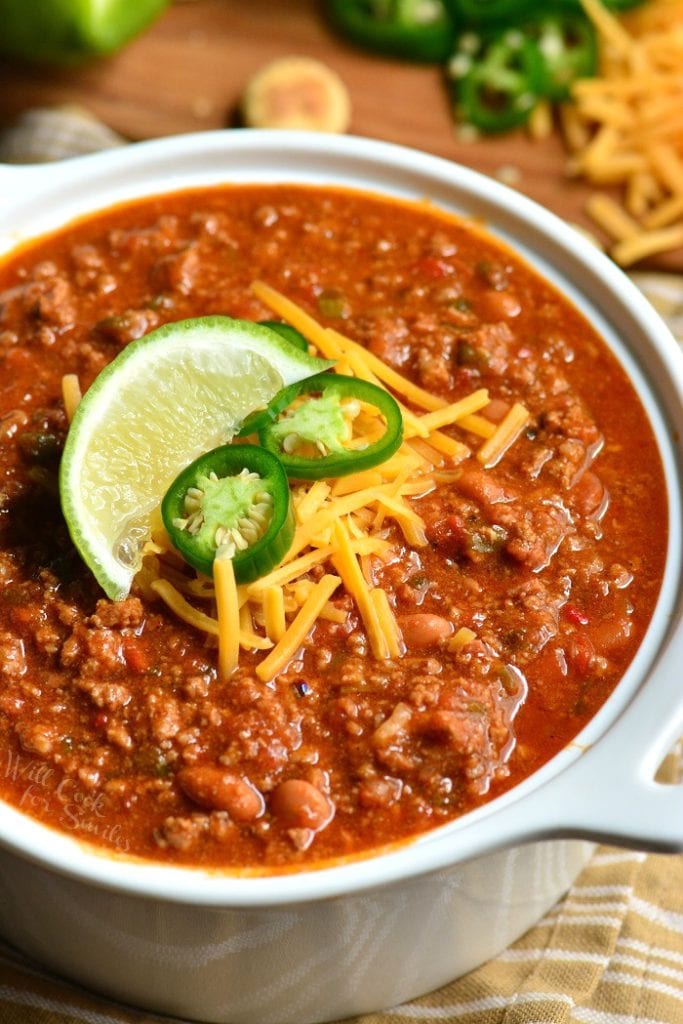 Why It's Best Cold Weather Food
Would anyone be surprised if I said that beef chili is my kid's favorite dish? I am still surprised, especially since it is baby girl's absolute favorite thing to eat. Yes, my 16-month old loves chili more than anything.
I am more than happy to spend a couple of hours making a big batch of chili for the family. Chili is a healthy dish because it's made with lean meat, vegetables, and beans. It's loaded with protein, fiber, and iron.
Besides tasting great, I like adding beans to my chili because it does have great nutritional value. So if you're debating whether to add beans to chili or not, I say go for it!
Now, my Texas friends, don't come after me for putting beans in the chili. I know that the original Chili Con Carne is made with meat and chilis and many Texans stay true to the original chili recipe. On the other hand, the idea of putting beans in the chili has been around for a long time now and in a way, it's just as classic as the original way.
Tradition or not, when it comes to cooking for yourself and the family, we all do what we like best. And of course, what tastes the best.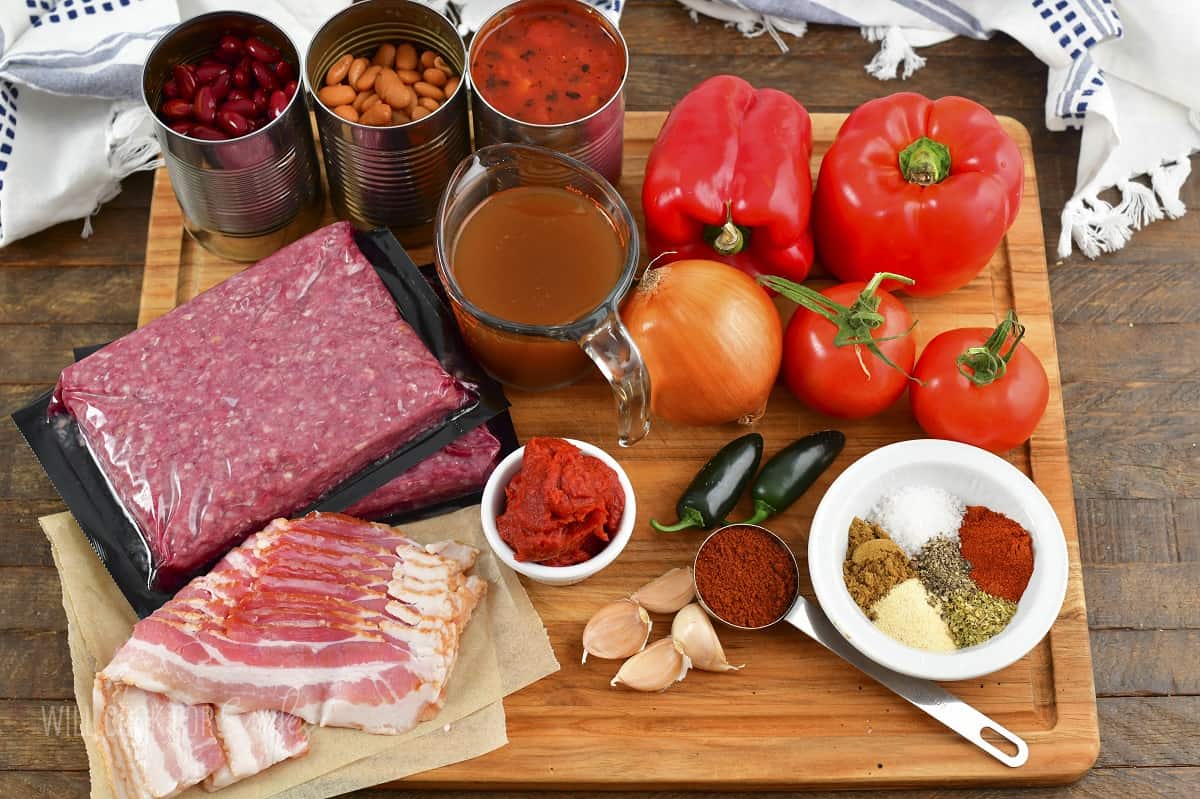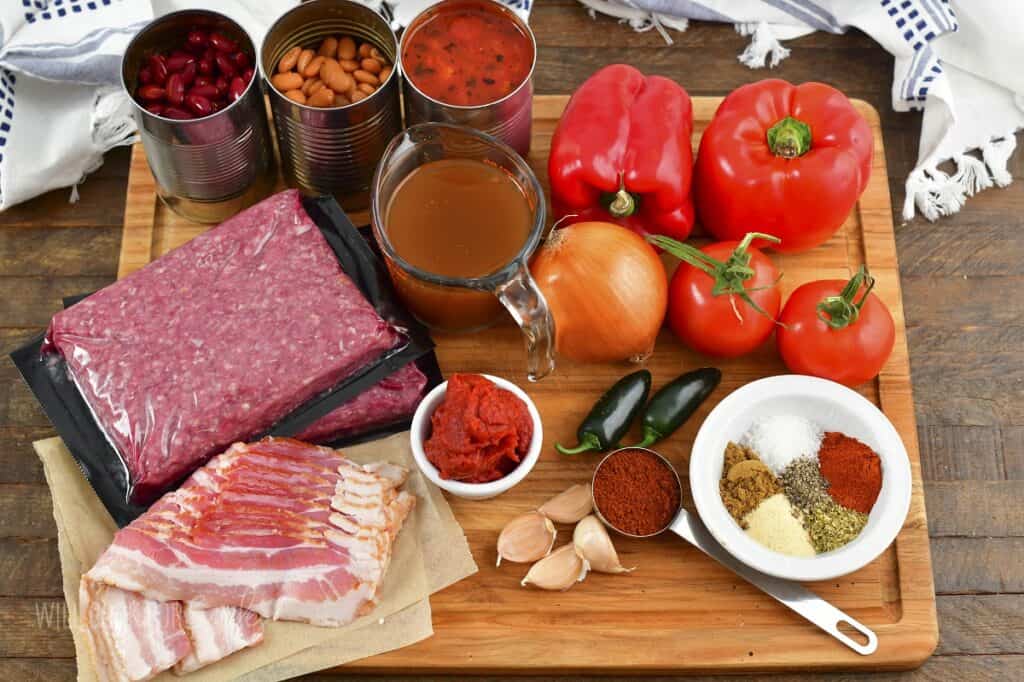 Step-By-Step Instructions: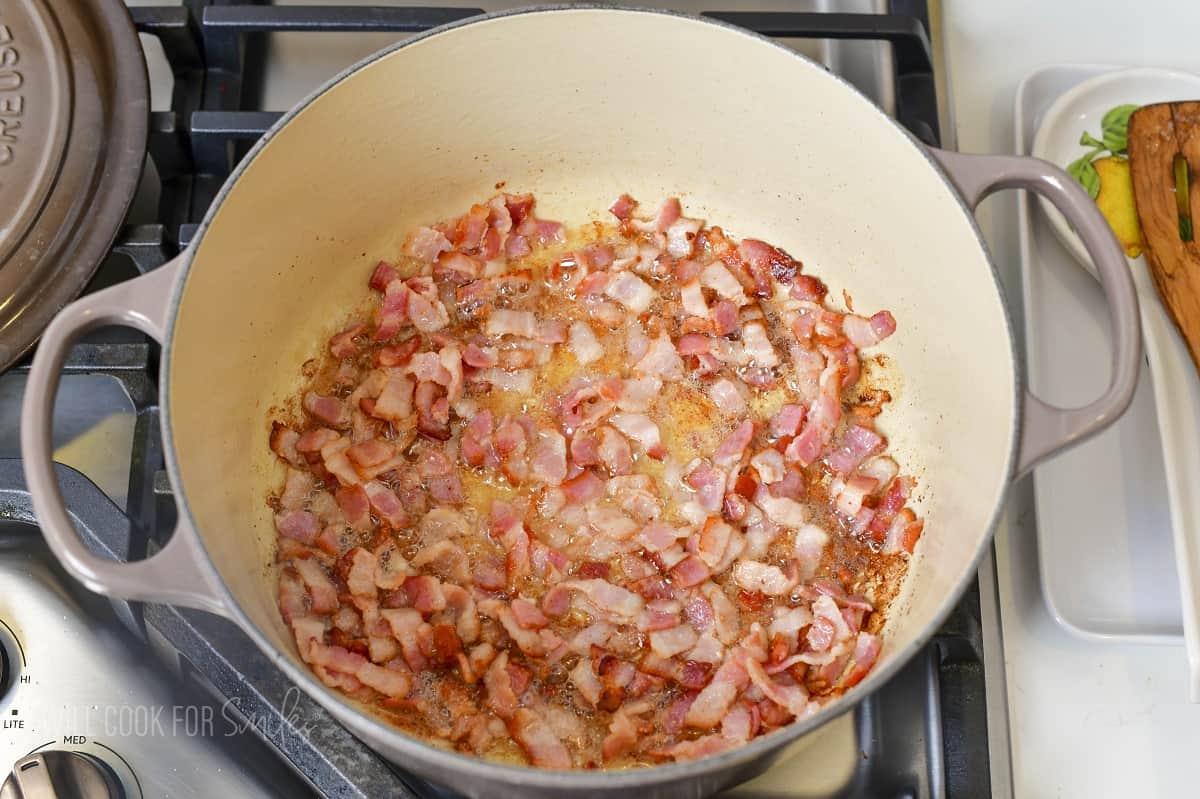 1. Sear the bacon and ground beef. Sear diced bacon first, until it's mostly done and add ground beef. Beak it up as much as you can and mix and cook until most of the meat had turned dark. Take it all out of the pot and set aside.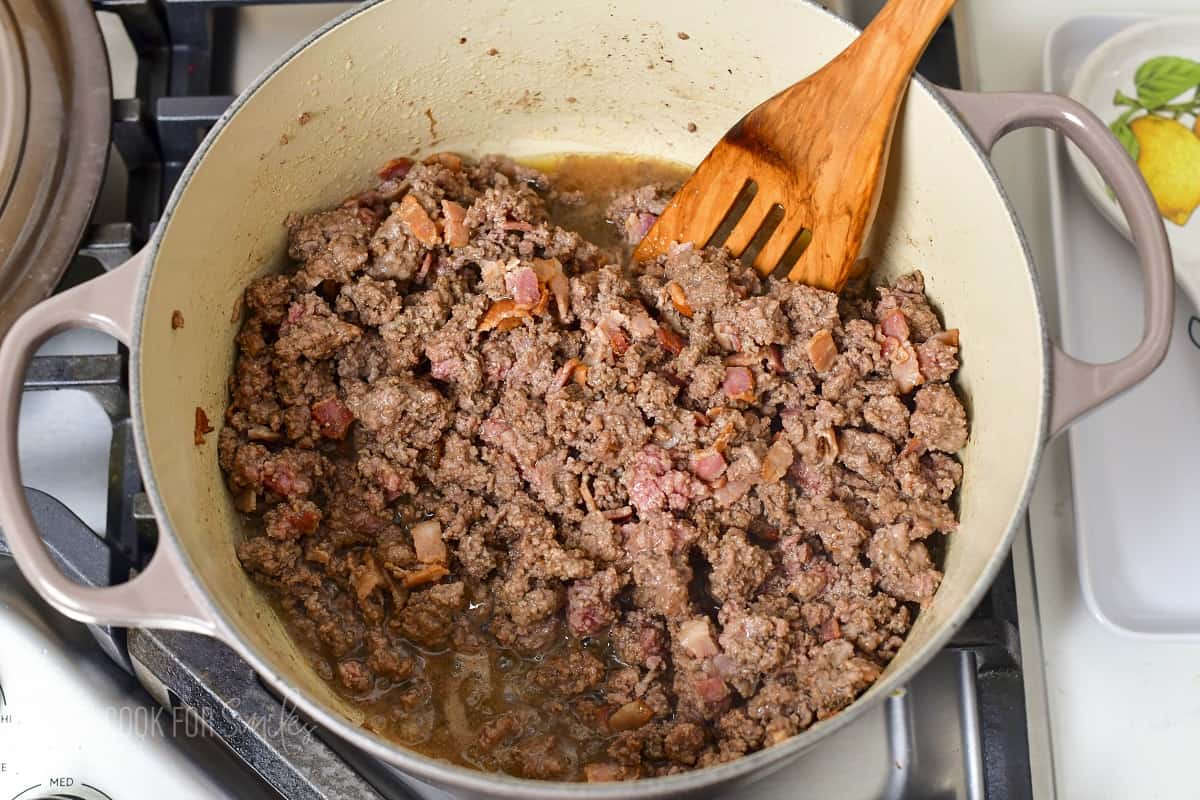 2. Sauté veggies. Add a little more oil if needed and sauté onions and peppers until mostly softened. Once softened, make room for minced garlic and sauté until garlic is fragrant. Mix everything and add back the meats.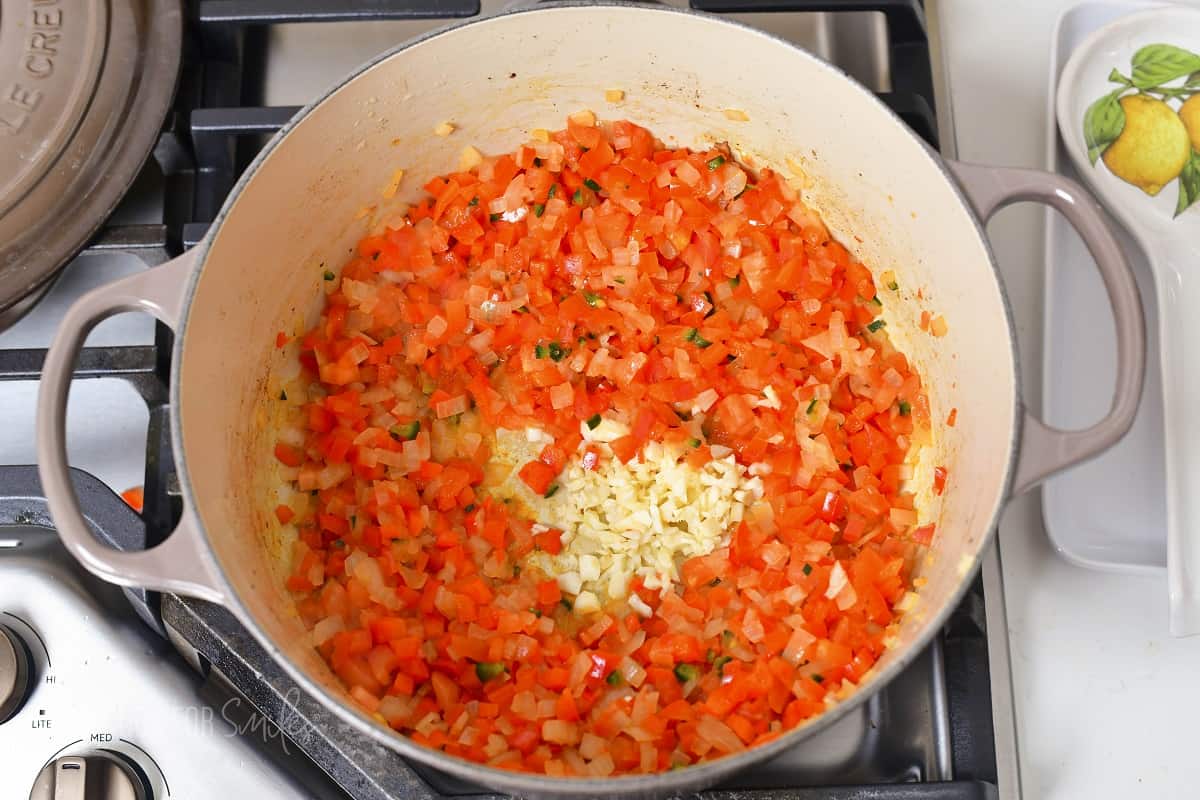 3. Beans, tomatoes, and seasoning. Drain beans and add them to the pot. Add can of diced tomatoes, tomato paste, and all the seasoning. Mix everything very well and stir in the beef stock.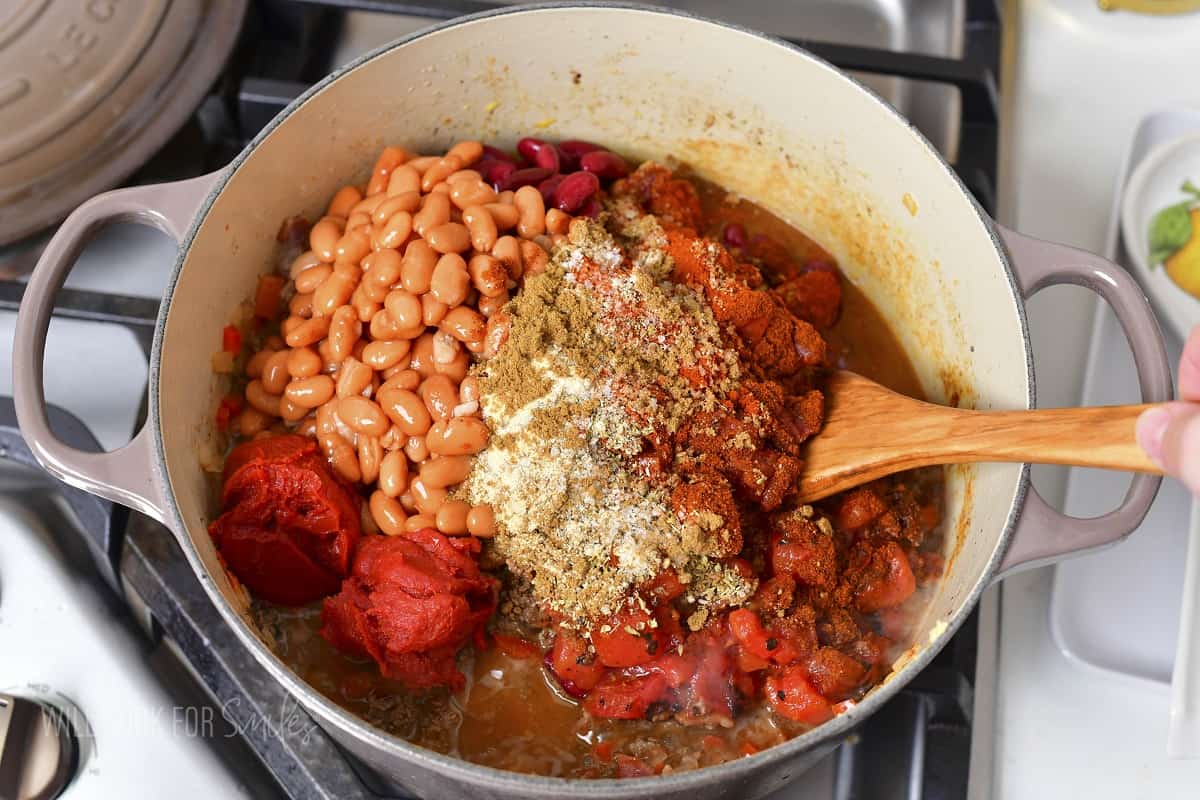 4. Cook! Bring the chili to a low boil and then lower the heat to low. Cover with a lid but leave a small crack for the steam to escape. Cook on low heat for 1 1/2 to 2 hours. Remember to stir from time to time!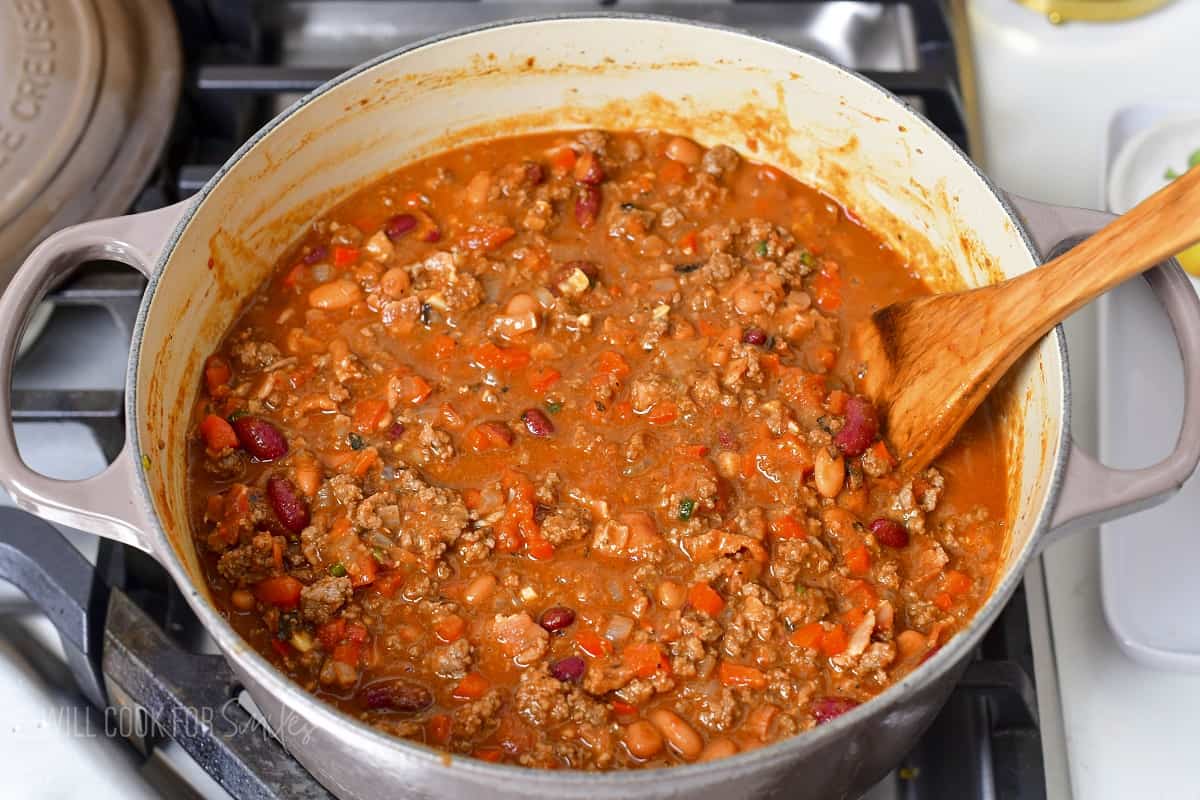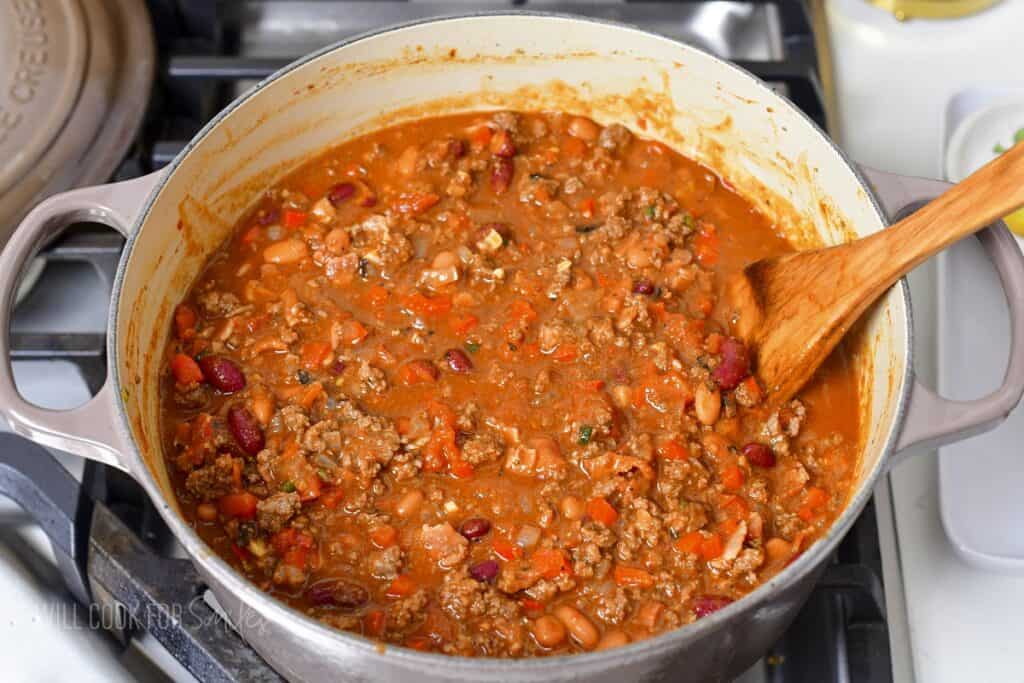 How To Make It In A Crock Pot
Slow cooker lovers will be happy to know that chili recipe can just as easily be made in a Crock Pot.
Begin by browning bacon in a cooking pan, over medium heat. Add ground beef, break it all up, and cook until beef is browned. Transfer beef and bacon mixture into a Crock Pot.
In the same pan where you cooked beef, add onions, peppers, and jalapeno. Sauté veggies until softened and add smashed and minced garlic. Sauté until garlic is fragrant and transfer veggie mixture onto the Crock Pot as well.
Add tomatoes, tomato paste, beans, broth, and seasoning to the Crock Pot. Stir everything well, cover, and cook on HIGH for 4 hours or on LOW for 6 hours. (Open and stir about once an hour.)
Tips and Trick For The Best Results
There are a few things you can add to make your chili taste great.
First of all, the chili seasoning. Chili seasoning is basically the spices and herbs that go into chili. Be generous with chili powder and make sure to add cumin, oregano, and paprika. I recommend smoked paprika for a smoky taste in chili.
To help regulate spice level in chili, you can add jalapenos or other spicy chili peppers. Adding spicier chili peppers can increase the spice level dramatically and if you add seeds from those peppers, that will bring up the heat even more.
I prefer to make chili ahead of time and eat it the next day. It really does taste best when it gets a chance to sit in the fridge overnight.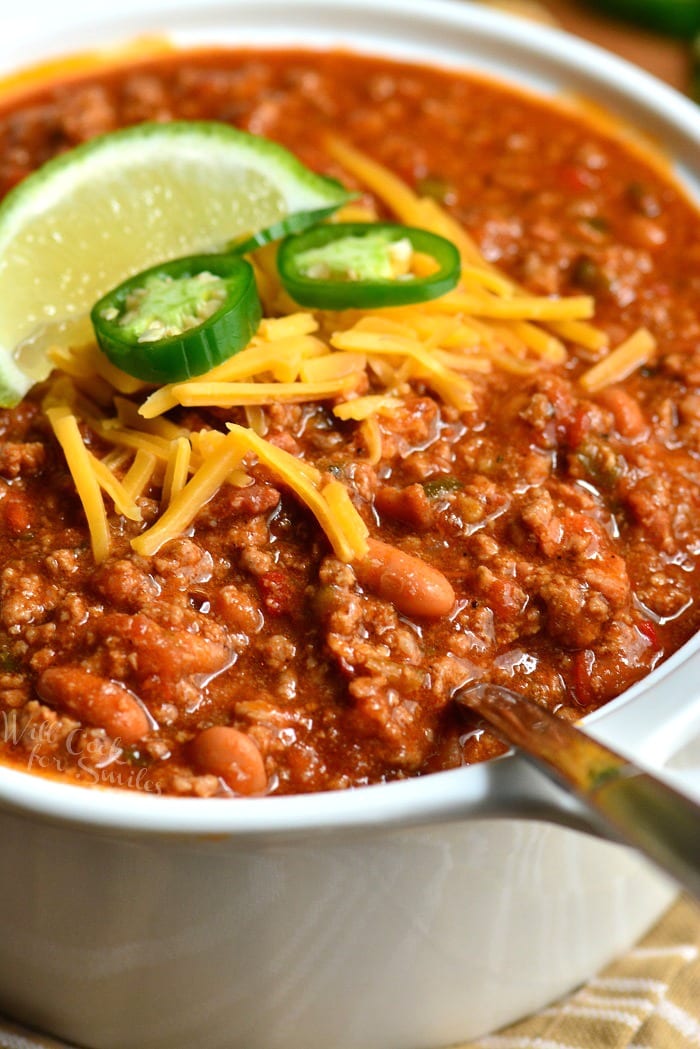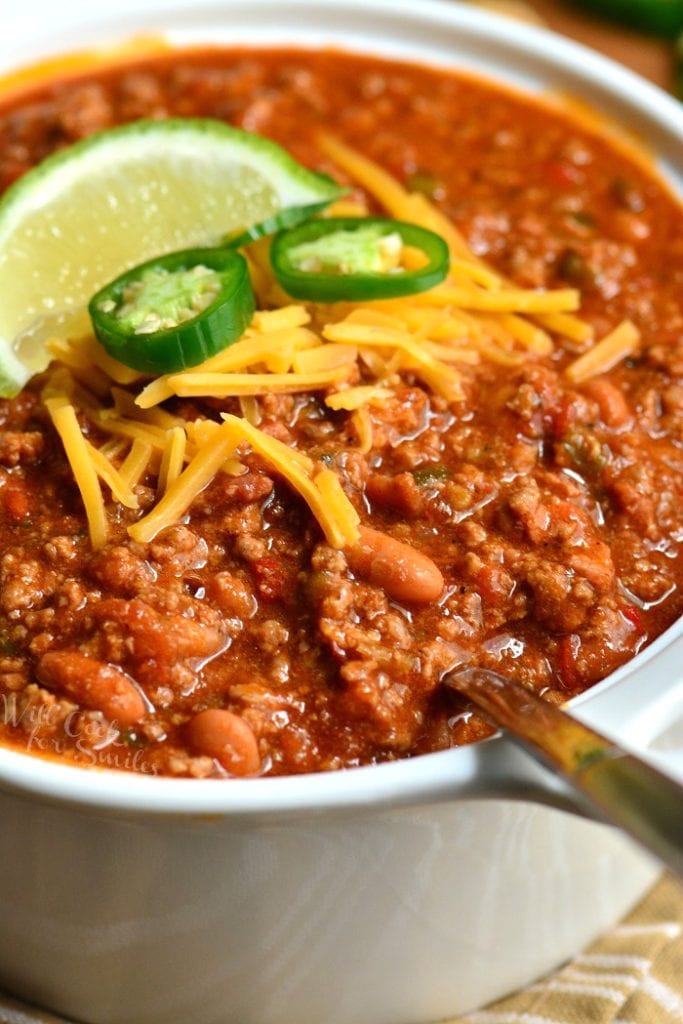 Freezing Instructions:
You will be happy to know that you can easily freeze chili.
After chili is cooked, you will want to cool it as quickly as possible if you plan to freeze it. This will give bacteria less chance to build and extend the shelf life of food. The best way to cool chili quickly is to place the pot of chili into a larger container filled with ice and make sure to stir it from time to time as it cools.
Once it cools, portion it into smaller freezer bags, let all the air out, and close it well. Remember to label and date. Lay the bags flat on the cutting board and freeze. Chili can be frozen for up to 6 months.
To Thaw: Make sure to slow-thaw overnight in the refrigerator.
Creating a Chili Bar
1. If you're making chili for a game day, creating a chili bar is an awesome idea. Chili bar is basically a spread of awesome chili and an array of toppings that people can use for their chili.
2. Make sure to keep chili warm, so keeping it in a Crock Pot is a good idea even if you didn't cook it in it.
3. Set out plenty of bowls and extra spoons so each topping option can have its own spoon.
4. There are many topping options like:
cheese
sour cream
diced jalapeno peppers, onion, avocado, cilantro, lime wedges, green onions
crackers, tortilla strips, pretzels
dried chick peas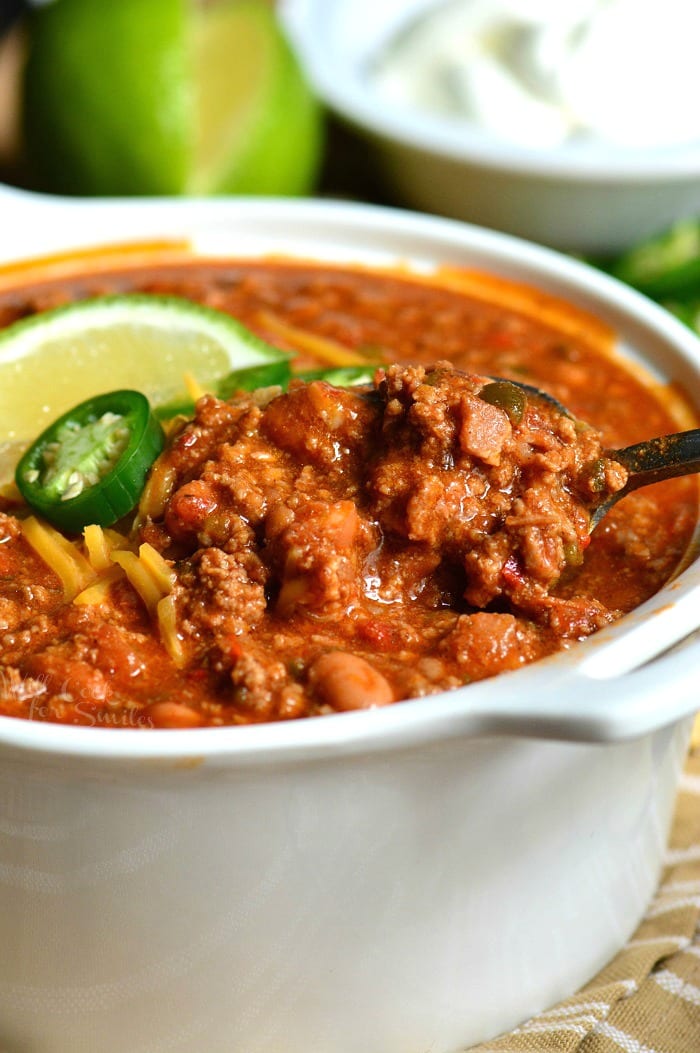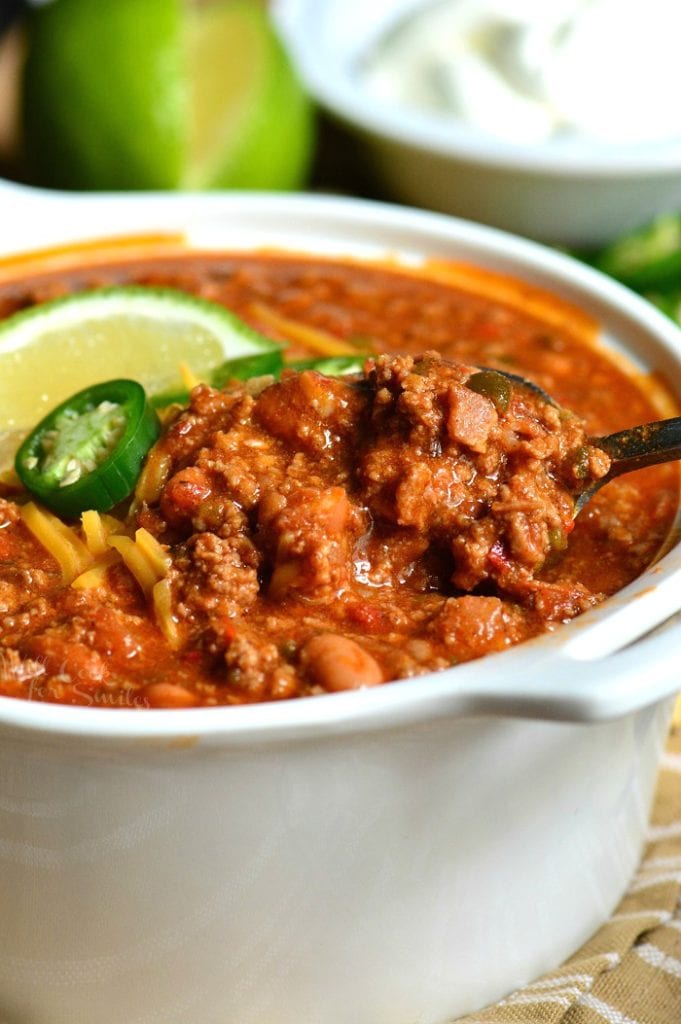 Variations You'll Love:
Meat – you can use just ground beef or mix ground beef and ground pork. You can also go for a leaner meat and just use ground turkey.
Spicier – Love it spicy? Use spicier peppers like serrano or habanero. Your chili will also be spicier if you keep the seeds in jalapenos or other peppers.
Add more veggies – feel free to load your chili with veggies like carrots, more bell peppers, zucchini, yellow squash, and avocado for topping.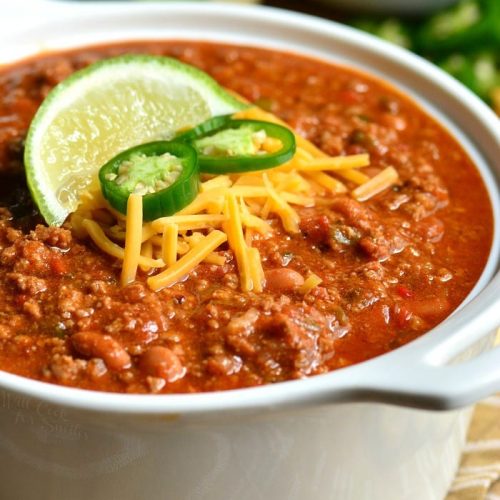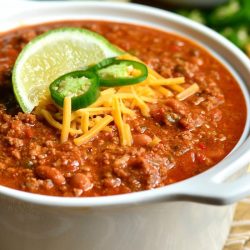 The Best Chili Recipe
Amazing classic Chili made with bacon, ground beef, vegetables, beans, and tasty combination of spices to make chili seasoning.
Print
Save
Saved!
Rate
Servings:
8
(Makes about 2 quarts)
Ingredients
8

oz

raw bacon

2

lbs

ground beef

85%-15% lean to fat ratio

1

yellow onion

2

bell peppers – various colors

2-3

jalapeno peppers

2

tomatoes

4-6

large garlic cloves

14

oz

can fire roasted diced tomatoes

4

oz

tomato paste

16

oz

can low sodium pinto beans

or other beans you love

16

oz

can low sodium kidney beans

1

cup

beef stock

or broth

2 1/2

tsp

cumin

2

tsp

dried oregano

2

tsp

garlic powder

2

tsp

smoked paprika

2

tbsp

ancho chili powder

1

tbsp

salt

more or less to taste

1/2

tsp

black pepper
Instructions
Prepare ingredients ahead of time by dicing bacon, onion, tomatoes, and peppers. Measure the stock and seasoning, drain the beans, and mince garlic

Preheat a 2.5-3 quart pot over medium heat and add a little bit of oil.

Add diced bacon and cook until browned and most of the fat is rendered. 

Add ground beef, season with some salt, and cook, breaking up all the clumps of meat as much as possible. Continue to cook until the meat is mostly brown. Take meats out of the pot and set aside.

Add diced onion, jalapenos, and bell peppers to the pot and sauté until softened.

Make some room in the middle and add minced garlic. Sauté until garlic is fragrant and mix it into the veggies.

Add meats back to the pot, stir, and add diced tomatoes, tomato paste, beans, and seasoning. Stir everything well and pour in beef stock. 

Bring the chili mixture to a low boil and then lower the heat to low. Cover with a lid but leave a crack for the steam to escape.

Cook for about 1.5-2 hours and make sure to stir from time to time. Take the lid off half way through and cook the rest of the time uncovered.
Nutrition
Calories:
555
kcal
|
Carbohydrates:
29
g
|
Protein:
31
g
|
Fat:
35
g
|
Saturated Fat:
13
g
|
Polyunsaturated Fat:
3
g
|
Monounsaturated Fat:
15
g
|
Trans Fat:
1
g
|
Cholesterol:
99
mg
|
Sodium:
1844
mg
|
Potassium:
1065
mg
|
Fiber:
9
g
|
Sugar:
6
g
|
Vitamin A:
1624
IU
|
Vitamin C:
19
mg
|
Calcium:
124
mg
|
Iron:
6
mg
Tried this recipe?
Mention @willcookforsmiles and tag #willcookforsmiles