Potato Rolls are so soft, fluffy, and have the perfect amount of moisture. These dinner rolls are our family favorite because of their unbeatable texture. The secret? These rolls are actually made with mashed potatoes that create their signature moist and fluffy texture!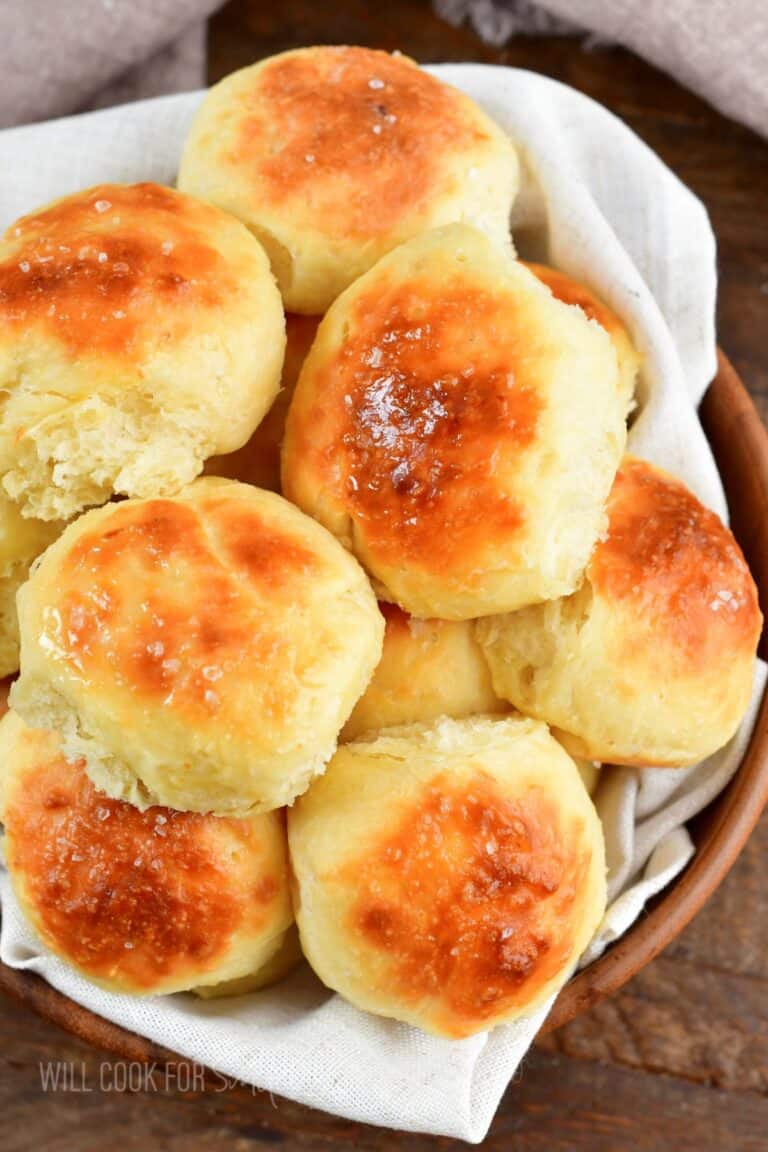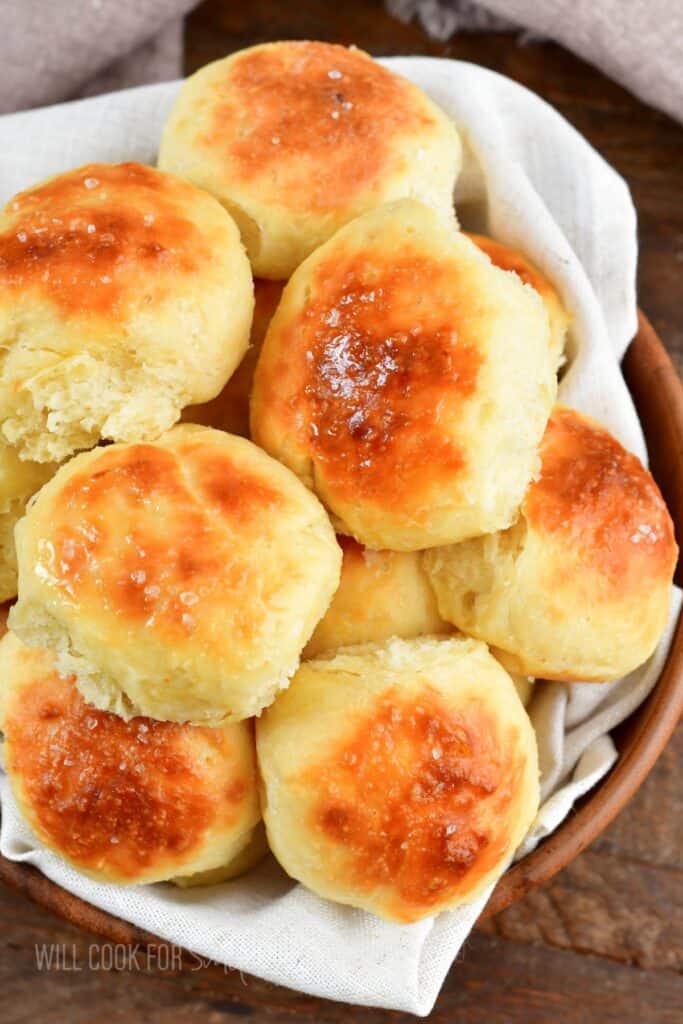 Potato Rolls Recipe
Whenever I make my Easter Sunday spread, it's almost laughable how quickly these Potato Rolls fly off the table! While I slave away over the ham, roasted carrots, and all of the other sides and desserts, it's always these handheld breads that get the most love and attention. For that reason, I've started doubling my batches so I don't run out! With that all being said, I make these Potato Rolls all year round. They plate perfectly with just about every big holiday meal you can think of.
My not-so-secret ingredient for these homemade Potato Rolls is the cup of mashed potatoes that gets mixed into the dough. When you buy store-bought Potato Rolls, they just don't have that same signature consistency from fresh mashed potatoes that this homemade recipe has. These rolls are angelically soft and fluffy while also being just dense enough to retain their moisture in the most incredible way. Thank you, mashed potatoes!
The biggest reason people buy store-bought rolls of any kind is because it's much easier to open a container than it is to make your own dough. Trust me, I get it! However, I've simplified the steps here so they're clear, concise, and directly to the point. You won't need to fuss over any unnecessary frills here. Also known as Amish rolls (because they originated in Pennsylvania Dutch), these Potato Rolls are timeless and delightfully hassle-free.
Ingredient Notes: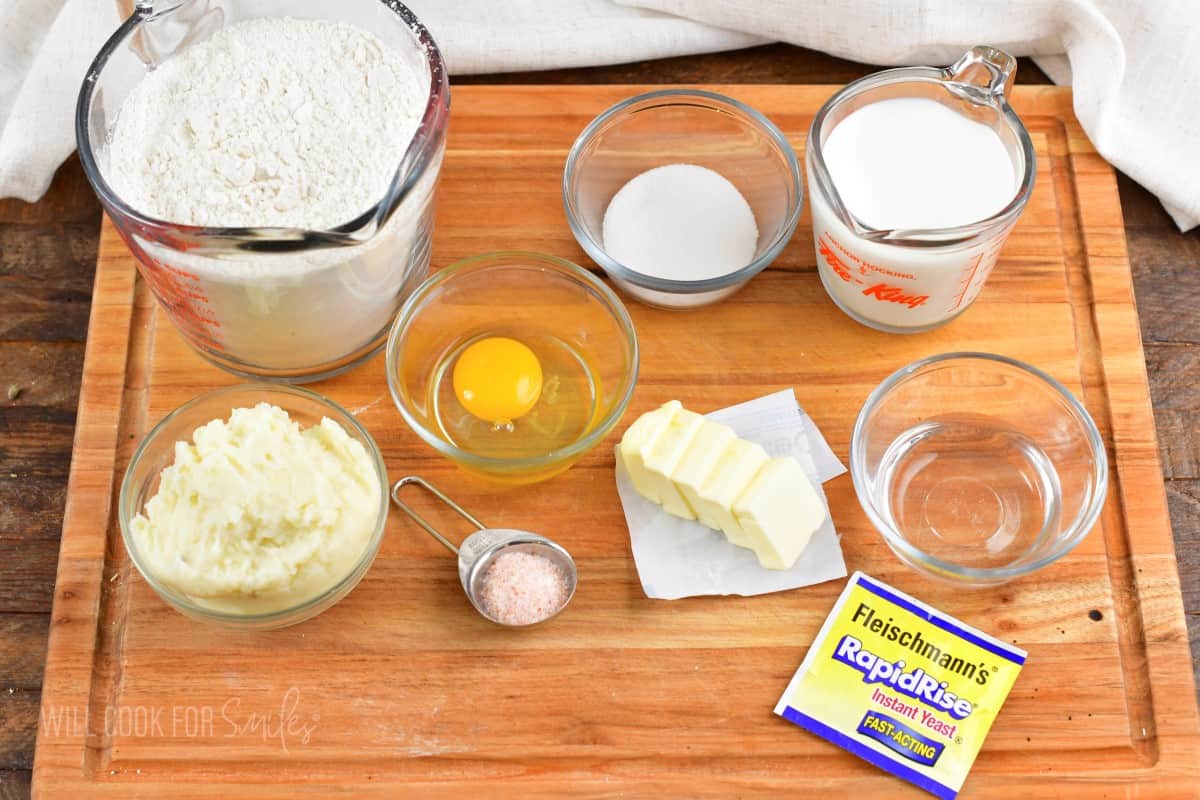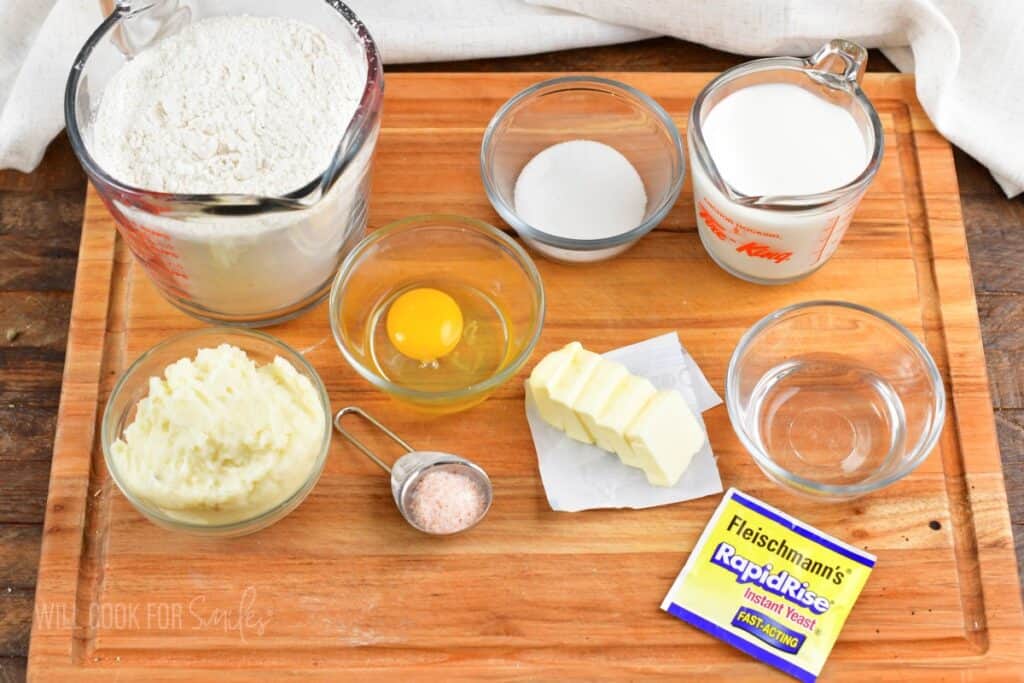 Let's take a look at your shopping list! As with all baking recipes, keep in mind that it's important to measure each of these ingredients with care.
All-Purpose Flour – Spoon the flour into your measuring cup instead of dipping the cup right into the bag. If you dip the cup, you'll end up packing the flour.
Rapid Rise (Instant) Yeast
Whole Milk – For the best consistency, don't substitute this with any other kind of dairy.
Water
White Granulated Sugar
Unsalted Butter
Salt
Egg – I like using free-range organic eggs that have deep, golden colored yolks.
Mashed Potatoes – They'll need to be warmed, but not hot.
PRO TIP: Most often, we make dinner rolls for a big feast during the holidays. So if you plant on making mashed potatoes for a holiday dinner, simply set aside 1 cup of mashed potatoes to make the dinner rolls with. You can also reheat some leftover mashed potatoes.
Cooking Instructions:
These classic dinner rolls are so easy to make!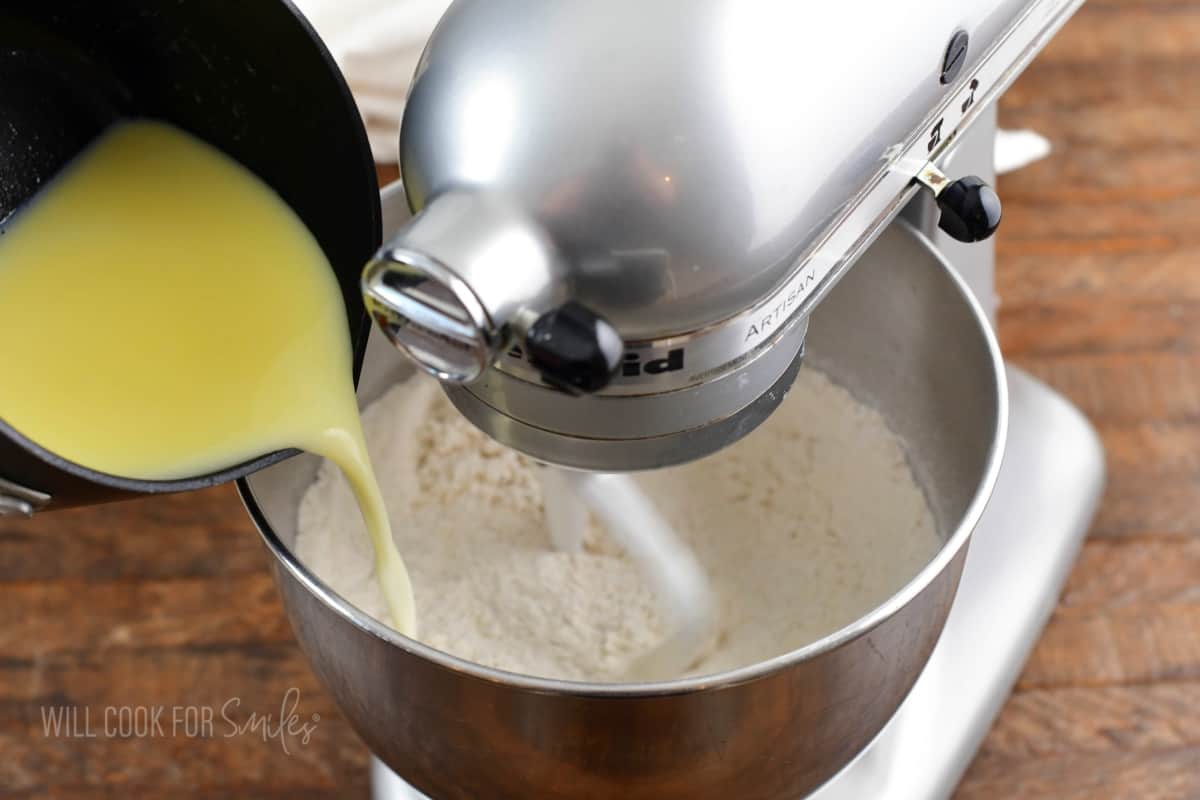 Make the dough.
Combine the milk, water, butter, sugar and salt in a pot over medium heat until the butter starts to melt.
Combine 2 cups of flour and yeast in the bowl of an electric mixer. Turn the mixer or low and slowly stir in the milk mixture and the beaten egg. Mix in the cup of mashed potatoes. Continue to mix on low until combined. Raise the speed to medium-high and beat for approximately 2-3 minutes.
Scrape the sides as needed and add the rest of the flour while the mixer is on low speed. Be sure to only add 1/2 cup at a time.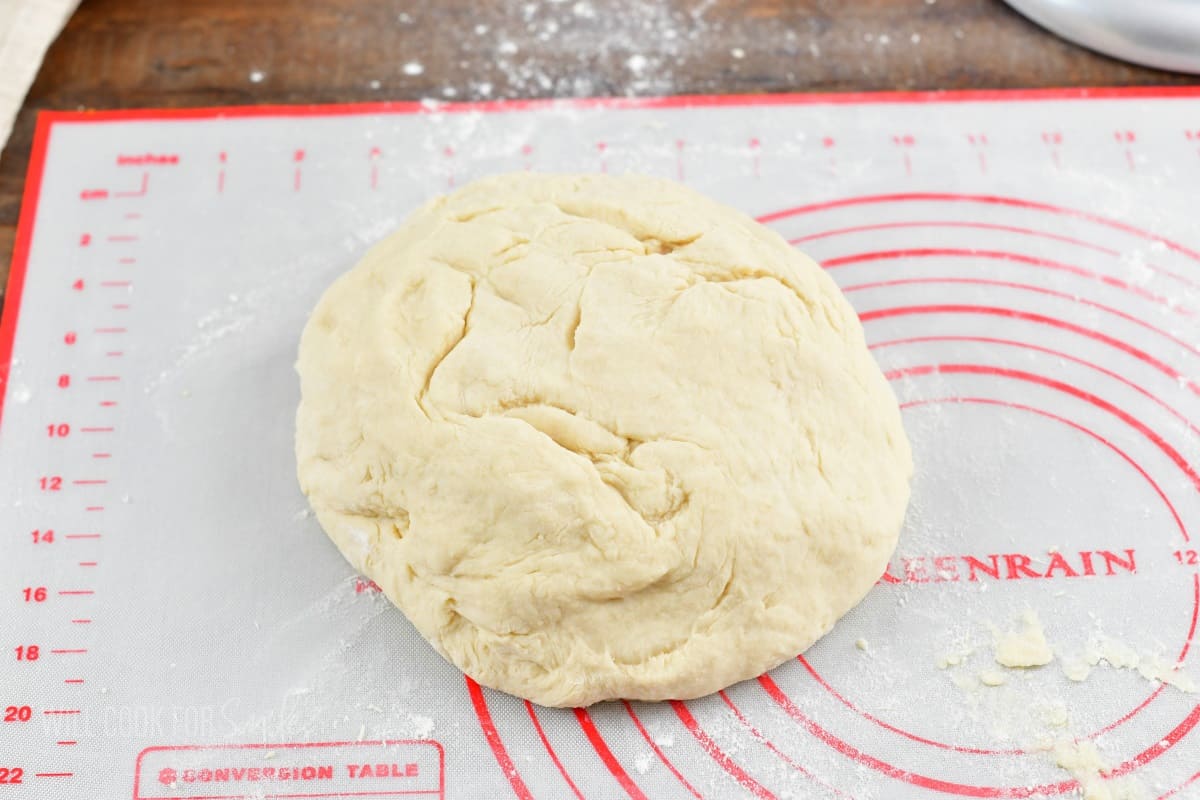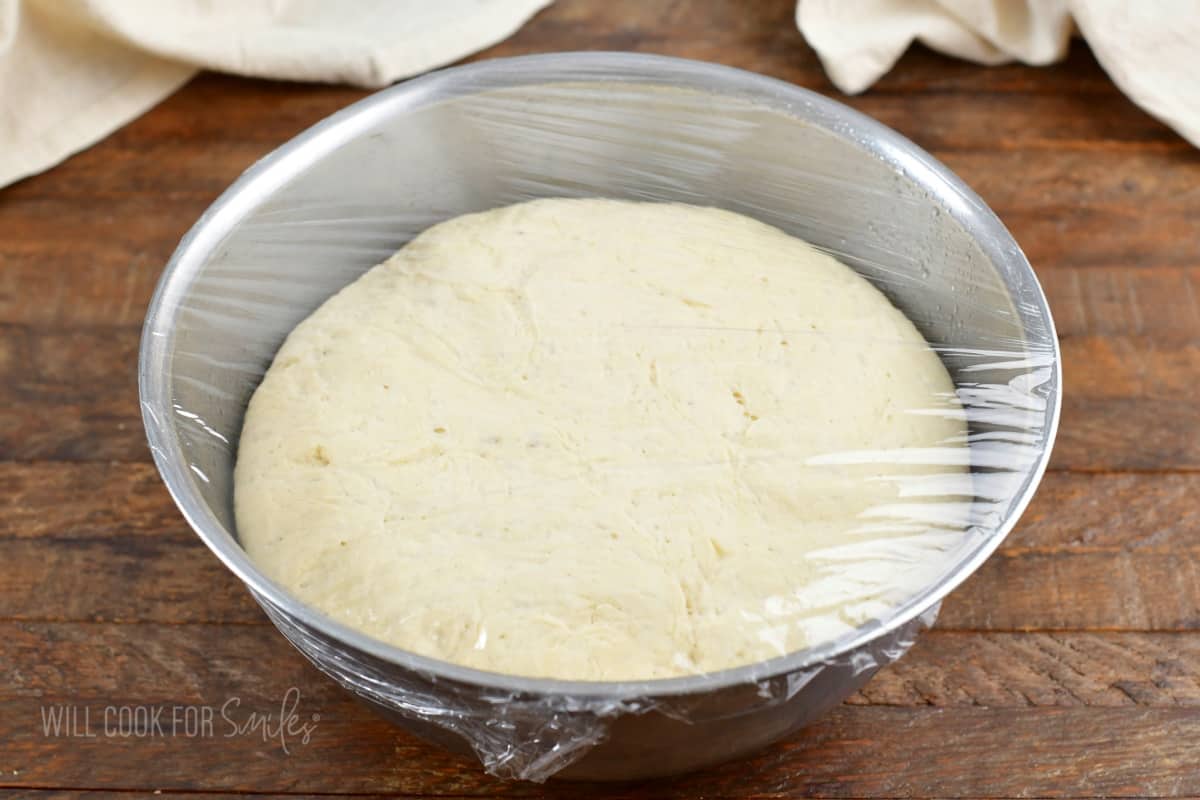 Knead and let rise.
Knead the dough for about 5 minutes on a lightly floured surface until it's elastic. Add more flour if needed.
Place the kneaded dough into a lightly greased bowl. Roll it around a little in the bowl to grease the dough.
Cover the bowl with a towel. Keep it in a warm, dry place and let the dough rise for 1 hour until it's doubled in size.
Punch the dough down in the center. Then, take it out of the bowl and halve it. Cover and let rest for another 10 minutes.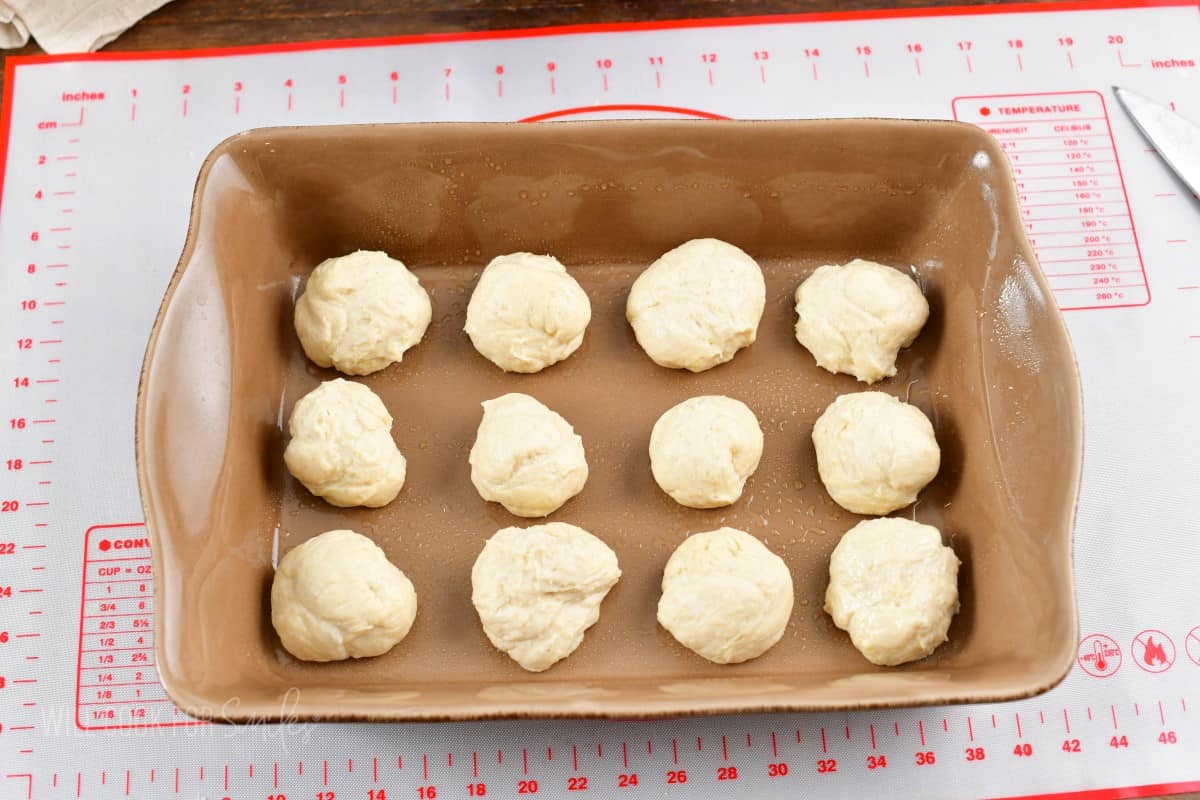 Bake the rolls.
Roll each half into a long roll, then divide each roll into 12 even smooth balls. Place the rolls onto a lightly greased baking pan.
Cover and let them rise for half an hour.
Bake for 18-20 minutes at 375°F.
Temperature of the rolls when done: Enriched breads and rolls (enriched with eggs and flour) are best to cook to about 190°F internal temperature. This way, they are golden brown on the outside and baked through but still soft and fluffy.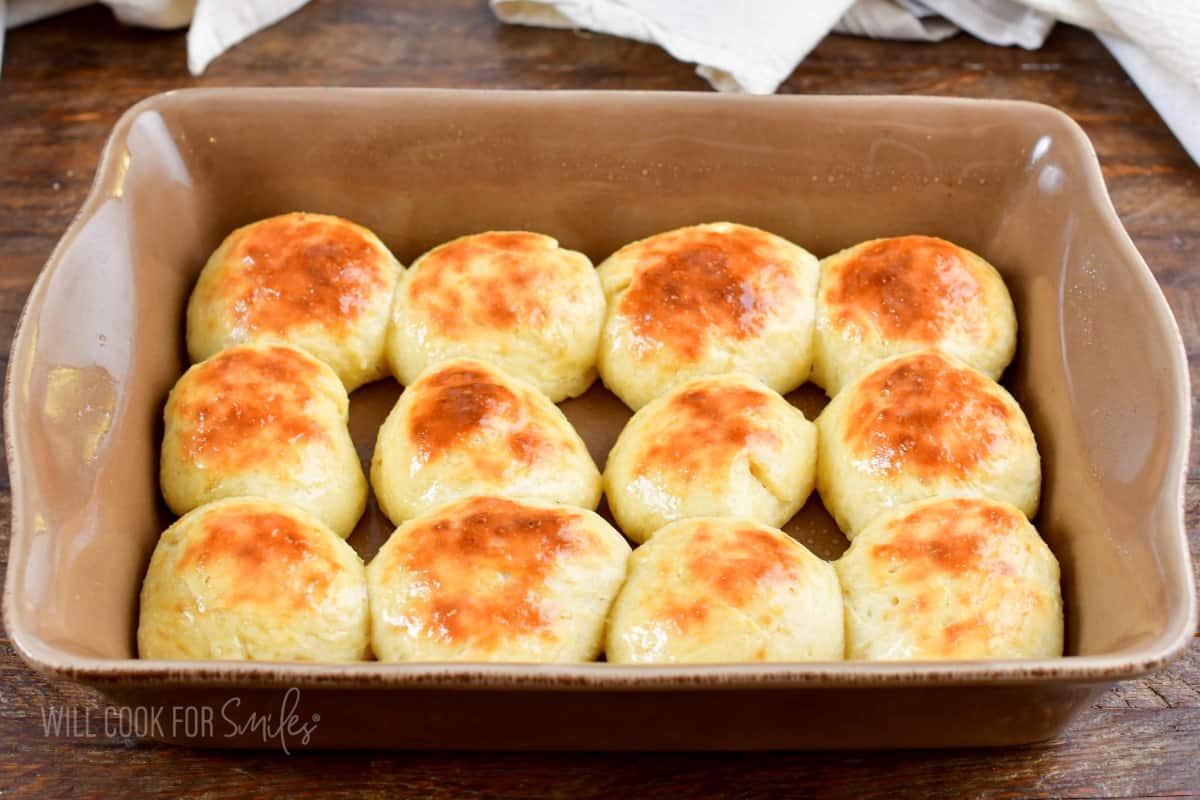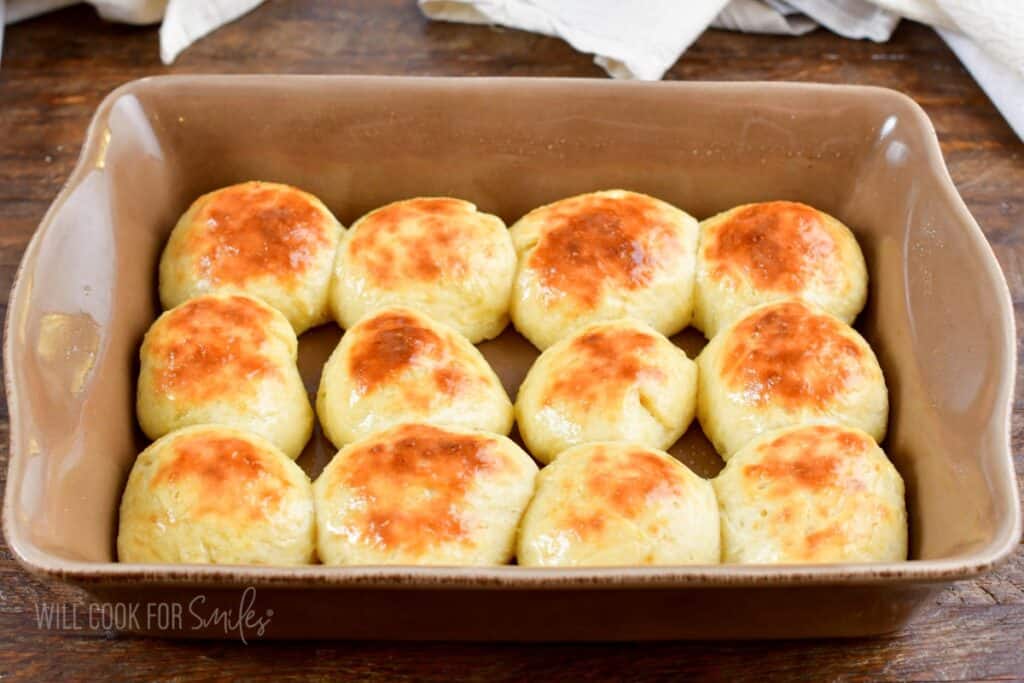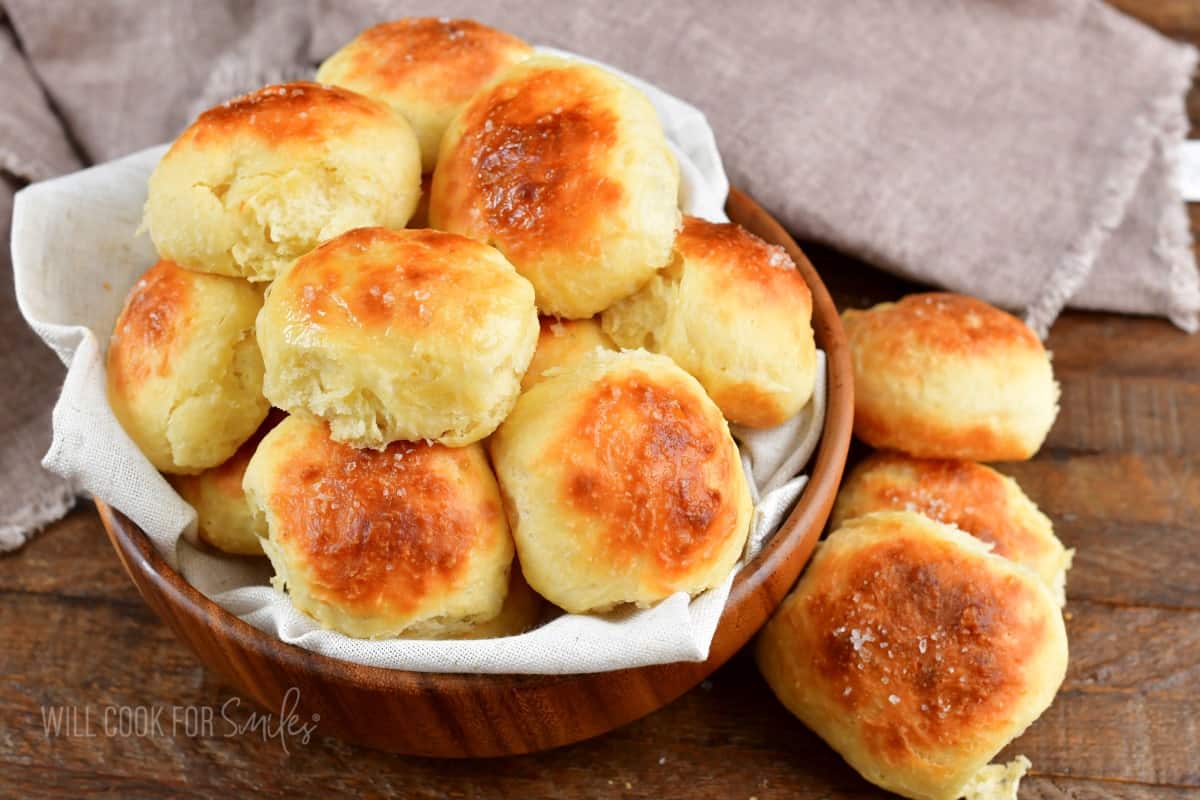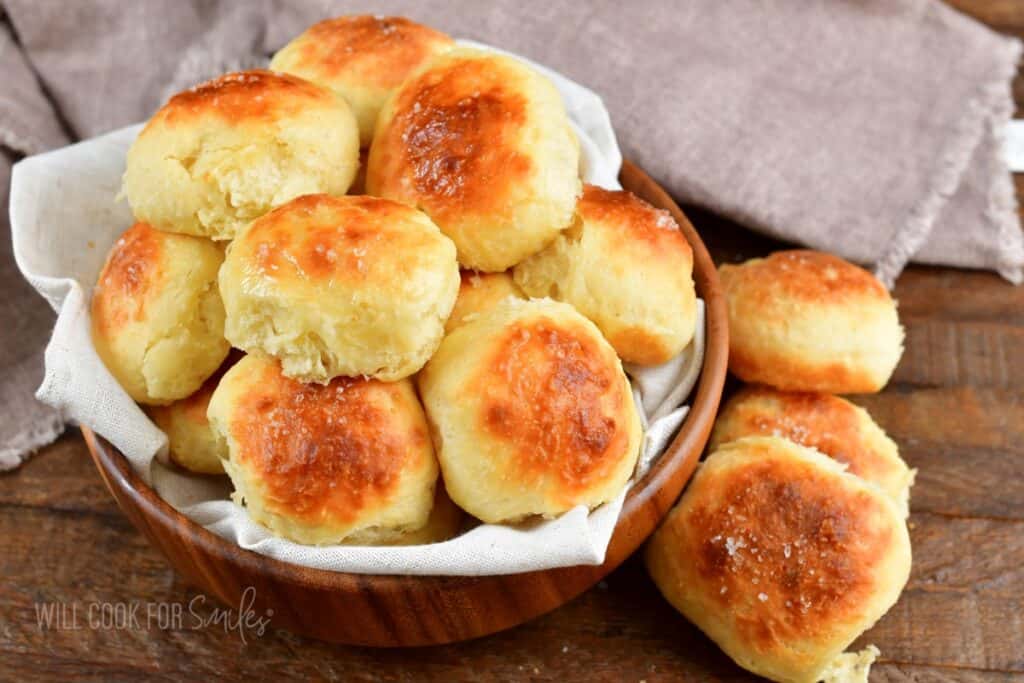 Tips for the Making These Dinner Rolls:
If you want larger rolls, divide the dough into 16 equal pieces. If you want smaller dinner rolls, divide the dough into 24 equal pieces.
You can also decide the look of your rolls. For rolls that sit tight together and are more pull apart, place the 16 dough rolls into 13×9 baking dish and close together. If you want them to look more like individual rolls that are brown on all sides, use a large baking sheet, space them about 2 inches apart, and divide them among 2 baking pans.
Storing Recommendation:
You can store the rolls for a few days at room temperature. Make sure to keep the rolls an airtight plastic bag or in an airtight food storage container. How long the rolls last highly depends on the conditions, like temperature and humidity. If you live in a humid environment, they will only last a couple of days.
You can also keep the in the refrigerator for a few days longer and simply reheat then for a few seconds in the microwave when needed. Store them in an air-tight container in the refrigerator as well.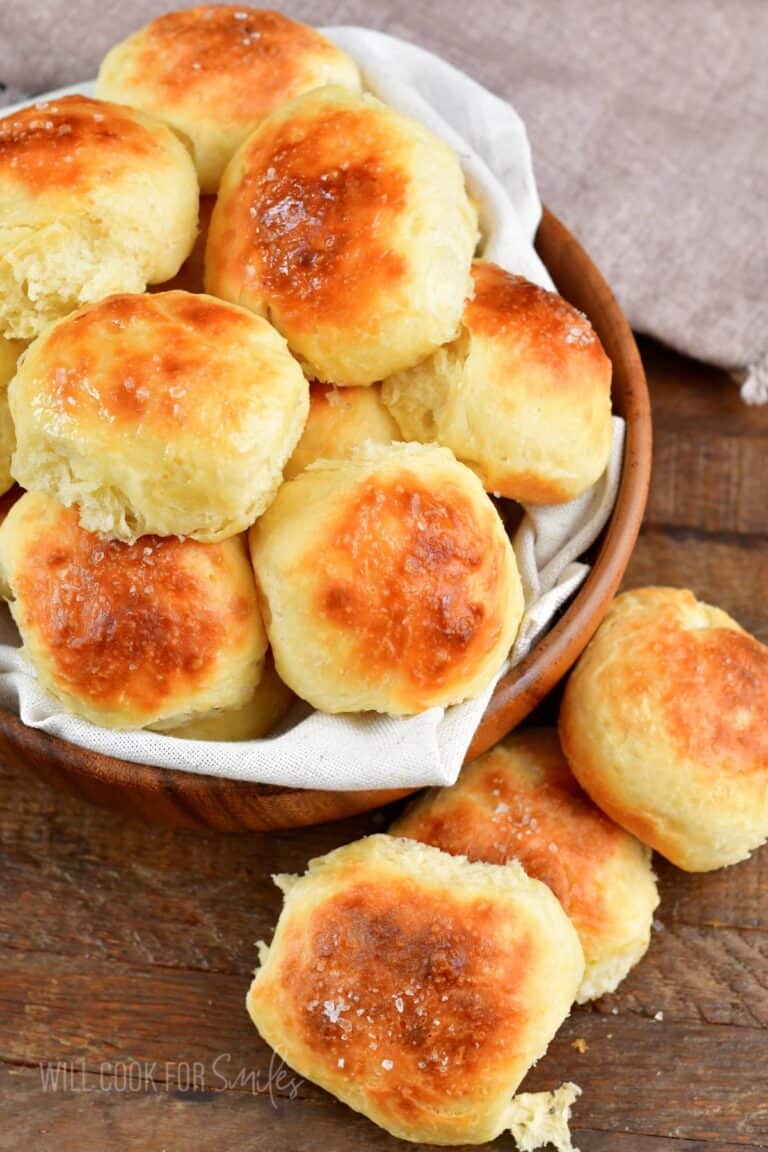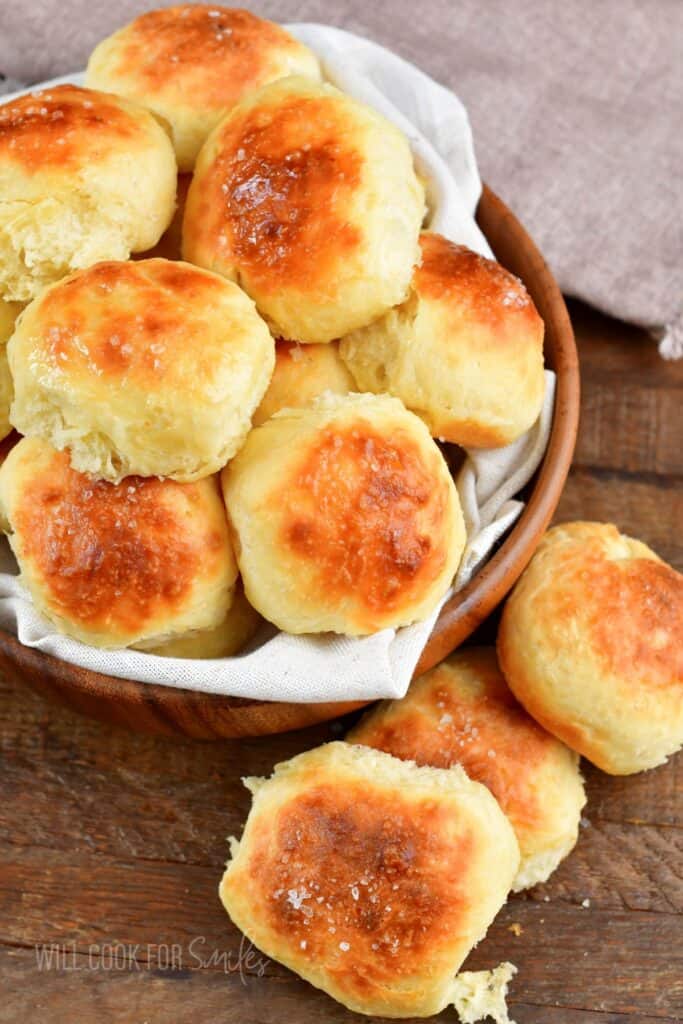 How to Freeze Potato Rolls:
You can freeze these dinner rolls before or after baking.
To freeze before baking: Follow the same recipe, but stop before baking. Cover a cutting board with parchment paper and place the rolled Potato Rolls on it. Place them then into the freezer and let them sit for 2-3 hours. Once frozen, you can transfer the rolls into a large freezer friendly zip-top bag.
Get as much air out as you can, label, and freeze for up to 2 months. When you're ready to bake, thaw the rolls first, then give them a couple of hours to rise. You can place the dinner rolls into greased pans to thaw and rise. It will take about 4-6 hours for the rolls to thaw and rise. Then, bake as instructed.
To freeze them baked: Make the rolls per the recipe instructions and allow them to cool completely. Then, you can portion the rolls into several freezer-friendly plastic bags, or a couple of larger ones. You can also opt to wrap them in foil a few at a time.
Make sure to wrap them airtight, maybe in a couple of layers. You can also place the wrapped rolls in an airtight freezer storage container. The freezer shelf life of dinner rolls is only about 2 months.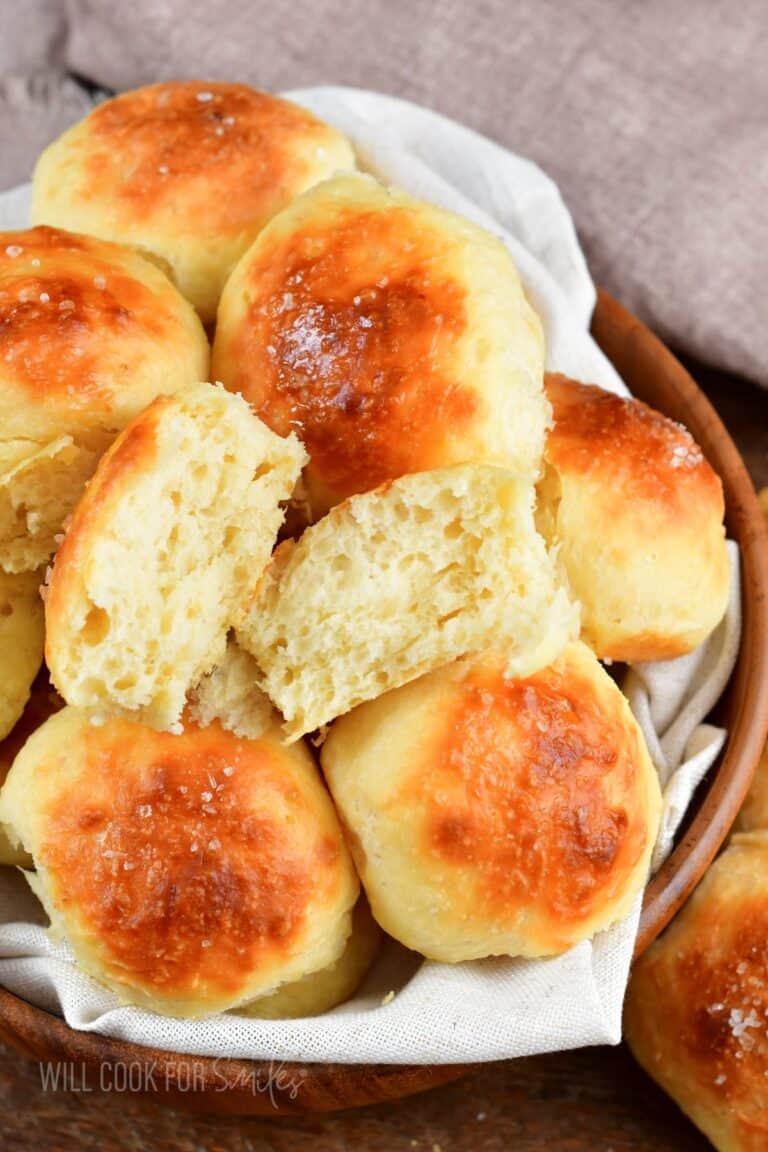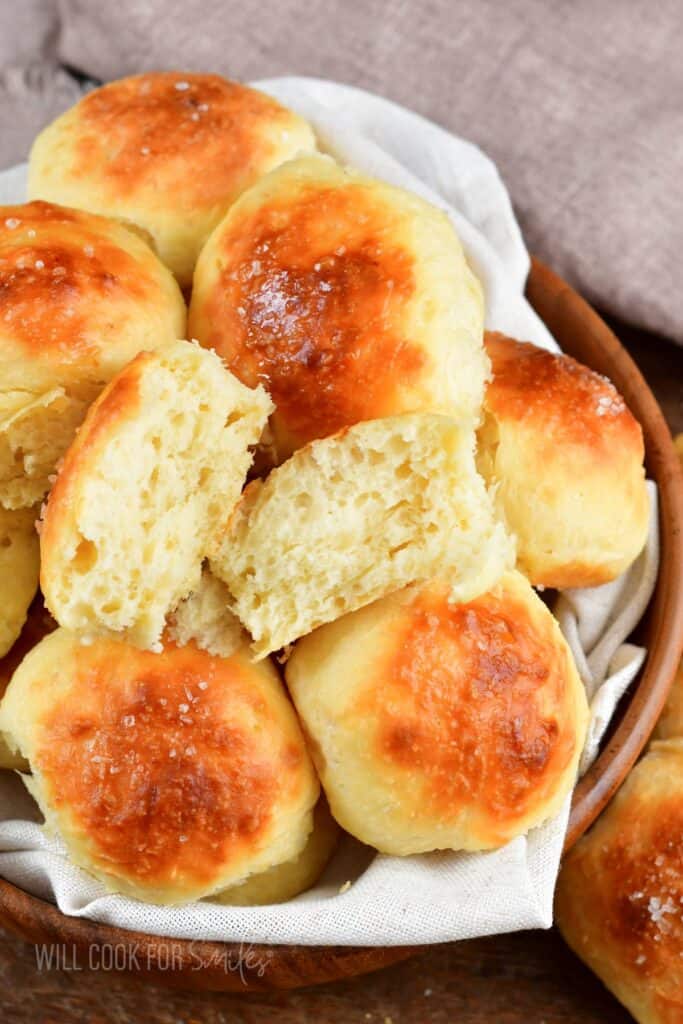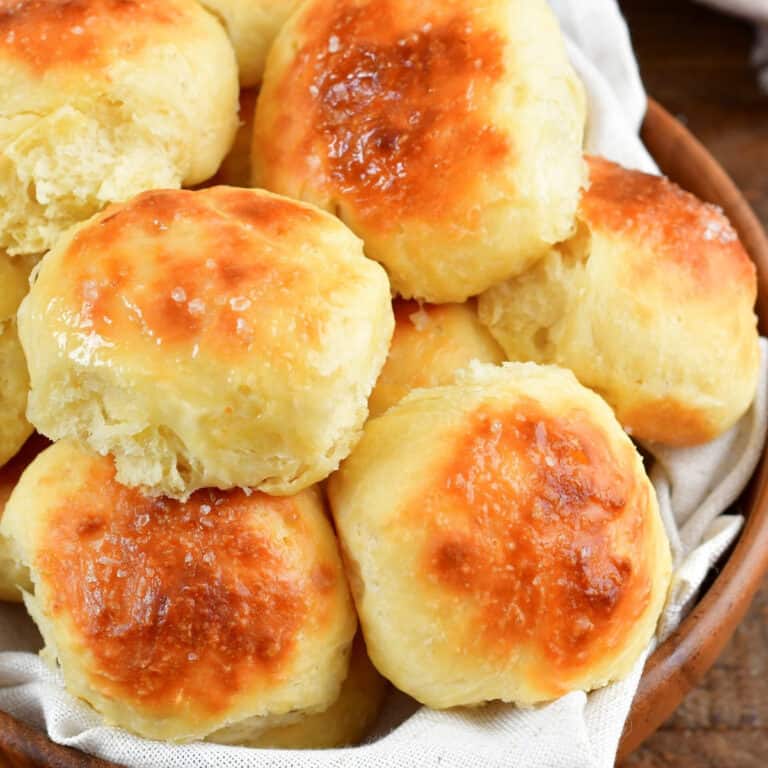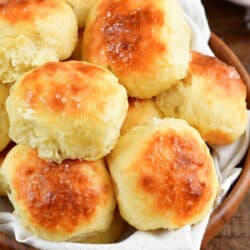 Potato Rolls
These family favorite potato rolls are so soft, moist, and fluffy, they will compliment any weekend and holiday dinner.
Print
Save
Saved!
Rate
Servings:
24
(can make from 16-24)
Ingredients
4 – 4 1/2

cups

all purpose flour

1

packet of rapid rise (instant) yeast

1

cup

whole milk

1/4

cup

water

1/4

cup

white granulated sugar

1/4

cup

unsalted butter

1 1/2

tsp

coarse salt

1

egg

room temperature

1

cup

mashed potatoes

warm
Instructions
In a small sauce pot, combine milk, water, and butter. Heat through on medium-low heat, until butter starts to melt (milk temperature reaches about 120° F). Take off heat.

In a bowl of your electric mixer, combine flour, sugar, salt, and yeast. Turn the mixer or low and mix to combine. Add mashed potatoes and mix until it starts to incorporate.

Quickly whisk the egg into the warmed milk mixture and slowly pour the milk mixture into the flour mixture while it's mixing on "stir" setting. Add the mashed potatoes. Keep mixing on low until all combined.

Raise the speed a little and beat a few seconds until smooth.

Take out the dough and place it onto a lightly floured surface. Knead the dough, adding a little bit more flour if necessary (if the dough feels very sticky), until it's elastic and smooth.

Place the dough into a lightly greased bowl and roll it so the dough gets a little greased as well.

Cover it with a towel and keep it in a warm and dry place. Let it rise for an hour to an hour and a half, until doubled in size.

Deflate the dough, take it out, and split in two even halves. Cover and let it rest for about 10 minutes.

Roll each piece into a long roll and divide each roll into 12 pieces. Roll them into smooth balls and place them onto a lightly greased baking pan. (I used 2 13×9 baking pans with 12 rolls in each pan.)

Notes: – you can also divide them into 16-18 pieces if you want larger rolls. – if you want the rolls that sit tight together that you have to pull apart, place more rolls into the baking dish, closer together. If you want rolls that are more individual and bakes on all sides, place them into a larger baking dish and spaced apart about 2 inches.

Cover and let them raise for about 30-45 minutes, until doubled in size.

Preheat the oven to 375° and bake the rolls for about 18-20 minutes, until golden brown and feel set.

Note: you can also take internal temperature of the center roll, in the middle. Dinner rolls are done when they reach 190° internal temperature.
Nutrition
Calories:
204
kcal
|
Carbohydrates:
38
g
|
Protein:
5
g
|
Fat:
3
g
|
Saturated Fat:
2
g
|
Polyunsaturated Fat:
0.3
g
|
Monounsaturated Fat:
1
g
|
Trans Fat:
0.1
g
|
Cholesterol:
13
mg
|
Sodium:
156
mg
|
Potassium:
94
mg
|
Fiber:
1
g
|
Sugar:
3
g
|
Vitamin A:
86
IU
|
Vitamin C:
2
mg
|
Calcium:
22
mg
|
Iron:
2
mg
Tried this recipe?
Mention @willcookforsmiles and tag #willcookforsmiles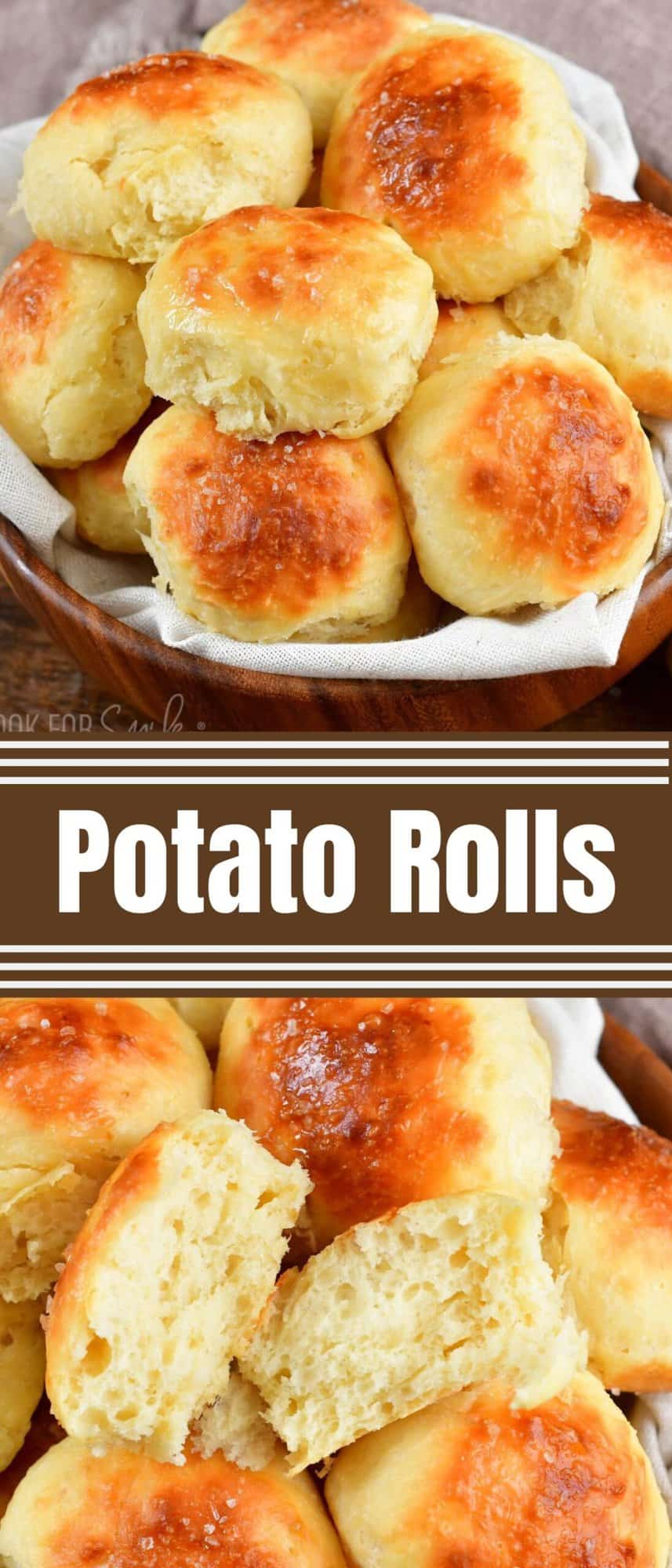 Originally published on Will Cook For Smiles in November, 2013.