Mashed potatoes is the most classic and comforting side dish and a must for the holiday dinner. This perfect Mashed Potatoes recipe are smooth, creamy, fluffy and sure to earn a permanent spot on your holiday menu.
If you love this potato side dish, make sure to try my Instant Pot Garlic Mashed Potatoes.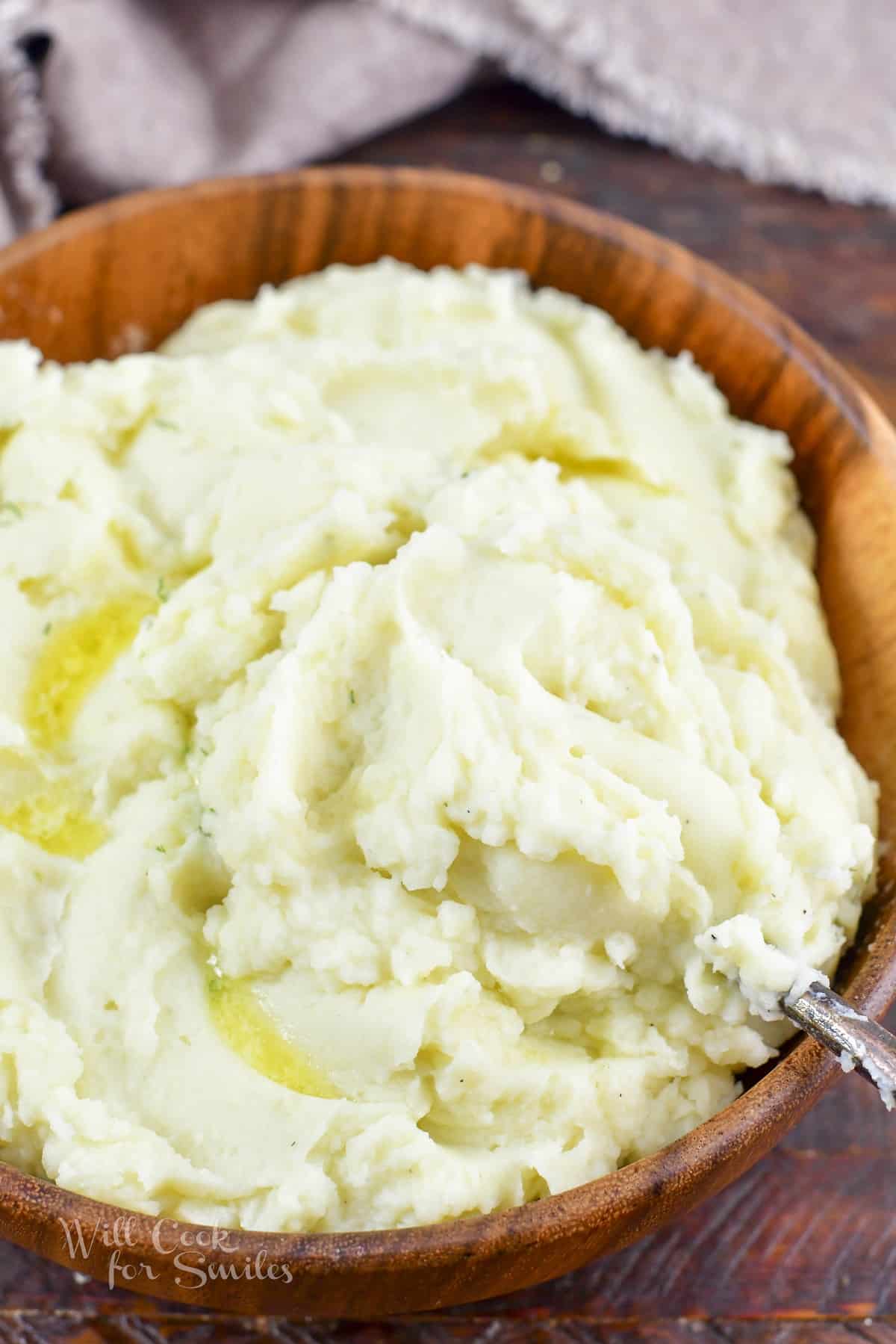 No matter what holiday you are preparing for, mashed potatoes is a side dish that must always be on the table.
There is nothing better next to turkey, ham, or Prime Rib than a scoop of soft, fluffy, comforting mashed potatoes. It gets even better when those mashed potatoes are smothered in gravy.
I like to make a different dinner menu for every holiday and different dishes every year but there is one thing that never changes and that is my homemade mashed potatoes. It's a simple, classic, and comforting side dish that makes you feel like home.
These easy mashed potatoes are even more comforting made by the fact that my grandmother and my mom make these potatoes the same way. Each bite bring all the family dinner memories with it. I hope these mashed potatoes will make your family dinners just a cozy so you can make your own family memories around the dinner table.
Ingredient Notes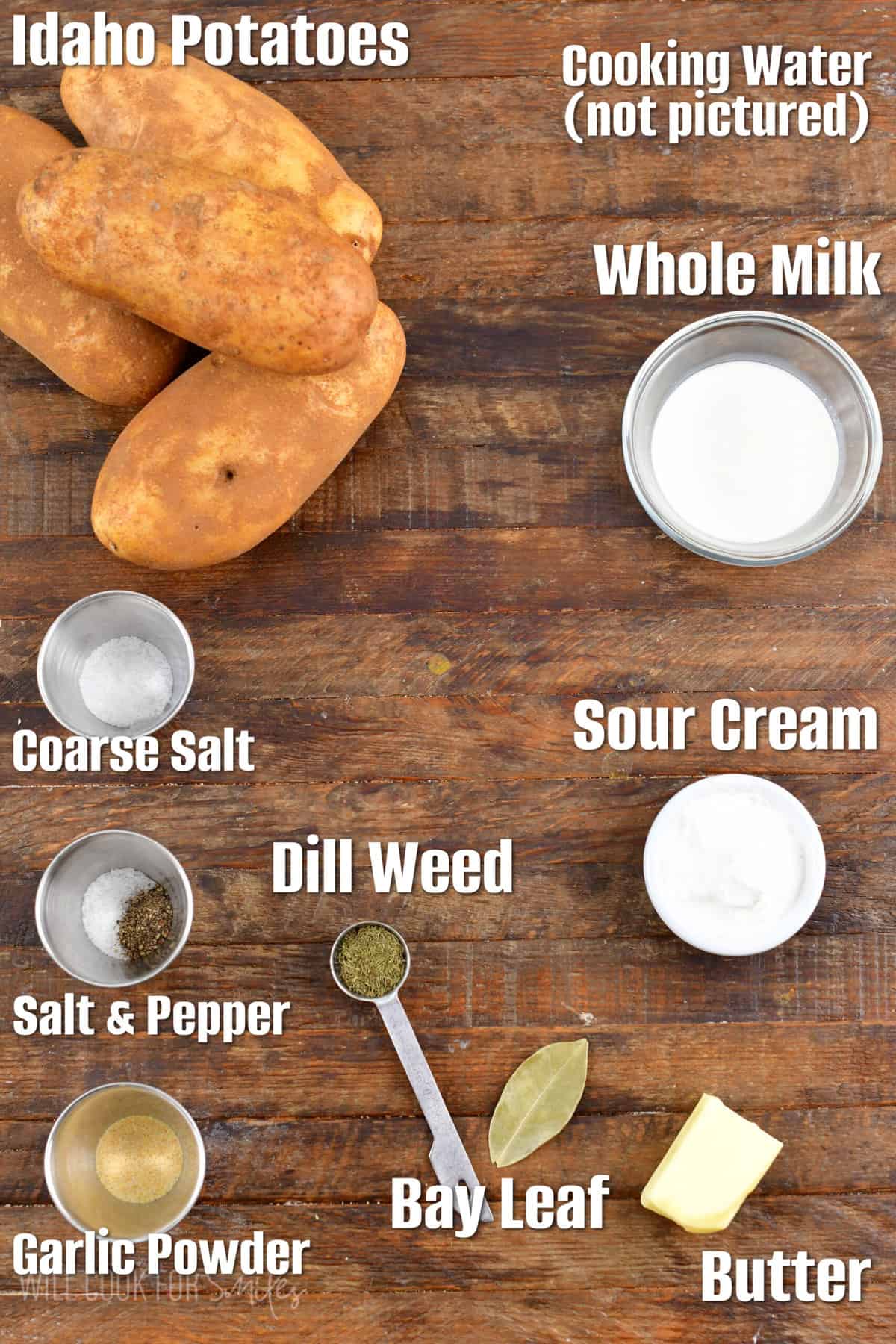 Potatoes – use Idaho (or Russet) potatoes to make mashed potatoes.
Heavy Whipping Cream – this will give you the creamier consistency but you can also use half and half or whole milk. (Feel free to use lactose free or plan based cream or milk if needed.)
Cooking water – make sure to save some cooking water when you're pouring it off!
Butter – use unsalted butter to control the sodium. (Feel free to use plant based butter if needed.)
Seasoning – a simple combination of salt, pepper, and garlic powder.
Herbs – you will need dried bay leaf and dried dill weed.
What Potatoes Are Best To Use?
Believe it or not, not all potatoes are created equal. There are different types of potatoes and all have different amount of starches and other enzymes that make them either on the waxy side or on the crumbly sides. Other potatoes mostly fall in the middle.
Russet potatoes are always the best choice for mashed potatoes because they are soft and fluffy and fall apart easy.
Gold potatoes would be our second choice because they are medium starch. They are soft but still stay together a little more. There is a slight sweetness to gold potatoes which will add that flavor to your side dish.
The ones that I DO NOT recommend are red potatoes. Red potatoes are on the waxy side and won't give you as soft and fluffy results and Russet potatoes.
How To Make Mashed Potatoes
PRO TIP: Peel the potatoes first if you wish or leave the skin on for a rustic feel. Leaving the skin on also keeps the potatoes' nutrients in your mashed potatoes. If you are leaving the skin on, make sure to scrub the potatoes clean.
1. Cut potatoes into smaller chunks and add them to the Dutch oven. Add enough cold water to cover them (1) and add seasoning and herbs.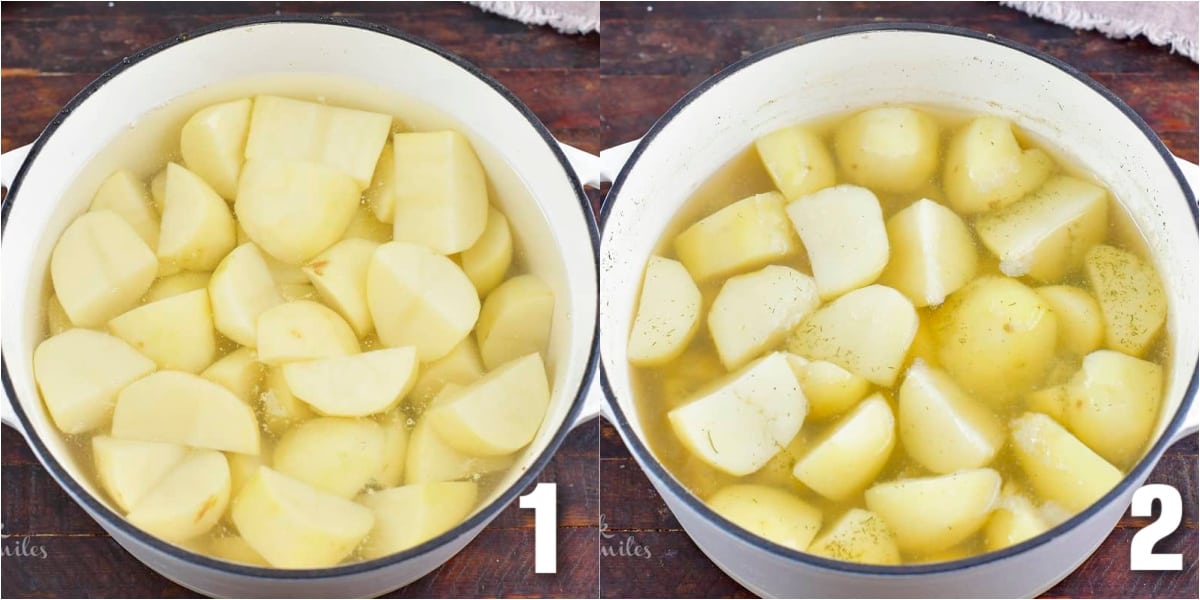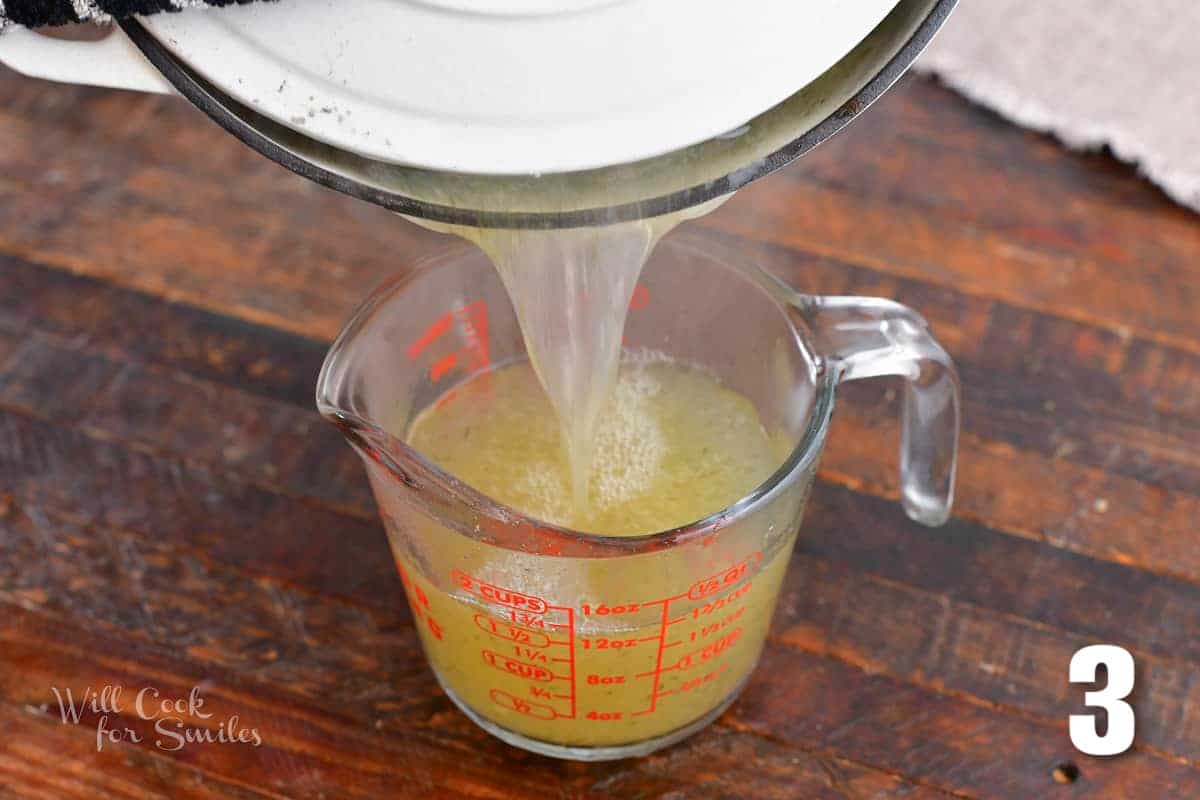 2. Bring the potatoes to boil over medium-high heat and lower the heat to medium-low to simmer. Simmer until potatoes are completely fork-tender (2).
3. Drain off all the water and make sure to drain some off into the cup or a bowl (3)!
4. Add butter, heavy whipping cream (4), and about 1/4 cup of the cooking water and mash the potatoes. If the potatoes look a little thick, add a little more cooking water. Mash potatoes until smooth (5) and taste to make sure potatoes are seasoned enough!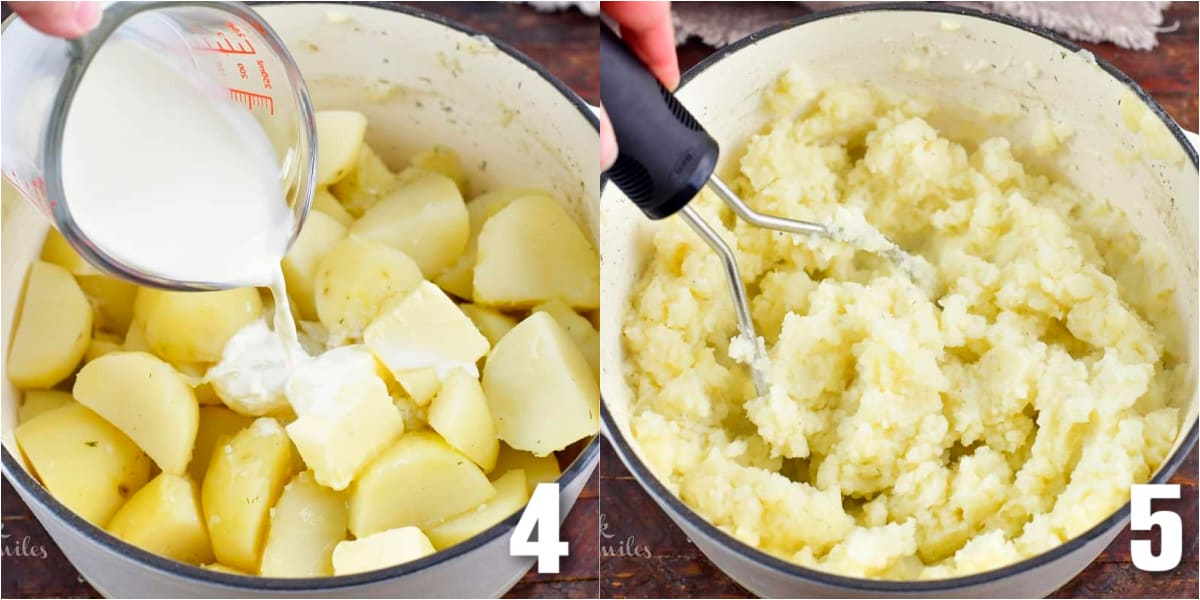 Tips For The Best Mashed Potatoes
When cooking potatoes, start with cold water and add potatoes to cold water.
Leaving the skin on or taking it off is a personal preference. Potato skin does have a lot of nutrients in it so leaving them on is not a bad idea.
If you leave potato skins on, make sure to wash them well. Otherwise, peel potatoes and cut them into 1-inch cubes so they cook faster.
Make sure to always start with cold water when it comes to cooking potatoes. So add potatoes to the pot, then cold water, and then heat it up together. Don't add potatoes to hot boiling water.
Cook potatoes with seasoning and herbs so that the flavors cook into the potatoes.
Remember to take out the bay leaf when potatoes are done.
Make sure to reserve some cooking water from cooking potatoes, don't drain it all off completely.
Mash potatoes while it's still hot.
Add liquid a little at a time, checking the thickness while mashing potatoes. If you add all liquid at the same time, you might add too much and mashed potatoes will be too runny.
Always taste as you cook (and mash) to check if more seasoning is needed.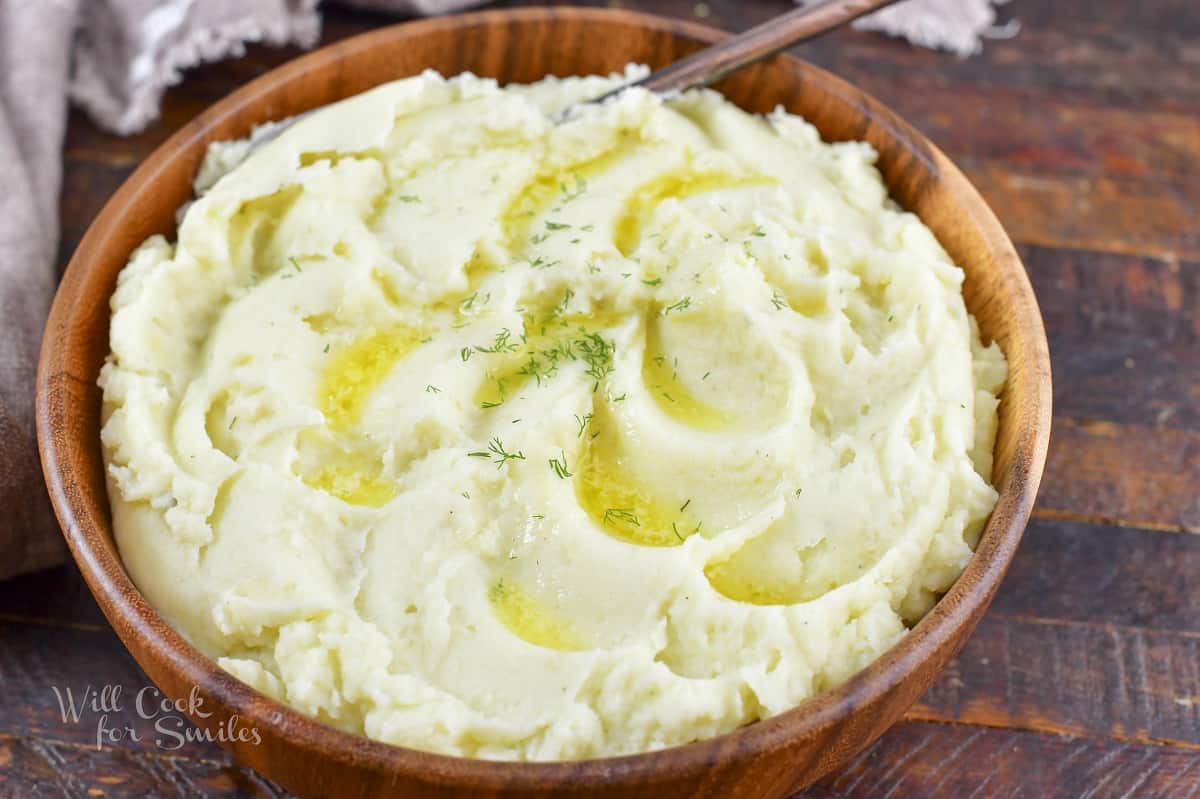 Try Adding Other Flavors
If you'd like to spruce up your mashed potatoes recipe and add more flavor, you can make them with peas and caramelized onions.
I love the flavor that caramelized onions add to the mashed potatoes.
You can also cook the peas in the water that you saved from cooking the potatoes.
Try them cheesy! Add about 1/2 cup of sharp cheddar cheese or you can even mix several cheeses together. If you like it extra cheesy, feel free to add a whole cup. Remember, it's best to grate cheese off the block because pre-shredded cheese is mixed with starch and separators. (Try our cheddar and chive mashed potatoes)
Add some fresh chopped green onions or chives and more chives.
Of course, who can ever resist crispy bacon so try adding some of that! (Try our bacon and herb mashed potatoes.)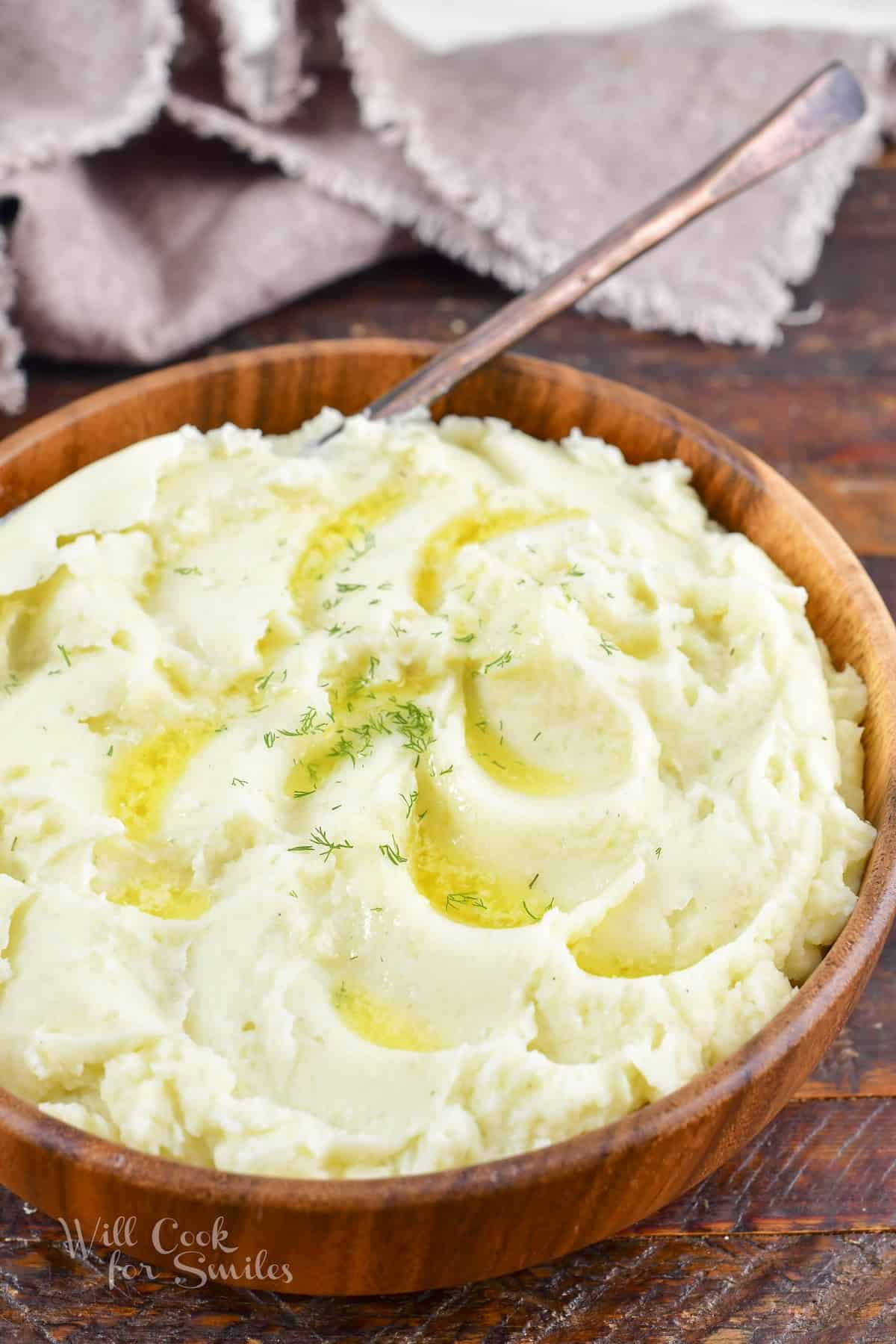 Recipe FAQs
Is it better to add milk or cream to mashed potatoes?
I like to use a combination of seasoned cooking water from cooking the potatoes and heavy whipping cream. The cooking water adds flavor of starches to the mashed potatoes and the heavy whipping cream adds a rich and creamy texture. As a result, you get nice fluffy and creamy potatoes.
If you happen to forget to save some cooking water, you can use whole milk to mix into the mashed potatoes.
Do I have to peel Idaho (Russet) potatoes before cooking mashed potatoes?
No, you don't have to peel them but you DO have to wash them well! If you want to keep your side dish rustic, you can keep the potato skin on and simply cut the potatoes and add them to the pot. Make sure to wash and scrub the potatoes first though since they are usually covered in dirt.
Leaving potato skin on also preserves the nutrients that are in the potato skin.
Is it better to whip or mash the potatoes?
This is actually a matter of personal taste. Once you try them both ways, you will have a clear favorite. Personally, I do not like my mashed potatoes whipped and I don't like them lumpy. So I always hand-mash using a potato masher but I make sure to mash them well so they are smooth and fluffy. You can try either way and see which way you prefer.
Some More Holiday Potato Side Dishes
DID YOU MAKE THIS RECIPE? PLEASE leave a 🌟 star rating! Let me know how you liked it by leaving the 📝 comment below or share and tag me on social media @willcookforsmiles. DON'T FORGET to subscribe to my newsletter!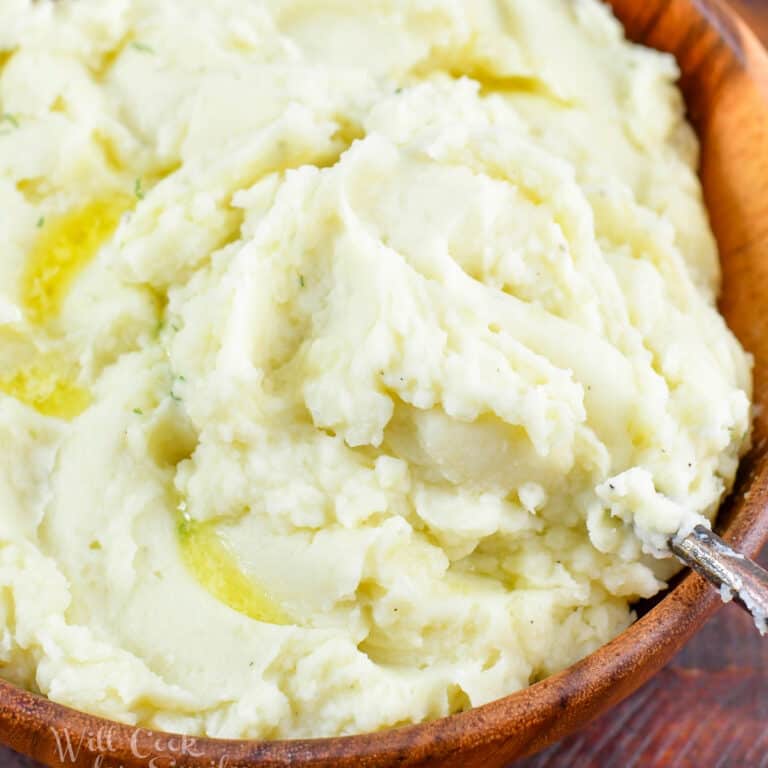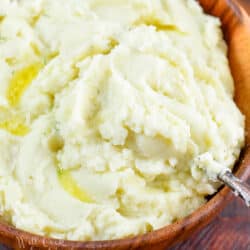 The Perfect Mashed Potatoes
These Perfect Mashed Potatoes are smooth, creamy, fluffy and sure to earn a permanent spot on your holiday menu.
Print
Pin
Save
Saved!
Rate
Ingredients
3

lbs

Idaho potatoes

peeled or not

1

bay leaf

1

tsp

dried dill weed

salt

3

tbsp

unsalted butter*

1/4

cup

heavy whipping cream*

1/4-1/2

cups

cooking water from above cooking potatoes

1

tsp

garlic powder

1

tsp

kosher coarse or sea salt

to taste

1/4-1/2

tsp

black pepper

to taste

3

tbsp

sour cream*

optional
Instructions
Start by peeling your potatoes and cutting them in about 1 inch chunks. Cutting the potatoes will make it faster to cook and easier to mash.

(If you want to leave skin on, make sure to wash potatoes well.)

Add the potatoes to the pot and pour in enough cold water to cover the potatoes comfortably.

Add the bay leaf, some salt, half the black pepper, and dill weed. Bring water to boil over medium-high heat and lower the heat to medium. Cook over medium heat until the potatoes are cooked all the way through and starting to fall apart.

(Easy way to tell if the potatoes are done is to stick a fork into it.)

Drain potatoes and save at least a 1/2 cup of cooking water.

Keep potatoes in the pot and add butter, heavy cream, sour cream (if using), about 1/4 cup of cooking water, garlic powder, some black pepper, and some salt. Start mashing potatoes.

When potatoes are mostly mashed and combined, see if you might need to add a little more cooking water. If you do, add a couple of tablespoons at a time until you reach a desired consistency. Mash after each addition. (You will most likely only have to add 1/4 to 1/2 cup of cooking water altogether.)

Mash it until it's nicely smooth. Taste to see if you need to add more salt.

When servings, you can top off mashed potatoes with a little more butter while it's still hot and let it melt. It makes a nice presentation.
Notes
*If you need to use lactose free options, all three are available on the market. There are options for lactose free milk, heavy cream, butter, and sour cream. Our favorite band of lactose free dairy products is Green Valley Creamery. Fairlife and Horizon Organic make lactose free milk that does not taste sweet. And, Horizon Organic also makes lactose free half and half. (Not a sponsored recommendation, just personal experience.) You can also use plant based milk substitutes for butter and milk and skip the sour cream. Use the plan based milk of which you love the taste and remember, oat milk does have some sweetness to it.  Leaving skin on: Peel the potatoes first if you wish or leave the skin on for a rustic feel. Leaving the skin on also keeps the potatoes' nutrients in your mashed potatoes. If you are leaving the skin on, make sure to scrub the potatoes clean.
Nutrition
Calories:
276
kcal
|
Carbohydrates:
41
g
|
Protein:
5
g
|
Fat:
11
g
|
Saturated Fat:
7
g
|
Cholesterol:
32
mg
|
Sodium:
71
mg
|
Potassium:
962
mg
|
Fiber:
3
g
|
Sugar:
2
g
|
Vitamin A:
361
IU
|
Vitamin C:
13
mg
|
Calcium:
44
mg
|
Iron:
2
mg
Tried this recipe?
Mention @willcookforsmiles and tag #willcookforsmiles
Originally published on Will Cook For Smiles in November, 2012.