Italian Wedding Soup is incredibly comforting soup with phenomenal flavors! The flavors come from the marriage of a seared vegetable base, flavorful chicken stock, mouthwatering meatballs, tender small pasta, and nutritious leafy greens. All of these things combined in one soup makes it a firework of flavor that will snap you out of any cold! It's perfect for the winter season, since it's filled with nutrients and nothing but comfort.
If you love Italian inspired soups, make sure to check out our Minestrone soup recipe, Zuppa Toscana soup, or Chicken Gnocchi soup!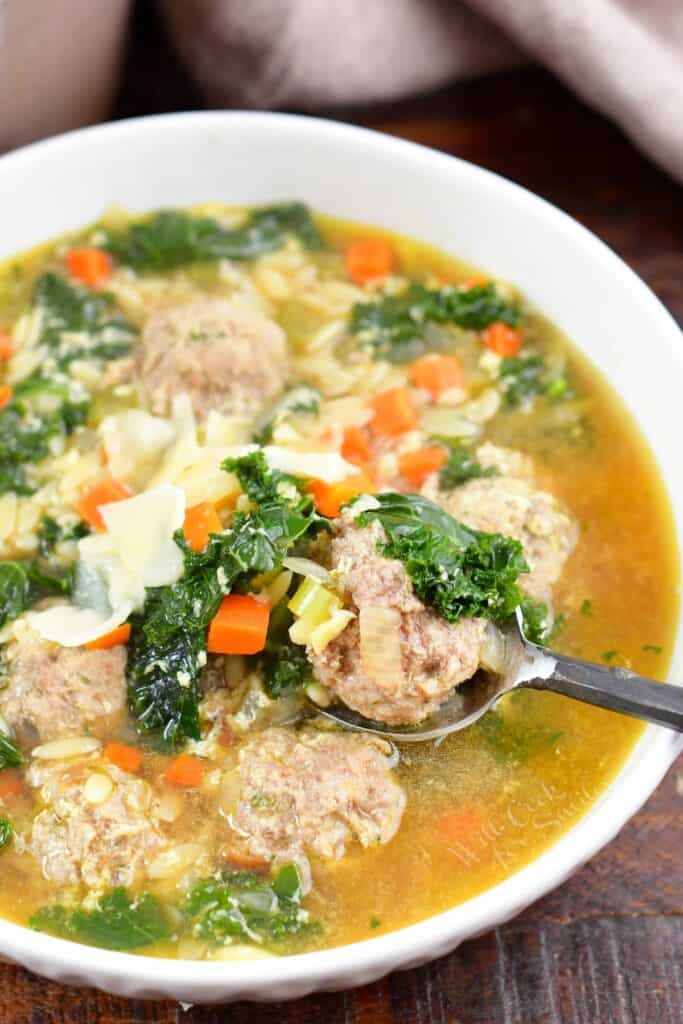 Italian Wedding Soup
There aren't many soups that I love as much as classic Italian wedding soup. This recipe really is the definition of tried and true, as I've been making it ever since I first picked up a pot and spoon. It's got everything that a perfect soup should have – plenty of flavor, protein to keep you full, and veggies to keep you nourished. On those chilly days when you're craving a bowl of comfort, this is the recipe for you!
What else makes this soup so remarkable is just how easy it is to whip up. Plus, with this recipe, you get the "made from scratch" bragging rights. The prep time for this authentic soup is just 20 minutes, and the majority of that time is spent making the homemade meatballs and prepping the veggies. If you're like me, you'll enjoy how methodical those simple steps can be! Just play some music and get to chopping, and you'll soon find yourself happy with the busy work.
All natural ingredients are what make up the flavor profile of Italian wedding soup. Other than the delightfully flavorful meatballs, the veggies and broth are what create a blend of subtle, yet satisfying flavors. Speaking of satisfying, one of my favorite parts of this classic soup is the tender pasta. Between the pasta, meatballs, and vegetables, this soup is sure to keep you nice and full for quite a while after you're done.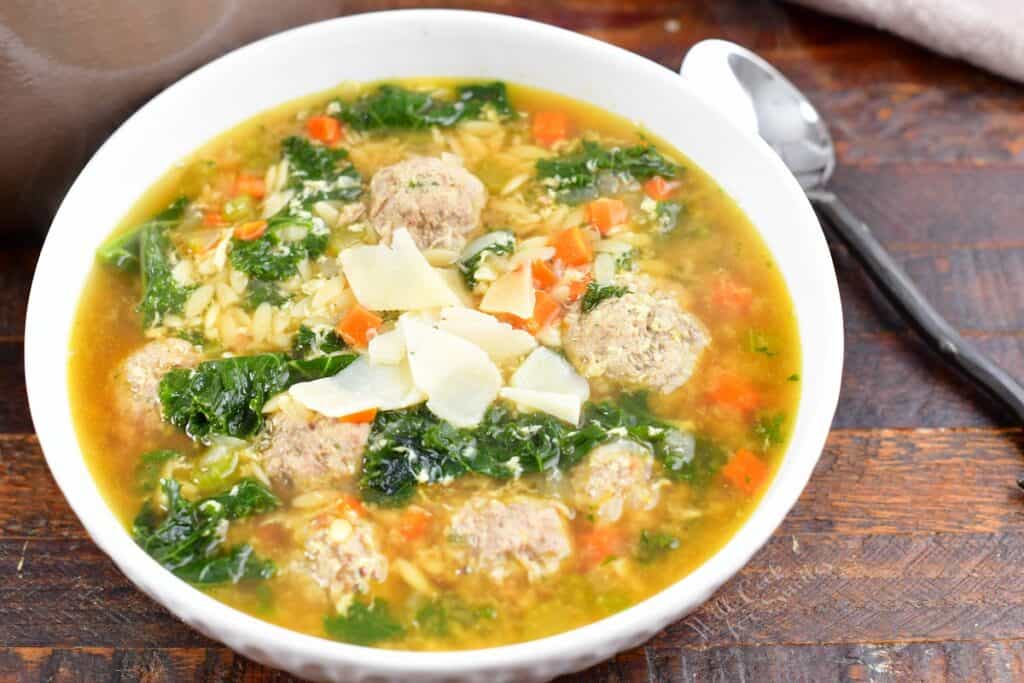 What is Italian Wedding Soup?
Italian wedding soup slightly variates from recipe to recipe, but the main idea is always the same. It's a very comforting soup that brings together meatballs, pasta, and leafy greens. You can see a variation in the meatballs, like using chicken, turkey, beef, or pork. Small pasta usually includes either acini de pepe, orzo, or another type of pasta will equally as small pieces. And when it comes to the greens, there is a choice of endive, escarole, kale, and even spinach. There are also versions of this soup that do not have pasta, if you'd prefer to keep things low carb. However, I like to keep the pasta in mine as it's a balance between the meat and greens!
Origin of Italian Wedding Soup
There's a rumor floating around that Italian wedding soup is a traditional soup served at weddings in Italy. In truth, this soup has nothing to do with weddings at all! The names comes from the Italian phrase minestra maritata, which literally translates to "wedding soup." It refers to the marriage of the meat and green flavors. Much like so many other wonderful, popular dishes, this soup was originally a peasant dish where families used whatever leftover meat and greens they had on hand to make dinner.
The exact origin of Italian wedding soup is rather fuzzy, because this soup dates back so long ago. Like I said – it's tried and true! Many believe that this soup was actually brought to Naples from Spain, while other native Italians insist that the soup existed in Italy long before that. Either way, this is an amazing soup that is sure to comfort and satisfy everyone in the family!
Ingredients and Substitutions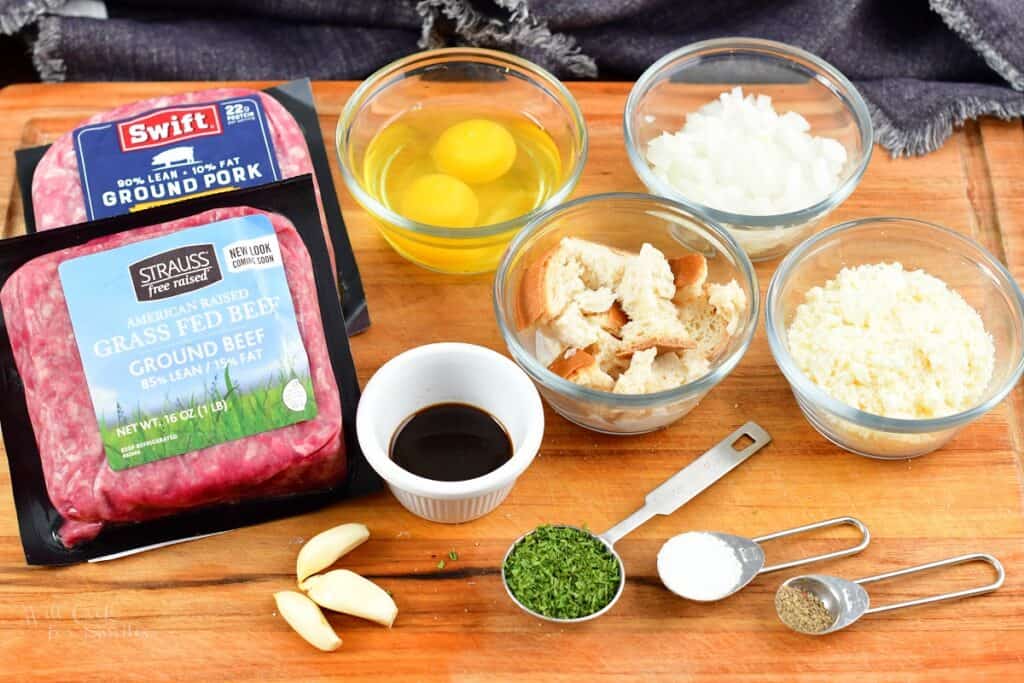 Meatballs:
Meat – a combination of ground beef and group pork will make the best juicy meatballs. Use 85/15 ground beef.
Onion – Yellow onion is best, but white will also work.
Garlic – Fresh garlic will yield MUCH better flavor than pre-minced.
Egg – I prefer using free-range organic eggs.
Worcestershire Sauce – A little goes a long way with this bold ingredient.
Bread – You'll only need a single slice of bread. Just make sure to soak it in milk prior to using.
Parmesan Cheese – As always, freshly grate your parmesan for the BEST results. Thank me later!
Seasonings – Dried parsley creates a slight herbaceous note to the meatballs, while a pinch of coarse salt and black pepper make them even more mouthwatering.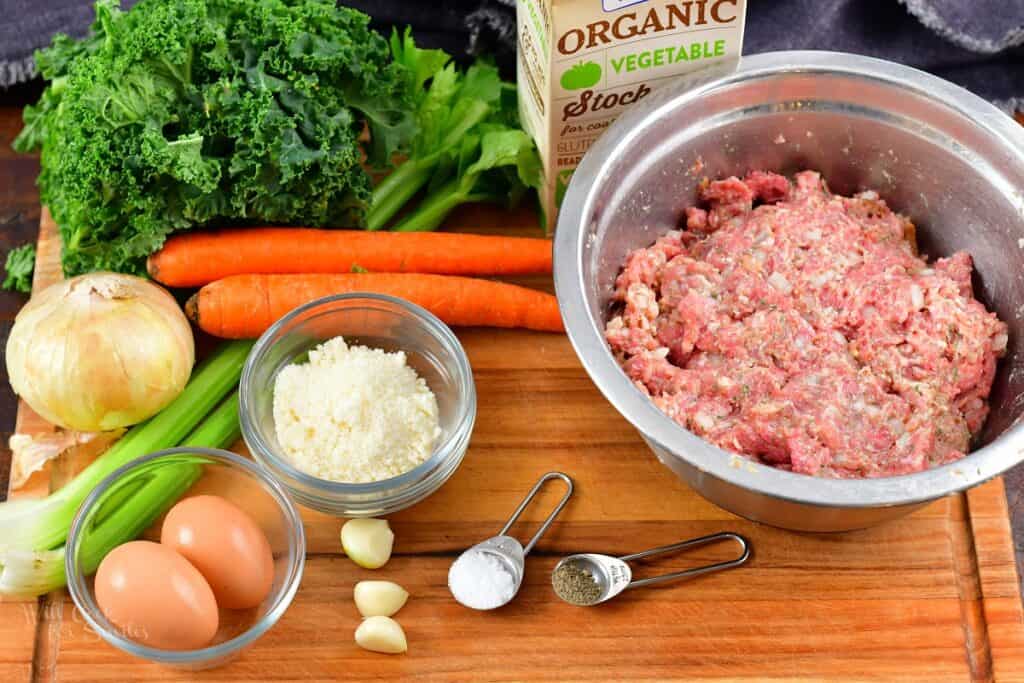 For The Soup:
Olive Oil – Rich extra virgin olive oil will yield the most potent flavor.
Soffritto – a base to many classic soups consistent of finely diced onions, celery, and carrots.
Broth – Vegetable Broth is more common to use in this soup recipe, but Chicken Broth also works.
Salt – Just a pinch!
Black Pepper – Freshly cracked black pepper yields the best flavor.
Greens – when escarole is not available, I use kale.
Eggs
Parmesan Cheese
Pasta – My family loves orzo but you can choose other tiny pasta.
Ingredient Notes:
What pasta to use in Italian Wedding Soup?
When it comes to pasta in this soup, think tiny! Go with an option like ancini de pepe, orzo, pastina, or even ditalini.
What greens to use in Italian Wedding Soup?
The most traditional greens to use in this soup is escarole, but it's not always widely available. If you need to, substitute endive or kale. Spinach is my personal least favorite green to use, as it adapts a slimy texture in the soup.
Gluten Free Notes:
If you're gluten free, you can still enjoy this Italian classic soup!
In the meatballs, make sure to use gluten free bread.
As pasta, use small gluten free pasta and if you can't find any, break up some gluten free spaghetti into small pieces.
How to Make Italian Wedding Soup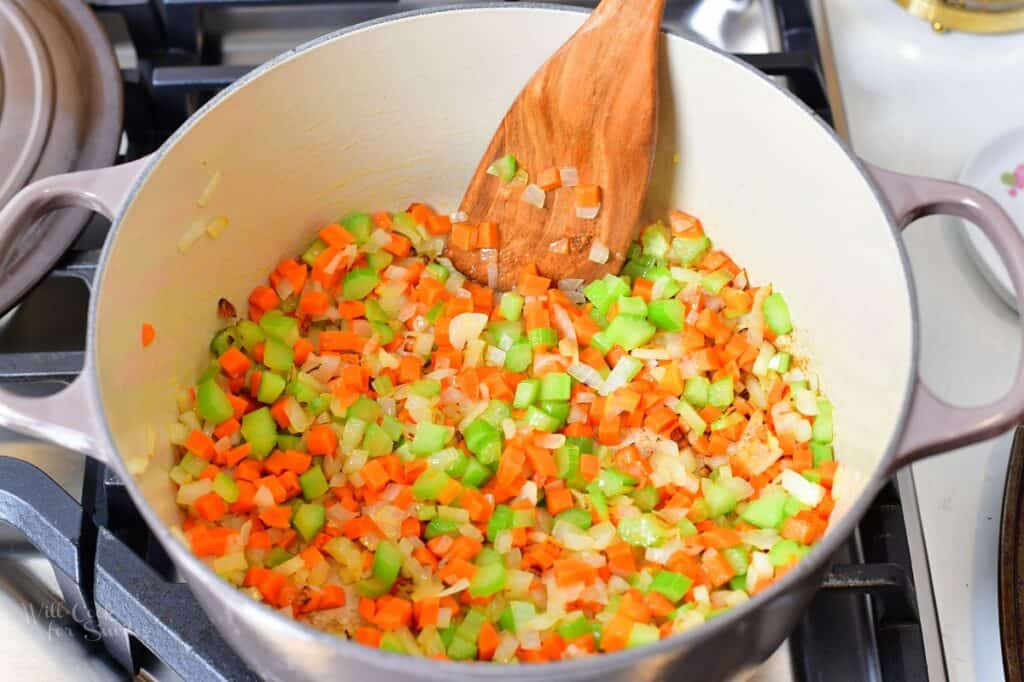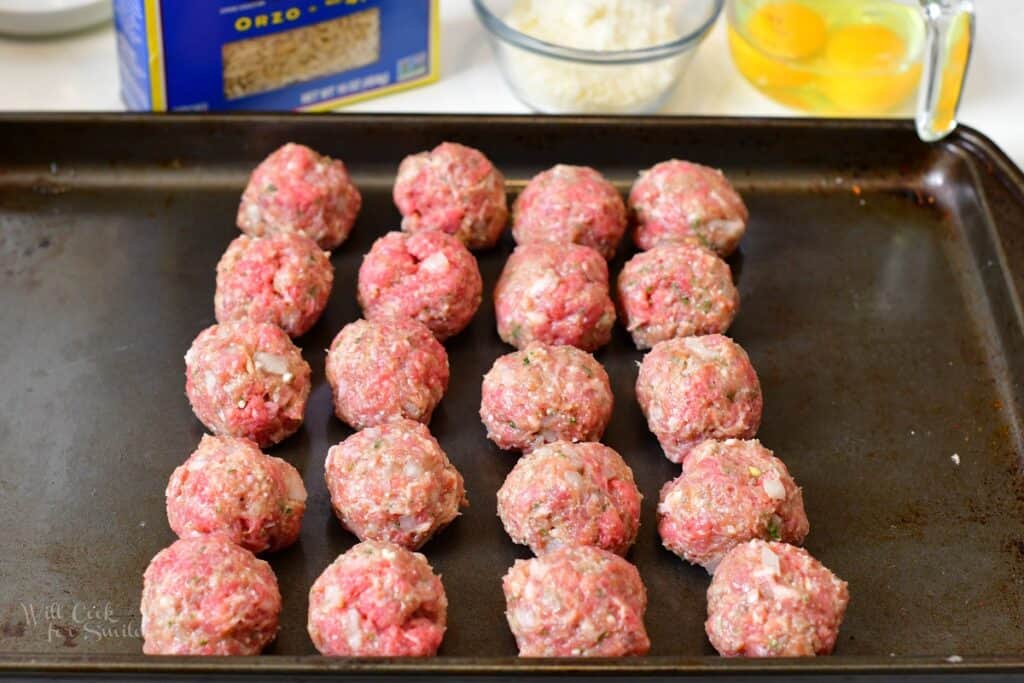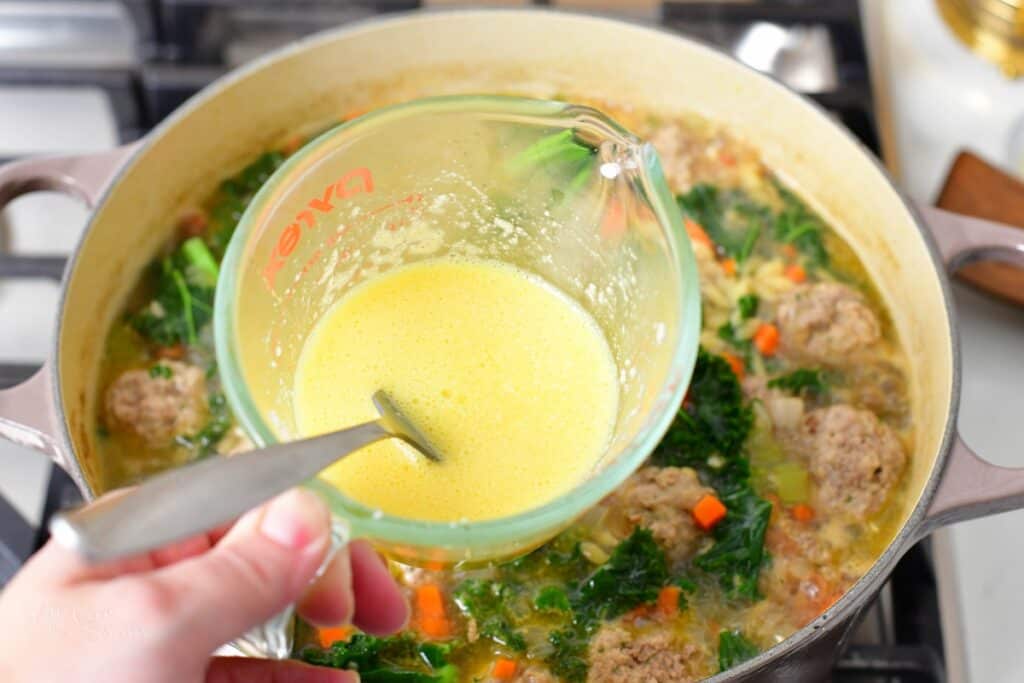 Start off by making the meatballs. Combine all of the ingredients that are called for and mix them well. Once mixed, scoop the meatballs into 1 inch balls and set them aside.
Sauté the veggies: Preheat a Dutch oven with some olive oil and cook the soffrito – the perfect base to all soups (onion, carrot, and celery). Then, stir in the garlic and cook until fragrant.
Broth and meatballs: Pour in the chicken stock and season the mixture with a little salt and pepper. Bring to a simmer. Add in the meatballs and cook them in the simmering broth for approximately 15 minutes.
Pasta and greens: chop the leafy greens, then add them to the pot. Add the pasta as well. Give it a good stir and let the soup cook for another 8 minutes. (Or, the time the pasta box instructions suggest.)
Egg finish: Whisk together the eggs and grated parmesan cheese in a small bowl. Drizzle the egg mixture into the pot as you slowly stir. Give it about a minute to cook.
Serve right away, and enjoy!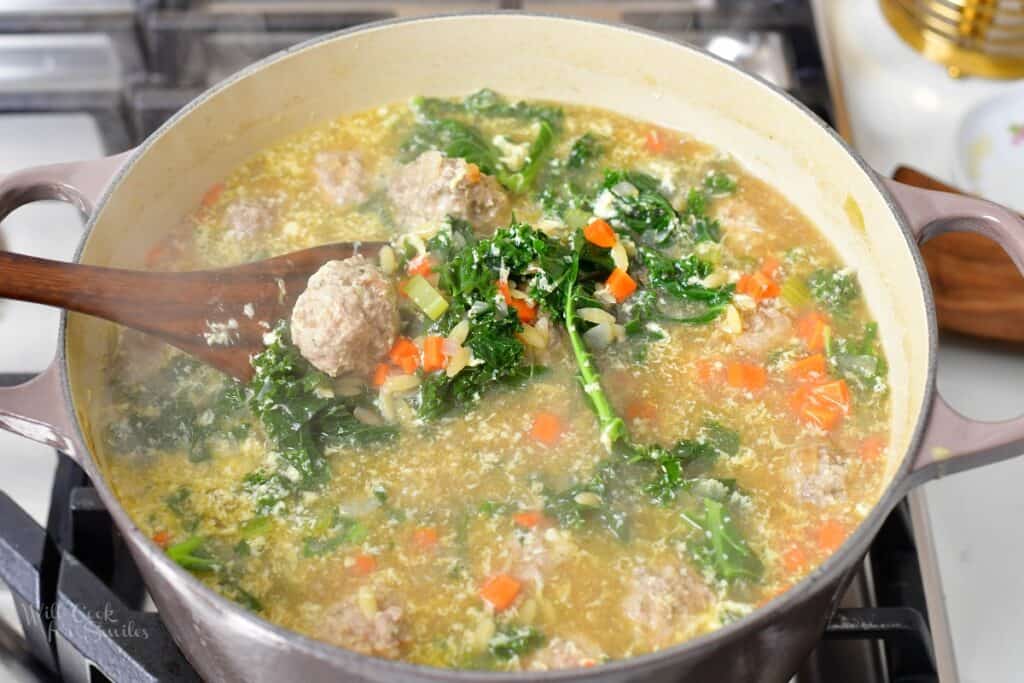 How long will Italian wedding soup stay fresh?
Store the leftover soup right in the Dutch oven you cooked it in or in an airtight container, in the refrigerator. Stored properly, homemade Italian Wedding soup should be good for about 3-4 days. You can rehear the individual portions in the microwave. If you need to reheat a lot at the same time, do it on stovetop in the Dutch oven over medium heat until warmed through.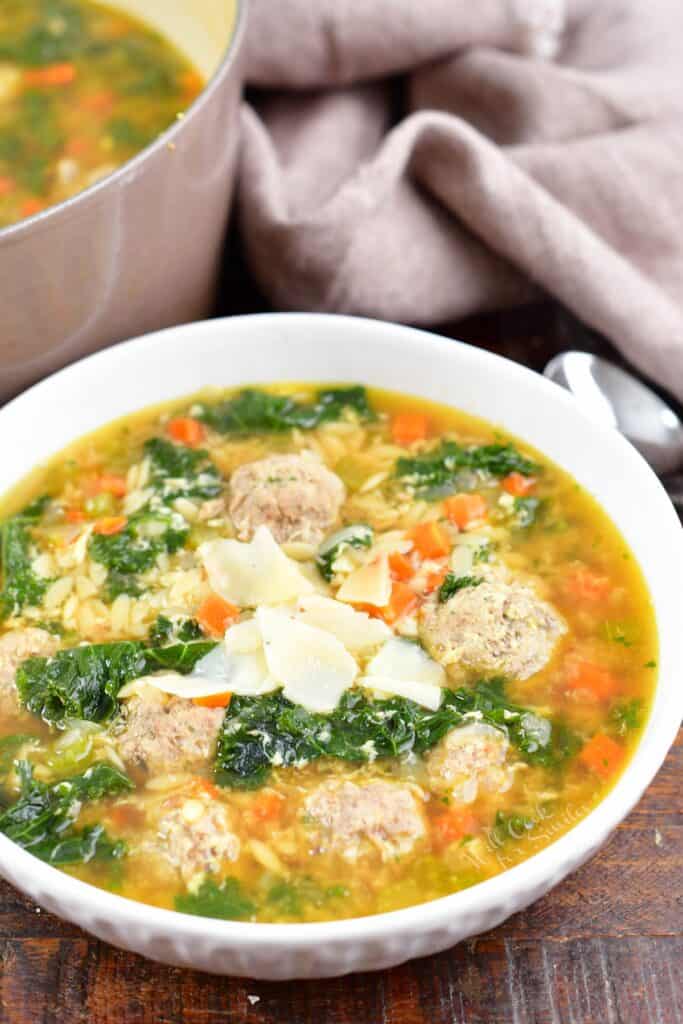 Pin This Italian Wedding Soup Recipe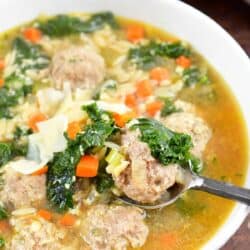 Italian Wedding Soup
Italian Wedding Soup is incredibly comforting soup bade with vegetable base, mouthwatering meatballs, tender small pasta, and nutritious leafy greens.
Print
Pin
Save
Saved!
Rate
Ingredients
Meatballs:
1/2

lb

ground beef

85/15 meat to fat ratio

1/2

lb

ground pork

1/4

cup

finely diced onion

3

garlic cloves

1

egg

1/2

tbsp

Worcestershire sauce

1

slice of bread

soaked in milk

1/2

cup

grated Parmesan cheese

1/2

tbsp

dried parsley

coarse salt

black pepper
For Italian Wedding Soup:
rolled meatballs from above

2

tbsp

olive oil

1

yellow onion

2-3

medium carrots

2-3

celery ribs

4

cloves of garlic

12

cups

vegetable (or chicken) broth

heated

coarse salt

black pepper

1

cup

tiny pasta such as orzo

1

medium bunch or head of endive, escarole, or kale

2

eggs

1/4

cup

grated Parmesan cheese
Instructions
Meatballs:
Combine all of the ingredients for meatballs in a mixing bowl and mix well.

Use a cookie scoop to make meatballs that are about or slightly smaller than 1 inch in diameter. Set them aside.
To Make The Soup:
Preheat a large Dutch oven and add olive oil. Add diced onion, carrots, and celery and sauté over medium heat until softened and starts to get golden brown.

Stir in minced garlic and let it sear until fragrant.

Pour in heated chicken stock and season with salt and pepper. Let it come to a simmer.

Add in meatballs and let them cook for about 15 minutes.

Chop the leafy greens and add them to the pot. Add pasta as well. Stir and let it cook about 8 minutes, just until pasta is tender.

In a small bowl, whisk together eggs and grated parmesan cheese.

Gently stir the soup and as you stir in a circular motion, drizzle in the egg mixture. Keep slowly swirling the soup as the egg cooks for about a minute.
Nutrition
Calories:
291
kcal
|
Carbohydrates:
12
g
|
Protein:
17
g
|
Fat:
20
g
|
Saturated Fat:
7
g
|
Polyunsaturated Fat:
2
g
|
Monounsaturated Fat:
9
g
|
Trans Fat:
1
g
|
Cholesterol:
110
mg
|
Sodium:
1656
mg
|
Potassium:
335
mg
|
Fiber:
1
g
|
Sugar:
5
g
|
Vitamin A:
4191
IU
|
Vitamin C:
12
mg
|
Calcium:
155
mg
|
Iron:
2
mg
Tried this recipe?
Mention @willcookforsmiles and tag #willcookforsmiles