Thai Chicken Satay is one of the most beloved appetizers in South Asian cuisine and for a good reason! Bright, vibrant, and tender chicken thigh meat is marinated in a mouthwatering marinade and then grilled to perfection. You will find flavors of lemongrass, ginger, garlic, various spices, and of course, coconut milk, fish sauce and soy sauce in the marinade. As if that wasn't tasty enough, the chicken pairs perfectly with homemade peanut sauce!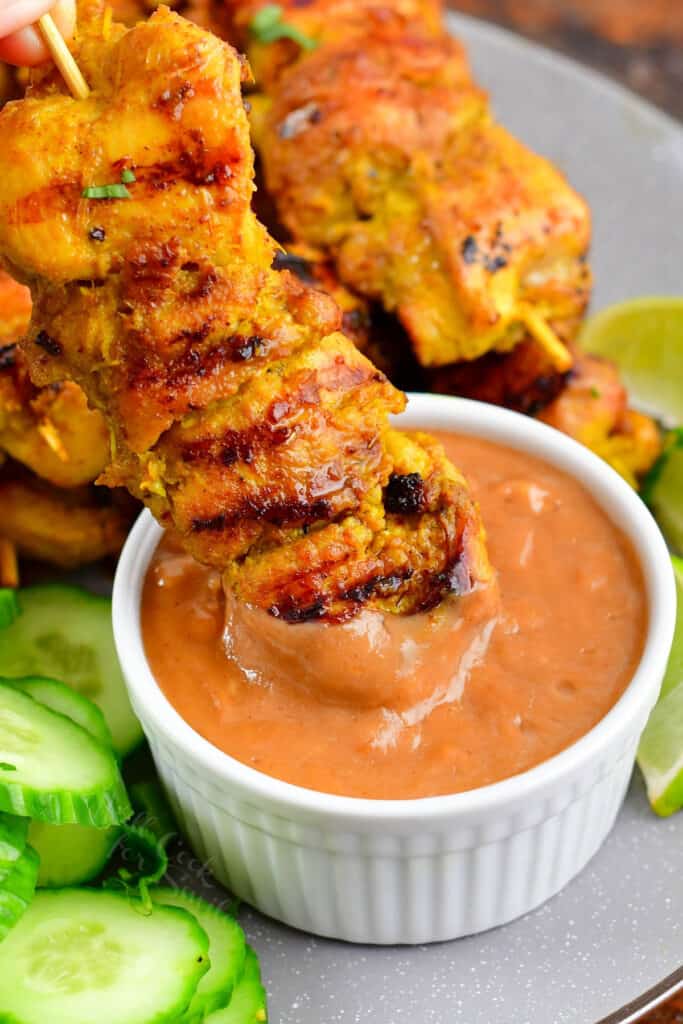 Thai Chicken Satay
With Thai chicken satay, you'll be quick to notice it has a vibrant yellow/orange color that's bright and enticing. On top of that, you'll likely notice the aroma before you even taste it. Chicken satay tastes as delicious as it smells and looks!
The ingredients of the chicken marinade are what make it so remarkably good. Those flavorful, bold ingredients include all sorts of traditional spices and herbs that can be found in many Thai recipes! Coconut milk, fish sauce, lemongrass, ginger, garlic, cumin, turmeric, cilantro, coriander, and more make this easy chicken appetizer one of the most flavorful ones that will grace your grill.
If you've never heard of it before, chicken satay is influenced by Thai, Malaysian, and Indonesian cuisines, but it originated in Indonesia. "Satay" refers to the skewered pieces of meat that are marinated and then grilled.
It's most commonly served with peanut sauce, which is also included in this easy recipe. Trust me – serving this already mouthwatering grilled chicken with the sweet and savory homemade peanut sauce is something you will want to make over and over.
How to Make Thai Chicken Satay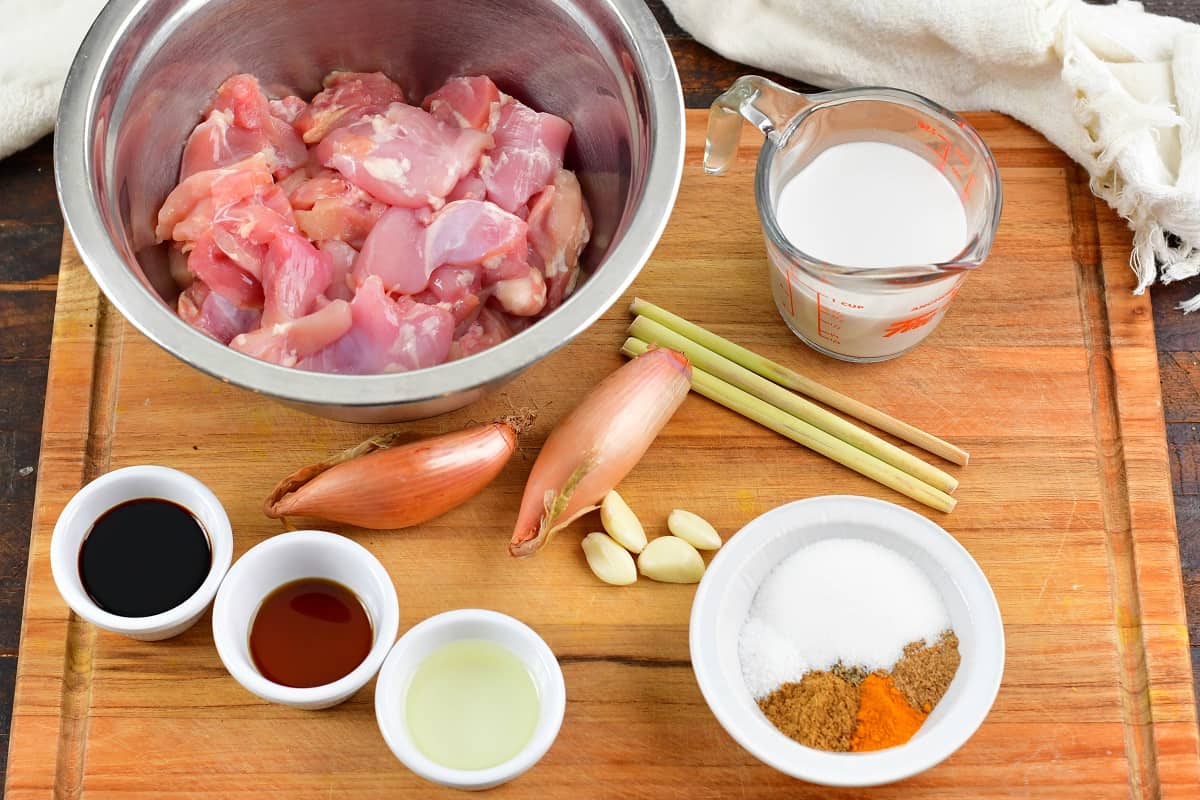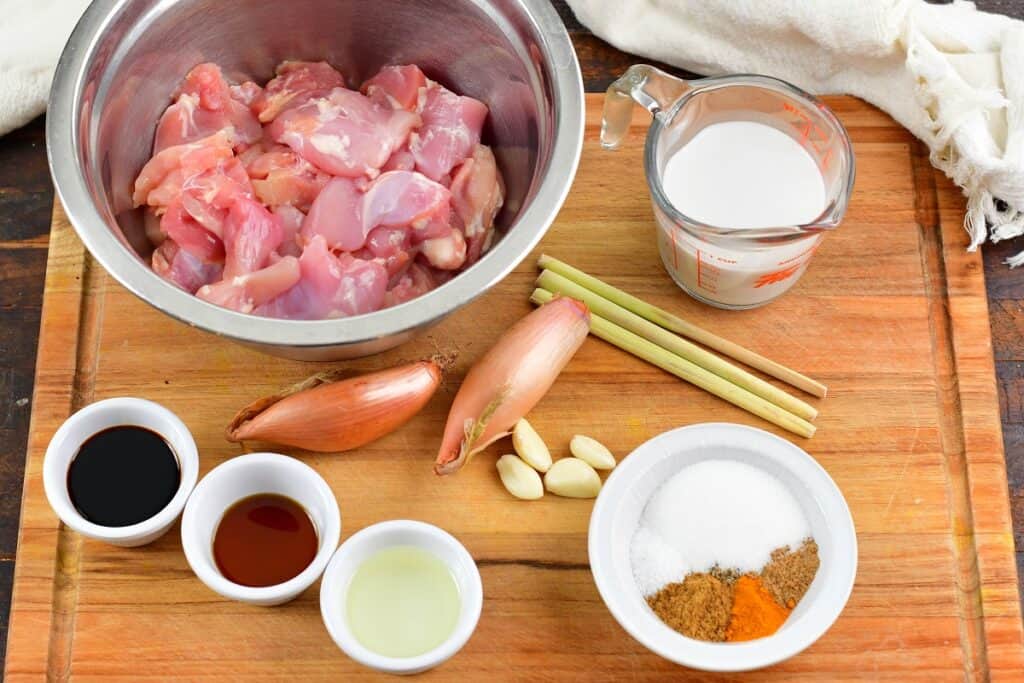 Ingredients You Need:
For the marinade:
Unsweetened Coconut Milk – Make sure you're using unsweetened coconut milk. (Thai unsweetened coconut milk is meant for cooking, while the sweet kind is meant for blended cocktails.)
Garlic – for the best results, use fresh garlic, smash and mince it.
Shallots – delicate, slightly sweet onions are the best.
Lemongrass Stalks – You'll just be using the white parts only.
Spices: turmeric, cumin, salt, white pepper, coriander, white granulated sugar.
Soy Sauce – Low sodium soy sauce is preferred, but tamari or gluten free soy sauce will work.
Fish Sauce
Vegetable Oil – you can use another neutral flavored oil like canola or avocado as well.
For the peanut sauce:
Unsweetened Coconut Milk
Peanut Butter – For the best consistency, use creamy, not chunky peanut butter.
Rice Vinegar – This adds a delicious balance of tangy flavor.
Soy Sauce
Lime Juice – Make sure it's freshly squeezed for the best flavor.
Sugar
Garlic and Ginger – Make sure both of these are fresh as well!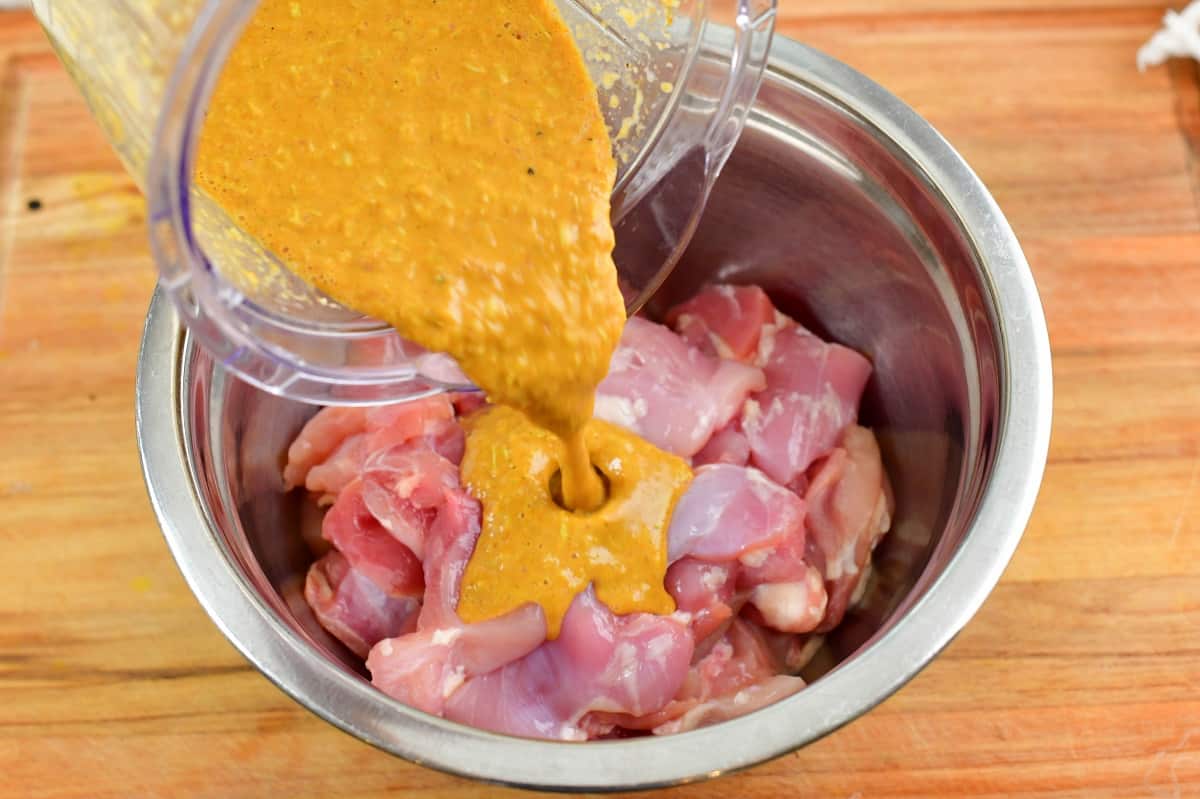 Cooking Directions:
Marinate the chicken.
First, you'll need to combine all of the ingredients for your marinade in a food processor until smooth.
Prepare your chicken by cutting it into 1-1.5 inch pieces and trim the excess fat. Place the chicken pieces into a mixing bowl.
Pour the marinade onto the chicken and mix so that every piece of chicken is covered. Refrigerate for 6-12 hours.
Grill the chicken.
Prior to cooking, make sure you soak the skewers in water for about 30-45 minutes.
Skewer 3-4 pieces of the chicken onto each skewer. Gently shake off some excess marinade, but be careful not to shake it all off.
Grill each chicken skewer for 2-3 minutes per side. Turn them 1/4 of the way when that side gets golden brown.
Make the peanut sauce:
To make your homemade peanut sauce, simply combine all of the ingredients in a sauce pot over medium-low heat. Whisk slowly.
Once the sauce is smooth, continue to whisk until the mixture reaches a simmer. When you see the first few bubbles appear, remove the sauce from the heat.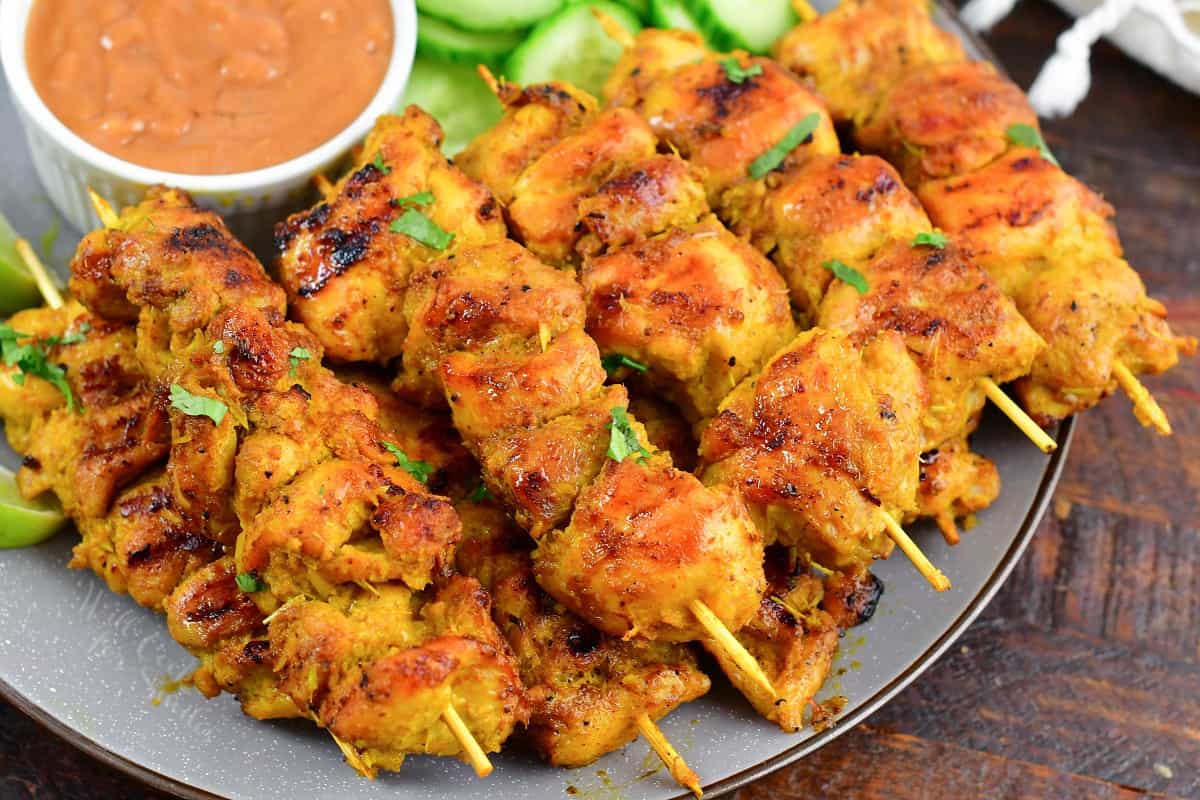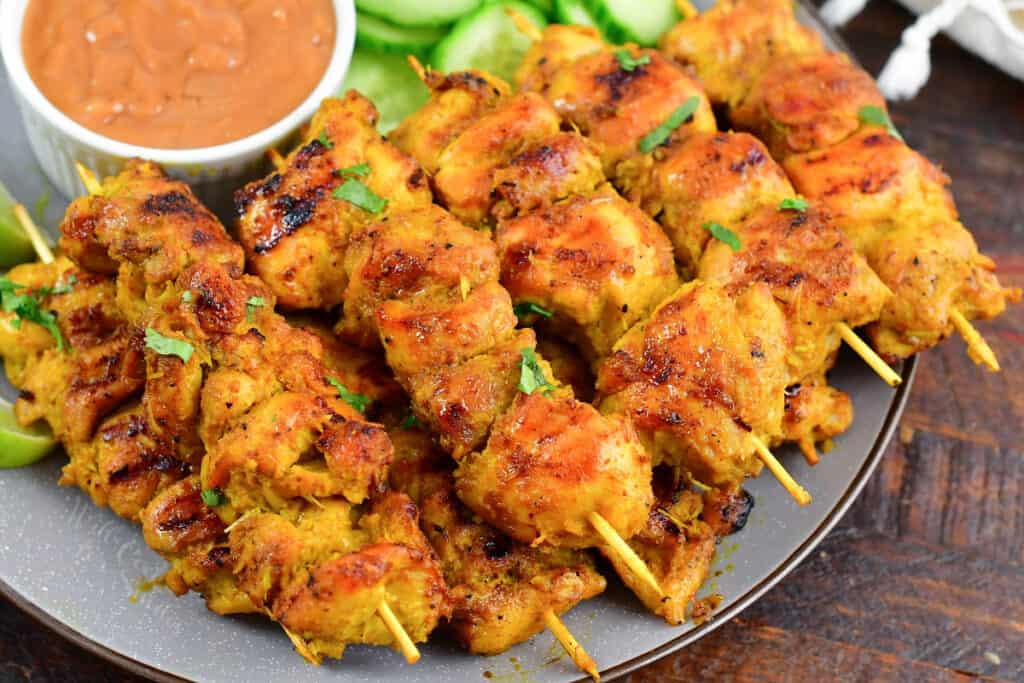 Frequently Asked Questions
Can I make Thai chicken satay ahead of time?
Yes! It's an easy recipe to make ahead of time because it needs 6-12 hours to marinate in the refrigerator. So feel free to make it the day before or the morning of, and have an easy dish for dinnertime.
How to Serve Thai Chicken Satay?
Thai chicken satay is traditionally served as an appetizer, although I've served it as a dinner dish on many occasions! Serve it with peanut sauce and sliced cucumbers, or a fresh cucumber salad.
If you want to make it a meal for dinner, you can also serve it along side of sticky coconut rice.
Tips for the Best Thai Chicken Satay
Blend the marinade ingredients until smooth.
Remember to soak the skewers prior to putting the chicken on them.
Shake off the excess marinade when adding chicken to skewers, but do not shake all of it off completely.
Remember to rotate chicken skewers 1/4 of the way as they cook.
If you don't feel like grilling, you can easily sauté the chicken in a pan on your stove top.
You can use chicken tenders, sliced chicken breast, or long pieces of chicken thighs instead of small pieces if you wish.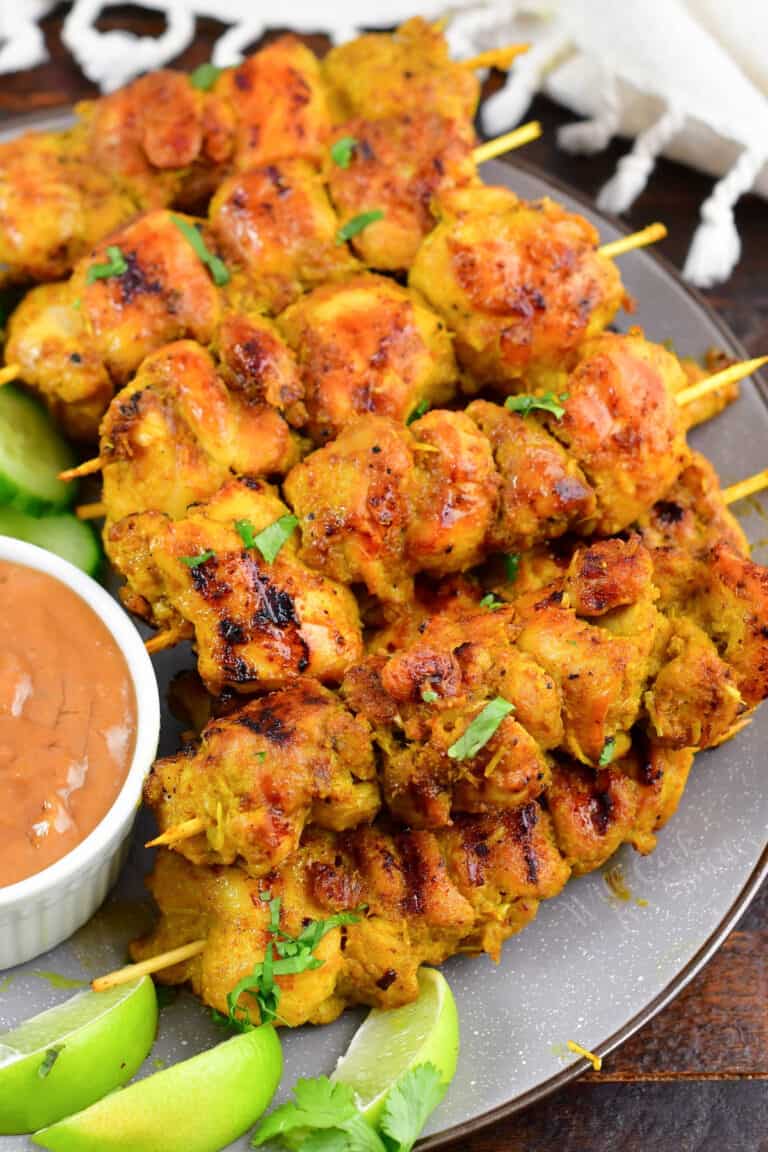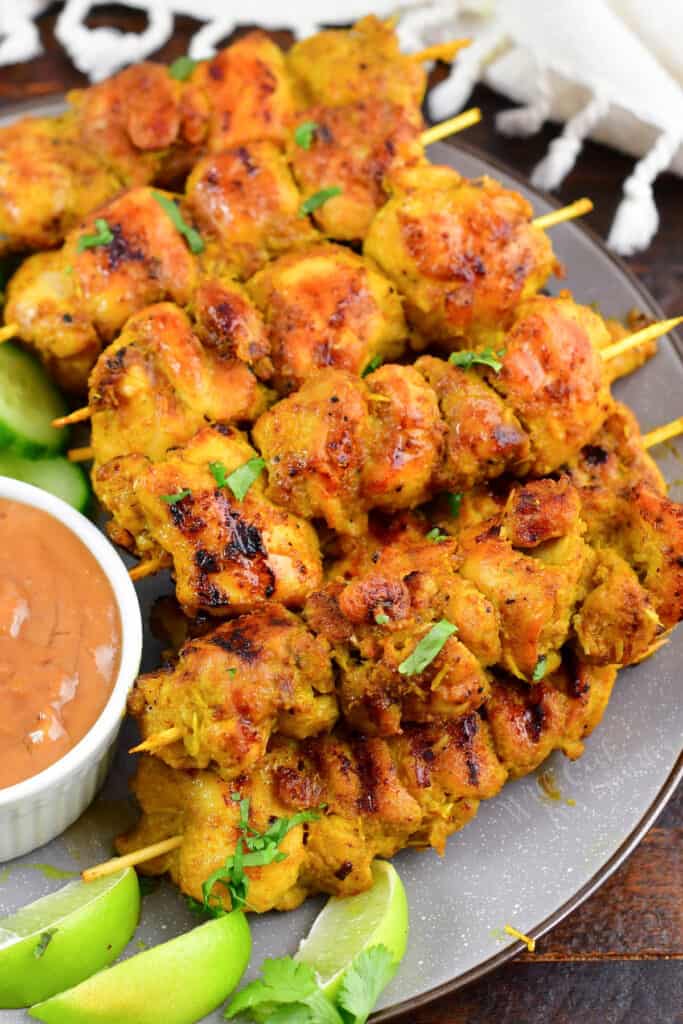 Thai Chicken Satay with Peanut Sauce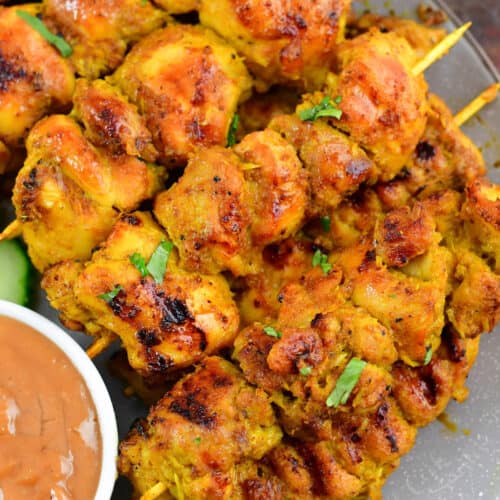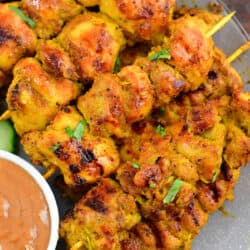 Chicken Satay with Peanut Sauce
A bright, vibrant juicy marinated chicken grilled to perfection and served with an easy, homemade peanut sauce that sends it right over the top!
Print
Pin
Save
Saved!
Rate
Ingredients
2-2.5

lbs

boneless, skinless chicken thighs
Marinade:
3/4

cup

unsweetened coconut milk

2

garlic cloves

2

shallots

3

lemongrass stalks – white part only

2

tsp

ground turmeric

2

tsp

ground cumin

1/2

tsp

salt

1/4

tsp

white pepper

1 1/2

tsp

ground coriander

2

tbsp

white granulated sugar

3

tbsp

low sodium soy sauce

2

tbsp

fish sauce

3

tbsp

vegetable oil
Peanut Sauce:
1/2

cup

unsweetened coconut milk

1/2

cup

creamy peanut butter

2

tbsp

rice vinegar

2

tbsp

low sodium soy sauce

2

tbsp

fresh lime juice

1

tbsp

white granulated sugar

1

tsp

ground ginger

1

garlic clove
Instructions
Marinate Chicken:
Combine all of the ingredients for the marinade in a food processor or a blender and pulse until smooth.

Cut chicken thigh meat into pieces that are about 1-1.5 inches and cut of excess fat if you wish. Place chicken pieces into a metal or glass mixing bowl.

Pour the marinade into the bowl and mix the chicken with the marinade. Cover the bowl air-tight and refrigerate for 6-12 hours.
Cook the chicken:
Make sure to let the skewers soak in water for 30-45 minutes before cooking.

When ready to cook the chicken, skewer 3-4 pieces onto each skewer. (Exact amount will depend on how big the chicken pieces are and how many skewers you wish to have.)

When skewering the chicken, you can gently shake off excess marinade but don't shake it all off or squeeze it off.

Grill chicken skewers for 2-3 minutes per side, turning them 1/4 of the way when that side gets golden brown.

Serve cooked chicken satay skewers with peanut sauce and cucumber slices or a cucumber salad.
Peanut Sauce:
Combine all of the ingredients for the peanut sauce in a small sauce pot. Set the pot over medium to medium-low heat and start to whisk slowly.

Whisk until the sauce is smooth and keep slowly whisking as it heats through to a simmer. As soon as the sauce starts to simmer, take it off heat and serve.
Nutrition
Calories:
715
kcal
|
Carbohydrates:
28
g
|
Protein:
56
g
|
Fat:
44
g
|
Saturated Fat:
22
g
|
Polyunsaturated Fat:
6
g
|
Monounsaturated Fat:
12
g
|
Trans Fat:
1
g
|
Cholesterol:
215
mg
|
Sodium:
2074
mg
|
Potassium:
1177
mg
|
Fiber:
5
g
|
Sugar:
17
g
|
Vitamin A:
73
IU
|
Vitamin C:
7
mg
|
Calcium:
88
mg
|
Iron:
6
mg
Tried this recipe?
Mention @willcookforsmiles and tag #willcookforsmiles