Thai Fried Rice is an amazing and easy fried rice dish made with key ingredients like chicken, jasmine rice, vegetables, and egg, and it's richly flavored with garlic, fresh ginger, fish sauce and oyster sauce. It's a great weeknight dinner recipe and you can make it with chicken or shrimp!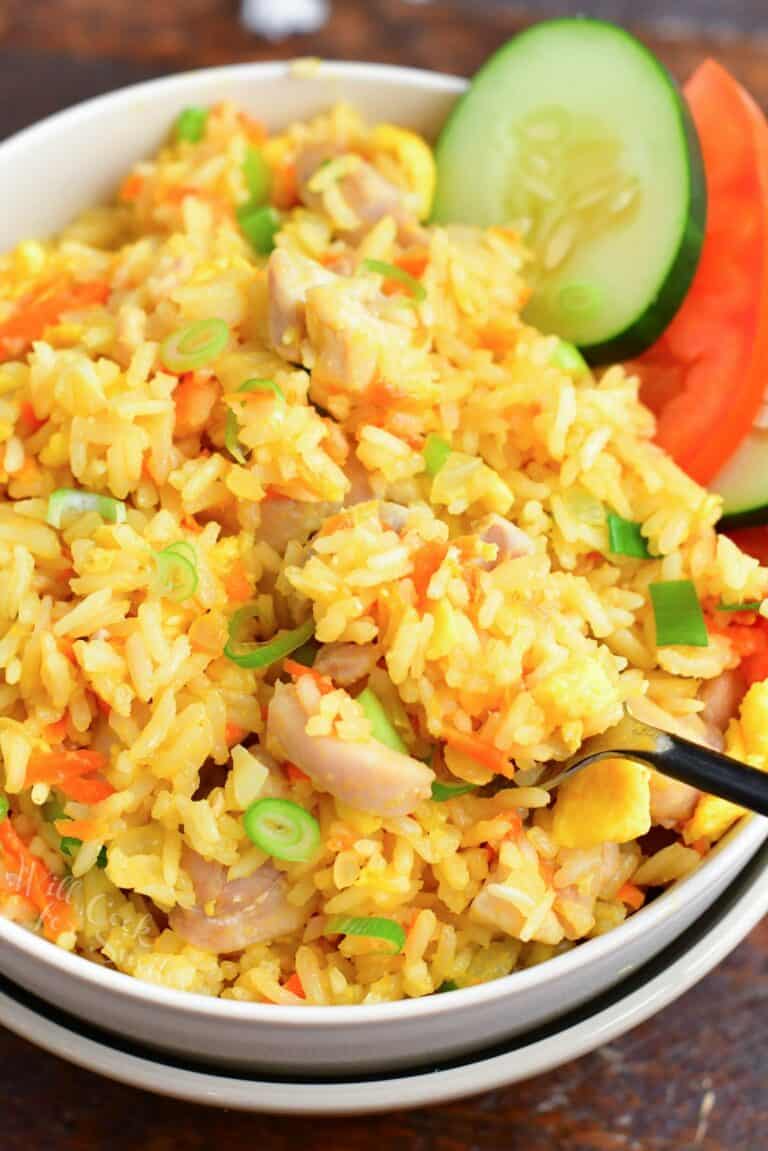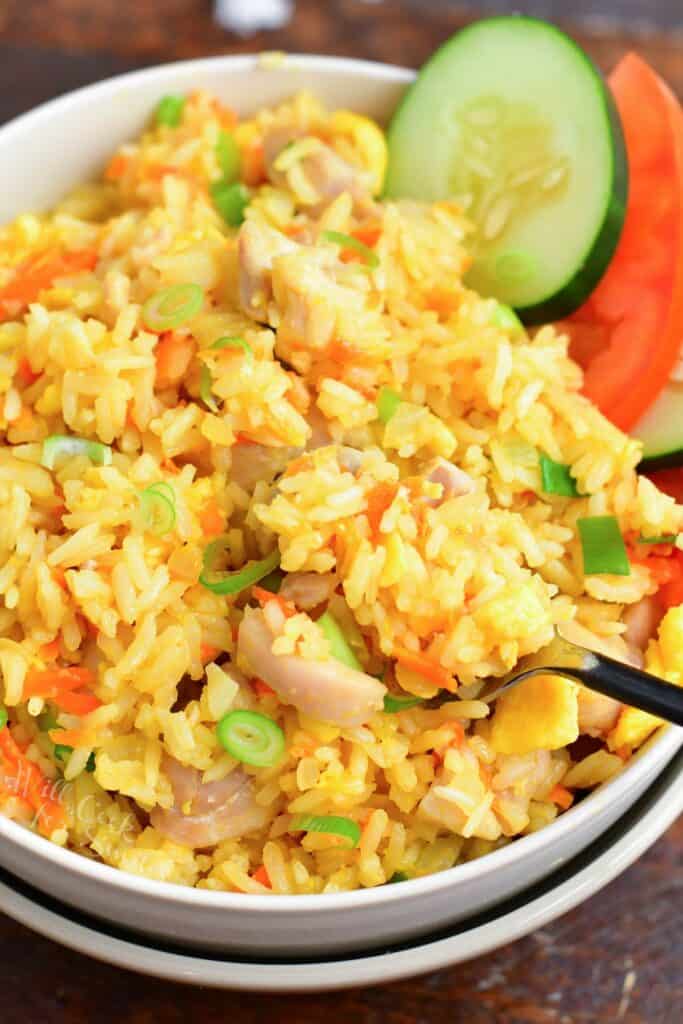 Thai Fried Rice
I'm almost positive that everyone has tried traditional Chinese fried rice at some point in their lives. However, not nearly enough people have experienced the true delight that is Thai fried rice! This is a great dinner that my entire family really goes wild for, whether I made it with chicken or shrimp.
This is a dish that I first tried at a local Thai restaurant, and I just knew I needed to create a copycat recipe so I could get my fix at home! Truly, I'm proud of myself for how close I get this recipe to be to the Thai restaurant's fried rice.
While this recipe may be simple, it's rich with traditional Thai flavors that really hit the spot. If you love Thai food, this fried rice recipe is right up your alley.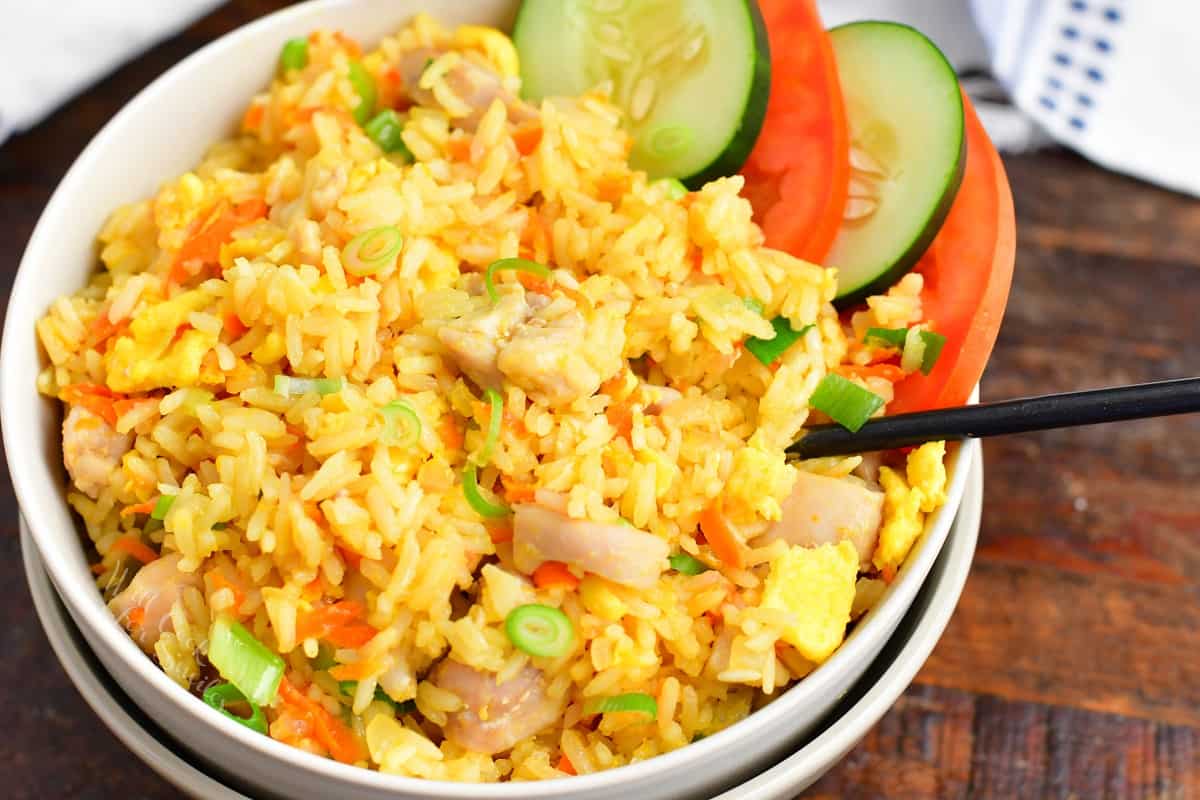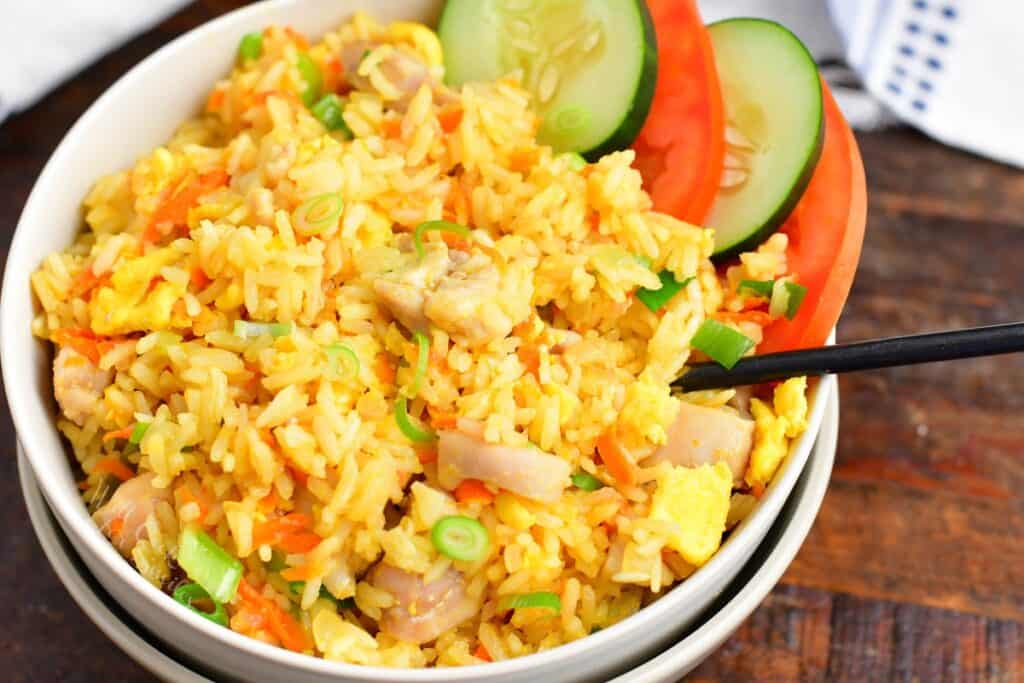 So What Is Thai Fried Rice?
This is an amazing fried rice dish native to Thailand, where it's called Khao Pad. It is considered street foo and most of the time, Khao Pad is cooked with protein like shrimp, crab meat, pork, or chicken. It has key ingredients to make it different from the Chinese fried rice that we are more familiar with.
Fun fact – did you know that in Thailand, fried rice is actually not eaten with chop sticks? Chop sticks are actually reserved for noodle dishes that originated in China. So, when serving this fried rice dish, make sure not to serve it with chopsticks!
What is the difference between Thai fried rice and Chinese fried rice?
Although both are very tasty, there are a few differences between Thai and Chinese fried rice. One main difference is rice itself! Thai fried rice uses jasmine rice, while Chinese recipes use long grain white rice.
Another key difference is soy sauce. Traditional Thai fried rice is made without soy sauce, as soy is actually a Chinese ingredient. Thai cuisine usually features other flavorful sauces like fish sauce and oyster sauce.
You can also kick things up with some red chilis for extra heat, which you mainly find in Thai cuisine.
Ingredients You Need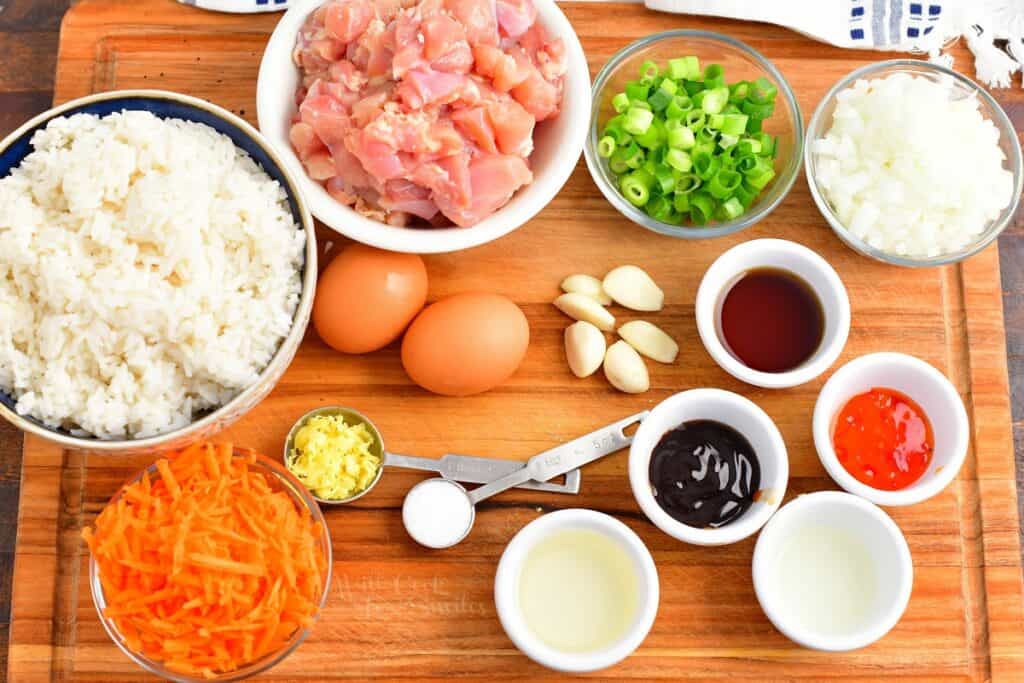 Chicken Thigh Meat – Use thigh meat, not breast meat! Chicken thighs are a darker cut of meat, it's more flavorful and juicy, that is the most traditional to use in fried rice.
Peanut Oil – if you need to, substitute canola or vegetable oil.
Salt
Yellow Onion
Large Carrot – you can shred of dice the carrot, that's a personal choice.
Garlic Cloves – Use fresh garlic cloves, not jarred pre-minces garlic for the most noticeable flavor.
Ginger – Shave it or grate it, just make sure to get fresh ginger root for best flavor.
Eggs
Jasmine Rice – This can NOT be substituted with white rice! Jasmine rice is a traditional Thai rice that has a very pleasant flavor and aroma.
Fish Sauce – This savory sauce adds a level of mouthwatering depth to the fried rice that really elevates it. And don't worry, it doesn't make the dish taste "fishy," just…do NOT smell it!
Thai Chili Sauce – This sauce is both sweet and a little spicy, providing the rice with a more complex flavor profile. To enhance the spice a bit more, consider adding some additional red chilis.
Oyster Sauce
Lime Juice – Use freshly squeezed lime juice for the most tangy flavor.
Sugar
Scallions – While I only use 3 scallions, you can use more if you really love the flavor and texture they provide!
Is Thai Fried Rice Gluten Free?
All ingredients in this recipe, except for one, are naturally gluten free. Oyster sauce does not originally come gluten free but there are gluten free oyster sauce options on the market. So make sure to get gluten free oyster sauce for this recipe.
Double check fish sauce and Thai chili sauce nutritional information to make sure it does not have gluten ingredients, but they are usually gluten free.
How to Make Thai Fried Rice
Start by preparing all of your vegetables, rice, and chicken meat. This is a quick paced recipe, so having everything you need prepared ahead of time will save you some stress.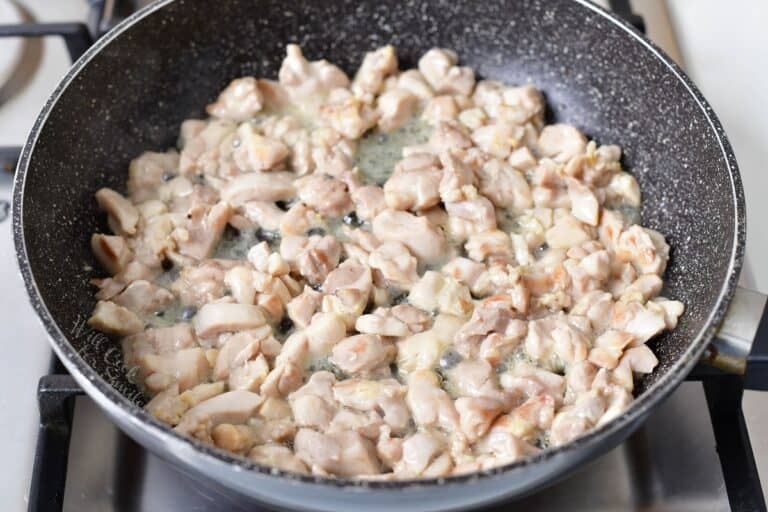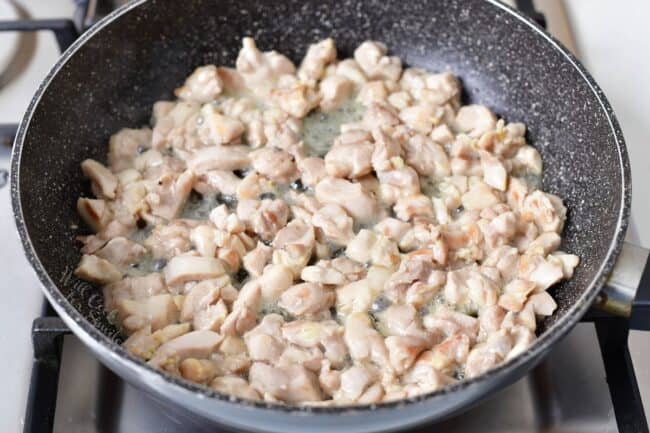 Sauté the chicken thigh meat in a hot wok with peanut oil. Once cooked, set it aside.
In the same pan, sauté onions and carrots, and then, once they're softened, add the garlic and ginger.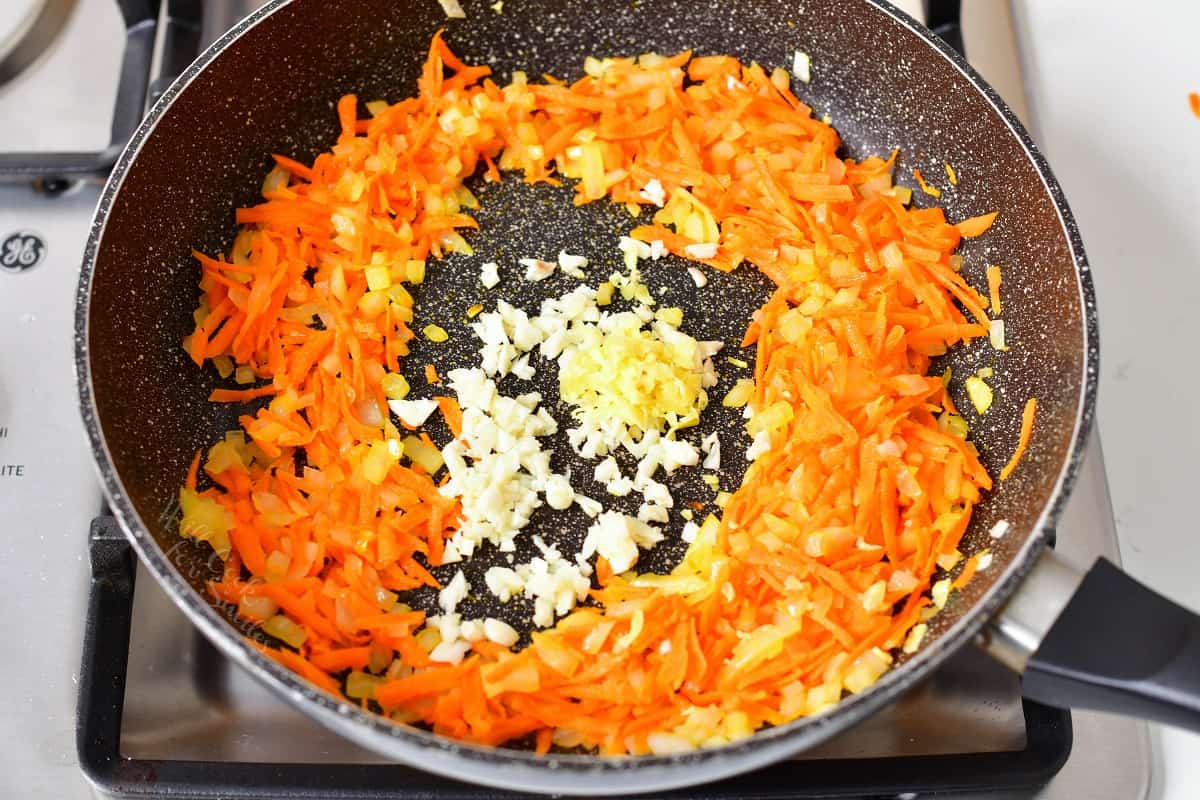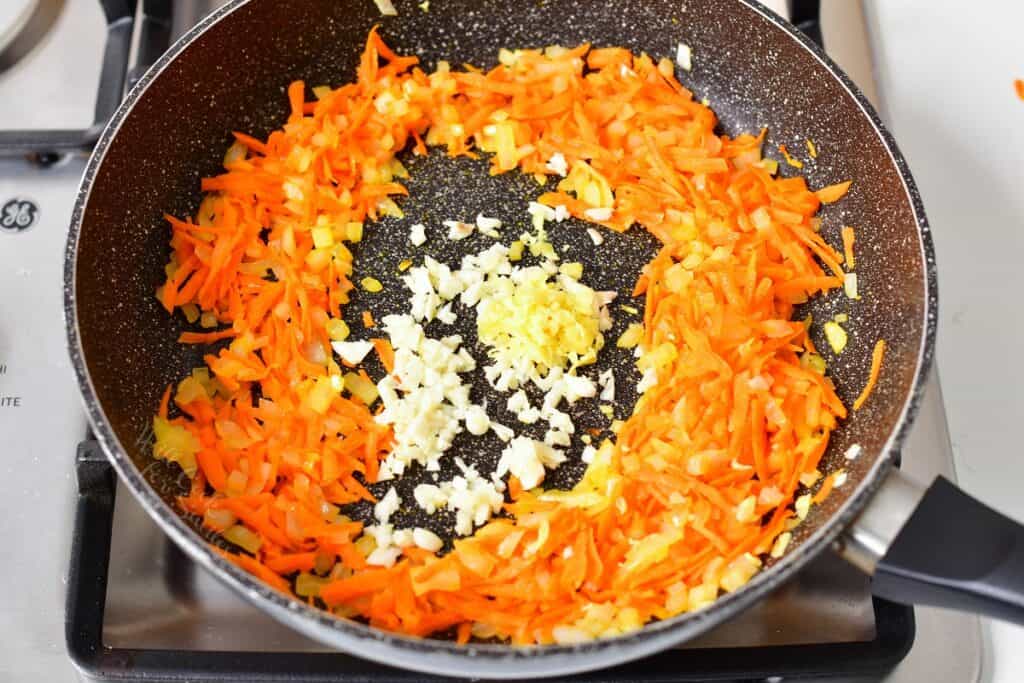 Push the vegetables to the sides of the wok, then pour the whisked eggs in the middle and cook for a few minutes.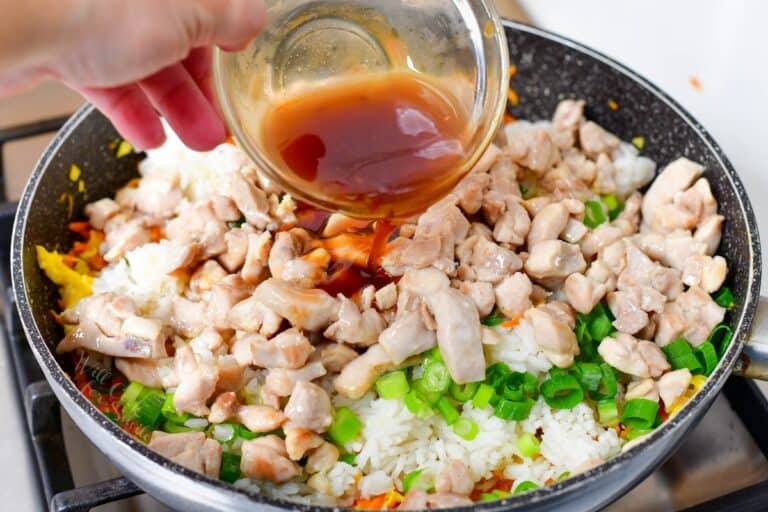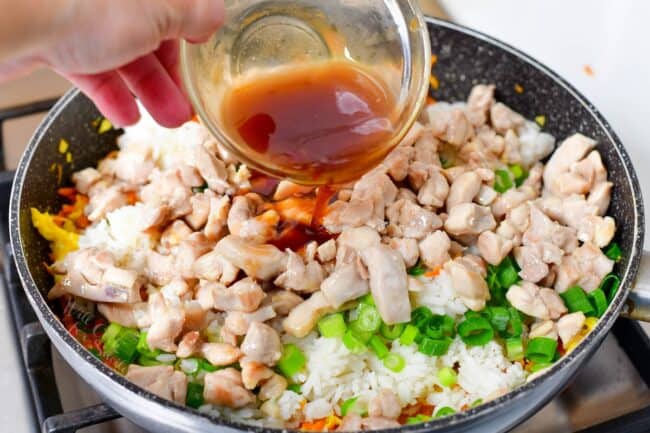 Stir everything together, including the cooked jasmine rice, scallions, and chicken all in the wok. Pour the sauce over the fried rice mixture, mixing everything together thoroughly, and cook for about a minute more.
Take the wok off of the heat, serve, and enjoy your Thai fried rice!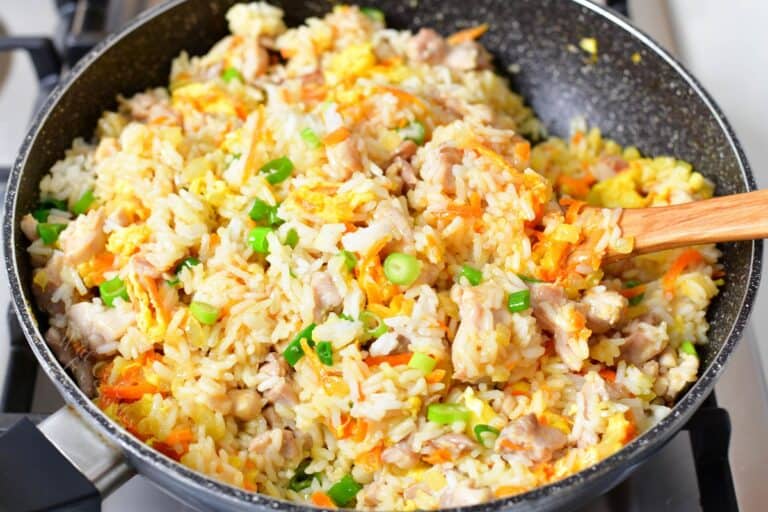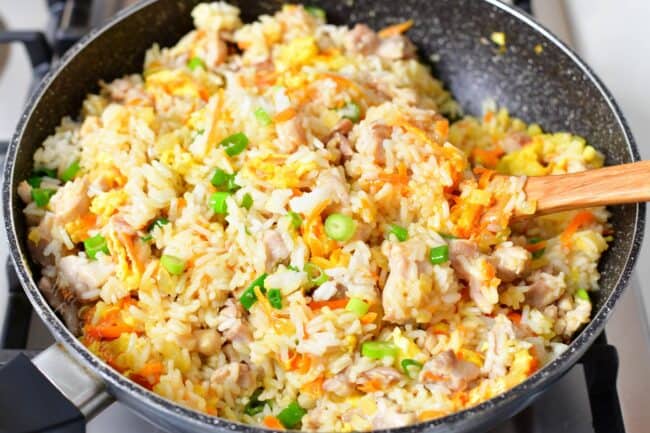 Some More Fried Rice Recipes
Chicken Fried Rice – a traditional and simple Chinese fried rice that can be served with shrimp, pork, extra vegetables, or serve it as a side dish
Cauliflower Fried Rice – a healthy alternative made with all the classic fried rice ingredients like onions, carrots, peas, garlic, eggs, and soy sauce
Crab Fried Rice – an easy recipe made with lump crab meat and many delicious Thai flavors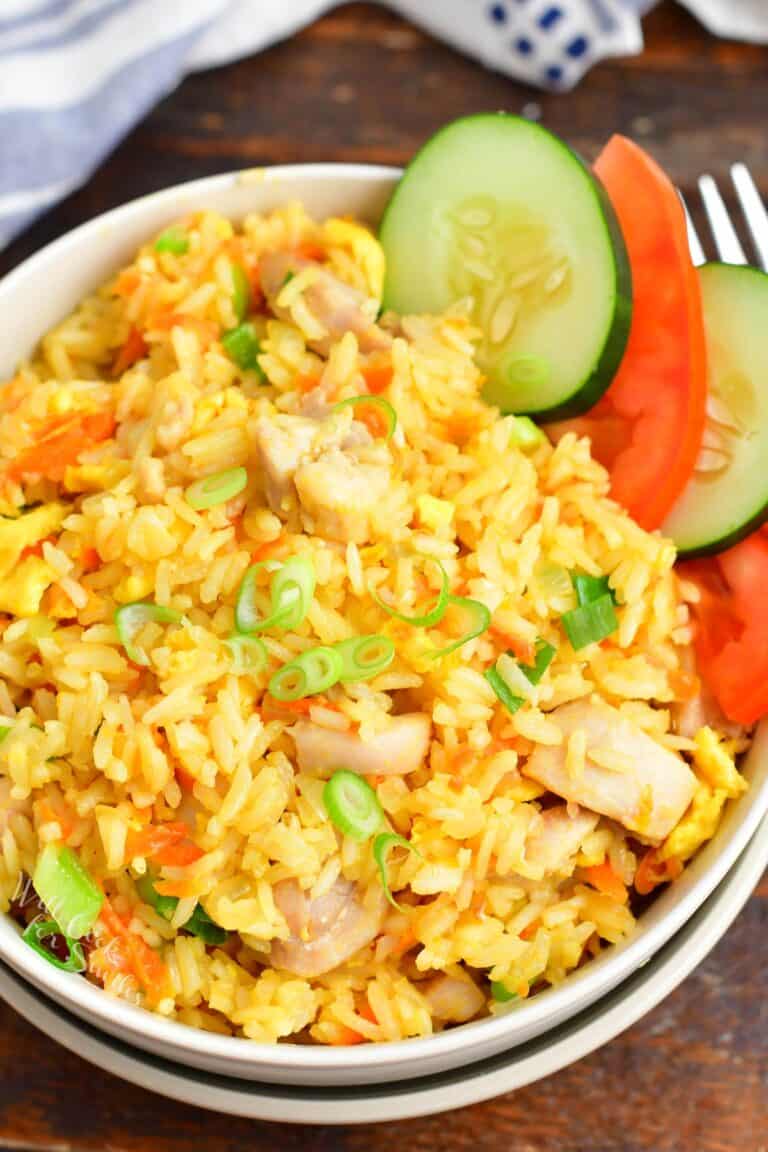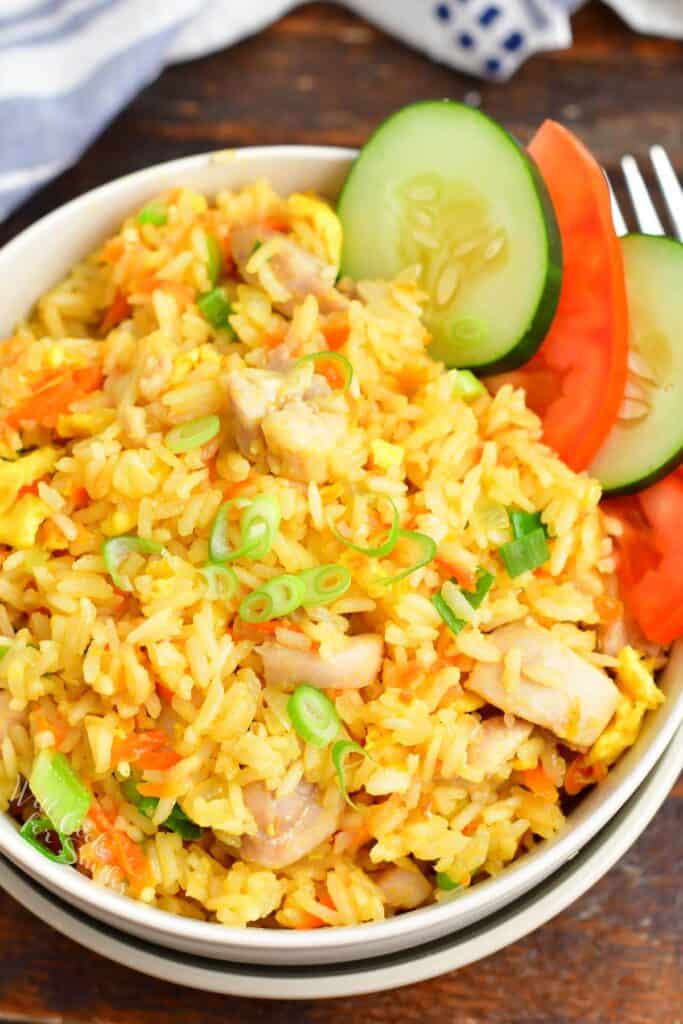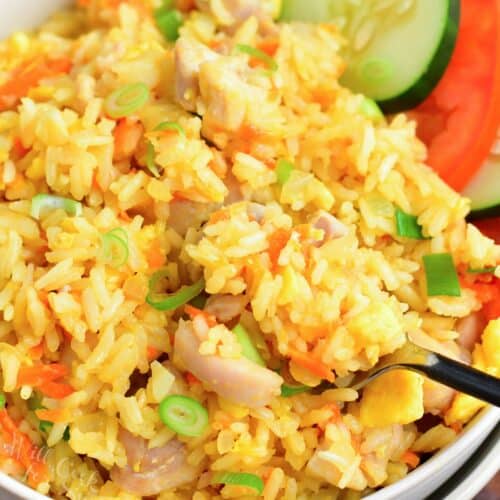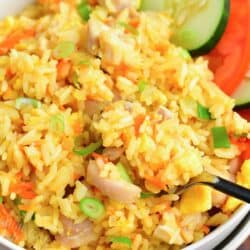 Thai Fried Rice
Thai Fried Rice is an amazing and easy weeknight dinner made with chicken, jasmine rice, vegetables, egg, and more flavorful ingredients!
Print
Save
Saved!
Rate
Ingredients
1.25

lb

boneless skinless chicken thigh meat

2

tbsp

peanut oil

salt

1/2

yellow onion

1

large carrot

6

garlic cloves

1

tbsp

shaved or grated ginger

2

eggs

4

cups

cooked jasmine rice

4

tbsp

fish sauce

1

tbsp

Thai chili sauce

3

tbsp

oyster sauce

1

tbsp

fresh lime juice

2

tsp

white granulated sugar

3

scallions
Instructions
Prepare your ingredients first because this is a fast recipe. So dice chicken, dice onion and scallions, shred the carrot, press garlic, and grate or shave fresh ginger.

Whisk eggs with a sprinkle of salt, and separately, whisk together fish sauce, oyster sauce, Thai chili sauce, lemon juice, sugar. 

Preheat a large wok or a large non-stick cooking pan with tall sides over medium-high heat. Add oil and sauté chicken with a little bit of salt until done. Take it out of the pan and set it aside.

Add some more oil if you need to and sauté onions and carrots until softened. Move the vegetables to the side of the pan, and add garlic and ginger. Sauté until just fragrant and mix it all together.

Move vegetables again to the side of the pan and pour in whisked eggs. Let it spread apart, cover, and cook for a few minutes.

Once eggs are mostly cooked, start stirring everything together and add cooked rice, scallions, and chicken to the pan.

Carefully stir everything to combine and pour the sauce mixture over the top. Mix everything well and sauté for just a couple of minute. Take off heat and serve.
Nutrition
Calories:
518
kcal
|
Carbohydrates:
56
g
|
Protein:
36
g
|
Fat:
15
g
|
Saturated Fat:
3
g
|
Trans Fat:
1
g
|
Cholesterol:
217
mg
|
Sodium:
1821
mg
|
Potassium:
609
mg
|
Fiber:
2
g
|
Sugar:
6
g
|
Vitamin A:
2795
IU
|
Vitamin C:
6
mg
|
Calcium:
76
mg
|
Iron:
2
mg
Tried this recipe?
Mention @willcookforsmiles and tag #willcookforsmiles