Baked Salmon recipe that will be a beautiful main course for your holiday dinner! This whole salmon filet is juicy, tender, and incredibly flavorful baked in a pomegranate sauce. Top it off with pomegranate seeds, pecans, and some fresh rosemary for a stunning holiday dish.
Whole baked salmon filet is great to serve for family dinners, but you can also check out our salmon recipes for more ideas.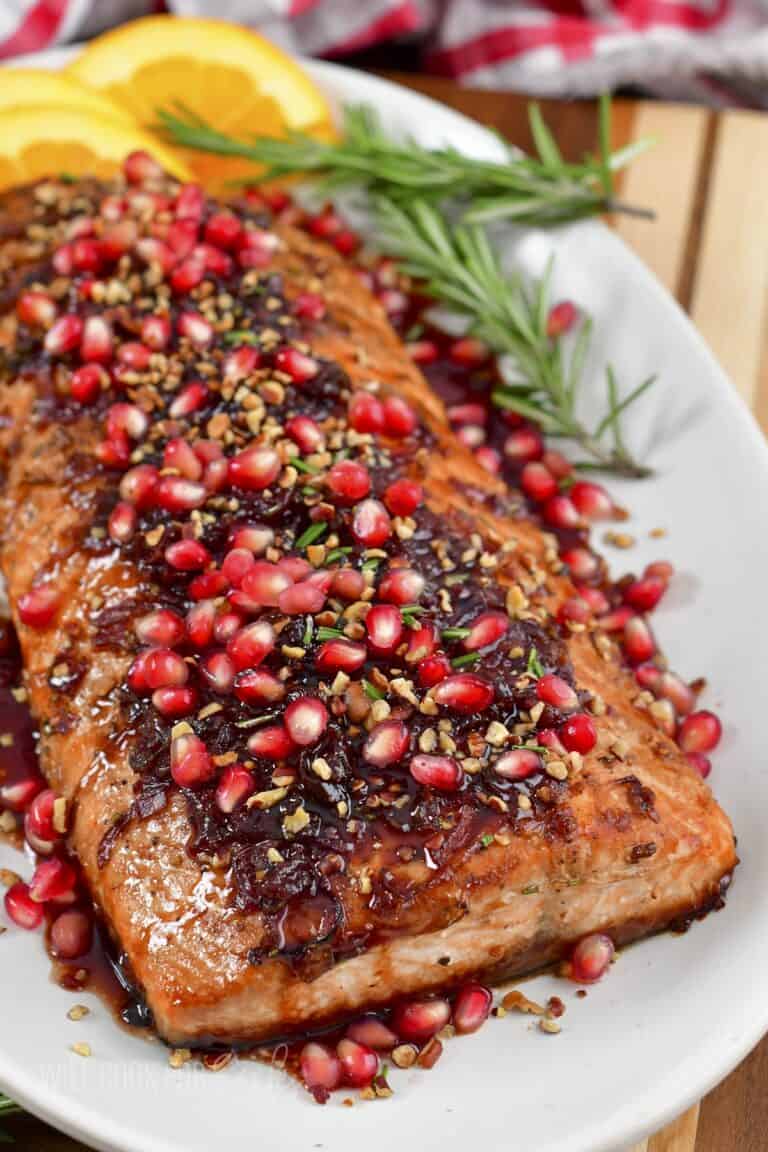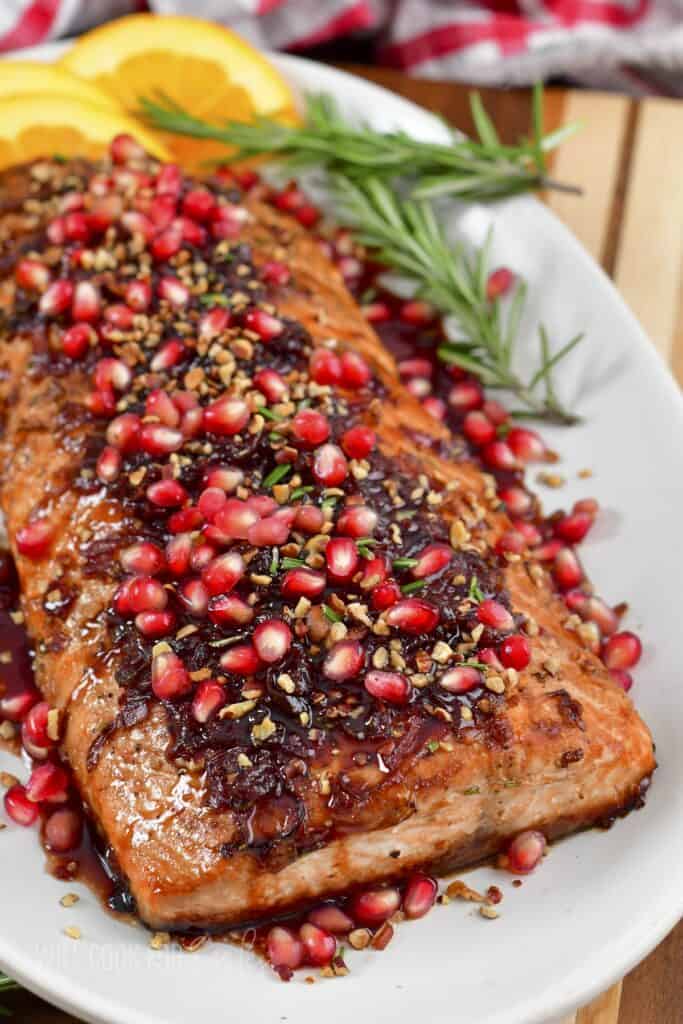 Salmon for Holiday Dinner
Tired of the typical holiday ham and turkey? Holiday Baked Salmon is here to rescue you from the same old routines! This is truly the perfect holiday main course. Even if you serve your usual ham and turkey, baked salmon will be a great addition to it.
My tried and true Orange Salmon is what inspired me to first make this Holiday Salmon. I used a similar technique and created a beautiful pomegranate glaze. The way we bake the salmon is skin side up first then flip it and finish baking it skin side down.
That simple technique helps the oils and juices run into the salmon meat rather than off onto the baking sheet. It infuses salmon meat with so much flavor! That flipping method always yields tender, juicy, and flavor-packed salmon every time.
While salmon is the star here, the pomegranate sauce is what really makes it shine. It's a delicious and simple combination of pomegranate juice, Dijon mustard, honey, rosemary, and pressed garlic. It lends the most incredible flavor to the top of the salmon and the way it becomes a glaze while baking is pretty divine!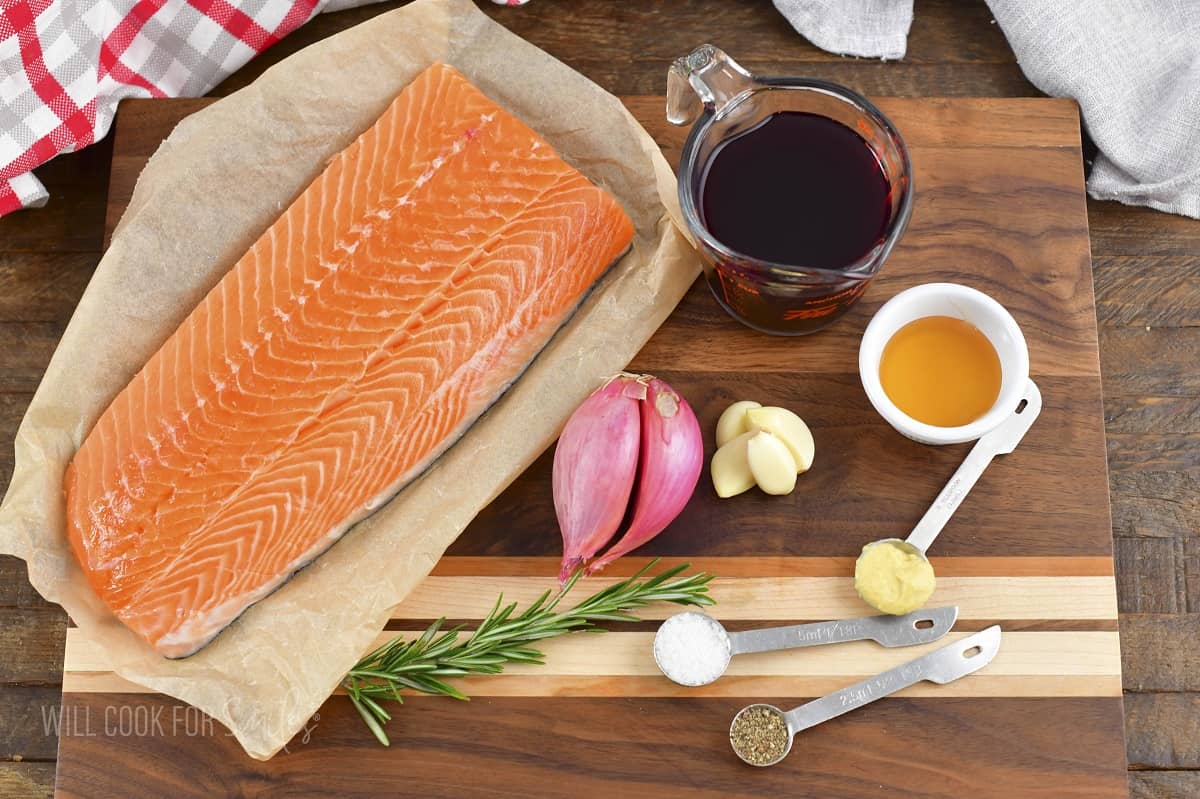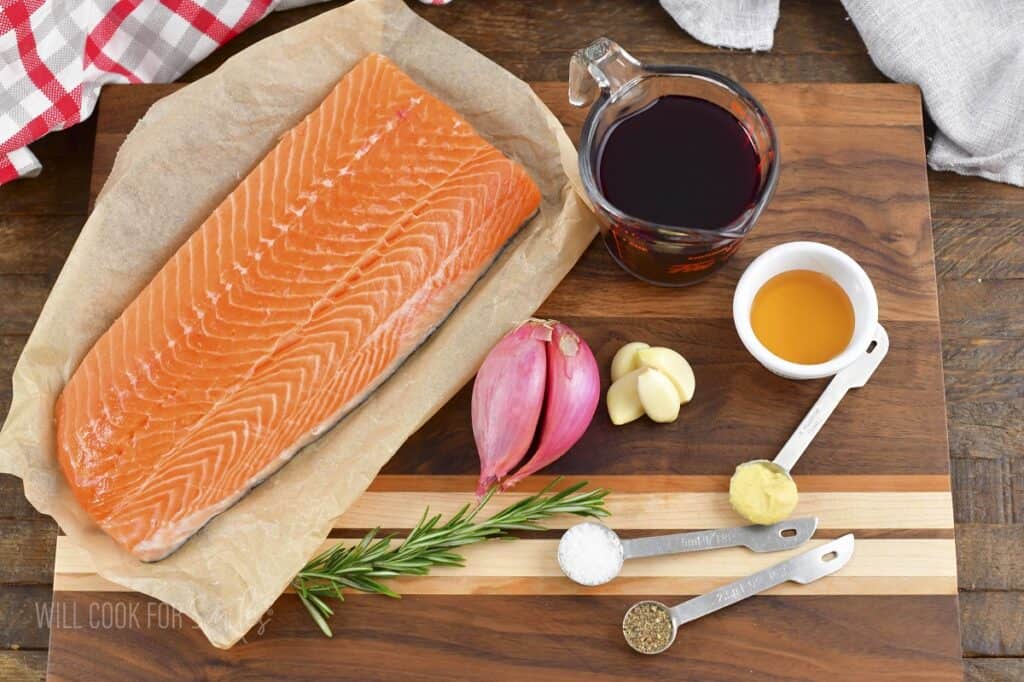 Ingredients You'll Need:
Whole Salmon Filet – You'll want to keep the skin on. Decide if you want king salmon, Atlantic salmon, or sockeye salmon. All different types will work well with this recipe and I've included some notes about each one below!
Olive Oil – Try to use a good quality extra virgin olive oil.
Shallots – Slice them nice and thin.
Garlic Coves – For the best flavor and aroma, it's imperative to use fresh garlic cloves, not pre-minced.
Pomegranate Juice – Have any leftover juice? Use it to make my favorite Pomegranate Martini.
Dijon Mustard – Don't substitute this with plain yellow mustard.
Honey – I like to use honey that's organic and has real honey flavor. The plastic bear honey usually just lends a sugary sweetness to whatever it's added to.
Rosemary – Make sure that you use fresh rosemary, not dried.
Salt and Black Pepper
Garnishes:
Pomegranate Seeds
Chopped Pecans
Rosemary
Common Types of Salmon
When it comes to seafood, quality ALWAYS matters! Better quality salmon will yield the best flavor and texture. Ask your local fish monger where they get their salmon. You'll want it to be sustainably farmed or wild caught. Here are the main 3 types of salmon you'll likely see at the supermarket:
King Salmon – This filet is the most expensive cut of salmon because it's really the best. It's very rich in flavor, high in healthy fats, and works so well with this recipe. It's not as widely available as other types of salmon, but it is worth its high price point if you're considering making this recipe for your next big holiday dinner.
Sockeye/Red Salmon – The vibrant red color and full flavor of this salmon is what makes it so remarkable. It's a more budget-friendly cut of salmon and is much more available than king salmon. It also tends to be leaner than other salmon filets while still having plenty of bold flavor.
Atlantic Salmon – Did you know that wild Atlantic salmon is actually endangered and is no longer caught for commercial consumption? All Atlantic salmon is now entirely farm raised. It's the most affordable type of salmon filet you can buy, has a very mild flavor, and a good amount of fat. Always consider the source of your Atlantic salmon before purchasing, as it will directly affect the quality of the meat.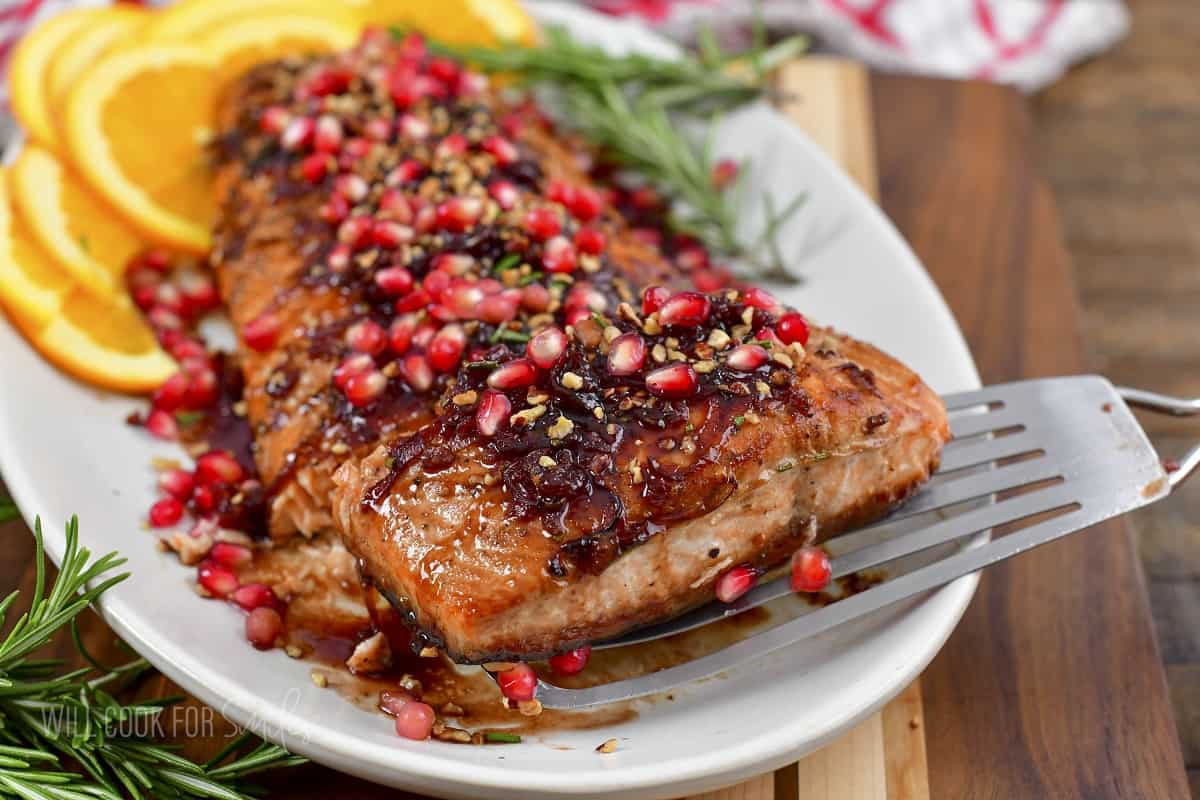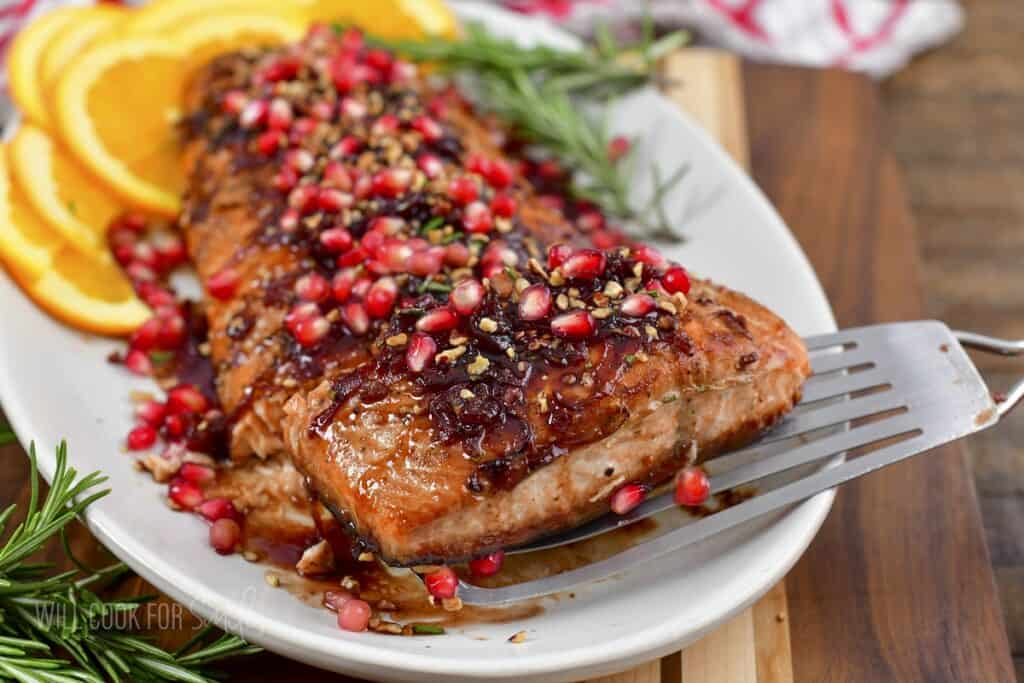 Step-by-Step Instructions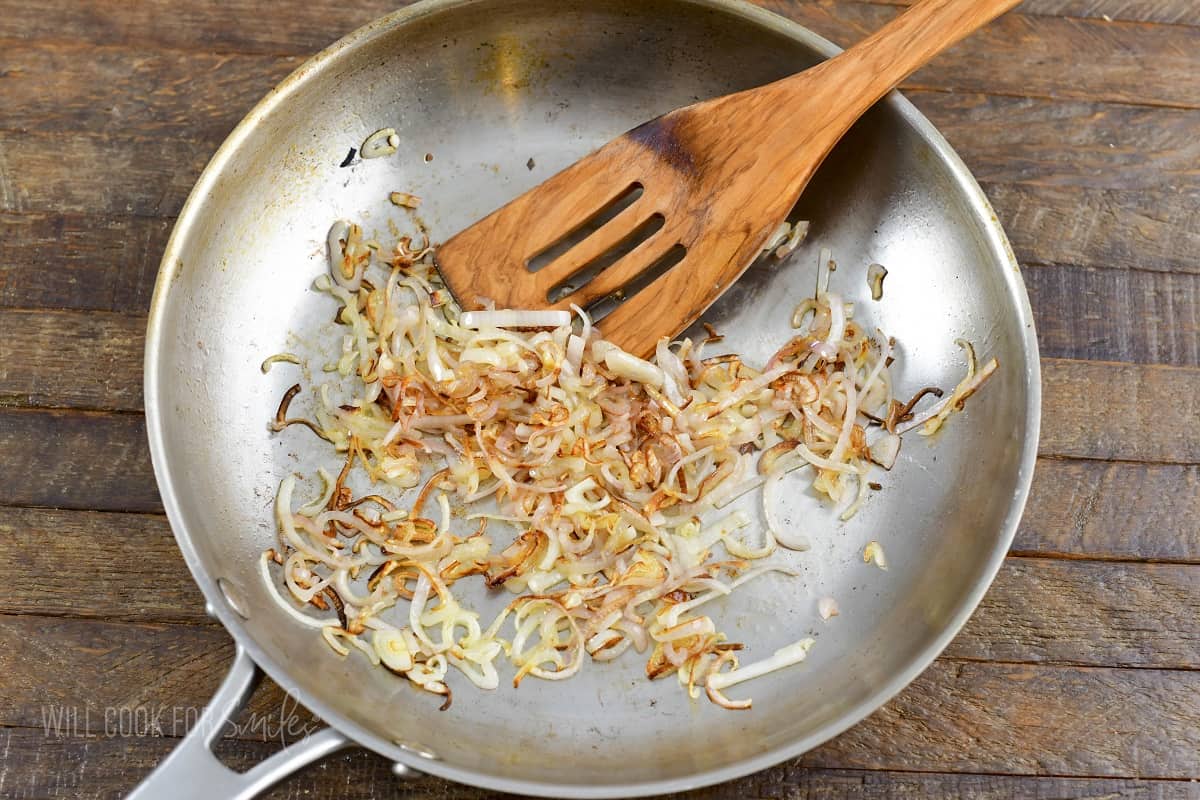 Make the glaze.
Whisk together all of the ingredients for the glaze in a bowl.
Sauté the shallots in a skillet with oil over medium heat.
Give the sauce a stir, then pour it into the skillet with the browned shallots. Let it simmer for about 4-5 minutes before stirring in the salt, pepper, and rosemary. Take off of the heat.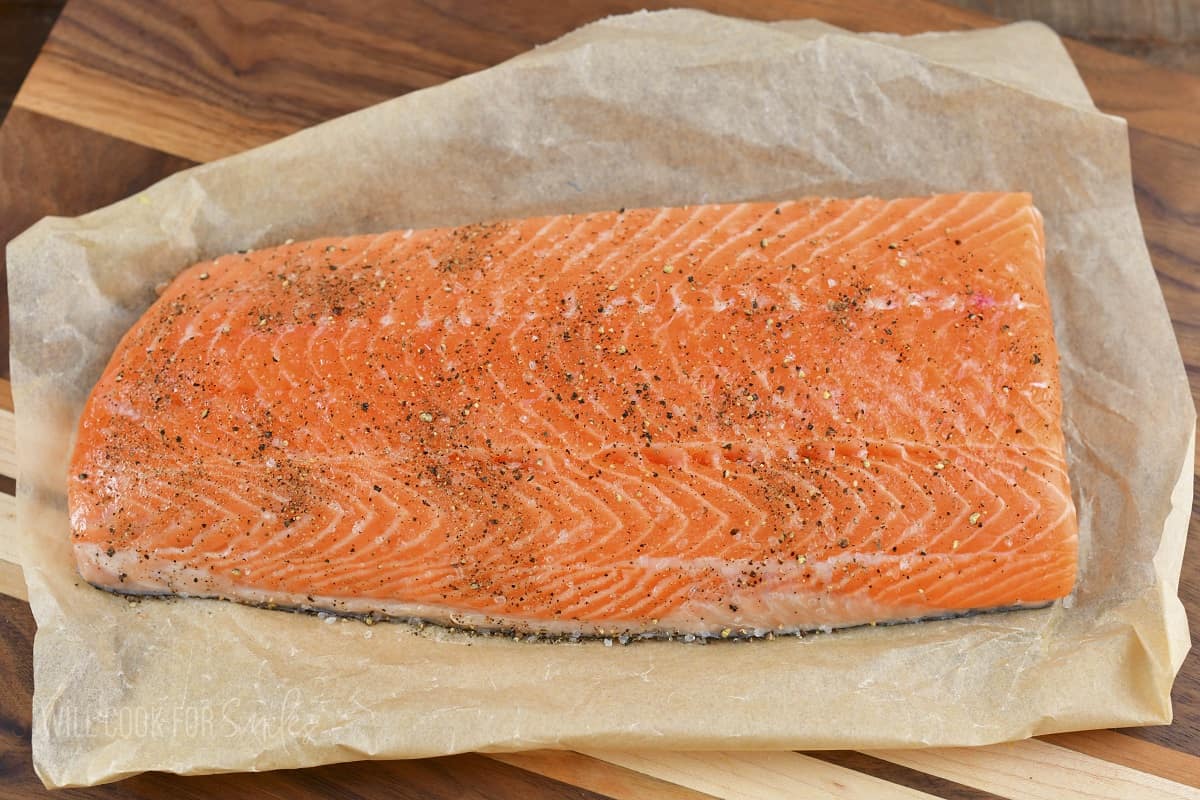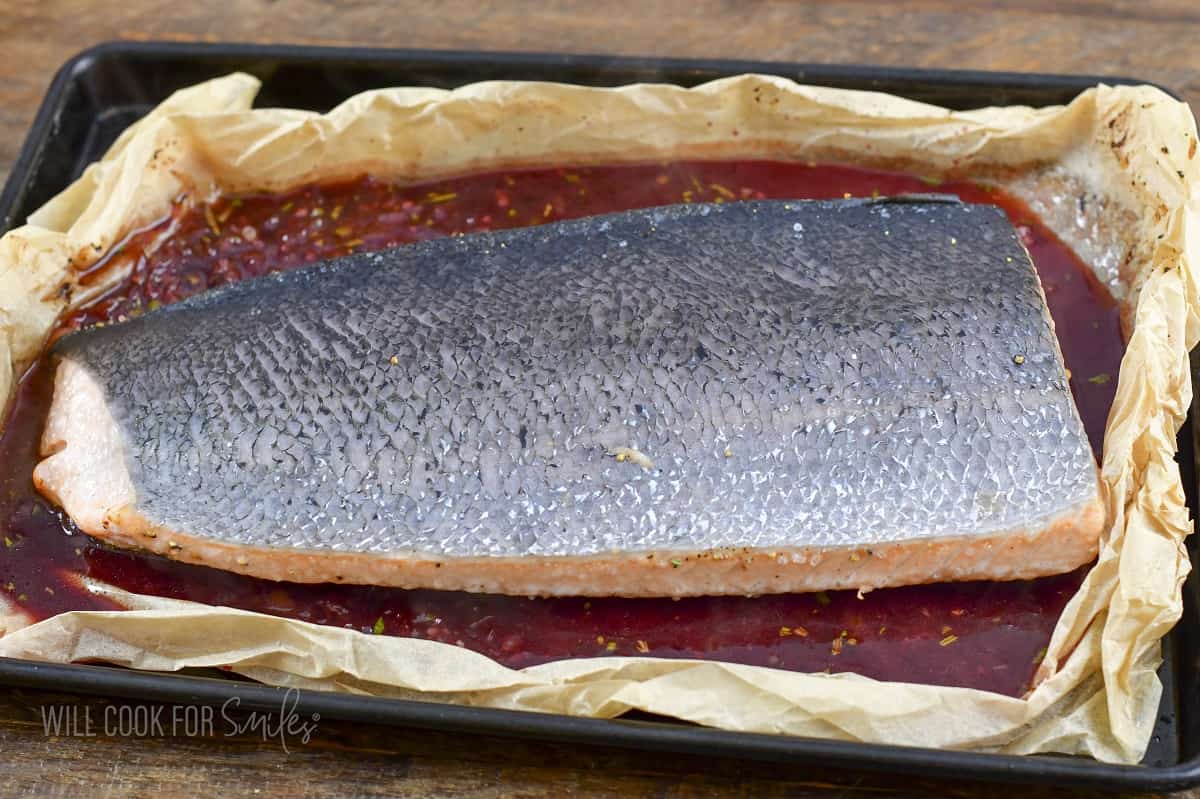 Prepare and bake the salmon.
Pat the salmon filet dry with paper towels. Sprinkle with salt and pepper.
Pour the sauce onto a baking sheet that's been prepared with parchment paper. Place the salmon on the baking sheet with the skin facing up. Bake for 7-8 minutes at 450°F.
Remove the salmon from the oven and flip it so the skin is facing down. Spoon some sauce all over the filet.
Bake for another 16-18 minutes.
Transfer the baked salmon onto a serving dish of your choice, cover with more sauce, garnish, and enjoy immediately!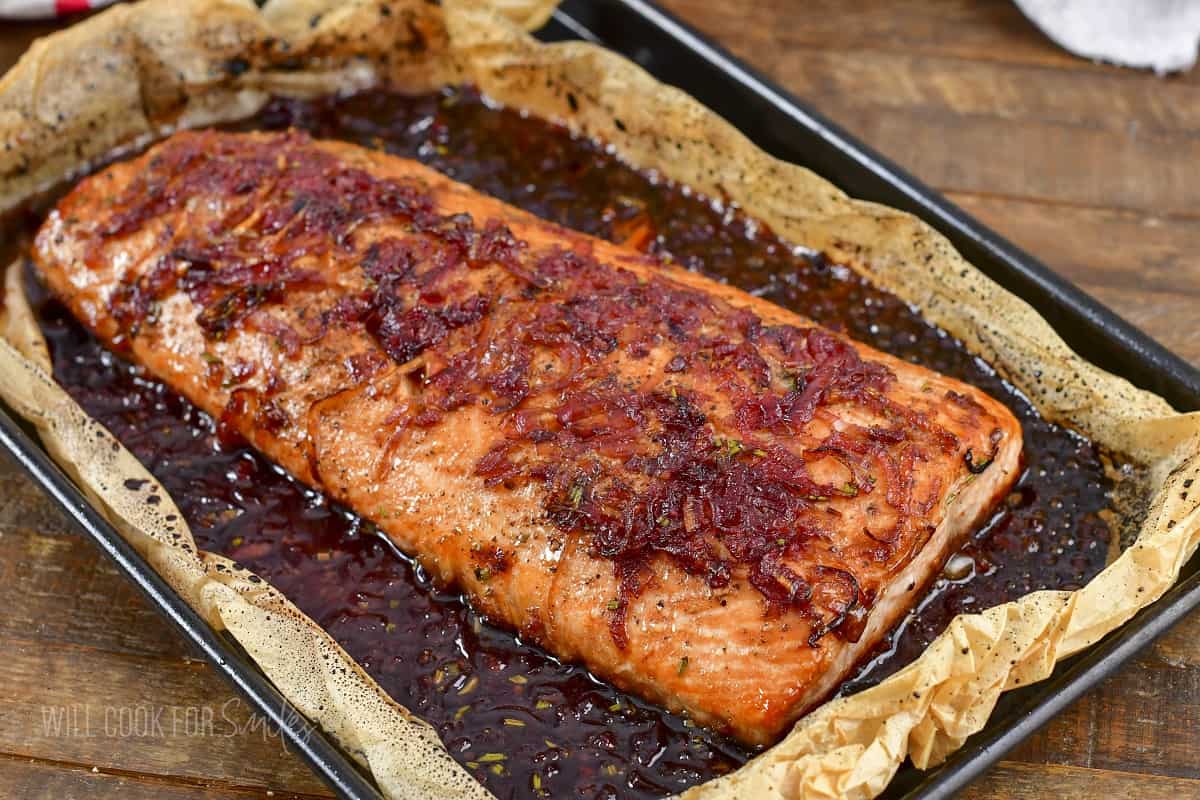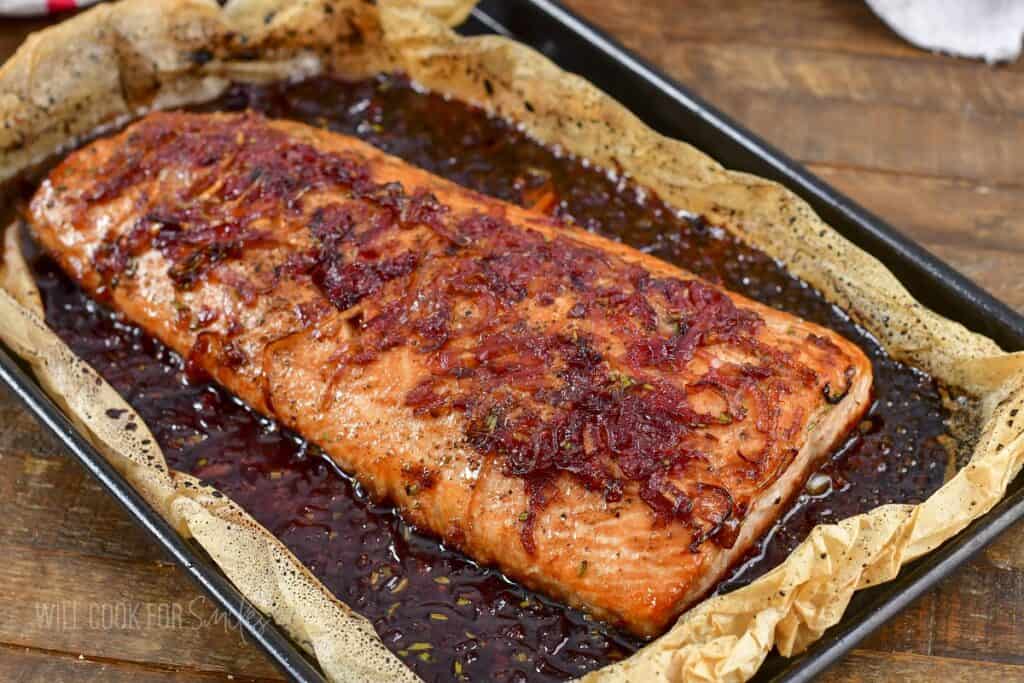 Frequently Asked Questions
How Much Salmon Per Person?
Always try to aim for 1/2 lb of salmon per person. As most salmon filets are 2 lbs, that should be enough to serve 4 people. You can try to make this holiday baked salmon feed 6 people – in that case, I recommend also serving hearty side dishes to try and keep everyone full! With that being said, go ahead and cook 2 filets if you're feeding a larger crowd.
Skin or No Skin?
When it comes to baking salmon, I always recommend keeping the skin on! There's a fatty layer between the skin and the meat that lends a lot of flavor, moisture, and health benefits to the meat.
Before serving Holiday Baked Salmon, peel the skin off and discard of it.
How long should I bake salmon?
Baking times for whole salmon filets usually range from 20-25 minutes, depending on the thickness of the salmon filet. Checking the internal temperature is the most accurate way to tell if it's done. Salmon is fully cooked when the internal temperature reaches 145°F (well done). With that being said, I prefer salmon at a medium temperature, which is 125°F-135°F.
You can also check the doneness by touch. Gently press on the thickest part of the center. If it feels firm, it's cooked through. If you still feel some squishy texture inside, it's not cooked enough.
Another way to tell is to gently press on the flesh on top and slightly pull it apart. It should flake easily.
Best Side Dish Pairings
Keep things festive with some of my favorite holiday side dishes! Here are just a few of my favorites:
Roasted Fingerling Potatoes or Mashed Potatoes
Brussels Sprouts or Italian Roasted Asparagus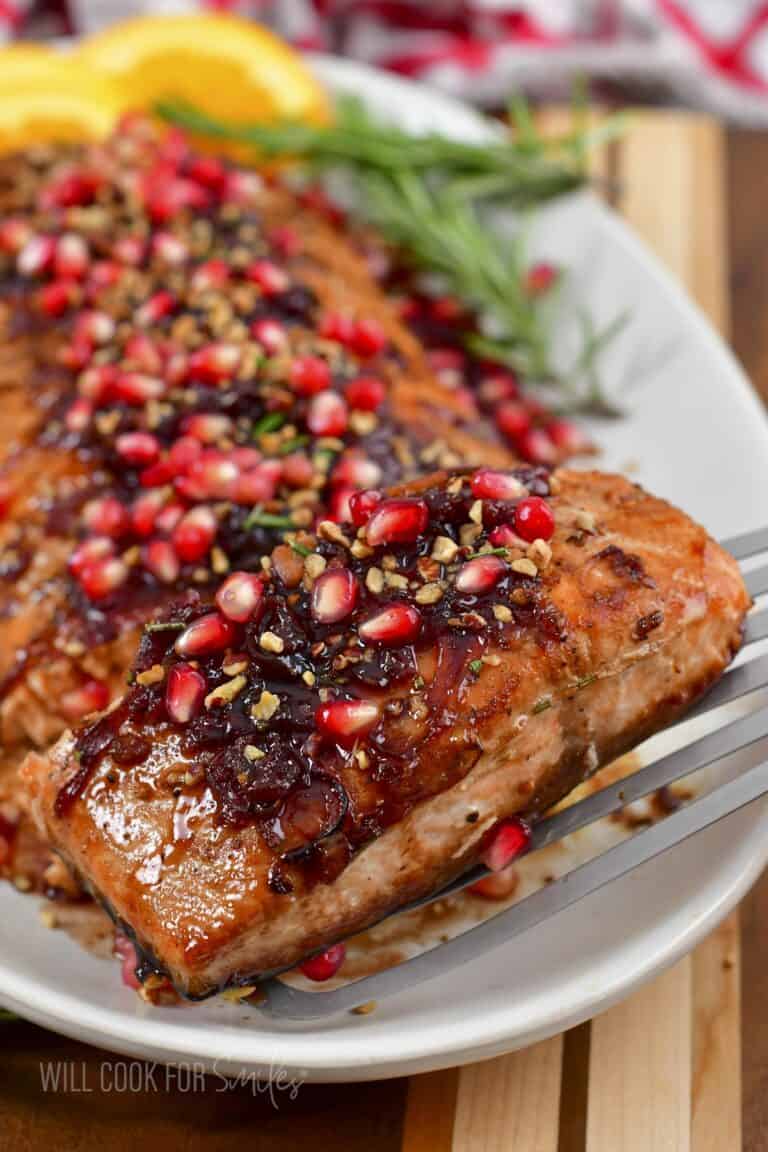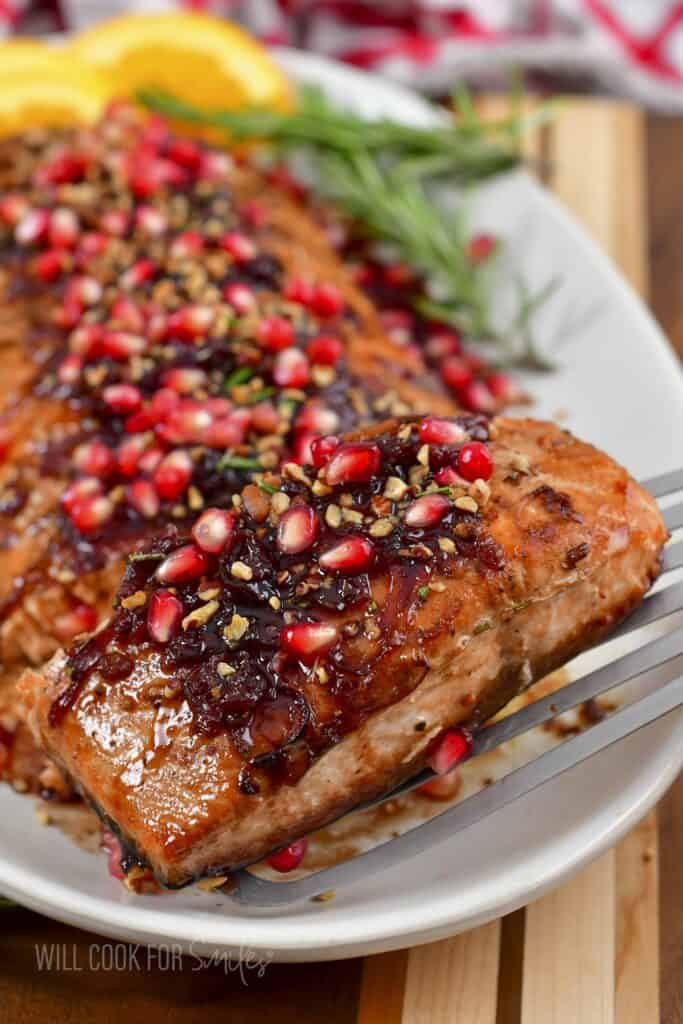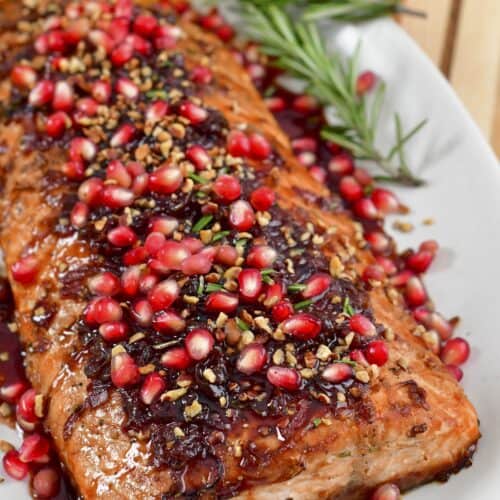 Holiday Baked Salmon (Pomegranate Salmon)
This holiday baked salmon is juicy, tender, baked in an incredible pomegranate sauce, and topped with pomegranate seeds, pecans, and fresh rosemary.
Print
Pin
Save
Saved!
Rate
Ingredients
Sauce:
1-2

tbsp

olive oil

2

shallots

sliced thin

4

garlic cloves

pressed

1

cup

pomegranate juice

1

tsp

Dijon mustard

2

tbsp

honey

1/2

tsp

minced fresh rosemary

salt

to taste

black pepper

to taste
Garnish:
1/4

cup

pomegranate seeds

2-3

tbsp

chopped pecans

1

tsp

fresh minced rosemary
Instructions
Preheat the oven to 450° and line a baking sheet with parchment paper, folding up the edges to keep keep sauce in.

Whisk together pomegranate juice, Dijon mustard, honey, and pressed garlic. Set aside.

Preheat a cooking pan over medium heat and add olive oil. Add sliced shallots and sauté until browned and caramelized.

Give the sauce another stir and pour it into the pan with onions. Stir slowly and bring to a low simmer. Let is simmer for 4-5 minutes and season with a little salt and pepper. Stir in fresh minced rosemary. Take off heat.

Pat salmon dry with a paper towel and season it with salt and black pepper evenly.

Pour all of the sauce carefully into the prepared baking sheet, in the middle of the parchment paper well.

Place salmon into the baking sheet skin-side. Bake for about 7-8 minutes, take it out of the oven, and carefully flip salmon skin down. (You may need to use a couple of large spatulas.) Spoon some sauce over the top of the salmon.

Bake for 16-18 minutes, until salmon is done. Bake time will depend on the size and thickness of salmon filet. 

When salmon is done, carefully transfer it onto a serving dish and pour the remaining sauce from the parchment paper over the top.

Garnish with pomegranate seeds, chopped pecans, and rosemary.
Nutrition
Calories:
476
kcal
|
Carbohydrates:
23
g
|
Protein:
46
g
|
Fat:
22
g
|
Saturated Fat:
3
g
|
Polyunsaturated Fat:
7
g
|
Monounsaturated Fat:
9
g
|
Cholesterol:
125
mg
|
Sodium:
122
mg
|
Potassium:
1351
mg
|
Fiber:
1
g
|
Sugar:
19
g
|
Vitamin A:
96
IU
|
Vitamin C:
3
mg
|
Calcium:
50
mg
|
Iron:
2
mg
Tried this recipe?
Mention @willcookforsmiles and tag #willcookforsmiles