Festive Cranberry Stuffing loaded with scrumptious ingredients like cranberries, pecans, sage, onions, Italian bread, and more. It goes perfectly with all other traditional holiday dinner dishes and bring an extra pop of flavor.
If you want to try a different stuffing recipe for every holiday, also try our Classic Stuffing and Sausage Stuffing.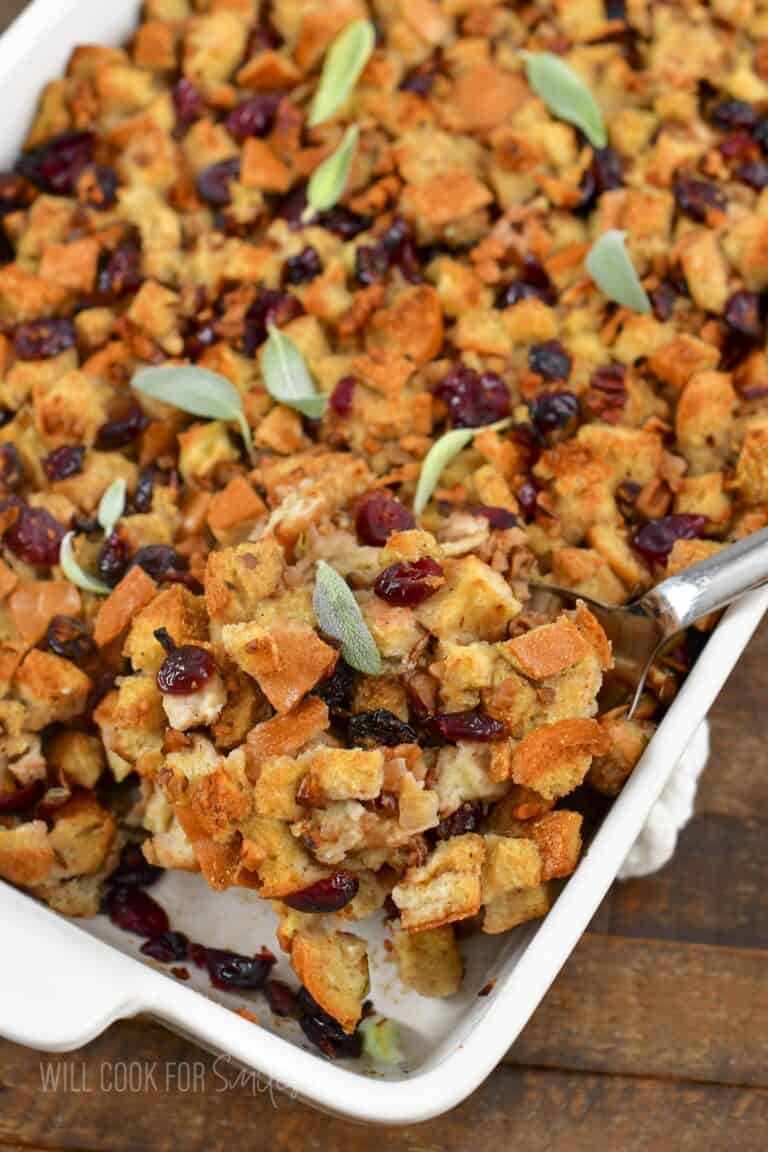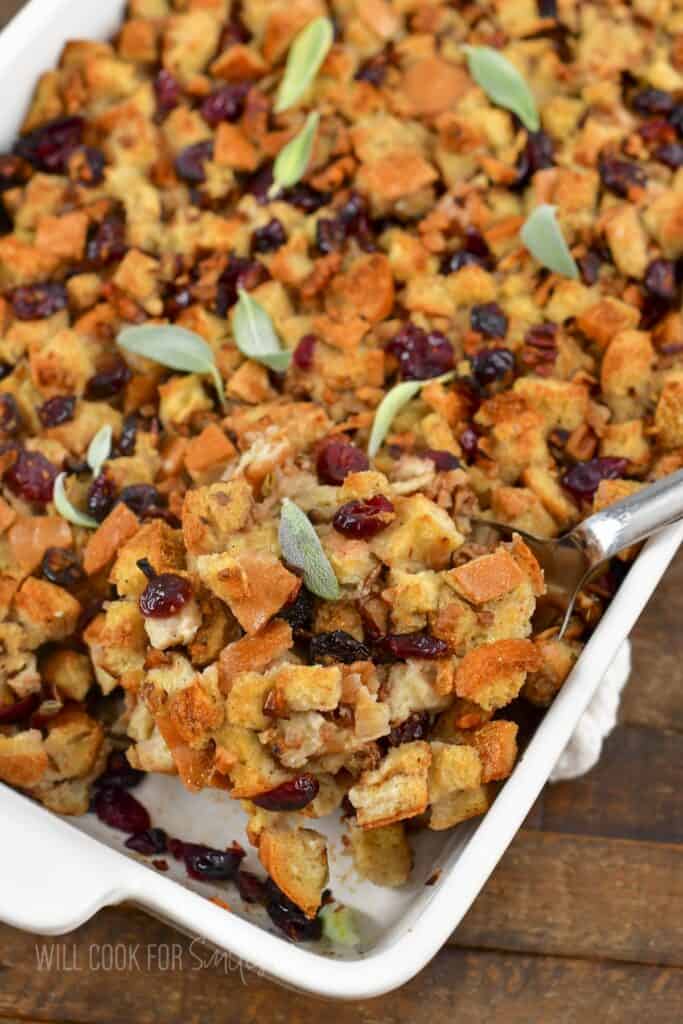 Comforting Holiday Dinner Side Dish
In my home, at least one of the holidays features this signature Cranberry Stuffing. It's got all of the elements of classic stuffing that you know and love, but it's enhanced by sweet dried cranberries and crunchy chopped pecans! This is especially a favorite of mine to cook for the Christmas dinner, since cranberries are more associated with December holidays.
One very important element of this stuffing (and all homemade stuffing recipes, for that matter) is the stale bread. You cannot make good stuffing with fresh, soft bread. With that being said, you have nothing to fear if the only bread you have is freshly baked. I have a few quick and easy steps listed below that can stale even the freshest baked bakery breads!
It's funny to think that stuffing is now a must-make holiday side dish, but it evolved simply a way to keep the turkey moist and juicy.
That reminds me – I should address the age old question of "is it stuffing or dressing?" Technically speaking, this side dish is regarded as stuffing if it's used to stuff a turkey, and dressing if it's made in a separate baking dish. As it goes with most foods, it really just depends on what region you live in. I like to call it stuffing whether it's baked in the bird or not!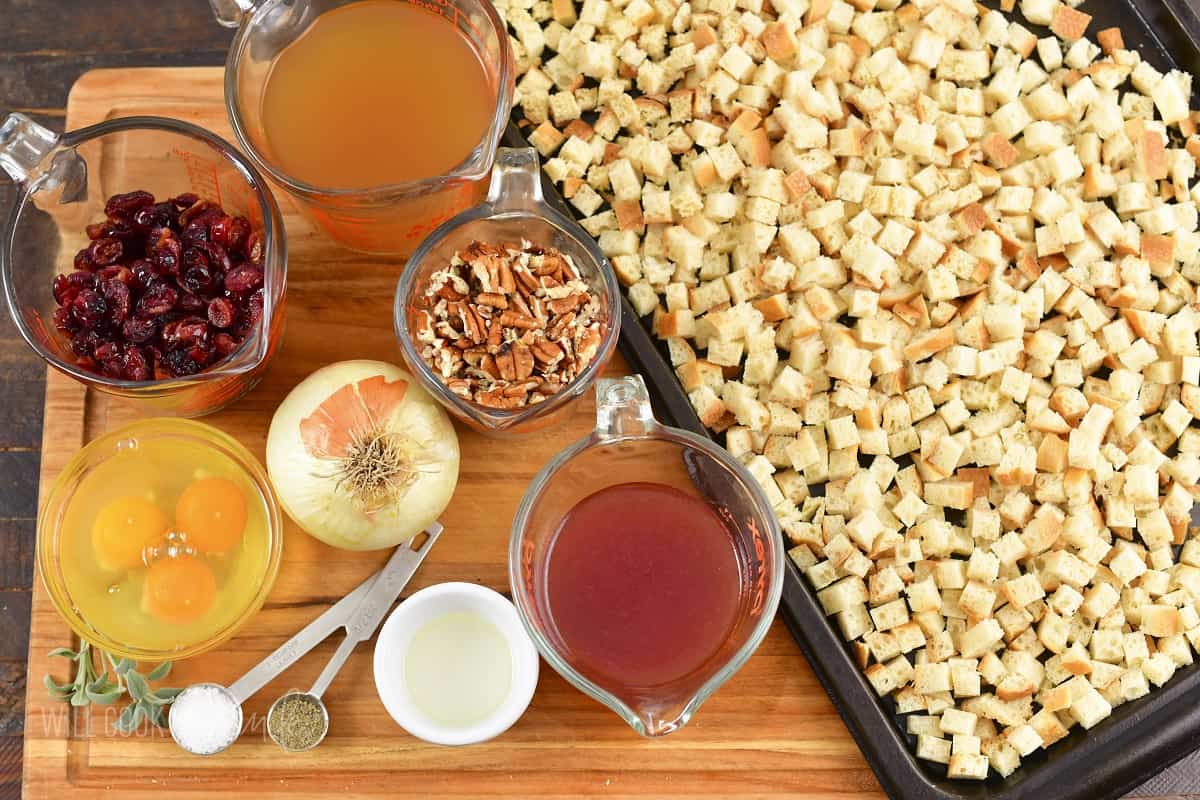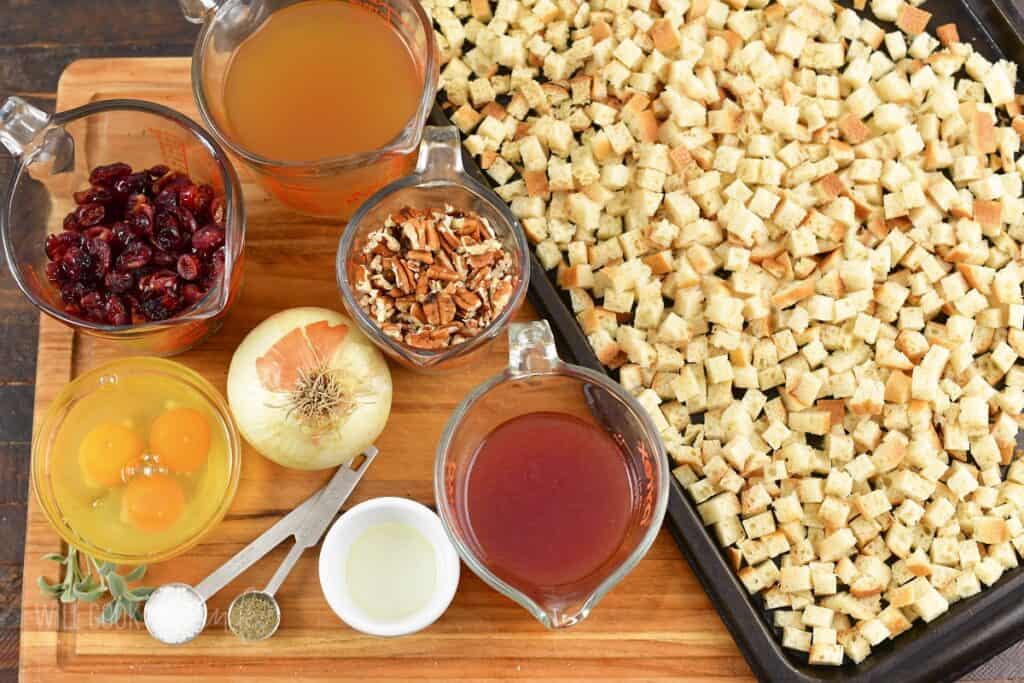 Ingredients You'll Need:
Bread – For the best stuffing, always make sure you're using a bakery bread like a French baguette or an Italian loaf.
Cranberries – Use dried cranberries, not fresh ones. If you have any leftover, toss them into my Family Favorite Green Beans.
Broth – You'll need vegetable (or chicken) broth to soak the cranberries in. Don't discard the broth after soaking the cranberries!
Sherry – sherry vinegar or a red wine vinegar will work well.
Olive Oil – Try to use a good quality extra virgin olive oil.
Onion – A chopped Vidalia onion is what you'll need. In a pinch, you can use a yellow or white onion instead.
Apple Juice – This lends a light, subtle note of sweetness to the stuffing that compliments the dried cranberries.
Eggs
Nuts – Pecans are my absolute favorite nut to use in this recipe. You can use chopped walnuts or almonds if preferred.
Sage Leaves – Freshly chopped sage leaves help create a warm seasonal flavor in this stuffing that really can't be replicated with any other herb.
Salt
Black Pepper
How to Make Stale Bread: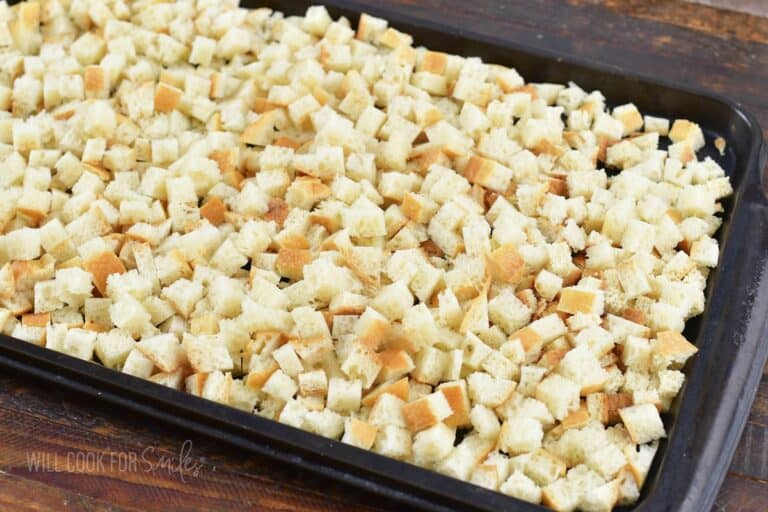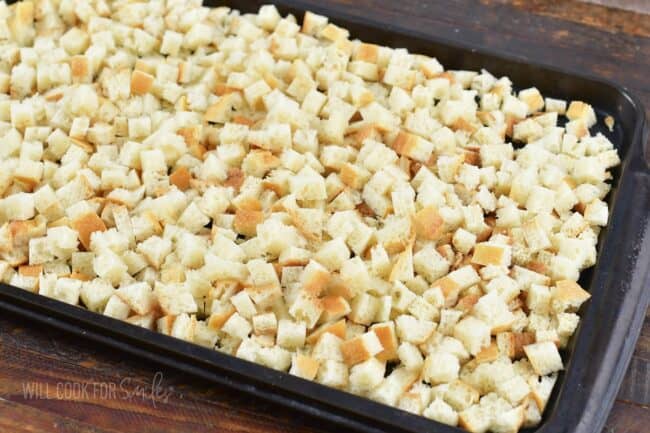 Prepare.
Preheat your oven to 200°F. While that's heating up, cut the bread into small cubes that are about 1/4-1/2 inch in size.
Using a serrated bread knife will help with this process.
Bake the bread.
Spread the cubed bread into two baking dishes. Place the trays in the oven and let the bread bake and harden for 2 hours.
Once the bread has hardened and feels stale, you can immediately start preparing the stuffing.
Step-by-Step Instructions
Prepare. About an hour before you plan to start making the stuffing, combine the cranberries, vinegar, and one cup of broth in a bowl. Let the cranberries soak for an hour.
Once an hour has passed, remove the cranberries from the mixture, but do NOT discard that liquid! You'll need it.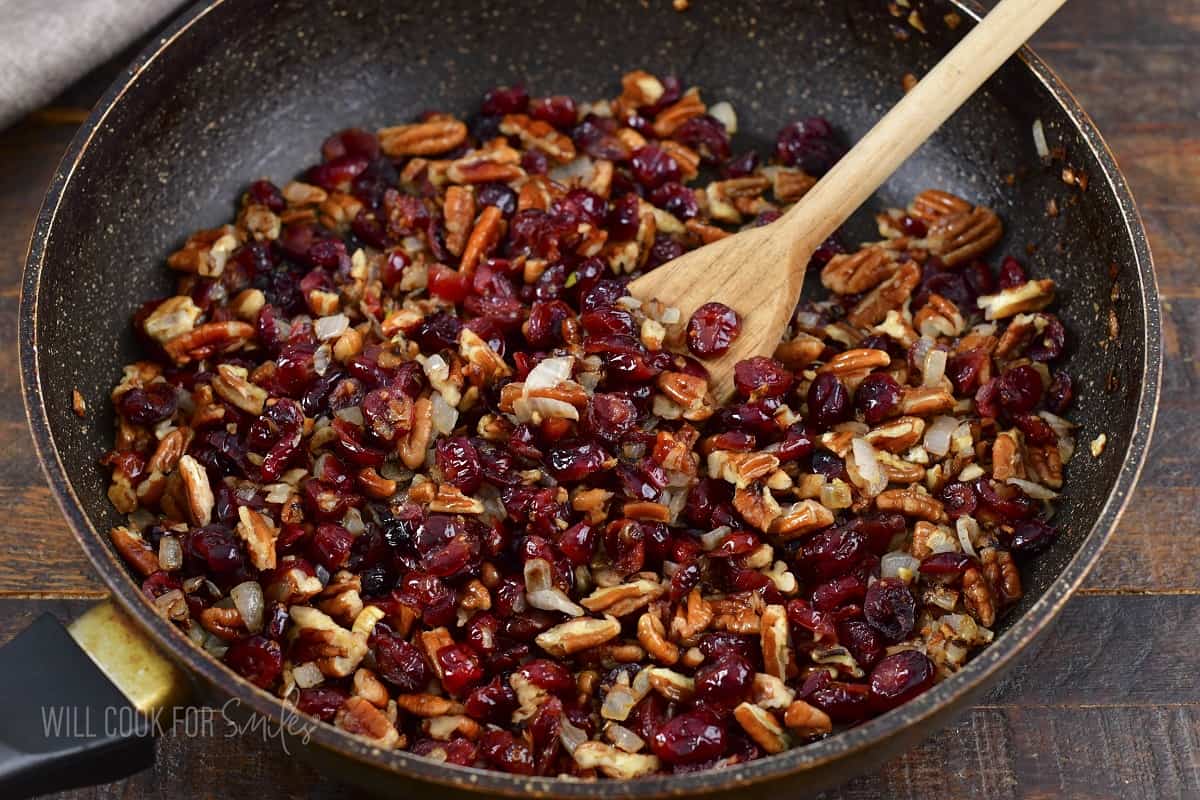 Sauté. Heat a pan over medium heat and add oil. Sauté the diced onions until they're soft and transparent, then toss in the soaked cranberries and chopped pecans. Sauté everything together for a few minutes.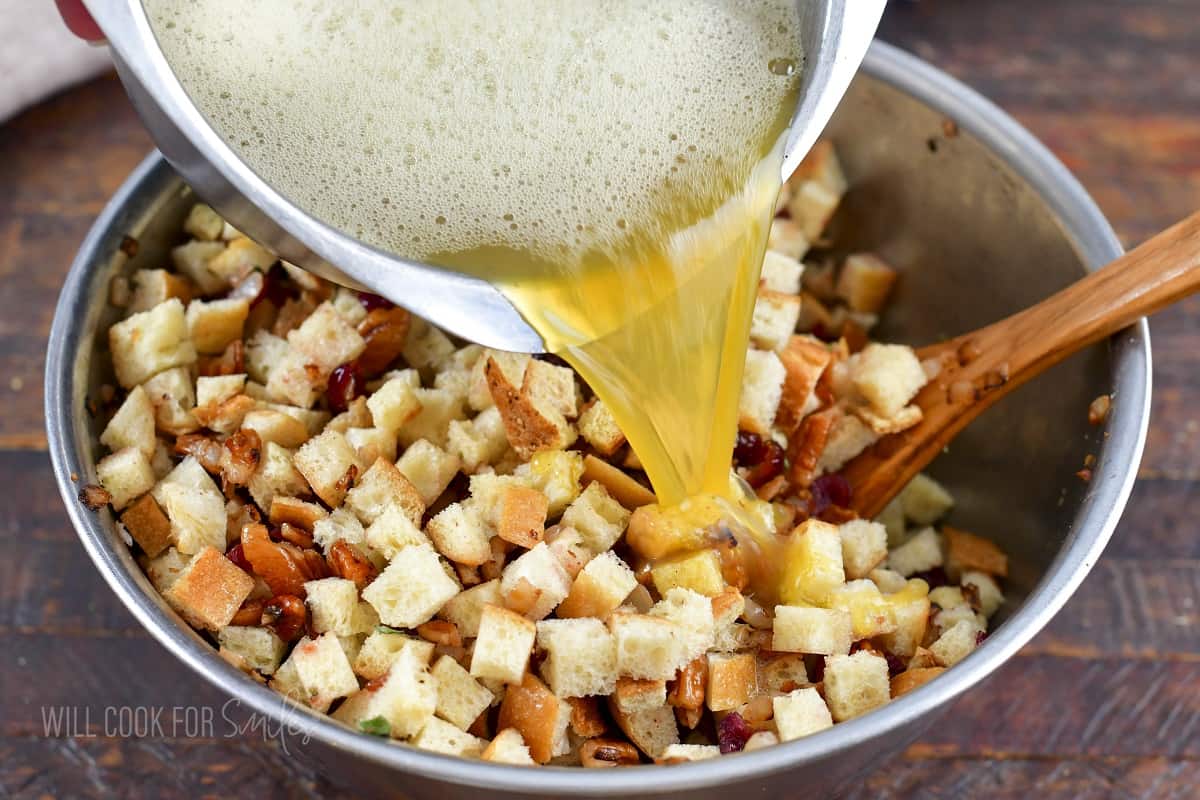 Combine. In a small bowl, whisk together the leftover cranberry broth, broth, eggs, apple juice, and seasoning until fully combined. In another larger bowl, combine the stale bread cubes, sautéed onions, cranberries, nuts, and sage. Mix everything together a few times. Pour the broth and egg mixture over the stuffing ingredients. Mix it all together thoroughly.
Bake the stuffing. Preheat your oven to 350°F. Grease a 9×13 baking dish. Transfer the Cranberry Stuffing to the prepared baking dish and bake for about 35-45 minutes.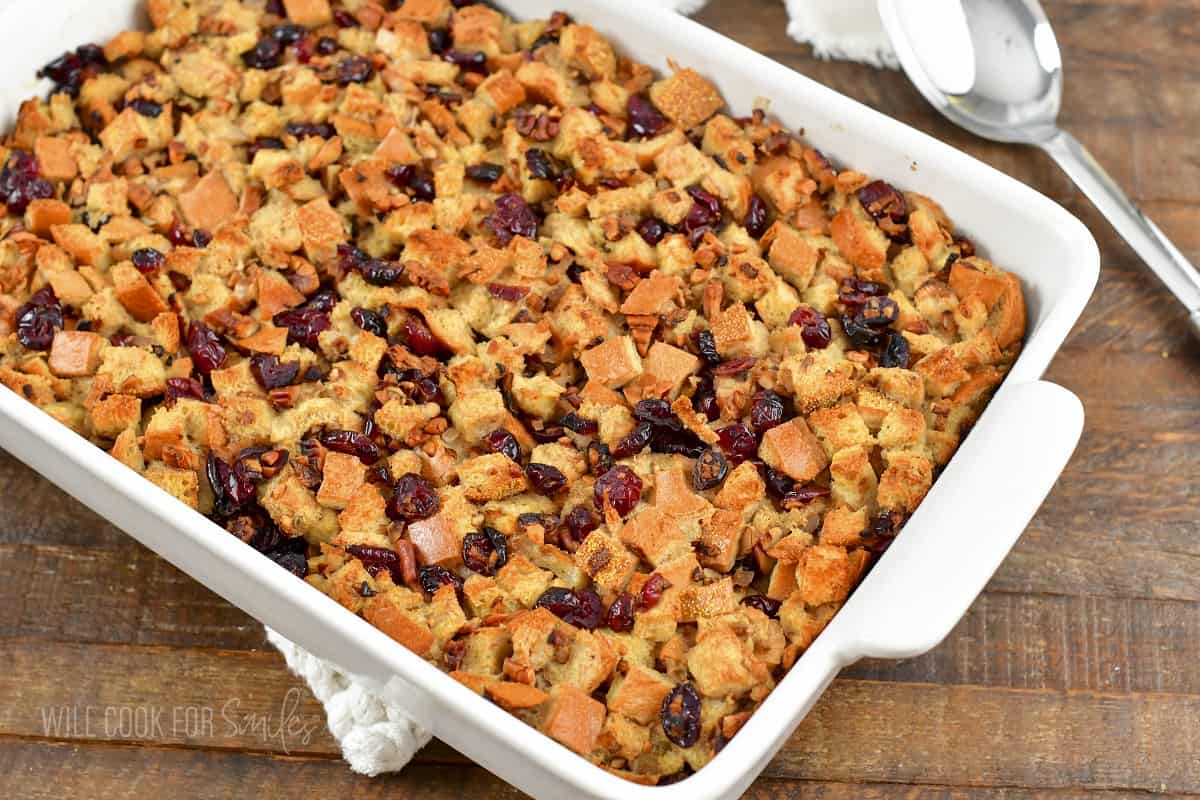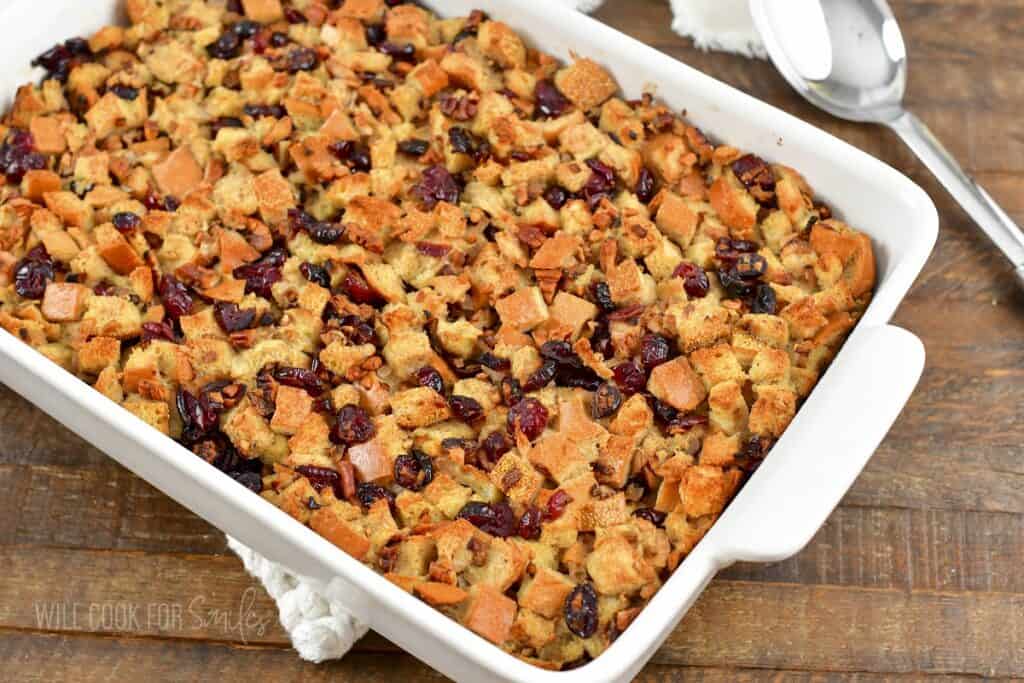 Make Ahead Instructions:
When it comes to stuffing, you already need to plan ahead. You can set time aside to stale the bread naturally for a day or two. Just dice the bread, spread it out onto two baking sheets, and let it naturally go stale in a cool dark place for 24-48 hours. (Of course, if you forgot, there is a way to stale it quickly. Check above.)
Another great way to prepare this stuffing ahead of time is to make it up to the baking step and refrigerate until the next day. Instead of baking it, cover the baking dish tightly with plastic wrap or a fitted lid and place it in your refrigerator. When you're ready to bake the Cranberry Stuffing, simply remove the plastic wrap or lid and bake it per recipe intructions.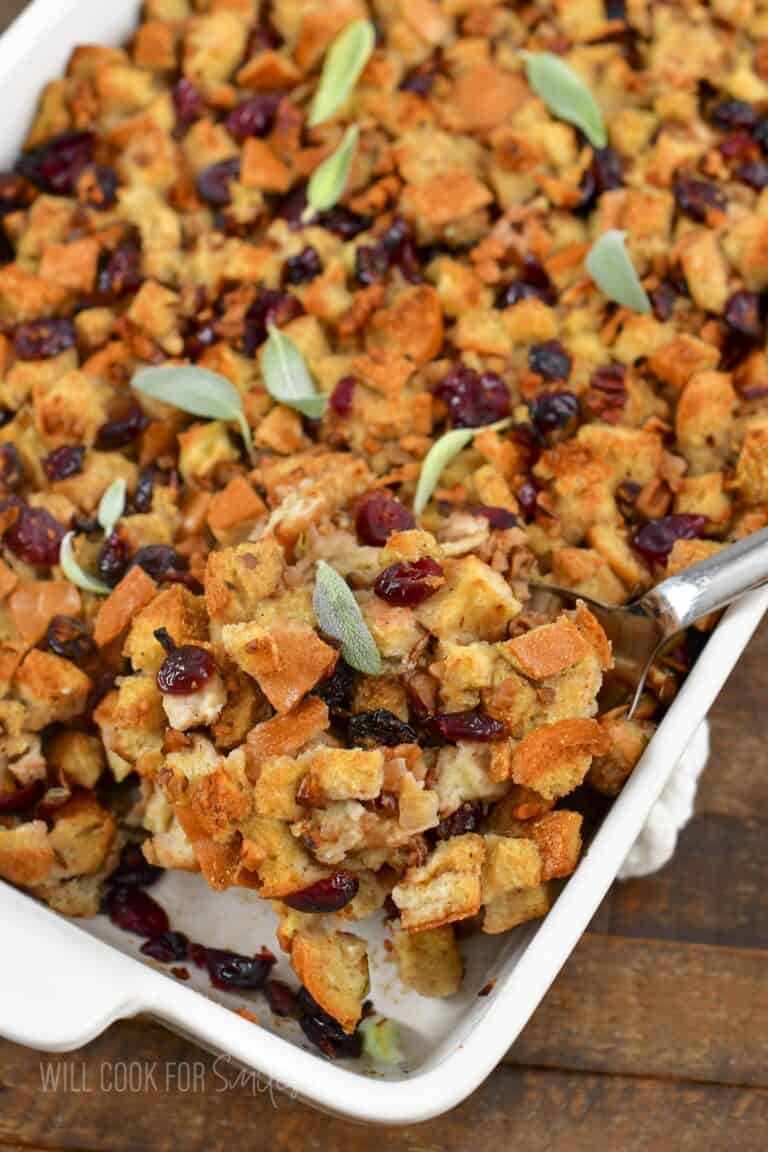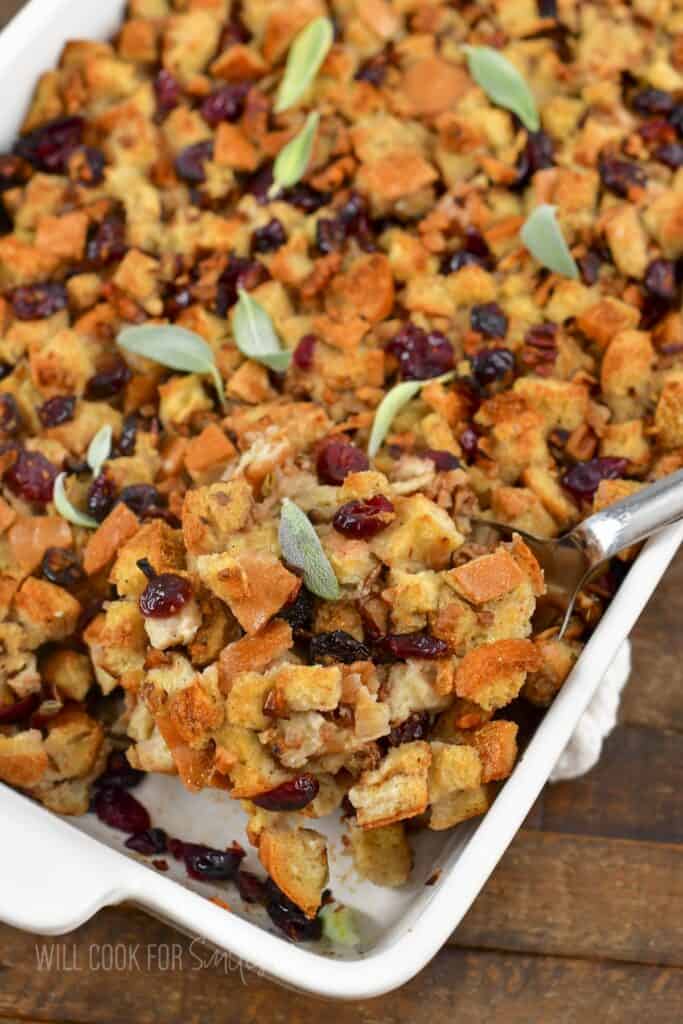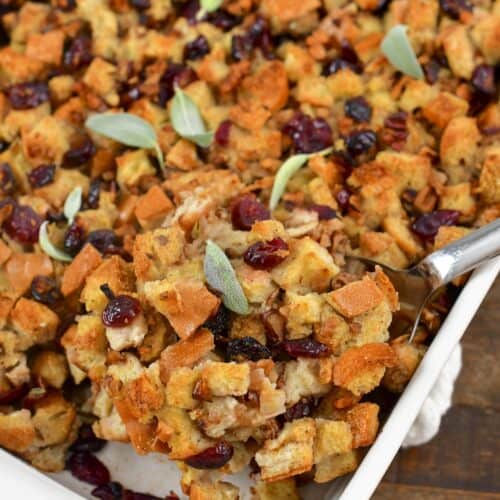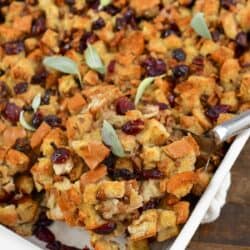 Cranberry Stuffing
Festive Cranberry Stuffing loaded with scrumptious ingredients like cranberries, pecans, sage, onions, Italian bread, and more.
Print
Pin
Save
Saved!
Rate
Ingredients
18

oz

French baguette or Italian loaf

1 1/2

cups

dried cranberries

1

cup

vegetable broth

to soak cranberries

1

tbsp

sherry or red wine vinegar

2

tbsp

olive oil

1

Vidalia onion

diced

1 1/2-2

cups

vegetable broth

1/2

cup

apple juice

3

eggs

1

cup

chopped pecans

5-6

fresh sage leaves

minced

1

tsp

kosher coarse or sea salt

to taste

1/2

tsp

fresh cracked pepper

to taste
Instructions
Making stale bread:
Preheat oven to 200°.

Cut bread slices into small cubes that are about 1/4-1/2-inch in size. Use serrated bread knife to cut easier.

Spread bread in two large, rimmed baking sheets evenly and place the trays in the oven.

Let them bake and harden for about 2 hours.

Take them out and you can prepare the stuffing right away.
Stuffing:
About an hour before making this stuffing, combine cranberries, vinegar and 1 cup of broth in a bowl and let it soak. Drain cranberries when ready to cook but do not discard broth.

Preheat sauté pan, over medium heat. Add oil and diced onions and sauté until onions are transparent. Add plumped cranberries and pecans. Sauté together for a few minutes.

Add enough vegetable broth to the broth drained from the cranberries to make 2 1/2 cups together.  

In a small mixing bowl, combine the broth, eggs, apple juice, and seasoning. Whisk well.

In a large mixing bowl, combine dried bread cubes, sautéed onion, cranberries, and nuts, and sage. Mix a few times and then pour in the broth and egg mixture as you mix everything together thoroughly.

Preheat the oven to 350° and grease a 9×13 baking dish. Transfer the stuffing into the baking dish and spread it evenly.
Nutrition
Calories:
545
kcal
|
Carbohydrates:
77
g
|
Protein:
13
g
|
Fat:
23
g
|
Saturated Fat:
3
g
|
Polyunsaturated Fat:
6
g
|
Monounsaturated Fat:
12
g
|
Trans Fat:
0.01
g
|
Cholesterol:
82
mg
|
Sodium:
1343
mg
|
Potassium:
315
mg
|
Fiber:
6
g
|
Sugar:
32
g
|
Vitamin A:
339
IU
|
Vitamin C:
3
mg
|
Calcium:
131
mg
|
Iron:
4
mg
Tried this recipe?
Mention @willcookforsmiles and tag #willcookforsmiles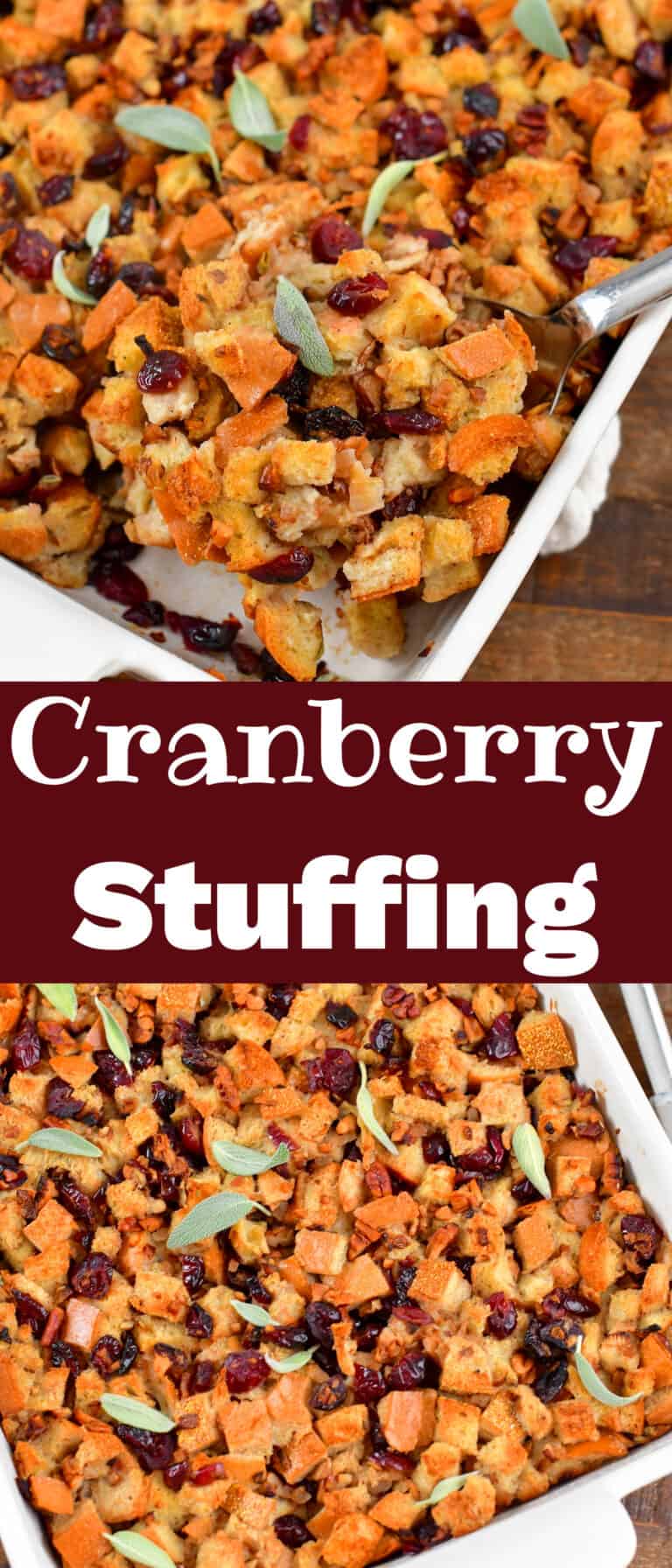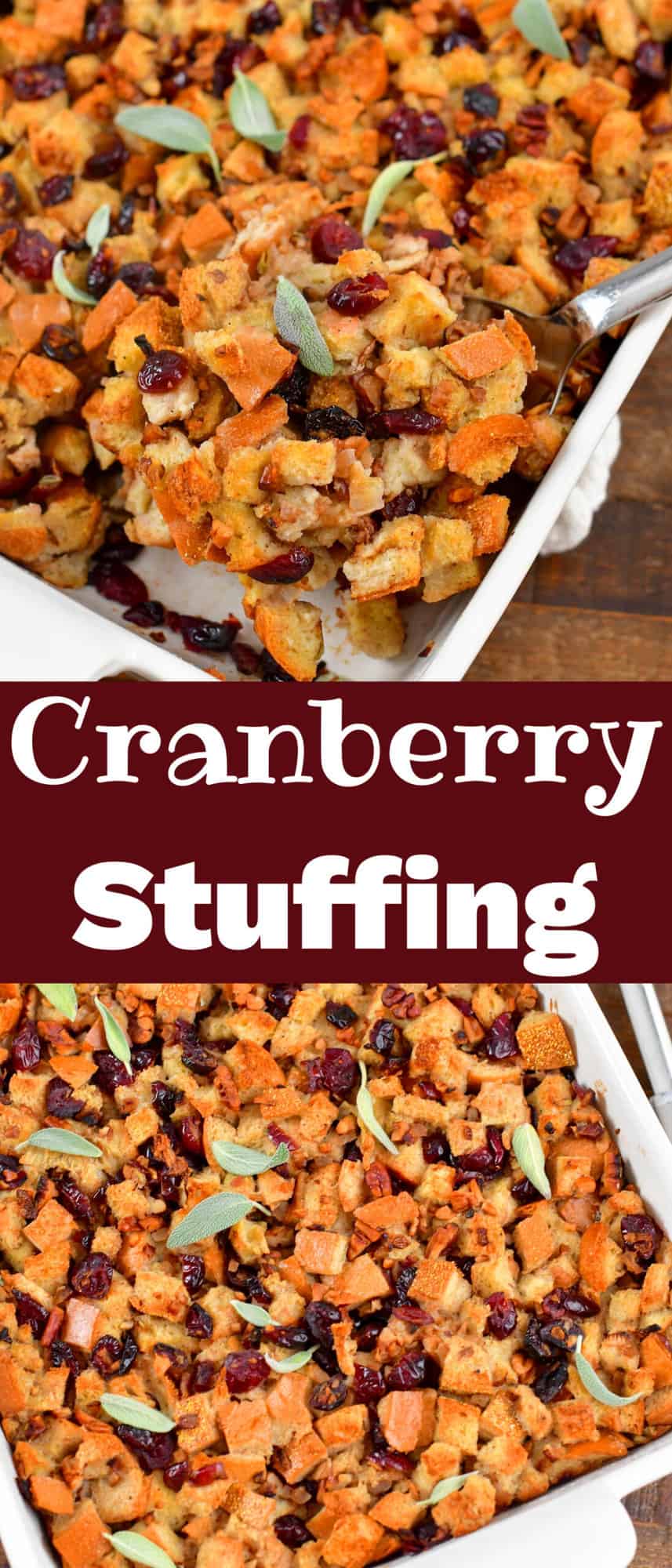 Originally published on Will Cook For Smiles on November 14, 2014.