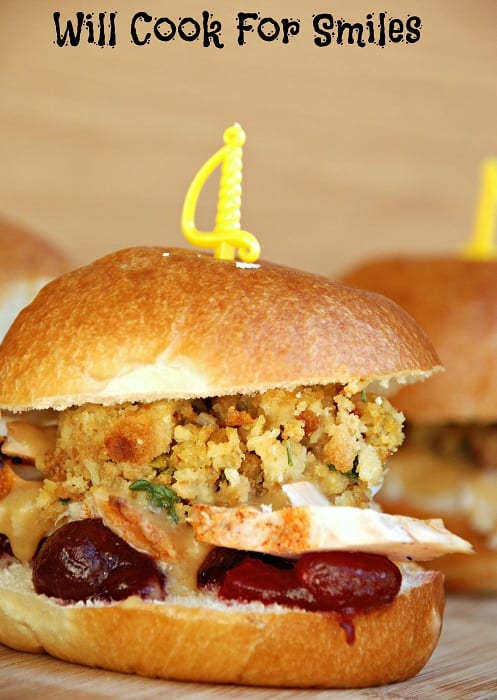 I got something totally awesome to share with you!
We all have a fridge full of leftovers after Thanksgiving dinner. There are so many great recipes around, to use up all that delicious food. I'm adding another one to that collection. These Thanksgiving leftovers sliders are so yummy and a great way to quickly get rid of those leftovers. (They work with dinner rolls too)
Last week, hubby comes home from work with a restaurant supplies magazine and smoked turkey from his restaurant. He hands me the turkey and the magazine. Imagine the look on my face! "What in the world do you want me to do with a restaurant supplies catalog?"
Well, they had a picture of turkey dinner sliders in it and he was drooling from the second he saw it. He wanted me to make him some turkey dinner sliders. Since he asked nicely, I made some stuffing and gravy so we can try these sliders.
I'm sure that you will have all these items in your fridge at the end of next week. All stored in little containers and you will be deciding what to do with it. Just grab them all, and line them up:
Rolls
Turkey
Cranberry Sauce
Stuffing
Gravy
~Split the rolls in half and spread a tablespoon of cranberry sauce on the bottom.
~Add the turkey slices.
~ Add about a tablespoon of dressing on top of turkey.
~ Pour about a table spoon of gravy over the dressing and cover with the bun top.
Connect With ME!!!