A Whole Baked Salmon Filet is a great way to feed the crowd! It's a much healthier dinner option and it's a truly delicious one, too. This baked salmon is flaky, tender and just prefect with the most complimentary flavors of garlic, herbs, lemon, and finished with salty capers. It is a super easy and fast dinner that's sure to impress your guests!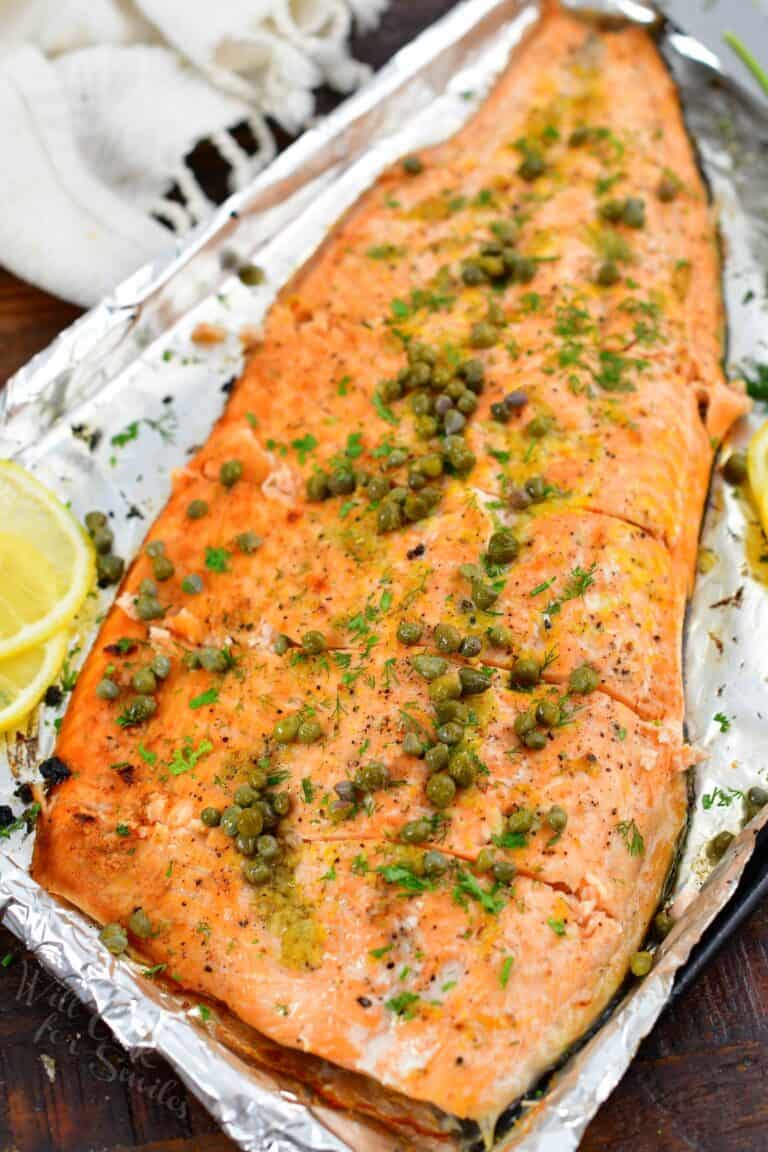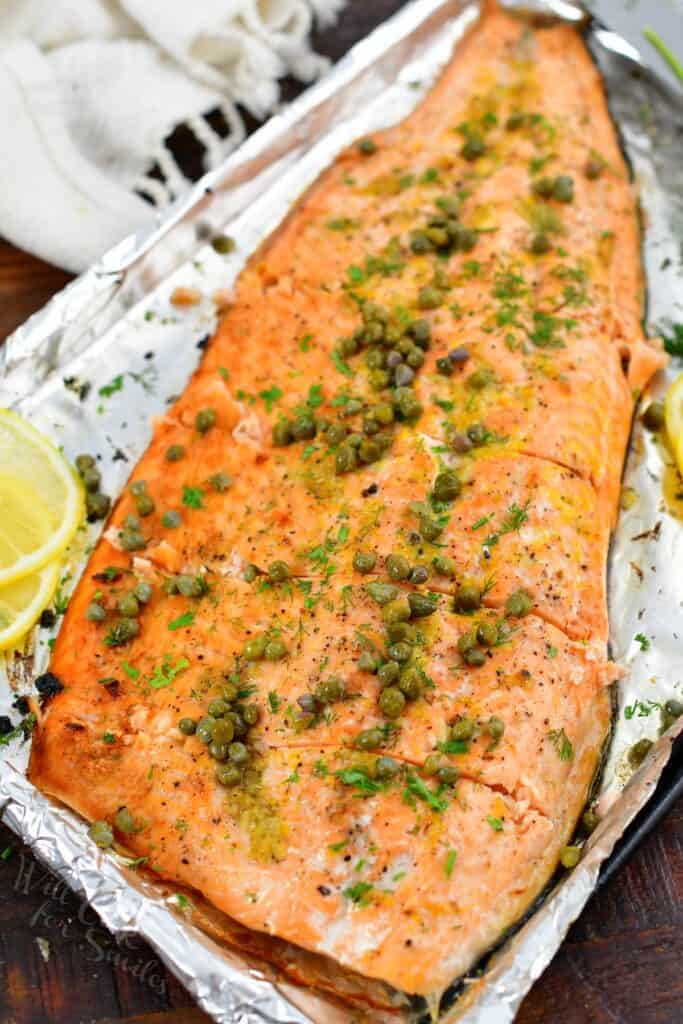 Whole Baked Salmon Filet
I get it – it can be intimidating to bake a whole salmon filet. It's all too tempting to buy a few cuts of salmon from the seafood counter and pop them in the air fryer! As simple as that may be, I can guarantee that baking a whole salmon filet isn't nearly as complex as you may conceive it to be. In fact, this is one of my most favorite easy dinner recipes, whether it's just for my family or for when I'm serving a crowd.
When using these complimentary ingredients and easy to follow steps, I always get the most tender, flavorful, and flaky salmon. In general, salmon has a smooth and mild flavor, which makes it amongst the most (if not THE most) popular fish to eat. I like to enhance that naturally delicious flavor with simple ingredients like fresh lemon zest and capers! They compliment the fish without overpowering it.
Salmon is one of my personal favorite dinner entrees, which is why I have over twenty Salmon Recipes that I turn to quite often! With that being said, this whole baked salmon filet is my go-to recipe when I really want to impress. When I have a large gathering of friends or family over for a dinner party, presenting a whole filet of fish always garners compliments!
Ingredients You Need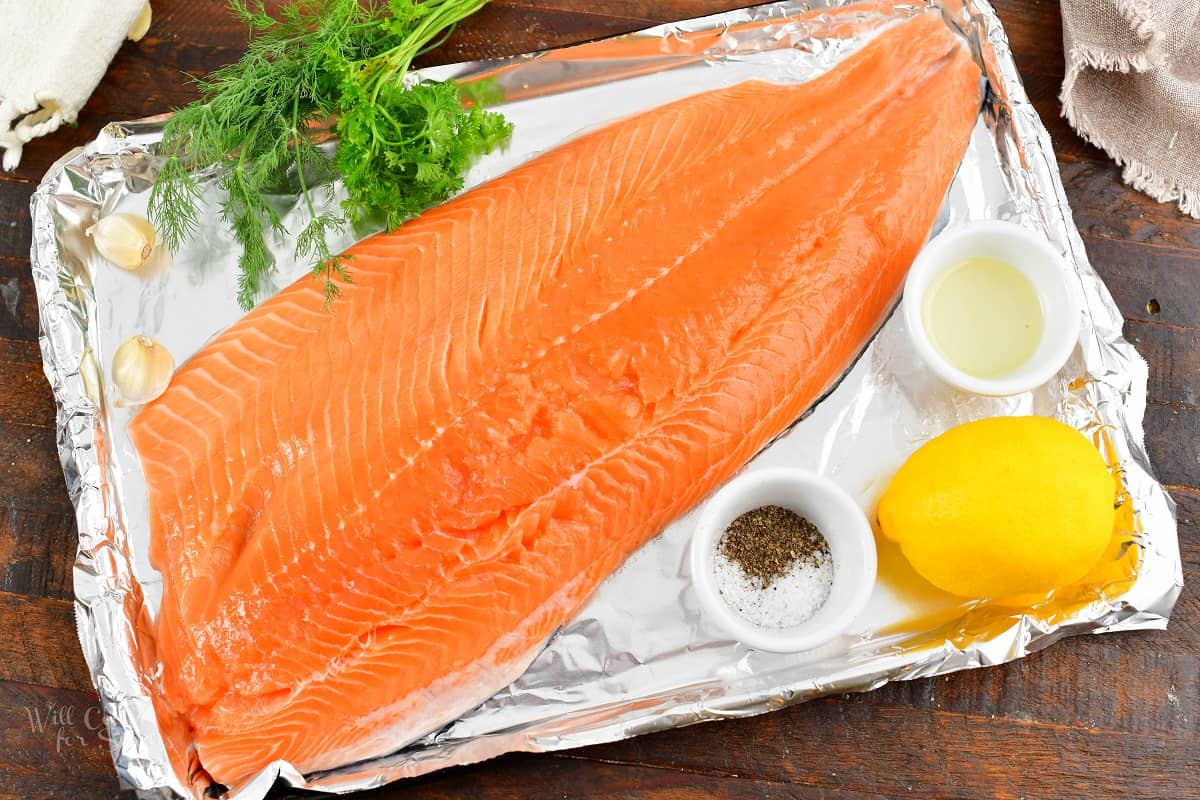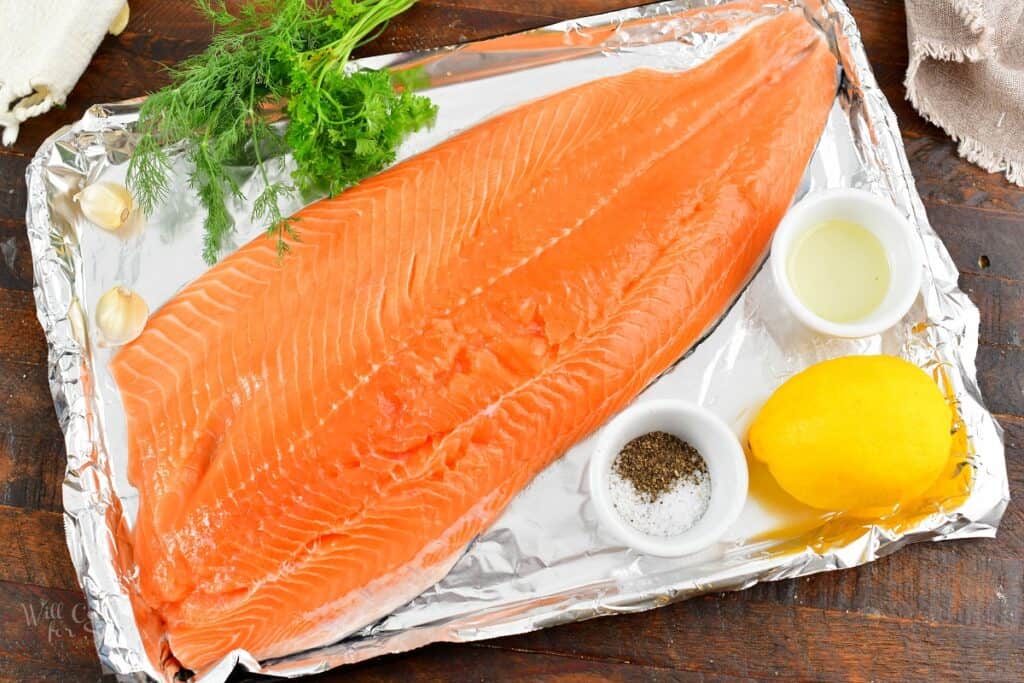 Whole Salmon Filet – Make sure the skin is on, and decide whether you'd like king salmon, sockeye salmon, or Atlantic salmon. I've included more information on each cut of fish in the notes below!
Olive Oil – I like to use extra virgin olive oil for the most rich flavor.
Garlic Cloves – Use fresh garlic cloves, not pre-minced.
Lemon – You'll only need the lemon zest, not the juice. However, save the lemon, as you may want to squeeze the juice over your filet once it's baked.
Salt -use coarse salt for best results.
Black Pepper – Freshly cracked black pepper always yields the most flavor.
Fresh Herbs – Fresh minced dill weed and parsley will create a delicious flavor that perfectly compliments the salmon.
Capers – Be sure to drain the liquid on these capers before using them.
What Kind of Salmon to Buy
Like with most other meats and seafood, quality matters! Try to get a better quality salmon for the best flavor and texture. Better quality fish is also sustainably farmed or caught, which is better for our environment. Ask your fish monger where they get their fish, as most of them will have that information right on the labels. These are some of the most common types you will see at the seafood counter:
King Salmon – This is going to be your most expensive and the most exquisite type of salmon you can purchase. It's rich in flavor, high in fats, and great for any type of cooking. While it's also not as widely available as other types, it's worth the price point for a special occasion if you come across it.
Sockeye/Red Salmon – You'll know this type by it's bright red color and full flavor. This type of salmon is much more available and more inexpensive than other filets. It has a bolder salmon flavor and is leaner.
Atlantic Salmon – You may be surprised to know that all Atlantic salmon is now farm raised. Wild Atlantic salmon is endangered and no longer commercially harvested, so virtually all of it is now farm raised. This type of salmon is the most affordable, has a mild flavor, and has a relatively good amount of fat. When choosing farm raised salmon, consider its sources before purchasing, as this will highly affect the quality.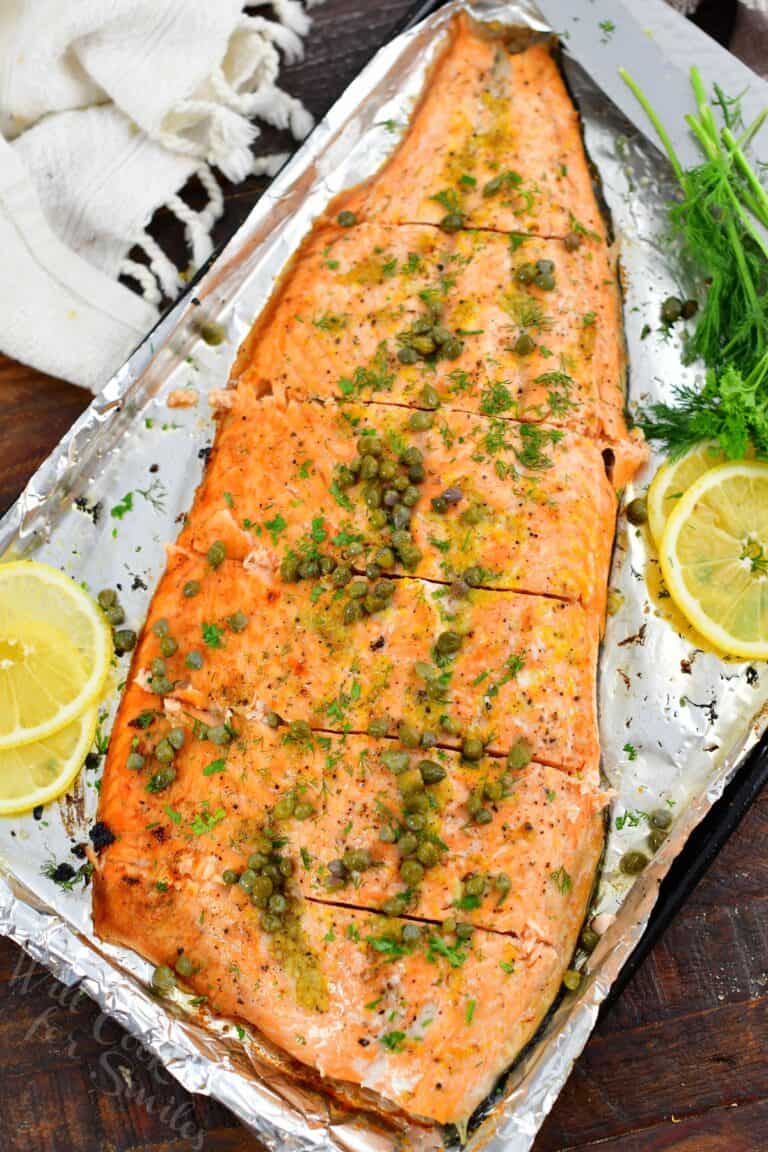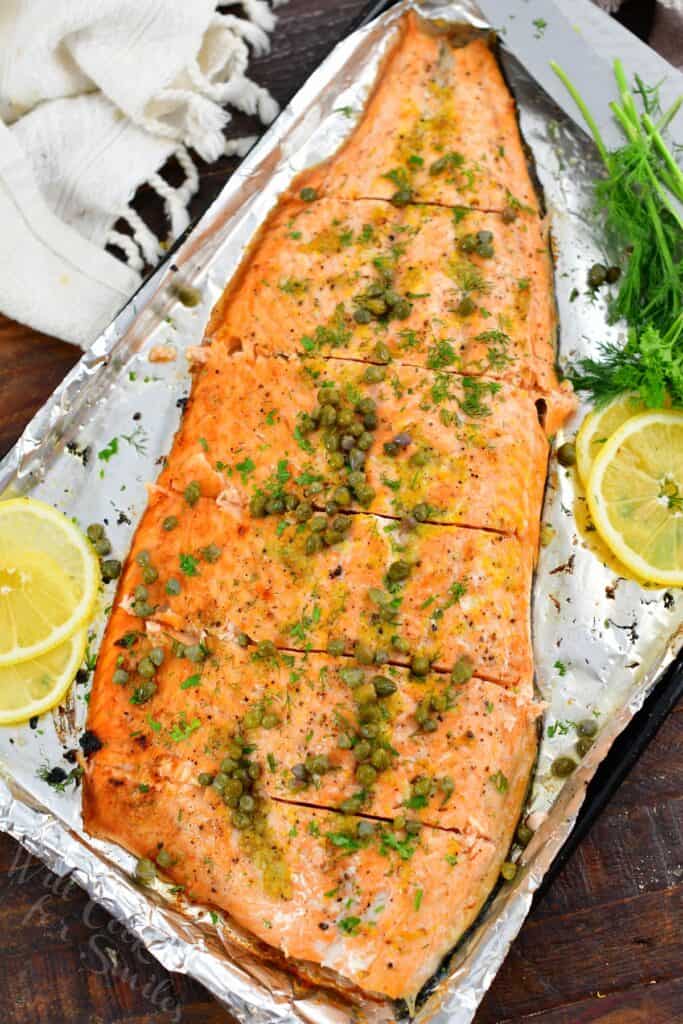 How Much Salmon Per Person
A whole salmon filet will usually weigh in right around 2 lbs., give or take a few ounces. When planning a dinner, I always aim for 1/2 lb. of salmon per person. So a 2-pound filet will yield 4 servings. You can always make more filling sides to go along with it and may be able to get 6 servings out of the whole filet. If you are feeding a larger crowd, it's better to get two whole filets.
Should I keep skin on salmon?
I always recommend buying salmon with the skin on. Did you know that the skin is actually edible, and the majority of healthy fats are located between the skin and filet? The fatty layer between the flesh and the skin stores a lot of flavor, moisture, and health benefits. While salmon is baking, the natural fat melts into the meat and helps infuse the meat with both flavor and moisture.
If you don't want to eat the skin, that's also fine! You can peel it off once the salmon is fully baked before you serve it.
How to Make a Whole Baked Salmon
Preheat the oven to 425°F and prepare a baking sheet with parchment paper. This will help with the clean up afterwards, and it'll prevent the salmon skin from sticking to the baking sheet.
Pat the salmon filet dry with a paper towel before rubbing the skin with olive oil. Then, place it skin side down on the prepared baking sheet.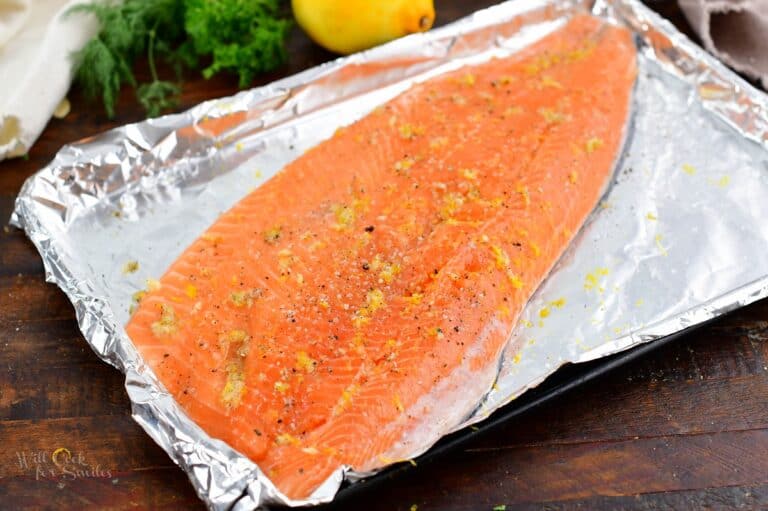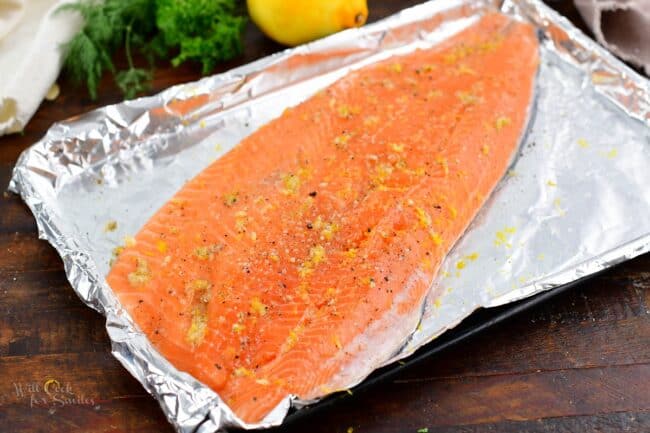 Season the filet evenly with salt and pepper, then rub the pressed garlic into the filet. Spread the lemon zest all over.
Bake the filet for approximately 18-22 minutes. You'll know it's ready to take out of the oven when the internal temperature of the fish is 145°F. With that being said, I prefer salmon at a medium temperature, which is 125°F-135°F.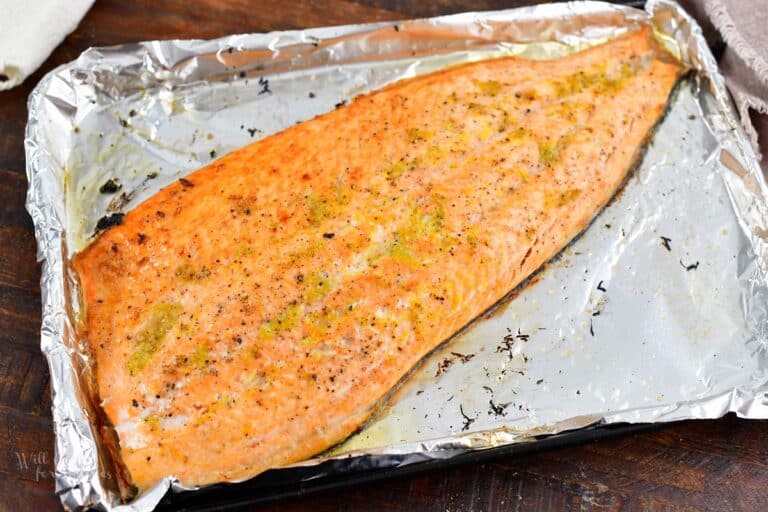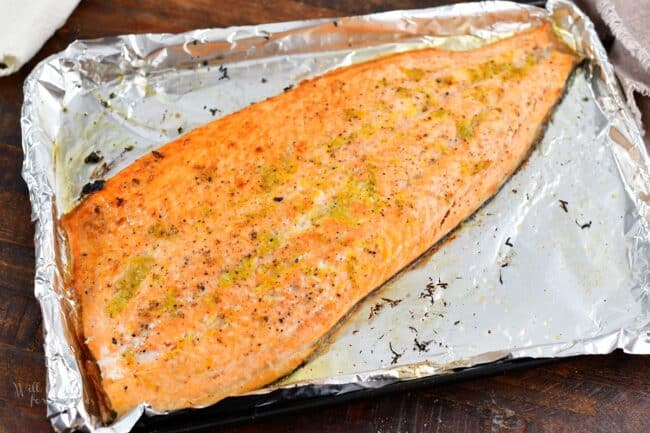 Allow the salmon to rest at room temperature for a few minutes before serving. After a few minutes, sprinkle fresh herbs and capers over the top, and enjoy!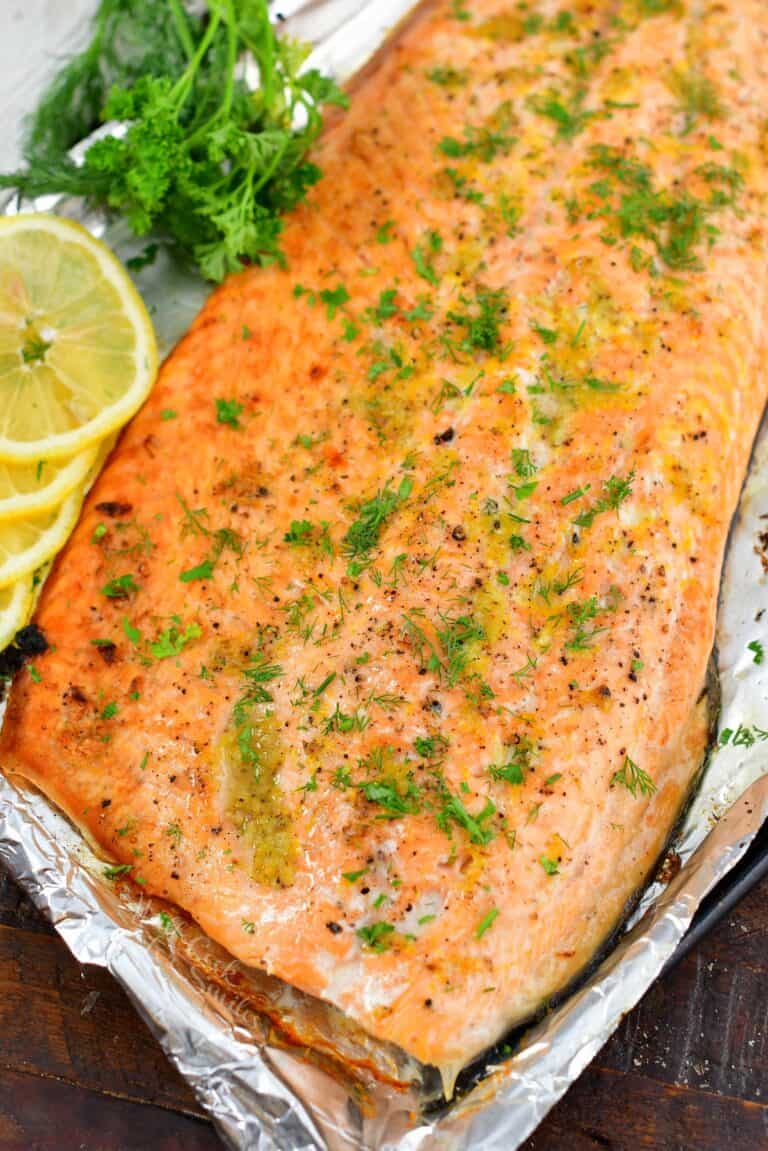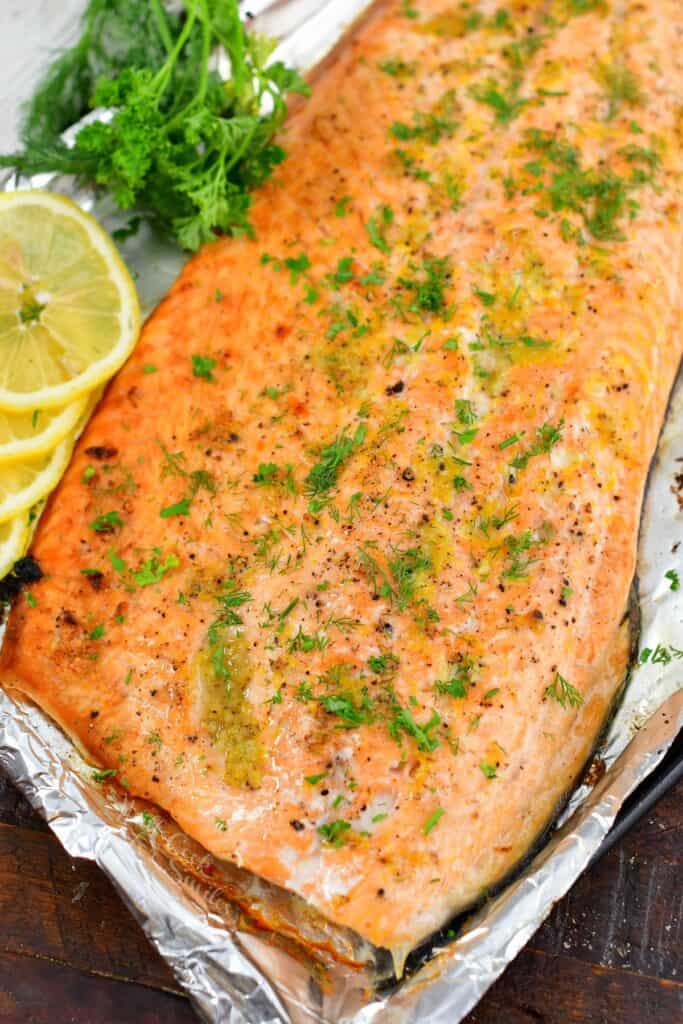 What Sides To Serve With Salmon
Salmon is a nicely light main course so I like to serve a combination of light and hearty sides. So you can think of nice crispy vegetables or a salad as a light side and potatoes or rice as a hearty side.
Potato Side Dishes: mashed potatoes, roasted potatoes, scalloped potatoes, roasted fingerling potatoes.
Rice Side Dishes: rice pilaf, coconut rice, Spanish rice.
Light Vegetable Sides: sautéed green beans, sautéed mushrooms, Italian roasted asparagus, honey butter roasted carrots.
Salads: Caesar salad, tomato cucumber salad, Greek salad, kale salad.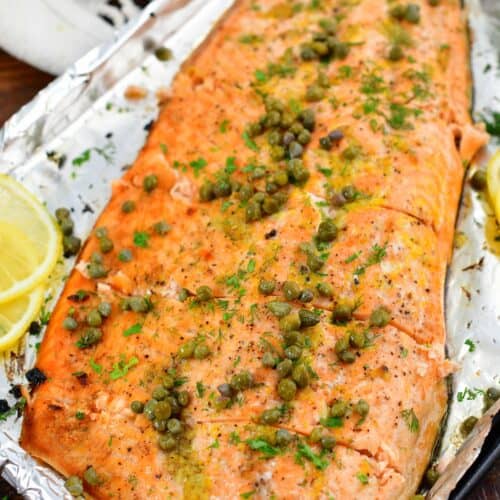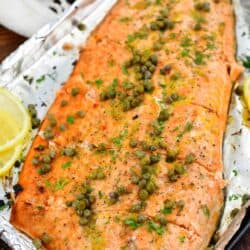 Whole Baked Salmon Filet
This baked salmon is flaky, tender and just prefect with the most complimentary flavors of garlic, herbs, lemon, and finished with salty capers.
Print
Pin
Save
Saved!
Rate
Ingredients
2

lb

whole salmon filet, skin on

2

tbsp

olive oil

2

large garlic cloves

pressed

1

lemon – zest only

coarse salt

black pepper

1

tbsp

fresh minced dill weed

1

tbsp

fresh minced parsley

2-3

tbsp

capers

liquids drained
Instructions
Preheat the oven to 425°. Line a baking sheet with parchment paper for easy clean up and to prevent salmon skin from sticking to the baking sheet.

Take salmon filet out of the package and pat it dry with a paper towel all around.

Rub it with some olive oil on the flesh and the skin side and place it skin side down on the prepared baking sheet.

Season salmon with salt and pepper all over the filet.

Rub pressed garlic evenly all over the salmon and then spread lemon zest all over.

Place into the oven and bake for 18-22 minutes, depending on the thickness. Salmon is considered fully cooked at 145° internal temperature. (Personally, I prefer salmon at medium or medium-well temperature, which is around 125°-135°.)

Take salmon out of the oven when ready and let it rest on the serving dish for a few minutes.

Sprinkle fresh herbs and spread capers around the top and serve. You can also utilize the leftover lemon that was zested and serve some of the lemon wedges along with salmon.
Nutrition
Calories:
388
kcal
|
Carbohydrates:
1
g
|
Protein:
45
g
|
Fat:
21
g
|
Saturated Fat:
3
g
|
Polyunsaturated Fat:
7
g
|
Monounsaturated Fat:
10
g
|
Cholesterol:
125
mg
|
Sodium:
212
mg
|
Potassium:
1128
mg
|
Fiber:
1
g
|
Sugar:
1
g
|
Vitamin A:
189
IU
|
Vitamin C:
4
mg
|
Calcium:
35
mg
|
Iron:
2
mg
Tried this recipe?
Mention @willcookforsmiles and tag #willcookforsmiles