Sautéed mushrooms is a perfect rich and buttery side dish for your steaks, chicken, and pork. It only takes about 15 minutes to prepare but you get a ton of flavor from a simple addition of butter and garlic to the mushrooms.
It's our favorite side dish to serve with any steaks, whether we make steaks in the oven or pan seared.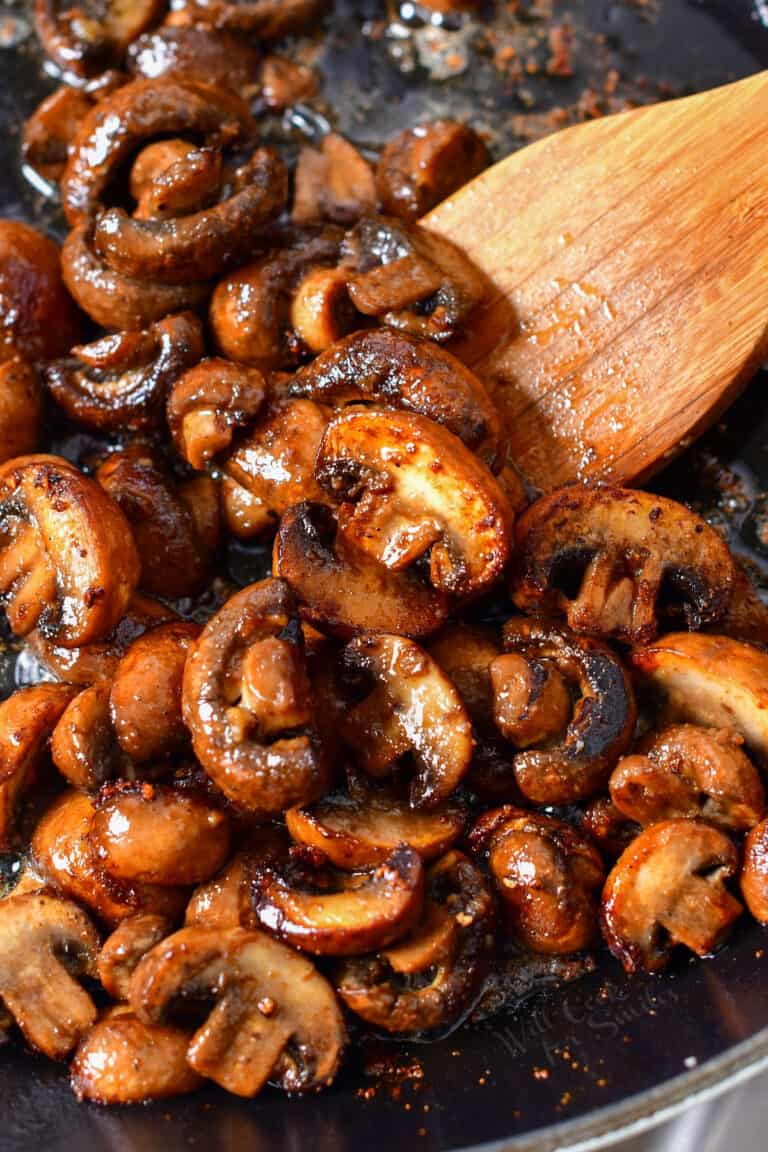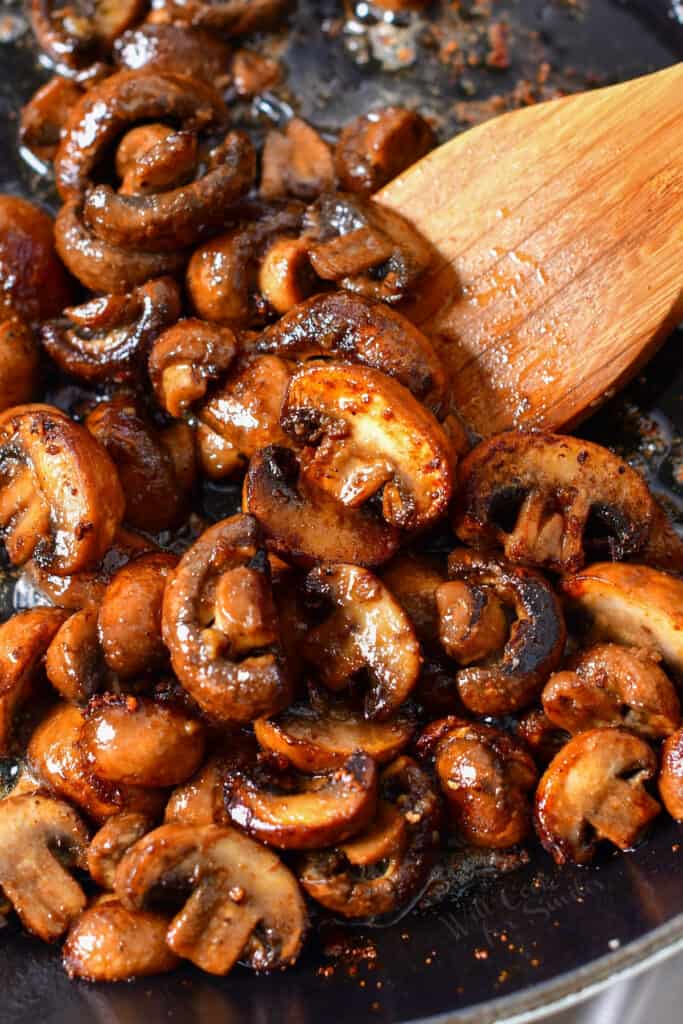 Even though potatoes are hard to beat, sautéed mushrooms is definitely our favorite vegetable side dish. It's such a perfect companion to steaks and chicken, especially when the protein is simply grilled, seared, or baked. So mushrooms make a perfect rich and flavorful side that is still healthy and not packed with carbs and starch.
Even thought there is a very simple seasoning on the mushrooms, you will enjoy their full, rich flavor. All you need is some butter, fresh garlic, salt, black pepper, and garlic powder. I do like to combine fresh garlic and garlic powder because each bring something different to the overall flavor.
As an added bonus, when you slice them thinly, sautéed mushrooms will make a delicious topping on grilled steak, oven baked chicken, or burgers.
Ingredients to Make Sautéed Mushrooms
One of the best things about sauteing mushrooms is that you need nothing more than a few seasonings and some fat to cook them in.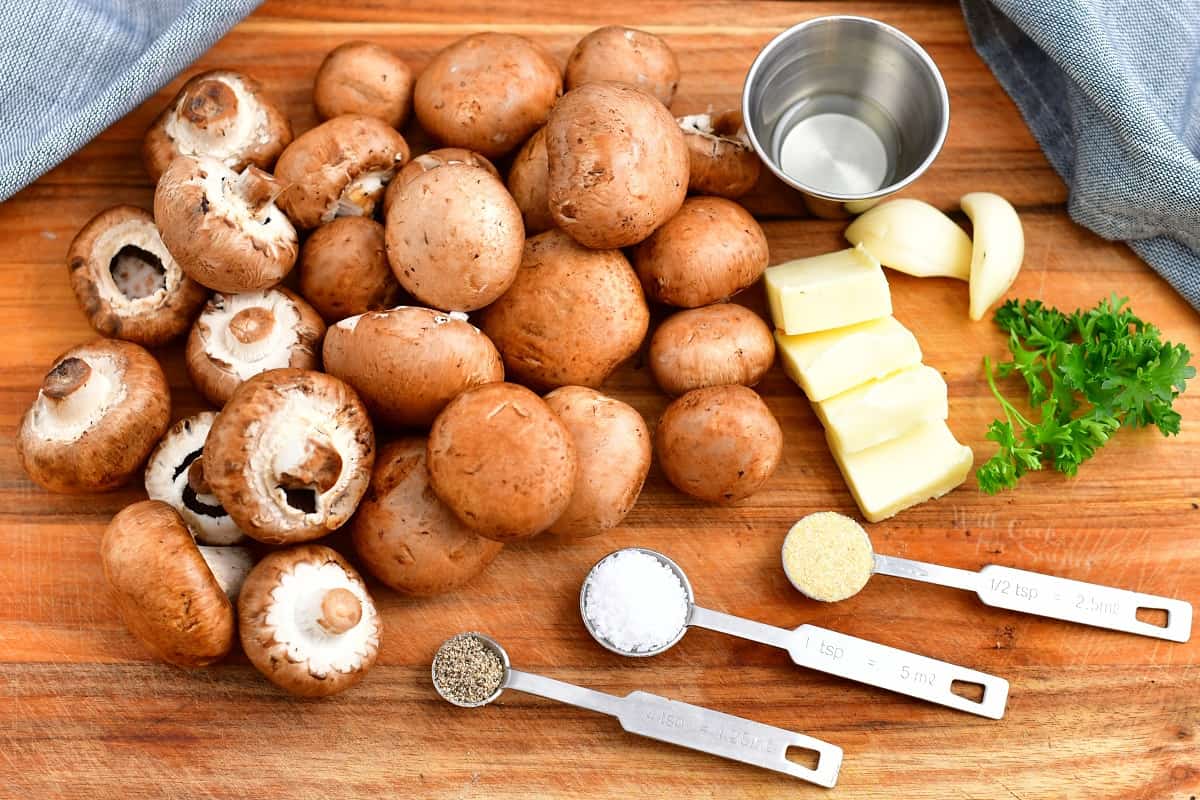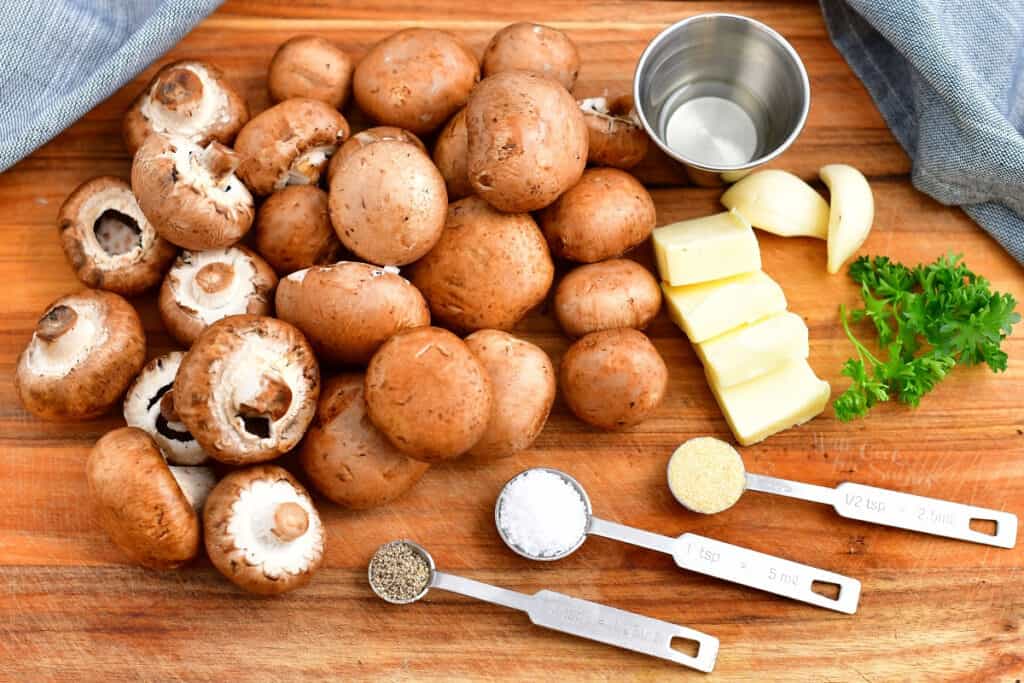 This is what you'll need:
Cremini mushrooms– these are your basic baby bella mushrooms but you can also get creating with a gourmet blend.

Cooking oil– go with mild flavored cooking oil like canola or vegetables. You can also use avocado or grapeseed oil if you want a little more health benefits.

Butter– this will add a lot of rich flavor to the sautéed mushrooms.
Garlic – fresh garlic is the best choice for flavor. Trust me, the ones you can get already pressed and minced at the store don't taste as good.
Seasoning– For even more flavor, I add salt, fresh cracked black pepper, garlic powder, and some parsley.
Which mushrooms to choose?
For an average weeknight dinner, I just use white button mushrooms or cremini, aka baby bella mushrooms.
If you want something a little fancier, get packages of shiitake and oyster mushrooms to combine with the cremini. It will make a nice gourmet mushroom blend.
Can I Wash Mushrooms?
Most mushroom varieties grow in overgrown, high humidity forest areas. As a result, they are usually harvested with a good amount of mud and dirt on them.

Wiping them one at a time with a moist paper towel is one way to clean them, but it can be tedious and time consuming.
You'll be happy to know that you can actually wash whole mushrooms by quickly rinsing them under cool tap water! However, avoid washing cut mushrooms.

Mushrooms are like little sponges so when they're cut, they absorb a lot of liquid when exposed to it.
Whole mushrooms won't absorb liquid easily or quickly. So you can quickly rinse whole mushrooms under cold water and wipe them with a paper towel right away. This will save you some time in preparation.
How to Make Sautéed Mushrooms
Clean and prep the mushrooms.
After cleaning them, you'll want to slice them into halves or quarters. If the caps are rather large, you can simply cut them into slices.

The important thing is to keep the pieces as equal in size as possible.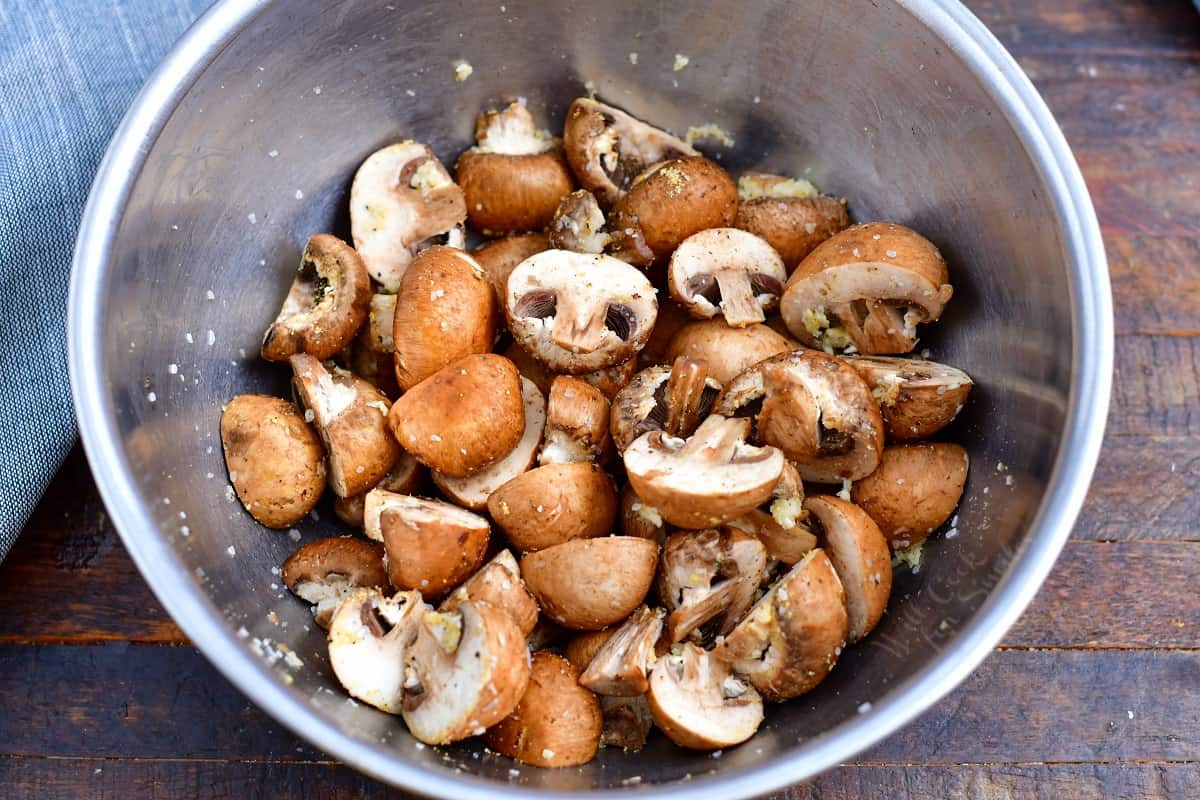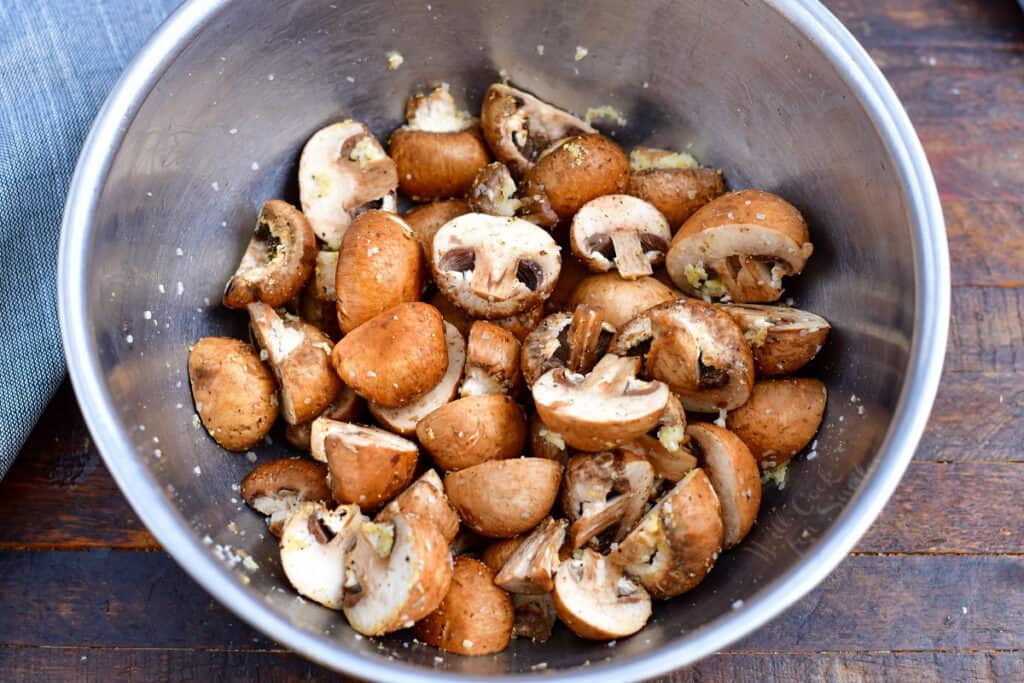 Preheat your skillet.
When the mushrooms are clean, dry, and sliced, add them to a bowl, toss with oil, and then toss with pressed garlic and seasoning.
Then, place a dry skillet over medium-high heat to get hot before you add mushrooms.
Sear mushrooms.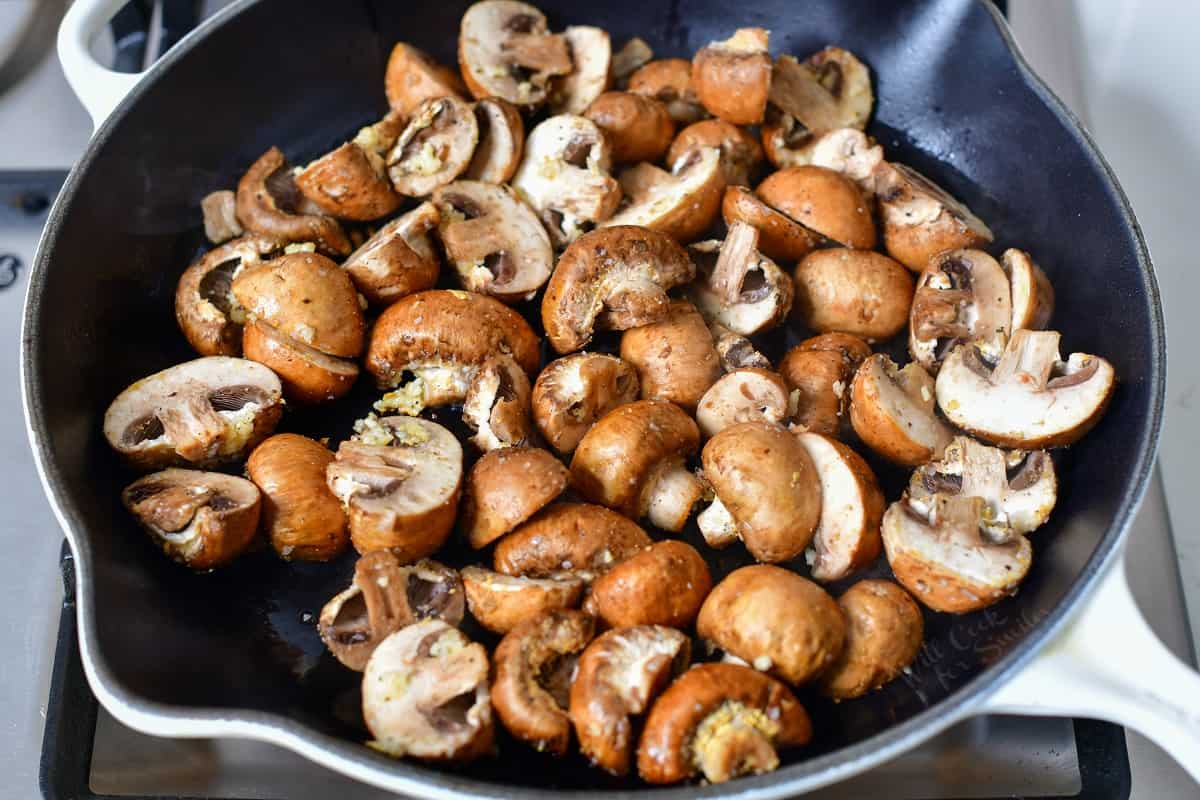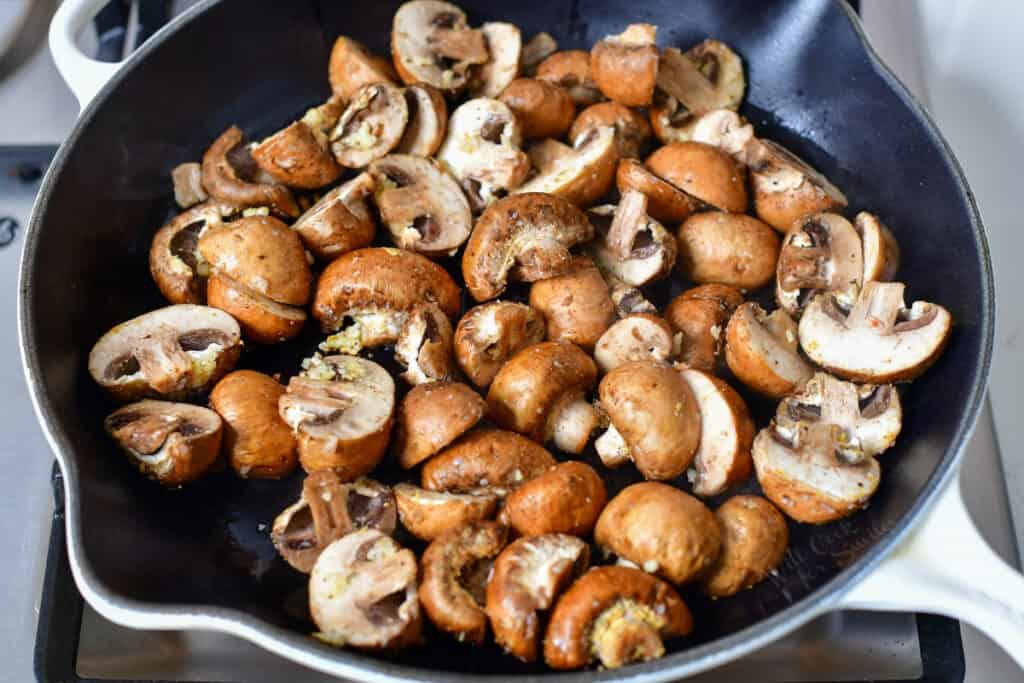 The first step of sautéing any food is to sear the outside. This will lock in the flavor, create more flavor, and help mushroom from being tough or dry when they are cooked.
So let them sear undisturbed for a couple of minutes.
Add butter to the pan and reduce the heat.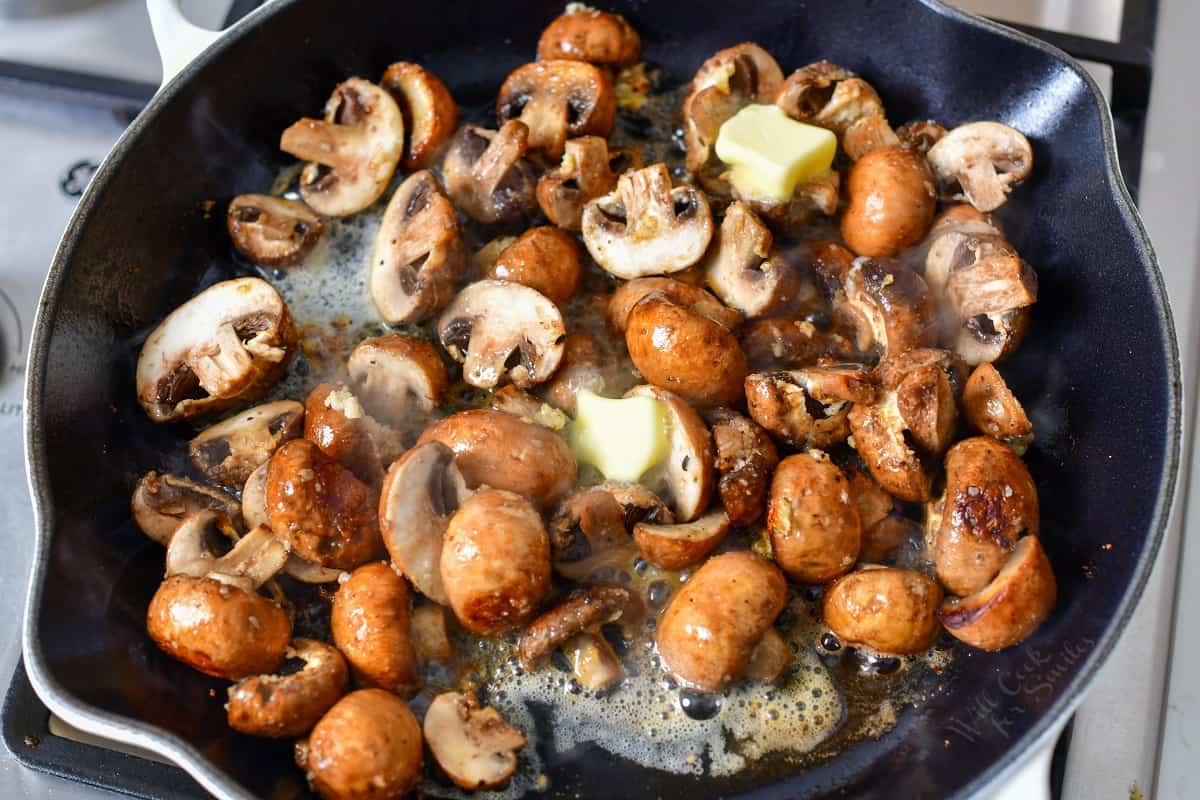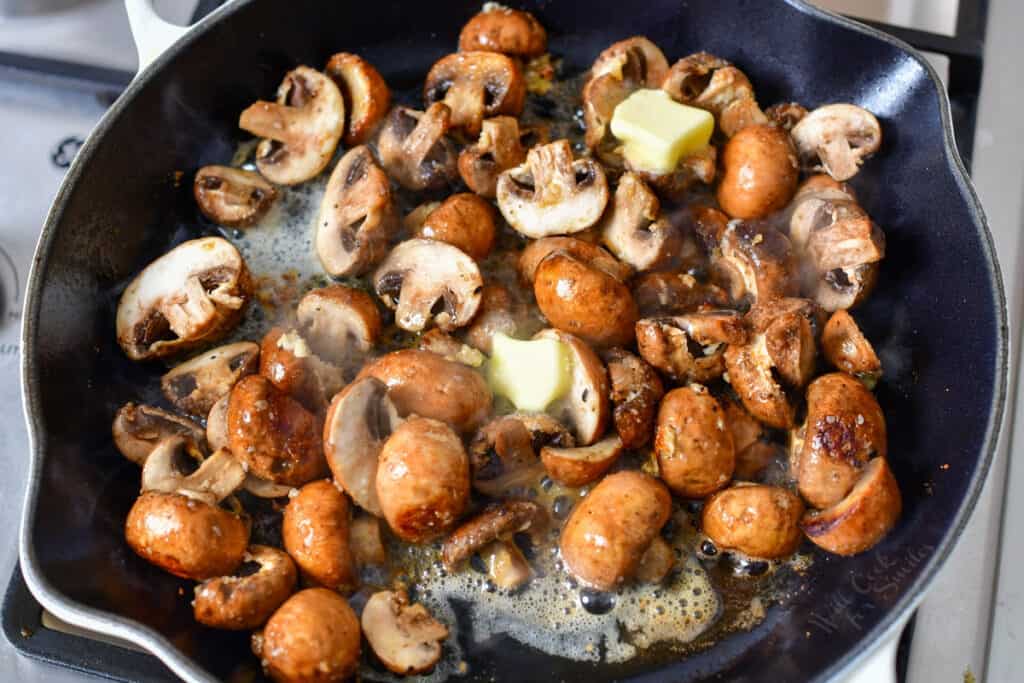 Continue cooking for several minutes, until the mushrooms reduce in size but are still soft and plump. Try not to disturb them too much or stir too much so you get a nice sear of all the sides.

Just keep in mind that the mushrooms will definitely absorb the fat! Your dish will be delicious, but certainly not low in calories.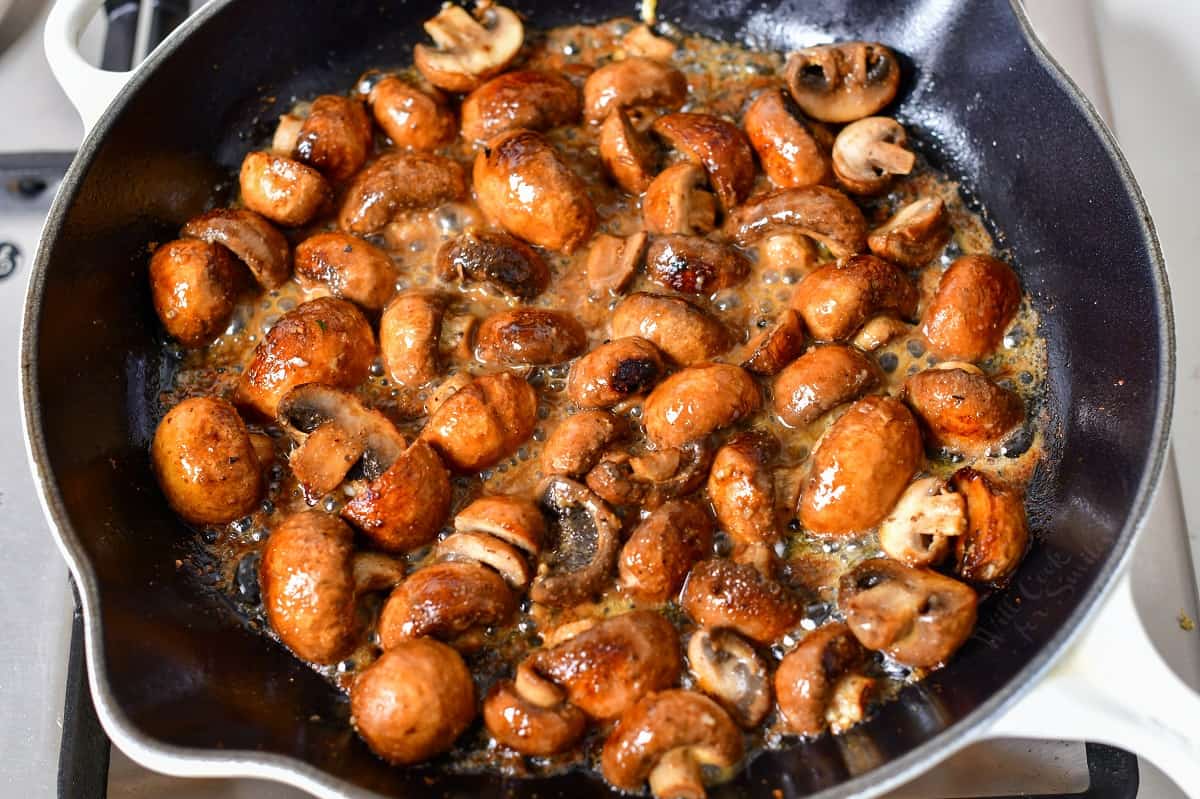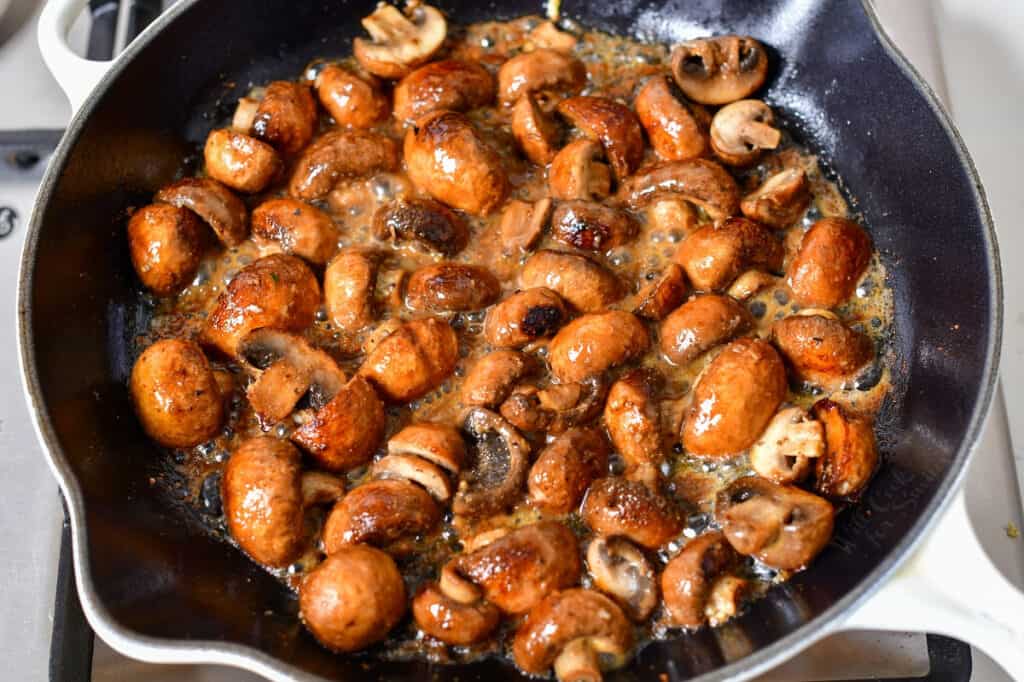 Garnish with fresh parsley and serve!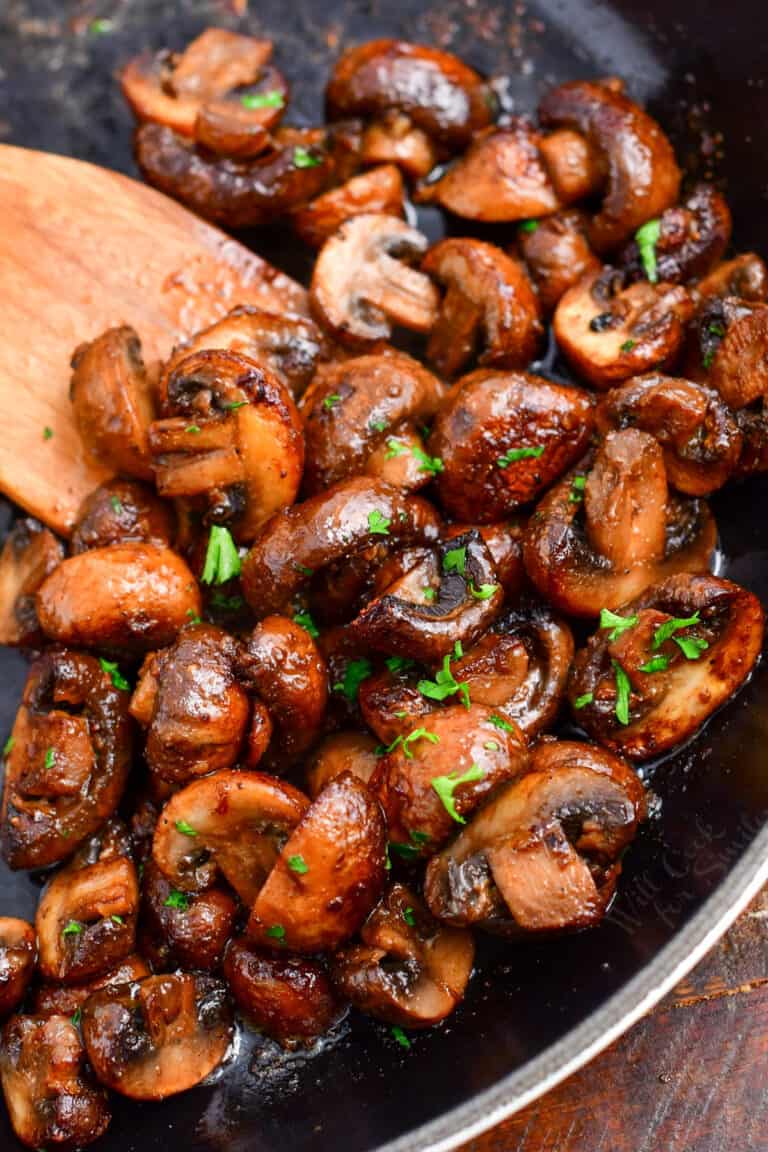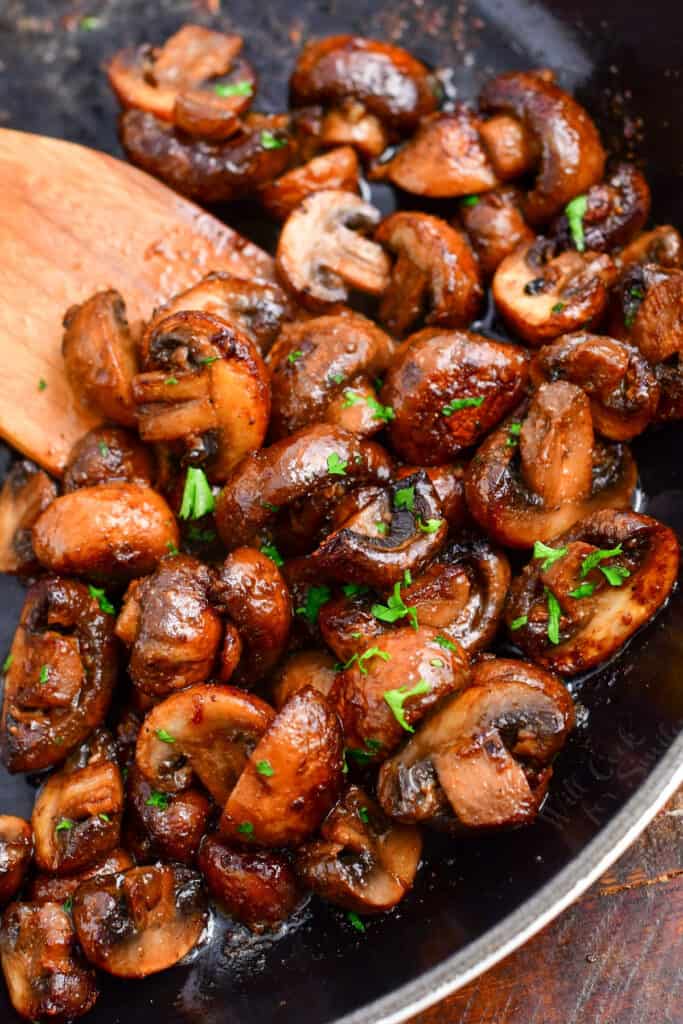 Storing and Reheating Instructions
If you have any sautéed mushrooms left over, store them in an air-tight container in the refrigerator. For the best flavor, use them within 3 days, but they should keep for up to 5 days.
To reheat mushrooms, preheat the cooking pan over medium heat first. Then, add the mushrooms with the juices and butter that might be in the storage container. Cook it just until mushrooms are heated through.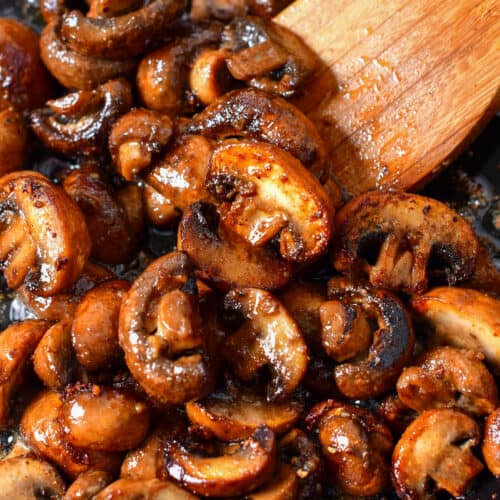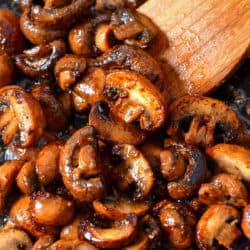 Sautéed Mushrooms
Sautéed mushrooms is a perfect rich and buttery side dish for your steaks, chicken, and pork. Simple ingredients and 15 minutes of your time is all you need!
Print
Pin
Save
Saved!
Rate
Ingredients
16

oz

cremini or white button mushrooms

3

cloves of garlic

1/2

tsp

garlic powder

1/4

tsp

black pepper

salt

to taste

1/2

tbsp

canola oil

to toss mushrooms

1

tbsp

canola oil

for cooking

1 1/2

tbsp

unsalted butter

minced parsley

for garnish
Instructions
Rinse whole mushrooms under cold water quickly and pat them dry with a paper towel right away.

Cut mushrooms into half, or quarter if they are very large, and add them to a mixing bowl.

Toss mushrooms in 1/2 tbsp. of oil to coat them and then add pressed garlic cloves, salt, pepper, and garlic powder. Mix well to coat mushrooms evenly.

Preheat the skillet first, over medium-high heat.

Add a tablespoon on oil and spread it around. Add mushrooms in an even layer and let them sauté, undisturbed, for a few minutes to get a nice sear on them.

Add butter and let it melt. Once butter is melted, mix mushrooms and let them sauté again, undisturbed. Keep mixing once in a while, but not too often, letting mushrooms get a sear each time. Depending on the size, it will take 7-10 minutes to cook mushrooms.

Once mushrooms are done, take them out and serve. Garnish it with some parsley if you'd like.
Nutrition
Calories:
114
kcal
|
Carbohydrates:
6
g
|
Protein:
3
g
|
Fat:
10
g
|
Saturated Fat:
3
g
|
Trans Fat:
1
g
|
Cholesterol:
11
mg
|
Sodium:
8
mg
|
Potassium:
524
mg
|
Fiber:
1
g
|
Sugar:
2
g
|
Vitamin A:
132
IU
|
Vitamin C:
1
mg
|
Calcium:
27
mg
|
Iron:
1
mg
Tried this recipe?
Mention @willcookforsmiles and tag #willcookforsmiles