Easy way of cooking Pork Loin is to simply roast it in the oven with garlic and herbs. This juicy and tender pork loin is baked on a bed of veggies for extra flavor and moisture, stuffed with garlic cloves, and rubbed with an herb mixture. Juices that accumulated from roasting pork loin can be used to make delicious gravy for the pork.
We love pork loin in our family, try you other recipes like Stuffed Pork Loin and Roasted Pork Loin with Gravy.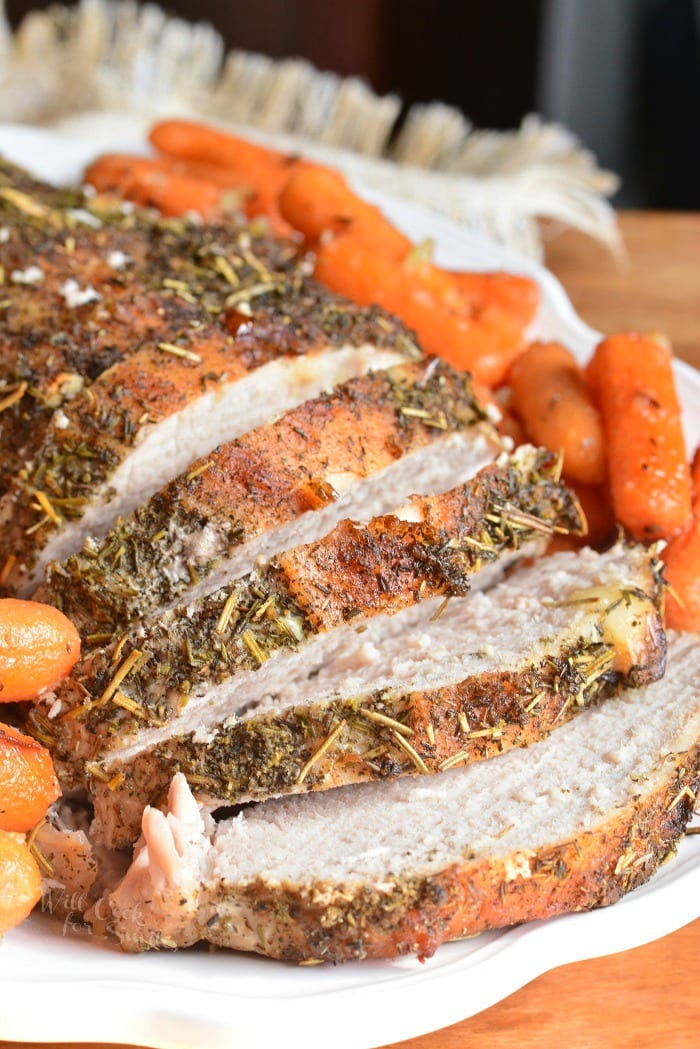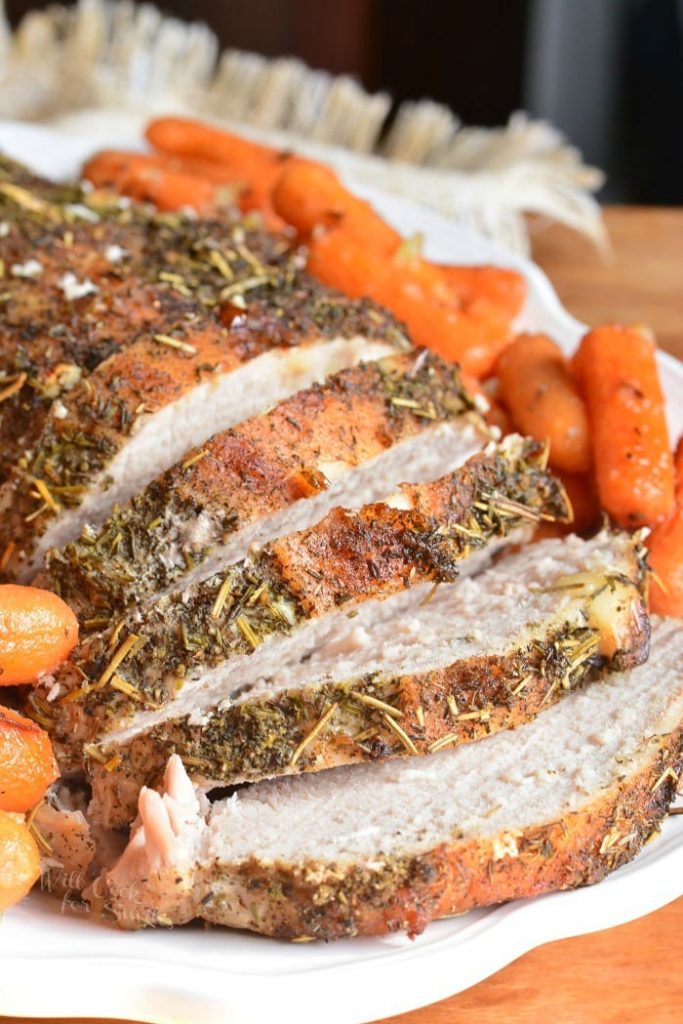 Pork loin is a great main course that you can serve at the holidays or weekend family dinner. It's a great alternative to chicken and it is still a lean and light meat.
When you season it well, especially when you infuse garlic into the meat, it will be flavorful and aromatic. Of course, you can always make a delicious sauce or gravy with it but it's really not needed.
My favorite way to prepare this simple pork recipe is to get a good amount of garlic into it. To infuse the meat with garlic, I cut little slits all around the outside of the meat and place sliced fresh garlic into it. This will flavor the meat as it cooks in the oven.
The Difference of Pork Loins vs Tenderloin
If you've ever gotten the wrong cut of pork at the store, don't beat yourself up. Many people actually mistake pork loin and pork tenderloin and I have to confess, I was one of them at first. I used to think that pork loin was just another word for pork tenderloin but it is actually a completely different cut.
Pork loin, also goes by names like "center cut pork loin" and "pork loin roast." It is a wide and flat cut that comes from the back of the animal. The location is similar to the pork tenderloin but it is quite difference in texture and flavor. It can come boneless or bone-in and can run quite big in size. It's best to roast pork loin at lower temperature.
It's a lean cut of meat that is not as flavorful as the tenderloin, so it benefits from seasoning and sauce. This is also the cut that is used to create pork chops.
Pork tenderloin is the long, thin cut of pork that comes from the back of the animal and runs along the backbone. It's quite tender and soft. The size of pork tenderloin is usually 1 to 1.5 lbs. At the stores, you often find it packaged as 2 per package. This cut is best to cook quickly, at higher temperature.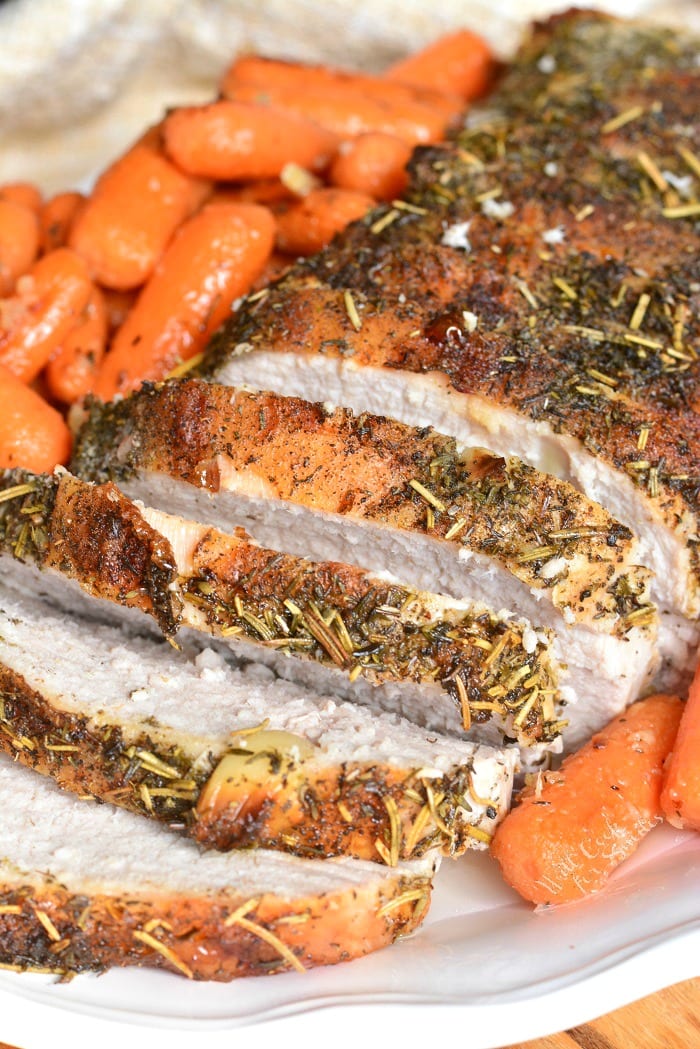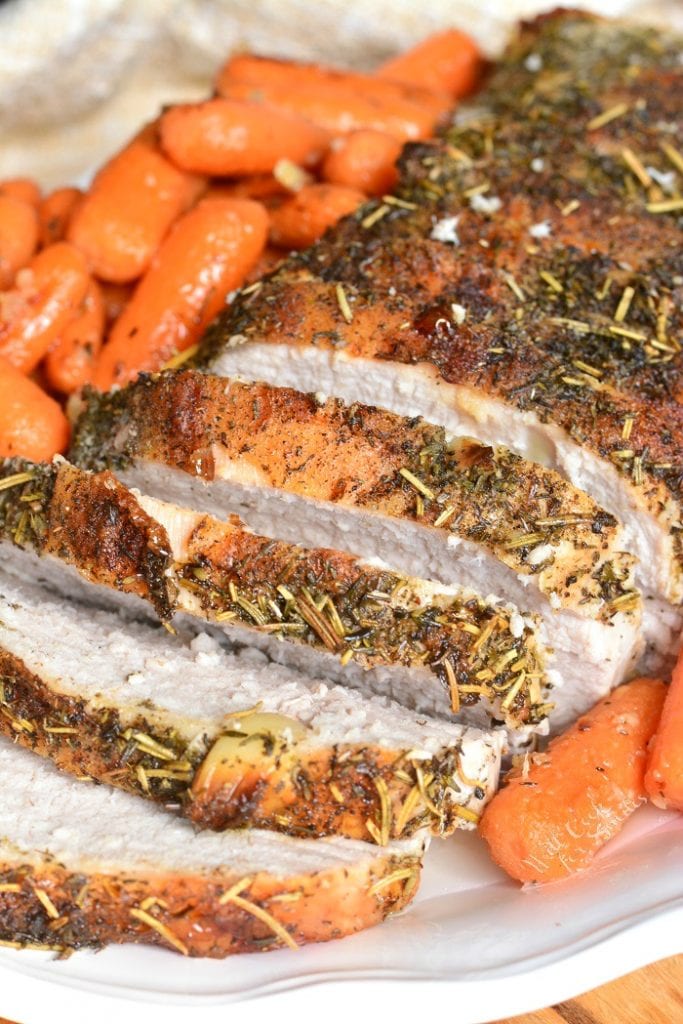 How Much Meat To Estimate Per Person:
Pork loin is pretty wide and thick. Full sized pork loin can be as big as 10 pounds and it's wide enough to cut into chops. The average pork loin cut that I've found in stores is actually about 3-4 pounds. If you are feeding a bigger crowd, you can always ask the butcher to cut you a larger sized pork loin.
To estimate how much pork you will need just average 1/2 pound per person. So a 4 pound pork loin should feed 8 people. Of course, this always depends on the sides you are serving. So try to give people something heaty and filling along with a vegetable.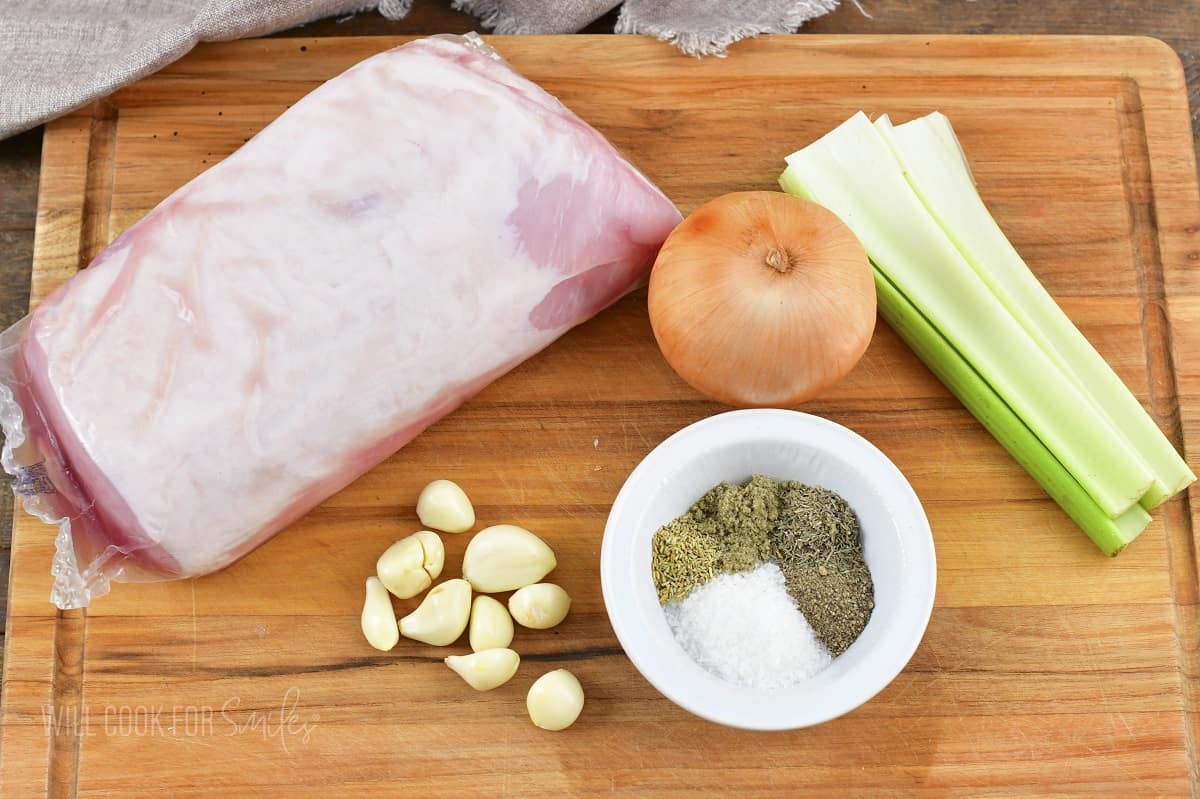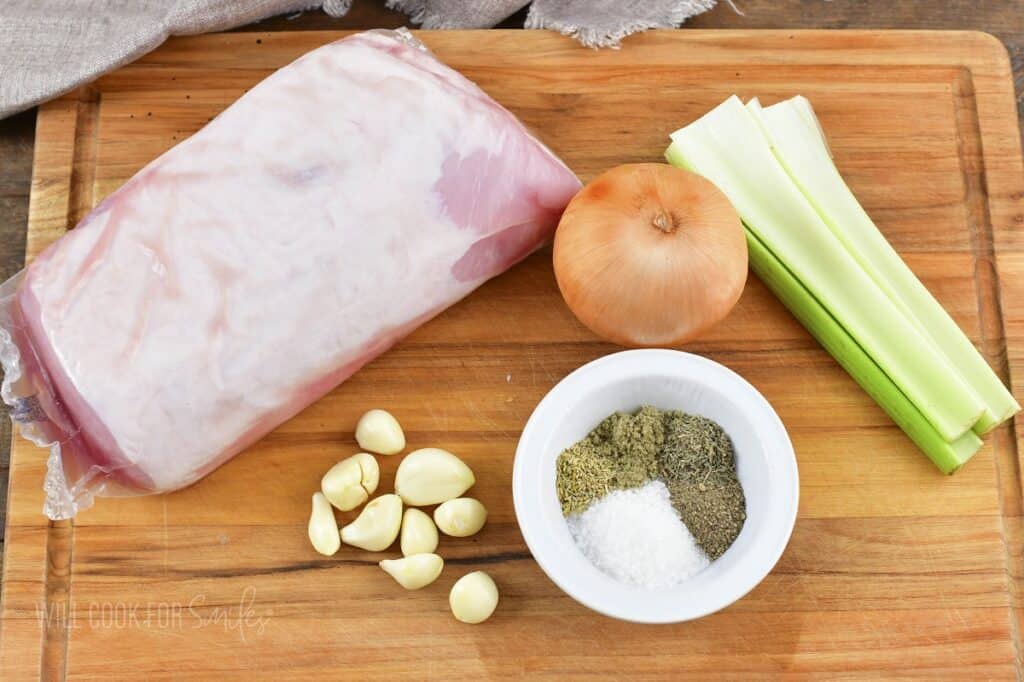 Ingredients You'll Need:
Pork Loin – Try to find a cut that is between 3 and 4 lbs. and if you need slightly bigger or smaller, adjust the cooking time accordingly. Additionally, look for one that's pinkish red in coloring. Some marbling in the meat is also good! Fat can be very flavorful. With that in mind, avoid any meat that has dark spots on the fat.
Veggies – I use veggies as a base to cook the loin on for extra moisture, flavor, and heat circulation. Onions and celery will work but you can also add an apple.
Garlic – You will need fresh garlic to insert into the pork and to place some underneath.
Seasoning – dried herbs like thyme, sage, and rosemary along with salt and pepper.
How To Cook It: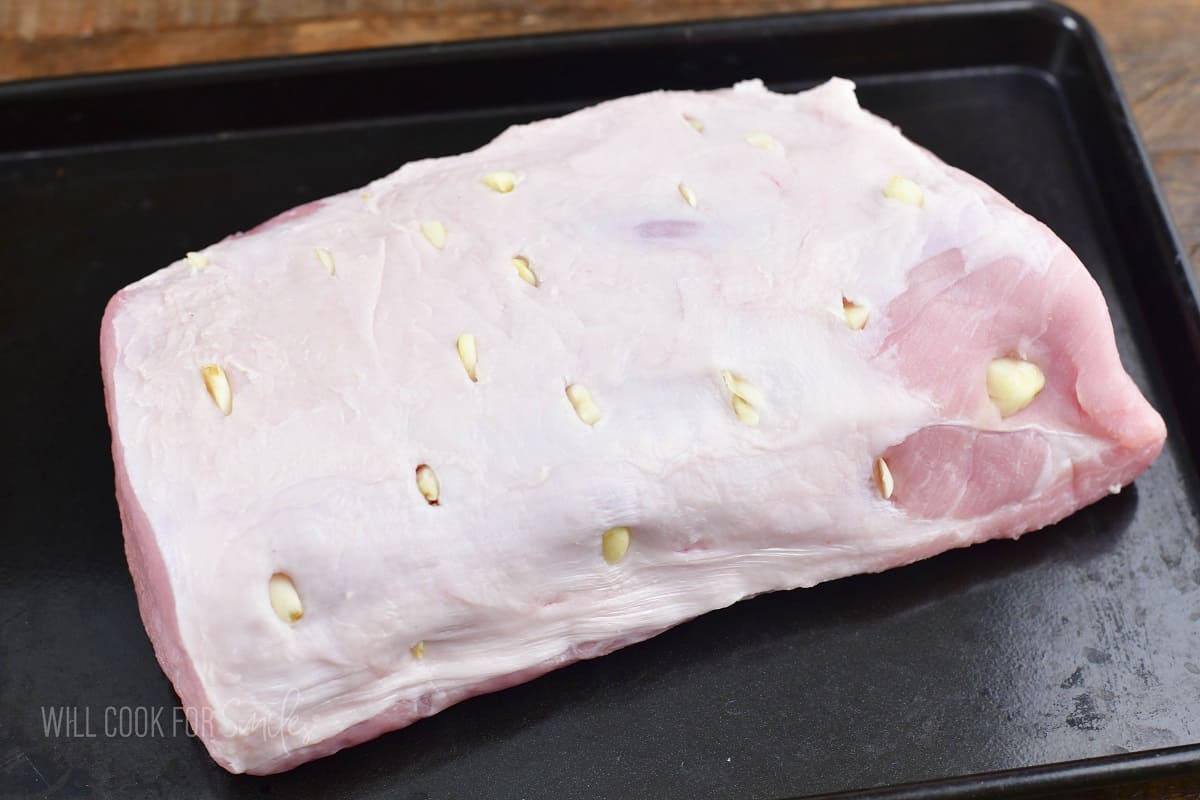 Prepare the pork. Start by piercing the pork loin with a small knife in several areas over the top and on the sides. Fit garlic slices into these slits. Mix the seasoning and then pat it all over the pork. The goal is to have the whole loin seasoned evenly.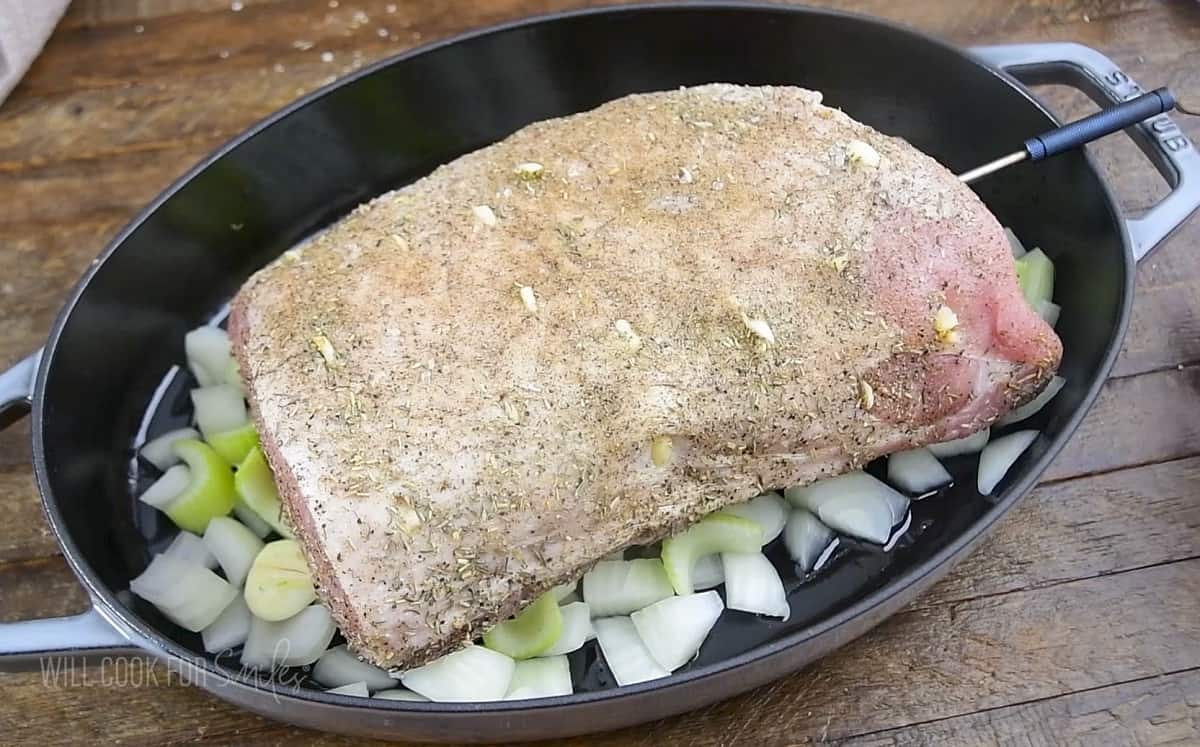 Prepare the roasting pan. Grease the roasting pan lightly and spread chopped onion, celery, and halved garlic in an even but thick layer. This layer will act and a bed for roasting the pork. Place seasoned pork right on top of the veggies.
Cooking pork loin in the oven. Make sure to insert the leave-in meat thermometer probe into the loin to track the temperature if available. Start cooking at 425° for 15 minutes and then lower the oven temperature to 350° and bake until the pork reaches 145° internal temperature.
Rest the pork. When done, take the pork out of the oven and out of the roasting pan. Tent with a sheet of foil and rest for 15-20 minutes.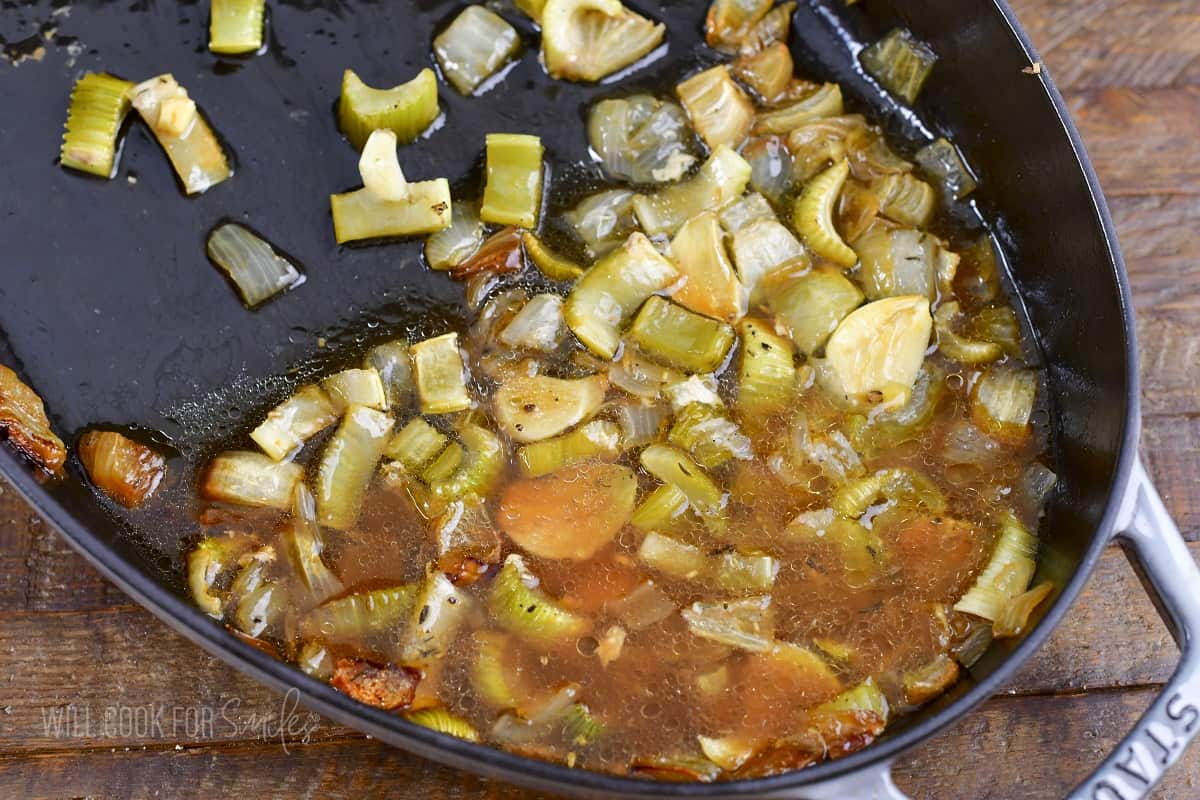 Tip: You can save all the cooking juices and make pan drippings gravy! Check the recipe below for instructions on how to make the gravy.
When is pork loin done cooking?
Pork is done at 145°F internal temperature. The best way to measure when the pork is done is to use a meat thermometer and take the temperature in the center of the meat. Don't rely on just time because every cut of pork is different and will cook at slightly different rate.
Remember, it's important not to over-cook pork. When done, pork will be tender, juicy, and slightly pink in the center. Don't be afraid of the pink! A little it of pink in the very center is perfectly alright in pork as long at it got to the safe internal temperature.
Also, it's important to rest the meat after cooking. Once you pull the meat out of the oven, loosely cover it with a sheet of aluminum foil and let it rest about 15-20 minutes. (I usually take that time to prepare a side, sauce, or gravy.)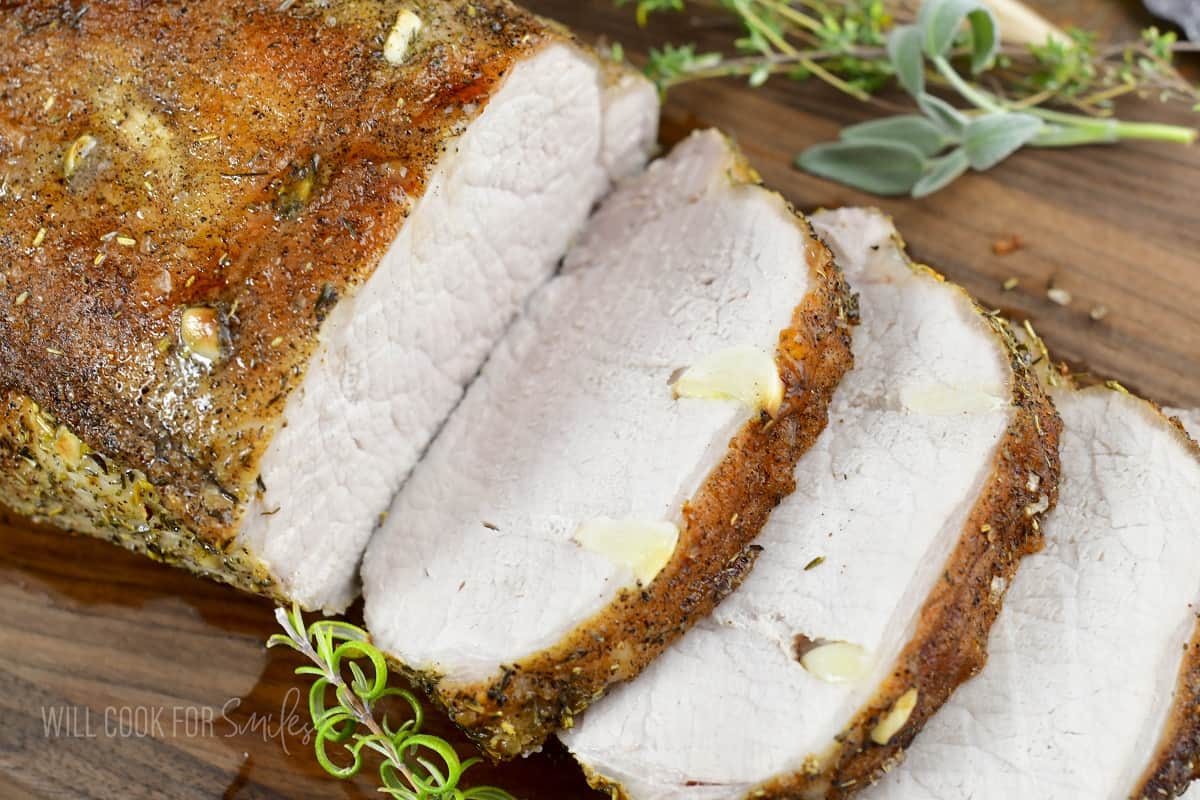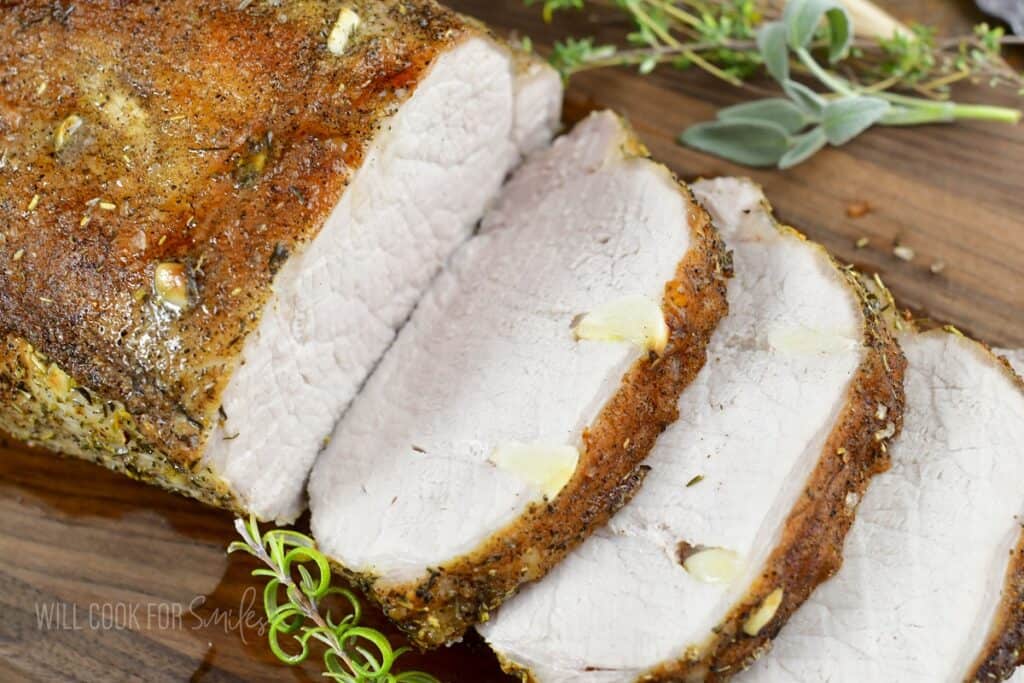 Roasting In The Oven Tips and Instructions:
Pork loin is not as tender of a cut as pork tenderloin so it cooks better roasted on lower temperature for longer period of time. After pork loin reaches the safe temperature, take it out, tent it with foil, and let it rest.
To add a little more moisture and flavor to pork loin, I roast it on the bed of some onion, celery, and garlic.
Stuffing garlic cloves right into meat infuses pork with delicious flavor throughout. To do that, simply use a small knife to poke holes that are about an inch deep into the meat to create slits throughout the top. Push in small garlic cloves into each slit.
Rub the whole pork loin with a mixture of herbs and seasoning all over, even on the bottom.
To make cleaning easier, you can cover roasting pan with foil.
Chop onion and celery into large chunks and slice garlic cloves in half. Place them in the bottom of the roasting pan, in a single layer the same size as the pork loin. Place seasoned pork over the veggies, fatty side up.
Bake in the oven until internal temperature reaches 145°. Estimate about 20 minutes of cooking time per pound.
Don't forget to loosely tent cooked pork loin with foil after taking it out of the oven and let it rest for 15-20 minutes.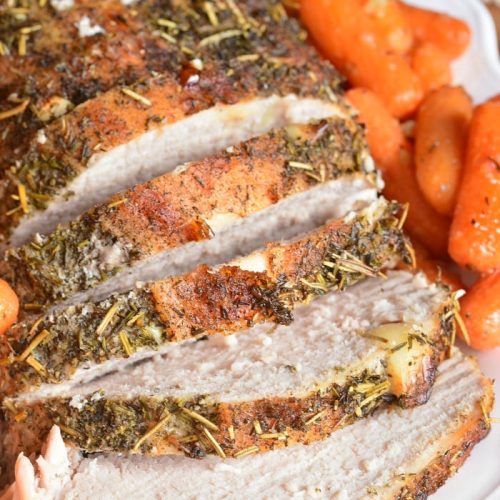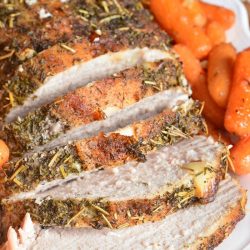 Garlic Pork Loin
This juicy and tender pork loin is baked on a bed of veggies for extra flavor and moisture, stuffed with garlic cloves, and rubbed with an herb mixture.
Print
Save
Saved!
Rate
Ingredients
3.5-4

lb

pork loin

4-6

garlic cloves

sliced

2

tsp

dried ground thyme

2

tsp

dried sage

1 1/2

tsp

dried crushed rosemary

1

tbsp

coarse kosher or sea salt

more or less to taste

1

tsp

fresh cracked black pepper

more or less to taste

2

Tbsp

olive oil

1

yellow onion

2-3

celery ribs

3-4

garlic cloves
Instructions
Preheat oven to 425°. If you wish, cover inside of the roasting pan with foil to make the clean up easy.

Chop onion and celery into chunks and cut 3 or 4 garlic cloves in half, length-wise. Spread veggies in the middle of the roasting pan in one single layer, about the same size as the pork loin. (This will serve as the bed for the pork to cook on.)

In a small bowl, combine dried herbs, salt, and pepper and mix well.
Prepare the Pork:
Using a small paring knife, pierce holes in meat in several places over the top and sides. Make the holes to be about 1/2 to 1-inch deep, about the length of a garlic clove.

Slice 4 or so garlic cloves lengthwise into 3-4 slices. Push a garlic slice into each hole. If garlic cloves are too big, cut them a little more.

Place the pork loin in a rimmed baking sheet to season it easily. Sprinkle the seasoning mixture over the pork and pat the mixture all over the top and sides. Pick up the pork and dip it into all of the seasoning that dropped into the baking sheet. Try to make sure that the pork loin is seasoned evenly on all the sides.

Place seasoned pork fat cap up into the prepared roasting pan, on top of the veggies. Insert the instant read digital thermometer probe through the side of the pork towards the center. (Tracking internal temperature is the most accurate way to know when pork is done.)
Baking Pork Loin:
Bake pork loin at 425° for 15 minutes and the lower the oven temperature to 350°. Bake until internal temperature reaches 145°, about 60 minutes but time depends on the size of the meat.

For the 4-pound pork, the total bake time would be about 1 hour and 20 minutes. Estimate about 20 minutes per pound but rely mainly on the internal temperature.  

Once pork reaches the temperature, take it out of the oven and out of the roasting pan. Loosely tent it with foil and let it rest for 15-20 minutes before cutting. 

*Note: You can use the accumulated juices from roasting pork to make gravy. If not enough juices accumulated, add a little veggie broth. (Use my pan drippings gravy recipe to create one with pork juices.)
(Optional) To Make Pan Drippings Gravy:
Strain the pan drippings (and the cooked veggies) from the roasting pan into a measuring cup through a fine mesh strainer. Press a few times on the veggies in the strainer to get the juices out. Discard what is left in the strainer.

After the pork has rested, combine the juices accumulated from the pork and from the roasting pan together.

Add enough chicken stock to the pork drippings to make 2 cups together. Measure out 1/4 cup all purpose four (or gluten free all purpose flour), and 4 tbsp. of butter.

Melt butter in a cooking pan over medium heat. Once melted, whisk in flour until smooth and blended.

While still whisking, start pouring in the pan drippings and chicken stock mixture. Keep whisking until smooth. Taste and add some salt if needed and about 1/4 tsp of black pepper (or more if you wish).

Slowly stir as the gravy comes to low simmer and thickens. Cook for a couple extra minutes, stirring slowly, and take off heat.
Nutrition
Calories:
304
kcal
|
Carbohydrates:
3
g
|
Protein:
45
g
|
Fat:
12
g
|
Saturated Fat:
3
g
|
Polyunsaturated Fat:
1
g
|
Monounsaturated Fat:
6
g
|
Cholesterol:
125
mg
|
Sodium:
971
mg
|
Potassium:
781
mg
|
Fiber:
0.5
g
|
Sugar:
1
g
|
Vitamin A:
18
IU
|
Vitamin C:
2
mg
|
Calcium:
25
mg
|
Iron:
2
mg
Tried this recipe?
Mention @willcookforsmiles and tag #willcookforsmiles