This Pork loin roasted in the oven will give you the best tender, juicy and delicious pork. It's a slightly different way of cooking pork but trust me, you will love the juicy and tender results!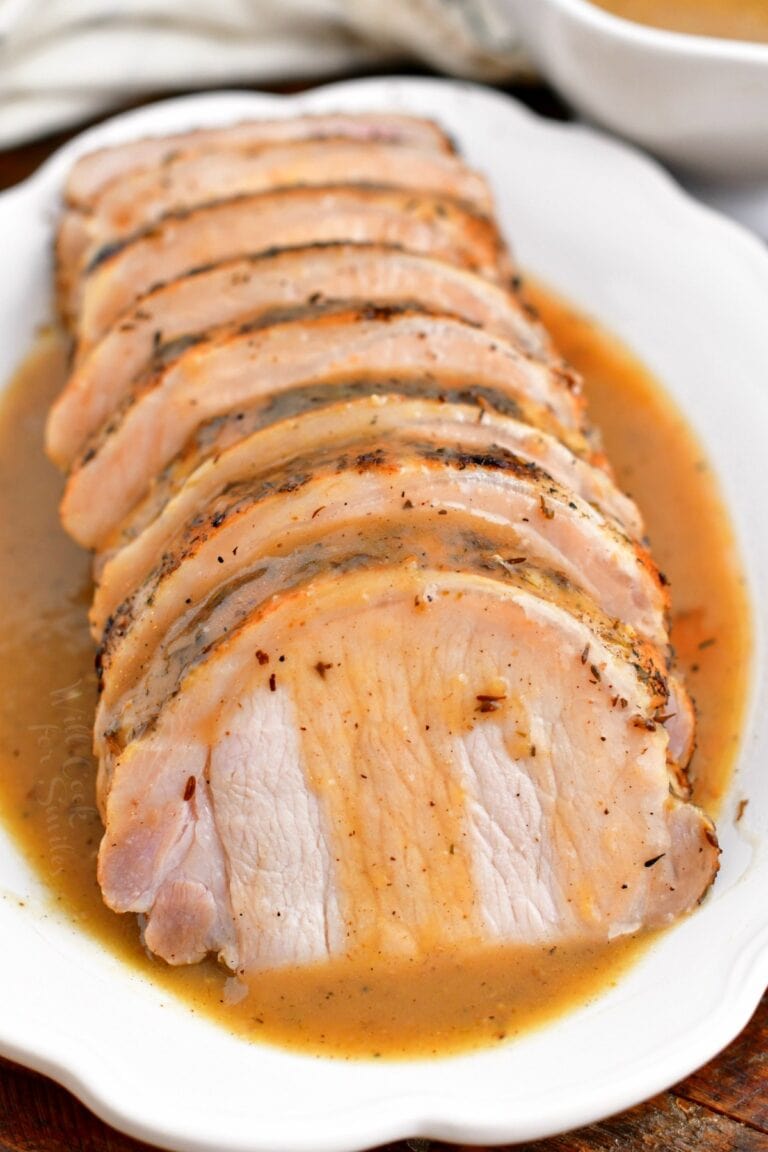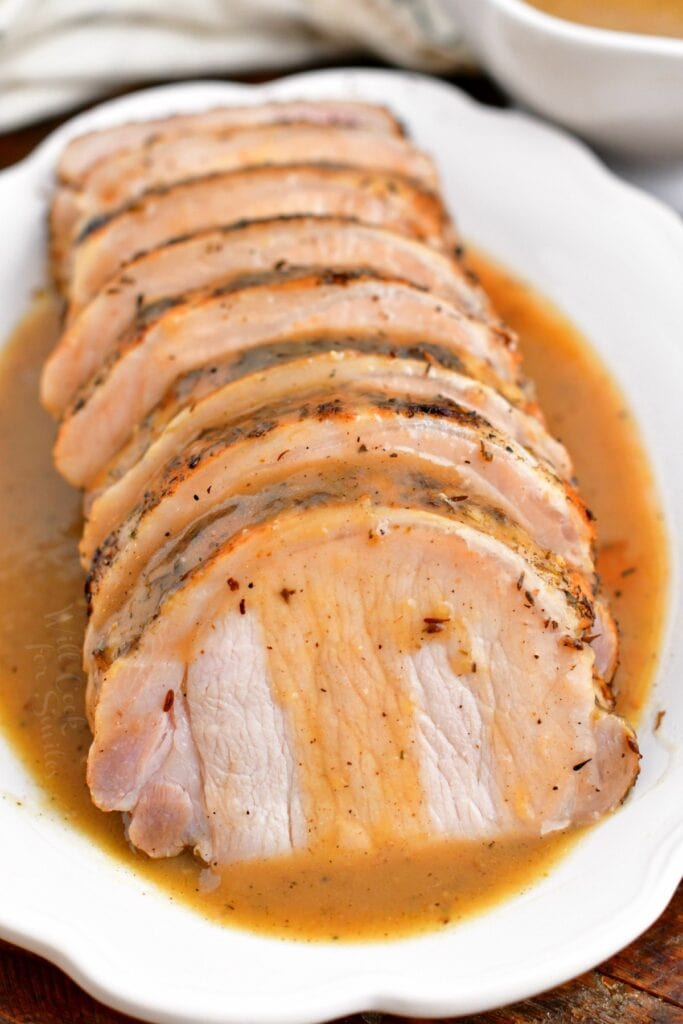 If you're looking for a flavorful meal for your whole family, look no further.
This recipe is especially mouthwatering, featuring savory ingredients like garlic cloves, bay leaves, and Herbs de Provence. Trust me, everyone will be asking for seconds!
Roasted Pork Loin
While roasting traditionally means cooking with dry heat, uncovered, for a prolonged time, and at higher temperatures, this recipe is a little unusual. This pork loin is actually cooked at low temperature and in a pot.
Yes, it is still cooked in the oven but it's a very different cooking technique that will result in an amazingly tender and juicy pork.
I've played around with many roasted pork recipes in my time and when I first learned about this one, I was intrigued. Normally, such a lean meat like pork is very easy to overcook. So when there is a promise of a cooking technique that will result in a juicy and tender meat, it is more than welcome.
This recipe is just perfect for a pork loin that will be tender and juicy. It will take about 2 hours to cook and you can turn the leftover vegetables and juices into the most amazing gravy!
Recipe Ingredients
The simplicity of these ingredients is what I love about this recipe. Pork is delicious cooked many different ways, but sometimes, you just can't beat a classic.
How Much Pork Per Person?
When making pork as a main course to be served with sides, estimate about 1/2 lb per person.
For those with bigger appetite or if you want to have leftovers, you can estimate up to 3/4 lb per person.
FOR PORK:
Pork Loin – Try to find a cut that is 4.5 lbs. and if you need slightly bigger or smaller, adjust the cooking time accordingly. Additionally, look for one that's pinkish red in coloring. Some marbling in the meat is also good! Fat can be very flavorful. With that in mind, avoid any meat that has dark spots on the fat.
Coarse Salt – Salt is extremely helpful in bringing the flavor into a mild tasting meat time pork. Salting pork for about 24 hours, will enhance the meat greatly.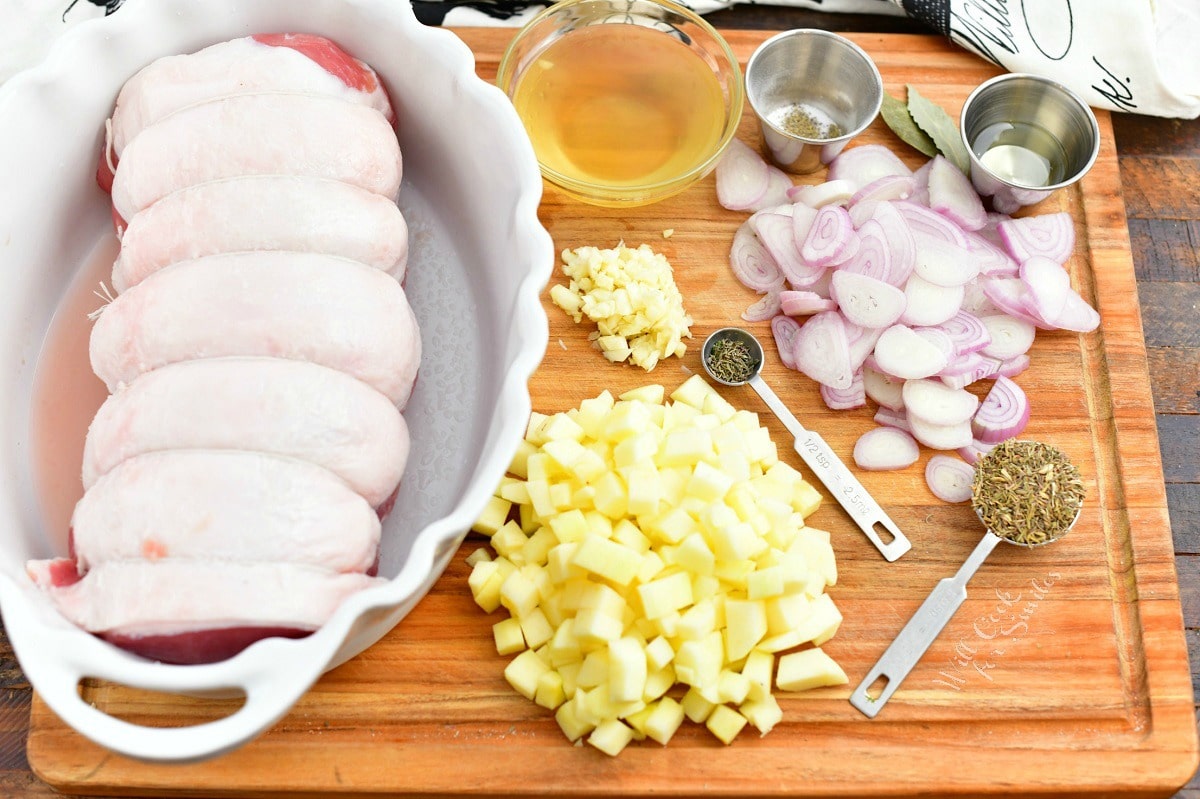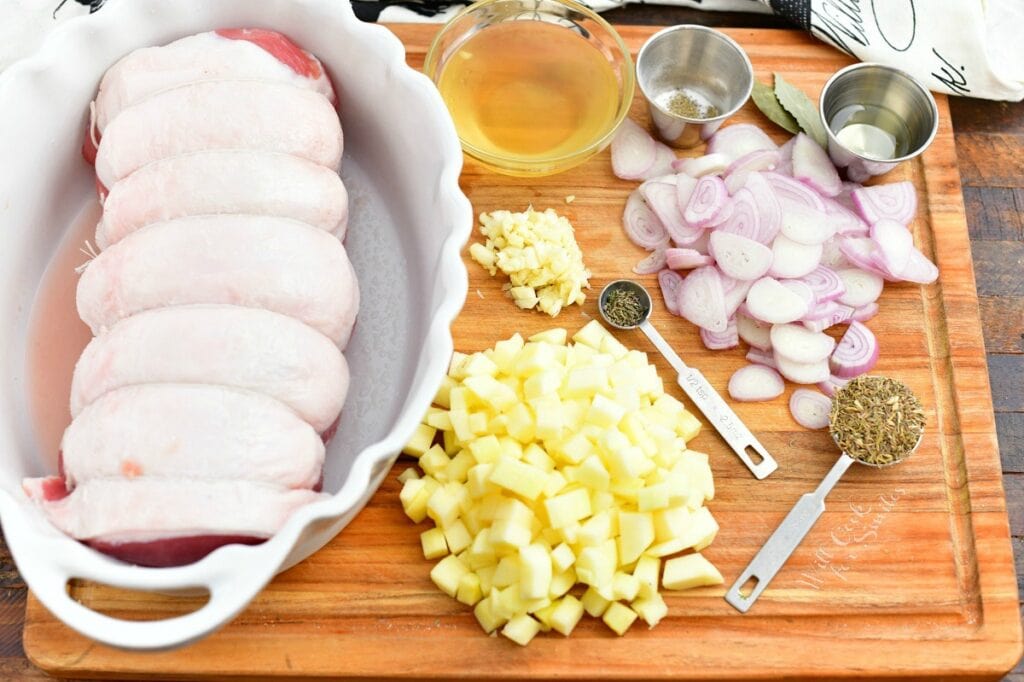 To cook the pork, you're going to need these 6 ingredients:
Canola Oil – While canola is my favorite, you can substitute this ingredient for olive oil.
Shallots – Shallots are a bit sweeter than most onions with a hint of garlic flavor. If you're all out, use Vidalia onion and another garlic clove.
Apples – Apples are so important for this recipe because they bring a touch of sweetness to the meat and compliment pork so well.
Garlic Cloves – As long as your garlic bulb is heavy and firm, your garlic cloves should be perfect.
Chicken Stock – It's important to use chicken stock instead of broth for this recipe, because chicken stock tends to be fuller and richer in flavor.
Bay Leaves – These bring in a distinctive, yet subtle flavor to the meat and juices.
When it's time to season the pork, you're going to need:
Herbs de Provence – This seasoning is a mixture of multiple aromatic herbs and spices. It traditionally includes basil, rosemary, thyme, tarragon, oregano, marjoram and bay leaf. The flavor this seasoning provides is delectable!
Garlic Powder – Make sure you're just using what the recipe calls for. If you use too much, garlic powder combined with the garlic cloves will overpower the dish.
Cracked Pepper – Just like the garlic powder, a little goes a long way with this seasoning.
FOR HOMEMADE PAN GRAVY
Leftover Vegetables and Juices – The leftovers from roasting pork loin are full of amazing flavor that will transfer into the gravy.
All Purpose Flour – The amount of flour you use determines the thickness of your gravy. If you need a gluten-free substitute, you can use all purpose gluten free flour.
Sugar – perfect touch of sweetness to balance out the other flavors.
Chicken Stock
Salt
How To Make Roasted Pork Loin
Cooking pork in the oven has never been so easy! It may look like a lot of steps but they are all simple.
Tie the meat with kitchen twine. This ensures even cooking, and also prevents the meat from falling apart.
Salt the meat. Use a paper towel to pat the roast dry before applying salt. Then, store the meat in the fridge for 18-24 hours.
Bring the meat to room temperature before cooking. After salting, remove the meat from the refrigerator and let it sit at room temp for about 30-45 minutes before you cook it.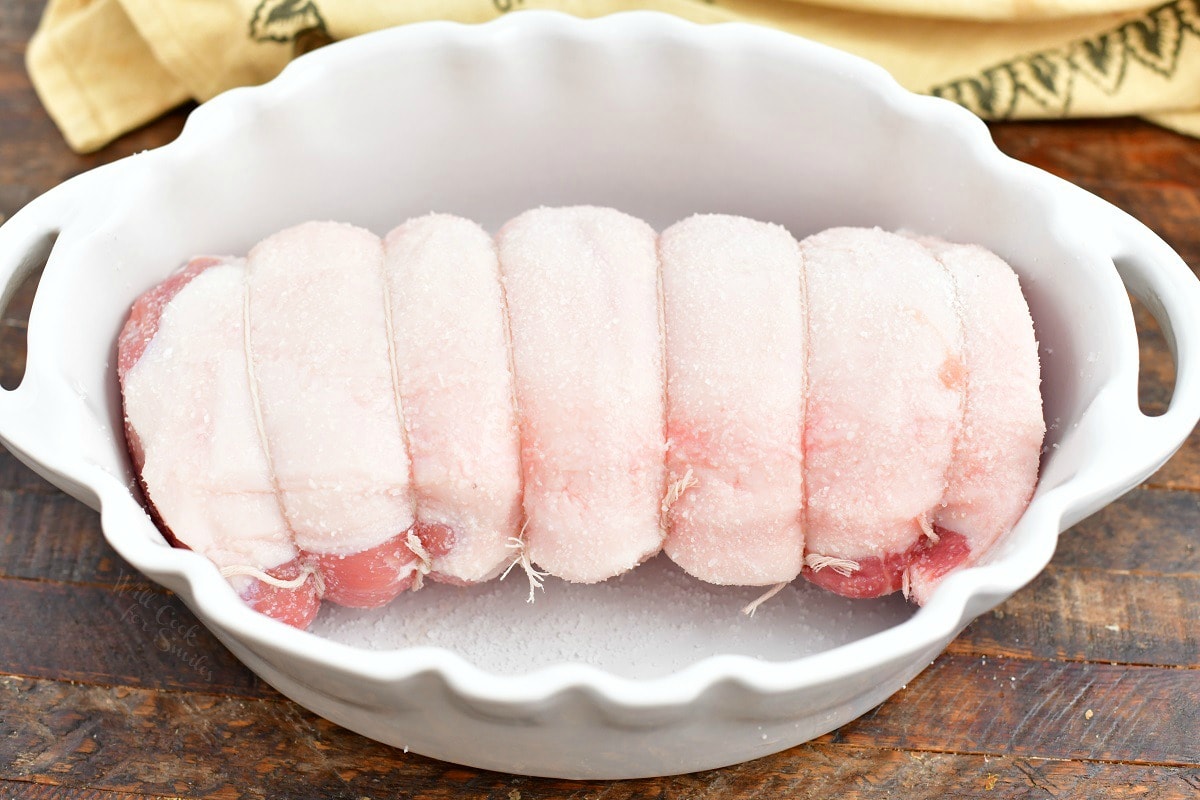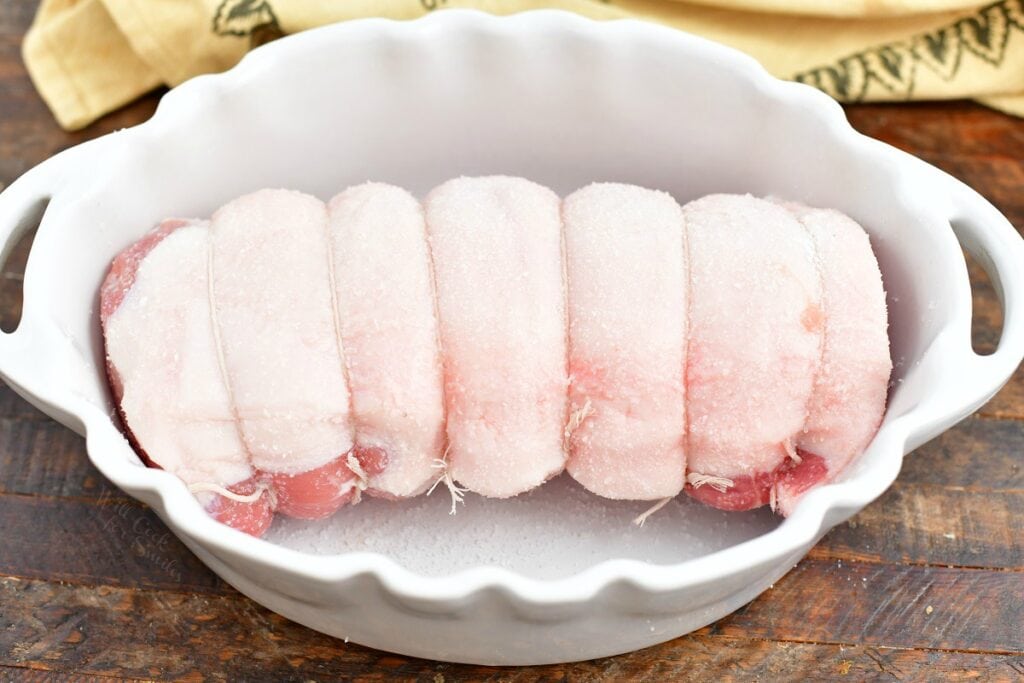 Add seasonings. Apply the seasonings onto the pork, just like you previously patted the salt on. Be sure to pat them on, don't rub!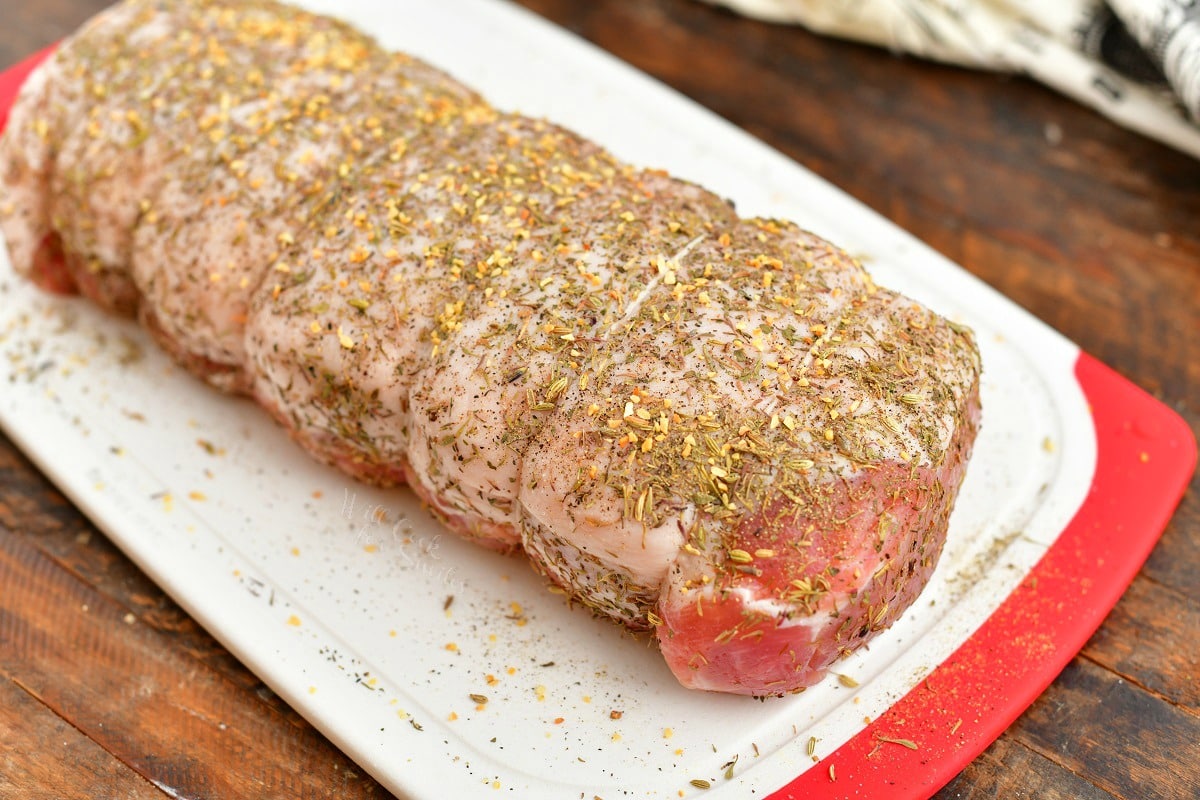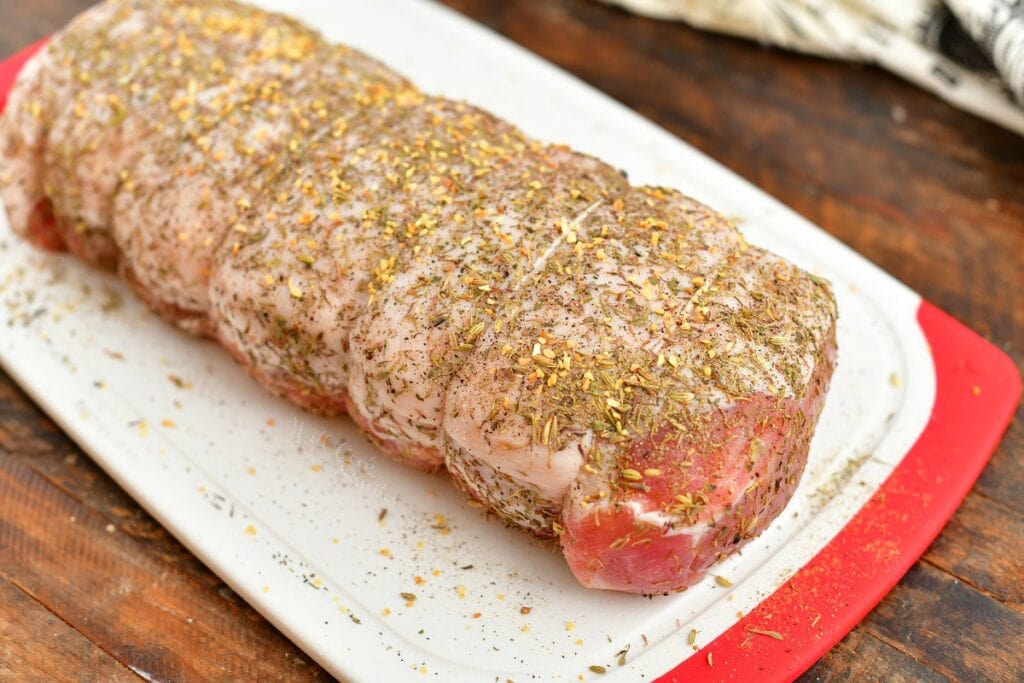 Prep the vegetables. Slice and dice the shallots and apples, then mince your garlic.
Sear the meat and vegetables. Lay the pork on the fatty side, searing it. Once seared, flip it, and sear the other side. Don't sear the bottom.
Once they're both seared and brown, remove the pork from the pot and set aside. Then, add the vegetables to the pot and begin searing them.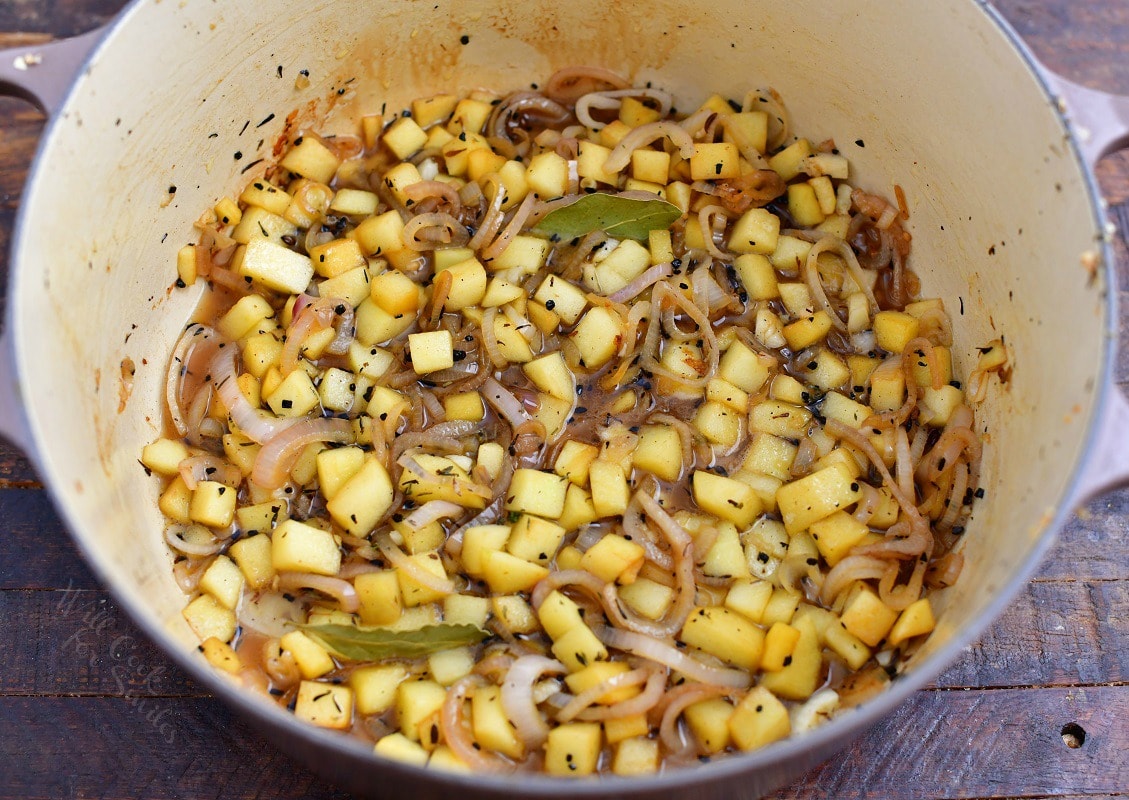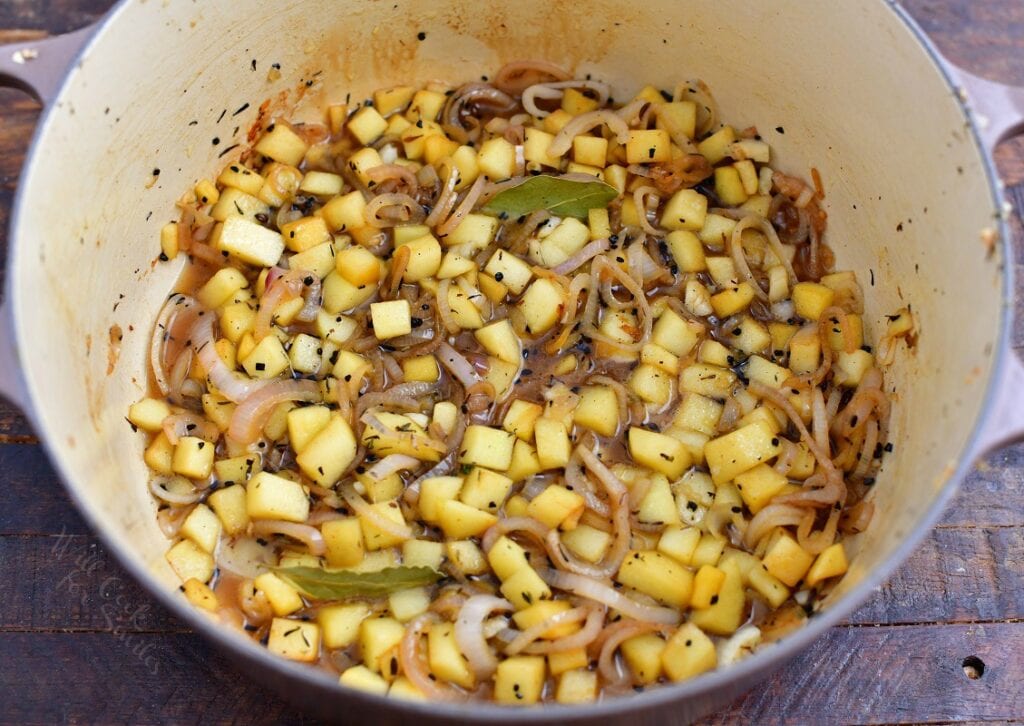 Pour in the chicken stock. Once the chicken stock is poured, add in the thyme and bay leaves.

Cook the pork. Add the pork back into the pot. Cover the pot with foil and close the lid on top. Place in the preheated oven.
Cook pork until it reaches 145°F internal temperature. There is a cooking time breakdown in the recipe card below.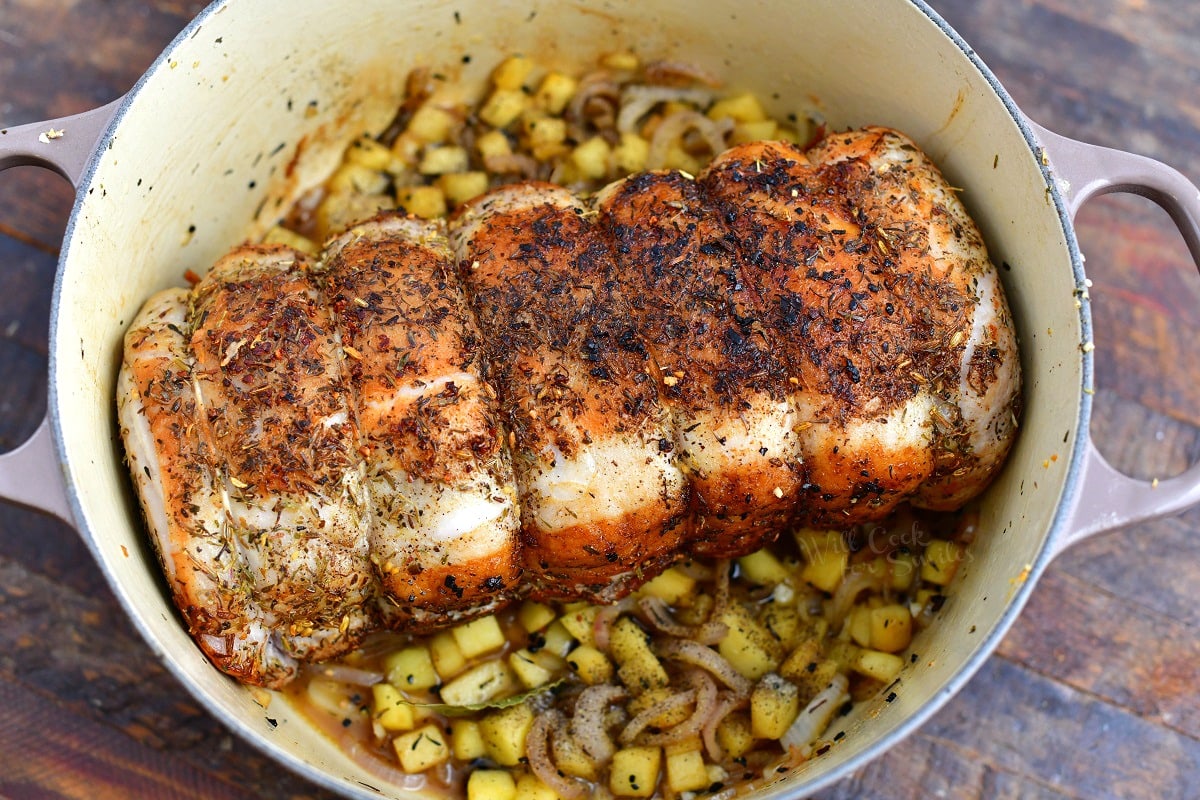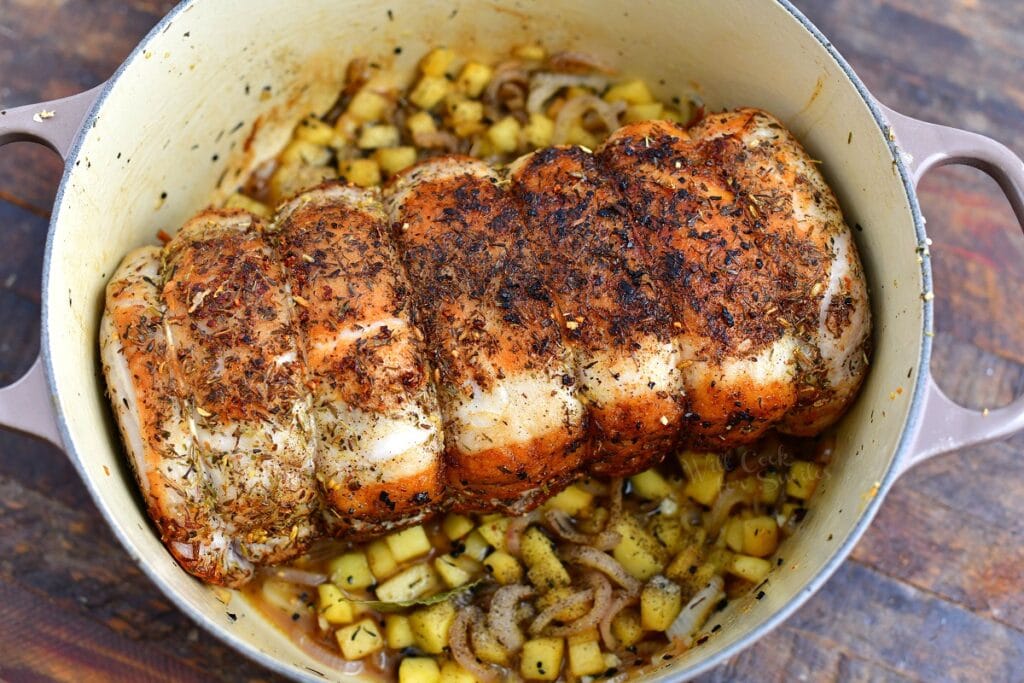 Let the meat rest. Remove the pork loin from the oven, take off the ties, and let it rest for 15 minutes before you and slice and serve it.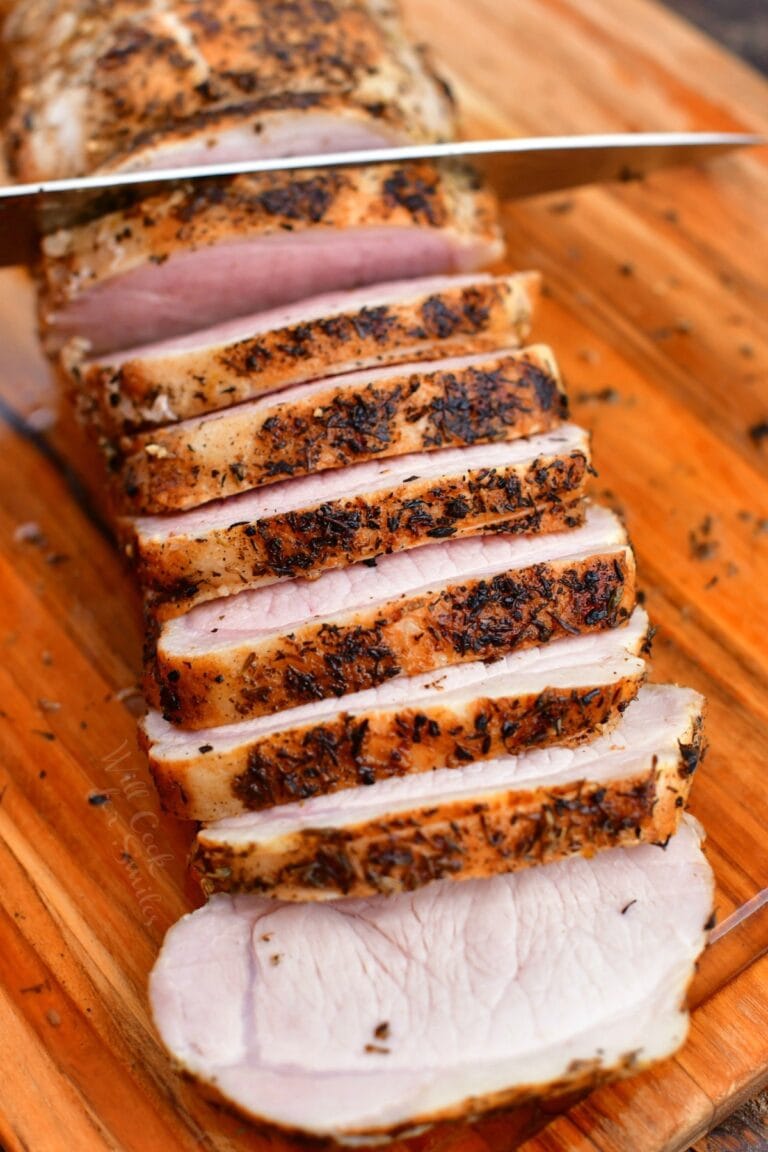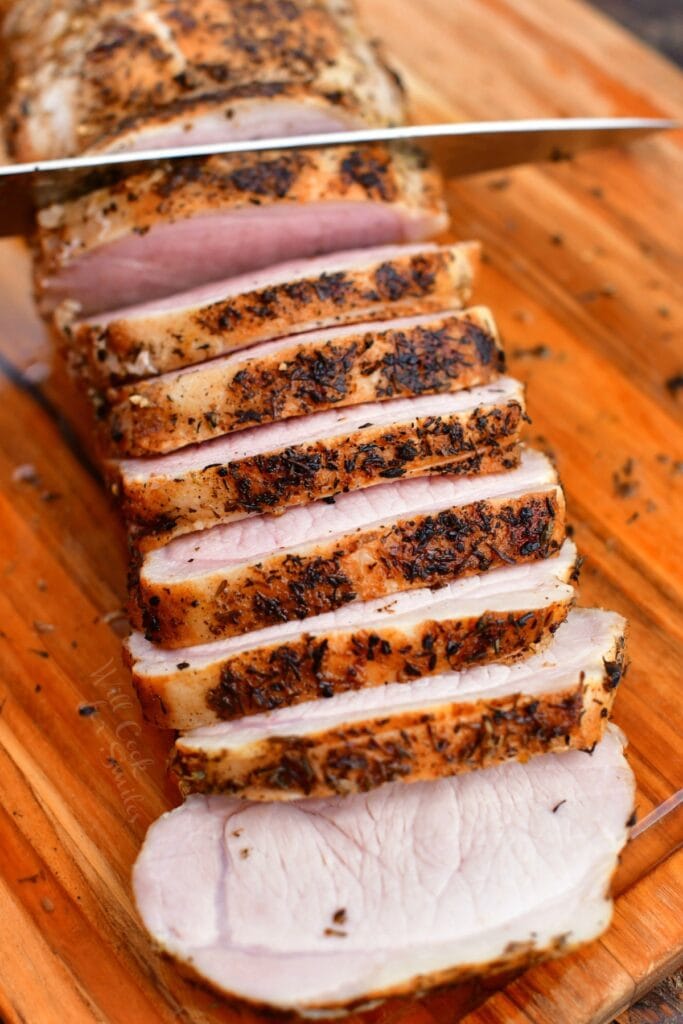 How To Make Pork Gravy From Pan Drippings
Prepare the Dutch oven. Place the Dutch oven where you cooked pork and all of the delicious leftovers onto the stovetop.
Add flour to the pot. Stir the flour into the leftovers until fully combined.
Pour in the chicken stock. Pour in the chicken stock nice and slow before adding salt and sugar to the mix.
Combine all ingredients. Stir everything until it's nice and thick. Then, pour the mixture into a blender and blend until you have smooth, delicious gravy
Serve your gravy! Pour gravy over the pork loin, and enjoy!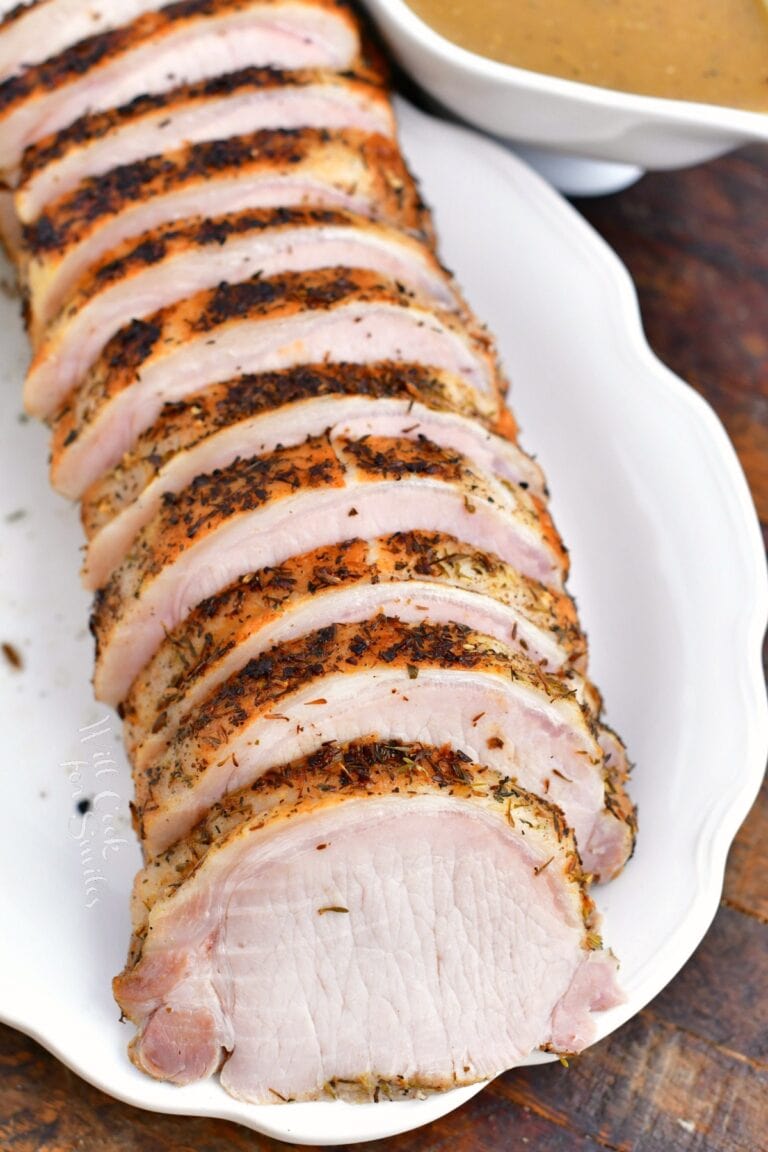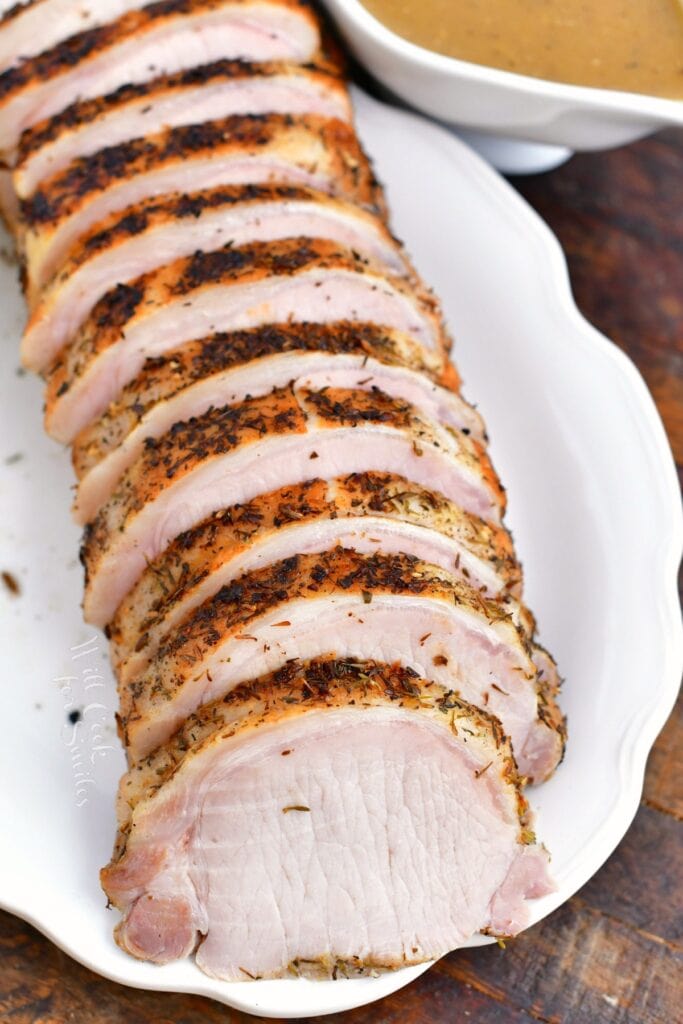 More Pork Recipes For Dinner:
Although this classic recipe is one of my all time favorites, there are many other tasty ways to cook pork. If you're a garlic lover like I am, then you'll obsess over this garlic pork loin.
Pork tenderloin is another great way to have pork for dinner, like this bacon wrapped pork tenderloin. I say it's more fun because it's wrapped in one of the most delicious ingredients ever – bacon!
If you like to stick to the trusty classics, there's always great recipes like roasted pork tenderloin with pork rub and brown sugar Dijon pork tenderloin. It's tried and true!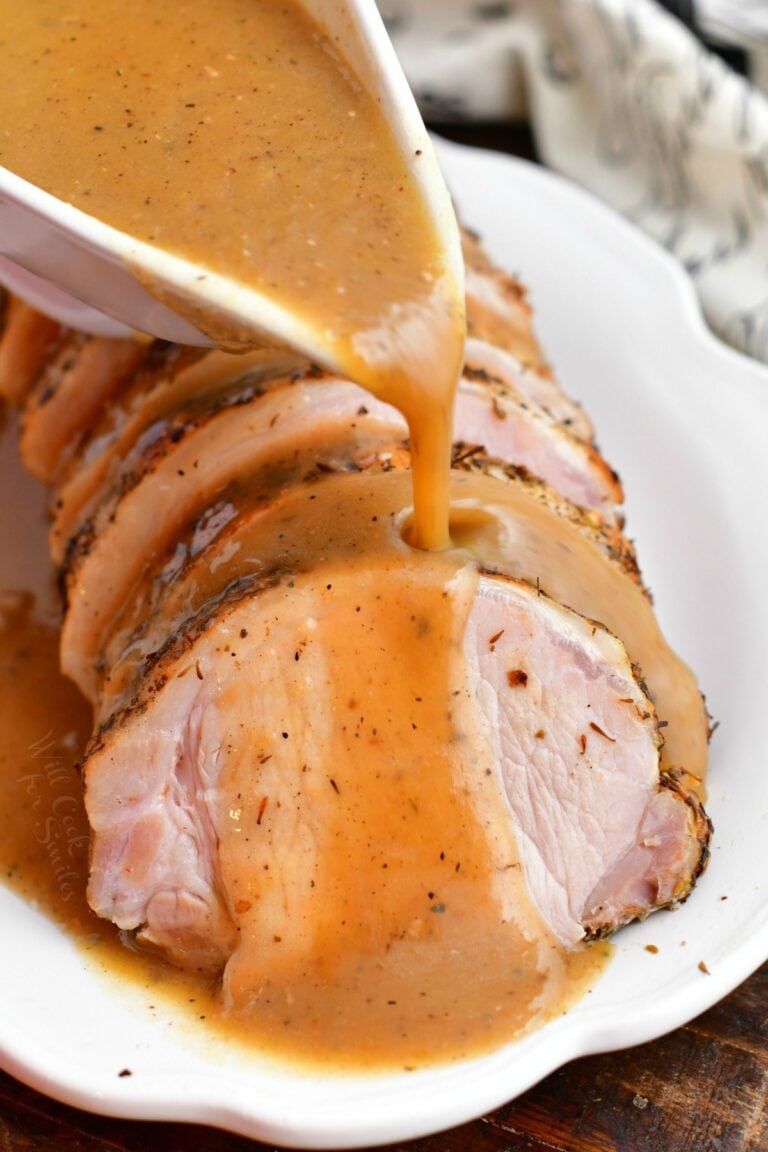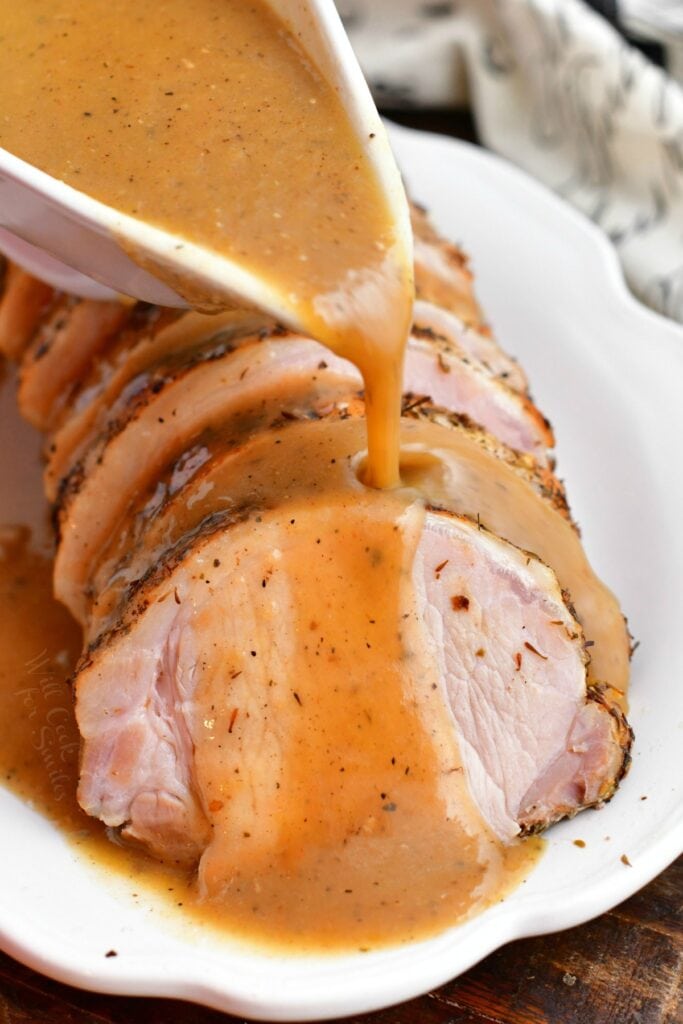 If you made any of my recipes and shared them on Instagram, make sure to tag me @willcookforsmiles and #willcookforsmiles so I can see all the things you tried!
Don't forget to sign up for email, so you won't miss any new recipes.
PIN THIS RECIPE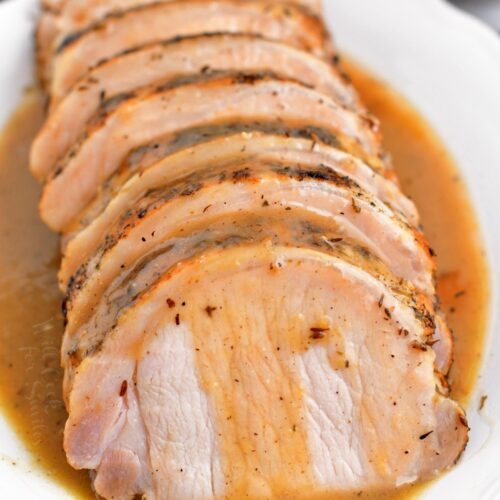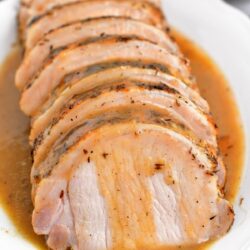 Pot-Roasted Pork Loin
This Pork loin roasted in the oven will give you the best tender, juicy and delicious pork.
Print
Pin
Save
Saved!
Rate
Servings:
9
(about 1/2 lb. per person)
Ingredients
4.5

lb

pork loin, boneless

3

tbsp

coarse salt
To Cook Pork:
2-3

tbsp

canola oil

2

large shallots

2

apples

6

garlic cloves

1/2

cup

chicken stock

2

bay leaves
To Season Pork:
2

tbsp

Herbs de Provence

2

tsp

garlic powder

1

tsp

cracked black pepper
Gravy:
vegetables and juices left from cooking pork

2

tbsp

all purpose flour

or gluten free all purpose flour

1

tsp

sugar

3/4

cup

chicken stock

salt
Instructions
24 Hours Before Cooking:
Unwrap the pork and pat it dry with a paper towel. For best results, tie the pork with cooking string. This will ensure even cooking.

Place it inside a dish or a pan that is large enough to hold it comfortably and season with salt generously on all the sides. Pat the salt in rather than rub.

Cover the dish with plastic wrap to make sure it's air-tight and refrigerate for 18-24 hours.
Cooking Pork Loin:
Take pork out of the refrigerator about 30 minutes before cooking and leave it on the counter.

Take pork out onto the cutting board and evenly season it with Herbs de Provence, garlic powder, and pepper. (Remember, it's already salted.) Pat the seasoning in.

Dice shallots and apples and set them aside. Smash and mince garlic and set it aside as well.

Preheat the oven to 225° and move the oven rack to the middle of the oven so that closed Dutch oven fits well in the middle.

Preheat a large Dutch oven over medium-high heat for a few minutes.

Add oil and spread it evenly. Sear pork fat side down first for a few minutes, until there is a nice sear on it. Then turn and sear the sides, one at a time, until there is a nice brown sear on the as well. Take pork out onto a large plate and set aide whole searing the vegetables.

(Don't sear the bottom of pork loin.)

Add a little more oil if needed and add onions and apples. Sauté for a few minutes, until start to get a golden sear on them.

Add minced garlic, stir, and sauté for few seconds, until it's fragrant.

Pour in chicken stock and add bay leaves and thyme.

Place pork loin over the vegetable mixture, fat cap up. If you have a leave-in thermometer, insert it into the center of the pork, towards the middle.

Cover the top with aluminum foil and then close the lid. Place it into the oven and let it cook until reaches 145° internal temperature.

Approximate time:

For longer, thinner center cut – cook time will be about 20 minutes per lb. So a 4.5lb pork will take about 90 minutes.

For shorter, thicker cuts – cook time will be about 30 minutes per lb. So a 4.5lb pork will take about 135 minutes.

When the pork reaches the temperature, take it out of the oven and out of the pot. Place it on a cutting board and tent with aluminum foil. Let it rest for about 15 minutes. If it was tied, make sure to take off the string before resting.
Gravy:
You'll be happy to know that the leftover vegetables and juices can be turned into the a delicious gravy.

Place the Dutch oven with everything leftover from cooking pork on the stove and heat it up over medium heat.

Sprinkle flour evenly over the top and stir.

Pour in chicken stock while slowly stirring. Make sure everything is mixed well and add the sugar, and some salt to taste.

Bring everything to simmer and stir and simmer until it's thickened.

Transfer the mixture into a blender or use an immersion blender to blend the it until smooth.

After pork has rested, slice it and serve.
Nutrition
Calories:
373
kcal
|
Carbohydrates:
10
g
|
Protein:
52
g
|
Fat:
13
g
|
Saturated Fat:
3
g
|
Cholesterol:
143
mg
|
Sodium:
2449
mg
|
Potassium:
962
mg
|
Fiber:
2
g
|
Sugar:
5
g
|
Vitamin A:
56
IU
|
Vitamin C:
3
mg
|
Calcium:
38
mg
|
Iron:
3
mg
Tried this recipe?
Mention @willcookforsmiles and tag #willcookforsmiles