These stuffed pork chops are absolutely amazing! They're filled with a flavorful mixture of honeycrisp apples, bacon, shallots, and smoked cheddar cheese. Start by searing the pork chops in the pan, finish in the oven, and add a delicious finishing touch with an easy mustard sauce on top!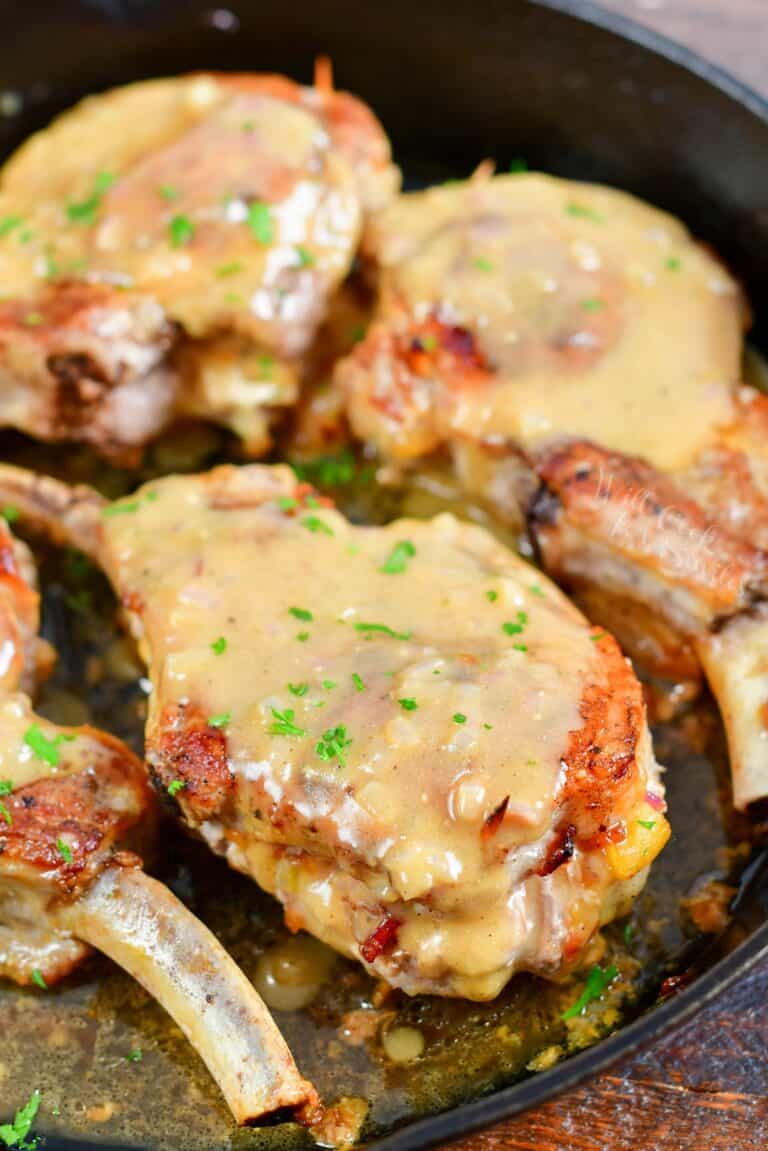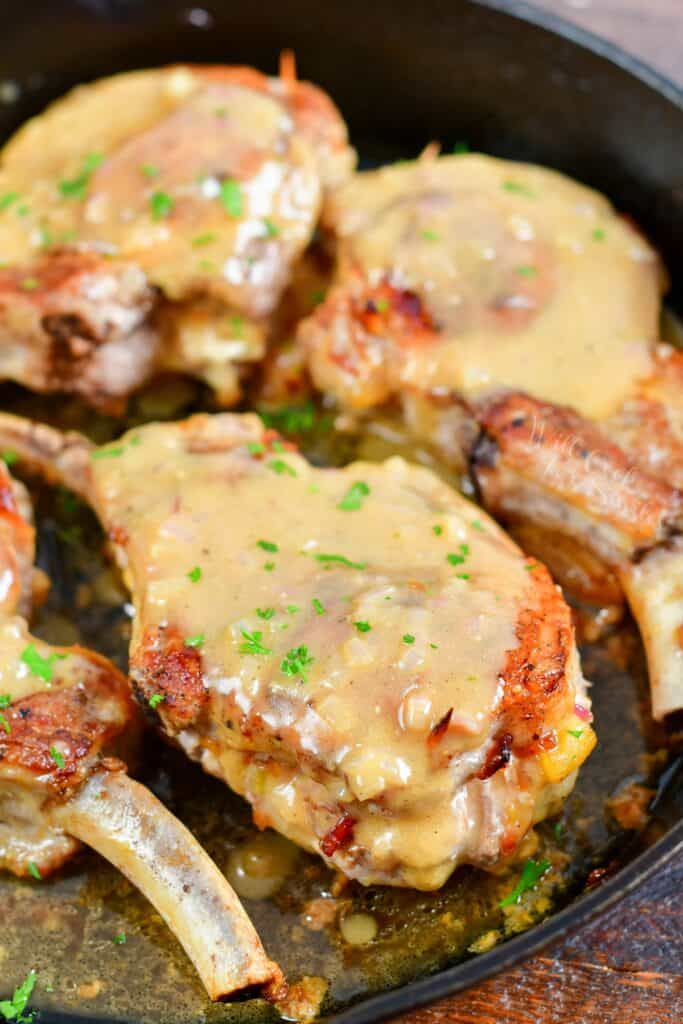 Apple Bacon Stuffed Pork Chops
Apples and pork are the perfect couple, then when some bacon and smoked cheddar are added it's a truly amazing experience! My family (who are very honest, sometimes a bit brutally) always says these stuffed pork chops are even better than fine dining. Next time you want to impress your dinner party guests, you know what to make!
The delicious mustard sauce that smother the stuffed pork chops is something I often make for pork dishes, whether it's simple pan-seared pork chops, pork tenderloin, or even over grilled pork. It's so wonderfully complimentary to the natural flavors of cooked pork. So for your next pork recipe, be sure to keep this sauce recipe in your back pocket.
Let's discuss the real star of the show here, which is the autumnal filling! It's primarily consistent of apples, bacon, shallots, and smoked cheddar cheese. Quite honestly, you'll be craving spoonfuls of just the filling alone. It's hard to not desire a filling that's such equal parts savory and sweet, which is enough to make anyone's mouth water with anticipation.
Ingredients for These Stuffed Pork Chops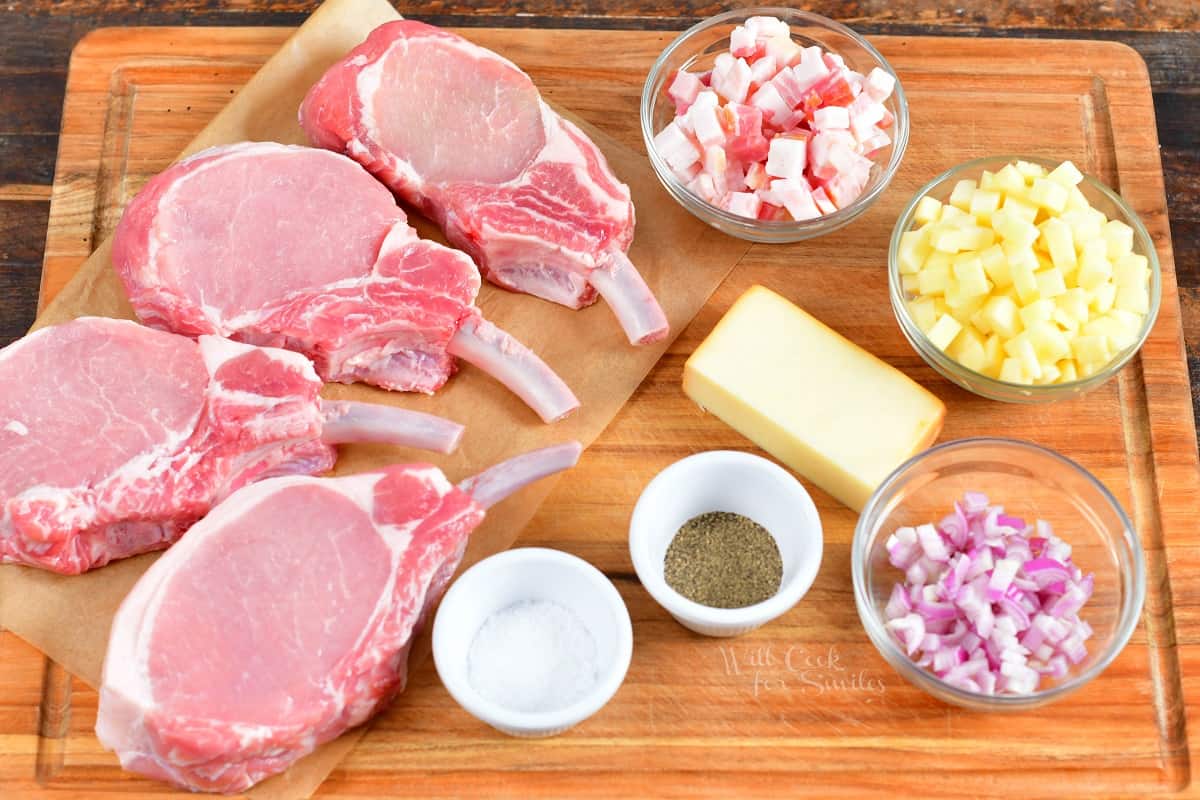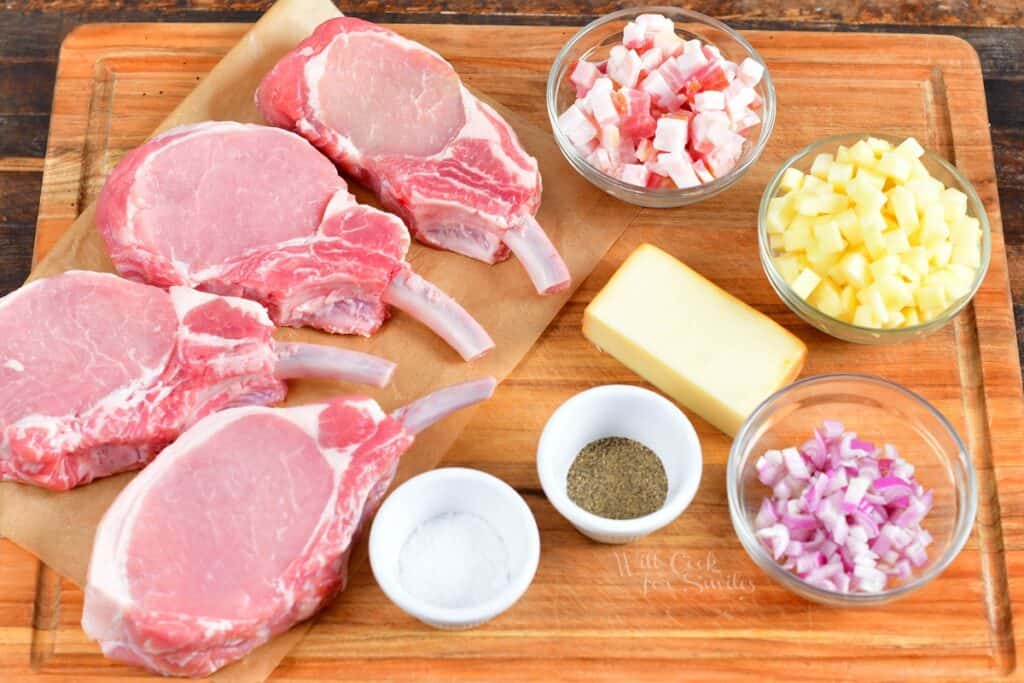 For Pork Chops:
Pork Chops – I prefer to use bone-in pork chops that are approximately 1 to 1 1/4 inch in thickness.
Salt
Black Pepper
For The Filling:
Apples – A honeycrisp apple is the absolute best to use in this filling! However, any other sweet apple will also provide the good balance.
Bacon – Avoid using any bacons that have added flavors, like maple or brown sugar. Plain bacon is what you'll need.
Shallot
Smoked Cheddar Cheese – This cheese adds both a smoky and cheesy element to the filling. If cheddar isn't your favorite, you can also opt for gruyere or smoked gouda.
Salt and Black Pepper
For the Mustard Sauce:
Butter – unsalted butter helps you control the saltiness of food.
Shallot
Flour – all-purpose flour will work best, but you can use gluten free all purpose flour if needed.
Chicken Stock – Get the most flavor by using Homemade Chicken Stock.
Apple Cider Vinegar – you can also use red wine vinegar or sherry vinegar!
Dijon Mustard – This can NOT be substituted with plain yellow mustard. It must be Dijon!
Dried Sage – rubbed dried sage will work best in sauce.
Maple Syrup – for the best flavor, use 100% pure maple syrup.
How to Make Stuffed Pork Chops
While your oven is preheating, let the pork chops rest and warm up a bit before cooking.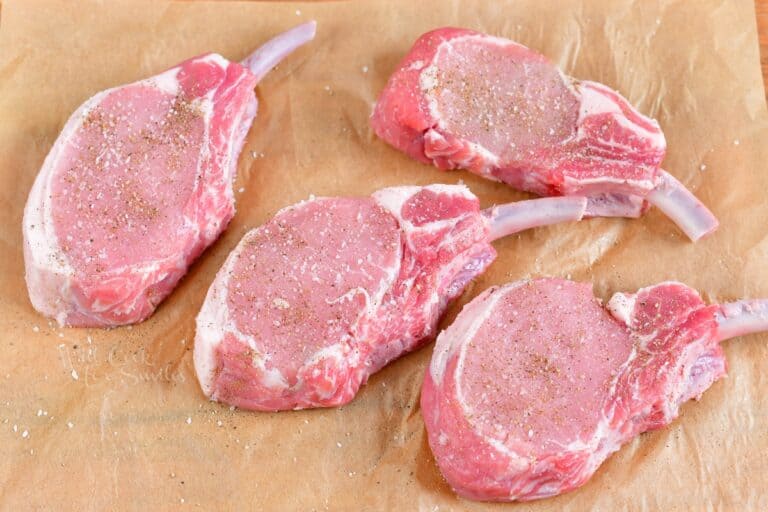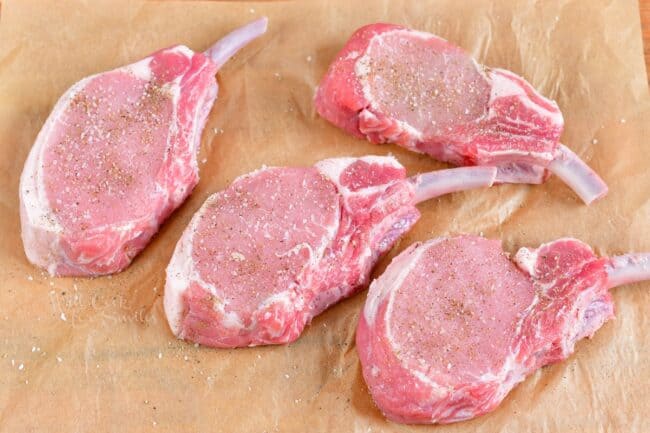 To make the filling: start off by cooking the bacon in a warm pan until the fat is rendered half way. Then, toss in the diced shallots and continue cooking until the bacon fat is fully rendered.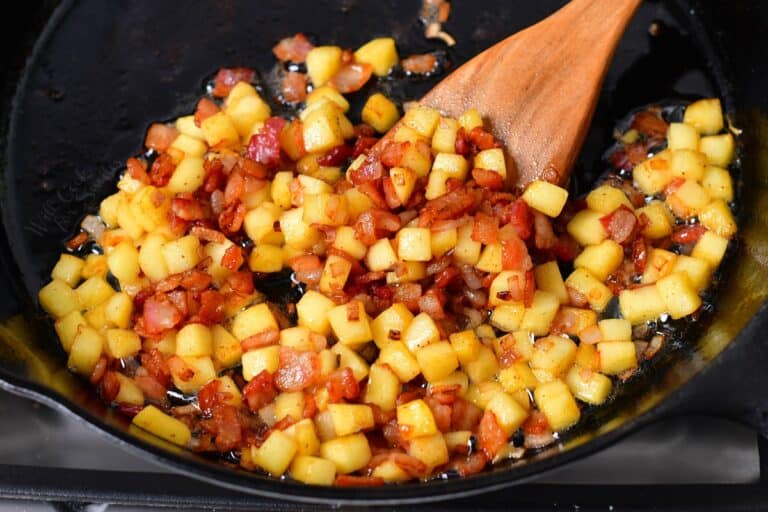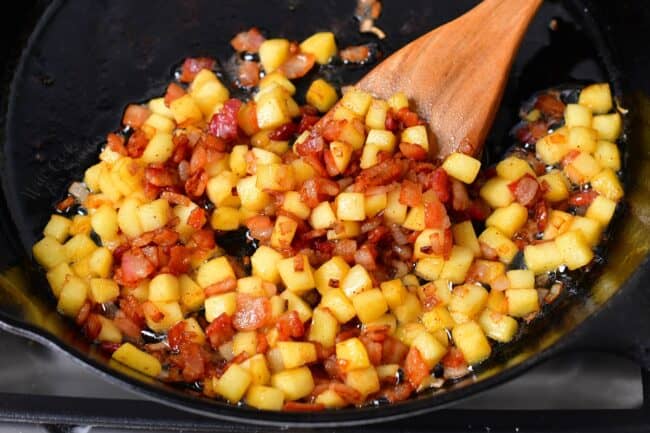 Add the apples and a little bit of salt and pepper, then cook until the apples are softened.
Remove the filling from the pan, then stir in the cheddar cheese.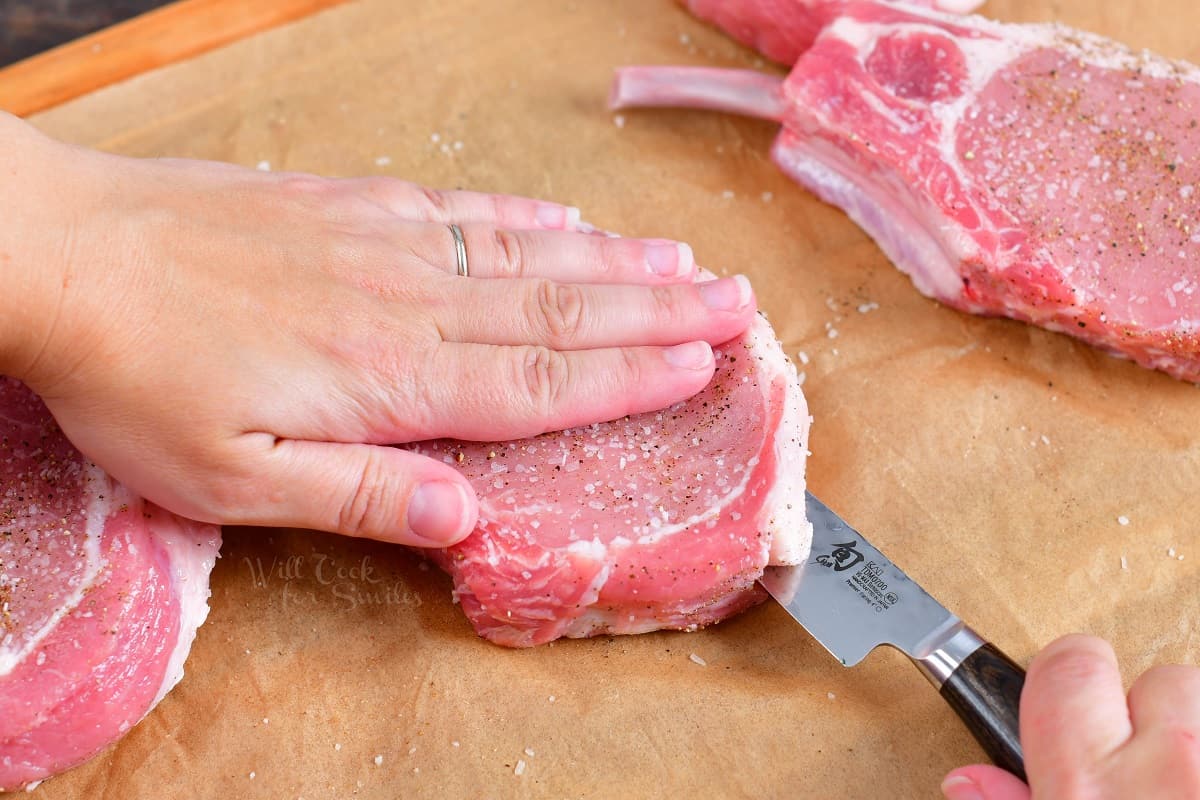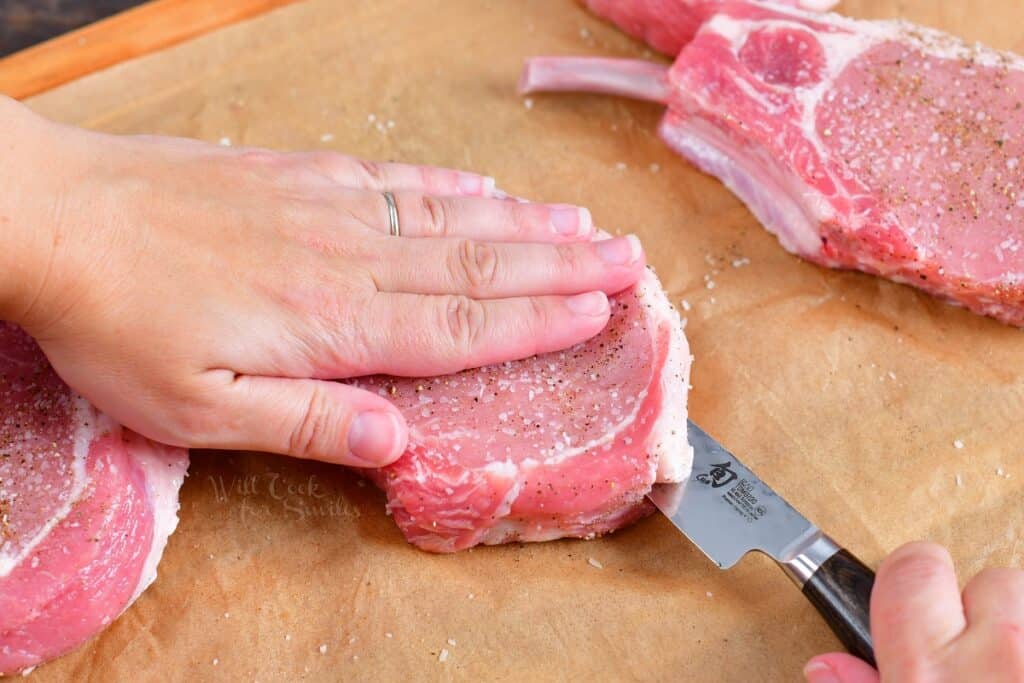 To stuff pork chops: Cut a pocket into each pork chop, but be careful not to slice all the way through the meat.
Stuff each pork chop with the filling. You can use a toothpick to secure the opening if you'd like.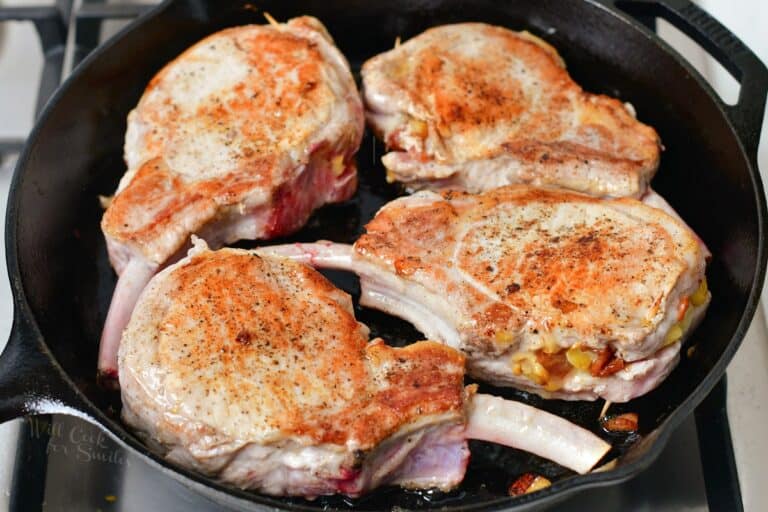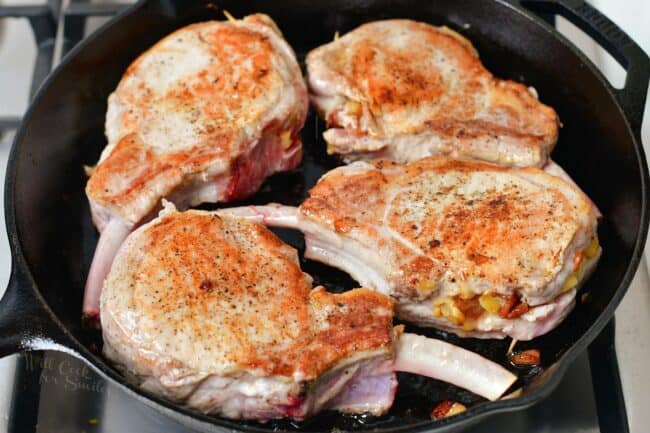 Sear stuffed pork chops in the same pan where you made the filling. Then, transfer the skillet to the oven and cook until the internal temperature reaches 145°F.
To make the sauce: Start off the sauce by first cooking the shallots in warm butter in a saucepan. Stir in the flour, then the chicken stock. Whisk in the remaining ingredients before adding my secret ingredient – about 1/4 cups of the pork juices from the skillet.
Top off the pork chops, then enjoy!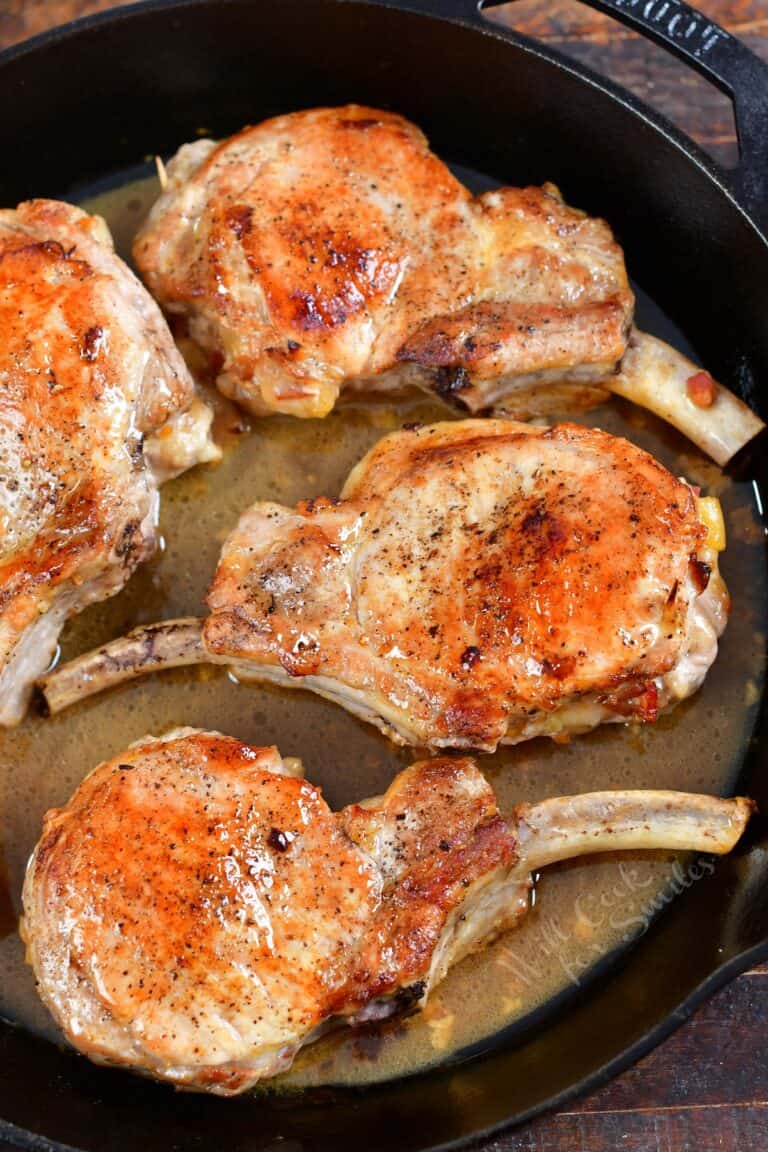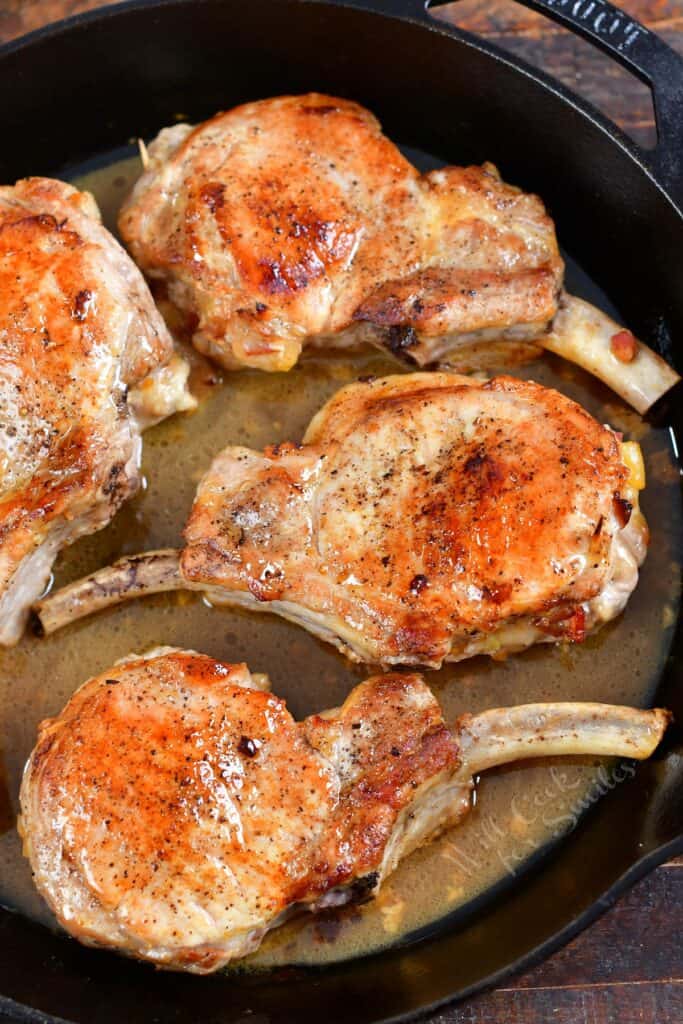 To what temperature do I need to cook the pork?
Pork is a very lean meat, so it's easy to overcook it. Pork should be cooked to 145°F internal temperature. Since meats continue to cook for a few minutes after you pull them out of the oven, you can take them out around 138°F-140°F and let them rest.
How Long to Cook Stuffed Pork in the Oven
For stuffed pork chops and non-stuffed pork chops, it's best to cook them at a higher temperature for less time to keep them from drying out. I cook my pork chops in the oven at 425°F. For stuffed pork chops that are about 1 to 1 1/4 inch thick, it takes 15-18 minutes in the oven after searing for a few minutes first. If you did not sear stuffed pork chops first, it will be closer to 20 minutes bake time.
Storing
If you have any leftovers, store them in the refrigerator in an airtight container with a lid for up to 3 days.
Can I make stuffed pork chops ahead of time?
You can prepare the stuffing ahead of time to save yourself about 15-20 minutes of prep time and stuff the pork chops right before cooking them. It is NOT recommended to stuff raw meat ahead of time. Meats should be stuffed right before cooking.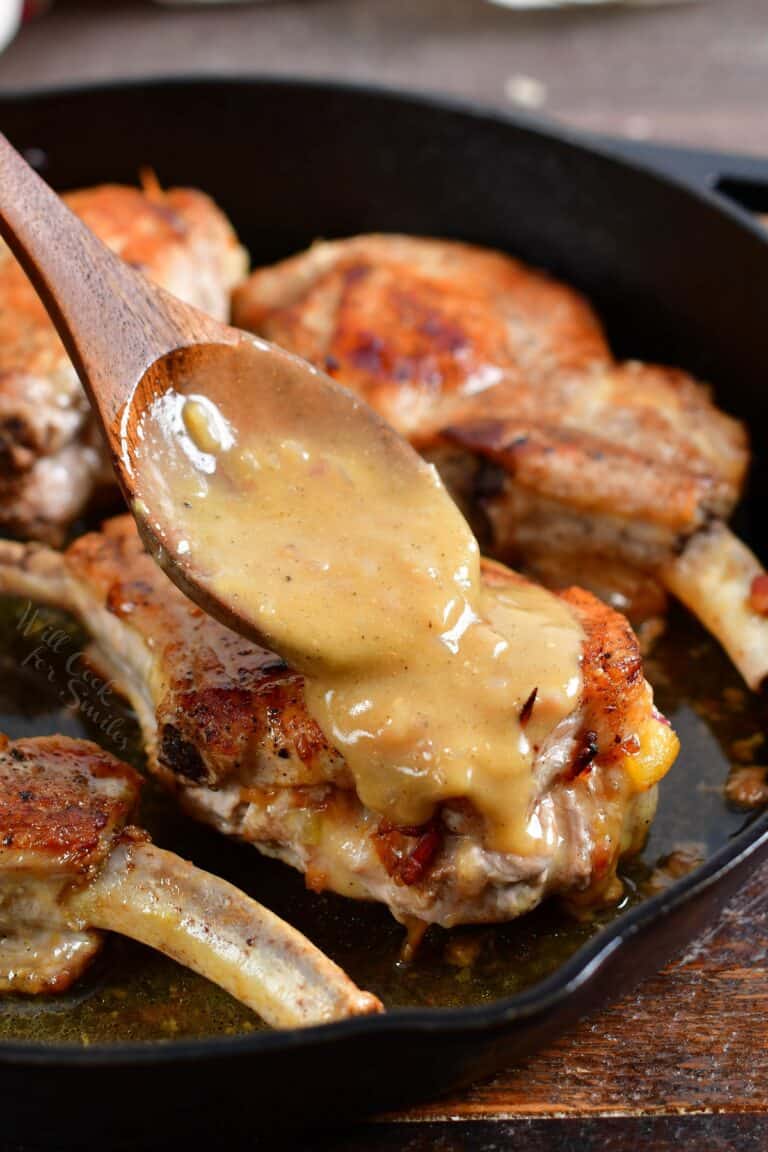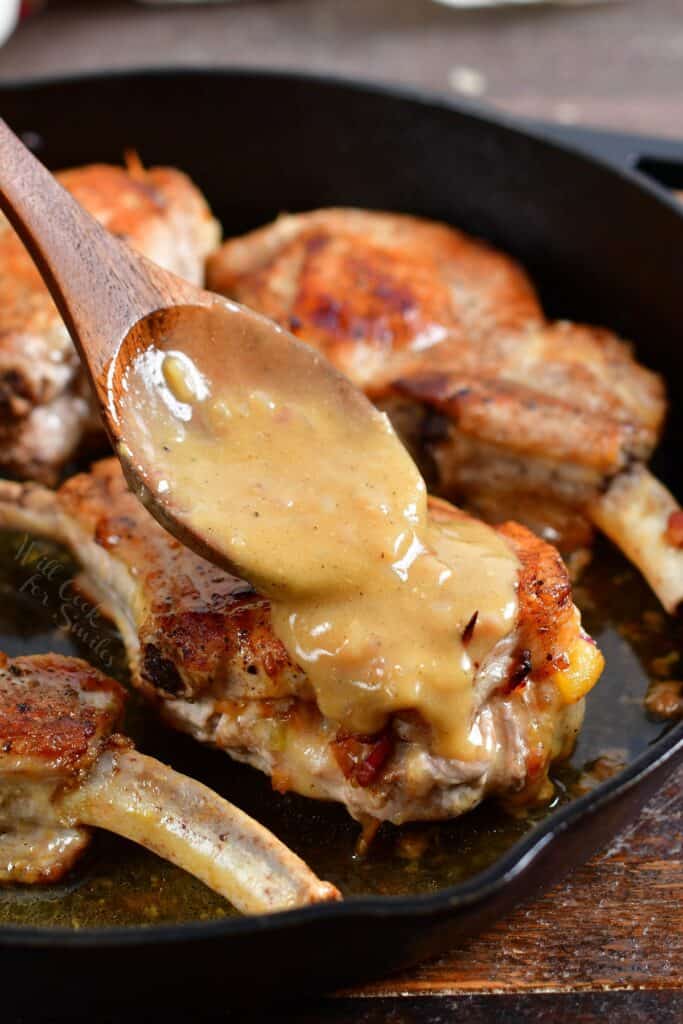 What to Serve with Stuffed Pork:
Here are just a few of my favorite side dishes to serve with this delicious stuffed pork!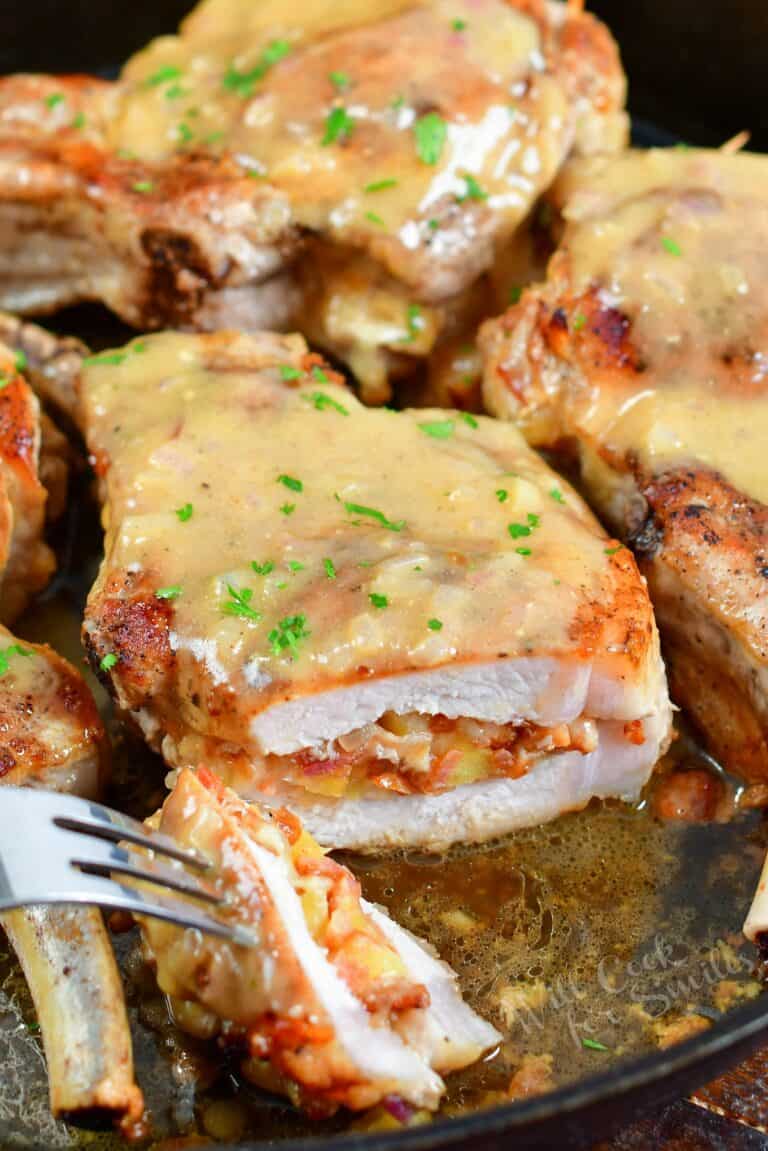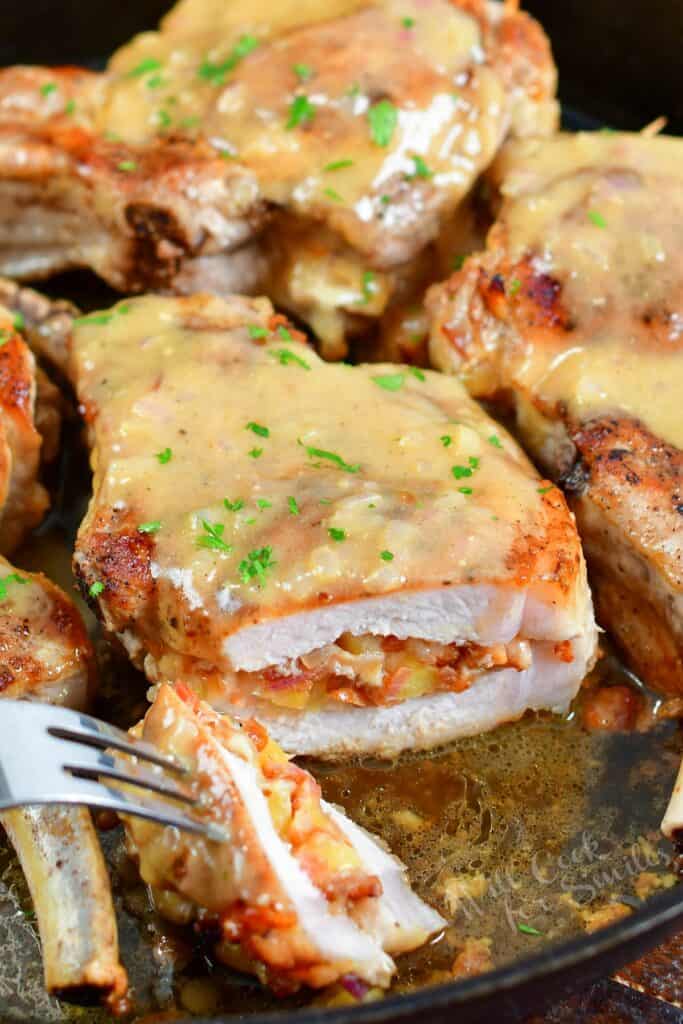 More Pork Recipes To Enjoy!
Pot Roasted Pork Loin – roasted in the oven to give you the best tender, juicy and delicious pork.
Roasted Pork Tenderloin with Pork Rub – it's crispy on the outside, soft and tender on the inside, and wonderfully seasoned with homemade pork seasoning.
Brown Sugar Dijon Pork Tenderloin – this pork tenderloin is rubbed with a flavorful mixture of Dijon mustard, brown sugar, and spices.
Garlic Pork Loin – this juicy and tender pork loin is baked on a bed of veggies for extra flavor and moisture, stuffed with garlic cloves, and rubbed with an herb mixture.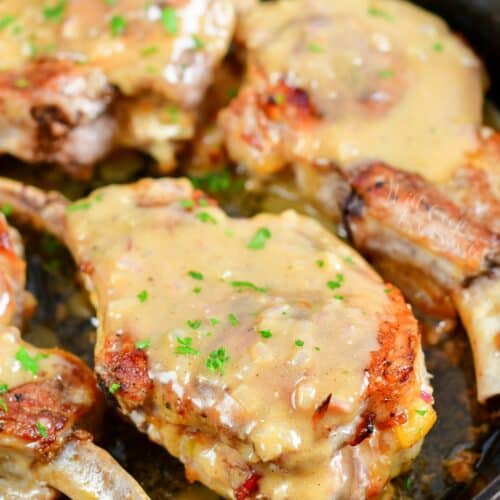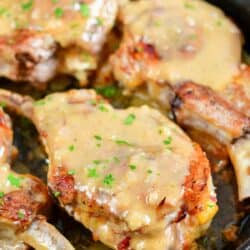 Apple Bacon Stuffed Pork Chops
These juicy stuffed pork chops are absolutely amazing filled with a flavorful mixture of apples, bacon, shallots, and smoked cheddar cheese. 
Print
Pin
Save
Saved!
Rate
Ingredients
4

bone-in pork chops 1 to 1 1/4 inch in thickness

kosher coarse salt

black pepper
Filling:
1

honeycrisp apple

or other sweeter apple, diced

5-6

slices of raw bacon

diced

1

shallot

diced

3

oz

smoked cheddar cheese

can also use Gruyere or smoked Gouda

pinch

salt and black pepper
Sauce:
1

tbsp

unsalted butter

1

shallot

diced

2

tsp

all purpose flour

1/2

cup

chicken stock

2

tbsp

apple cider vinegar

3

tsp

Dijon mustard

1/2

tsp

dried sage

2

tsp

maple syrup
Instructions
Preheat the oven to 425°. Pull pork chops out of the refrigerator and let it rest and warm up before cooking.
Make the Filling:
Peel, core, and dice apple into small pieces. Dice bacon and shallot and grate cheddar on a cheese grater.

Preheat a large, oven-safe skillet over medium heat and add about a tablespoon of oil.

Add diced bacon and cook for a few minutes, until bacon fat is rendered about half way.

Add diced shallot and cook until almost all of the bacon fat is rendered. Add apples and season with a little salt and pepper. Cook everything until apples are softened and bacon fat is all rendered.

Take the filling mixture out of the pan but leave the grease in the pan.

Let the apple bacon mixture cool a little bit and stir in grated cheese.
To Stuff Pork Chops:
Place pork chop onto the cutting board and place your hand over it. Use a sharp knife to cut a pocket in the pork chop that is large but don't slice all the way through.

Stuff each pork chop with prepared stuffing and you can secure the opening with a toothpick.
Cooking Stuffed Pork Chops:
Use the same skillet where you prepared the filling to cook the meat.

Make sure to reheat the skillet over medium-high heat if it cooled down.

Place stuffed pork chops into the skillet and let it sear for a couple of minutes. Flip them over and let them sear for about a minute.

Transfer the skillet into the preheated oven and cook until internal temrpature reaches 145°. Since pork will continue to cook while resting, I pull them out when they reach 138°-140­°.

Note: for the stuffed pork chops that are about 1 – 1¼ inch thick, it will take 15-18 minutes in the oven.
To Make the Sauce:
Prepare your ingredients before starting to cook.

Start cooking the sauce right after you pull the pork chops out of the oven, while they are resting.

Melt butter in a sauce pot over medium heat and add diced shallot. Cook shallots until completely softened and start to brown.

Sprinkle flour over the onion and stir. Once onions are coated in flour start to pour in chicken stock as you whisk continuously.

Add vinegar, mustard, maple syrup, sage, salt, and pepper. Whisk well until sauce is smooth and thickened.

Scoop out about 1/4 cup of juices that accumulated in the skillet from cooking pork and stir it into the sauce. (If you want the sauce even thinner, add some more juices from cooking pork.)

Top pork chops with sauce when serving!
Nutrition
Calories:
568
kcal
|
Carbohydrates:
13
g
|
Protein:
45
g
|
Fat:
37
g
|
Saturated Fat:
15
g
|
Polyunsaturated Fat:
4
g
|
Monounsaturated Fat:
14
g
|
Trans Fat:
1
g
|
Cholesterol:
165
mg
|
Sodium:
462
mg
|
Potassium:
793
mg
|
Fiber:
2
g
|
Sugar:
8
g
|
Vitamin A:
349
IU
|
Vitamin C:
3
mg
|
Calcium:
203
mg
|
Iron:
2
mg
Tried this recipe?
Mention @willcookforsmiles and tag #willcookforsmiles