Rice Pilaf is the easiest light and fluffy rice dish you can make that is also very flavorful. It's very easy to make in less than 30 minutes and you only need a handful of ingredients to make it tasty. You can make a perfect rice pilaf every time and customize it as fancy as you want or keep it simple!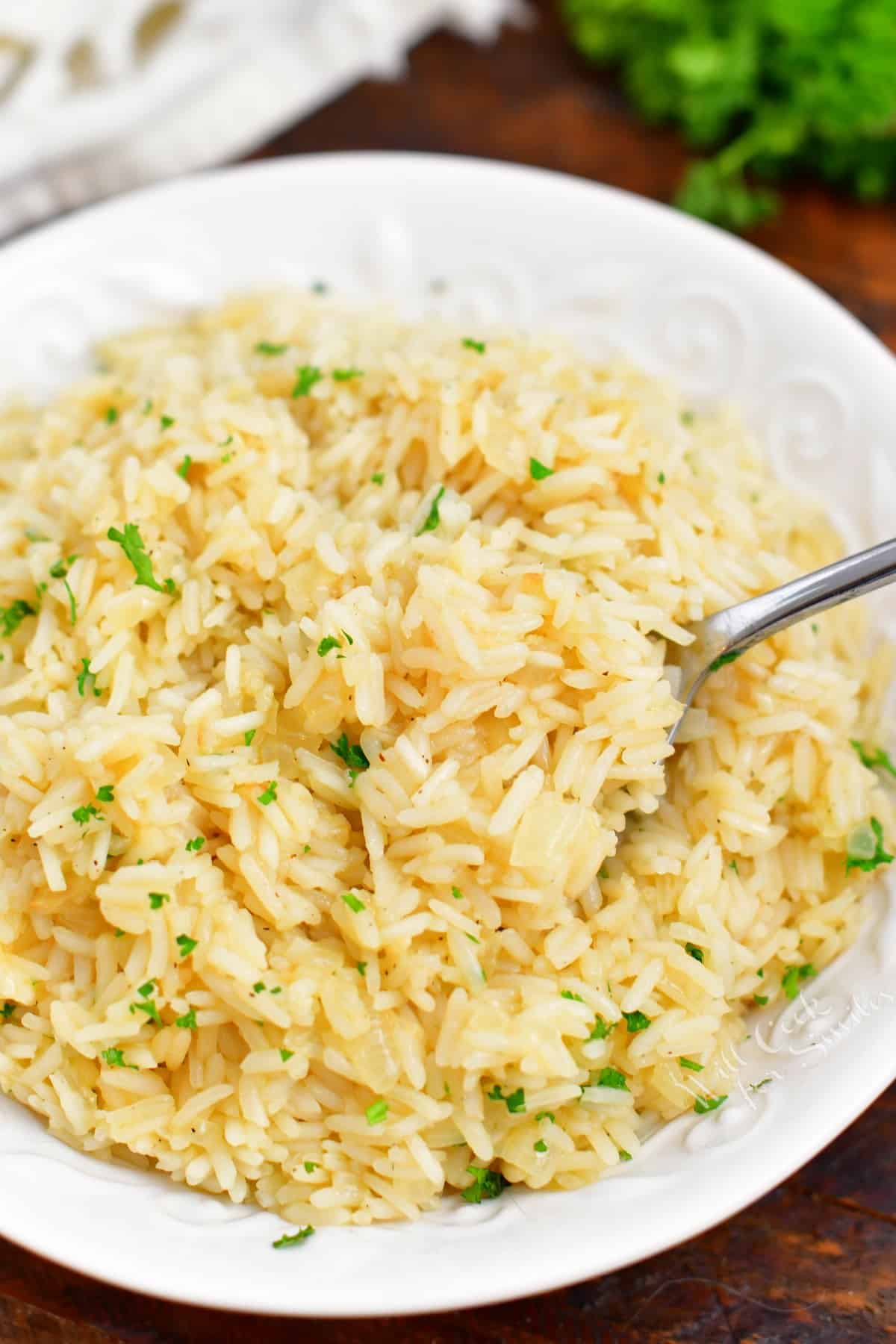 Rice Pilaf
So, what exactly is rice pilaf? Rice pilaf refers to a rice side dish that starts with sautéed aromatics like onion and garlic cooked in butter or oil. Then, long grain white rice is added and cooked for a few minutes with hot butter and aromatics over medium heat. Finally, you simmer the rice in a flavored broth, undisturbed, until tender.
You can keep rice pilaf as simple as rice cooked in broth with onion and garlic, or you can make it fancy by adding other ingredients like nuts, dried fruit, or other vegetables. While this recipe only calls for the ingredients necessary to make a simple rice pilaf, you can feel free to get as creative as you'd like with additional ingredients or enjoy it as it is.
Personally, I like to enjoy this side dish with just it's most simple ingredients. It's a classic rice dish that pairs well with a wide array of entrees, which is why it works so well with its simplicity. When you have a more plain (and delicious) side dish, it pairs well with pretty much anything it's plated with.
Ingredients for Rice Pilaf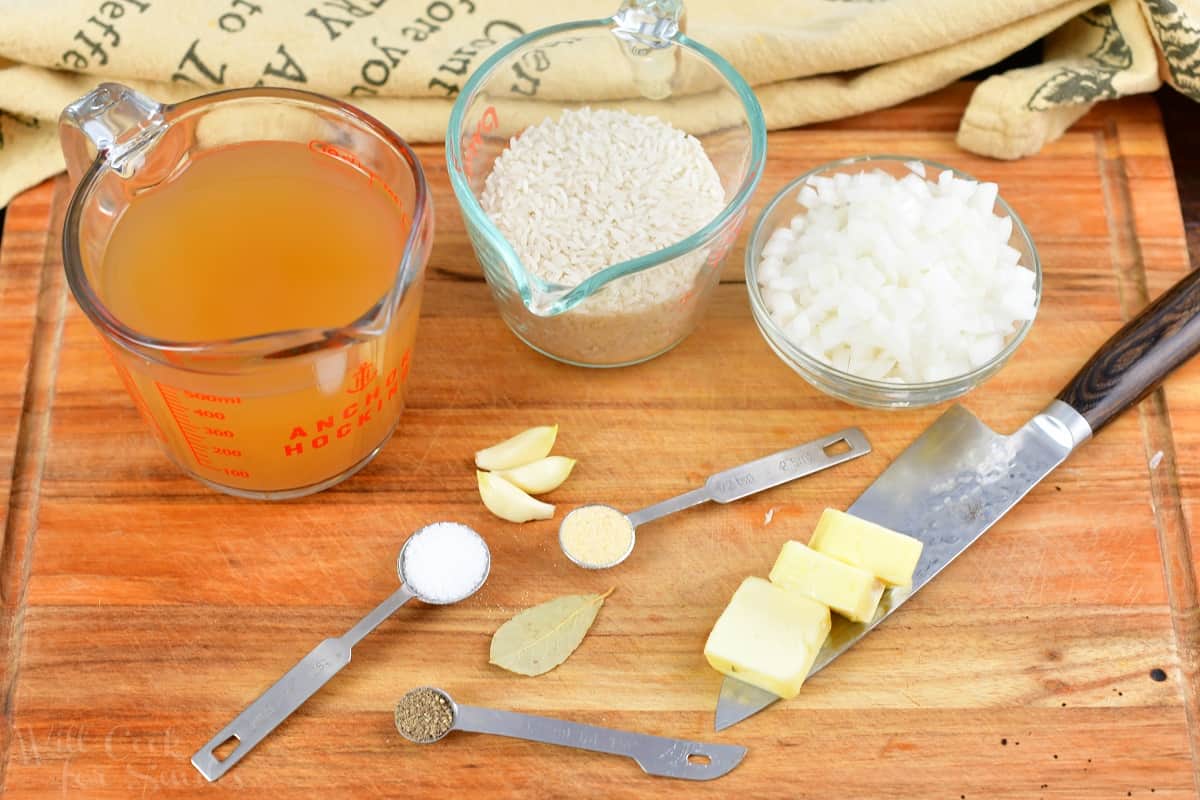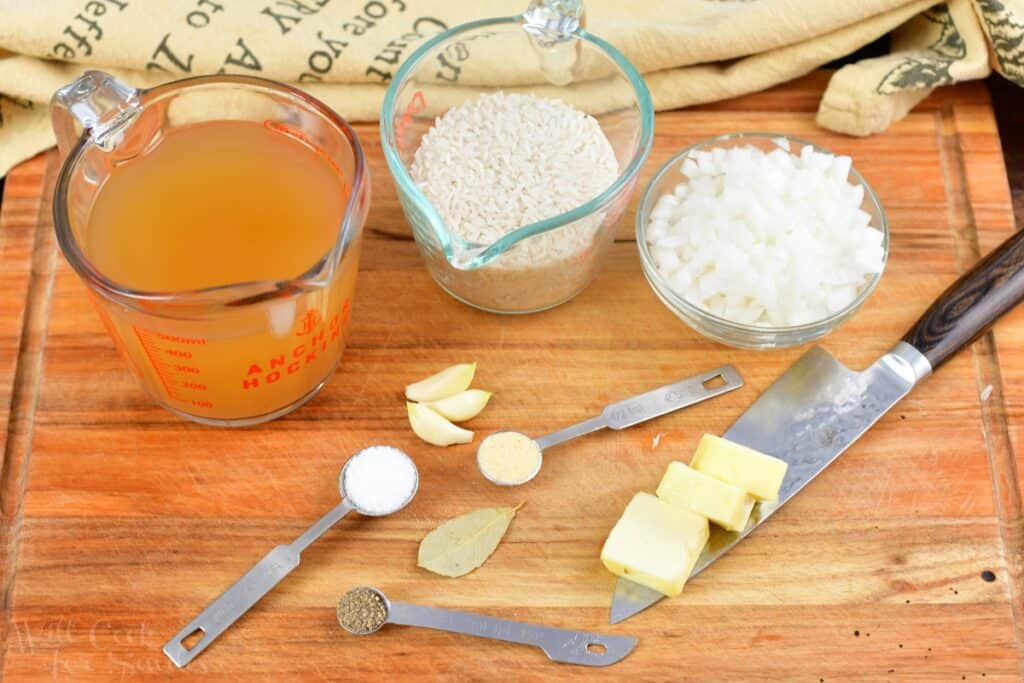 Unsalted Butter
Yellow Onion
Garlic – Fresh garlic is best!
Long Grain White Rice – Long grain rice is slim, long rice, that's about 4 to 5 times longer in length than width. The texture of this rice is ideal for this pilaf recipe, but plain white rice is a good substitute. 
Chicken or Vegetable Stock – Use stock, not broth! Stock has a richer flavor that's essential for this recipe. Depending on your personal preferences, you can use either Chicken Broth or Vegetable Broth.
Bay Leaf – Just one bay leaf is enough to add a wonderful herbaceous note to the side dish.
Salt – For best results, use coarse kosher salt or sea salt. Be careful not to add too much, as this dish can become too salty very easily.
Black Pepper – Freshly cracked black pepper will always yield the most flavorful results.
Fresh Parsley – just a little to mix in in the end.
What rice should you use?
Long grain white rice is the preferred rice for rice pilaf. Long grain rice has the best starch for the fluffy, separated rice grains because it's stable while it cooks and there is not a lot of excess starches. Other medium grain and brown rice tends to get overly sticky or even mushy. If you don't have long grain rice on hand, try basmati as a nice substitute.
Rice to Water Ratio
Most long grain rice will have a 1:2 rice to liquid ratio recommendation on the box (1 cup of rice to 2 cups of liquid). For the best rice pilaf results though, you want to use a little bit less than recommended. I usually take away 2-3 tablespoons from recommended amount. So instead of 2 cups of broth, use 1 3/4 or a splash more. Make sure to check the packaging of your rice for the recommended rice to water ratio.
Can I use brown rice in rice pilaf?
You want rice pilaf or be fluffy, light, and with separate rice grains. Brown rice tends to get mushy and stick together, so the texture will not be the same with brown rice as long grain white rice.
How to Make Rice Pilaf
Start by preparing and measuring all of your ingredients prior to cooking. This will save you a lot of stress! Also, something to keep in mind about this recipe is that it can really be broken down into three easy steps: Sautee, simmer, fluff and rest.
Combine the broth with salt, pepper, and a bay leaf. Heat the broth.
Preheat a pot over medium heat and melt the butter. Then, add the onion and sauté it. Add the minced garlic and cook until fragrant.
Stir in the rice and continue to sauté for a few more minutes.
Pour in the warmed broth mixture, stir once, and cover the pot. Once covered, lower the heat to low.
Simmer the rice for approximately 17-18 minutes.
Remove the pot from the heat, then fluff the rice. Close the lid after fluffing, and allow the rice to rest for about 5 minutes off of the heat before serving.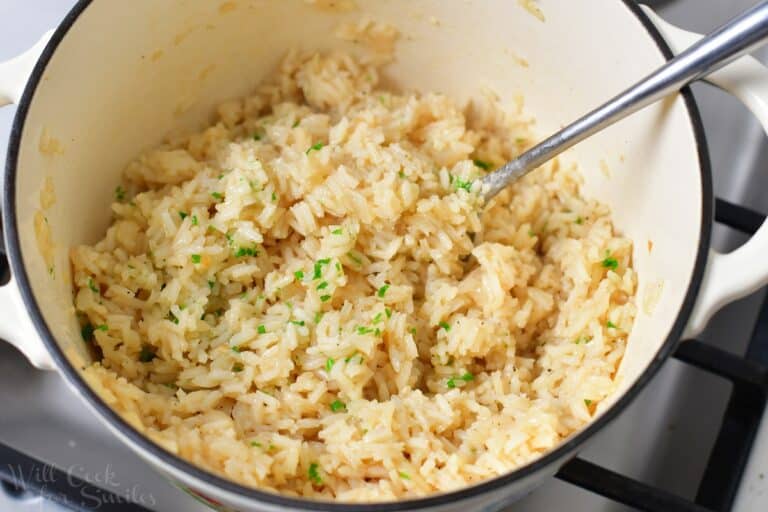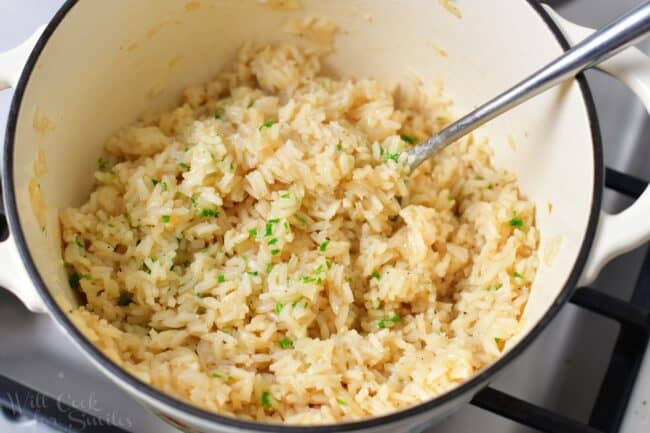 If you love parsley like I do, sprinkle some on top as a garnish. Serve this rice pilaf recipe with one of your favorite main dishes, and enjoy!
Tips for the Best Rice Pilaf
Make sure to sautee the onion first until it starts to brown for more flavor.
Make sure to give the rice a few minutes to toast over medium heat with butter and onions. This will help with the texture of separated grains of rice because the rice will lose the starches that are coating the grains on the outside.
Do not disturb the rice! Only give it one gentle stir after adding the liquid to mix, and then don't touch it. Too much stirring will release the starches and make rice stickier.
Let it rest! After the 17-18 minutes of cook time, quickly fluff the rice with a fork, cover it back with a lid, and set it aside to rest for about 5 minutes.
Storing Instructions
Store leftover rice pila in an airtight container, in the refrigerator, for 4-5 days. Another thing I love about this recipe is that it reheats fabulously in the microwave. Use your leftovers as a snack the next day and thank me later! To refresh rice when reheating, add a tablespoon or two of stock to the rice when reheating. Microwave it covered with a microwave lid or another dish.

Can I freeze cooked rice?
Freezing rice is a fantastic idea for easy meal prep! To make it easier to use, freeze it in smaller serving sizes. This way, you can pull just what you need without having to reheat an entire batch. To freeze, make sure to cool rice completely and transfer into a zip-top freezer bag or into a freezer food storage container. Close it air-tight, label, and freeze for up to 3 months.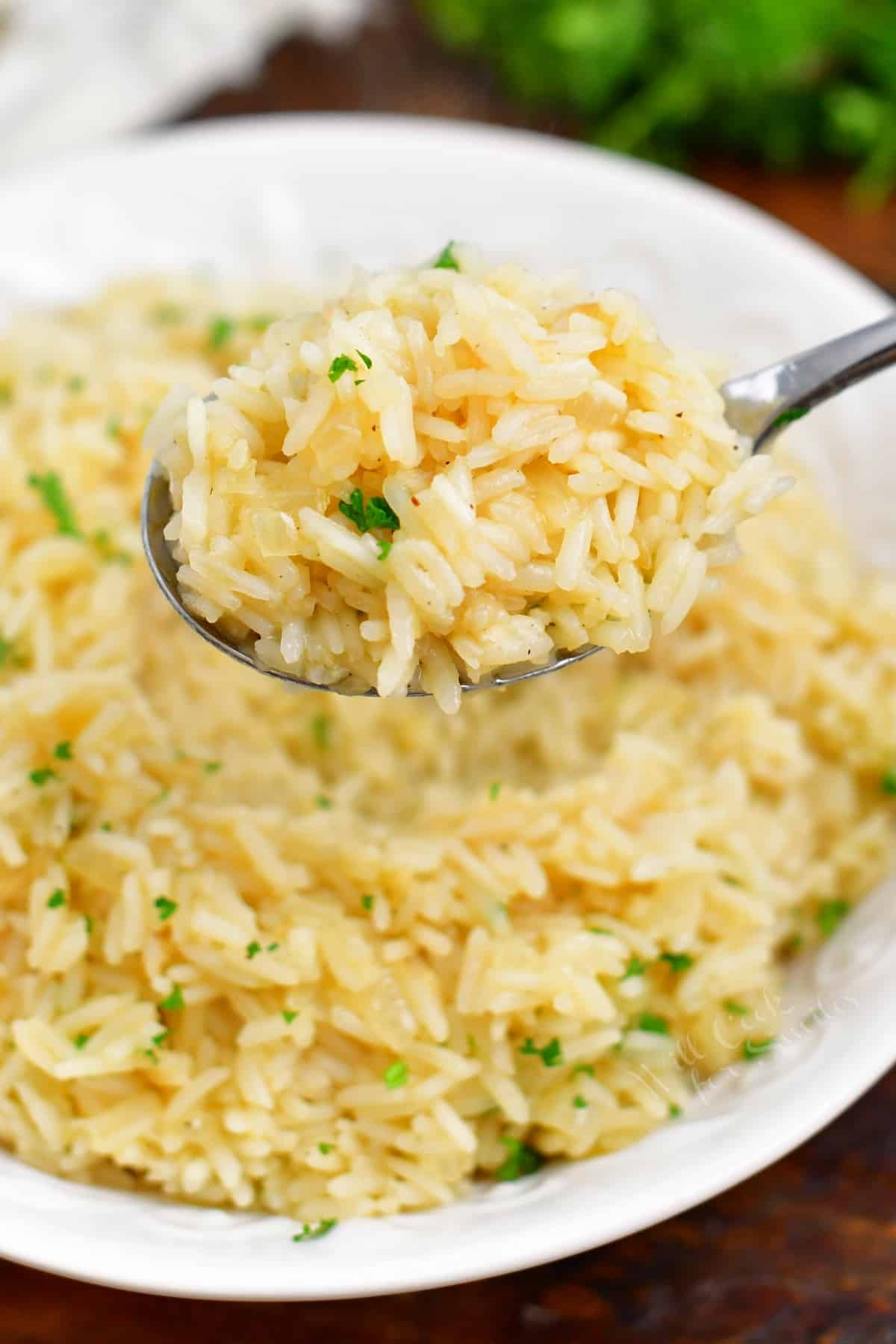 Some More Rice Side Dishes
Coconut Rice – this rich and sticky rice is made with jasmine rice, unsweetened coconut cream, coconut water, and a hint of fresh lime juice
Spanish Rice – this fluffy long gain rice is browned with a little oil fist and then cooked in a tomato flavored broth with tomatoes, onions, and garlic
Chicken Fried Rice – homemade chicken fried rice is loaded with all of your favorite classic ingredients and is SO much better than take-out
Khao Pad – an amazing and easy fried rice dish made with key ingredients like chicken, jasmine rice, vegetables, and egg, and it's richly flavored with garlic, fresh ginger, fish sauce and oyster sauce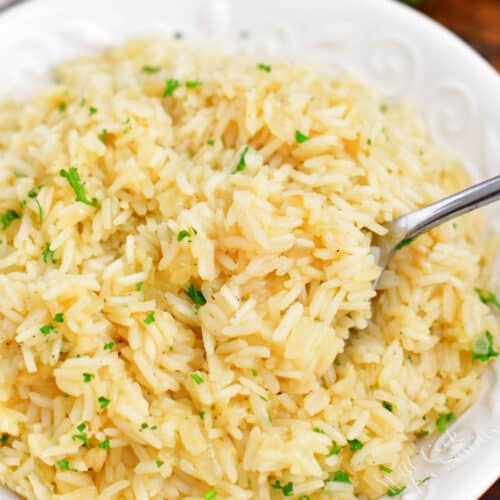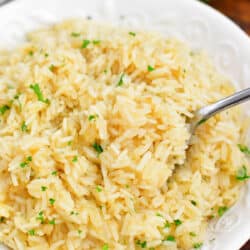 Rice Pilaf
Rice Pilaf is the easiest light and fluffy rice dish you can make that is also very flavorful. It's very easy to make in less than 30 minutes and you only need a handful of ingredients to make it tasty.
Print
Save
Saved!
Rate
Ingredients
3

tbsp

unsalted butter

1/2

yellow onion

diced

2

garlic cloves

minced

1

cup

long grain white rice

1 3/4

cups

chicken or vegetables stock

+1-2 tbsp more if needed

1

bay leaf

1

tsp

coarse kosher or sea salt

to taste

1/4

tsp

black pepper

to taste
Instructions
Prepare and measure all ingredients before starting to cook.

Combine stock with salt, pepper, and bay leaf and heat it up either in a separate sauce pot or in a microwave. Set aside.

You can use a cooking pan with a fitted lid, a small Dutch oven, or a sauce pot with a lid to prepare the rice.

Preheat the pot over medium heat and melt butter. Add diced onion and sauté until onion is softened and starts to brown.

Add minced garlic and sauté just until fragrant.

Stir in rice and let it sauté for a couple of minutes.

Pour in warmed stock mixture, stir just once or twice, cover the pot with a lid, and lower the heat to low.

Simmer rice for 17-18 minutes.

Take the pot off heat and fluff the rice. Close the lid and let rice rest for about 5 minutes away from heat.
Nutrition
Calories:
290
kcal
|
Carbohydrates:
43
g
|
Protein:
6
g
|
Fat:
10
g
|
Saturated Fat:
6
g
|
Polyunsaturated Fat:
1
g
|
Monounsaturated Fat:
3
g
|
Trans Fat:
1
g
|
Cholesterol:
26
mg
|
Sodium:
736
mg
|
Potassium:
194
mg
|
Fiber:
1
g
|
Sugar:
2
g
|
Vitamin A:
268
IU
|
Vitamin C:
2
mg
|
Calcium:
26
mg
|
Iron:
1
mg
Tried this recipe?
Mention @willcookforsmiles and tag #willcookforsmiles