Vegetable stock is so simple to make at home and so much better than store-bought. I will walk you through how to make an easy and delicious vegetable stock including some tips for best results.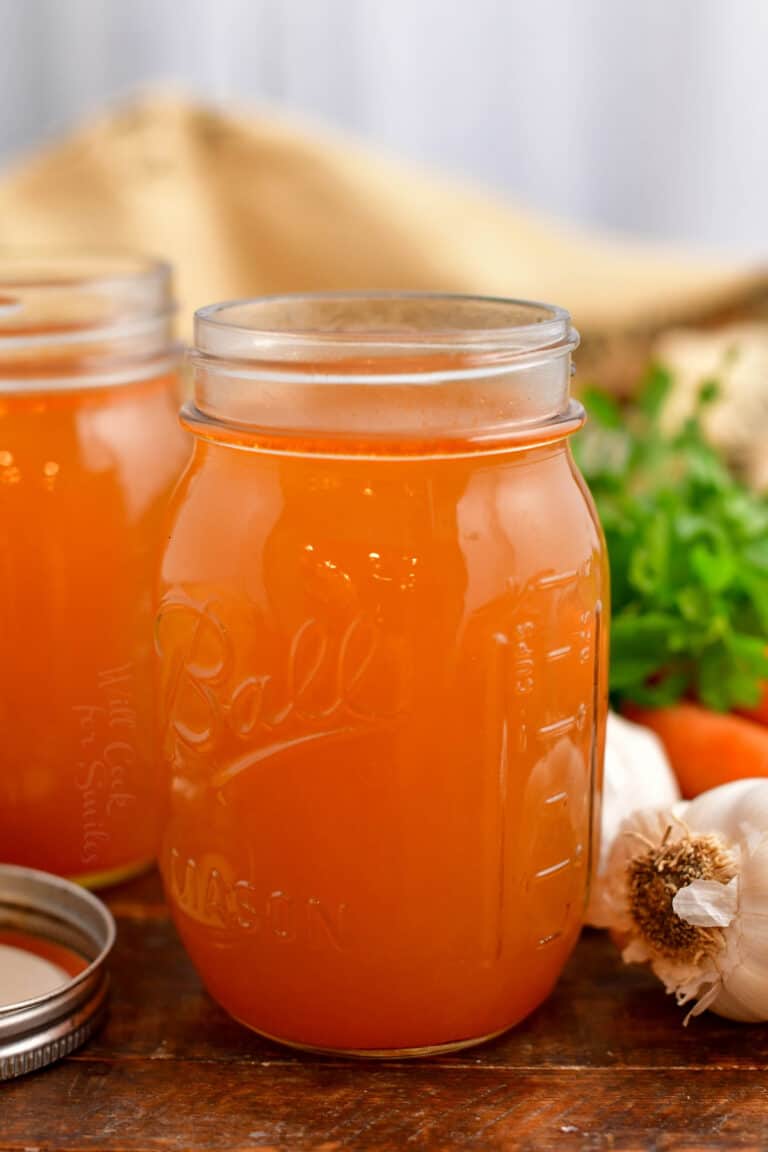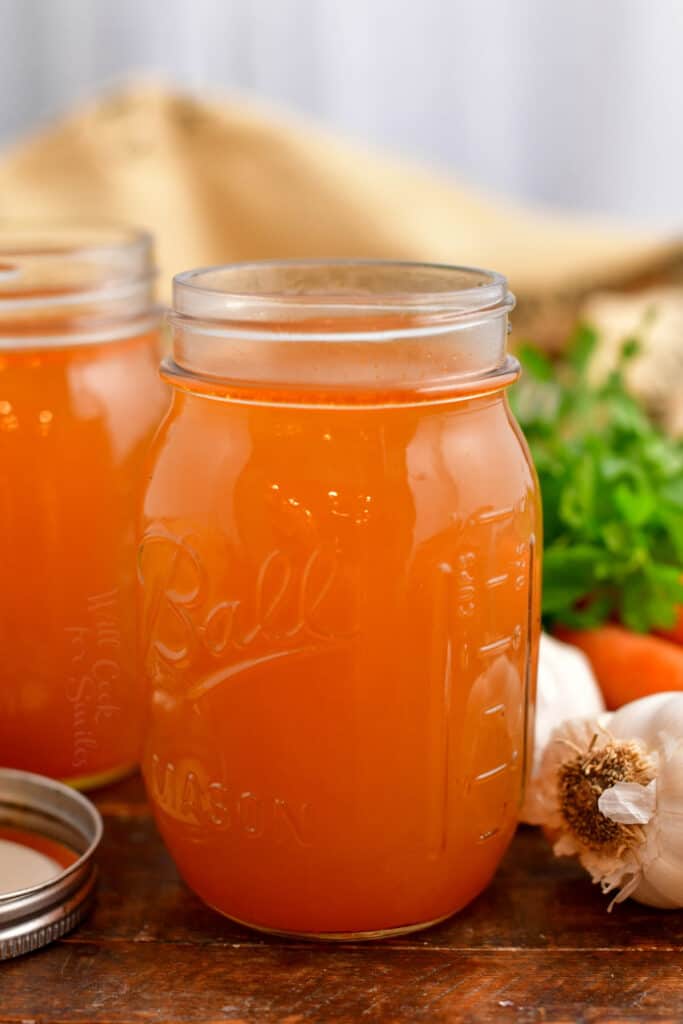 THE BEST VEGETABLES STOCK
It's not surprising that most cooks choose to use store-bough stock and broth because it's so convenient. I know that I do that and I usually have homemade chicken and vegetable stock in the freezer. But, much like many other convenient products, stock and broth from the store are much more expensive.
There is also quite a big taste difference in the store-bought stocks and broths. It taste quite different from homemade and even brands taste different from each other.
Making your own homemade vegetable broth is the best way to make your soups tastier. I can't count how many times I've been told that using homemade stocks changed the way people's soup taste 100%.
Ingredients
The ingredients needed for this homemade vegetable stock recipe are both healthy and delicious. Each one is carefully chosen and the amount of flavor that each vegetable provides is incredible!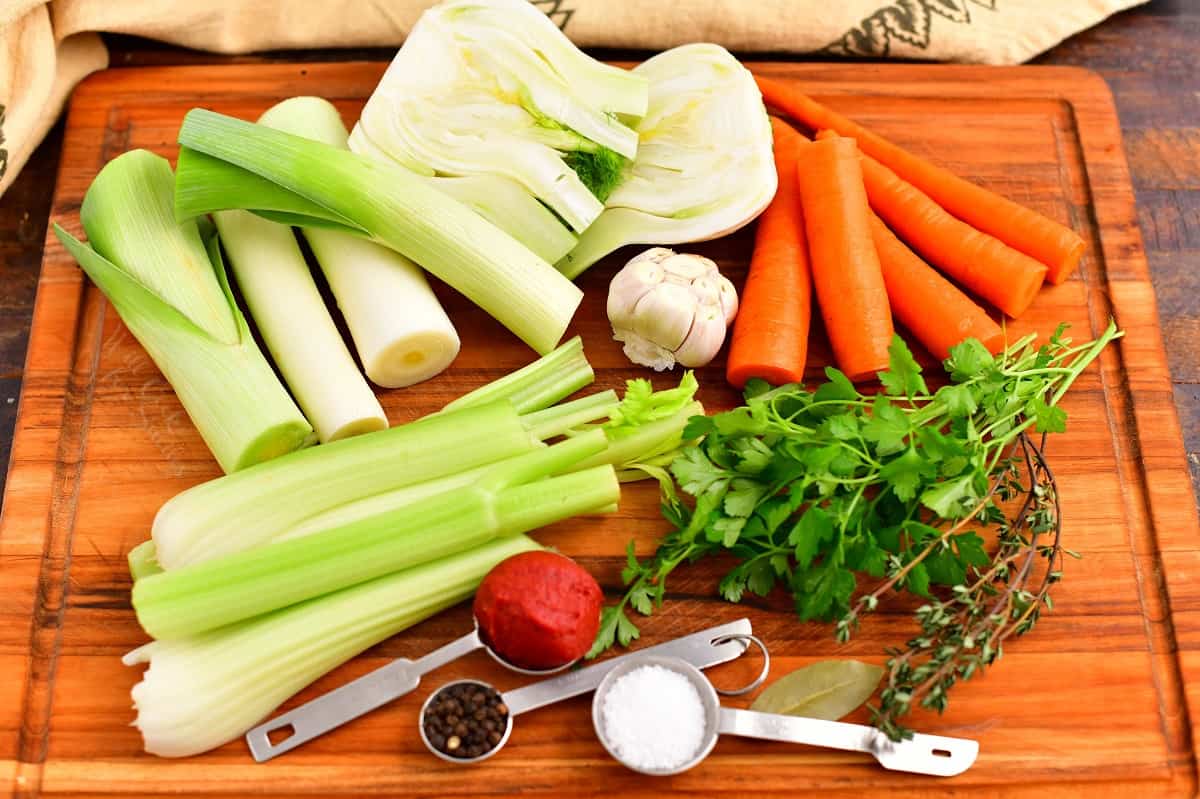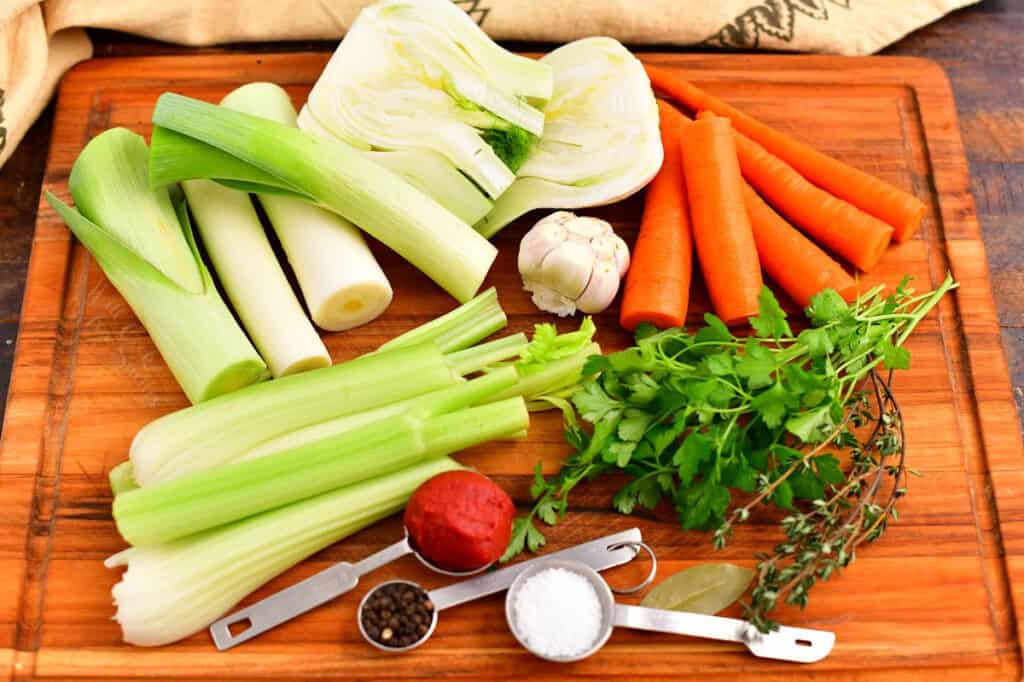 Canola Oil – Olive oil can be used to substitute this ingredient.

Leeks – Leeks are in the onion family, but their flavor is lighter. Onions can make vegetable stock taste sulfurous, which would be somewhat unpleasant.

Celery Ribs – When looking for the best celery, make sure you choose one with firm, tightly packed stalks and bright green color.

Medium Carrots – no need to peel the carrots but you want to wash them well and scrub with a vegetables scrub brush.

Fennel – Fennel has a very distinct flavor but not overpowering to other vegetables.

Tomato Paste – fresh tomatoes are too mild to make a flavor difference. Tomato paste gives the stock a great flavor depth and balance between other vegetables.

Garlic bulb – use the whole garlic bulb but peel the outer loose skin and slice off the tips of the cloves to expose the flesh.

Parsley – Make sure you're using fresh parsley, not dried.

Thyme – Just like your parsley, make sure you're using fresh, not dried thyme.

Bay Leaves

Salt – Be careful not to overdo the amount of salt you add because you will be adding more salt when cooking with stock.

Whole Peppercorns – Do not use cracked pepper! Whole peppercorns are much easier to remove than cracked pepper and it has a richer pepper flavor.

Water
What's the difference between vegetable broth and stock?
When it comes to vegetable broth and stock, there's really no difference! The terms are interchangeable. Surprising, right?!
The same cannot be said for chicken and beef broths and stocks, however. Chicken and beef stocks are made with bones, while broth is not. That's why those stocks have heartier, fuller flavors than the broths.
What not to use in vegetable stock:
Not every vegetable is meant to go into the stock! Make sure to read these and not what not to use.
Surprisingly, there are many common vegetables that simply do not work well with others when it comes to stock. Broccoli, for example, can create a strong bitter taste that overpowers the other ingredients. Green beans and zucchini also have bitter taste after boiling for a long time.
Avoid using the outer leaves of the celery, too. While the celery ribs are excellent in this recipe, the outer leaves are far too bitter to include.
Lettuce won't ruin the broth, but it won't add anything to it, either. It's an unnecessary vegetable to chop, so don't waste your time.
Don't use potatoes, squashes, or turnips. These vegetables are far too starchy to use in a stock.
Beets is another vegetable to avoid because it has a very strong and overpowering taste.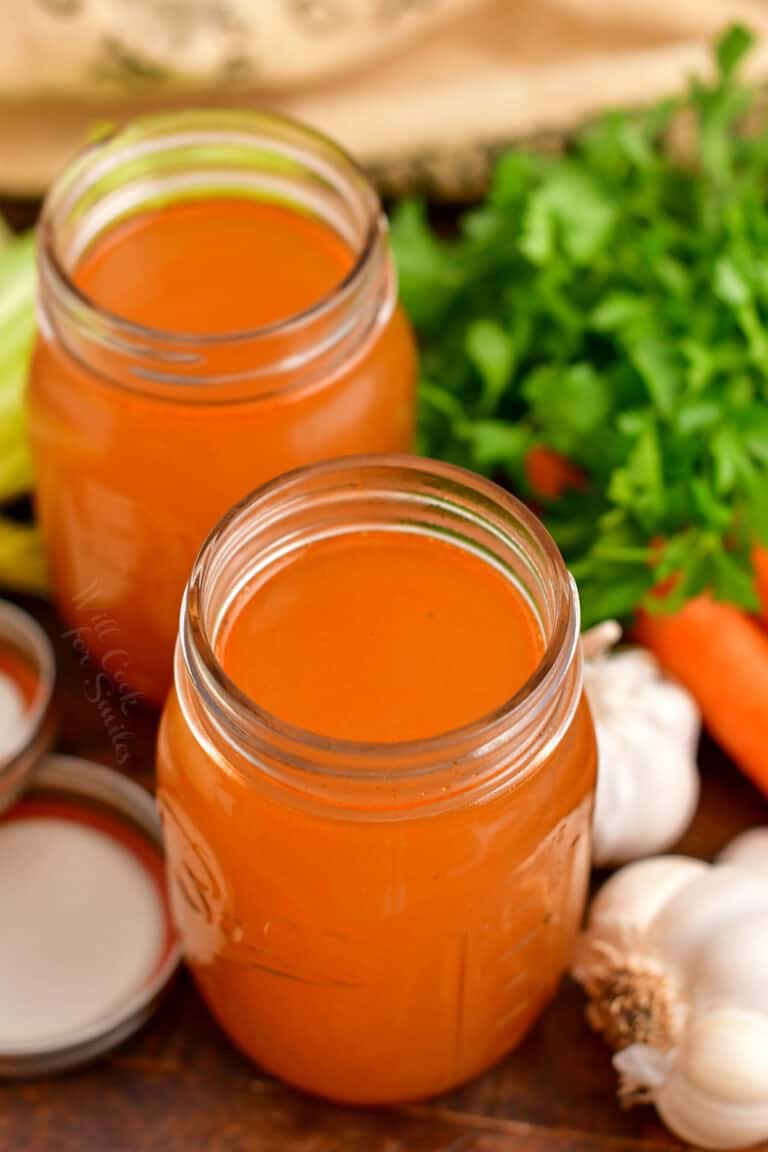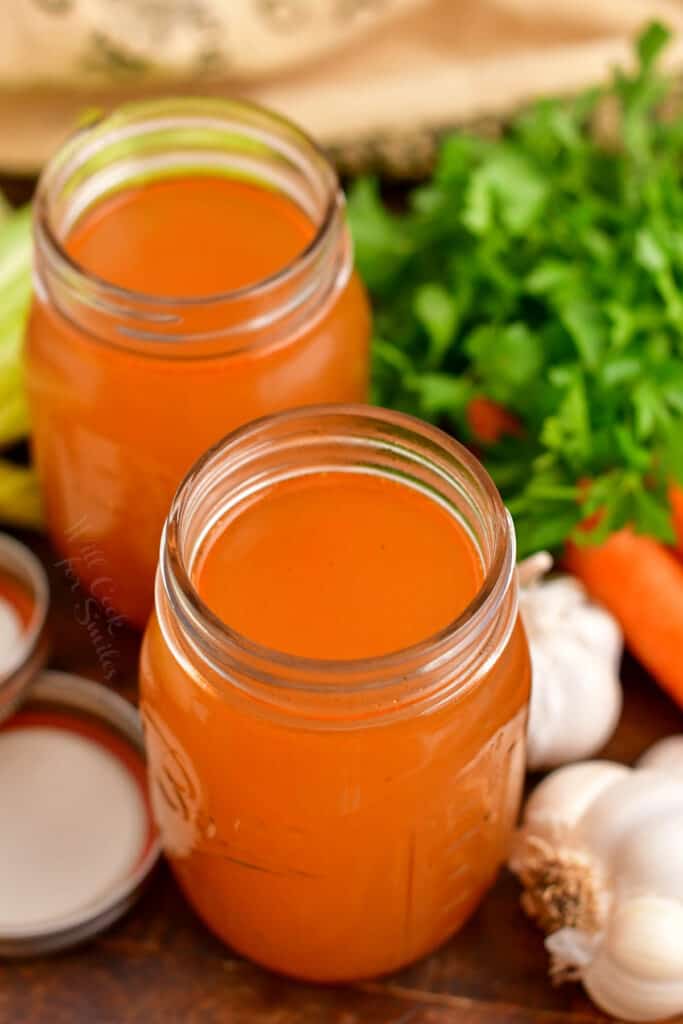 How to Make Vegetable Stock
This flavorful wonder is made in just a few easy to follow steps!
First, prep the vegetables:
Cut the leeks. Slice the leeks in half. Also, make sure there's no dirt on the leeks by giving them a quick rinse in the sink.
Slice the fennel. After you discard any dark green shoots, slice the fennel bulb in half.
Prep the celery and carrots. You'll need these veggies to fit nicely into the pot. So, rinse them and cut in halves of quarters.

Peel the garlic. Peel the outer, loose skins off the garlic bulb and slice the top of the bulb off.
Next, make the stock:
Sear the vegetables. Work in batches, that way the pot isn't too crowded. Sear all the veggies until they're golden brown in color. Add the vegetables to the pot once they're seared.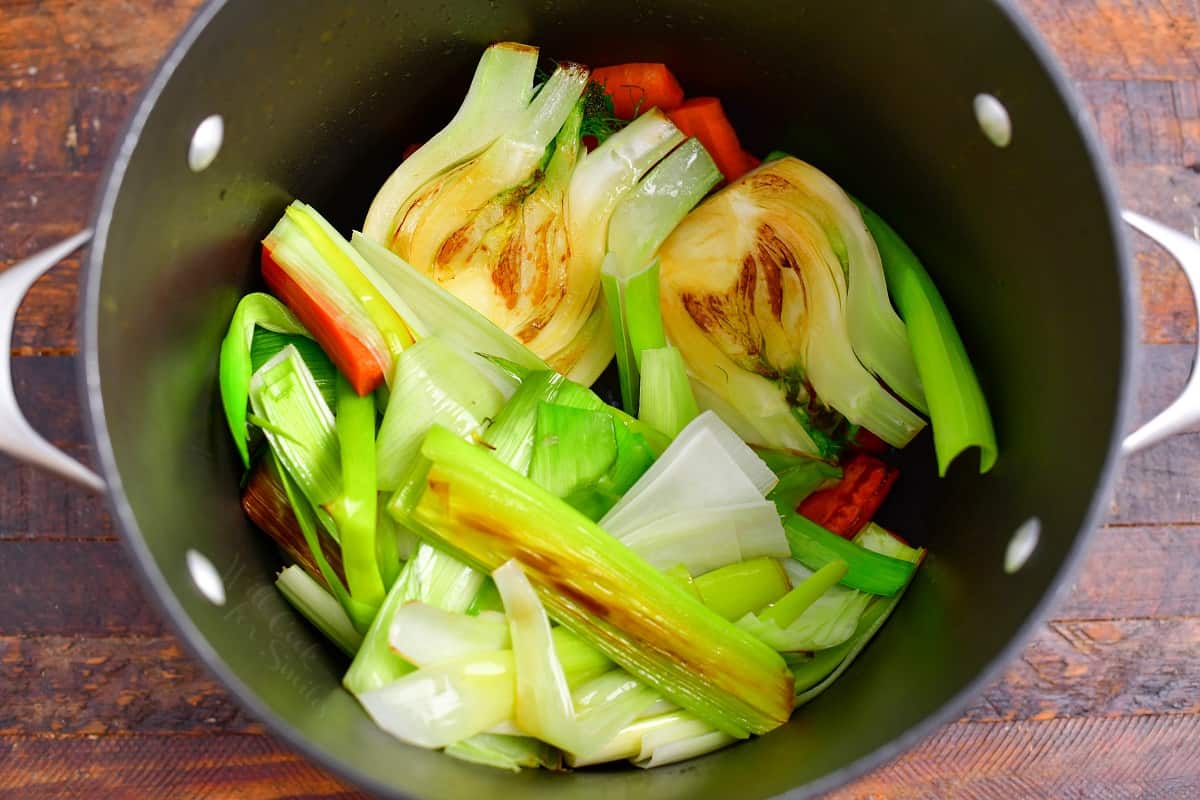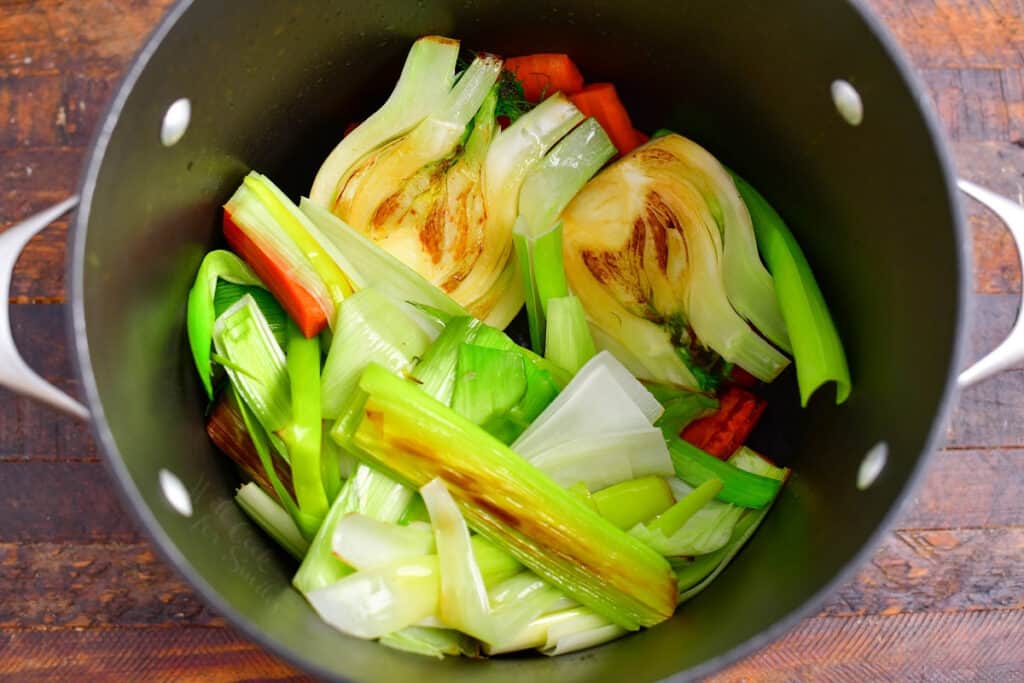 Add the remaining ingredients. Once all the vegetables are seared and in the pot, add the water, herbs, salt, peppercorns, and tomato paste. Stir everything to fully combine.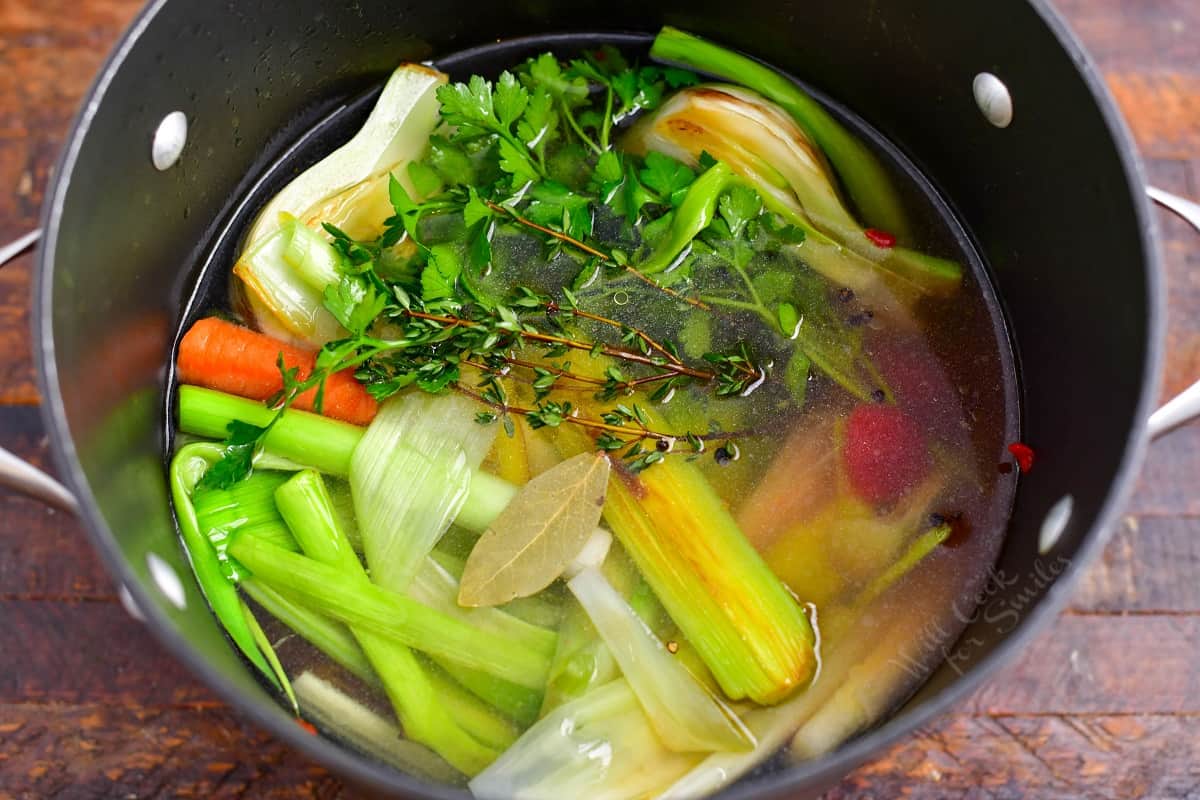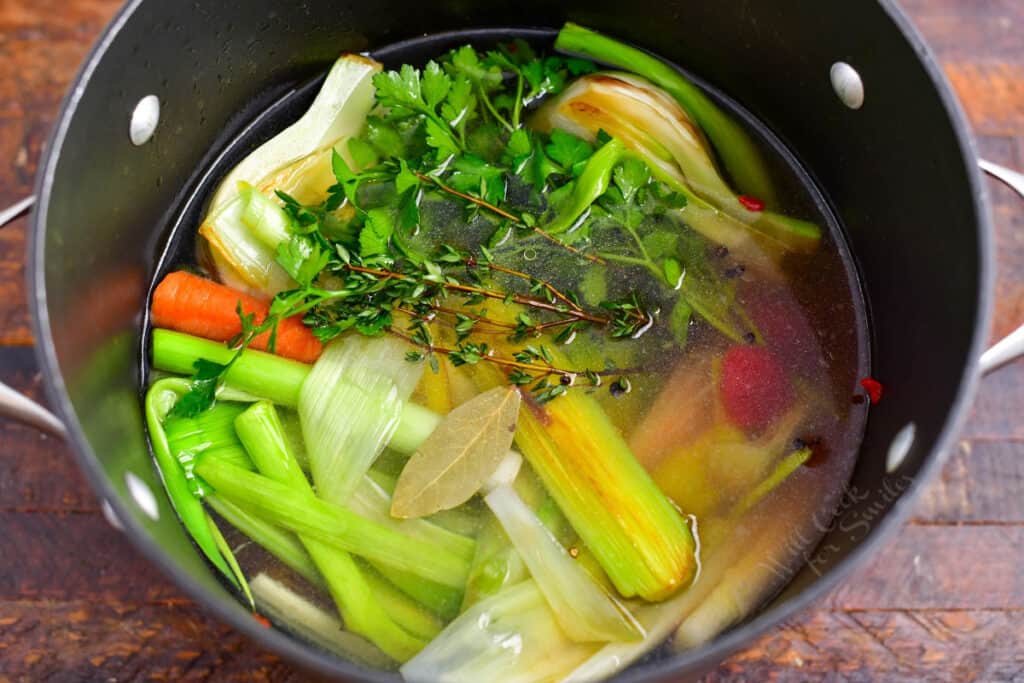 Cook the veggies. Bring everything to a simmer and lower the heat. Using medium low heat, allow the veggies to cook for about an hour.
NOTE: Don't try to rush this step by turning the heat up or shortening the cooking time! You want the ingredients to take their time so the end result is really flavorful.
Strain the liquid. Carefully pour the mixture through a strainer or through several layers of cheesecloth. Don't forget to place a bowl underneath to catch the liquid!

When the vegetables are a bit cooler and safe to handle, squeeze any remaining liquid out of them. This way, no flavor will be left behind. You can discard the veggies after they've been squeezed.
NOTE: discard remaining vegetables. They are beyond saving because all the nutritional value has been cooked off into the stock.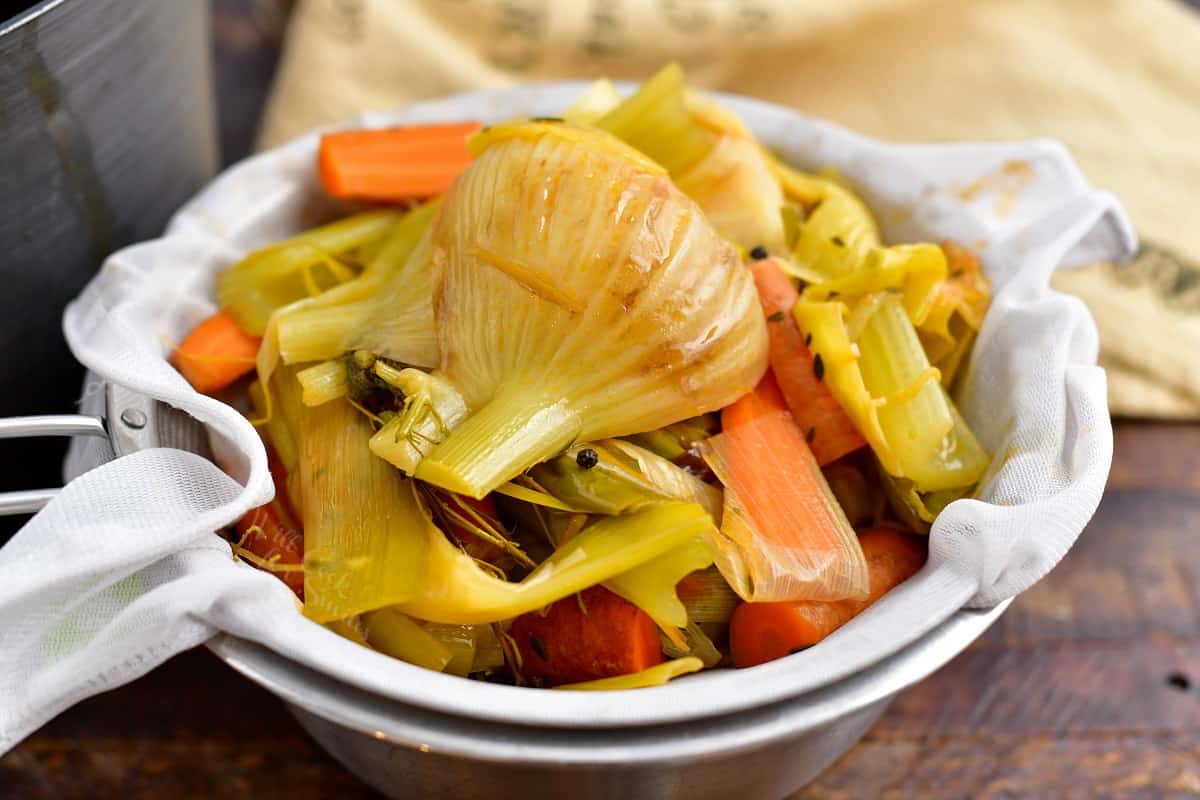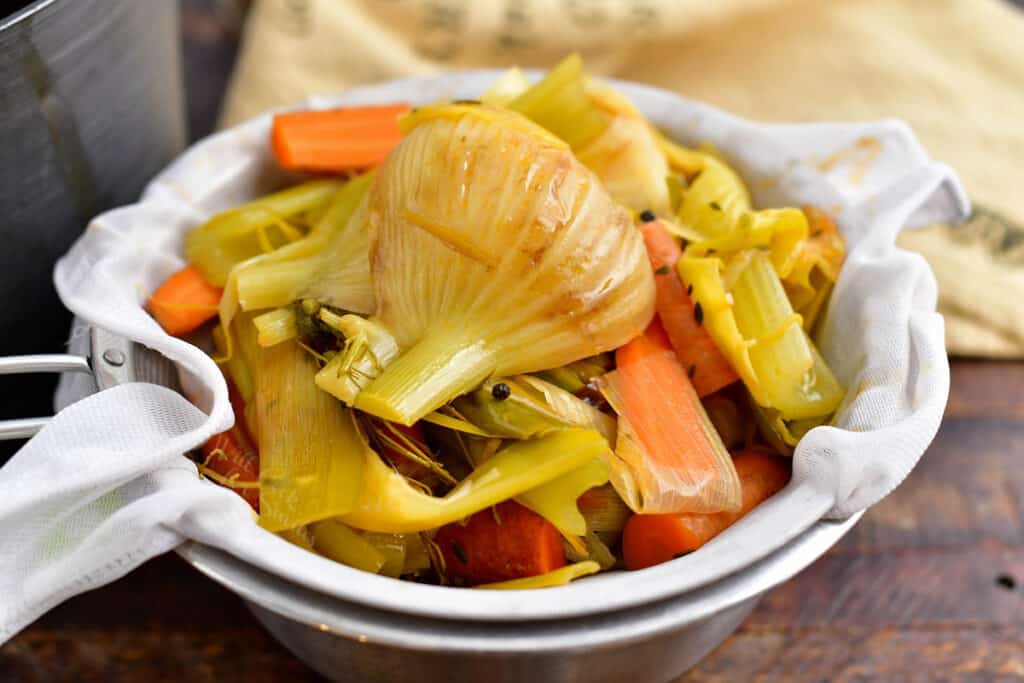 Storing and freezing
Store homemade vegetable stock in the refrigerator. To prevent it from absorbing odors and to extend it's shelf life, keep it in glass jars with a lid.
In the refrigerator, fresh vegetable stock will last for up to 3 days. For the best flavor, I always recommend using it within a day or two. If you need to keep it longer, then freeze it.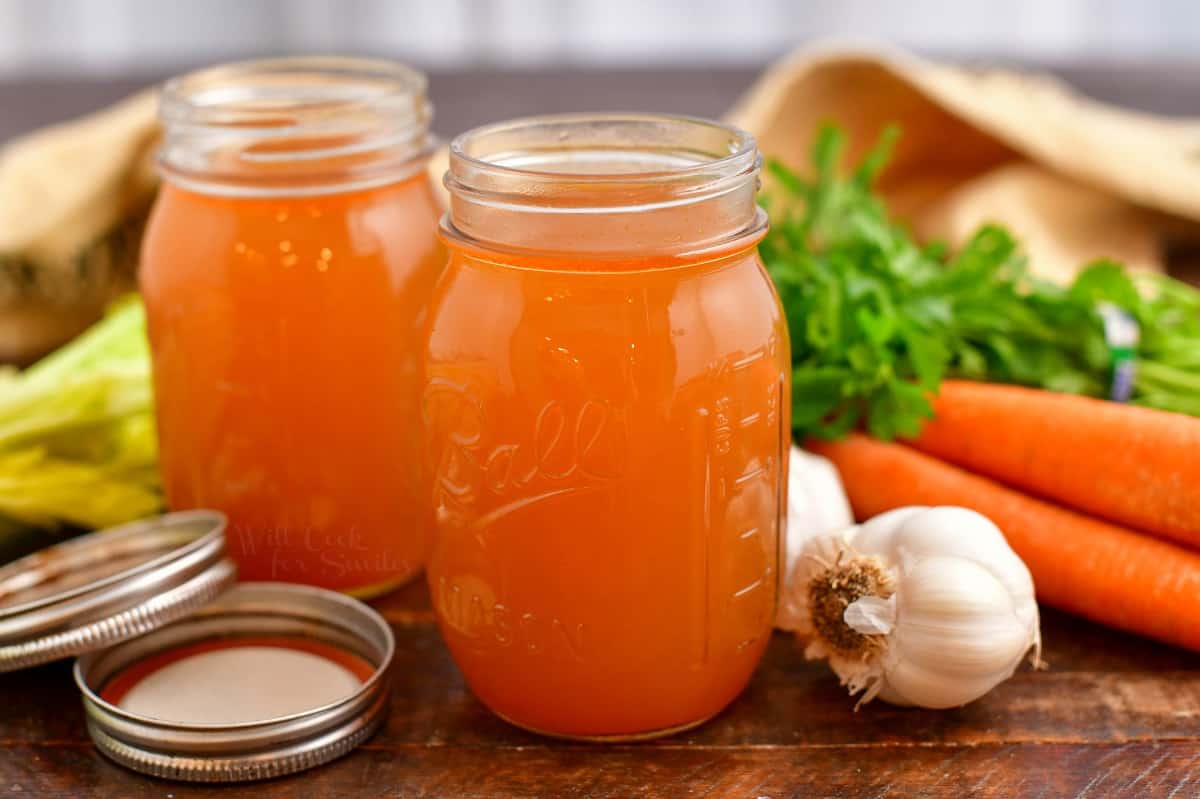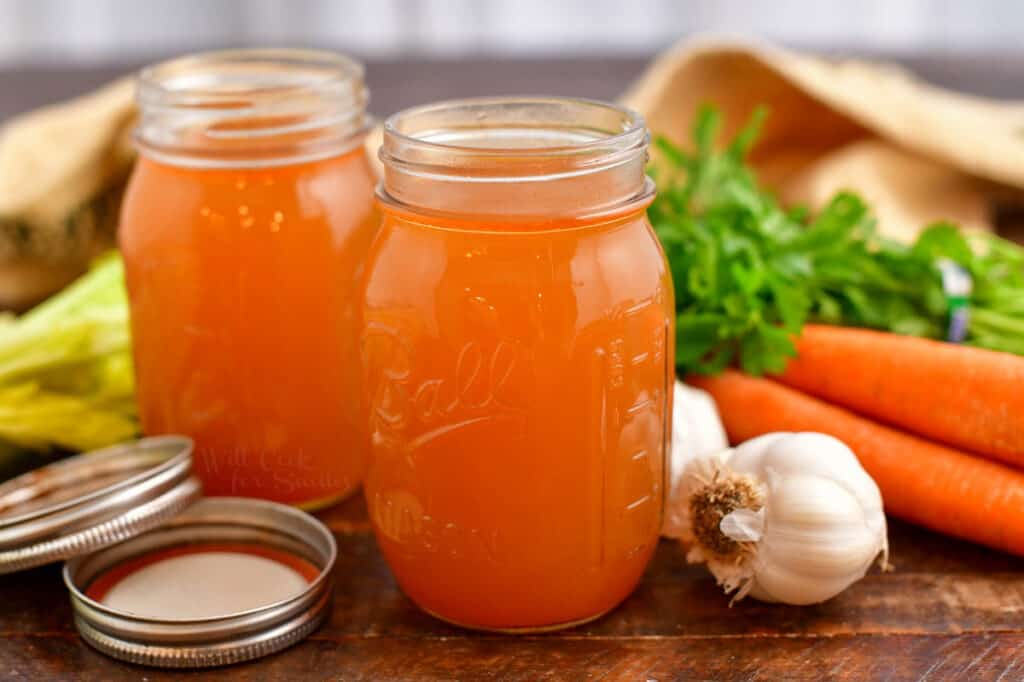 FREEZING INSTRUCTIONS
There are several freezing options, depending on how much you are freezing and how quickly you plan to use it.
For larger amounts, freeze stock in zip-top freezer bags or airtight freezable containers. Or, for smaller portions, use silicone muffins pans or ice cube trays.
Smaller portions can be used to make sauces and other recipes that call for just a little bit of stock or broth.
NOTE: Before freezing, it's important that your stock be at room temperature, or as close to it as possible. Otherwise, ice crystals are more likely to form on the top, which can reduce the flavor.
Make sure to fill the freezer bags and freezer container only about 3/4 full to allow room for stock to expand as it freezes.
Stock will keep in the freezer for up to 2 months.
Try Other Stock Recipes:
Do you need more soup recipes to get you through the winter months? Don't miss out on my other favorite homemade broth recipes. Try making chicken broth and beef broth at home too!
PIN THIS RECIPE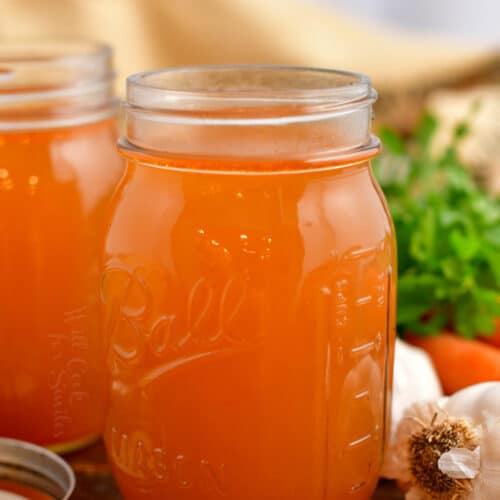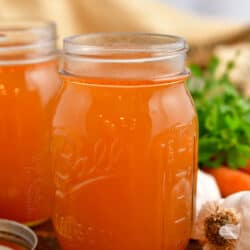 Vegetable Stock
Vegetable stock is so simple to make at home and so much better than store-bought. Make this recipe and use it for delicious soups and sauces!
Print
Pin
Save
Saved!
Rate
Servings:
10
makes about 2.5 quarts
Ingredients
2

tbsp

canola oil

2

leeks

3-4

celery ribs

3-4

medium carrots

1

large fennel

2

tbsp

tomato paste

1

bulb of garlic

5-7

whole parsley, stems and leaves

4-5

thyme sprigs

1

bay leaf

1/2-1

tbsp

coarse salt

1

tsp

whole peppercorns

10-12

cups

warmed water
Instructions
Cut the damaged or wilted dark green parts of the leek and the root off and discard. Slice leeks on half, lengthwise, and rinse in between the layers. (There is often dirt hiding between the layers of the leek.)

Cut off the darker green shoots off the fennel bulb and discard. Slice fennel bulb in half.

Cut celery and carrots in halves of quarters so it fits better in a pot.

Peel the outer loose skin off the garlic bulb and slice off the very tip of the bulb, exposing the "meat" of garlic.

Preheat a large Dutch oven or another large soup pot over medium-high heat to sear the vegetables.

Sear vegetables in batches so you don't overcrowd the bottom of the pot until golden brown. When all the vegetables have been seared, add them back into the pot. (Sear the bulb of garlic cut side down.)

Pour in water and stir in herbs, salt, peppercorns, and tomato paste until completely incorporated.

Bring everything to simmer and lower the heat to low. Cover with a lid but leave a small crack for the steam to escape.

Let the vegetables cook for about an hour.

Cover the strainer with a mesh vegetable bag or cheese cloth and strain the stock through it.

Let the cooked vegetables cool in the strainer for a little while and then squeeze out leftover liquid out of them through the mesh bag (or the cheese cloth).

Discard the cooked vegetables.
Storing:
Store homemade vegetable stock in the refrigerator, in glass jars with a lid. In the refrigerator, homemade stock will last for up to 3 days. I always recommend using the stock within a day or two or freeze it.
Freezing:
Freeze stock in zip-top freezer bags and plastic air-tight containers for larger amounts or, muffins pans and ice cube strays for smaller portions.

Smaller portions can be used in sauces and other recipes that call for just a little bit of stock and broth.

Make sure to cool the stock first to room temperature. Divide among the freezer bags or transfer into one or two large freezer-friendly containers. Make sure to fill them no more than 3/4 of the way full to allow room for expanding as it freezes. Seal, label, and place in the freezer. Plastic bags can be laid on a large cutting board to freeze and then stacked when frozen. That will save room in the freezer. 

Muffin pans and ice cube trays – ladle cooled stock into the muffin pan cups or ice cube trays. Carefully place in the freezer and freeze for about 3 hours until completely frozen. Once it's frozen, transfer the cubes into freezer zip-top bags, seal, label and freeze. (You can portion the cubes into several smaller freezer bags as well.)
Nutrition
Calories:
55
kcal
|
Carbohydrates:
7
g
|
Protein:
1
g
|
Fat:
3
g
|
Saturated Fat:
1
g
|
Sodium:
416
mg
|
Potassium:
226
mg
|
Fiber:
2
g
|
Sugar:
2
g
|
Vitamin A:
3501
IU
|
Vitamin C:
8
mg
|
Calcium:
40
mg
|
Iron:
1
mg
Tried this recipe?
Mention @willcookforsmiles and tag #willcookforsmiles