This Pasta with Mushroom Sauce is super easy, incredibly delicious, and wonderfully comforting. There are a few basic ingredients, but they all come together in the best mushroom sauce for your favorite pasta. This mushroom sauce features different types of mushrooms, heavy whipping cream, white wine, parmesan cheese, and a few other ingredients for more flavor.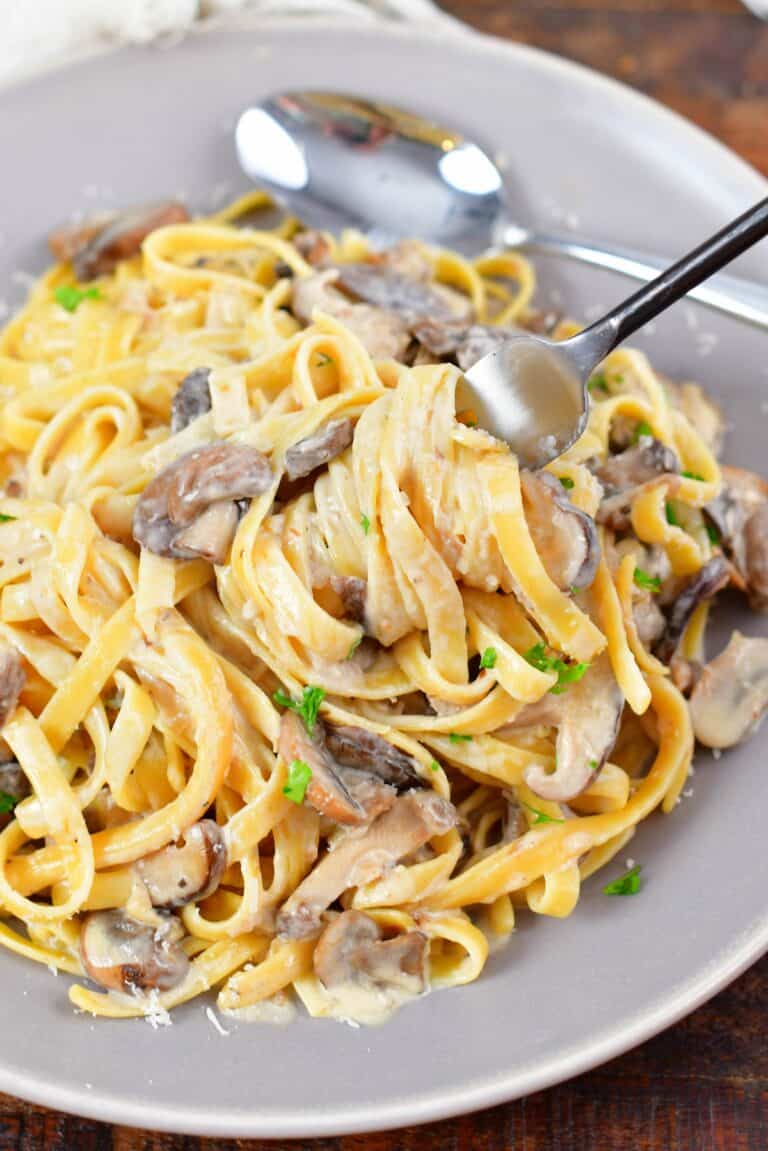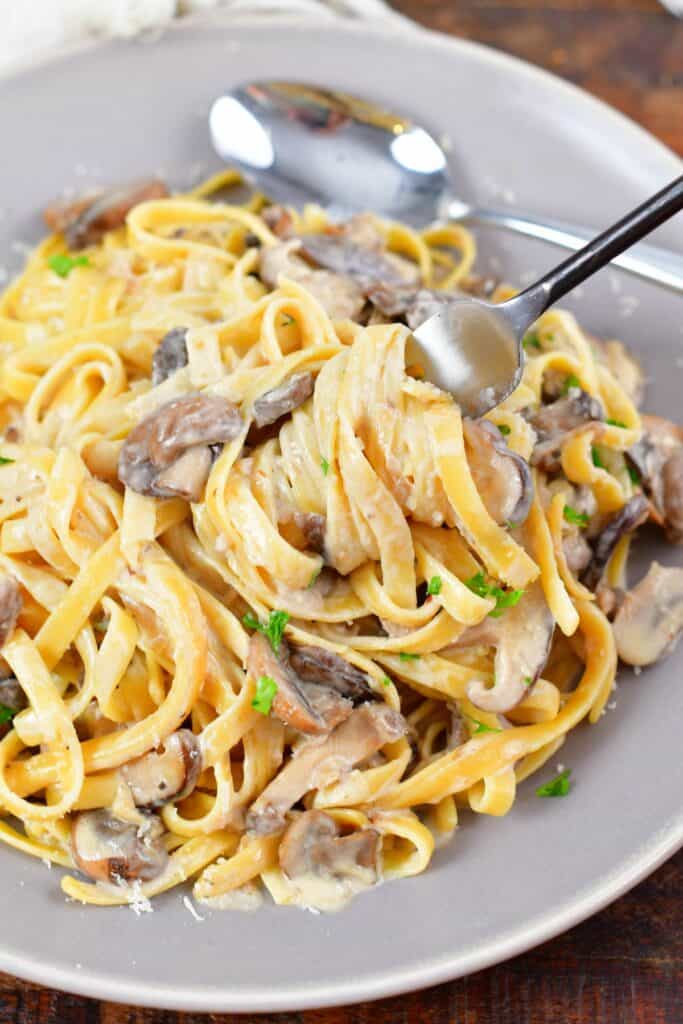 Pasta with Mushroom Sauce
What could possibly be more comforting for dinner than a bowl of creamy, cheesy pasta? The only thing that makes this dinner even better is how fast and easy it is to make! It's really a perfect weeknight dinner any time you need to feel a little happier. After a busy work day or hectic day with the kids, this pasta is what you need to treat yourself to. It's so very rich, which is what you need on those trying days.
The decadence of the mushroom sauce it really what makes this pasta so downright delicious. It's made creamy with heavy whipping cream, and flavorful with an abundance of ingredients like white wine, minced garlic, and fresh sage. Of course, the most predominant ingredient other than the mushrooms themselves may just be the incredible amount of rich parmesan cheese that adds to both the texture and flavor of the sauce.
Every element of the rich mushroom sauce is delicious, but the mushrooms themselves really shine and make you want to keep going back for more. That's because they're an adaptable ingredient, meaning they take on the stronger flavors of the ingredients they're cooked with. You'll be amazed at just how boldly flavored these mushrooms end up being, while still mixing perfectly with the sauce!
Ingredients for Pasta with Mushroom Sauce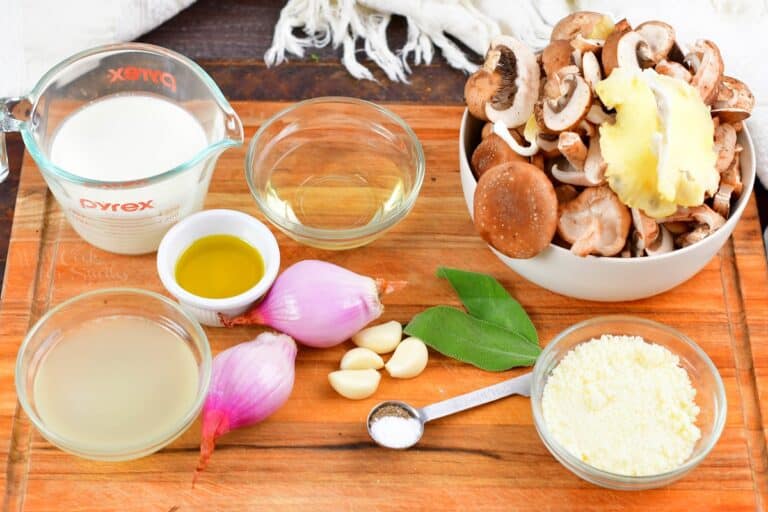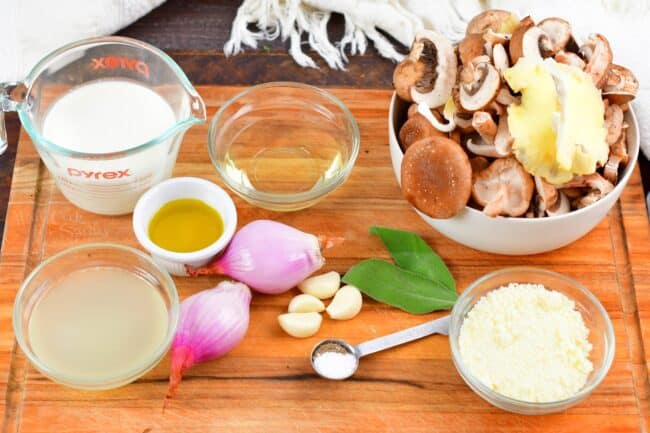 Pasta -use your favorite pasta including gluten free pasta if needed!
Olive Oil – Extra virgin olive oil will yield the most flavorful results.
Shallots – The delicately sweet, yet still oniony flavor of the shallots provide the most wonderful flavor to the sauce.
Garlic – Use fresh garlic that's been smashed and minced, not the pre-minced garlic you can buy in a jar.
Mushrooms – There are various mushrooms you can choose from, such as crimini, shiitake, oyster, or porcini.
White Wine – For the best results, use a dry white wine like sauvignon blanc or chardonnay. Do Not use sweet wines like riesling or moscato.
Pasta Cooking Water – Remember to reserve some of the pasta water before you strain the noodles! This will help create the best consistency for your sauce.
Heavy Whipping Cream – If you can help it, don't substitute this ingredient with any other milk. Heavy cream is what makes this sauce so desirably rich and creamy.
Parmesan – For the absolute richest flavor and consistency, freshly grate the parmesan yourself or get freshly grated cheese from the deli.
Sage – for more aromatic flavor, use fresh.
Salt – Just a pinch of kosher or flaky sea salt to taste.
Black Pepper – Freshly cracked black pepper yields the best flavor.
What kind of mushrooms can I use?
There are three or four kinds of mushrooms that you will most commonly find in your supermarkets. Those include baby bella (crimini), portobello, white button mushrooms, shiitake, and oyster mushrooms. Those are totally fine to use, but if you're lucky to find some chanterelle, Hen of the Woods, or porcini, feel free to use those as well! Dried porcini mushrooms could be easier to find and if you do, simply soak them in some hot water to reconstitute.
How to Make Pasta with Mushroom Sauce
First, start off by boiling your pasta according to package directions and reserving some of the pasta water before straining.
Preheat a pan with olive oil, then sauté the shallots until soft and brown. Then, add the minced garlic and cook until fragrant.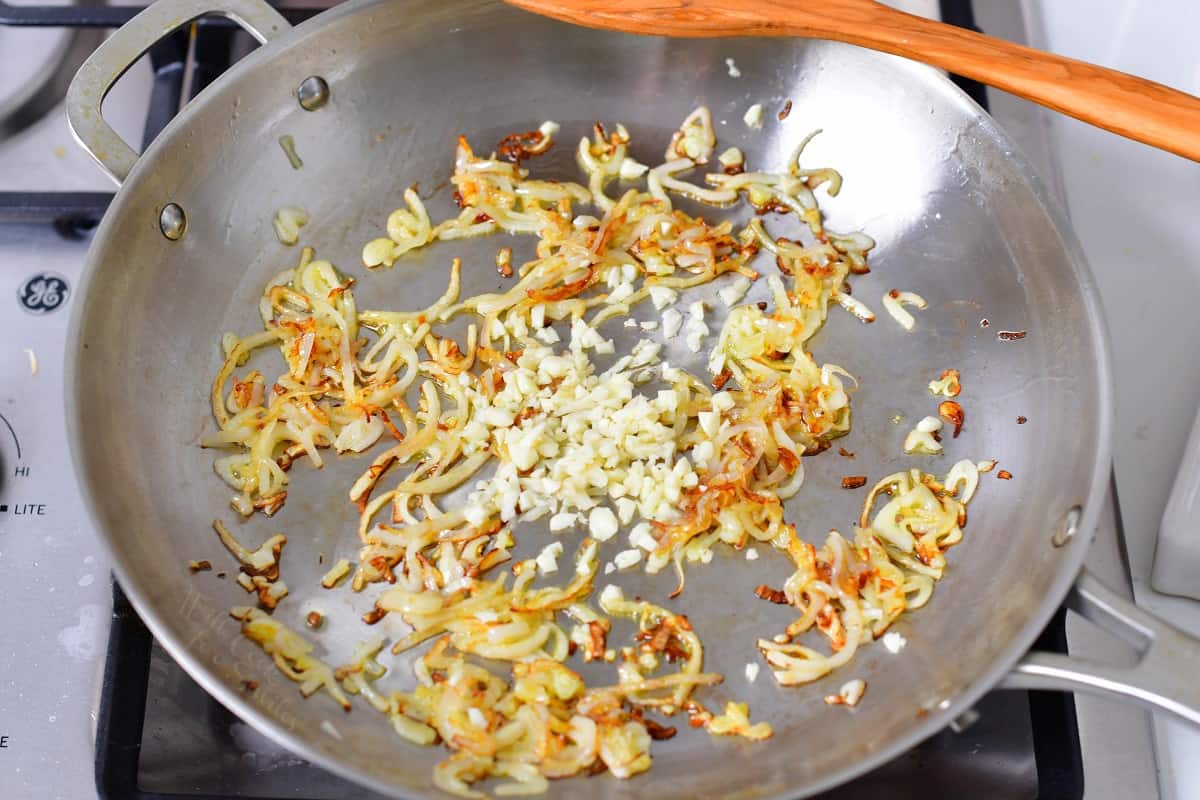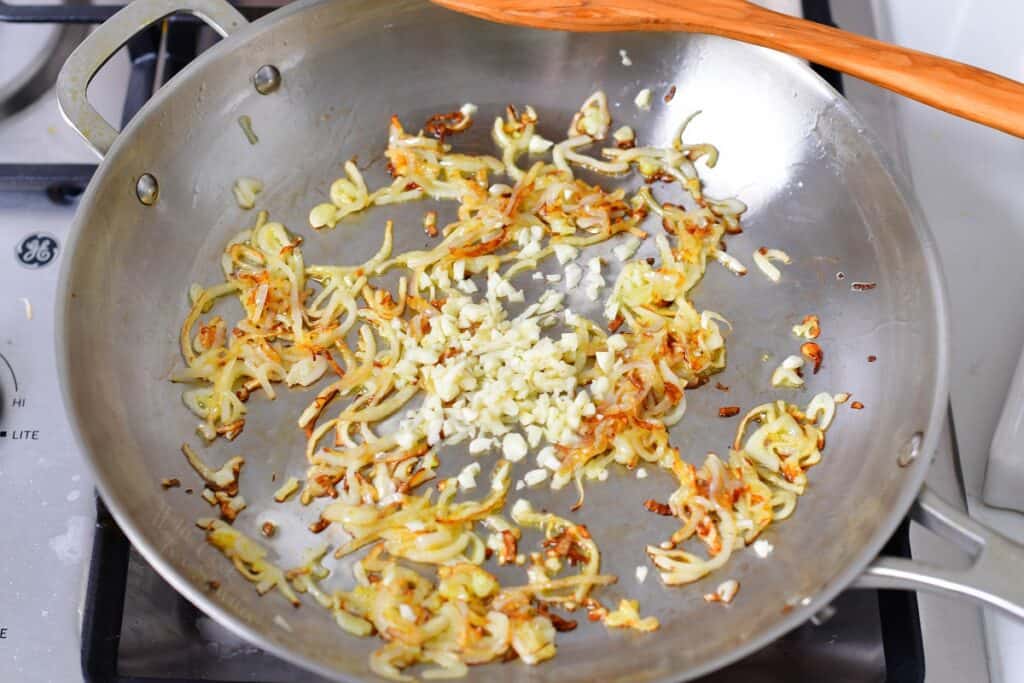 Add mushrooms to the pan and sauté until softened, continuing to cook until they're nicely golden brown. Stir them often so they cook evenly.
Make a little well in the center of the dish, then add the white wine. Let it simmer for a few minutes, then add the pasta cooking water. Stir.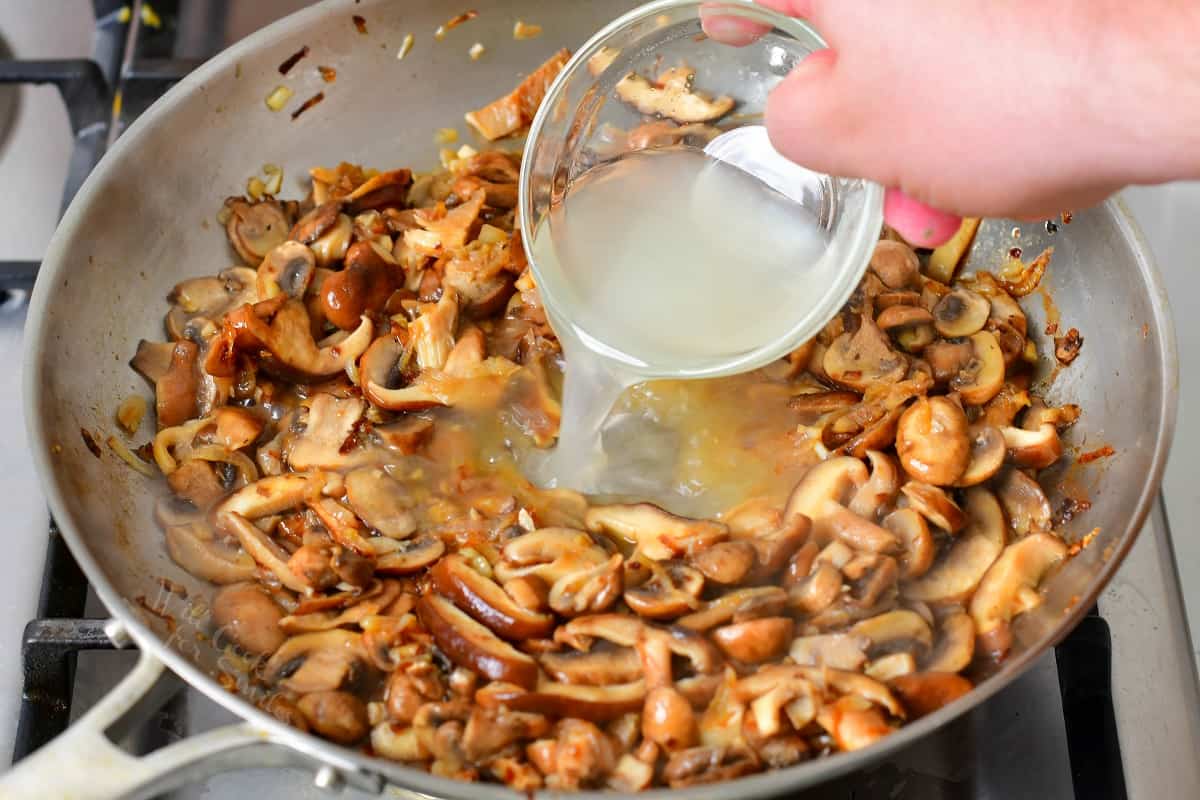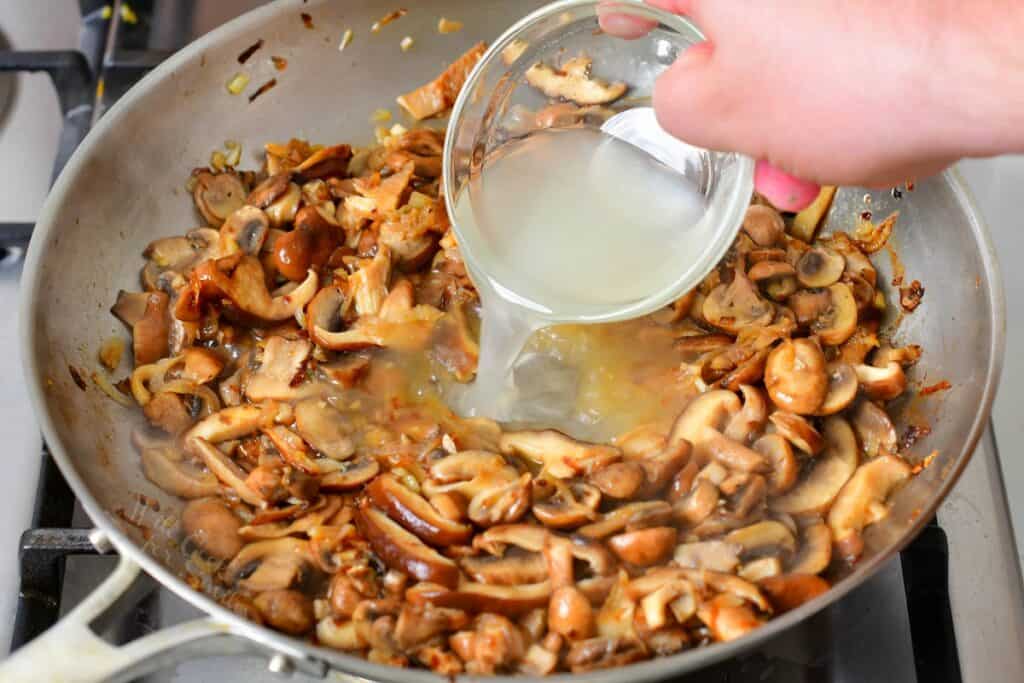 Pour in the heavy cream, parmesan, sage, salt and pepper. Stir everything together and lower the heat. Make sure the sauce is simmering, but not boiling!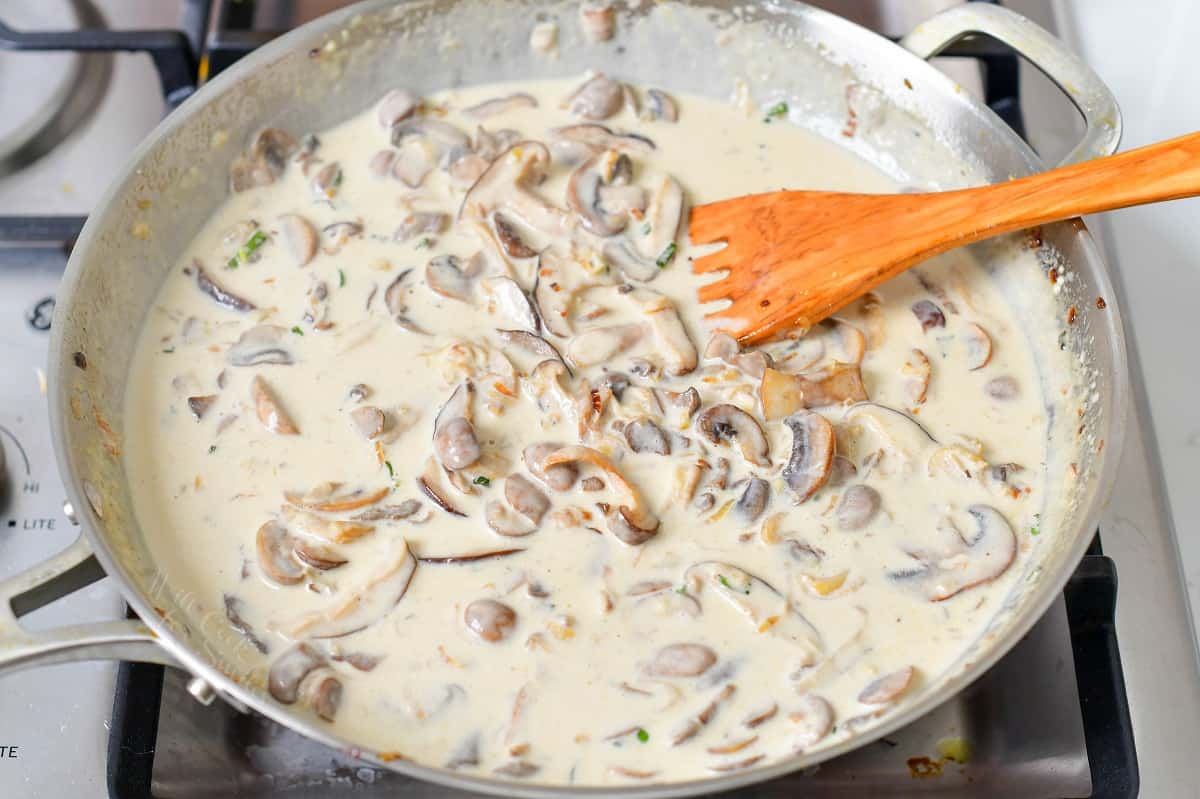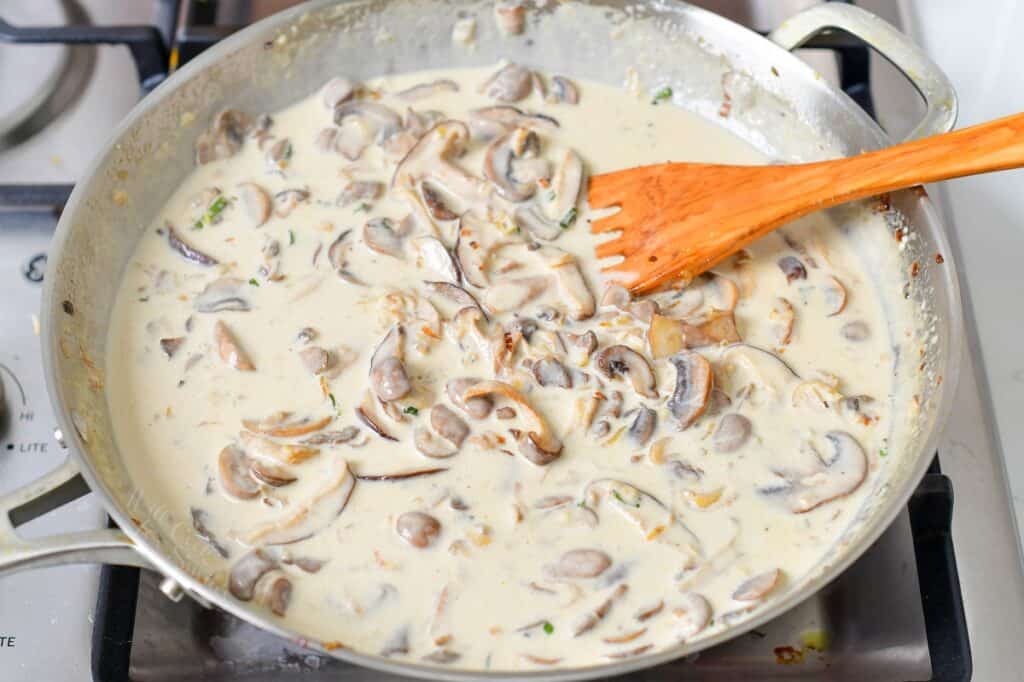 Allow the mushroom sauce to gently simmer for a few minutes, stirring from time to time.
Add the cooked pasta of your choice to the pan, gently stirring to gently mix.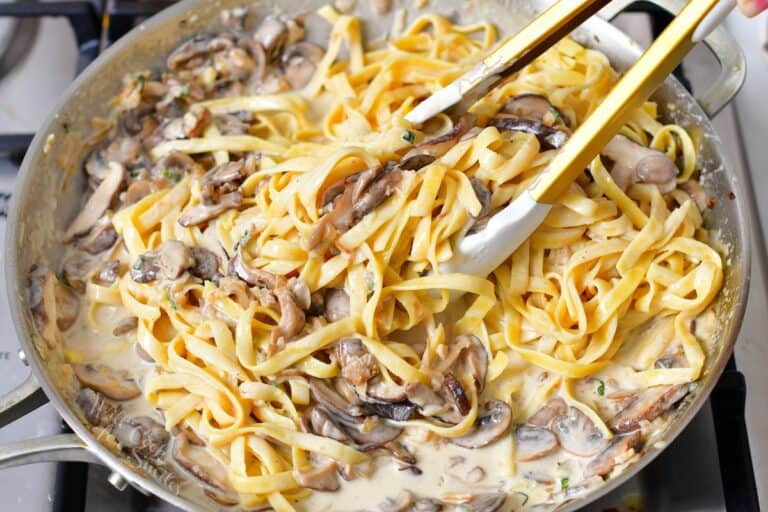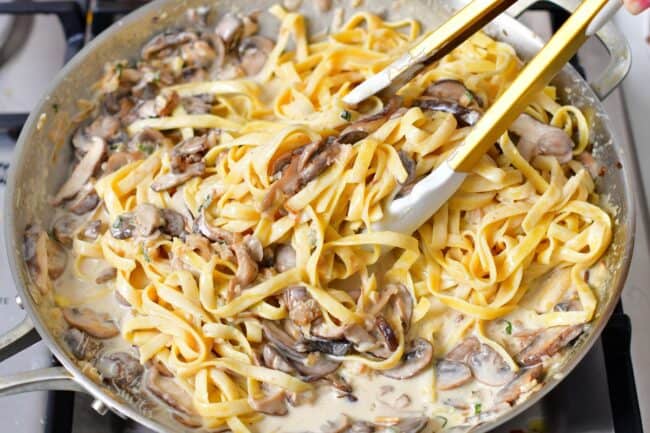 Tips for the Best Mushroom Sauce
Use a pan that is large enough! You want to make sure there is space to cook all the mushrooms, then the sauce, and then toss the sauce with pasta.
Try not to eliminate the white wine because it adds quite a bit to flavor. But if you have to, use a mixture of half chicken stock and half white grape juice.
Use a mix of different mushrooms for the best deep, earthy mushroom flavor.
Depending on how much mushrooms you want, use at least 1 lb but you can also increase that to 1.5 lbs.
When using wine with cream, make sure to simmer the wine for a couple of minutes first, before adding the cream.
Remember not to let the cream sauce boil! Only a slow simmer is good for creamy sauces or they will separate.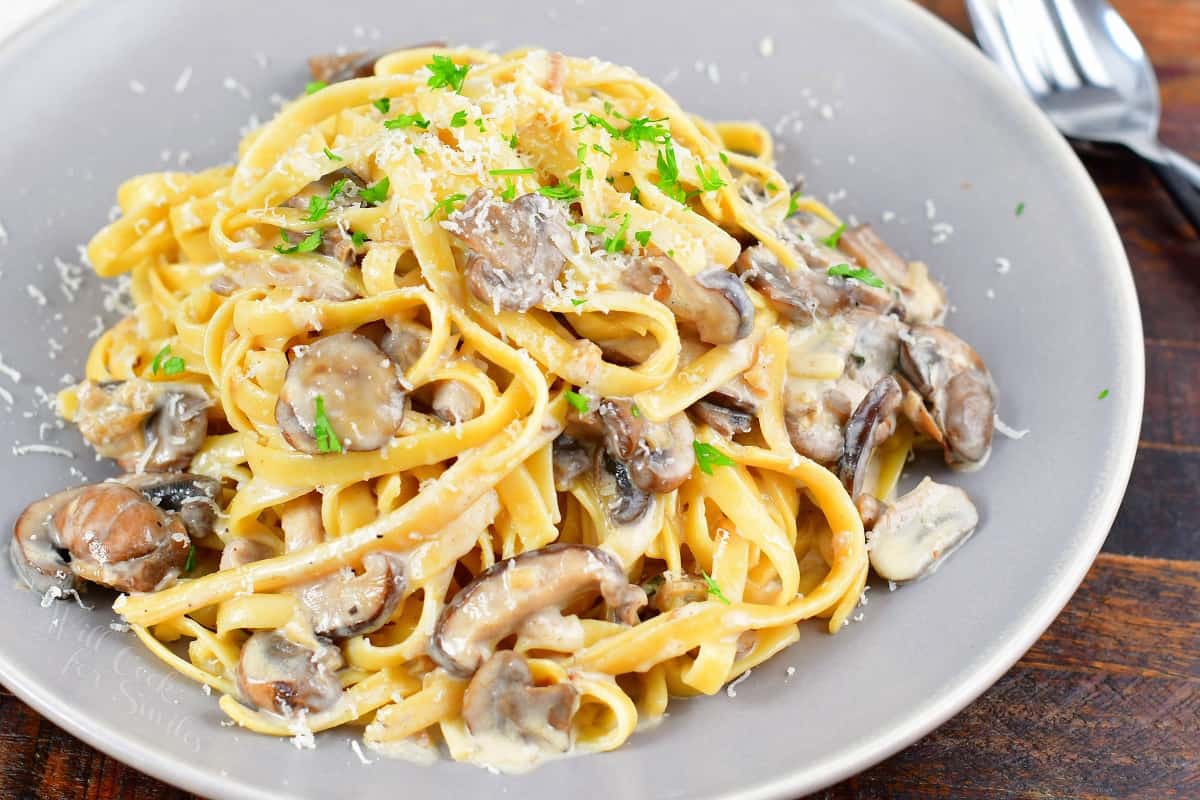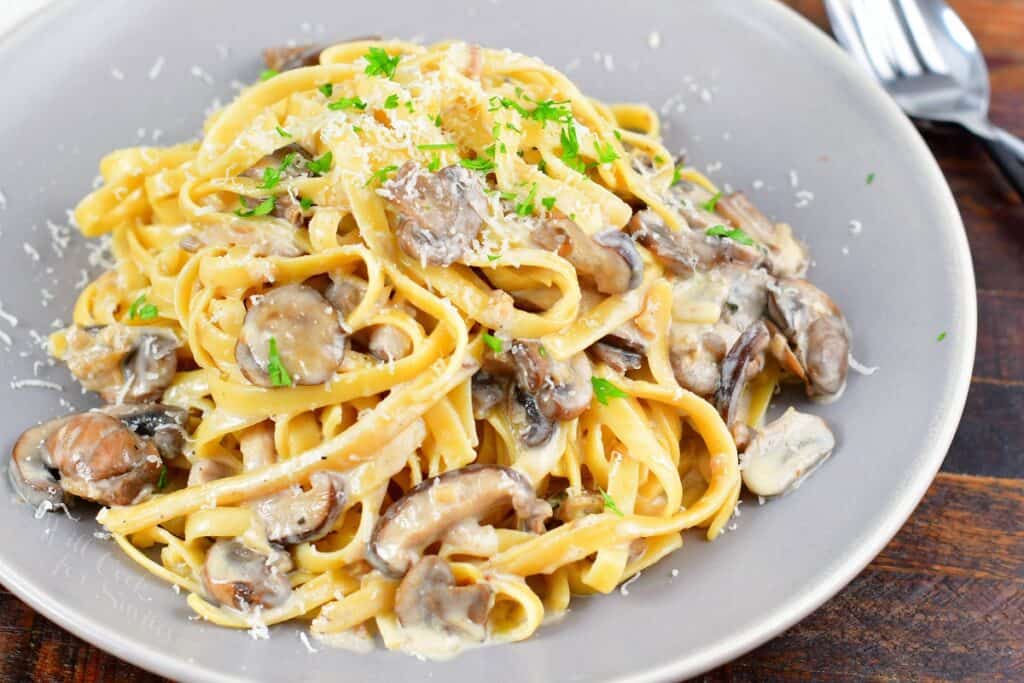 Storing and Reheating
This creamy mushroom sauce will stay fresh in the refrigerator for about 3-5 days when kept in an airtight container.
I don't really recommend reheating mushroom sauce in a microwave because it separates easily if it is overheated. The key to reheating this sauce is doing so at a low temperature and slowly. So if you wish to try and reheat it in a microwave, use lower power setting and heat it up for 30 seconds at a time, stirring in between.
The better way to reheat it though is in a small sauce pot, over medium-low heat. Let it warm up slowly, while stirring often.
One more way to reheat the sauce is to mix cold sauce with hot, freshly cooked pasta. As soon as you drain the boiling water off pasta, add it back to the empty pot and add cold sauce. Mix it together and let hot pasta heat up the sauce.
Try More Comforting Pasta Recipes!
Pasta with Garlic Parmesan Cream Sauce, Tomatoes, and Basil – this delicious pasta recipe is made with homemade Parmesan cream sauce that has a delightful hint of garlic, and of course, fresh, aromatic tomatoes and basil
Pesto Pasta – a bright and easy pasta recipe that's unbelievably easy to make for a weeknight dinner
Cacio e Pepe – all you need to make this fantastic and flavorful dish is pasta, black peppercorns, and Pecorino or Parmesan cheese
Shrimp Scampi – a classic Italian-American dish that features large, juicy shrimp in garlic butter white wine sauce tossed with thin pasta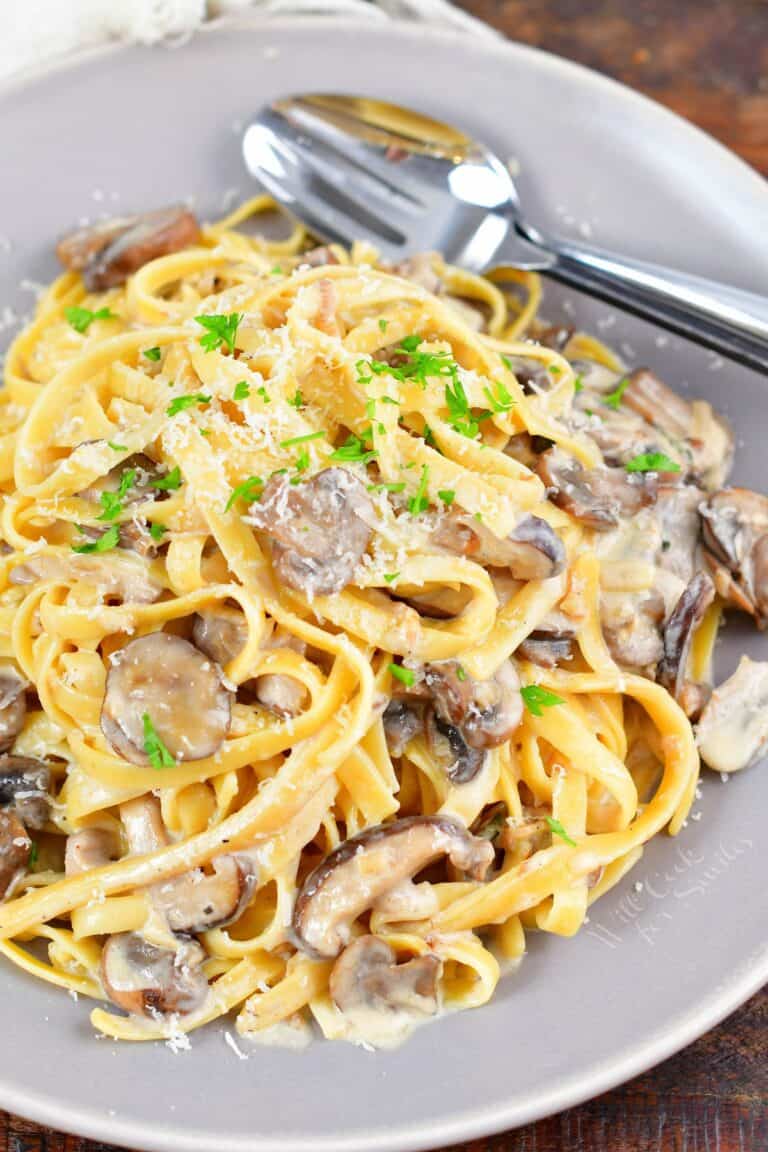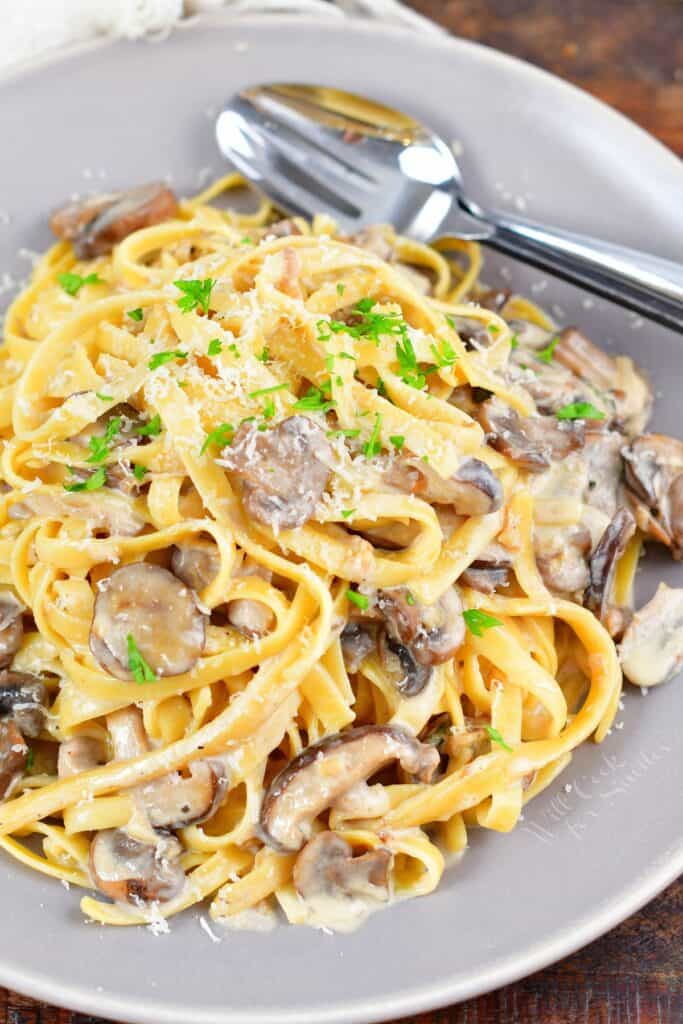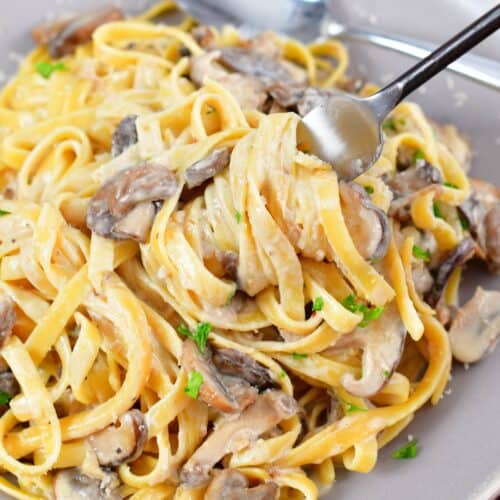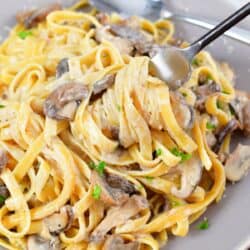 Pasta with Cream Sauce
This Pasta with Mushroom Sauce is super easy, incredibly delicious, and wonderfully comforting.
Print
Pin
Save
Saved!
Rate
Ingredients
1

lb

fettuccine or your favorite pasta
Mushrooms Sauce:
2

tbsp

olive oil

2

shallots

sliced thin

4

garlic cloves

smashed and minced

1

lb

various mushrooms like crimini, shiitake, oyster, porcini, etc.

sliced

1/4

cup

white wine

1/2

cup

pasta cooking water

1

cup

heavy whipping cream

1

cup

fresh grated Parmesan cheese

1

tsp

minced fresh sage

packed

salt

black pepper
Instructions
Start cooking pasta a few minutes before cooking the sauce so you will be able to get starchy pasta water.

Cook pasta in salted water according to the box instructions and make sure to set aside some cooking water before draining pasta. Drain pasta and set aside while finishing the sauce.

Preheat a large cooking pan over medium heat for a few minutes and add olive oil.

Add sliced shallots and sauté until soft and starts to brown. Add minced garlic and sauté just until fragrant.

Add mushrooms to the pan and sauté until all mushrooms are softened. Sauté a couple more minutes to let them get nicely golden brown. Make sure to stir from time to time to brown then evenly.

Make a little well in the center of the pan and pour in white wine. Let it simmer for a couple of minutes and add pasta cooking water. Stir everything together.

Pour in heavy whipping cream and add fresh grated Parmesan cheese, sage, salt, and pepper. Stir and lower the heat a little below medium so the sauce simmers but doesn't come to a boil.

Let the mushrooms sauce gently simmer for a few minutes and make sure to stir from time to time.

Add cooked pasta to the pan and gently mix it to coat it with the sauce completely. Let it cook just until pasta is reheated and serve right away.
Nutrition
Calories:
866
kcal
|
Carbohydrates:
95
g
|
Protein:
29
g
|
Fat:
41
g
|
Saturated Fat:
20
g
|
Polyunsaturated Fat:
3
g
|
Monounsaturated Fat:
15
g
|
Trans Fat:
1
g
|
Cholesterol:
194
mg
|
Sodium:
460
mg
|
Potassium:
756
mg
|
Fiber:
7
g
|
Sugar:
6
g
|
Vitamin A:
1141
IU
|
Vitamin C:
2
mg
|
Calcium:
391
mg
|
Iron:
3
mg
Tried this recipe?
Mention @willcookforsmiles and tag #willcookforsmiles