Pan seared steak will be a very easy but special weeknight dinner since it only takes a few minutes. Learn how to easily make your best steaks on a stove top. With a simple seasoning of salt and pepper and garlic butter on top, your steaks will shine!
Anytime you want to add a little sauce to your steaks, try my Peppercorn Sauce, Creamy Steak Sauce, or Red Wine Sauce.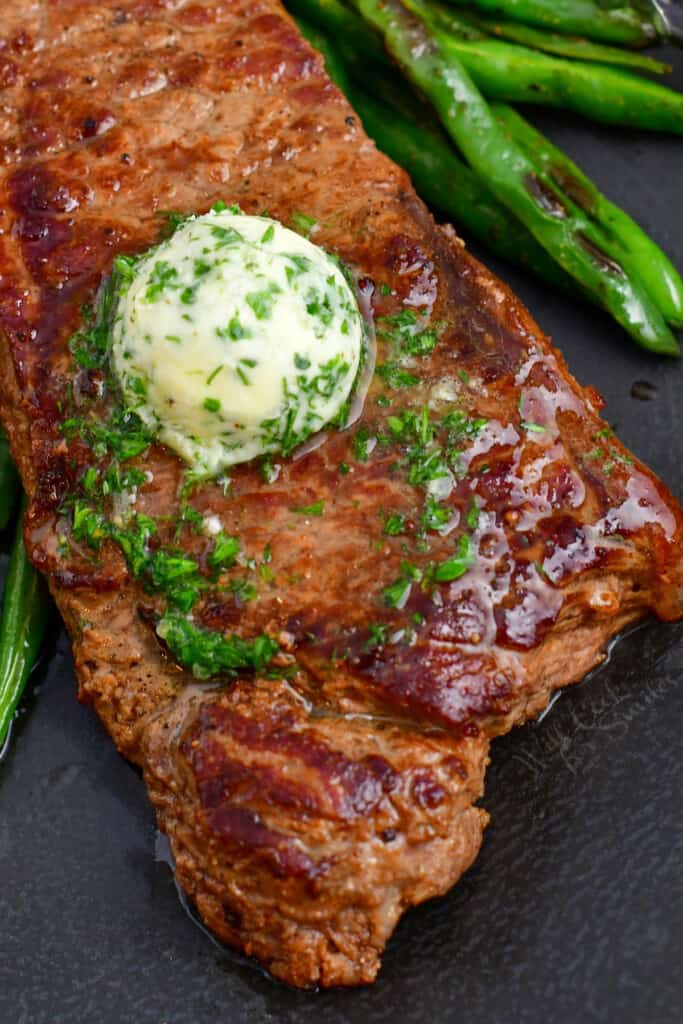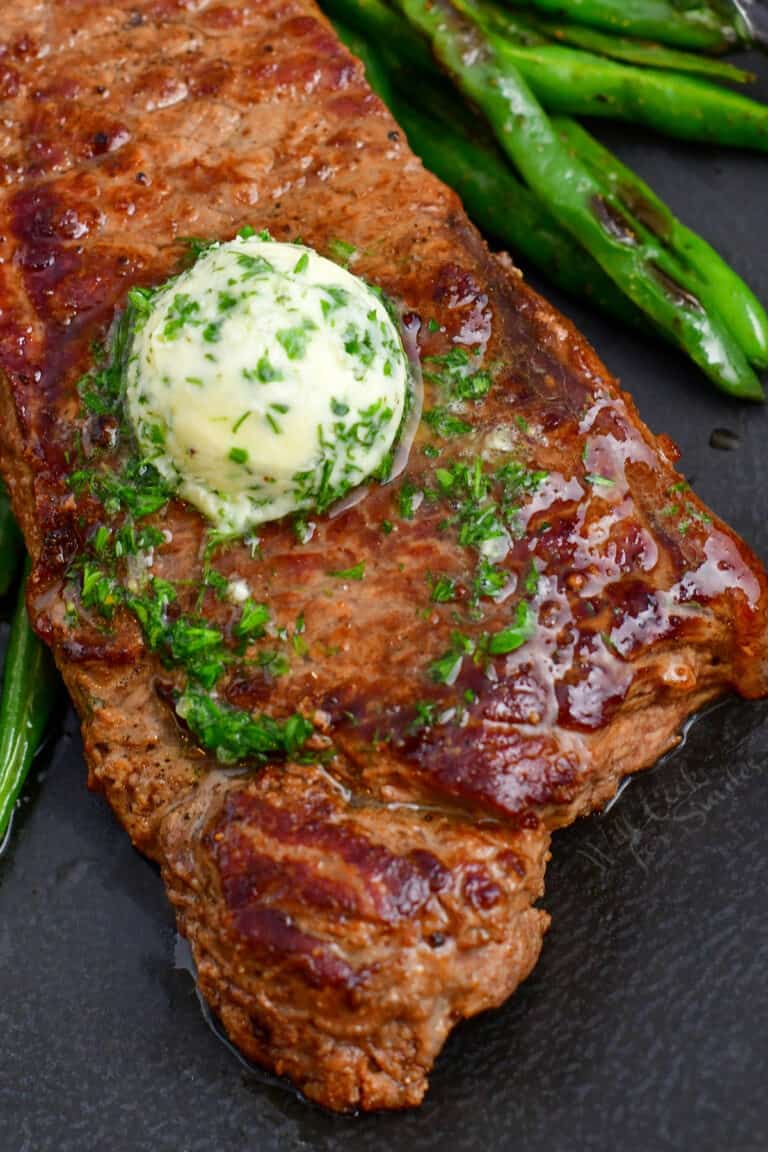 Do you ever have a steak night at your house? Even when it's once a month, there is something instantly special about dinner that involves nice, juicy, flavorful steaks.
The best part is that it takes so little preparation and time to make it, you will have a wonderful dinner with minimal effort. Just let the steaks rest out of the refrigerator to warm up for about 45 minutes and then, it will take you only 10-15 minutes until you're biting into it!
The most effort on your part will be to choose what steaks you want to cook and then the clean up. There is one negative to cooking pan seared steaks and that is the splatter on the stove around the pan. But, it's small price to pay for a couple of mouthwatering steaks!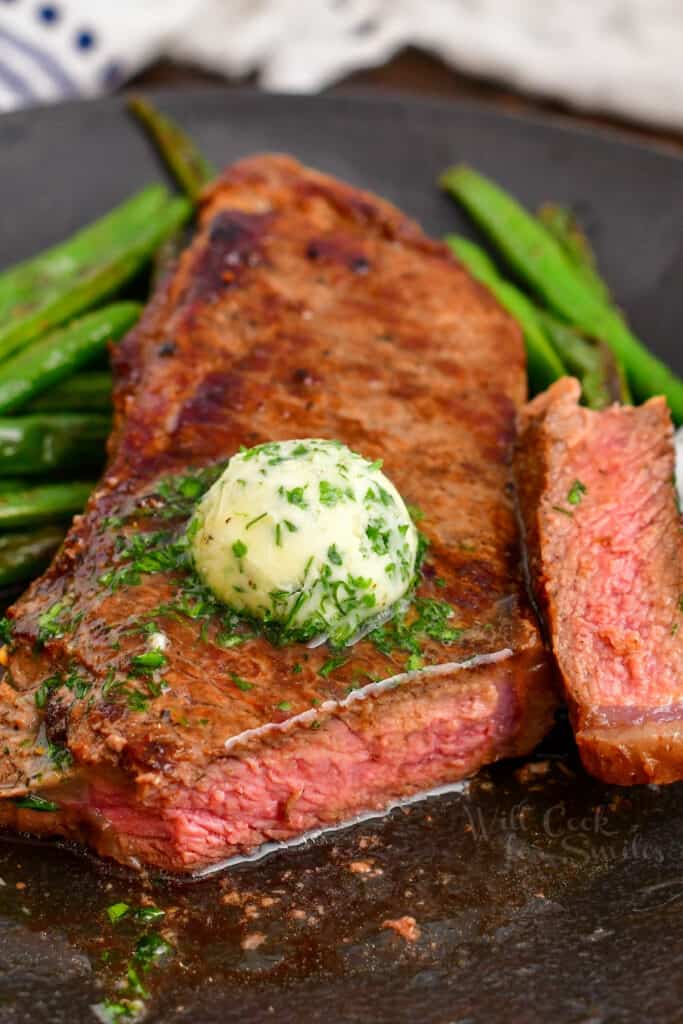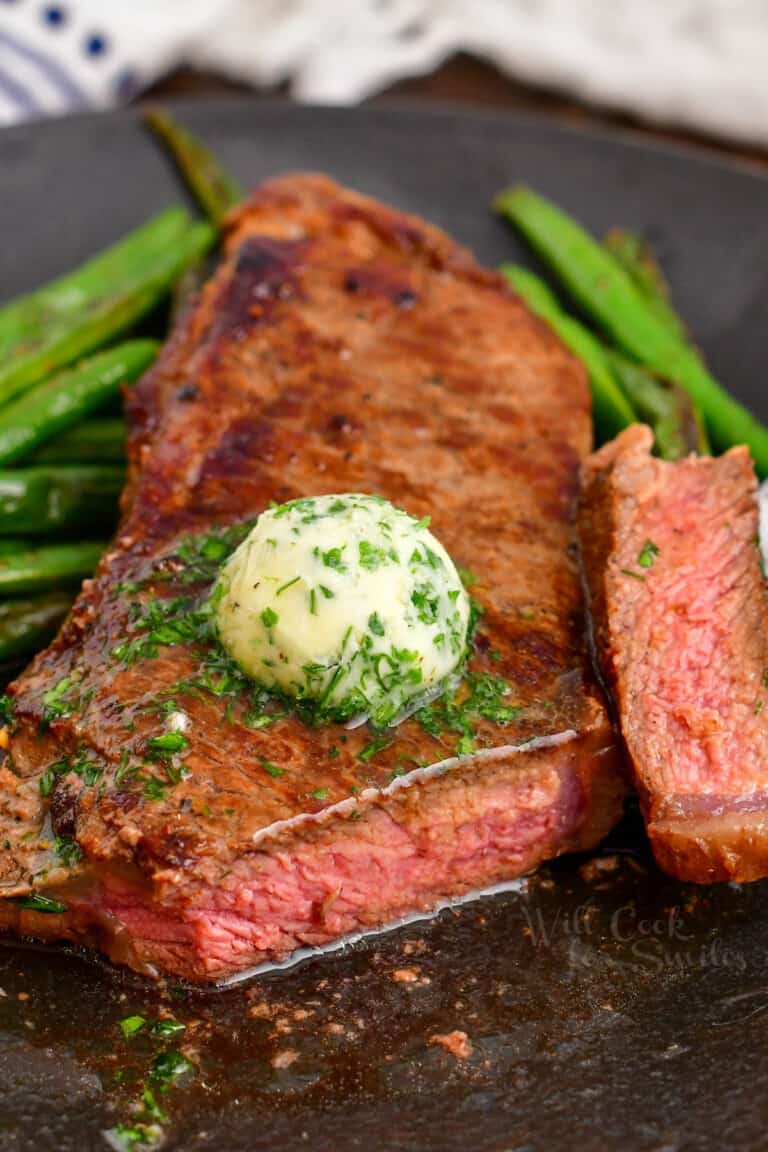 Best Steak For Pan Searing
There are so many different cuts available that it really comes down to personal preference and taste.
For this easy steak recipe, choose steaks that are about 1-inch thick but not thicker than 1 1/2 inches.
Remember to choose good quality steaks!
New York strip – I often use this cut because it is incredibly tender and often budget-friendly. Slices are often consistent in thickness, making it easier to get a consistent cook when making several at a time. You do have to get this cut from places you trust though because it can be tough at times.
Filet mignon – this is one of the most coveted steaks because of the great tenderness and smooth beef flavor. If you really want to pull out all the stops, then splurge on this for an upscale meal right at home. Because it is incredibly lean and tender, I recommend taking a look at my helpful tips on how to cook filet mignon for preparing it just right.

Ribeye – This is a great cut if you like extra juicy, flavorful bites since it has plenty of marbling throughout. Just be sure to choose pieces that have finer webs of fat throughout instead of thicker lines in a few places.
Strip steak – is tender and lean. Although, leaner does mean less marbling and less fat, which results in less flavor and juiciness.

Top Sirloin – Also affordable and just as flavorful as other options, despite being a bit leaner. Top sirloin is more tender than bottom sirloin, so read the package label carefully or confirm with the butcher before purchasing.
Good quality steaks won't require any heavy seasoning, all you will need is some kosher coarse salt and black pepper. I like to finish it off with compound garlic butter that has a simple mix of herbs and fresh garlic.
How To Make Pan Seared Steak
Prep the ingredients.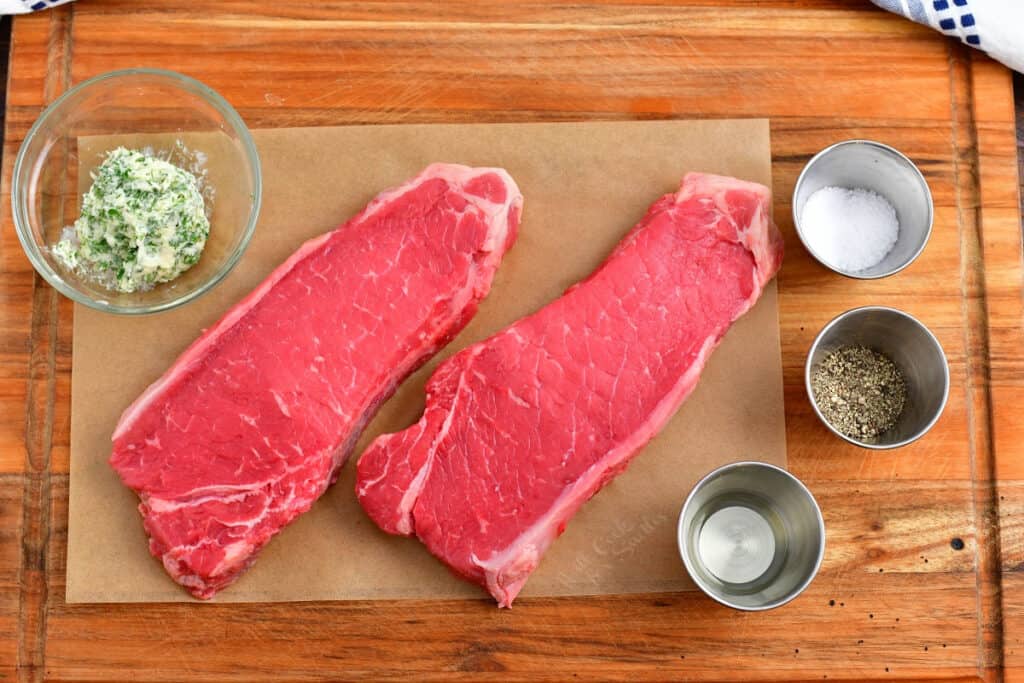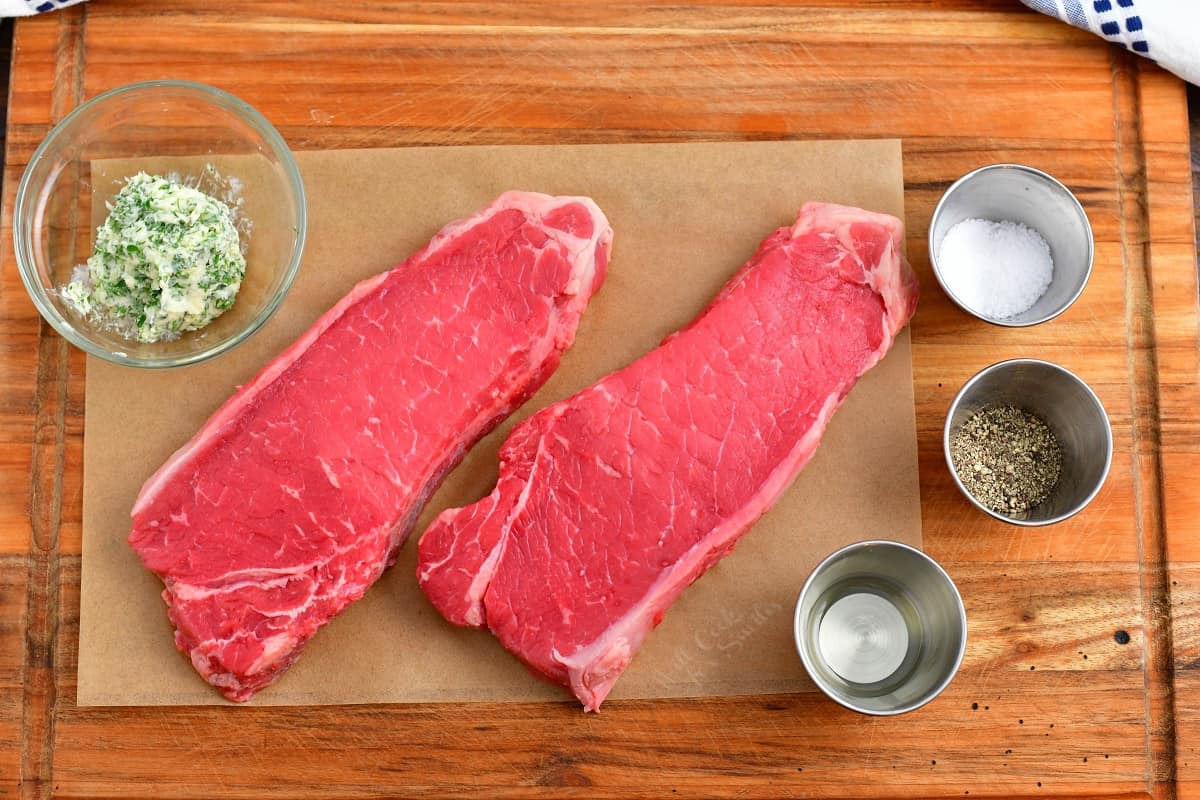 Pull the meat out of the refrigerator about 30-45 minutes before you would like to start cooking. (For larger steaks, give it a little more time.) Allowing beef to come to room temperature first is a necessary step to avoid tough, dry meat.
Pull the butter out of the refrigerator at the same time as meat too. Once the butter has softened, mix it with the garlic, herbs, and salt until everything is well incorporated.
Season the steaks.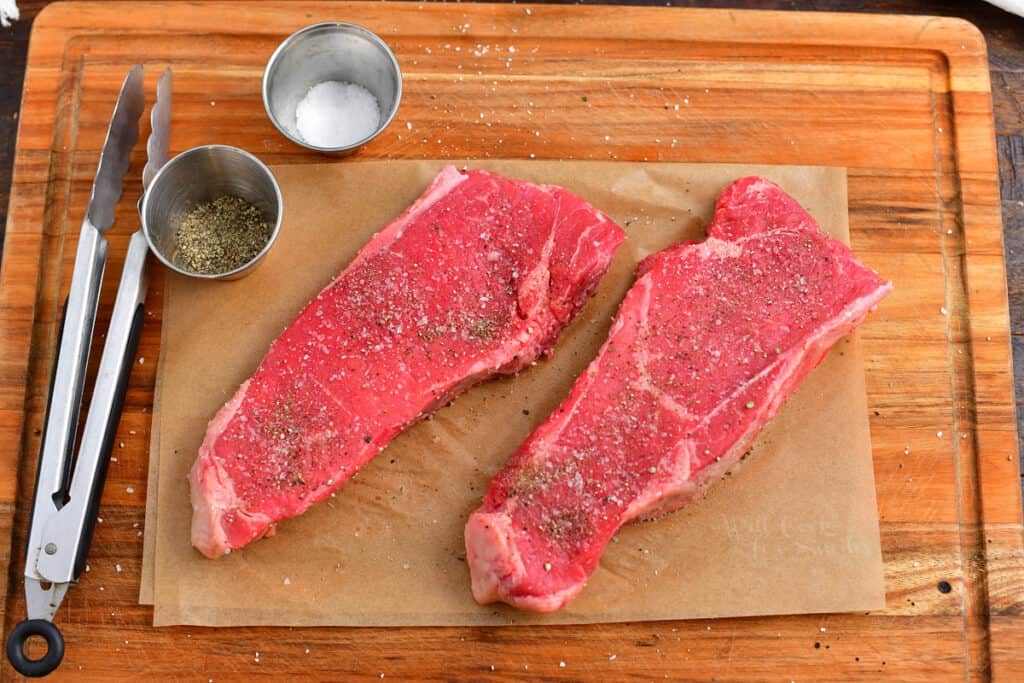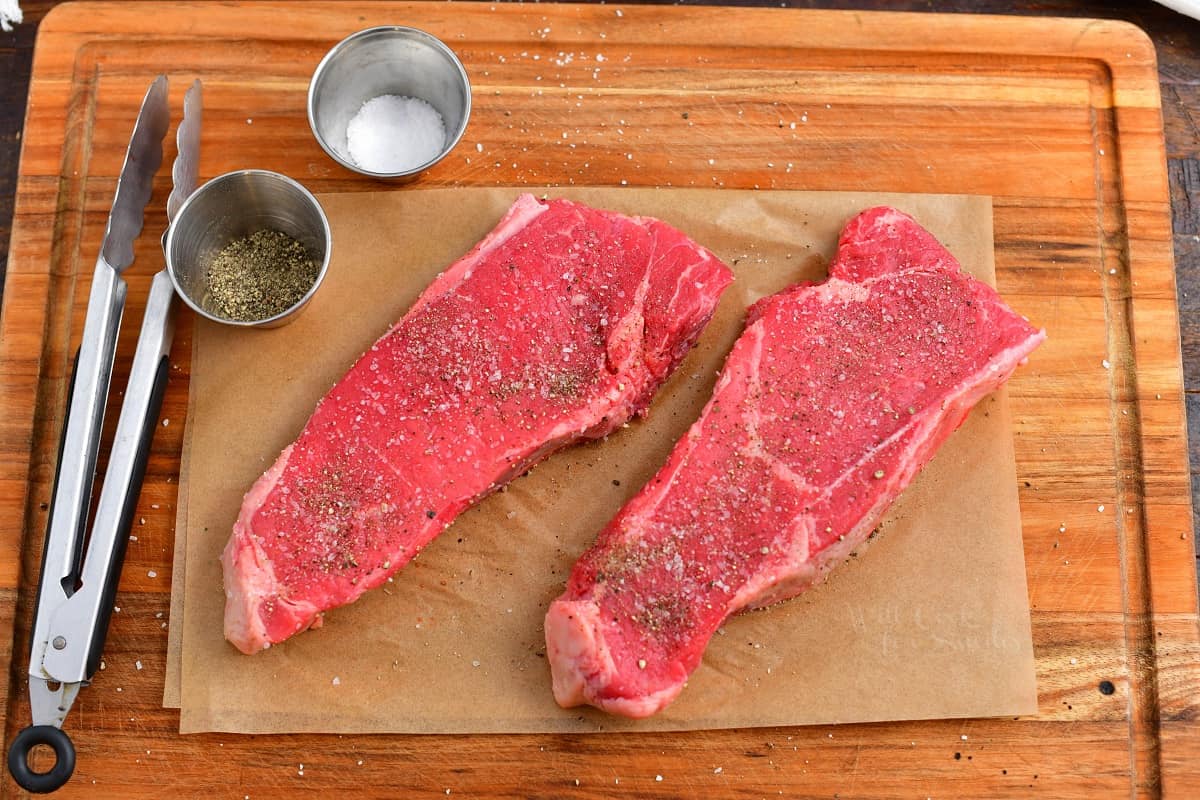 Preheat the skillet first over medium-high heat, for 3-5 minutes.
Just before cooking, pat both sides of the beef with a paper towel and season generously with the salt and pepper all around. Removing the moisture from the surface of the steaks allows it to get a much better sear.
Pat steaks dry with a paper towel and season right before placing them into the hot skillet.
Sear on both sides.
For best results, use cast iron skillet to cook your steaks. Cast iron skillets are the best at holding even temperature and distributing it evenly through the pan.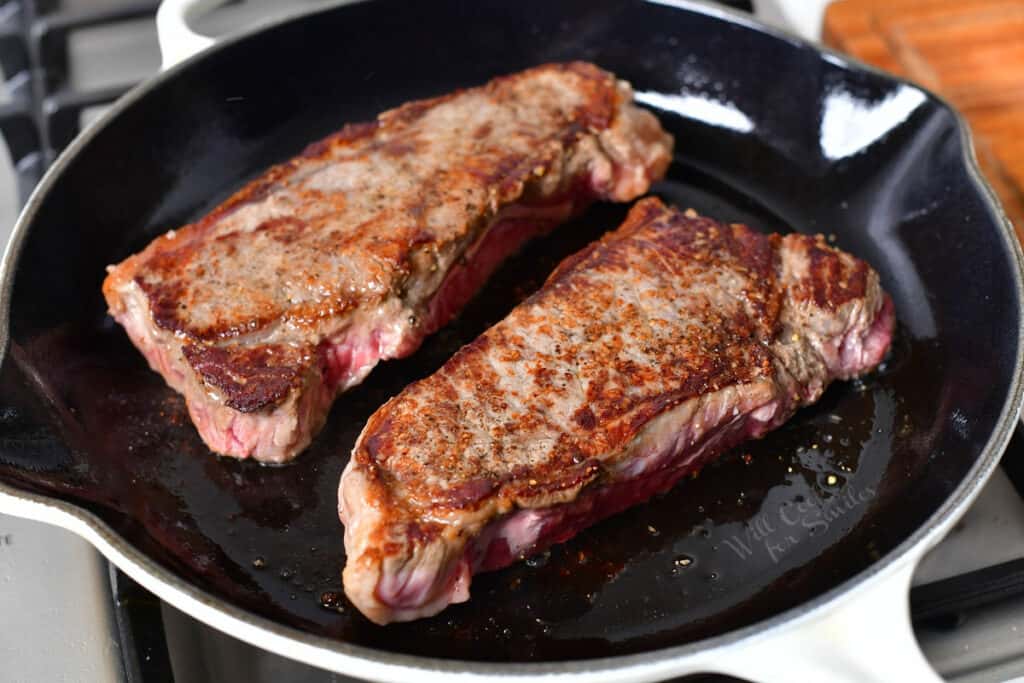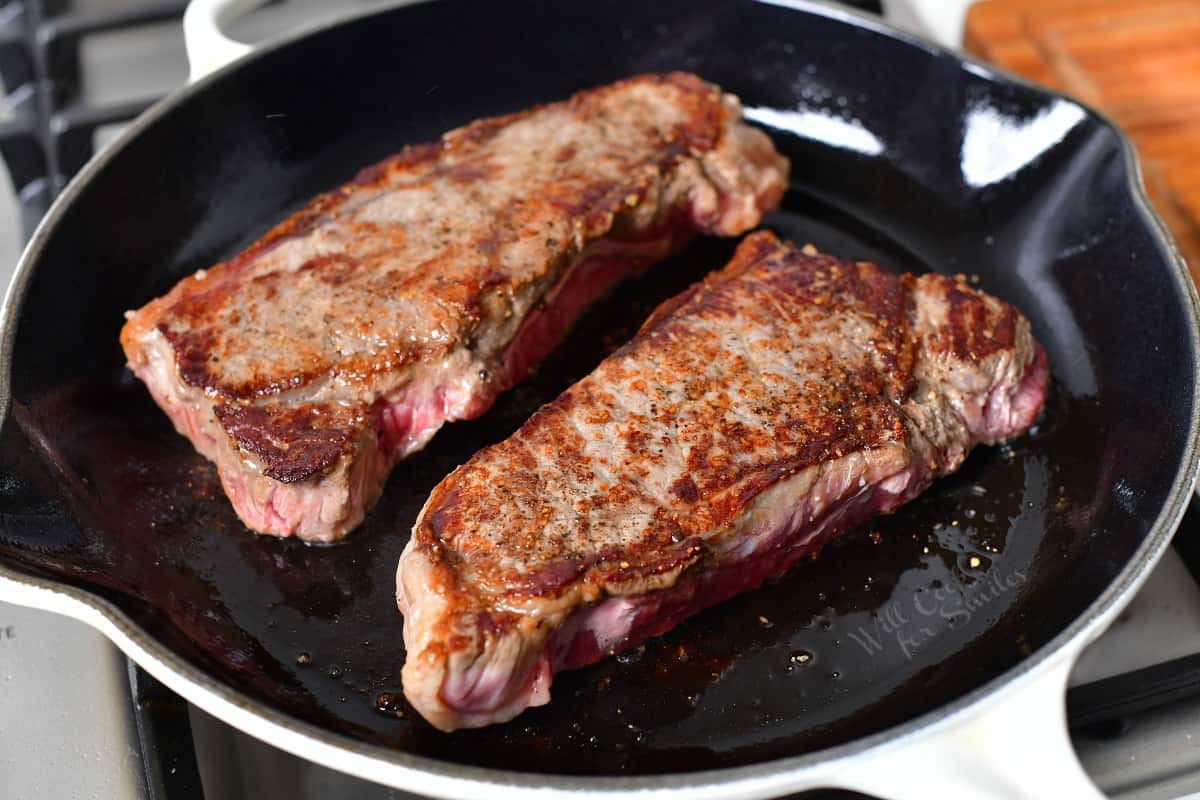 Once the skillet is hot, swirl oil all along the bottom before adding the meat. Choose a neutral-flavored variety with a high smoke point, like canola or vegetable, to prevent any burning along the surface.
Cook for 3-4 minutes on each side, until a nice crust forms and only touch them when it's time to flip them halfway through.
Render the fat.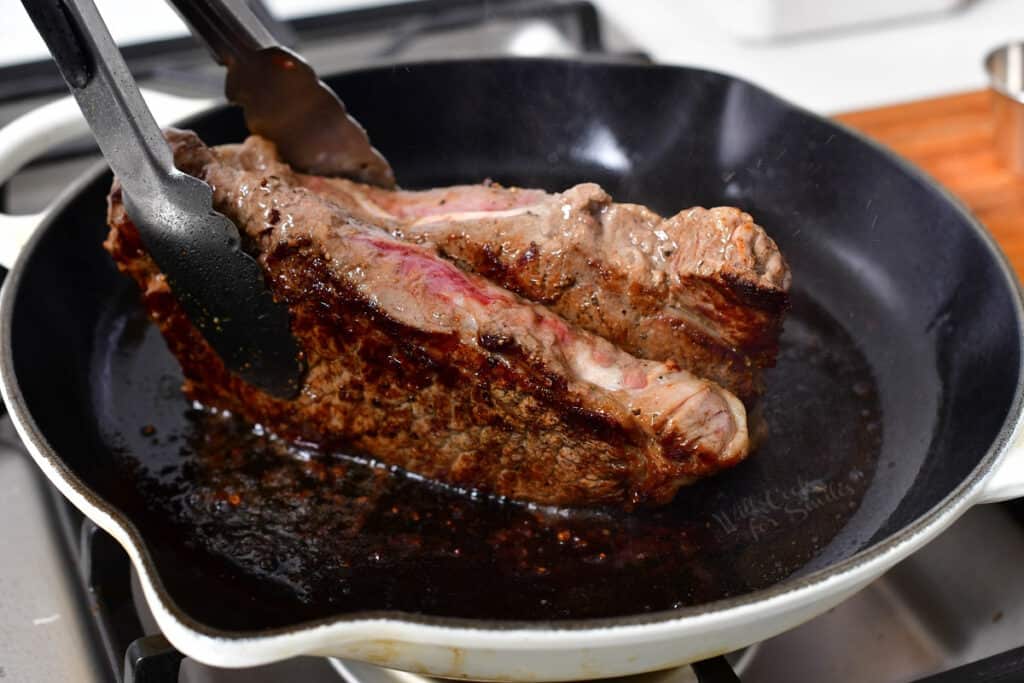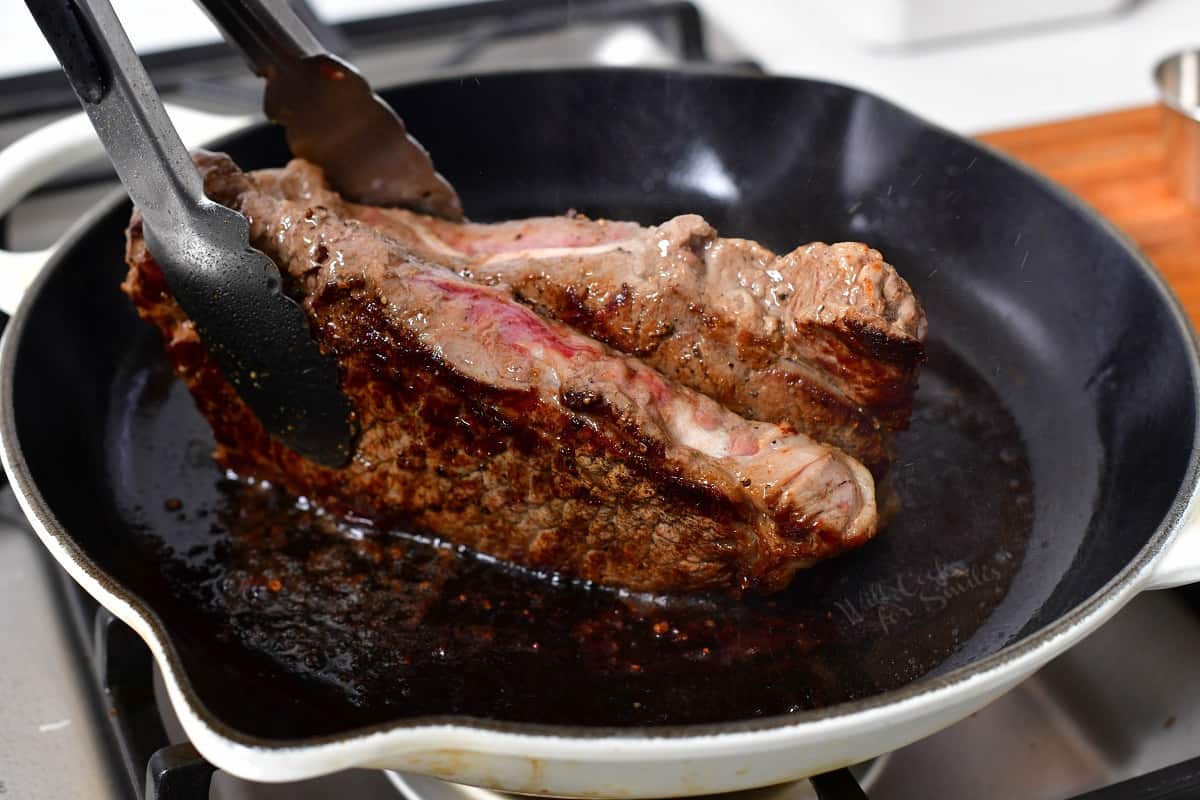 If the cut of beef you are preparing has a thick layer of fat along the side, use a pair of tongs to hold that side against the hot skillet to render it.
Check the steaks temperature and if you need to cook it more, lower the heat to medium and cook the steaks for about 1 minute before flipping. Continue to cook and flip the steaks about every minute until they reach your desired doneness.
Let the pan seared steaks rest.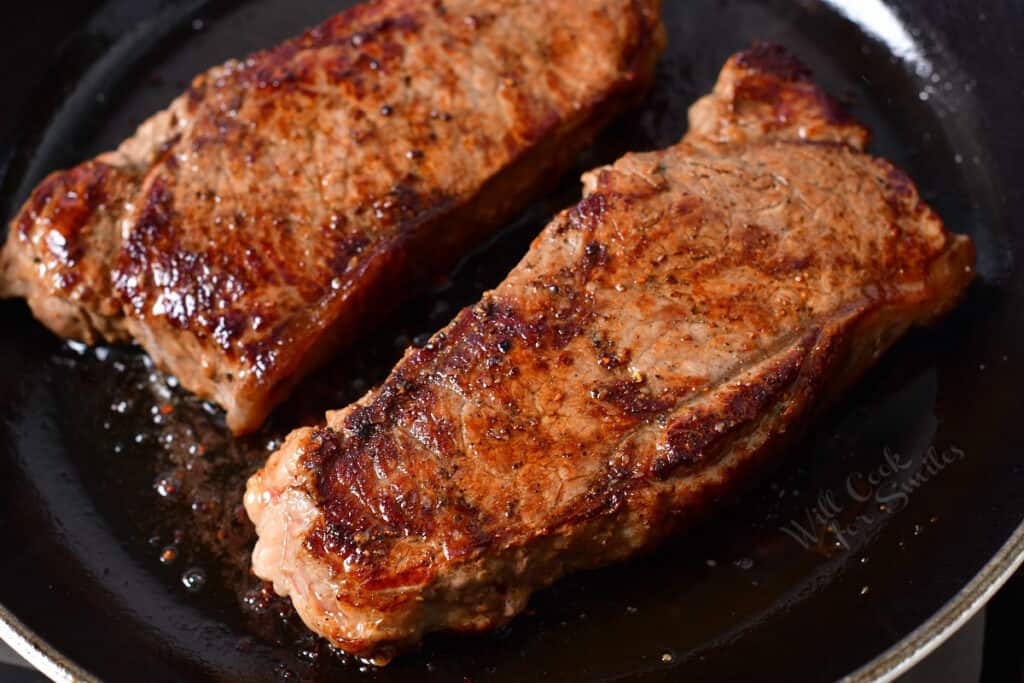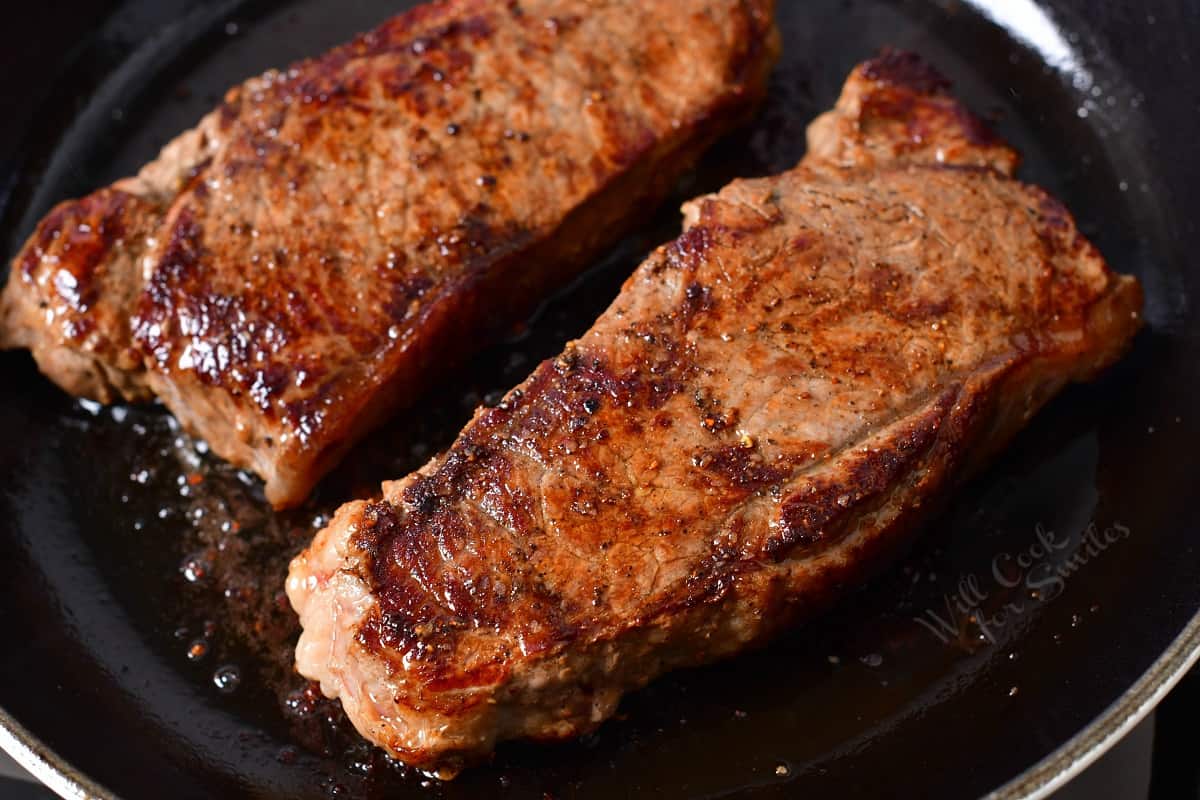 As soon as they reach the temperature, take them out onto a plate and let them rest for about 5 minutes.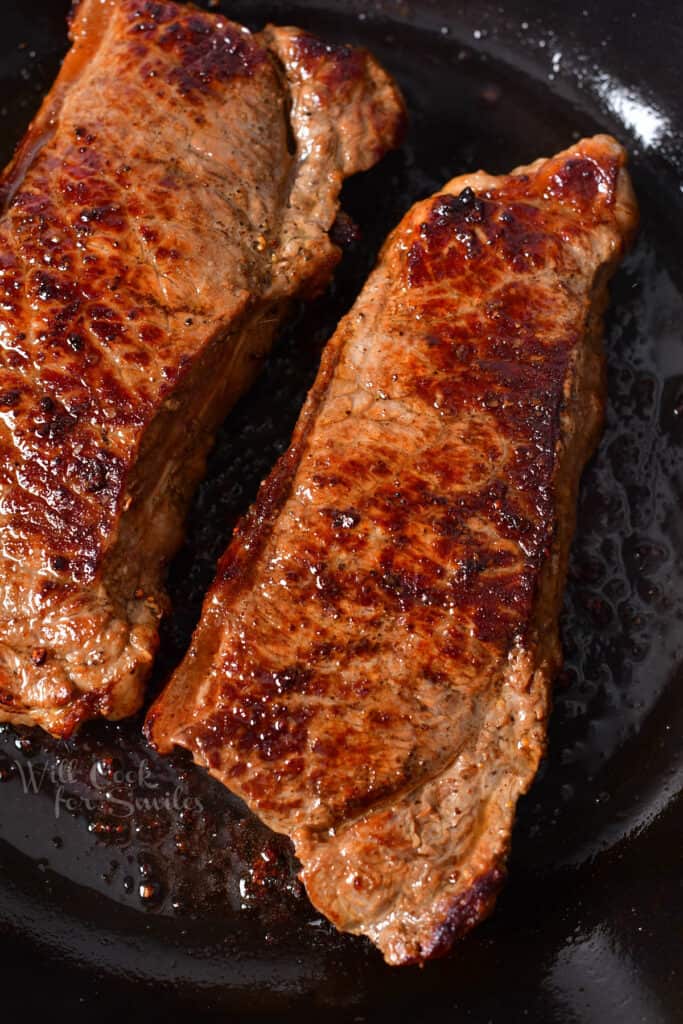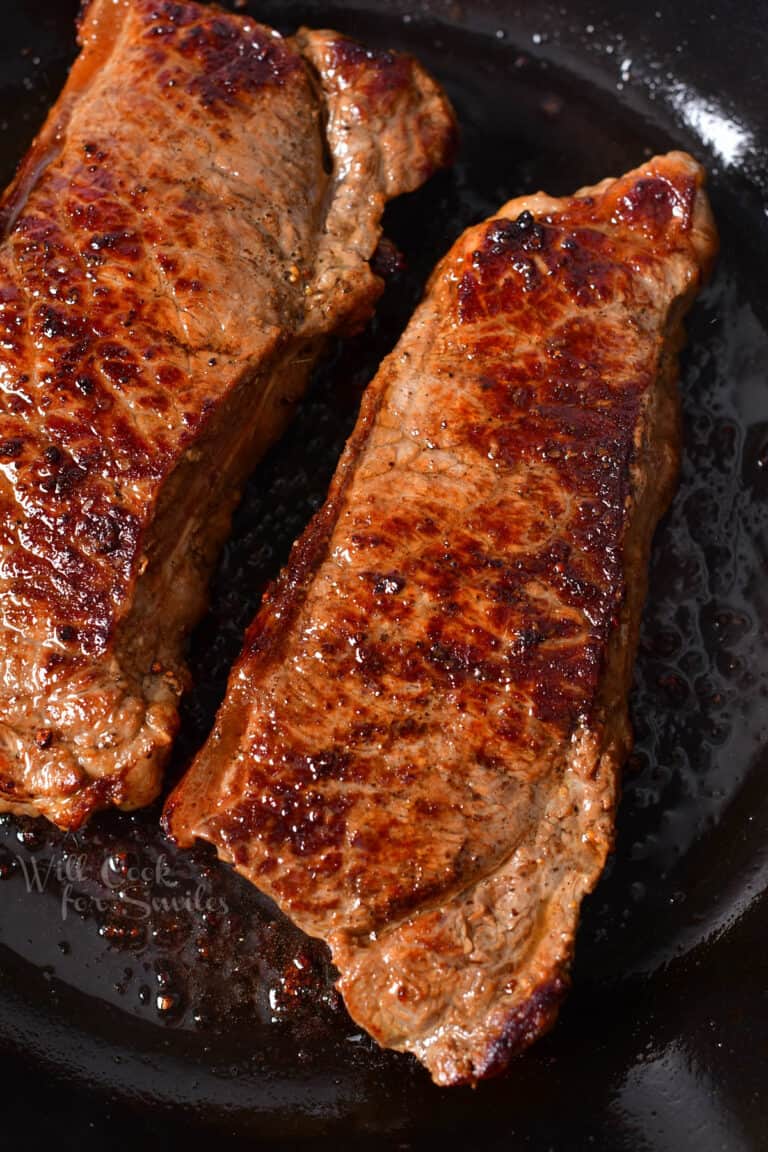 Steak Temperature Guidelines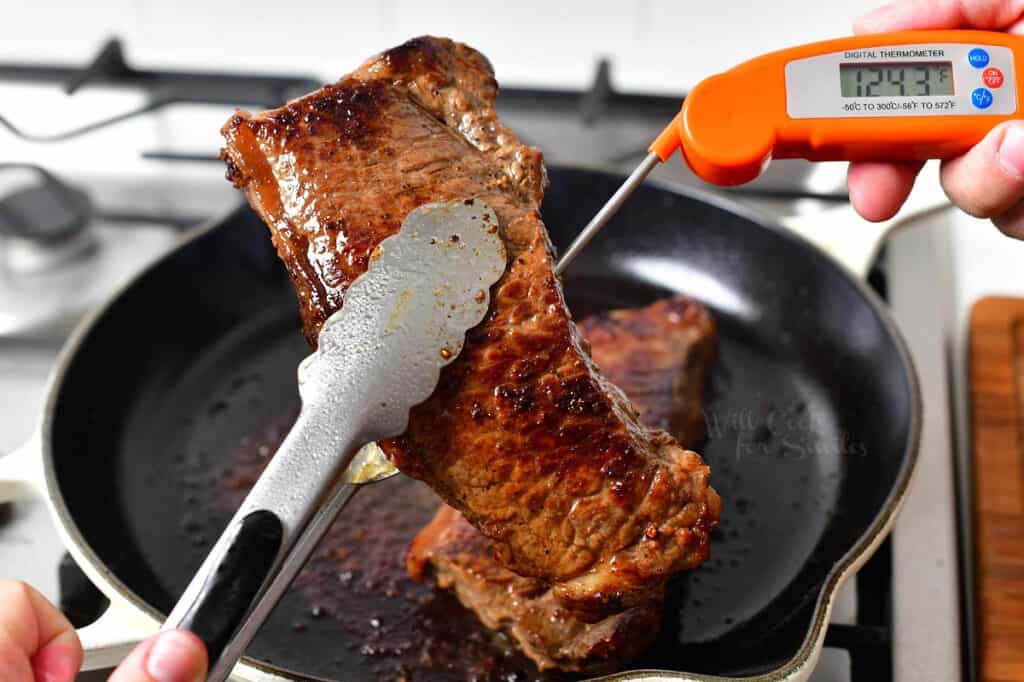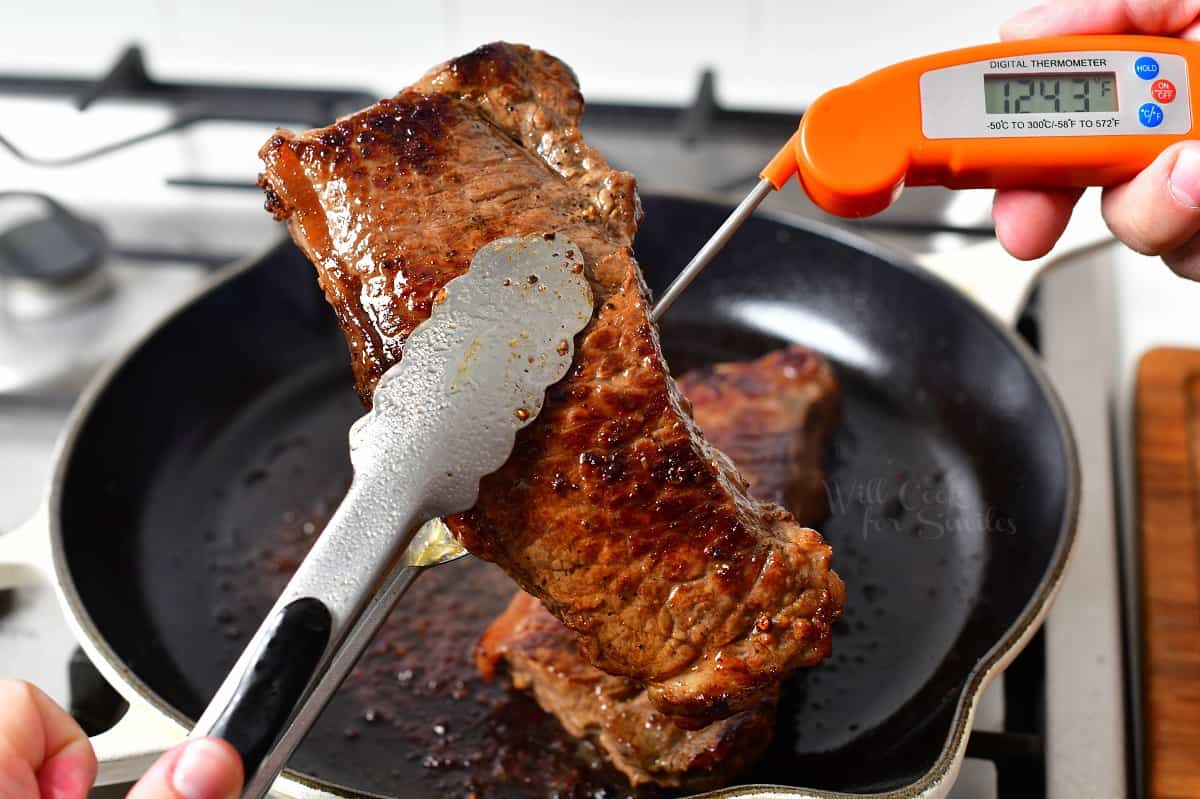 Unfortunately, you can't set exact time on a timer when it comes to cooking steaks. Every cut of beef is different, has a different amount of fat, and varies in size. For these reasons, steaks can take a different amount of time to cook. Taking the temperature of the steak is the most reliable way to know when it's cooked the way you like it.
To take the temperate, lift it out of the skillet with a pair of tongs and insert the probe into the thickest part, through the side, towards the middle. This makes reaching the center easier and ensures that the reading doesn't include the heat from the pan as well.
Although medium-rare is most often recommended for good quality steaks, you can use this guide to make sure it's cooked exactly how you like.
125° – 130° = Rare

135° – 140° = Medium-rare

145° – 150° = Medium

150° – 155° = Medium-well

160° – 165° = Well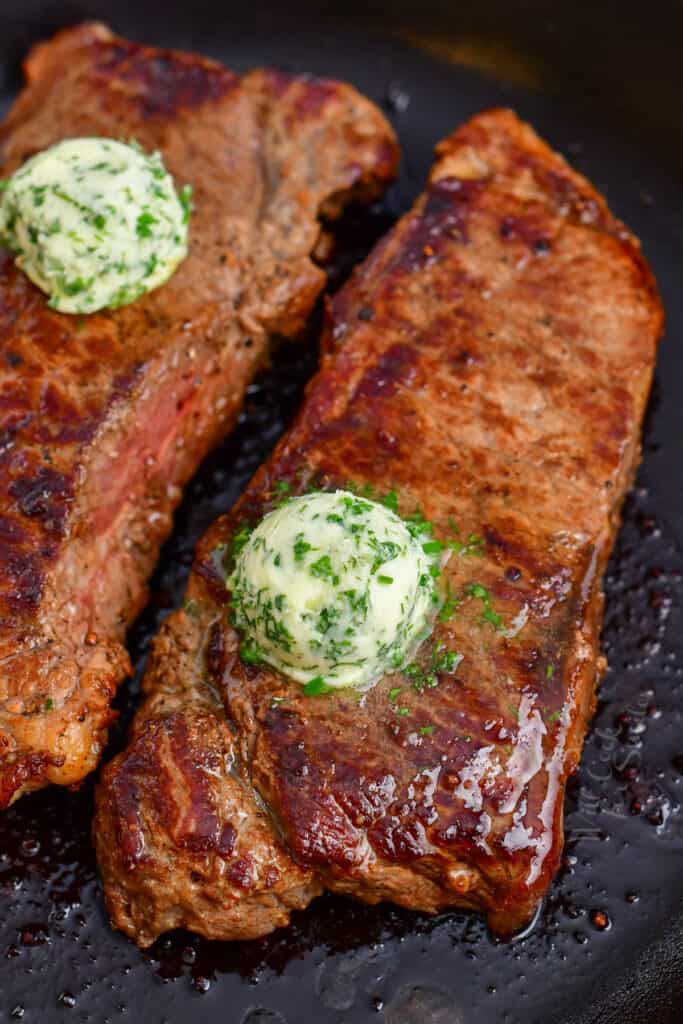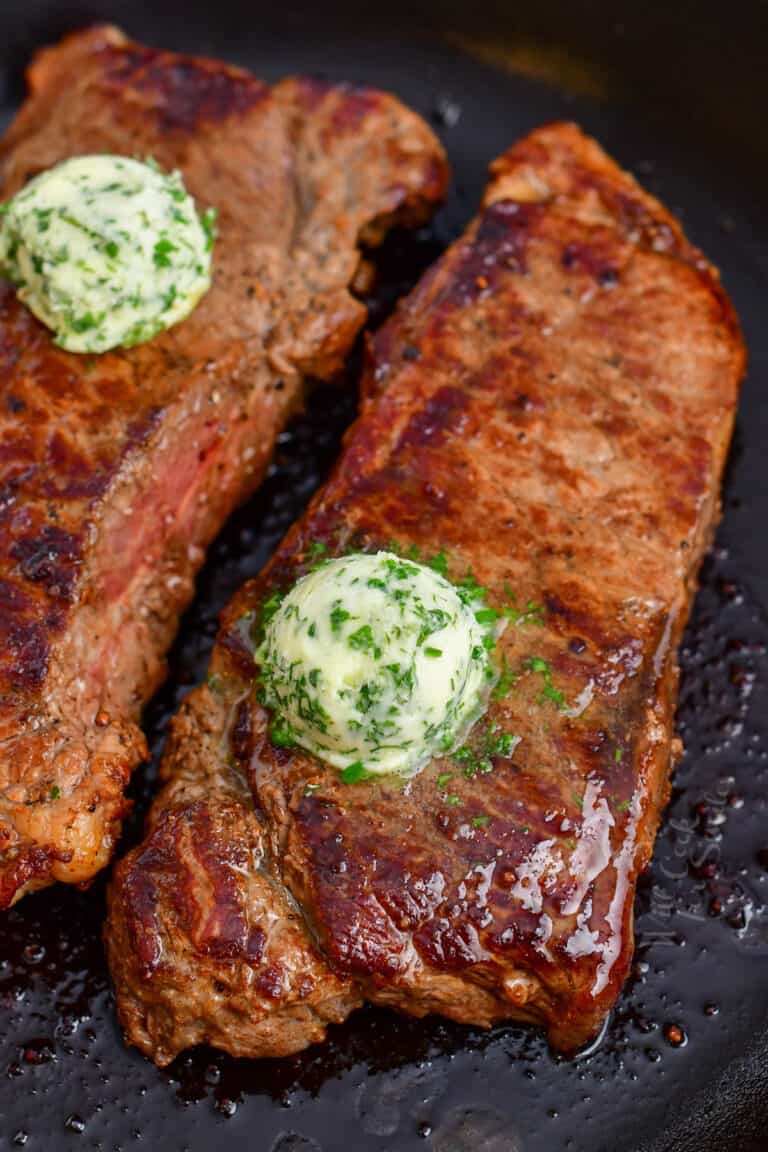 Serving Suggestions
A green vegetable adds a nice balance to the richness of the pan seared steak and compound butter. Roast some green beans, asparagus, or even broccoli and swipe them through the golden liquid that melts all over your plate. Don't forget to make some sautéed mushrooms! It's out favorite steak side dish.
Mashed potatoes are always a great pairing option, along with oven-roasted red potatoes or fluffy baked potatoes loaded with your favorite topping. For more comforting options, go with hashbrown casserole or other cheesy potatoes.
If you want to skip the compound butter, this cast iron steak also tastes delicious with my homemade steak sauce which can be made right in the same pan.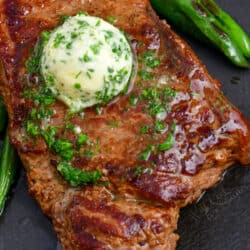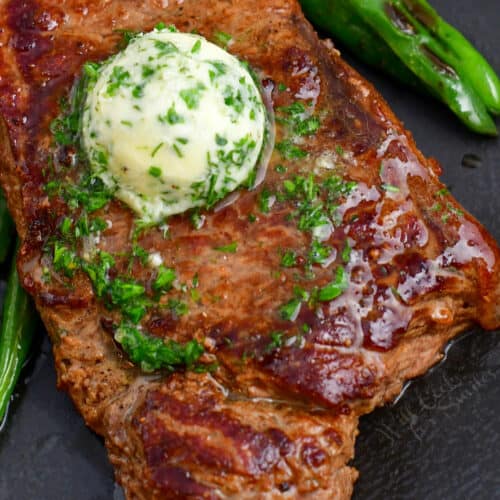 Pan Seared Steak
Pan seared steak with compound butter is both tender and flavorful with minimal effort. Learn how to easily cook your best steaks on the stove!
Print
Pin
Save
Saved!
Rate
Ingredients
2

NY strip steaks that are about 1-inch thick

or ribeye steaks, sirloins, filet mignon, or any other favorite steaks

1-2

tbsp

canola oil

or vegetable oil

coarse kosher salt

fresh cracked black pepper
Compound garlic butter:
3

tbsp

unsalted butter

softened

1

garlic clove

1

tbsp

fresh minced parsley

1

tbsp

fresh minced dill weed

pinch

salt
Instructions
Before cooking:
Take the steaks out of the refrigerator and out of the packaging 30-45 minutes before cooking. Cold meat will seize if it hits high heat suddenly so for the best results, always let the steak warm up before cooking. 

Take the butter out as well and let it warm up and soften on the counter. You can cut off the amount needed and leave it in a small dish.
Prepare the steaks:
Mix butter with pressed garlic, minced herbs, and a pinch of salt in a bowl. Use a fork to work the butter and other ingredients together until evenly incorporated. Set aside.

When ready to start cooking, set the cast iron skillet to preheat over medium-high heat. The skillet will have to be hot before you add oil and steaks.

Pat each steak dry with a paper towel all around and season generously with salt and pepper on all sides.

Add oil to the pan, swirl it all around carefully to spread the oil all over the bottom of the pan and add steaks.

Let steaks sear for 3-4 minutes, undisturbed, and flip to the other side. Let them sear on the other side for 3-4 more minutes.

(Take this extra step for the steaks that have a fatty side along one of the sides) Stack steaks and use long metal tongs to hold the steaks on the side, fat side down. This will render that fat down so you able to eat it if you wish and it will also add more flavor to the pan while the steaks finish cooking.

Lower the stove temperature to medium and continue to cook the steaks for about 1 minute on each side, until they reach your desired temperature.

Make sure to use instant digital read meat thermometer to check the doneness of your steaks. To do that: pick up the steak with long metal tongs and hold it while you insert the thermometer probe through the side of the steak, in the middle of the thickest part.

Remember that steaks will continue to cook about 5 more degrees while they are resting.

Pull the steaks out of the skillet when ready, place on the plates, top them off with a scoop of compound garlic butter, and loosely tent with a sheet of aluminum foil to let them rest. Rest them for about 5 minutes. (I like to let the steaks rest right on the plate that I will be serving them on so that the melted butter and juices don't get wasted.)

If you don't want butter to be melted too fast over the steaks, you can add the scoop of compound garlic butter after the steaks are rested.
Notes
Nutritional information: note that nutritional information will vary widely based on the cut of steak, size of steak, and amount of fat in each steak.
Nutrition
Calories:
686
kcal
|
Carbohydrates:
1
g
|
Protein:
46
g
|
Fat:
56
g
|
Saturated Fat:
26
g
|
Trans Fat:
1
g
|
Cholesterol:
183
mg
|
Sodium:
121
mg
|
Potassium:
629
mg
|
Fiber:
1
g
|
Sugar:
1
g
|
Vitamin A:
743
IU
|
Vitamin C:
3
mg
|
Calcium:
27
mg
|
Iron:
4
mg
Tried this recipe?
Mention @willcookforsmiles and tag #willcookforsmiles